Festive Cranberry and Pomegranate Bellini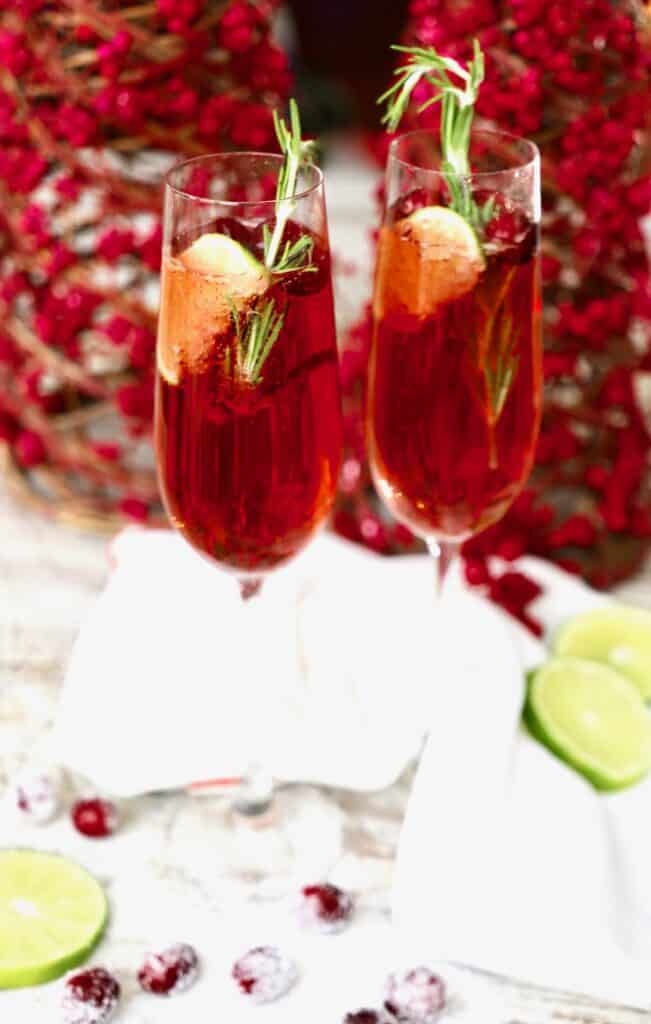 It's time to get into a holly, jolly, festive mood, my friends. The gloom around the world will continue to arrest our attention, continually depressing our emotional well-being. Let's put a little positivity and joyfulness in our holidays, even if it's difficult to do. This recipe for Delectable and Festive Cranberry, Pomegranate Bellini will get us started
Bring on the BUBBLY!
It's countdown to Christmas time, everyone! It's the best time of year for baking delicious goodies for family and friends, for singing Christmas carols at the top of our lungs, no matter how horrible you sound! The tree has been decorated with cats playing with dangling ornaments. Children are home playing and anxious for Santa to arrive. Lovers, both old and new, steal precious kisses under the mistletoe. Gifts are being wrapped, stockings are being stuffed to the max . . .
It's CHRISTMAS!!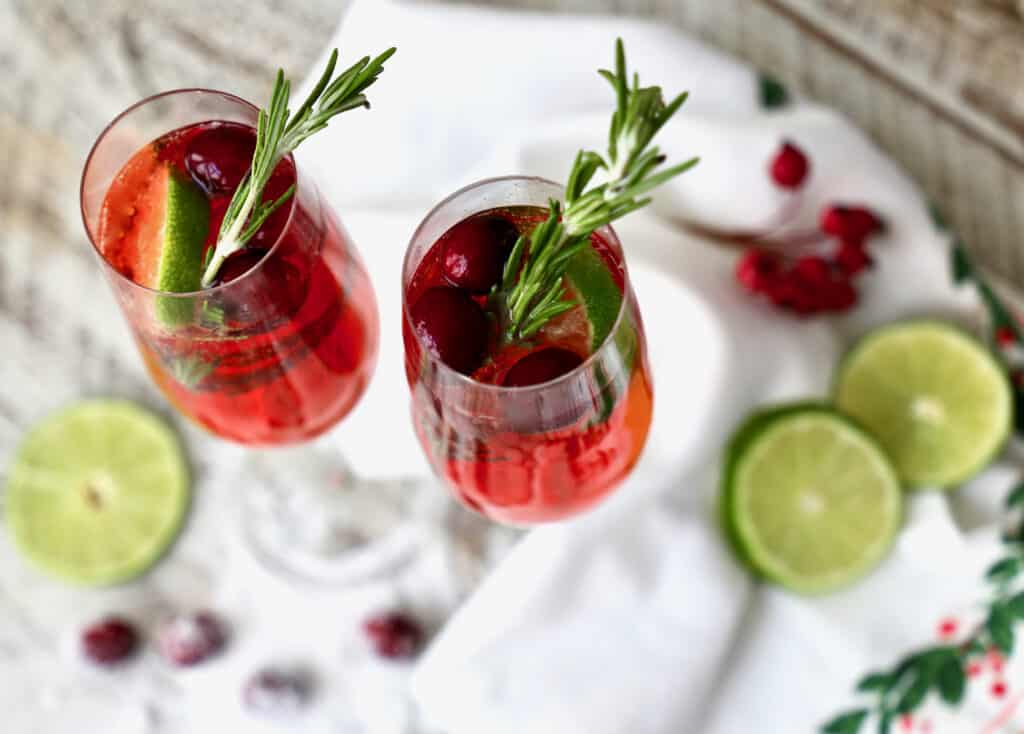 And to help celebrate this beautiful holy day, it's time to raise your flutes filled with these delectable and festive cranberry pomegranate bellini! This is not only an amazing cocktail, but it's also super easy to prepare, it's beautiful, and it's truly delicious! It's not too sweet either. I just love how bubbly and sparkling this cranberry bellini is . . . truly perfect to enjoy before Christmas dinner or during a holiday brunch.
I love any recipe that can be prepared ahead of time to free up my time so that I can be with my family. And this cocktail recipe can be made up to a full week ahead of time, kept in the fridge. Now that's a huge amount of time relief! A simple syrup (and it really is simple) is made and kept in the fridge. You pop the cork off the prosecco just before serving so that you get that awesome bubbly effect! Got have the bubbles!
At the time of serving, garnish each champagne flute with pretty green rosemary sprigs, slices of lime, and of course, fresh cranberries. Totally beautiful.

The Low-Down on Simple Syrup for Cocktails:
Cocktail simple syrup is just that – a very simple to make sugar syrup.
It's a mixture of equal parts of liquid ingredients with sugar.
It's heated and stirred until the sugar dissolves.
When stored in the refrigerator, it thickens slightly.
Only use it after it is chilled and cold so that your cocktails are served nicely cold.
Add as much of your flavored simple syrup to your cocktails as you like.
For guests who don't drink alcohol, serve this cranberry-pomegranate simple syrup with sparkling water, ginger ale, or 7-up soda.
Tips For The Best Bellini
Prosecco is the belle of the ball in this cocktail! Only use good Italian Prosecco and not champagne. However, if that's what you have on hand, then by all means use up the champagne. Champagne is French and Prosecco is Italian. And this is an Italian cocktail, so it's more authentic to use Prosecco for Bellinis.
Use more Prosecco than the recipe calls for if you wish. It's delightful!
Use cranberry juice that is unsweetened since sugar is added to make the simple syrup.
Serve with JOY!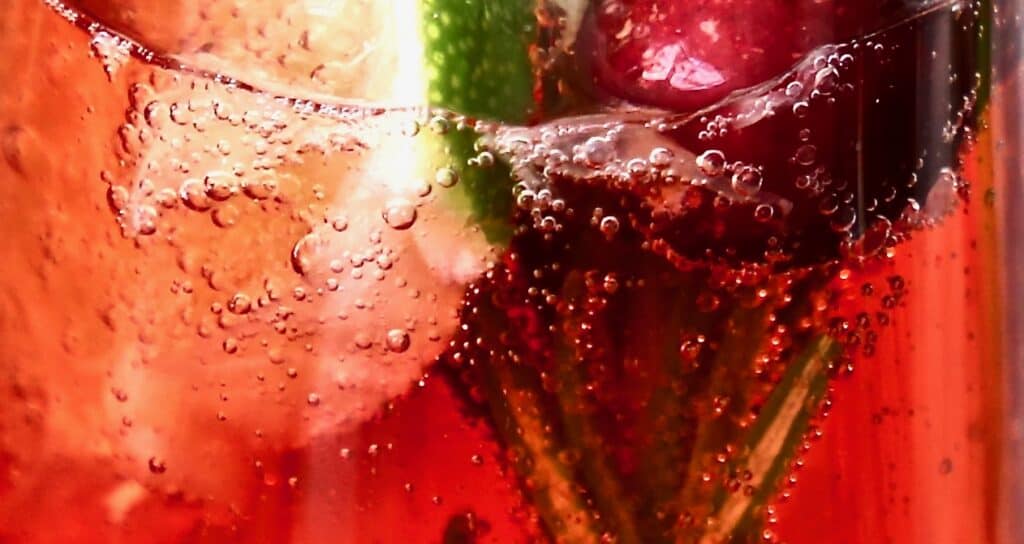 Other Cocktails that You'll Enjoy!
Cranberry and Clementine Bellini
You'll love these!
Set of 10 Champagne Glasses — Only $28.00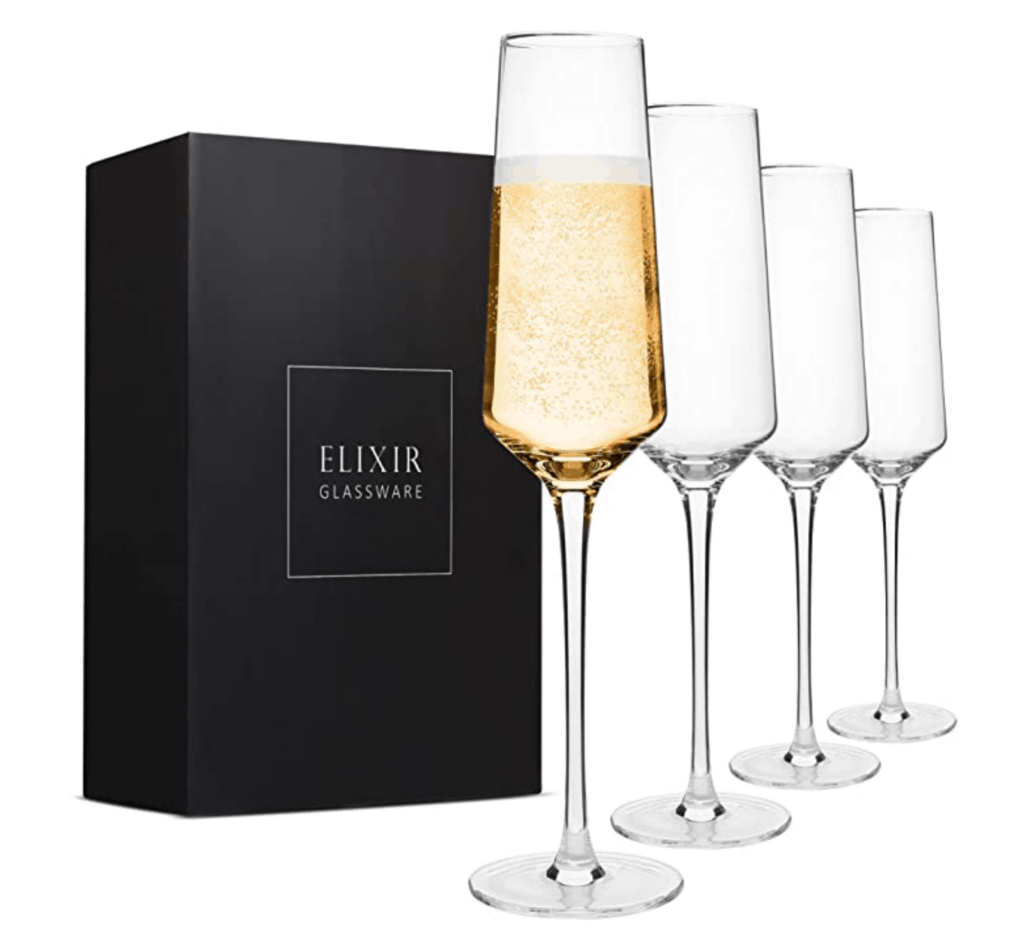 Set of 4 Classy Champagne Flutes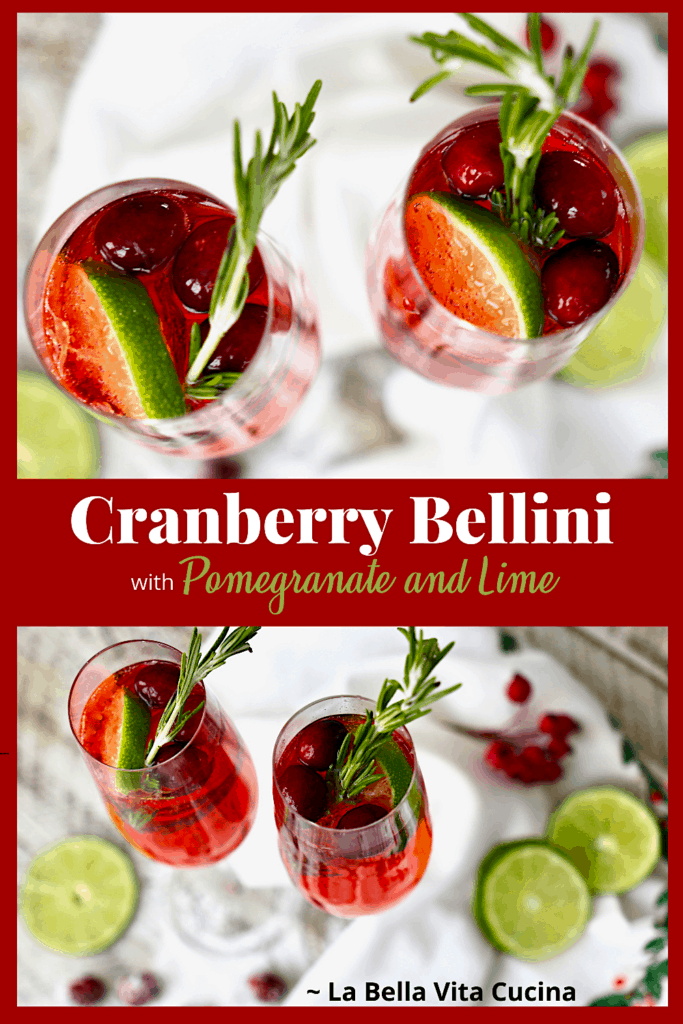 Print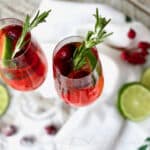 Cranberry Pomegranate Bellini
Author:
Prep Time: 5 minutes
Additional Time: 5 minutes
Cook Time: 10 minutes
Total Time: 20 minutes
Yield: 4 servings 1x
Category: Beverages / Cocktails
Cuisine: American and Italian
---
For the Simple Syrup:
1/2 cup unsweetened 100% cranberry juice
1/2 cup unsweetened 100 pomegranate juice (I use POM brand)
1 cup sugar
For each Bellini:
1 oz. simple syrup
4 – 6 oz. Italian Prosecco
a small squeeze of fresh lime juice
Garnish:
fresh whole cranberries
fresh rosemary sprigs
fresh lime slices
---
Instructions
To Make the Simple Syrup:
In a small pot, stir together the cranberry and pomegranate juices with the sugar.
Set the pot over medium-high heat and bring to a boil.
Turn the temperature down to low and simmer for 5 minutes, stirring until sugar is completely dissolved.
Pour the syrup in a jar. Place it in the refrigerator to cool completely.
Can be stored in the fridge for up to 1 week.
To Make Each Bellini:
Pour 1 ounce of cranberry-pomegranate simple syrup into each champagne flute.
Top with 4 – 6 ounces of Prosecco.
Squeeze just a few drops of fresh lime juice into each bellini.
Garnish each bellini with half slices of lime and whole cranberries
To Make a Pitcher of Bellini:
Mix 1 cup of cranberry-pomegranate simple syrup with a 750 ml bottle of Italian Prosecco.
Squeeze a few drops of fresh lime juice, up to one lime's juice.
Taste and add more of whatever ingredient you prefer.
Salute' and Cheers!
---
Published 2020; published with updates 2022