15 Minute Easy, Lemon Garlic Butter Salmon Filets
Most of us want to be able to prepare recipes for our families and friends that make them feel special, right? It's always so satisfying when they're caught off guard, not knowing that something crazy-good and memorable is about to pass through their lips . . . and this just makes your family and guess all the more grateful for your thoughtfulness. I guarantee you that when you prepare these Lemon Garlic Butter Salmon Filets, that's exactly how they'll feel!
Plus this recipe is so easy peasy . . . from start to finish, you can have these exceptional salmon filets served up hot, sizzling, and plated in about 15 minutes or less. This recipe cooks up so fast, that you want to prepare any side dishes such as baked potatoes and rice/risotto well ahead of cooking the salmon filets. On the other hand, steamed broccoli and/or cauliflowers won't take very long once your water is boiling.
Although this recipe for Lemon Garlic Butter Salmon Filets is extremely easy, it packs a big impression. As in a restaurant, to cook delicate fresh salmon in a pan involves nothing more than a continual 'basting' of super hot, bubbly garlic butter that the salmon filets are cooking in! By basting and drizzling the hot butter onto the salmon, the liquid flows into the cracks that the salmon develops as it cooks. Plus, it gives salmon the absolute most silky, satiny texture that will simply melt in your mouth!
So let's get to the kitchen and prepare some yummy salmon!
Gather up all of your ingredients:
Salmon filets – Choose skinless if possible. It's OK if the skin is still on because it falls right off anyway). Without the skin, there's more flesh exposed to allow more of the sizzling hot garlic butter sauce to get down into the fish.
Salt and pepper – Preferably freshly-cracked sea salt and freshly-cracked black pepper
Mrs. Dash (no-salt seasoning) I use this blend on everything!
Garlic cloves, minced – The only way to mince garlic, is the best, and the quickest way: Smashed under a chef's knife which loosens the peel right off of the garlic, and then take the knife and mince into tiny little pieces. Using a garlic press is messy, the garlic gets stuck in it and you have one more gadget you have to buy, clean (ugh), and store.
Olive oil – Good quality is the best; don't use extra-virgin olive oil when frying.
Butter – Again, good quality butter is the best!
Freshly-squeezed lemon juice – This super buttery-rich sauce needs some balance, which a little splash gives perfectly.
Sliced lemons and bright green herbs for garnish – Basil or Italian Parsley do nicely
First, sear salmon in olive oil and then melt butter around the filets
Add the minced garlic and baste, baste, baste!
After 3 minutes of the hot basting, remove to a plate . . . and
add lemon juice.
Garnish with sliced lemons and sprigs of basil or Italian parsley
Buon Appetito – Roz xo
---
Print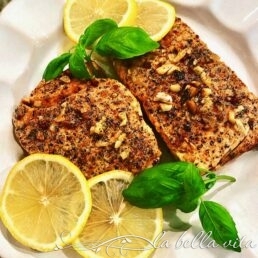 15 Minute Easy, Lemon Garlic Butter Salmon Filets
Author:
Prep Time: 15 minutes
Cook Time: 10 minutes
Total Time: 25 minutes
Yield: 4 servings 1x
Category: Fish
Method: Frying
Cuisine: Italian
---
4 salmon fillets (6 – 8 oz. each), skinless and boneless
1/2 teaspoon freshly-cracked sea salt
1/4 teaspoon freshly-cracked black pepper
1/2 teaspoon Mrs. Dash salt-free seasoning
1 1/2 Tablespoons olive oil
3 large garlic cloves, finely minced with a knife
6 – 8 Tablespoons butter, sliced
1 teaspoon freshly-squeezed lemon juice, plus more to taste
Basil and/or Italian parsley for garnish
---
Instructions
30 minutes to an hour before cooking, remove the salmon from the fridge and season it by sprinkling both sides with salt, pepper, and Mrs. Dash seasoning.
On a medium-high heated stove burner, drizzle and heat up the olive oil in a large non-stick frying pan/skillet.
Add the salmon filets (curved side down — if the salmon has skin on it, place the salmon in the pan skin side up and showing).
Sear for 3 minutes and then turn over with a long fish spatula so that the salmon does not break apart.  Cook for one more minute.
Add the butter all around the seared salmon.
When the butter is melted and foaming, add the minced garlic.
Immediately spoon the bubbling garlic butter non-stop over the salmon for 1-1/2 minutes without stopping.   This is called basting!  tilt the pan slightly so that the garlic butter pools up on one side of the pan.  Take a large mixing spoon for this basting process.
Remove the salmon from the stove and check the Internal temperature of the salmon.   For optimum moistness and juiciness, the temperature should be 122°F for (medium-rare).
Place the salmon on a serving plate and allow it to rest for 3 minutes.
With the frying pan/skillet back on the stove burner, add the lemon juice to the garlic butter.
Serve while hot. Place salmon on serving plates. Spoon the garlic butter over the salmon filets and garnish with a sprinkle of fresh basil or Italian parsley. 
Buon Appetito!
---
---
Nutrition
Serving Size: 1 filet
Calories: 450
Sugar: 1g
Sodium: 531g
Fat: 35g
Saturated Fat: 14g
Trans Fat: 1 g
Carbohydrates: 1g
Fiber: 1g
Protein: 35g
Cholesterol: 147g
Keywords: Fish, salmon, garlic, butter, entree, easy