Lemon Ricotta Cookies with Limoncello Glaze
It's citrus season!
Mother Nature knew what she was doing placing the peak season for citrus fruit in the middle of winter! All of that vitamin C from fresh lemons, limes, and grapefruit helps our immune systems during flu and cold season!
Oh and the FLAVOR! So light, tangy, and sweet-sour. And when adding sugar . . . lemon recipes are so welcome at a time when many of us are eating heavier comfort foods. Although lemons are loved around the world, Italians are simply obsessed with the lemons grown in Italy and all of the delicious ways they're used in recipes.
Lemons have always had a strong natural way of practicality – they've been great for preserving food, they fight illness, and have even been enjoyed in perfumes! From simple lemon-infused vinaigrettes to savory main entrees such as Veal Piccata or risotto, to sweet desserts including lemon cheesecakes, tarts, biscotti, and cookies, to tangy lemon granita . . . and to make the infamous limoncello, Italians love their lemons!
My family has always loved lemon cookies and lemon 'anything' recipes. We so much enjoy the refreshing, uplifting, and bright lemon flavor when nibbling on delicate lemon cookies! And during the mostly grey days of winter, it's such a pleasure to have something that perks you up a little bit more! And we all need that, don't we?
My mother loved lemons so much, she couldn't resist any recipe that highlighted lemons' impact on the overall flavor of a dish. Before I started going to Italy to visit cousins, my mother would always talk about the huge, sweet lemons that grow along the Amalfi Coast. I had never heard of lemons so large or that were sweet enough to bite into like an apple. But once I got to Positano and Sorrento, I understood!
Lemon Ricotta Cookies are traditional Italian cookies that are always made and shared during the Christmas season. They are small, soft, pillowy, cake-like cookies with a nice loftiness that are topped with a tangy-sweet lemon glaze that melts in your mouth. They are usually garnished with fresh lemon zest and/or sugar crystals. And they are ALWAYS prepared with Italian ricotta cheese, even though there is no cheesy flavor at all. You will love these cookies!
So let's get to your cucina and bake some lemon ricotta cookies!
Gather up all of your ingredients and measure them out.
What You Need to Make Lemon Ricotta Cookies:
Flour
Baking Powder
Baking Soda
Salt
Sugar
Butter
Eggs
Ricotta Cheese
Lemon Juice & Zest
Vanilla Extract
Limoncello
Powdered Sugar
Decorator Sugar Crystals
How to Make Italian Lemon Ricotta Cookies
First, prepare the cookie dough.
Chill the dough.
Use a cookie scoop to place the dough onto 2 baking sheets lined with silicone baking mats or parchment paper.
Bake and cool according to instructions.
Whisk together the lemon glaze in a mixing bowl.
Drizzle glaze over the tops of the cooled cookies and allow the cookies to set for at least one hour.
How's that for a quick recipe overview?
Begin with creaming the butter and sugar
Add the eggs one at a time to the creamed butter/sugar mixture
Add the strained ricotta cheese
Add the dry ingredients (flour, etc.)
Beat until well incorporated and then spoon cookie dough onto baking sheets
Without glaze (shown below) for those who need to watch their sugar intake
Prepare the glaze and then drizzle/spread it on top of the cooled cookies on top of a wire rack placed inside a baking sheet; sprinkle with fresh lemon zest
Irresistible!
Tips for Baking Delicious Lemon Ricotta Cookies:
Always use the highest quality of ingredients that your budget allows.
Always check to see that any ingredient, such as baking powder and baking soda, is not expired. Old baking powder will prevent your cookies from being nice and fluffy as well as cause the cookies to have a hard texture. And who wants that?
Make sure that your eggs, butter, cheese, etc. are all at room temperature.
Squeeze/drain as much liquid out of the ricotta cheese as possible; the dryer the ricotta the better.
Use a 1 Tbsp. sized cookie scoop so that your cookies are consistent in size and shape.
Chill the dough for 1-2 hours to prevent the cookie dough from flattening during baking.
The glaze hardens quickly so sprinkle the lemon zest or sugar crystals on immediately while the glaze is still wet. Once the glaze is hard, they won't stick.
The lemon flavor impact of these cookies is very subtle and not a powerful lemon flavor. The desirable lemon punch comes from the lemon glaze, so it is important not to skip the glaze!
Storing and Freezing
Italian Lemon Ricotta Cookies can be made ahead up to 4 – 5 days in advance. During that time they should be stored in an airtight container in your refrigerator. You can glaze them on the day that you serve them.
When freezing these cookies, do so without any glaze. Store them in freezer-safe containers or freezer plastic bags for up to 3 months. When you are ready to serve them, place them in your refrigerator to thaw out first. Then glaze and garnish them the day you want to serve them.
More Lemon Cookies and Sweet Treats to Enjoy!
Zuccherini – Crunchy Italian Dipping Cookies
How To Make Limoncello – A Lesson From The Amalfi Coast
I'd love to know how your cookies turned out! Buon Appetito!
Print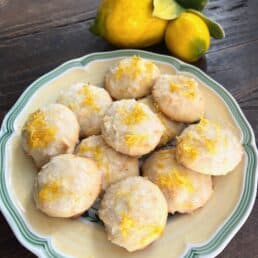 Italian Lemon Ricotta Cookies with Limoncello Glaze
Author:
Prep Time: 20 minutes
Cook Time: 15 minutes
Total Time: 45 minutes
Yield: 40 – 50 cookies 1x
Category: Cookies
Method: Bake
Cuisine: Italian
---
Description
These are delightful little cookies that satisfy your sweet tooth in just the right amount . . . or you can gobble several of them down.  The fresh sweet, yet tangy lemon flavor bursts in every bite.  For a little more sunshine in your life, these little lemon gems are perfect to enjoy with a cup of coffee or tea.  Buon Appetito!
---
For The Cookies:
2–1/2 cups + 2 Tablespoons of all-purpose flour
1 teaspoon baking powder
1/2 teaspoon baking soda
1 teaspoon sea salt
1–3/4 cups sugar
1/2 cup unsalted butter, softened to room temperature
2 large eggs, at room temperature
1 (15-ounce) container whole milk ricotta cheese, at room temperature, with liquid pressed out as much as possible
3 tablespoons freshly-squeezed Meyer lemon juice (regular lemons are fine too)
1 teaspoon of vanilla extract
Zest of 1 large lemon
1/2 teaspoon lemon extract
For the Glaze:
2 cups powdered sugar (if you like icing a little thicker, add more powdered sugar)
4 – 5 tablespoons lemon zest (you can use less, we just like ours really, really lemony!)
2 tablespoons freshly-squeezed lemon juice
2 tablespoons Limoncello (or use another 2 tablespoons of lemon juice)
---
Instructions
Preheat oven to 375 F.  Line 2 to 3 baking sheets with parchment paper or silicone baking mats.
In a large bowl, using an electric hand-held mixer, combine the flour, baking powder, and salt.  Set aside.
In a large mixing bowl, using an electric hand-held mixer, beat the sugar and butter until light and fluffy, about 4 – 5 minutes.
Add the eggs, one at a time, beating until nicely incorporated.
Add the ricotta cheese, lemon juice, lemon zest, and lemon extract and beat to combine.
Add the flour mixture and stir to combine.
Drop by spoonfuls, using 1-1/2 tablespoons for each cookie, onto prepared baking sheets.  Freeze for one hour.
Bake the cold cookie dough for 15 minutes or until slightly golden at the edges.
Remove from oven and allow cookies to rest on the baking sheet for 15 minutes. Then transfer the cookies onto a wire rack to cool completely. 
Meanwhile, prepare the glaze.
In a small bowl, combine the powdered sugar, lemon juice, and lemon zest. Stir until smooth.
Place the baking sheet under the wire racks to catch the dripping glaze for the following steps.
Spoon the glaze over the cooled cookies, spreading it to the edges and allowing it to drip down the sides (the excess will fall through the wire racks and into the baking sheet).
Allow the glaze to harden for at least 1 – 2 hours at room temperature before serving.
Garnish with decorator sugar crystals and lemon zest.
Buon Appetito!
---
Notes
Press as much liquid out of the ricotta cheese as possible.  The drier the ricotta cheese, the better!
To prevent cookies from going flat during the baking process, freeze them for 1 hour at least after you have spooned your cookie dough onto your baking sheets.
Don't overbake these cookies after 15 to 17 minutes max or they will be hard.
If you prefer a thicker glaze, as mentioned in the instructions, add more powdered sugar until you reach the consistency that you prefer.
---
Nutrition
Serving Size: 1 cookie
Calories: 90
Sugar: 13g
Sodium: 70mg
Fat: 5g
Saturated Fat: 2g
Carbohydrates: 17g
Fiber: 1g
Protein: 2g
Cholesterol: 19mg
Keywords: cookies, lemon, Italian, dessert, citrus