How to Make Lo Mein – Chinese Pasta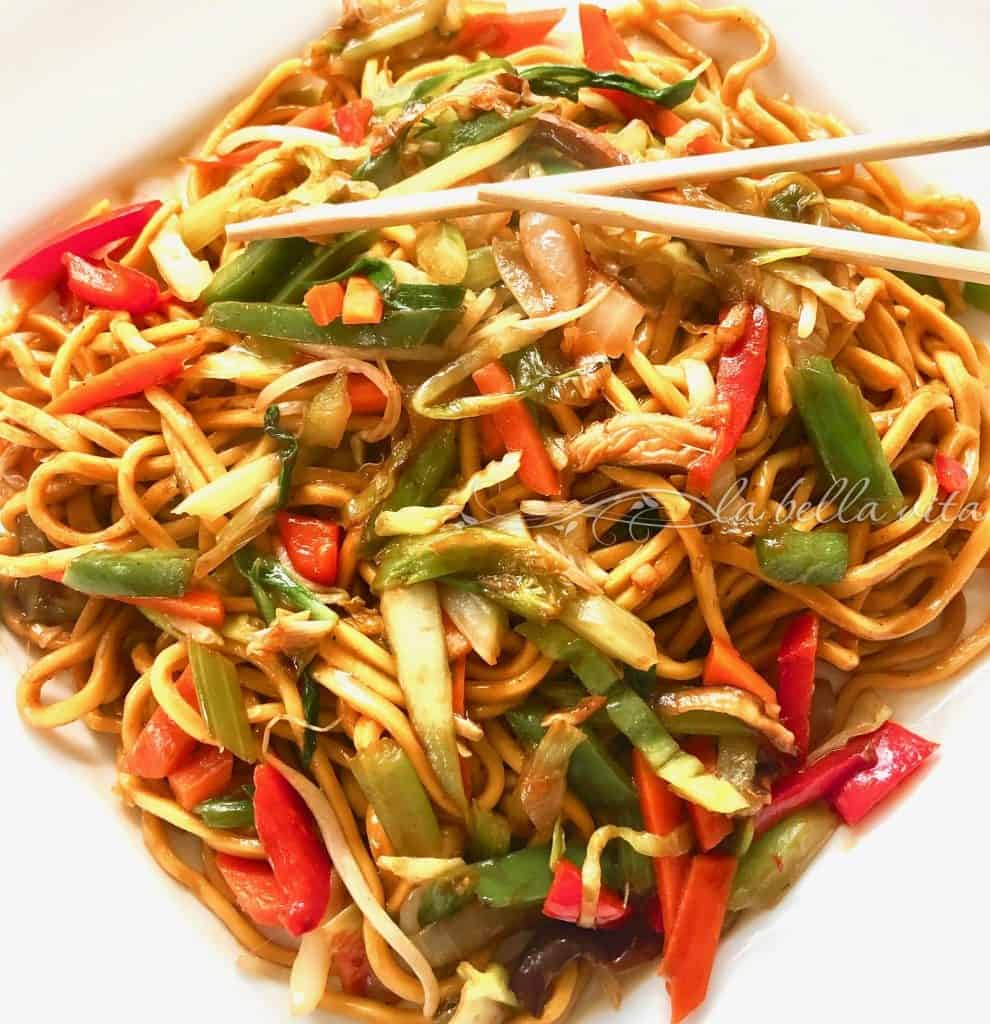 Pasta noodles aren't just for Italian cuisine recipes!
Noodles are beloved in Asian food too. And not just in Chinese cuisine, but also in Japanese, Thai and Korean cuisine! One of my absolute favorite Asian noodle dishes is Chinese Lo Mein (I call it Chinese pasta)!
I rarely prepare Chinese recipes at home. That's because we have so many fabulous Asian eateries near us that there's no need to prepare it at home.
Mmmm, good stuff!
Happy Chinese New Year!
This year it's the year of the RABBIT!
To me that says that when in the kitchen it includes preparing recipes with strong, bold flavors.

Since it is the festive period of the Chinese New Year, I love to prepare Lo Mein. After overcoming my fear of the unknown culinary territory of Asian cuisine, I have found that it is really quite easy! And it gives me a chance to cook with my wok.
It's just that I don't have a lot of Asian ingredients on hand. So-o-o-o-o-o . . .
First I took off to shop for the ingredients at Whole Foods. I was so bummed because two ingredients that I needed weren't offered at Whole Foods: the lo mein noodles (kinda necessary, ya think?) and the mushroom dark soy sauce.
Therefore, I decided to visit the local Asian market in town and it was there that I hit the jackpot for ingredients.
Tip: Bee-line straight to an Asian market if there's one nearby and just forget any other non-Asian stores. You won't waste so much of your time looking in other food stores.
A little bit later, as I'm walking into the super tiny Asian market, I asked, "Do you have lo mein noodles?" "Oh yes, in the freezer!" said the young female owner. This little business not only had lo mein noodles, but it also carried FROZEN noodles. It's recommended to use frozen lo mein noodles instead of the dried version.
Plus I also found mushroom dark soy sauce and a super thick oyster sauce that the owner pointed out was really good.
Now where's that wok of mine?
It was so much fun to dust off my unused wok pan for this recipe too. I couldn't even remember where my wok even was!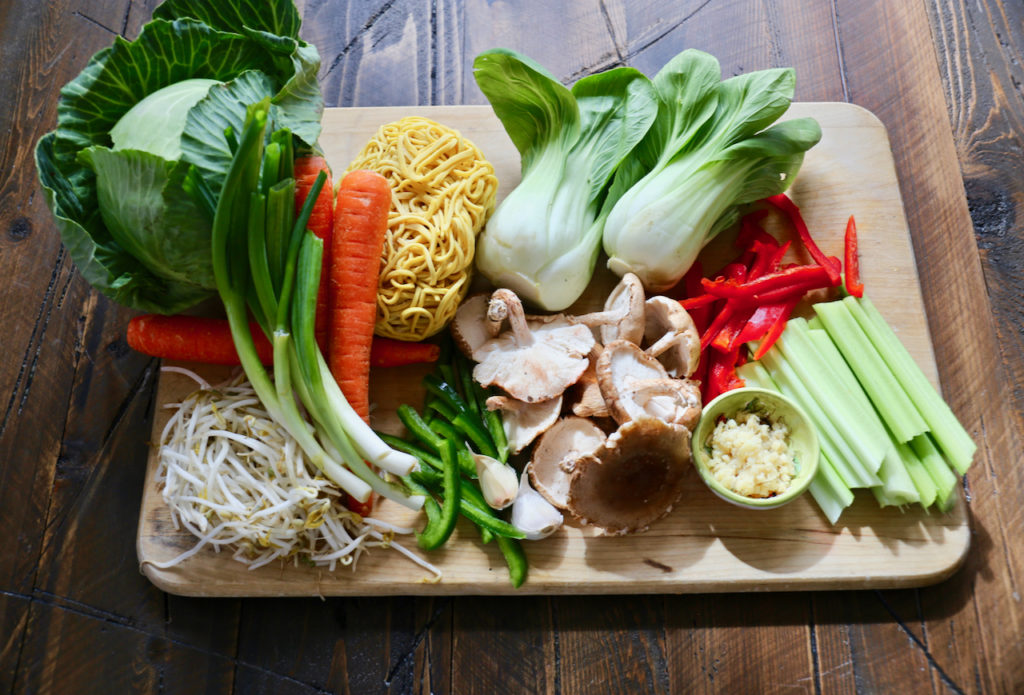 Lay out all of the ingredients — so colorful aren't they?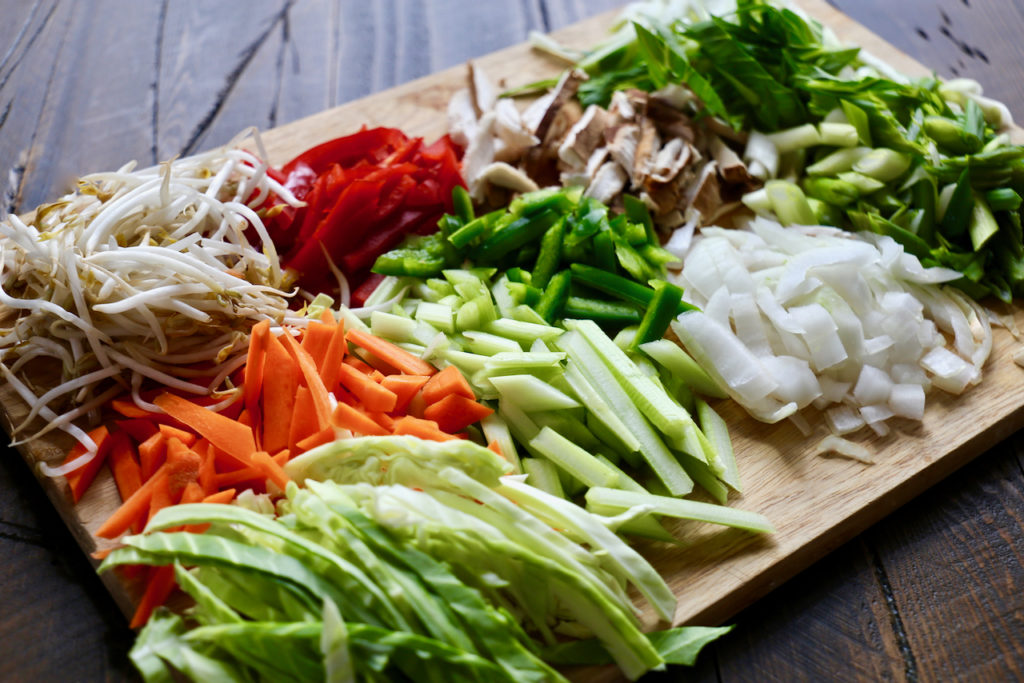 Anytime you stir fry, always, always, always cut up everything in advance because the cooking goes so quickly!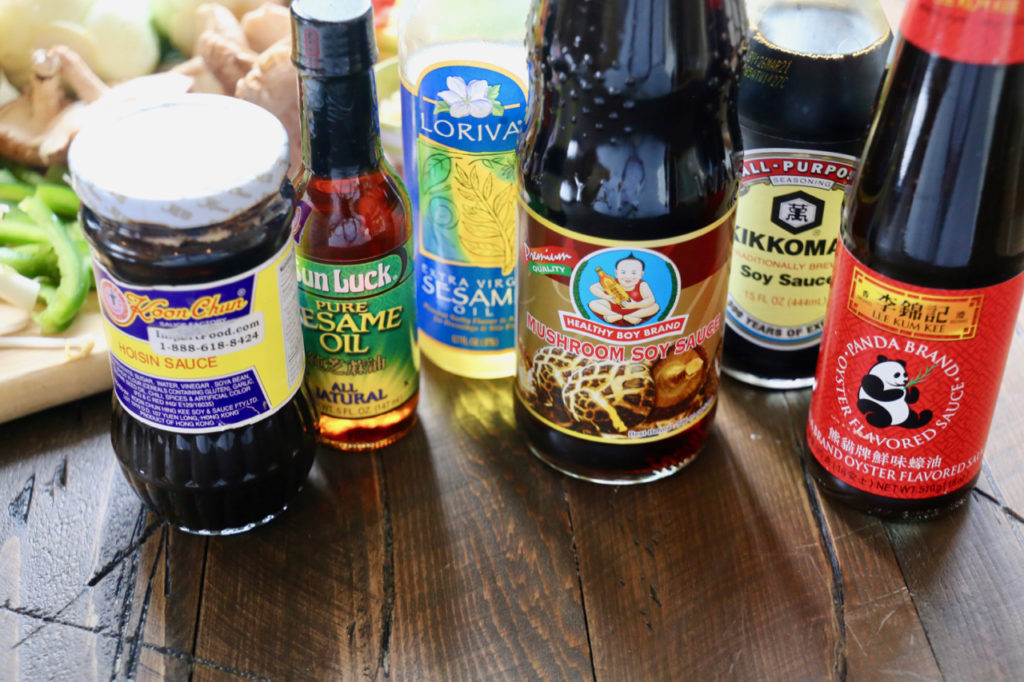 Here's where you need to get to an Asian store to find some of these hard-to-find sauce ingredients.
You can also find mushroom dark soy sauce through this link (by name).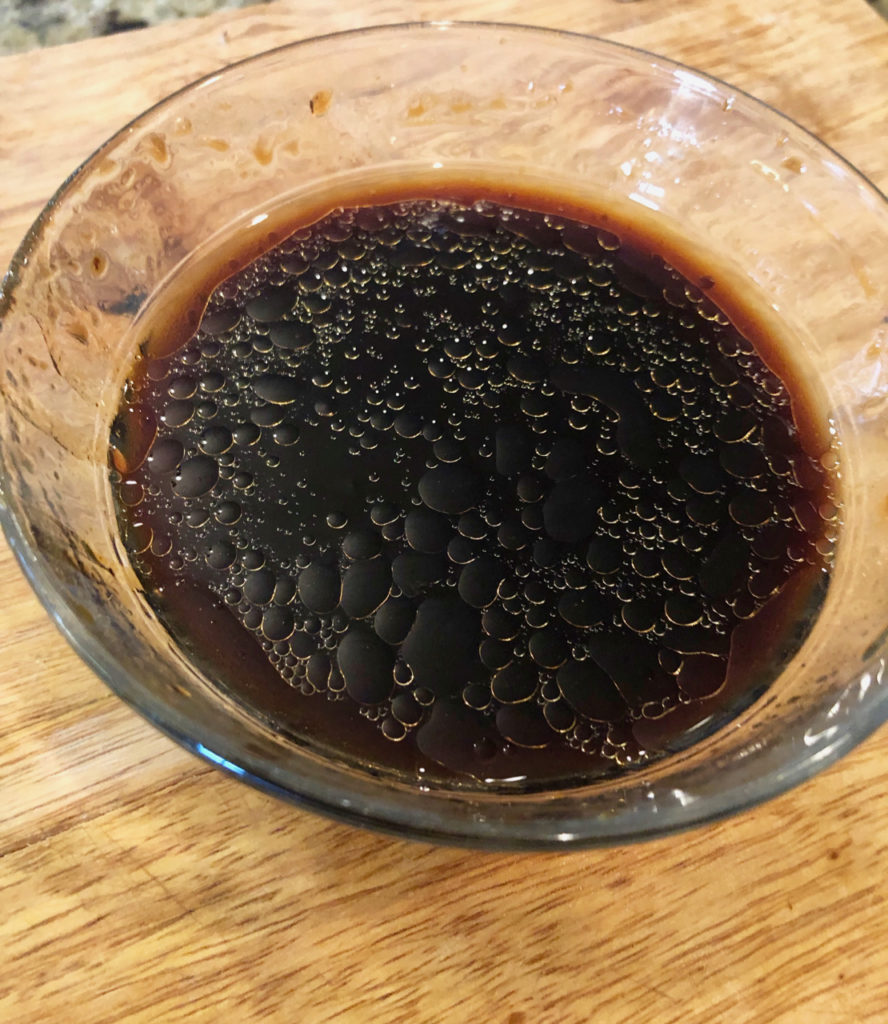 Make the sauce for the lo mein ahead of time also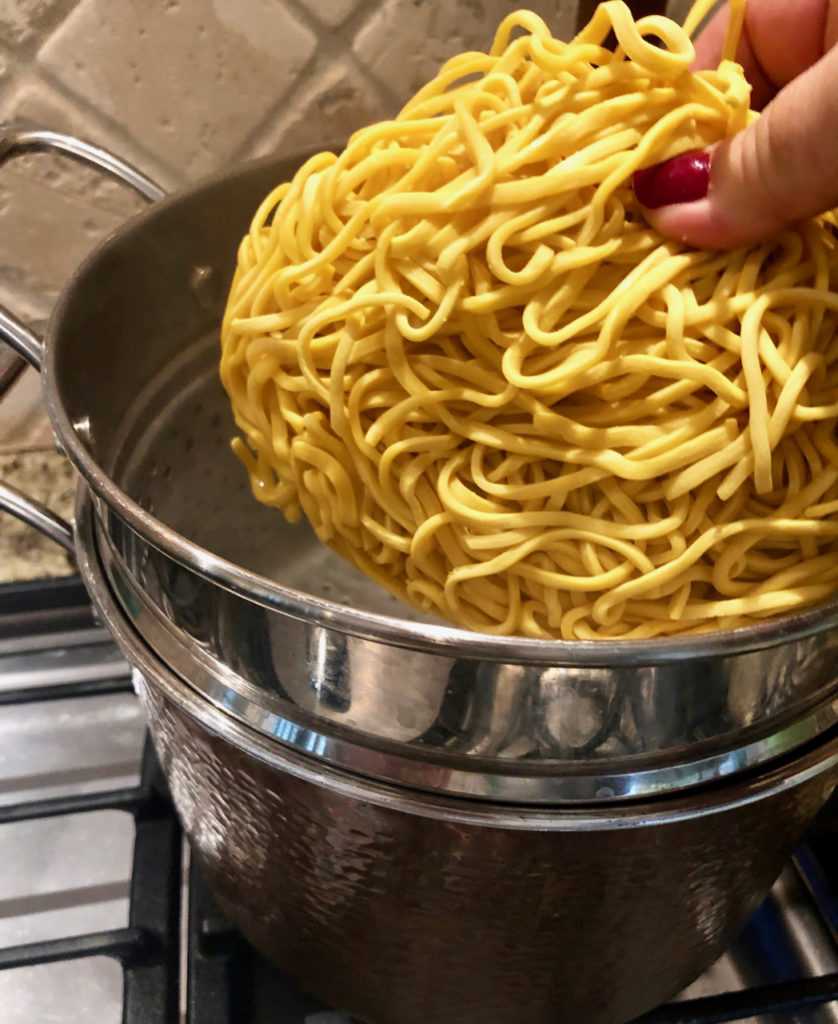 Buy the frozen lo mein noodles if possible, they're the best!
Cut them in half because they are super long, 3 times longer than spaghetti noodles.
Cutting them in half makes it easier to eat.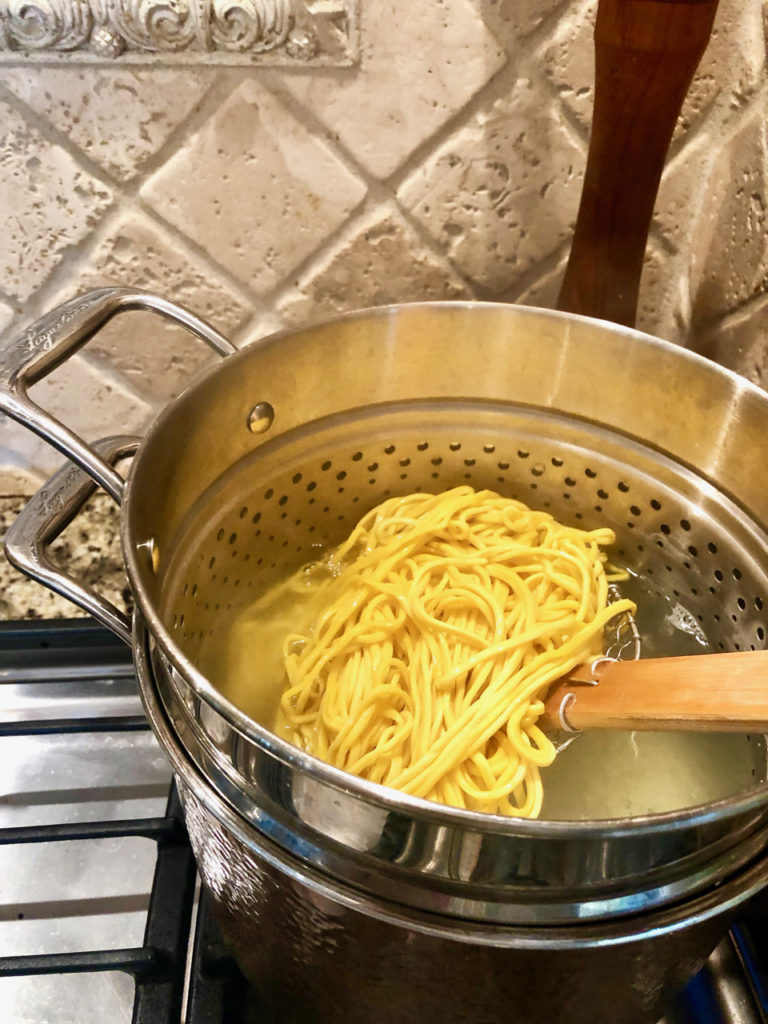 Don't cook these for too long, just about 4 minutes.
Scoop out with a spider ladle.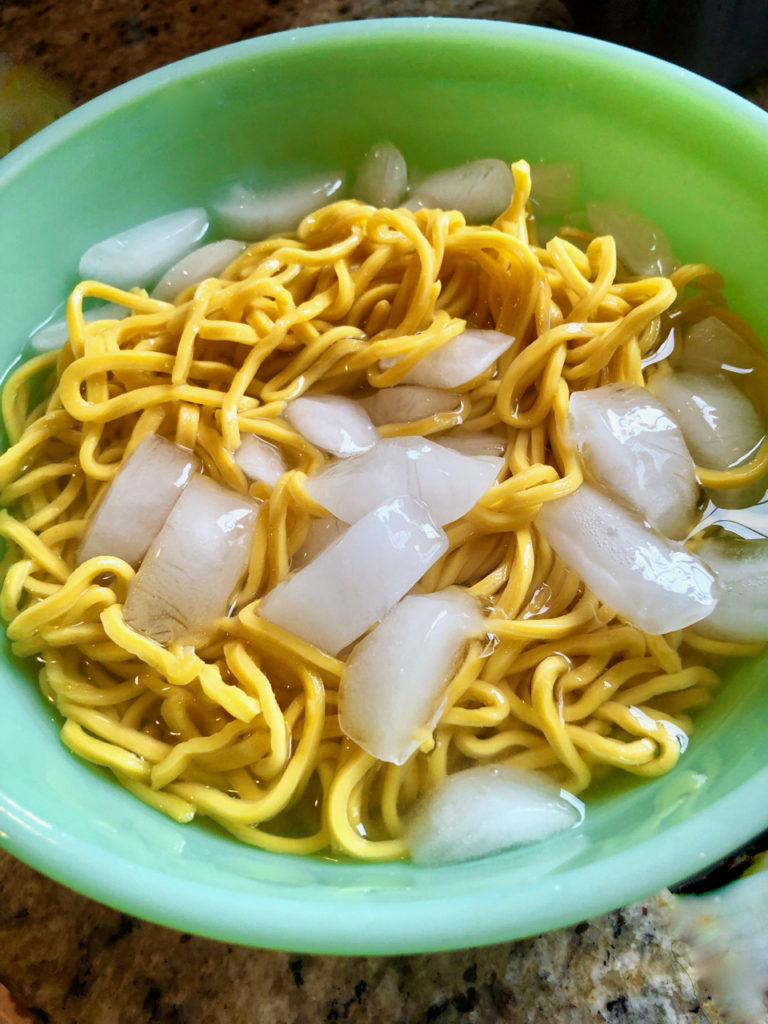 Tip: Have a bowl of ice water ready to put the hot lo mein noodles in to cool off and to stop the cooking.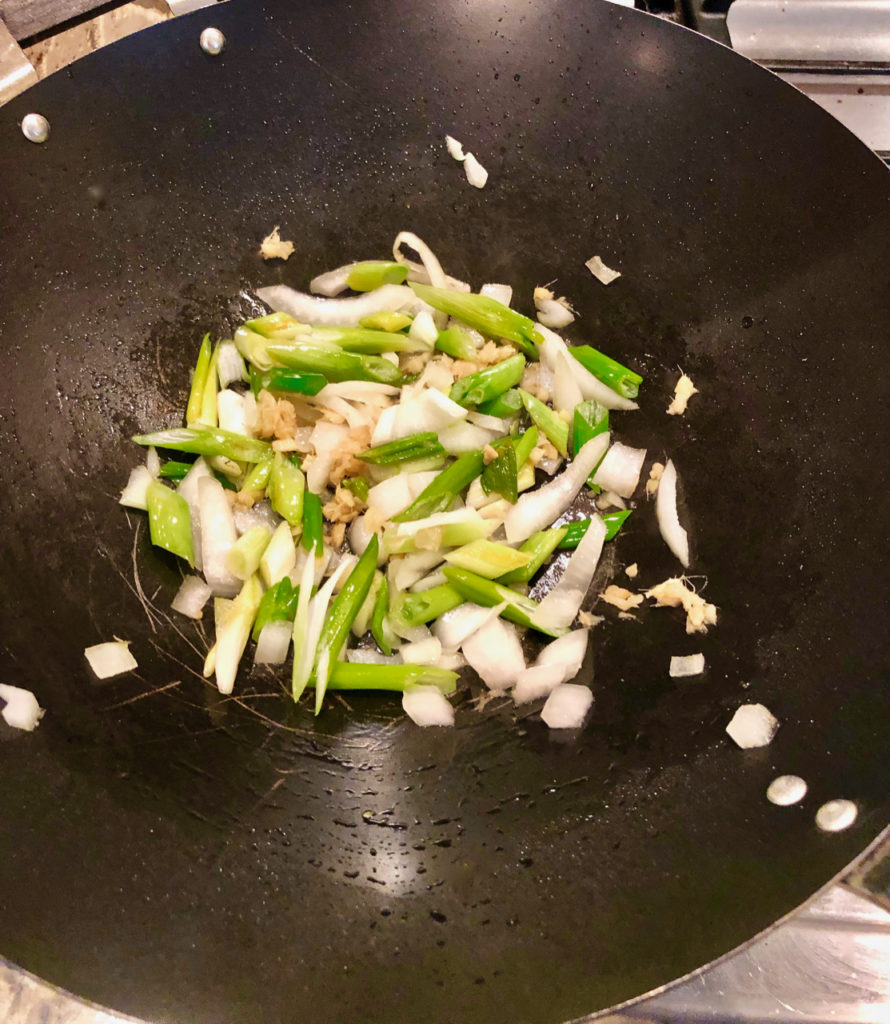 Add several tablespoons of sesame oil to a hot wok and
add the minced garlic, minced ginger, julienned green onions, and sliced onions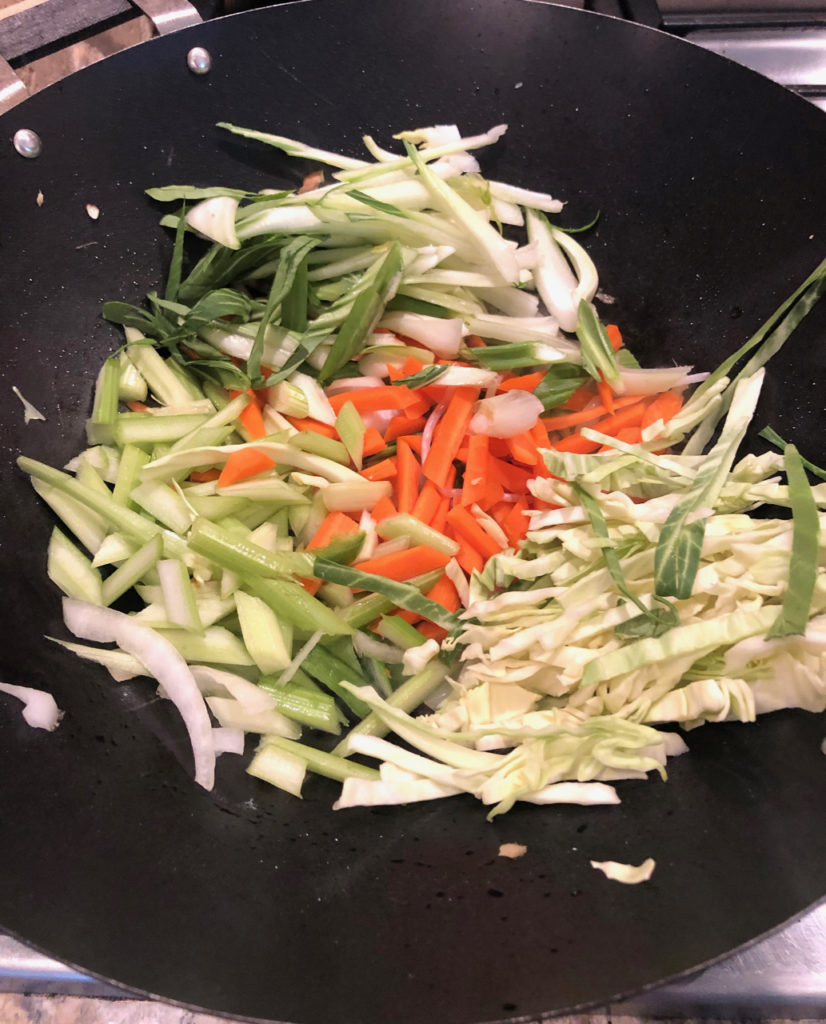 Add the julienned carrots, julienned celery, sliced bok choy and sliced cabbage to the wok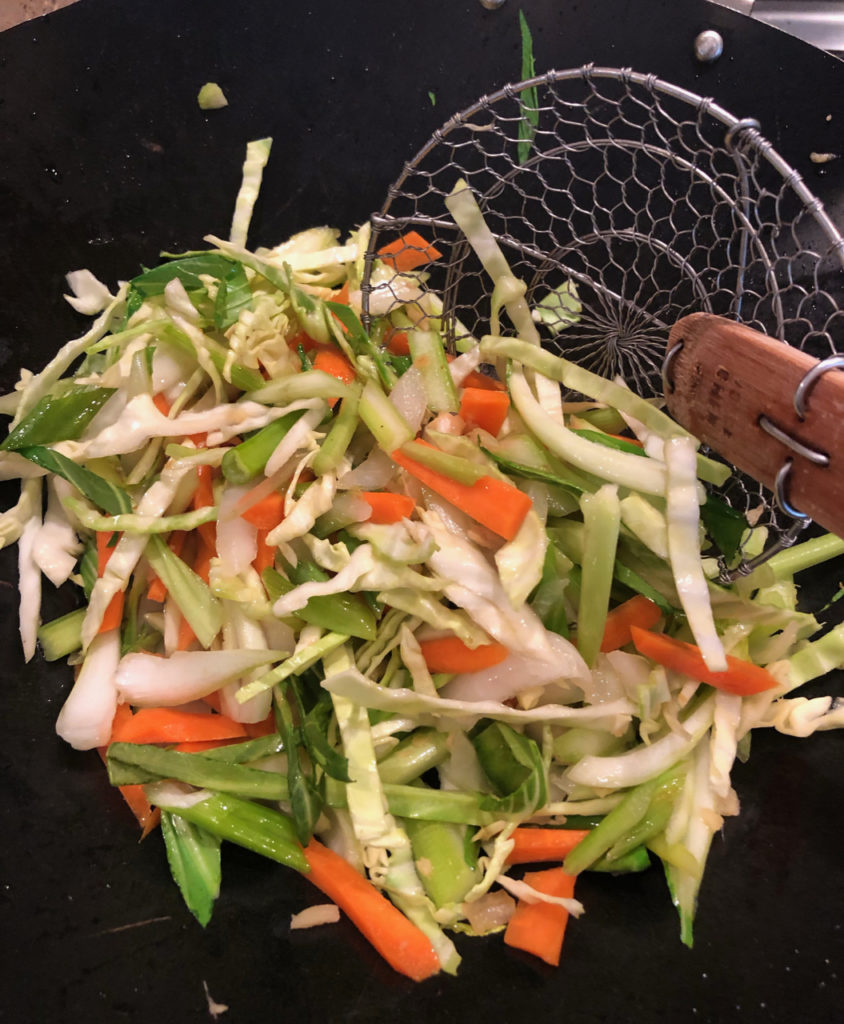 Give everything a whirl with a spider ladle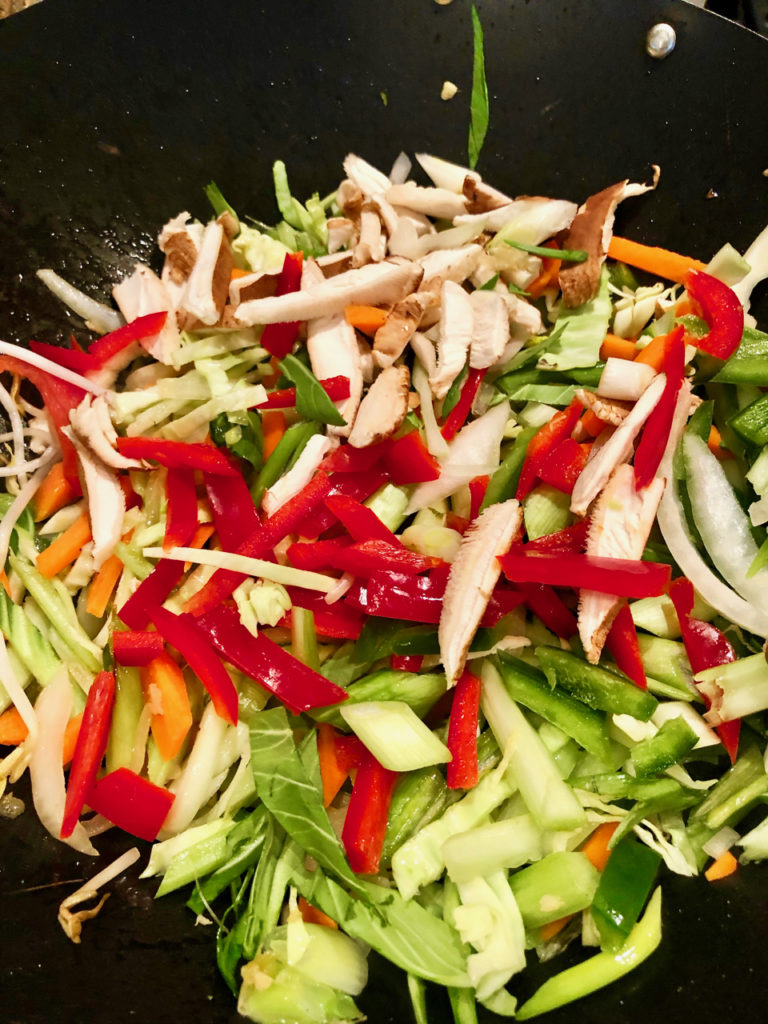 Add the julienned red and green pepper, and the sliced shiitake mushrooms to the wok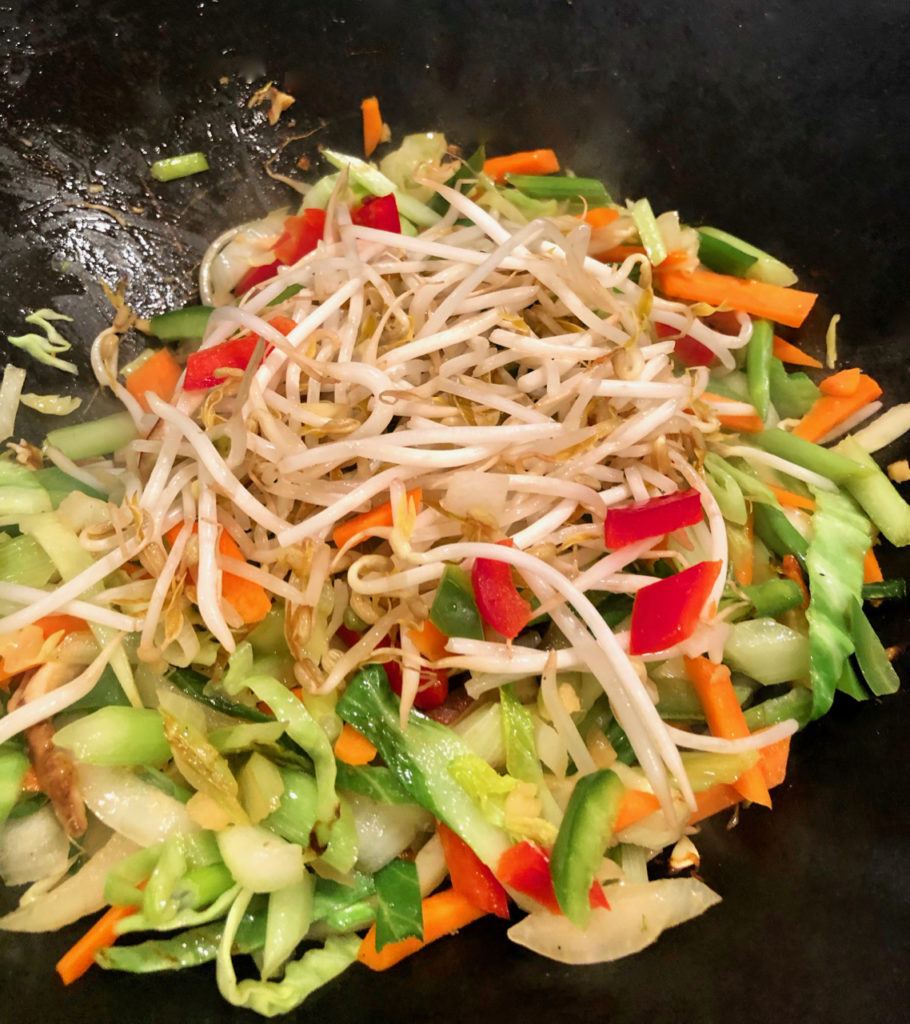 Add the bean sprouts and stir again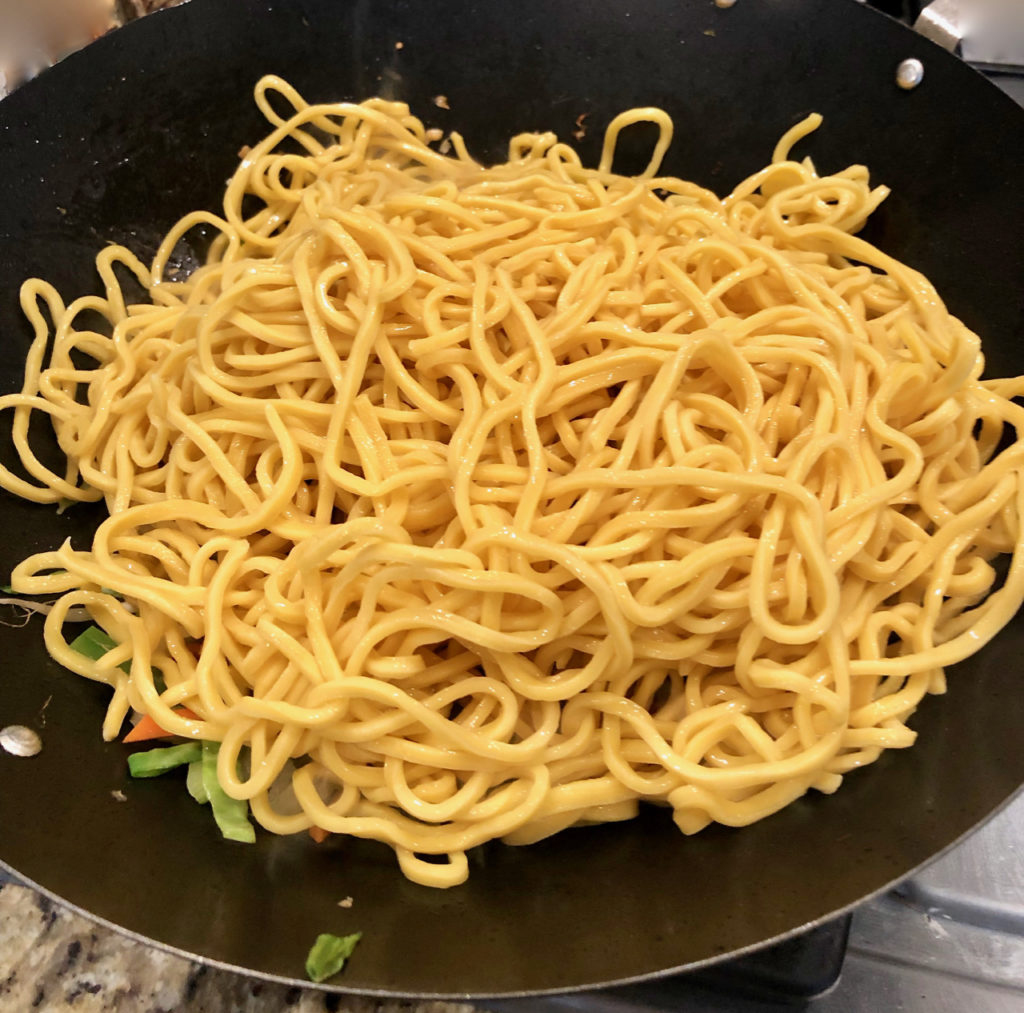 Drain and add the lo mein noodles to the wok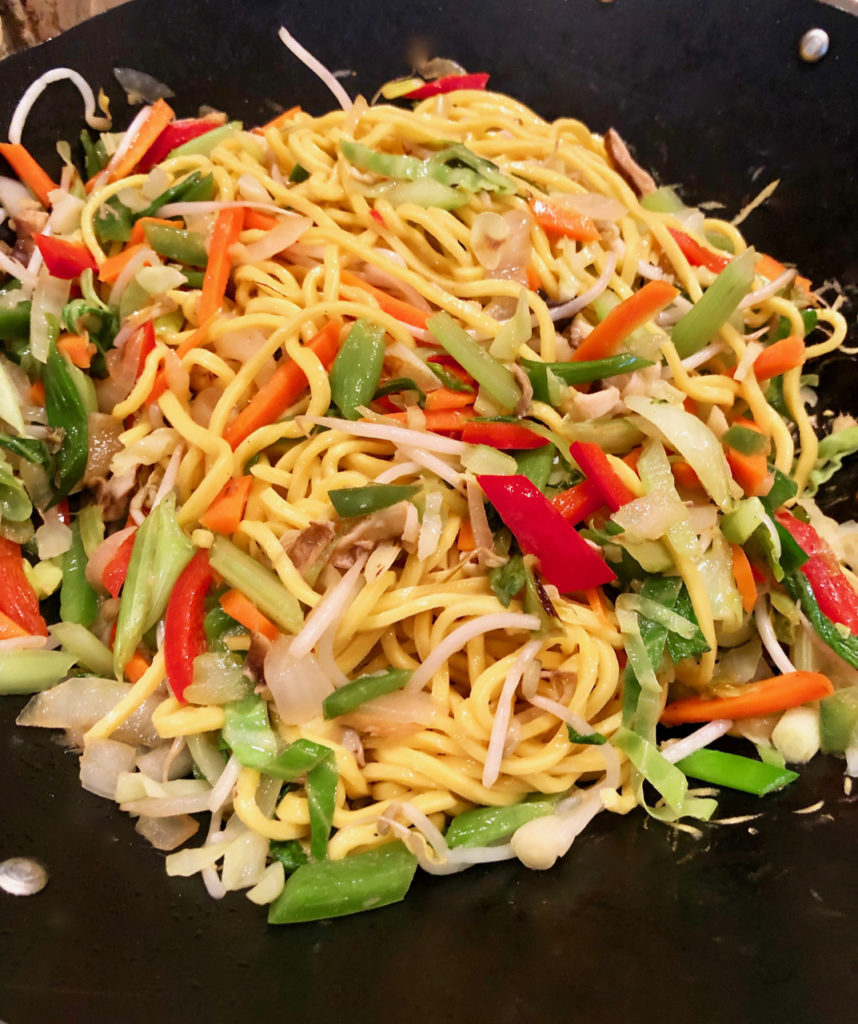 Gently, but thoroughly, toss the noodles with the vegetables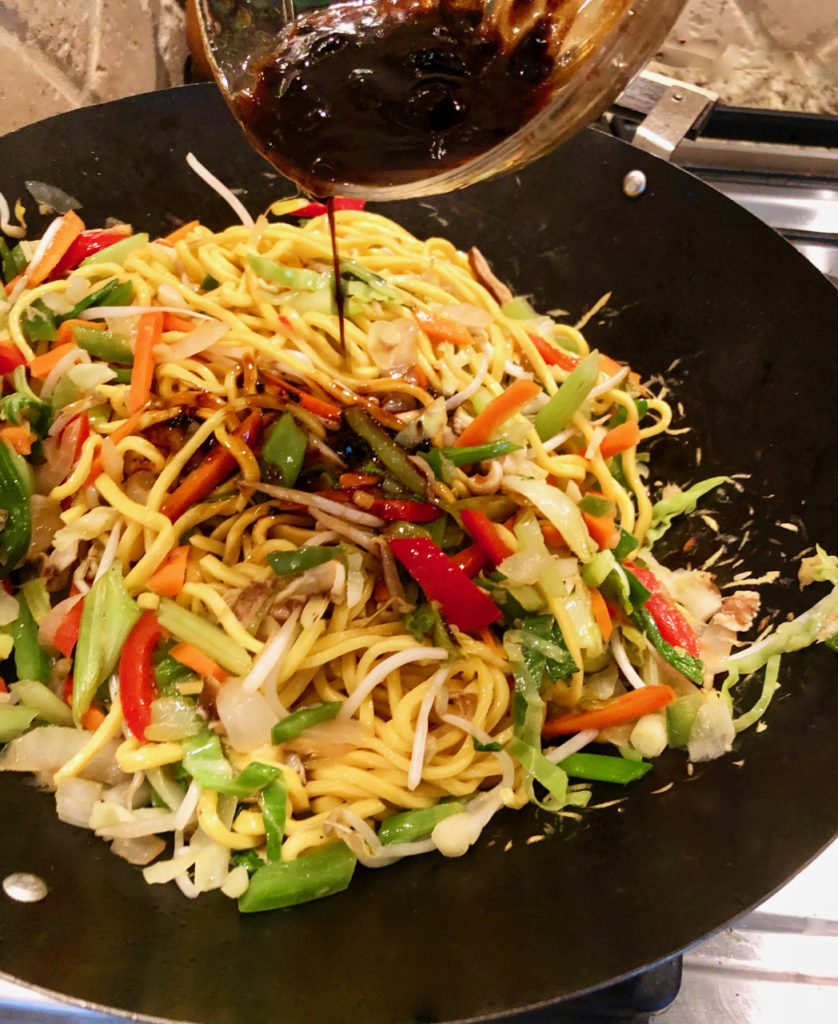 Pour the sauce all over the noodles and vegetables
Gently mix the sauce into the noodles and the vegetables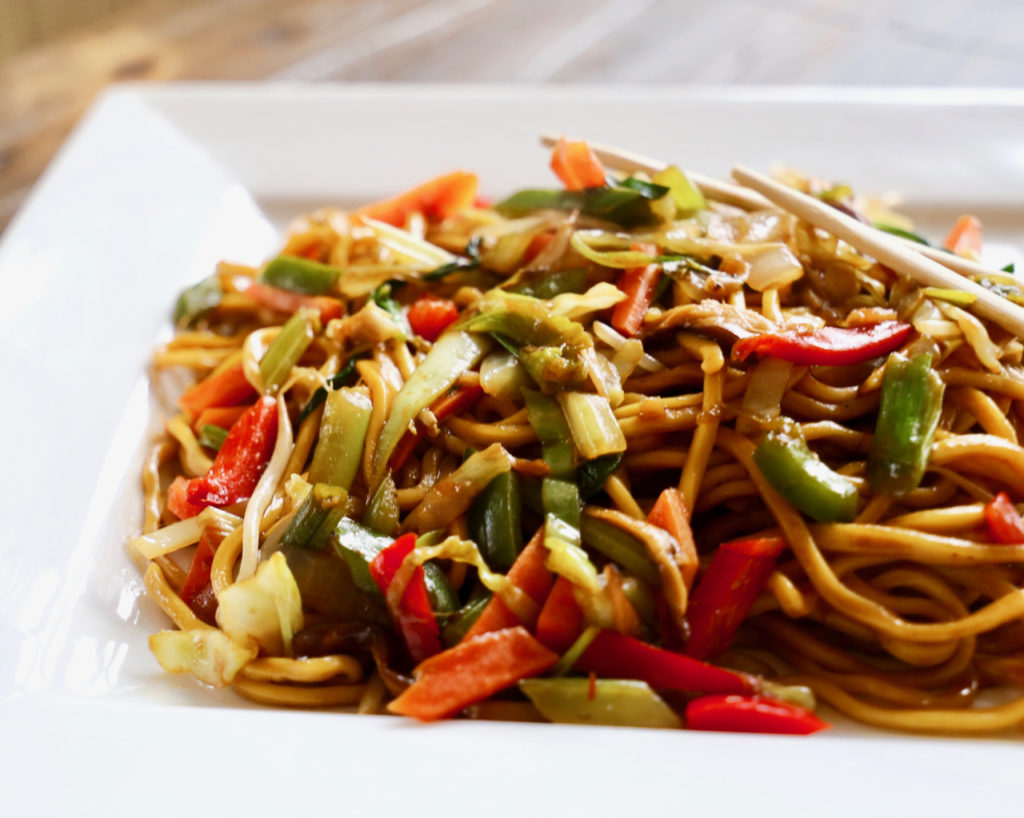 Take your beautiful and delicious creation to the plate and serve to your hungry guests!
Please pin the following image
Thank you for sharing the love!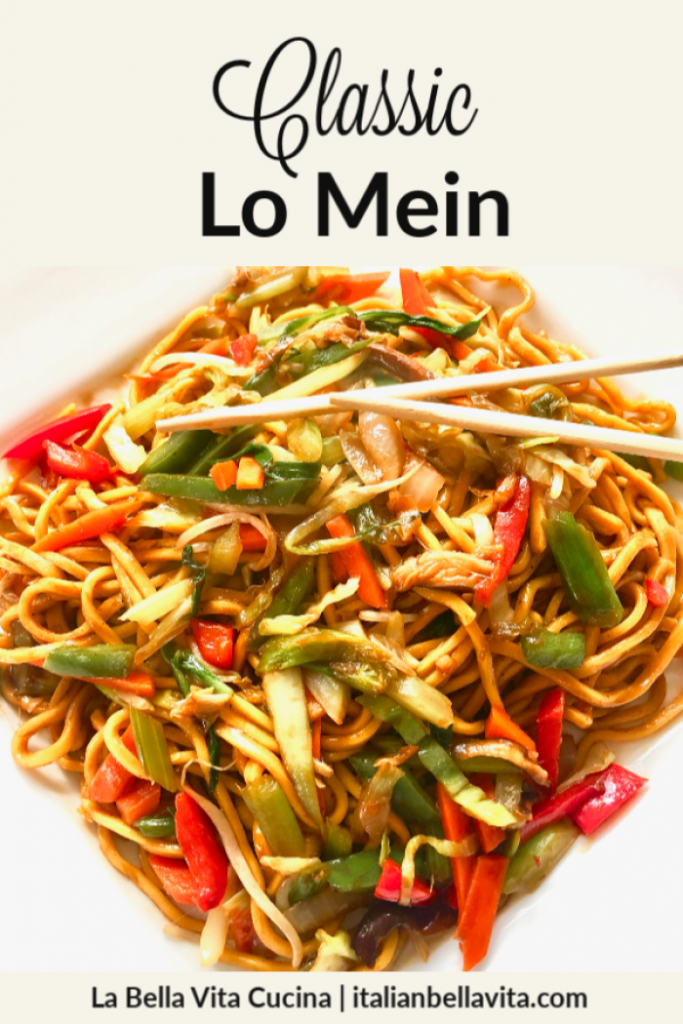 Tips for Stir-Frying:
Always cut up, slice, dice, etc. all of the ingredients for the recipe before turning on the heat of your wok or skillet.
Slice meat lengthwise for maximum surface cooking.
Whenever possible, julienne slice the vegetables.
Use a wok or large, heavy skillet such as cast iron.
Cook noodles or rice beforehand so they are done before the very fast process of stir-frying.
Look at stir-frying as frying without tons of oil.
Always cook the aromatic ingredients first and on very low heat. Stir fry slowly so that they don't burn. (Low and Slow) Aromatics such as garlic, ginger, onions, etc. are included and enhance the flavor of the dish.
The next step is a very hot and very fast stir fry of the remaining ingredients.
Add ingredients that require a longer cooking time first.
Don't add too many ingredients at once because they will cool down the wok, and that' not a good thing because the wok is to be super hot at all times.
Adding too many ingredients at one time in the wok results in steamed vegetables (and meat) and not achieve that crispy, fresh sir fry texture.
Continually stir the ingredients once they are added.
If necessary, thicken the stir fry sauce.
Equipment for Stir-Frying
You can use a large, heavy skillet, such as those made from cast iron. However, if you plan on stir-frying a lot, it would be a good idea to invest in a wok. Most Americans cook over stoves (rather than fires as the Asians do), so woks sold in the U.S. usually have flat bottoms. Some woks are available with rounded bottoms and come with a metal ring to sit on over a gas burner.
A wok has the superior advantage of having nice, sloping sides of the pan where ingredients that need less cooking can be moved away from the hot spot at the bottom of the wok. You don't have to take any ingredient out, just slide them up on the sides of the wok and they don't overcook, so nothing gets overcooked.
A MUST-HAVE in my kitchen, not just for Asian recipes, but for many, many recipes prepared on the stove is a SPIDER LADLE!
You'll thank me for this gadget that becomes indispensable in the kitchen.
To really get into it and enjoy preparing Asian recipes, you truly need to have a wok.
It is such a wonderful piece of cooking equipment!
Here's one that gets over 8,000 positive reviews!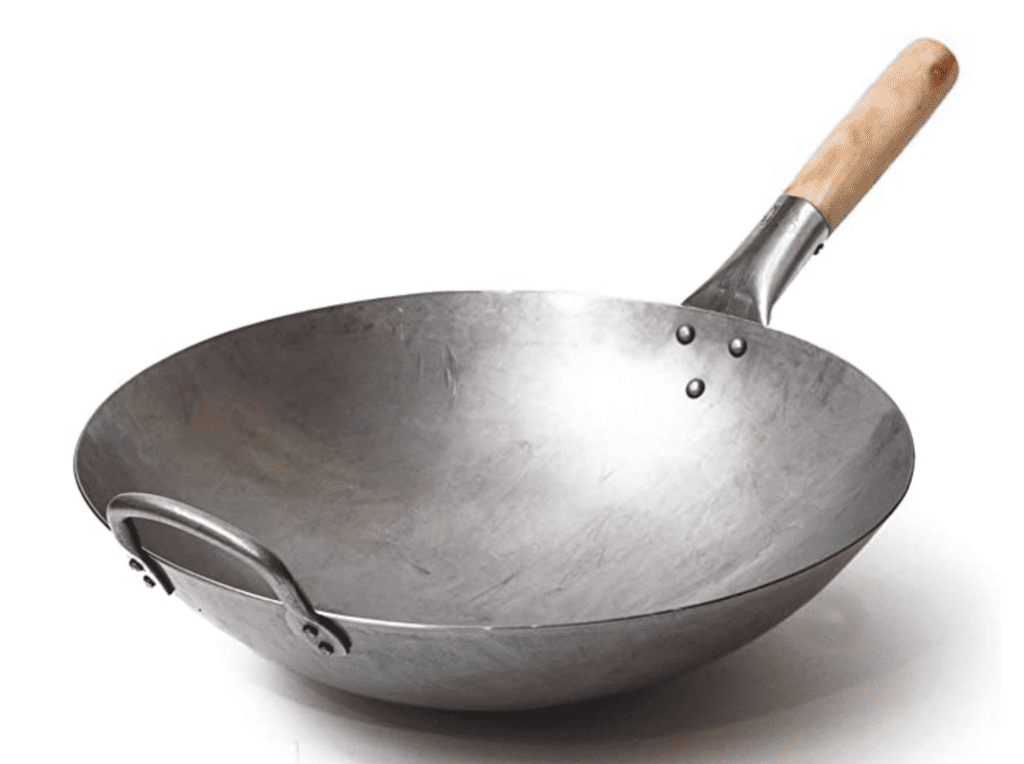 Print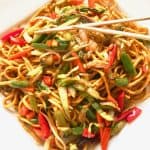 Chinese Lo Mein
Author:
Prep Time: 0 hours
Additional Time: 0 hours
Cook Time: 0 hours
Total Time: 0 hours
Category: Pasta
---
16 oz. Chinese lo mein noodles, Italian linguine noodles can be substituted
2 – 3 Tbsp. sesame oil, for frying
2 tsp. minced ginger
2 tsp. minced garlic
1/2 cup julienned carrots
1/2 cup julienned celery
1 cup julienned cabbage
1 cup julienned bok choy
1/2 cup julienned green onions
1/2 cup each julienned green pepper and red pepper
1 cup julienned shiitake mushrooms
1 cup bean sprouts
3 Tbsp. soy sauce
1 Tbsp. hoisin sauce
1 Tbsp. mushroom dark soy sauce
1 Tbsp. oyster sauce
1 Tbsp. sesame oil
---
Instructions
Cut all of the vegetables up and set aside.
Prepare the sauce and set aside.
Cut the lo mein noodles in half.
In a tall pot of boiling water, cook the lo mein noodles for about 4 minutes only.  Strain the noodles when finished.
Place the lo mein noodles in ice water immediately to prevent from sticking together.  Set aside.
Heat a wok or large skillet to medium-high to high.
Add sesame oil to heat up a bit.  Do not scorch or burn the oil.
Add the minced garlic, minced ginger, sliced onions, and julienned green onions.  Gently stir fry for a few minutes.
Add the julienned carrots, julienned celery, sliced cabbage, and bok choy.  Stir fry gently for a few minutes.
Add the sliced red and green pepper and sliced shiitake mushrooms.
Stir fry everything for about 3 minutes.
Add the bean sprouts and gently toss everything.
Add the lo mein noodles in and gently mix everything together. 
Stir fry everything for about 2 minutes.
Pour the sauce over the noodles and vegetables and gently mix everything together.
Stir fry for another minute or two to heat up the sauce.
Serve immediately.
ENJOY!
---
More Asian Recipes to Enjoy!
First posted in 2019; Updated in 2023.