Chocolate Amaretti Peaches
What a sweet treat! Fresh summer peaches loaded with sweet, crushed amaretto cookies and brown sugar, blended together with warm butter! Chocolate Amaretti Peaches are delicious with warm chocolate drizzled all over the top after being broiled to a golden brown color. We were amazed at such an unexpected flavor combination. We were "Wowed"! After devouring them, we were thinking of other ways to us the cookie/brown sugar/butter topping: as a crumble topping covering cherries, or apples, or whatever fruit you enjoy. The Amaretti cookie crumb topping is what made this simple dessert shine! Here is a link to purchase Amaretti cookies online –> Amaretti Cookies
This month the Cooking Light Virtual Supper Club's theme is "Al Fresco Dining", a time to prepare recipes to enjoy eating outside. This theme is so welcome to me now that the first session of teaching summer school is over and behind me. In June, I was indoors all day, every weekday. And now I'm FREE to be outside . . . my favorite place!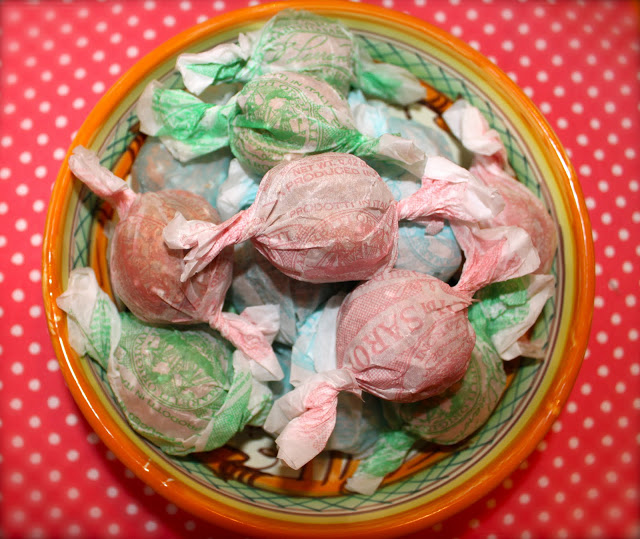 Amaretto cookies always come individually wrapped in colorful, delicate tissue paper.
Inside each wrapper are two little cookies with sugar. The almond aroma is incredible!
Chocolate Amaretti Peaches
Ingredients
1/2 cup crushed amaretti cookies (about 8 cookies)
2 tablespoons brown sugar
2 large ripe peaches, halved and pitted
Cooking spray
4 teaspoons butter (I increased this to 4 Tbsp. – one for each peach half)
dark chocolate, melted or shaved (I chose to melt the chocolate to drizzle it)
Instructions
Heat up oven broiler.
Combine cookie crumbs and sugar in a small bowl.
Hollow center of peach halves.
Fill each peach half with 1 rounded tablespoon cookie crumb mixture.
Arrange peaches in an 11 x 7-inch glass or ceramic baking dish coated with cooking spray.
Place 1 teaspoon butter on top of each filled half.
Broil 2 minutes or until butter melts.
Drizzle melted chocolate or sprinkle shaved chocolate evenly on top of the peaches.
Cool 5 minutes before serving.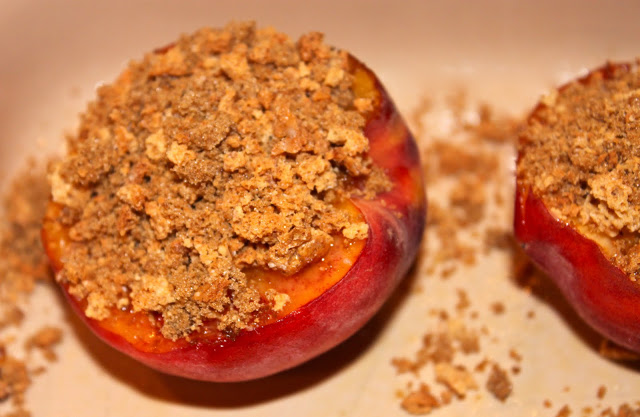 The peaches are stuffed with crushed amaretti and brown sugar.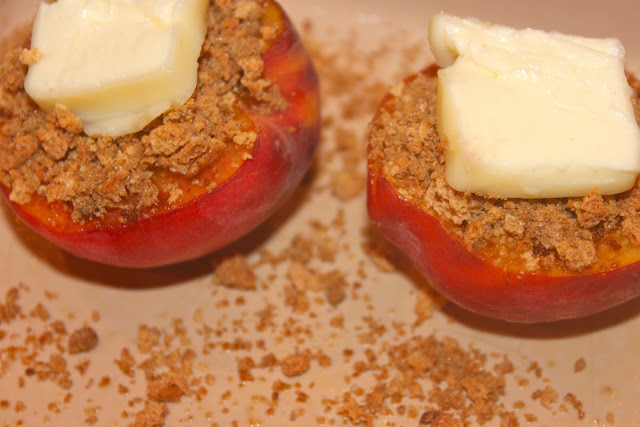 A tablespoon of butter added on top of each stuffed peach.