The Big Mama, Big Bang, Big Kahuna Burger!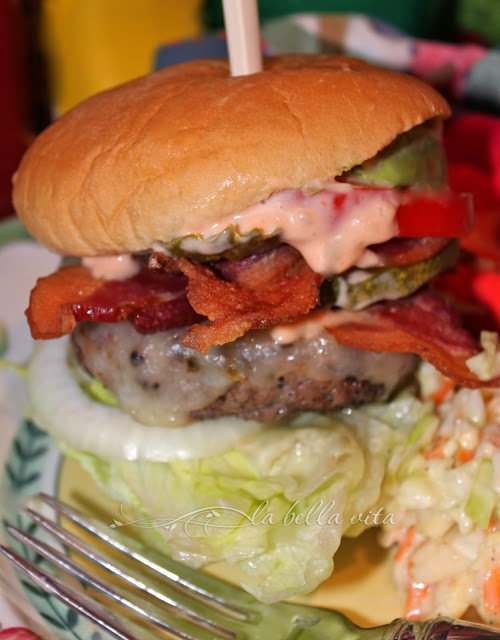 Your mouth will stretch twice it's normal size in order to bite into this bad boy!  The burger lives up to it's name:  The Big Mama (because it was for me, while Bill had his own concoction), The Big Bang (for the fireworks of the 4th of July), and The Big Kahuna (in attempts to duplicate a burger that I enjoyed in Hawaii in May).  It's big, bad (in a good way), and incredibly delicious!
.
Yes, that is a chopstick inserted half way down to hold the monster burger together; toothpicks weren't long enough!  I ended up eating it with a fork and knife, being unable to manage it by my hands alone without looking like a freak.
.
.
Print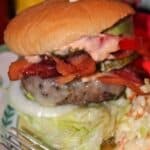 The Big Mama, Big Bang, Big Kahuna Burger
Category: Sandwich, Entree
Cuisine: American
---
7 oz. (each) corn-fed ground beef patties
2 slices thick-cut, hickory smoked bacon, fully cooked until browned
pepper jack cheese slices
large hamburger buns, TOASTED (if not, the buns turn to mush!)
Thousand Island dressing
dill pickles (hamburger slices)
1/2 avocado, sliced
tomato, sliced
onion, sliced
lettuce
ketchup and mustard
---
Instructions
Grill the burgers, seasoned the way that you prefer.
Place cheese slices on top of each burger during the last 30 seconds on the grill and no more than that or the cheese will drip right off into your grill.
Toast the buns.
Spread Thousand Island dressing on both insides of the buns.
Layer lettuce and onions on first.
Lay the burger/cheese on top next.
Lay the bacon on next.
Layer on the tomatoes, pickles, and avocado slices.
Close up the burger, wrap with wax paper, foil, or insert a chopstick in the middle to hold it together.
---
 .
.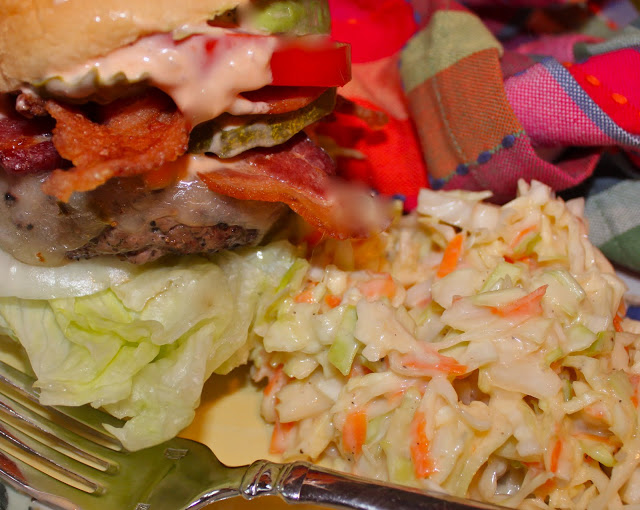 .
And now how about the coleslaw?  Well, it's a copycat type of recipe from a famous chicken restaurant.  The recipe is all over the web and so we decided to try it.  The flavor is just about identical and the reviews/comments on the web-sites declare that it IS identical to the real deal cole slaw.  Here's how to make it:
Cole Slaw
1 head of cabbage, finely chopped (this makes a ton of cole slaw, so you might want to divide this recipe in half).
1/2 cup finely shredded carrots (I doubled this)
2 Tbsp. minced onion
Dressing:  (I doubled this)
1/4 cup buttermilk
1/4 whole milk
1/2 cup mayonnaise
2 1/2 Tbsp. lemon juice
1 1/2 Tbsp. white vinegar
1/3 cup sugar
1/2 tsp. salt
1/8 tsp. pepper
Mix everything together and let set for several hours or overnight in the refrigerator.
This is the very simple way in which we dine and eat on the 4th of July.  Just a simple grilling of burgers and/or hot dogs with a fresh veggie side dish and a cold glass of iced tea.  Nothing fancy, complicated, or gourmet; just classic grilled burgers and/or hot dogs . . . and we love it that way.
Afterwards we sit back, watch fireworks, and feel gratitude for this great country!
Happy 4th of July!
.
.