Where To Eat in St. Thomas – Mafolie and Potfish and VooDoo Punch Recipe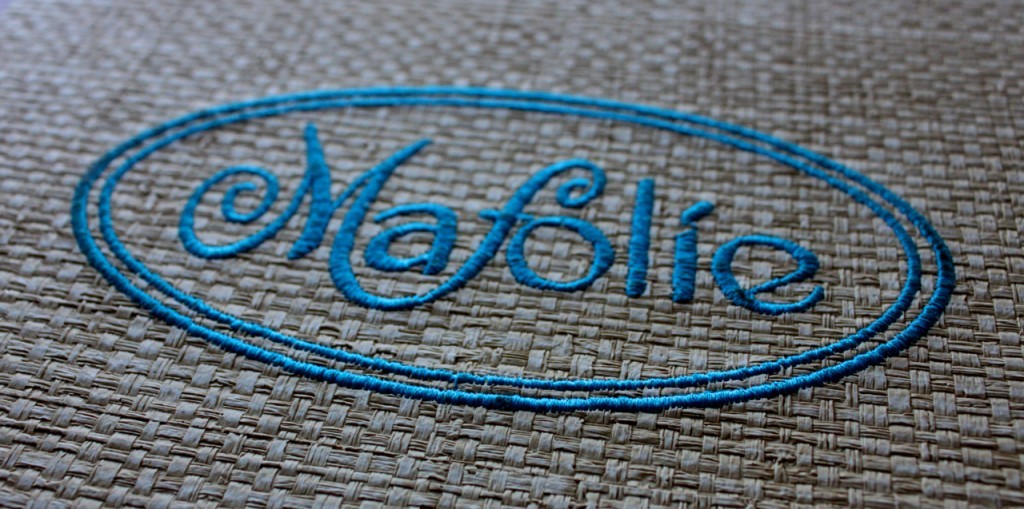 Before coming to St. Thomas, a friend who once worked in the cruise industry, highly recommended "Mafolie" for us to enjoy a great dining experience on the island.
If you can survive the winding, twisting, hairpin turns going vertical-straight up the steep mountain, a visual and flavorful treat awaits you! Their world-famous view of Charlotte Amalie and the bay beneath you. We were so fortunate to be seated just before sunset.
We actually got lost trying to find this place and ended up on the other side of the mountain, feeling as if we had just got off of a crazy, insane roller coast ride! After asking for directions three times, we finally ended up at our destination! The mountain roads are not for the faint of heart . . . plus you have to drive on the LEFT, which really messes up your head!
Every dish is prepared using only local ingredients and Caribbean cooking methods and recipes that have been used and passed down for generations!
When on any island, we always try the local cocktails . . . and this spot, Caribbean rum, in all it's varieties, is the booze of choice for the base of some interesting concoctions. Yummy! With six different rums, the Voodoo Punch gives a powerful punch in seconds!
The start of the delicious evening began with this A.M.A.Z.I.N.G. brie fried in a crust of Virgin Island Lemongrass and crushed almonds served on Champagne Cranberry Sauce, with oh-so-fresh mangos!
Other island appetizer and soup specialties on the menu:
Kalaloo Soup
Lobster Bisque
Caribbean Sweet Potato Crab Cakes
Coconut Crust Shrimp
Caribbean Conch Fritters
Fresh-Cut St. Thomas Coconut
The entrees live up to the acclaimed reputation of Mafolie, with crazy-good, unique Caribbean flavored options. It was hard to decide, but we went with the Spicy Chili Rubbed Saku Ahi Tuna on a Sweet Chili Sauce. The Seaweed Salad was incredible and the fried plantains were also quite yummy.
Other entrees to delight include:
Anegada Fresh Conch with Green Banana Butter Bath
Shrimp Mofongo with Sweet Plantian Mash and a Lime Butter Sauce
A favorite on Many of The Latin Caribbean Islands / Sweet Plantain Mash / Butter Lime Sauce (Provencal)
Jamaican Jerk Flank Steak or Chicken with Fried Plantains
Island Crucian Rum Lobster
and something new to us that was mind-boggling delicious: Mafolie's Famous Potfish
The term "Potfish" refers to the type of fish that is in the fish pot when it's freshly caught from the sea. A Potfish can be grouper, snapper, grunts and any local fishes. The fish has to be caught that day. Pot fish are traditionally served whole and can be boiled, fried, and if you like, filter. At Mafolie, Potfish is always served with a lime onion pepper sauce.
Red Snapper was the fish of the day for the Potfish . . . it was the best entree on the table.
Perfection!
HERE is a fantastic recipe that I found on the web for FRIED SNAPPER "POTFISH" from "CaribeeanPot.Com– It's Excellent!
FRIED CARIBBEAN POTFISH RED SNAPPER
Not only does this wonderful web-site provide the ingredients for this delicious dish, but also gives you 'step-by-step' instructions AND a VIDEO to watch to learn how to prepare this! Talk about awesome information! WOW!
At Mafolie on St. Thomas, each entree arrives with a side dish and vegetable of the day. Local item recommendations are given by your server to pair nicely with your entree.
This is a good thing, since we certainly did not know what any of the side dishes were:
Caribbean Boniato Sweet Potato Mash
Jamaican Provencal of Island Christophine and Local Pumpkins
Sweet Potato and Coconut Dumplings
Plantains
Green Banana's
Breadfruit Mash
Island Seasoned Rice
Now you have to save room for dessert, right? Since we ate fairly light with our fish entrees, we definitely were excited to try these classics with a tiny spin. The Creme Brûlée had rum blended with the sugar on top, so it was served flaming. The rum gave it quite a nice boozy twist! And the Key Lime pie was totally authentic, light and delicious.
So next time you're in the U.S. Virgin Islands, don't miss this gem high on the mountainside with not only superb Caribbean cuisine, but a beautiful view of the island as a backdrop!
Print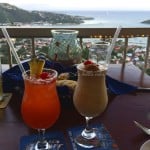 VooDoo Punch
Author:
Prep Time: 0 hours
Additional Time: 0 hours
Cook Time: 0 hours
Total Time: 0 hours
Category: Cocktails
Cuisine: Caribbean
---
Description
THE VOO DOO PUNCH at MAFOLIE blends SIX types of Caribbean RUMS in their version that is NOT included in this recipe found on the web. Therefore use the SIX (6) rums of your choice when preparing this concoction! This makes enough for a party of a LOT of people! This classic Caribbean rum punch was created at a party at the world famous Voodoo Lanai in south Florida by a bartender known as the Voodoo Master in 2001- it's been a fan favorite ever since, and is particulary good on hot summer days in the sub-tropics.
---
Scale ingredients to the correct amount of servings:
.
92 oz(2 cans) pineapple juice
32 oz(1 carton) orange juice
1 liter Mount Gay® Eclipse Barbados rum
375 ml(1/2 bottle) Cruzan® coconut rum
6 oz grenadine syrup
32 oz Sprite® soda
6 – 8 dashes Angostura® bitters
8 – 10 slices orange and lime
---
Instructions
In a large punchbowl, combine all ingredients, stir.
Add slices of orange and lime, and an ice block.
Makes about 25 eight oz. drinks.
Another version that's less sweet can be made by substituting club soda for Spite/7-Up.
---
.
.Next restaurant reviews from the U.S. Virgin Islands coming up:
"Room With A View", ZoZo's, and "Vagilio's"!!
.
.