Rhubarb Streusel Cake with Mascarpone Cream
Spring arrives early in the South and having our own gardens allows us to enjoy fruits and veggies long before any local farmers' market opens up. Most of the stuff available in the markets near our location has produce brought in at the earlier times of spring.
Strawberries just started getting picked last week . . . after literally days and weeks of endless rain.
I don't know why, but rhubarb just grows magically for me in the South. So many people write to me and ask me how I do it. The only thing that I can think of is horse poop!
Yup . . . horse poop. After it dries out after about one year, we shovel the stuff on . . . it's candy to rhubarb! With 3 horses, the candy store never closes!
Whatever floats your boat, I guess!
Plus we grow ours in a raised bed under a huge shady oak tree, so it's not quite as hot as the rest of the acreage in full sun.
I don't know, since I'm certainly not a master gardener. Just have years of experience to go by.
The rhubarb is going nuts, but we lost half of it due to our "alpha" male cat who used the rhubarb bed as his kitty litter over the winter.
Bad kitty . . . BAD! (But I do love him so much!!)
But we still have rhubarb in the freezer from last year that we haven't used so I'll forgive him . . . just this once!
If you don't have a rhubarb patch, then when you're in your local market, look for rhubarb that is either red or green (they both taste the same), make sure that the stalks are nice and firm and fairly thick as celery stalks are. If there are leaves on them, remove the leaves immediately and toss in a safe place away from animals since they are poisonous. Rinse any soil off of the rhubarb stalks and trim off just a half inch or so from each end for freshness.
Normally I always make a pie, a cobbler, or a sauce for ice cream with rhubarb, but this year, I decided to change it up a bit in the farmhouse and bake a cake . . . and oh is this cake wonderful!
I found the recipe on the web and decided to amp it up a bit with a sweet mascarpone cream topping.
Perfetto!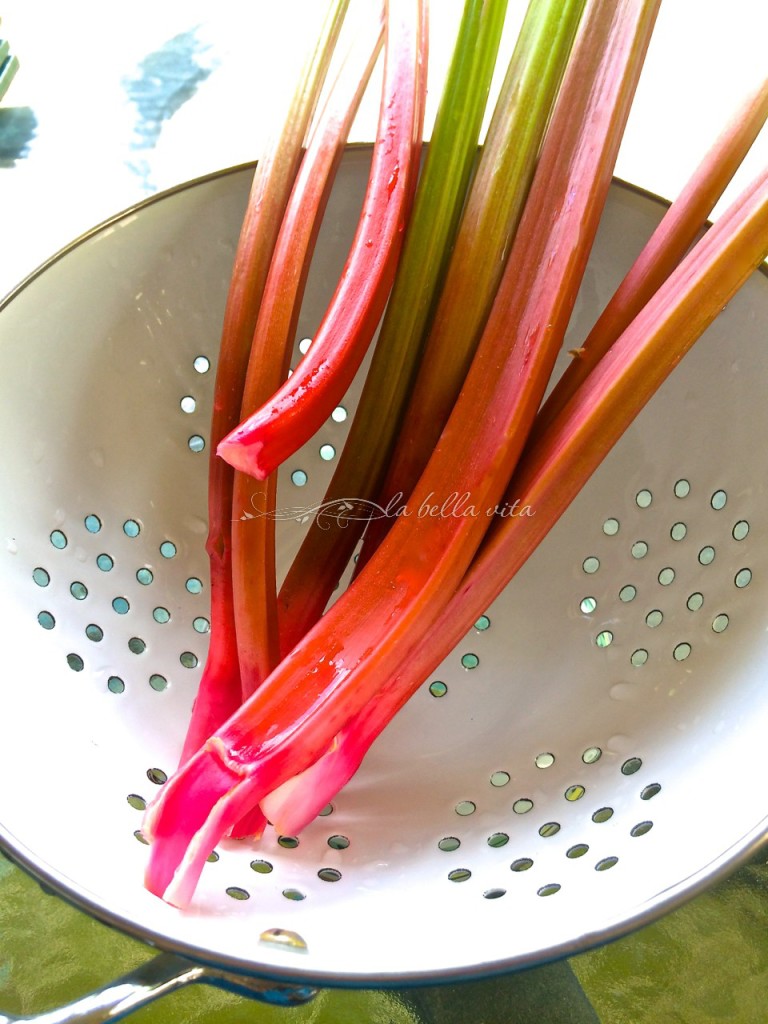 Trim off those huge leaves and any mushy ends of the stalks. Then slice each in half length-wise, followed by chopping off ½" pieces. About 10 – 12 stalks are needed for this recipe to have 4 cups of chopped rhubarb.
The batter for this cake can be put together in less than 10 minutes once the rhubarb is chopped up. It starts out really lumpy as you can see below. The end batter is very heavy, but once baked, this is so light . . . it's HEAVENLY!
While the cake is baking in the oven, make this simple mascarpone cream sauce to dollop on top of each slice individually. I don't recommend frosting/icing this cake since it has a fabulous streusel topping on it already.
This cake is so light, fluffy, soft, moist and tender. You really don't even need the sweet cream on top, it's just an added bonus!
ENJOY!
Rhubarb Streusel Cake with Mascarpone Icing
Ingredients
For the Cake
1 cup sugar
1 teaspoon baking soda
½ teaspoon salt
2 cups unbleached all-purpose flour
2 jumbo eggs, beaten
1 cup sour cream
4 cups freshly-chopped rhubarb
Streusel Topping
½ cup brown sugar
¼ cup softened butter
¼ cup unbleached all-purpose flour
½ teaspoon cinnamon
For the Mascarpone Cream Topping
1 tub of Italian Mascarpone cheese
1 cup heavy whipping cream
¾ cup powdered (confectioner's sugar)
Instructions
Heat oven to 350 degrees (F).
Generously butter and flour entire 9 x 13 inch baking pan.
In a large mixing bowl, combine sugar, baking soda, salt, and flour.
Stir in the beaten eggs and sour cream to the dry mixture.
Fold in the chopped rhubarb; the batter will be very thick and heavy.
Pour batter into prepared baking pan and spread it evenly throughout the pan.
In a small bowl, blend together the brown sugar and butter until well-blended.
Stir in ¼ cup flour and cinnamon, until mixture is sticky-crumbly.
Sprinkle streusel topping evenly over the unbaked cake batter.
Bake cake for 45 minutes or until an inserted toothpick comes out clean.
While cake is baking blend prepare the Mascarpone Cream topping
Blend all ingredients in a medium mixing bowl, using an electric hand-held mixer, until well-blended.
Dollop mascarpone cream on top of cake slices.
Garnish with fresh strawberries.
Notes
Original Recipe Source: https://www.italianbellavita.com/2015/04/rhubarb-streusel-cake-with-mascarpone-cream/
Copyright © 2015 La Bella Vita Cucina.
All content and images are copyright protected.
Please do not use my images without prior permission. If you want to republish this recipe, please link back to this post for the recipe.
See more at: http://italianbellavita.com
.
Here are more of my family's favorite rhubarb recipes:
.
So what do you think? Are you ready to sink your teeth into this delightful rhubarb cake? If you bake it, I'd love to know how it turned out and if it made your tummy happy!
.
.
.