Grilled Italian Swordfish with Creamy Lemon Caper Sauce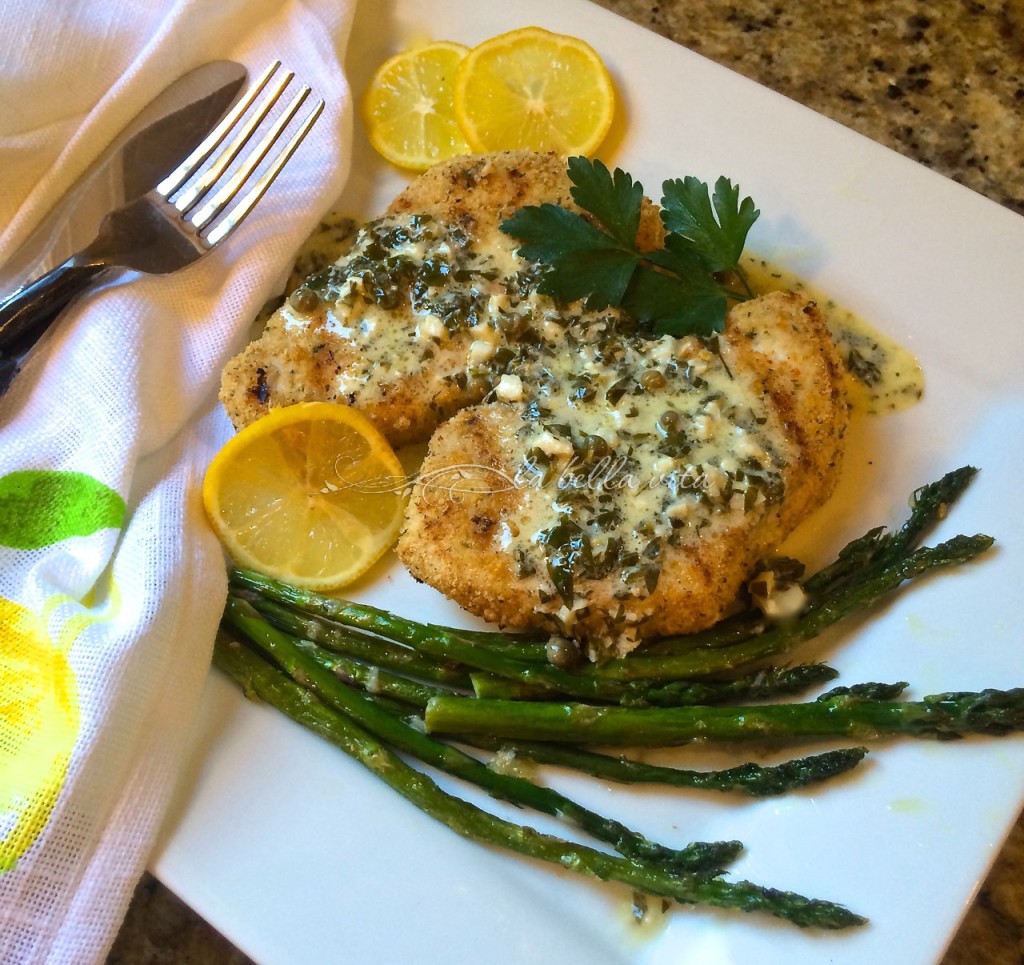 Swordfish is at the top of our list of favorite seafish!
But close behind are red snapper, maui maui, opa, and redfish. Salmon is our favorite fresh-water fish.
So when swordfish goes on sale in the market . . . I make a bee line straight to the fish counter to grab some of this delicious fish. My husband only eats fish when I do, always going for beef instead.
What can I say? If it makes him happy, so what?
He enjoys swordfish because it has a flavor that more closely resembles beef and that makes his tummy happy-happy!
And both of us loved this fish recipe. I found a Sicilian olive oil – lemon based sauce on the web, but it was so bland in flavor that I had to jazz it up BIG TIME! I hate tasteless food, especially tasteless Italian food.
Plus I love to play with recipes!
A little of this . . . a pinch of that!
So I added butter, cream and capers to the sauce and WOW, did it knock us out of the park with superb flavor! Since my family is Northern Italian, we do use cream and butter in our recipes. High quality butter and cream are not only common ingredients in Northern Italy, they are EXPECTED!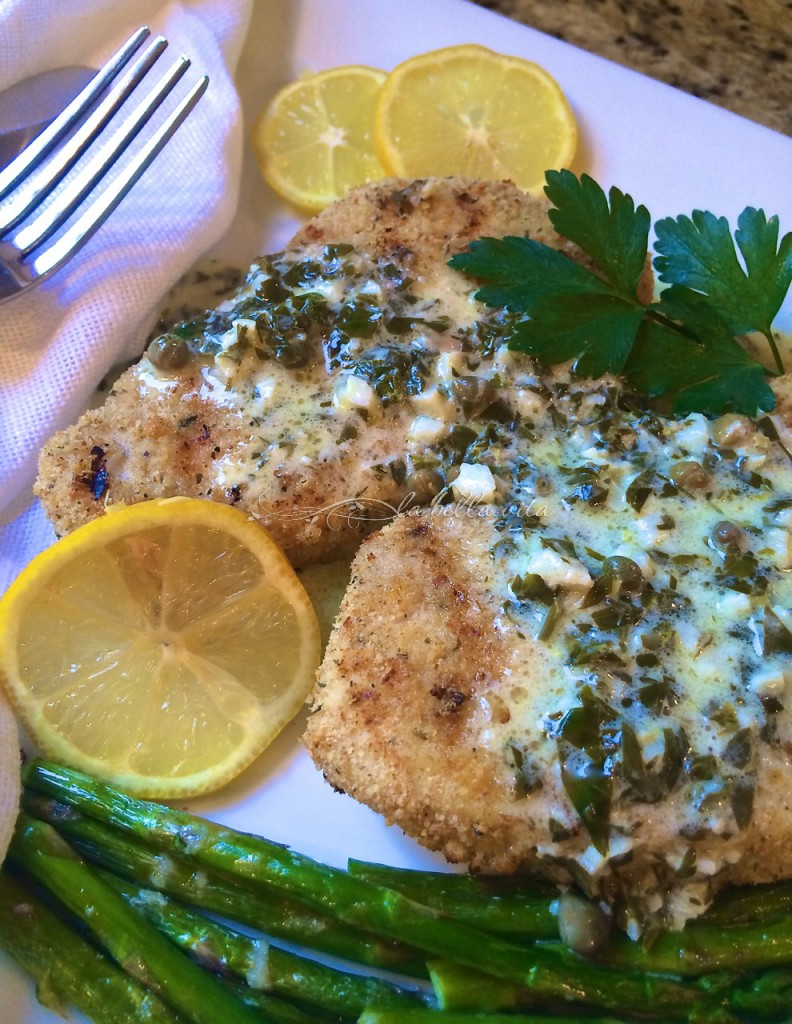 The fish is first brushed with olive oil and then covered in Italian bread crumbs and panko. While the fish grills, the sauce is prepared in less than 5 minutes (do all of your prepping beforehand).
I served this with roasted asparagus.
Just delightful and light!
ENJOY!!!!
Print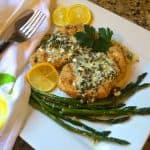 Grilled Italian Swordfish with Lemon Cream and Caper Sauce
Author:
Prep Time: 0 hours
Additional Time: 0 hours
Cook Time: 0 hours
Total Time: 0 hours
---
8 Tablespoons Extra Virgin Olive Oil
4 Swordfish Steaks, cut 1″ thick,
1 cup Italian-seasoned bread crumbs
1 cup Italian-seasoned panko crumbs
Garnish: Fresh-cut sprigs of Italian parsley
Garnish: Sliced lemons
Creamy Lemon Caper Sauce
8 Tablespoons Olive Oil
1/2 stick of high quality butter
1/2 cup of heavy cream
Juice of 1 medium-sized lemons
Zest of 1 small lemon
1–1/2 cups minced fresh-cut Italian parsley
4 cloves of fresh garlic, finely chopped
4 Tablespoons fresh-cut oregano, finely chopped
1/2 small jar of capers (if salted, rinse thoroughly)
---
Instructions
Drizzle each swordfish steak with olive oil and spread the oil evenly over each steak on all sides.
Using a shallow mid-size bowl, pour in the Italian seasoned bread crumbs and panko crumbs.
Place each oiled swordfish steak onto the bread crumbs and panko crumbsand then turn over, making sure that the steak is covered on all sides.
Get the grill heated.
Prepare the sauce
While grill is warming up, heat all of the sauce ingredients in a saucepan.
Place on a very low simmer to keep the sauce warm while grilling the swordfish steaks.
Grill the steaks on a medium-low heat for 2 minutes on each side until the bread crumb coating is a nice gold-brown color.
The thicker the steak, the longer the time necessary to cook through, keeping in mind that the steaks should not be cooked to the point of being dry, but rather they should be moist and tender inside.
Pour a little bit (about a tablespoon) of the creamy lemon caper sauce on top of each steak.
Garnish with sprigs of fresh-cut Italian parsley and slices of lemons.
Pass the remainder of the sauce around to guests.
---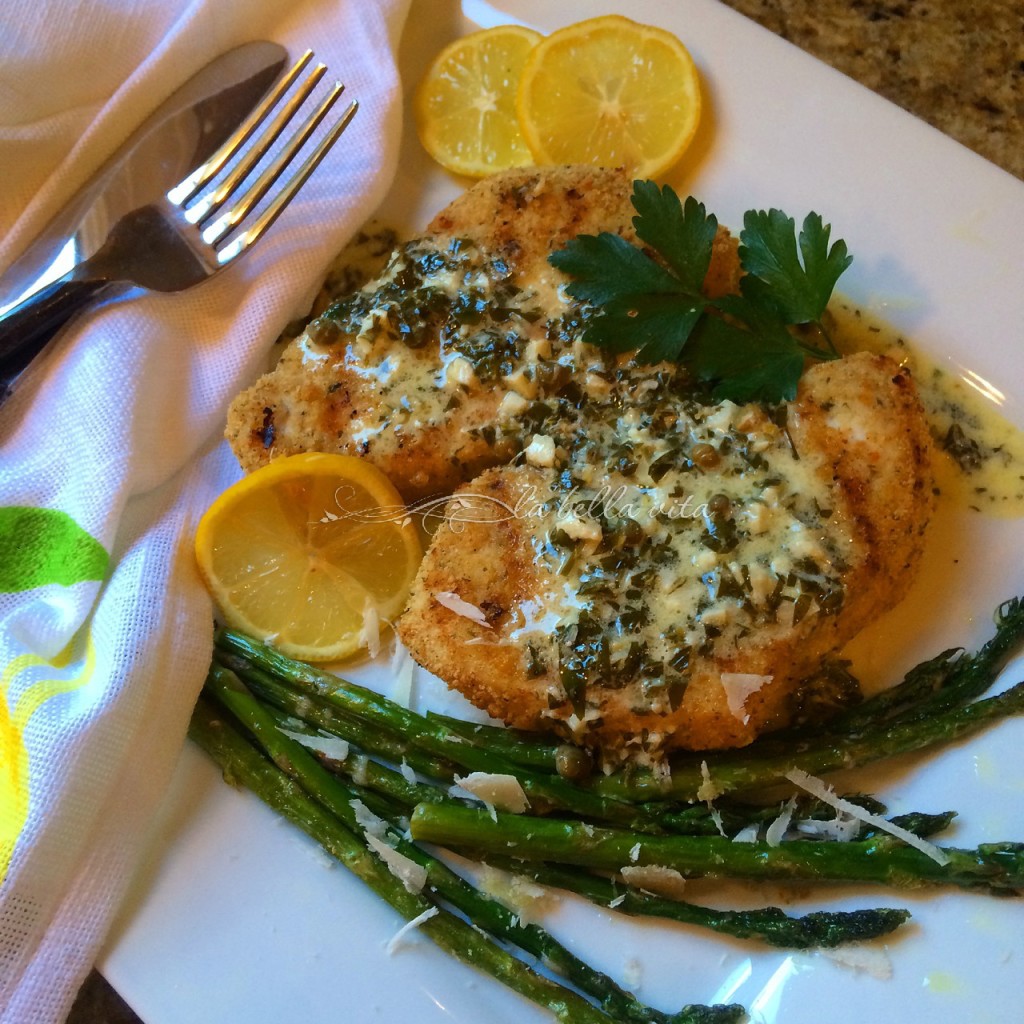 .
Here's one more SUPERBLY delicious (and shhh….it's healthy too!) recipe for grilling swordfish:
Before you go, please check out Linda's post on her wonderful blog, "Ciao Chow Linda" and the delicious results she had for Grilled Swordfish with Creamy Lemon Caper Sauce!
Here's what Linda said:
People sometimes ask me where I get my inspiration for the recipes on this blog and the answer is, it comes from various sources, like family recipes, meals I eat in restaurants, and from other food bloggers. In this case, it came from Roz, who writes a wonderful blog called "La Bella Vita Cucina". She lives in South Carolina, but has family in Emilia Romagna, the same region where my mother was born and where I still have relatives.
Swordfish is one of my favorite seafoods but it's frequently overcooked by home cooks. It doesn't take long before it's dried out and tasteless. Roz' instructions to grill it for two minutes on each side are spot on. The fish will be perfectly moist and tender.
Roz' recipe calls for smearing olive oil over the swordfish, but I also brush on some soy sauce, grated garlic and minced thyme. Let it sit for a few minutes, then dredge it in the bread crumbs and grill.
.