Turkey, Pesto and Sun-Dried Tomato Wrap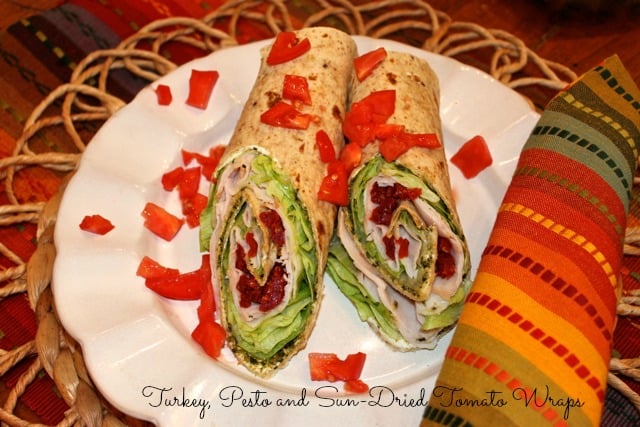 Packing lunches to take to work takes a lot of planning! When I'm getting ready in the morning before my hour-long commute, the last thing that I want to think about is "what should I fix and pack for lunch?"
Total chaos and frustration for me to think about one more thing in the morning!
And I am NOT a morning person!
Wraps are so easy to make with so many ingredient options and even easier to grab and go when made the night before. This Turkey, Pesto and Sun-Dried Tomato Wrap is one of my favorites. Here's a link on making home-made basil pesto.
So pretty to look at. Lots of layers of flavor. And EASY!
I like to slice wraps on the diagonal to show more of the colorful ingredients in the layers.
I've made this Turkey, Pesto and Sun-Dried Tomato Wrap and I hope you enjoy it! As always, change out the ingredients to make something that you prefer more: chicken, refried beans, black beans, avocados, different varieties of cheeses, lettuce, etc.
Print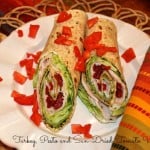 Turkey, Pesto and Sun-Dried Tomato Wraps
Author:
Prep Time: 0 hours
Additional Time: 0 hours
Cook Time: 0 hours
Total Time: 0 hours
---
Tortillas (I use 'multi-grain' or wheat)
Cream cheese, softened, about 5 Tbsp per wrap
Basil pesto, homemade or store-bought, about 2 Tbsp. per wrap
Lettuce leaves, any variety
sliced smoked turkey – 10 slices per wrap
sun-dried tomatoes from a bag and not from a jar, about 2 Tbsp.
salt and pepper
garnish: chopped tomatoes
---
Instructions
Instructions
Spread cream cheese on tortillas.
Spread basil pesto on top of cream cheese.
Lay several whole lettuce leaves on top next.
Layer on turkey slices on top of the lettuce.
Place sun-dried tomatoes on one end of the tortillas (which when rolled up will be in the center of wraps).
Sprinkle with salt and pepper to taste.
Roll up each tortilla starting from the side where the sun-dried tomatoes were placed.
Garnish with freshly diced tomatoes.
---