Italian Seasoned Salmon Burgers with Garlic Aioli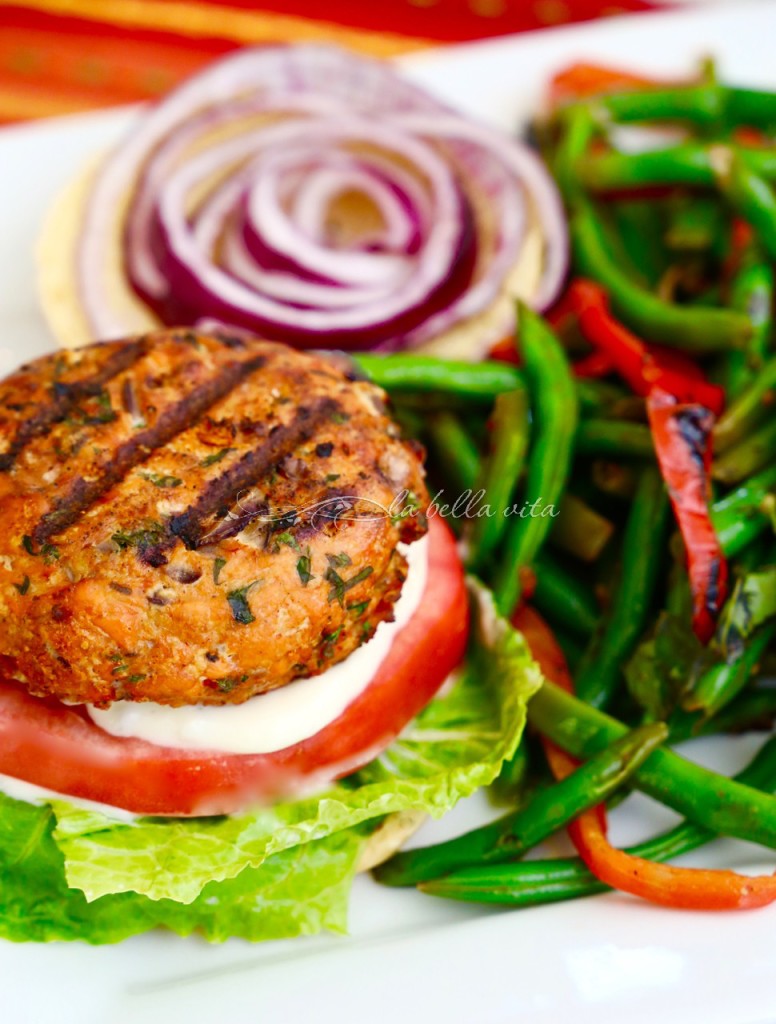 We just can't get enough salmon! It's literally our favorite fish that can be prepared so many ways that are so easy (I just love that word, don't you?). Plus salmon is so healthy for us! And these Italian Seasoned Salmon Burgers with Garlic Aioli are so easy and delicious, you'll certainly want more!
When salmon has a special weekly price in the market, I can't resist picking up some pretty colored salmon filets!
Being in the South, even if the weather is on the chilly side, we still grill outside A LOT! Grilling just adds so much crispiness to fish! So I knew that was just how we'd prepare these for our guests who visited this weekend.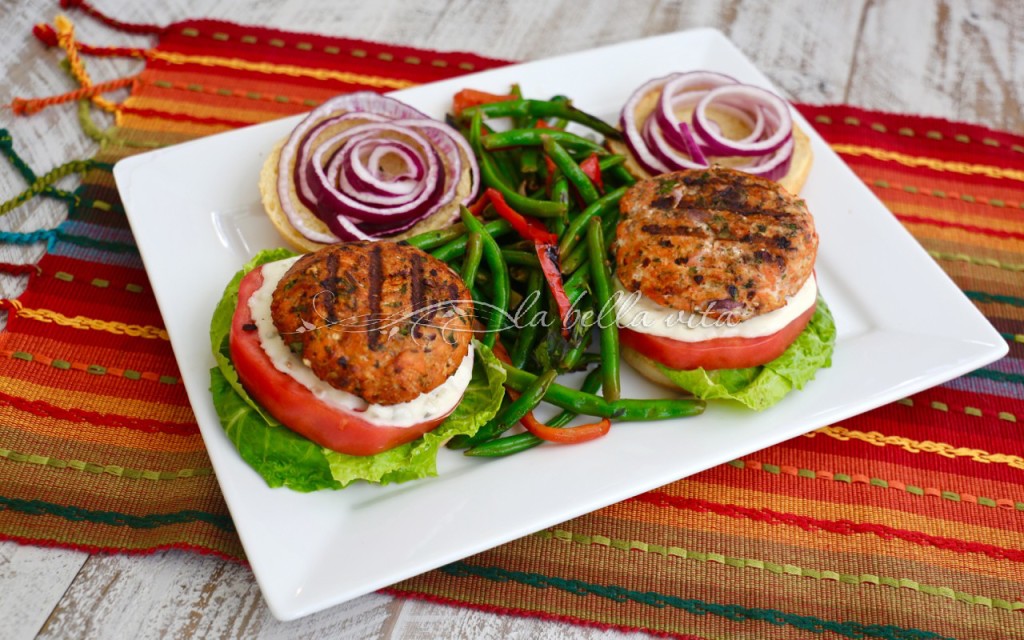 I served these Italian Seasoned Salmon Burgers with Garlic Aioli along a side of fresh green beans with red peppers that I roasted with olive oil and garlic. I just the love the color of how this turned out!
Remember, your guests eat with their eyes first! So bring on the color!
Serve with a creamy, lemon and garlic aioli and you'll understand why we love these salmon burgers!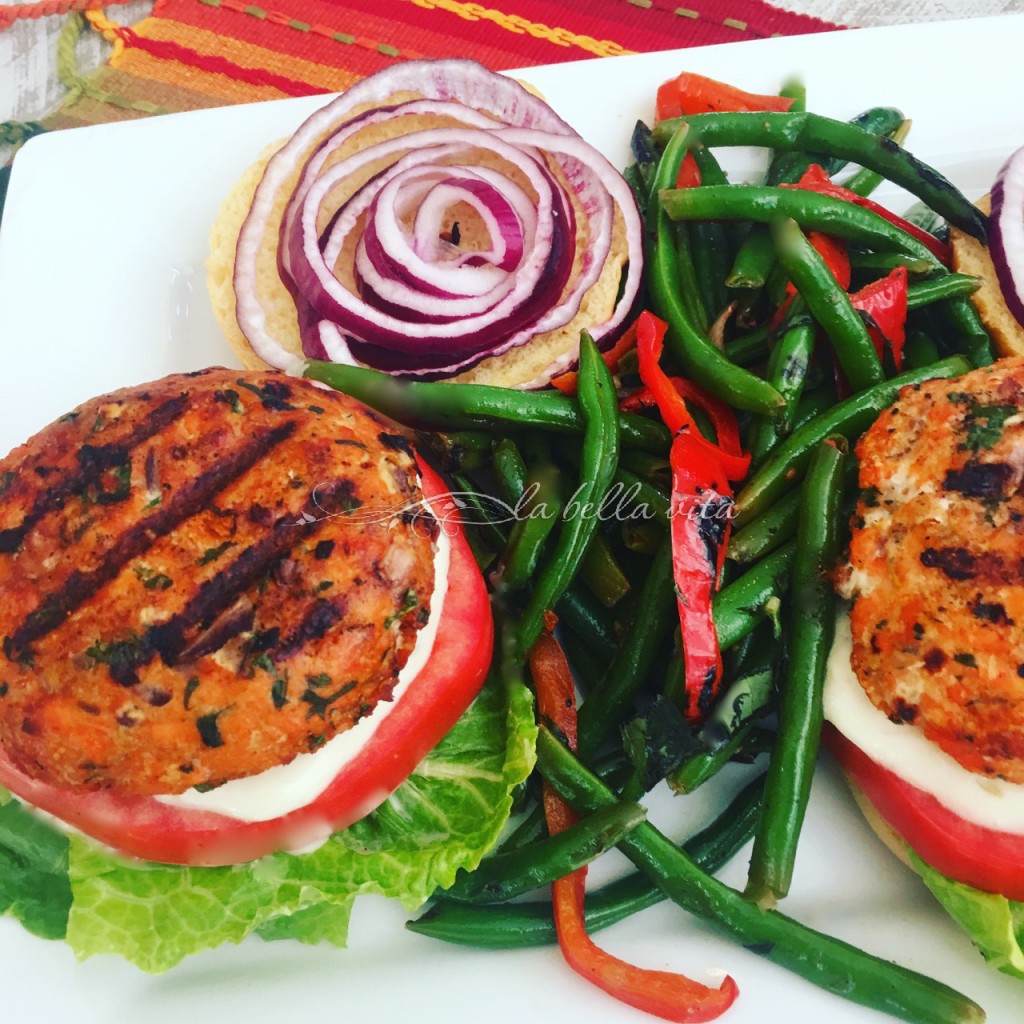 I hope that you enjoy this delicious and healthy recipe!
Print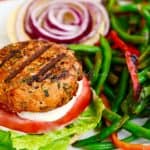 Italian Seasoned Salmon Burgers with Garlic Lemon Aioli
Author:
Prep Time: 0 hours
Additional Time: 0 hours
Cook Time: 0 hours
Total Time: 0 hours
---
1–1/2 pounds center-cut, skinless, boneless salmon fillet
1 Tbsp. Dijon mustard
1 Tbsp. mayonnaise
2 tsp. lemon juice
zest of 1 lemon
1/2 tsp. freshly cracked sea salt
1/2 tsp. freshly cracked black pepper
3 Tbsp. finely chopped green and red pepper
2 green onions, finely chopped
1Tbsp. capers, drained
3 garlic cloves, minced
1/2 cup Italian parsley, finely chopped
1/2 cup Pecorino Romano, grated
1 egg, slightly beaten (add another egg if needed)
1–1/2 cup Italian-seasoned breadcrumbs
4 brioche buns, split in half
2 tablespoons extra-virgin olive oil, plus more for brushing 4 brioche buns.
Romaine lettuce
Tomato slices
Sliced red onion
Herbed mayonnaise or tartar sauce of your choice.
Lemon wedges
For the Garlic Lemon Aioli
8 Tbsp. mayonnaise
juice of 1 lemon (more if you want it more lemon-y)
4 large garlic cloves, minced
Freshly cracked sea salt and black pepper to taste
---
Instructions
On a clean wooden cutting board, chop up the salmon filet into small flakey bits OR place chunks of salmon into a food processor and slightly pulse until salmon is in flakey bits. Do not over-process!
In a large mixing bowl, mix the salmon flaky bits with, chopped peppers, green onions, capers, garlic, Italian parsley and Pecorino Romano cheese.
In a separate medium mixing bowl, whisk together the egg(s), Dijon mustard, mayonnaise, lemon juice, lemon zest, salt and pepper.
Add this egg-mustard-mayonnaise mixture into the large mixing bowl with the salmon mixture.
Gently, but and thoroughly blend the salmon mixture with the egg-mustard-lemon mixture.
Gently mix in the Italian breadcrumbs.
Divide the entire salmon mixture into 4 equally sized balls.
With damp hands, pat each ball into 1-½ inch-thick patties.
Cover loosely with plastic wrap and refrigerate at least 30 minutes.
Preheat the grill.
Grill until browned on each side, because these are so thick and the burgers feel springy in the center and not soft, it took 10 minutes on each side.
Prepare the Garlic Lemon Aioli
Add all ingredients and whisk together well; set aside.
Meanwhile, arrange the brioche buns, cut-side up, on a broiler pan and broil until toasted, 1 to 2 minutes.
Serve the salmon burgers on the buns with romaine lettuce and sliced tomatoes
Top with the Garlic Lemon Aioli.
Serve with lemon wedges.
---
Here are a few more recipes for salmon that I found lately:
Baked Salmon Meatballs with Creamy Avocado Sauce from Cookin Canuck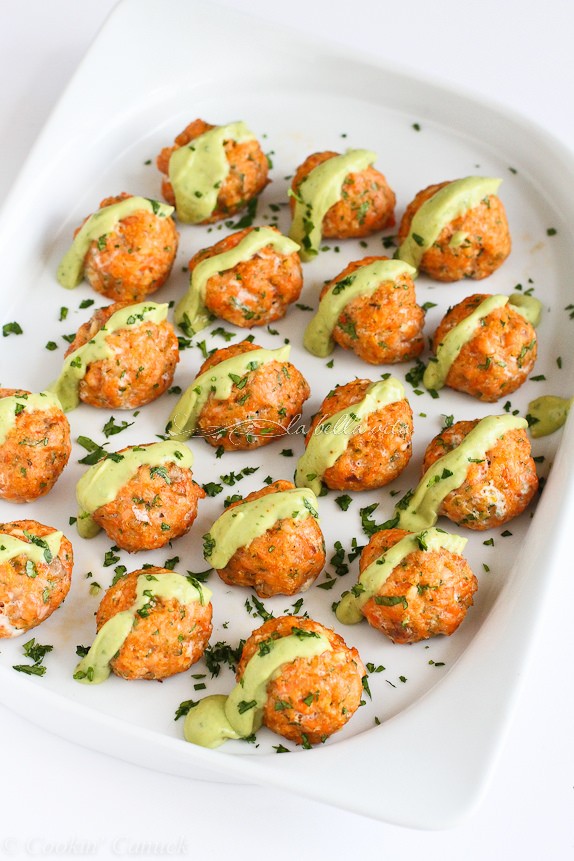 Lemon Herb Salmon Burgers From Pinch of Yum