Tuna and Artichoke Pasta Salad — Pasta Fredda, Dining Al Fresco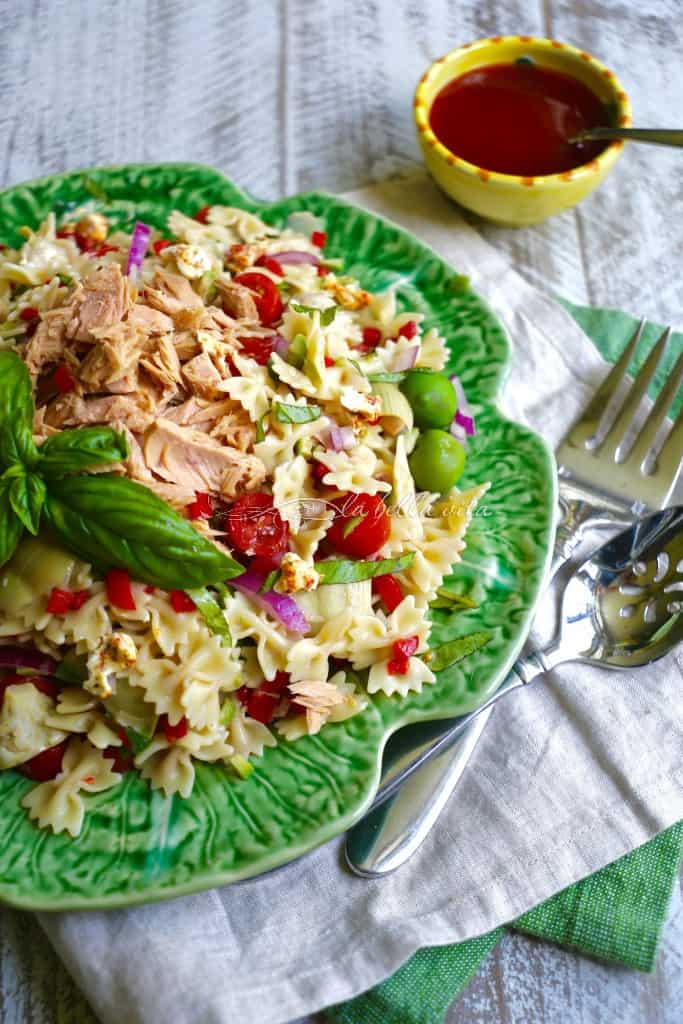 Pasta salads are enjoyed in both Italy and the States. In fact, in Italy the name for pasta salads is insalate di pasta fredda. This is a dish that can be prepared with various different pasta shapes, is always chilled and usually tossed in a light, simple dressing such as olive oil and vinegar. Pasta fredda is often served as an appetizer or for a light main entrée. Although pasta salads are enjoyed year round, in Italy pasta fredda is considered to be more appropriate to enjoy in the warmer seasons of spring and summertime.
Food just always seems to taste better when we eat outdoors 'al fresco' (or 'mangiare fuori' as they say in Italy). With our senses more open outdoors, our appetites are more stimulated by the fresh air, the aroma of fresh flowers, or a soft, gentle breeze. With a feeling of being more relaxed, the taste of any flavor is more enhanced without other sensory distractions. It's no wonder that Italians eat outside so much when the weather is nice. It's just so natural for them (and should be for us) to slow down and savor the moment and the natural surroundings around the 'tavola' (table).
Dining 'al fresco' can take place anywhere outdoors, whether in one's own gardens, on a tiny terrace, on a secluded ocean beach, or on a busy patio of a local trattoria or ristorante.
When temperatures outside begin to warm up, our appetites change. We naturally desire less heavy foods that comfort us when the cold winds blow in autumn and winter. It's often hotter in the kitchen so we enjoy grilling outside more, baking less, and eating lighter foods. To eat lighter ('leggero' in Italian) is the norm in Italy. Chilled pasta salads appear more on Italian tables prepared with more raw ingredients with more intense colors from the lack of cooking. Rice and seafood salads are served more as well in warmer weather.
And oh, the fresh fish from the seas of Italy!
I just love imported Italian tuna. It's so delicious in pasta salads. My latest creation using tuna and pasta is my best so far! Tuna and Artichoke Pasta Salad is full of healthy, tangy and super colorful ingredients. LOTS of pretty, appetizing color!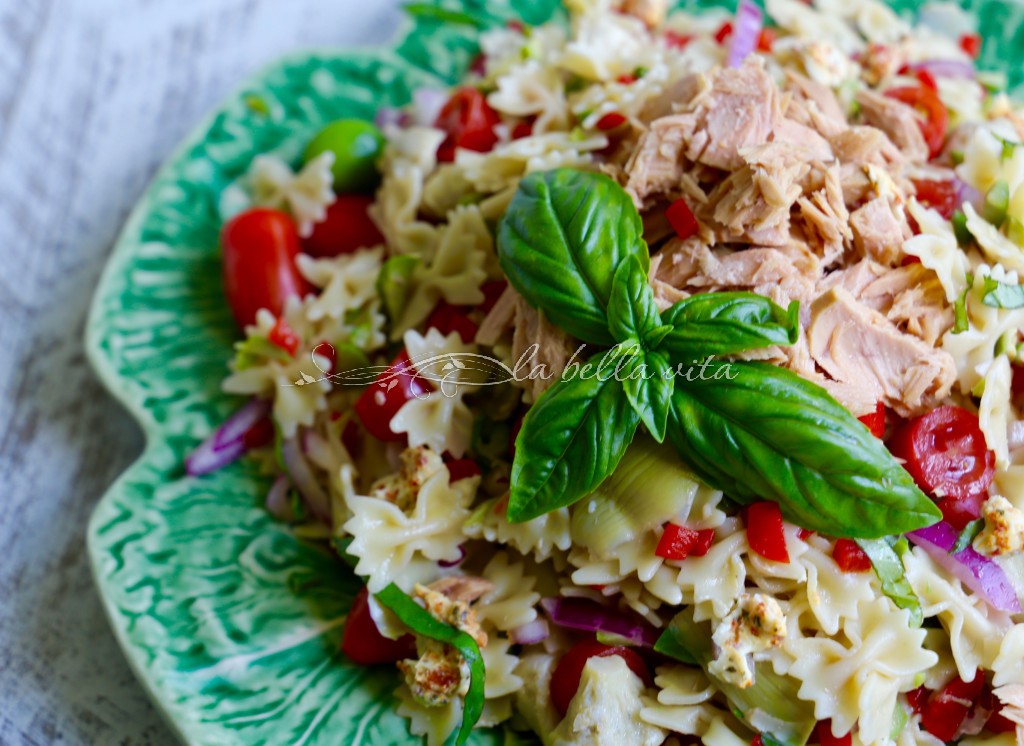 The only cooking involved is boiling water for the pasta. While the pasta is boiling in a tall pot of salted water, chop up the remaining ingredients. Do not overcook the pasta, in fact, cook it 'less' than al dente, about 6 minutes. Run cold water over the pasta immediately to stop the cooking. Add a drizzle of olive oil to the pasta to prevent the noodles from sticking together. Toss everything together in a large bowl without the tuna and vinaigrette. The more you stir, the creamier the pasta becomes because of the soft chèvre cheese releasing cream onto the ingredients. YUMMY! Place on individual salad plates OR place the whole salad on a pretty platter with chunks of tuna placed on the top.
Pass the vinaigrette around to your guests or have a nice little serving bowl next to the platter for guests to serve themselves. A high-quality, store-bought vinaigrette is OK if you're in a pinch for time, but you can any homemade vinaigrette of your preference. Only a little bit of the vinaigrette is necessary; you never want to drench a pasta salad with dressing!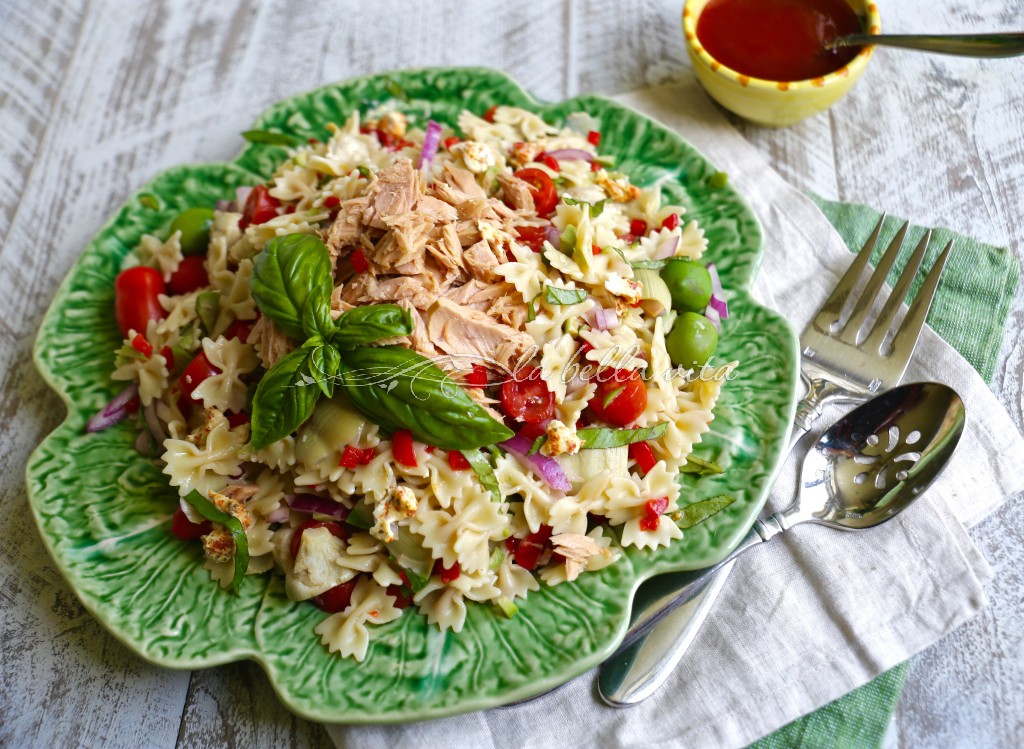 Tuna and Artichoke Pasta Salad — Pasta Fredda, Dining Al Fresco
Here are some of our best salads with tuna: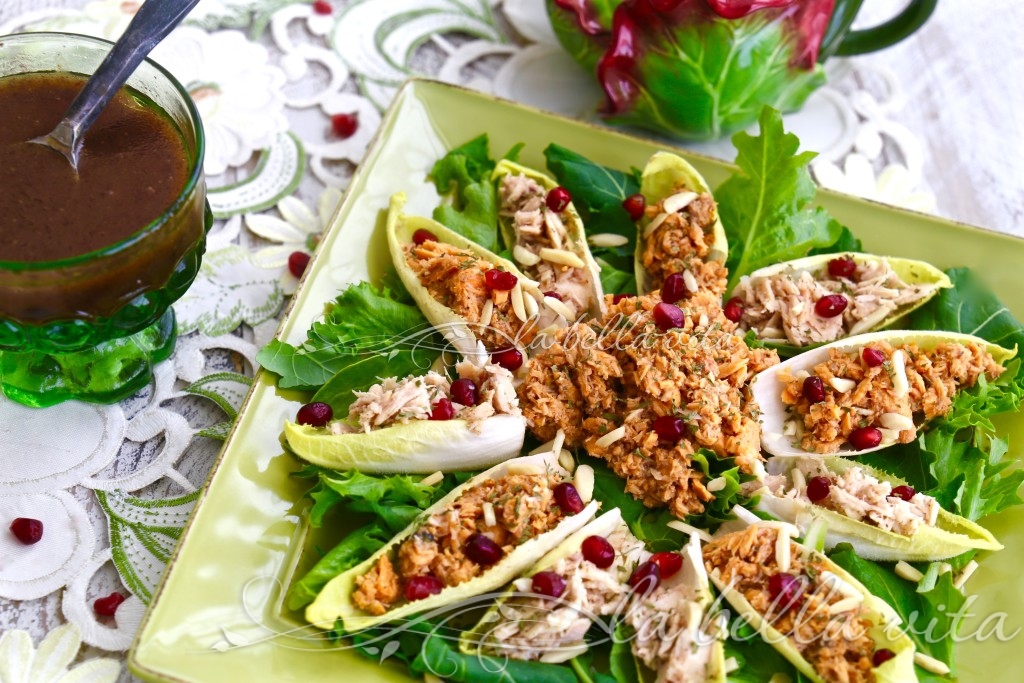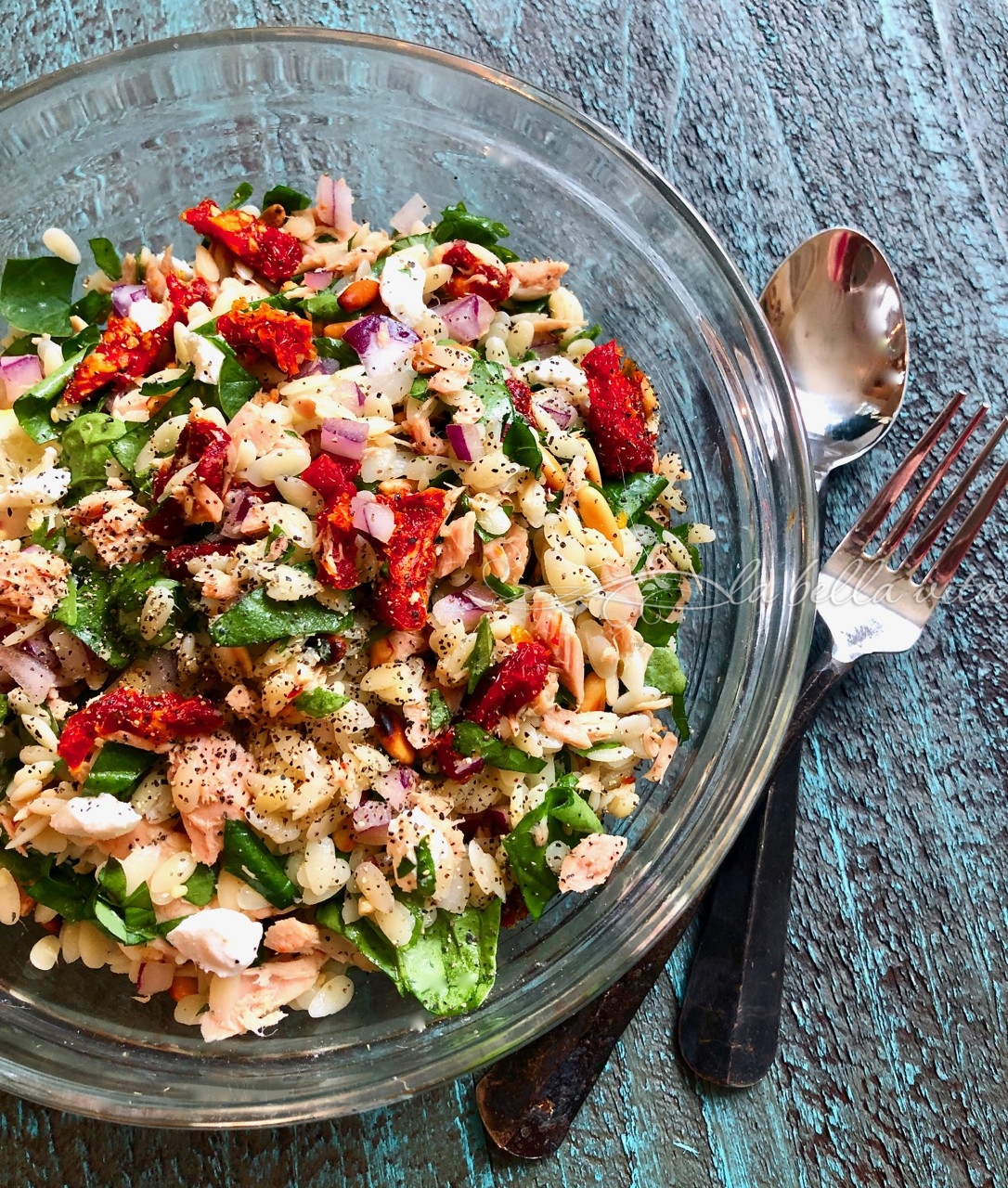 Please share the love and kindly pin this vertical image:

Print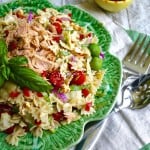 Tuna and Artichoke Pasta Salad with Sun-Dried Tomato Vinaigrette
Author:
Prep Time: 0 hours
Additional Time: 0 hours
Cook Time: 0 hours
Total Time: 0 hours
Category: Salads
Cuisine: Italian
---
4 cups mini-farfalle pasta, cooked very al dente, and chilled
6 oz. imported Italian tuna packed in olive oil, save about 1Tbsp. olive oil
1 can baby artichokes, cut into quarters
6 oz. Chèvre cheese with sun-dried tomatoes and garlic
1/4 cup sun-dried tomato vinaigrette (or your favorite vinaigrette)
1/3 cup diced pimentos and juices
1/2 cup pitted, sliced Castelvetrano olives
1/2 cup loosely packed fresh basil leaves, cut into thin strips
2/3 cup chopped red onions
2 cups cherry tomatoes (preferably mini Marzanos, if possible), sliced
1/3 cup slivered almonds
sprigs of fresh basil leaves for garnish
---
Instructions
Combine all ingredients.
Cover and refrigerate until time for serving.
Place full romaine leaves on individual salad plates or large serving platter.
Garnish with sprigs of basil leaves.
Serve immediately after removing from the refrigerator.
---
Notes
The chèvre cheese is very creamy, so you need to pull of little bits with your (clean) fingers and mix them into the salad or place them on the top of a platter of pasta salad.
For flavor, I add all of the juice from the tiny jar of diced pimentos and a little dash from the artichokes and olive jars.
I recommend passing the vinaigrette around or have a small bowl by the platter for guests to serve themselves. This salad can stand on it's own without the vinaigrette, but adding just a drizzle of it is very nice. Do not overpour the vinaigrette to overpower the salad.