Pineapple Cake with Macadamia Nut Ice Cream and Caramel Pineapple Sauce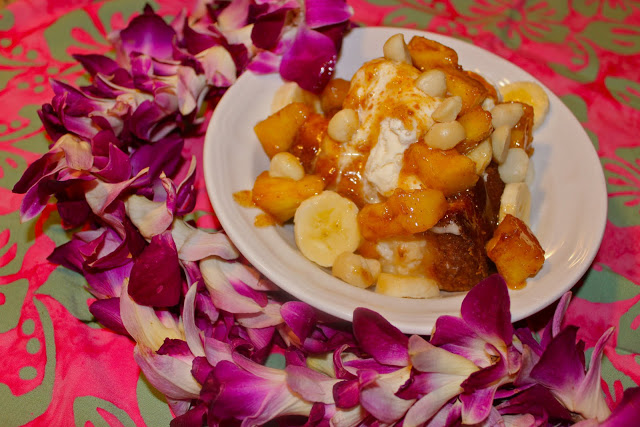 There's simply nothing like fresh fruits and vegetables! The flavors are so much more intense and the way they are meant to taste without any additives and/or preservatives! And if there is only one fresh fruit and/or vegetable that is a must-eat for me while in Hawaii, it is pineapple! It's the very first food item that we purchase in the marketplace! I enjoy pineapple simply cut up into cubes, but my husband doesn't, so I knew that I needed to either grill, bake or cook some pineapple in a different way to get him to eat it!
So with fresh macadamia nut ice cream on hand, the logical thing to create was a pineapple sundae of some sort. So I came up with this idea: slice up some of the pineapple pound cake that my husband bought, serve it ala mode with mac nut ice cream, pour over those with a brown sugar-butter caramel sauce with sauteed pineapples, some banana slices and sprinkled chopped macadamia nuts! The end creation: Pineapple Cake with Macadamia Nut Ice Cream and Caramel Pineapple Sauce! It was sweet, loaded, and decadent! Plus this recipe was fast and easy . . . I just made it up as I went with what I had on hand in our mini-kitchen (I did run across the street to the store to pick up a small bag of brown sugar and a tiny container of cinnamon that I can pack back home). My husband was in Hawaiian pineapple paradise! I was in sugar-high-overdose mode, but the caramel sauce was worth every second. This is so "ONO", which means 'delicious' in Hawaiian!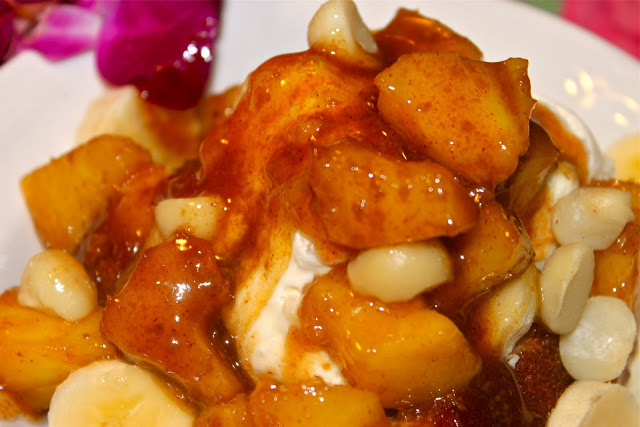 Print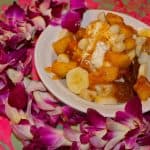 Pineapple Cake with Macadamia Nut Ice Cream and Caramel Pineapple Sauce
Author:
Prep Time: 0 hours
Additional Time: 0 hours
Cook Time: 0 hours
Total Time: 0 hours
---
12 Tbsp. butter
1 cup dark brown sugar
1 tsp. cinnamon
2 Tbsp. cream or whole milk
2 slices of fresh pineapple, core removed, cut into cubes
1 fresh banana, sliced
Pineapple pound cake – purchased or homemade
Macadamia Nut ice cream – purchase or homemade
chopped macadamia nuts
---
Instructions
In a very warm saucepan, melt the butter, but do not burn.
Add the brown sugar and stir well.
Add the cinnamon and cream/milk.
Stir well again.
Add the pineapple cubes and saute for about 2 to 3 minutes.
In individual bowls, place a slice or two of pineapple cake.
Place a scoop or two of macadamia nut ice cream on top of the cake slices.
Sprinkle the banana slices on top of these.
Pour on the pineapple-caramel sauce.
Sprinkle with chopped macadamia nuts.
Garnish: orchids or mint if you have them
---
Aloha!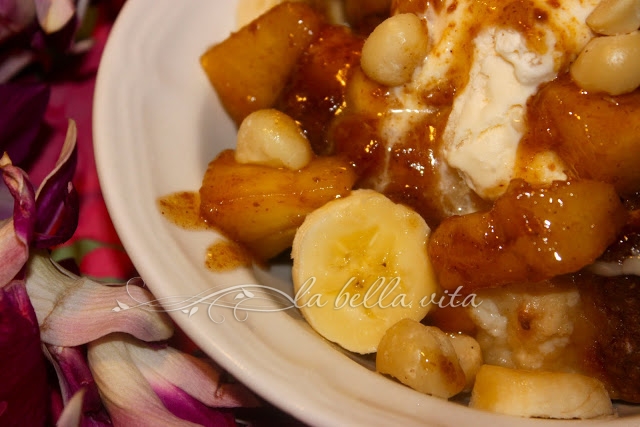 Pineapple Cake With Sauteed Pineapple-Caramel Sauce With Bananas In Macadamia Nut Ice Cream Ala Mode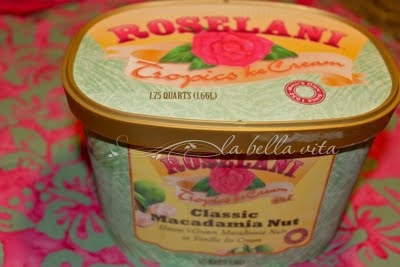 Maui's own Roselani Macadamia Nut Ice Cream was perfect for this tropical sundae!
Enjoy this Pineapple Cake with Macadamia Nut Ice Cream with Caramel Pineapple Sauce!
.
.