Grilled Basil Buttered Chicken and California Culinary Memories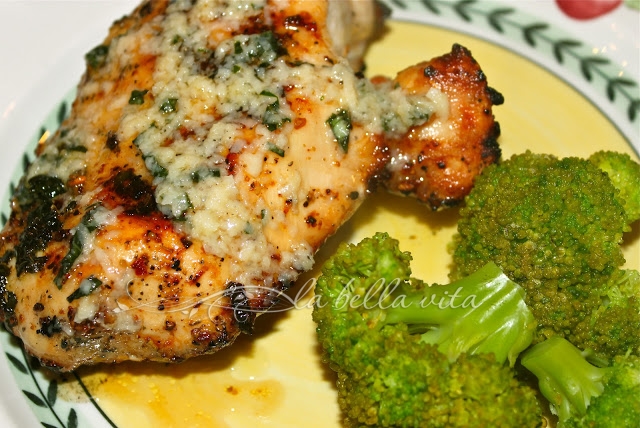 Once upon a time, I lived in the beautiful state of California.
It was in the '80s, with no recession, and lots of good living in a wonderful year-round temperate climate (although very smog-filled) with endless, ENDLESS things to do. Although we were living day-to-day financially struggling as a result of the sky-high, off-the-charts cost of real estate with an all-time high 18% interest rate on our home mortgage, I found myself immersed in an up-and-coming culinary mecca. Luckily, my job had a lot of entertaining and dining perks which contributed to my culinary adventure on the west coast. I'll share a few of those experiences here.
Now when thinking of California, you can't help but think of Wolfgang Puck and Spago. Or Alice Waters and her farm-to-table revolution and Chez Panisse. And of course, think of wine country and Napa Valley. Think incredible fresh food year-round.

Even our beloved South Carolina son and celebrity chef, Tyler Florence, moved to California for a little more of that culinary action.
Hey Mr. Dreamy chef, come back to Carolina!
My son was also born in California, in the city of Fullerton. Located right next to Anaheim with only the freeway to separate the two cities, I knew every night when it was bedtime for my very young children when I could hear the fireworks of Disneyland every evening at 9:00 PM on the dot! My home wasn't air-conditioned so the windows were open a lot and I could easily hear the popping sounds of those fireworks. When the Olympic Games were held in Los Angeles, I was even able to see part of the Olympic torch run just one block away . . . that's right . . . one block from my house! With a toddler in hand and an infant in a stroller, the three of us waved our little American flags for that one moment in time.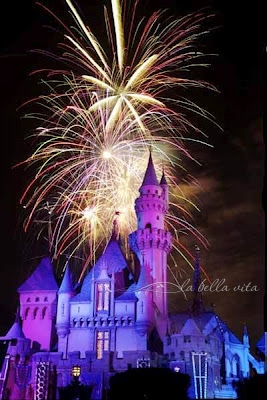 9:00 PM sharp: the sound of Disney fireworks every evening marked bedtime for my kids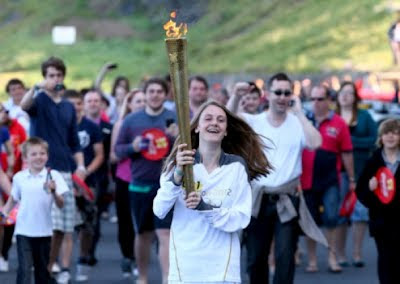 actual photo of the Olympic torch run by my house in Fullerton, California, 1984
My love affair with all things culinary continued from its beginnings in St. Louis after college and actually exploded in California. I was even asked by Neiman-Marcus (my former employer) to manage the "Epicure" department in L.A. (I turned it down to stay home, raise my newborn son and toddler daughter, and run an in-home daycare business so I could be with my little ones). I'd stand in line at Williams-Sonoma to acquire the infamous James Beard's signature on one of his cookbooks that I'd purchased. I'd write to Bon Appetit magazine religiously to hopefully get my hands on the recipes of dishes served to me in California eateries. I'd brave the southern California freeways with my kids in their car seats to take them to visit the famous open-air Grand Central Market in downtown L.A. and the age-old Mexican/Hispanic Olvera Street Market for true-to-the-core made-from-scratch tortillas and Mexican cuisine! I'd gaze at the celebrities in superb restaurants . . . when Fred Astaire walked in while I took my first bite of rack of lamb with mint, I almost choked.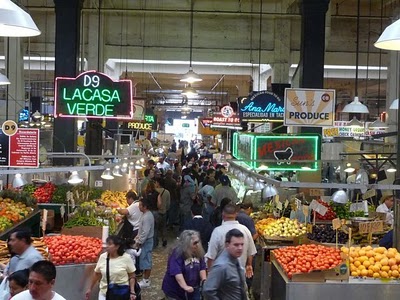 .
Grand Central Market, downtown Los Angeles (above)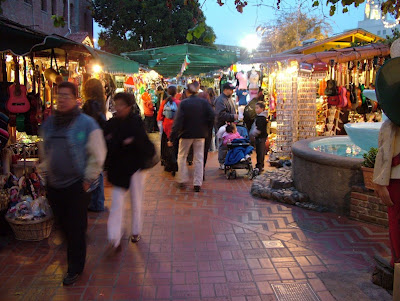 Historic Olvera Street Market
.
Breakfasting in Laguna Beach, dining in San Francisco, eating in Beverly Hills at my former employer's home . . . just down the street from O.J. Simpson (then a popular athlete) and the deceased Joan Crawford and Bette Davis. Staying in my boss's private home next to John Houston's home in Puerto Vallarta, Mexico where the house staff took us diving for fresh shrimp to indulge in ceviche (and when I passed out and saw death before me, it was at that moment that I realized my deathly allergy to shrimp and all things shellfish). Sadly, I haven't touched shellfish since.
In San Francisco, I ventured to the famous Fisherman's Wharf and indulged in authentic S.F. sourdough bread and rich chocolate freshly made from the Italian chocolatier, Ghiradelli's in Ghiradelli Square.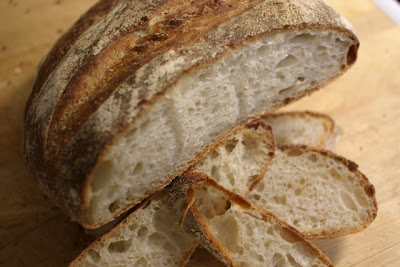 Sourdough bread from the streets of San Francisco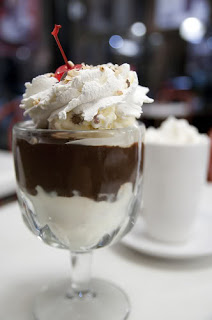 Ghiradelli's famous hot fudge sundae
from the Chocolate Shop in San Francisco on Fisherman's Wharf
.
In California, I discovered fresh strawberries the size of my palm, avocados as creamy as butter, fresh chunky guacamole, enormous chimichangas and REAL Mexican food (other than tacos) served in restaurants you'd normally think to avoid from the looks of the buildings' exterior. At the exclusive "The Cellar" restaurant I discovered forward-thinking and creative ways to enjoy after-dinner coffee filled with unusual liquor combinations that I'd never heard of before (they kindly shared the recipe with me too).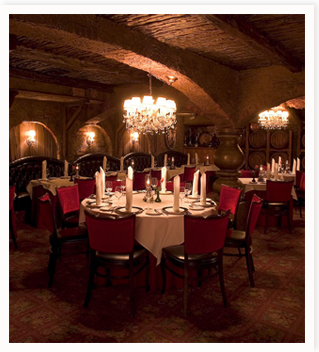 The Cellar in Fullerton since 1970, is still extraordinary 52 years later.
Order their signature liquor-laced after-dinner coffee . . . you'll thank me.
.
I bit into my very first Veal Saltimbocca. I embarked on the 'new' California pizzas. The "golden state" is also where I first tasted "Mu Shu Pork" and authentic Chinese food made table-side in San Francisco's Chinatown instead of the old stand-by of chop suey from a can. I even dined in (what I miss terribly) old-fashioned steak houses where a REAL Caesar salad was made table-side while sitting in leather booths with velvet wall-papered walls in darkly lit, smokey rooms with old Italian crooner music being played from the piano bars (think Sinatra, etc). Back then even I smoked and no one seemed to mind the aroma in restaurants . . . how far we've come!
The food just seemed to be incredible everywhere in California!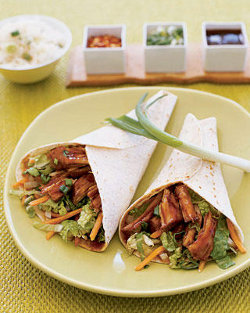 .
Mu Shu Pork with plum sauce and wraps from Chinatown, San Francisco
my favorite Chinese dish ever since my first bite!
.
You get the picture, I'm sure!
Yes, California was fun when it came to the foodie scene and played a big part of my cooking evolution. But that life ended, I moved on to Scottsdale, Arizona and the California food memories are with me to this day.
Among those memories, are the cookbooks that I collected from California, many of them out of print and grabbing very expensive prices among collectors. Take, for example, Vincent Price's "A Treasury of Great Recipes" (you remember him, don't ya? All of those cheap Edgar Allen Poe scary midnight movies and from Michael Jackson's "Thriller"). Yea, believe it or not, he was a highly respected culinary chef extraordinaire! The cookbook cost $75 back in the '80s. . . who knows what it would go for today if you can get your hands on a copy. Other cookbooks that I cherish today include: "The L.A. Times California Cookbook", "The San Francisco Chronicle Cookbook", "California Sizzles", "Chez Panisse Cafe Cookbook", and "The California Heritage Cookbook". It is where I fell in love with California-native Julia Child. I bought and delved into my set of "Julia Child and Company" cookbooks to learn more about the art of French cooking techniques. At that time I prepared my very first "Steak Diane". This recipe was one of the first that I taught my kids when they were only in elementary school . . . and it is Ms. Child's recipe that they first made for their high school prom dates and which propelled them into their joyous love of cooking to this day.
From those California cookbooks, I found inspiration for this incredible grilled chicken recipe.
It's so easy, it's stupid.
And it always leaves you happy, happy! I hope it leaves you and your guests the same!
Buon Appetito, my friends!
Print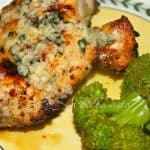 Grilled Basil Buttered Chicken
Author:
Prep Time: 0 hours
Additional Time: 0 hours
Cook Time: 0 hours
Total Time: 0 hours
---
Grilled Chicken
4 chicken breasts, boneless and skinless
1/2 cup melted butter
2 – 3 Tbsp. garden-fresh basil, chopped
Sprinkle of my favorite go-to 'trinity' seasonings: Mrs. Dash (for chicken), Nature's Seasons, and Accent
Basil-Butter Sauce
3/4 cup melted butter
2 Tbsp. garden-fresh basil, chopped
2 – 3 Tbsp. Parmigiano-Regiano, finely grated
1/2 tsp garlic powder
1/2 tsp. freshly ground sea salt
1/8 tsp. freshly ground black pepper
---
Instructions
Sprinkle the chicken with your favorite chicken seasonings (mine is listed above: my go-to 'trinity' for everything I grill).
Melt the butter.
Blend in basil.
Brush the chicken breasts with basil-butter mixture.
Grill chicken breasts about 8 minutes on each side depending on how large they are (we select large sized chicken breasts) and how well-done you like your chicken (we like our moist and not dry).
Continually baste chicken with any remaining mixture while grilling to keep them ultra-moist and super flavorful.
Prepare Basil-Butter Sauce by combining all ingredients.
Serve grilled chicken breasts with the basil-butter sauce at the table for guests to top on their own.
Serve with fresh, thickly-cut Italian bread to dip into the basil-butter sauce and/or mop up what is on the plate.
---
.
.
lather the first basil-butter sauce on the chicken breasts,
using the pool of sauce left over to continually baste during the grilling process to keep the chicken moist and flavorful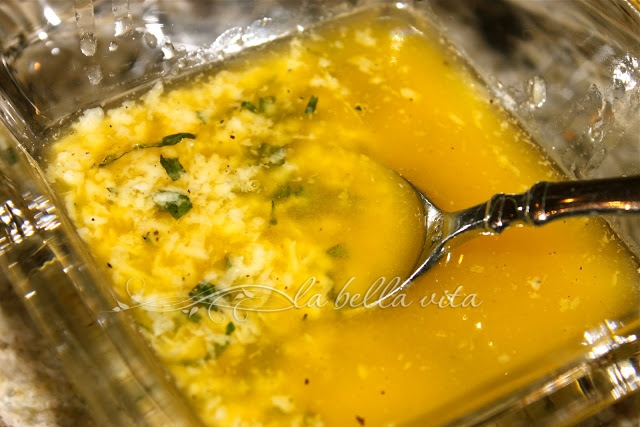 .
prepare the second velvety butter sauce with basil, garlic, and Parmigiano cheese.
drizzle this sauce on top of the grilled chicken and pass around to your guests
also great for dipping some fresh, thick-cut Italian bread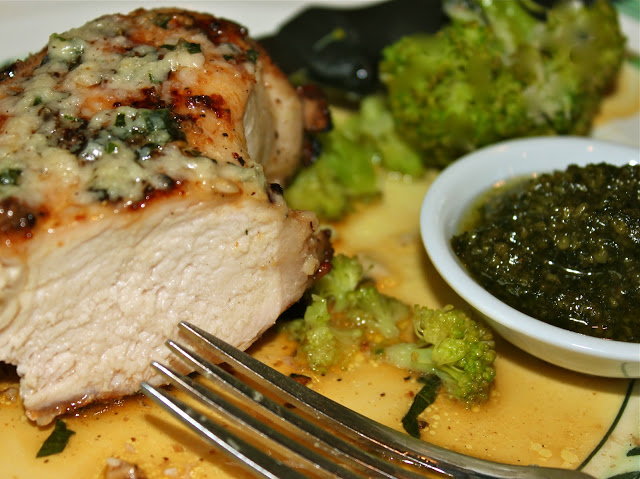 .
after a bite the juices of this super-moist grilled chicken drip onto the plate
.
.