Roasted Tomato Bisque with Parmesan Crisps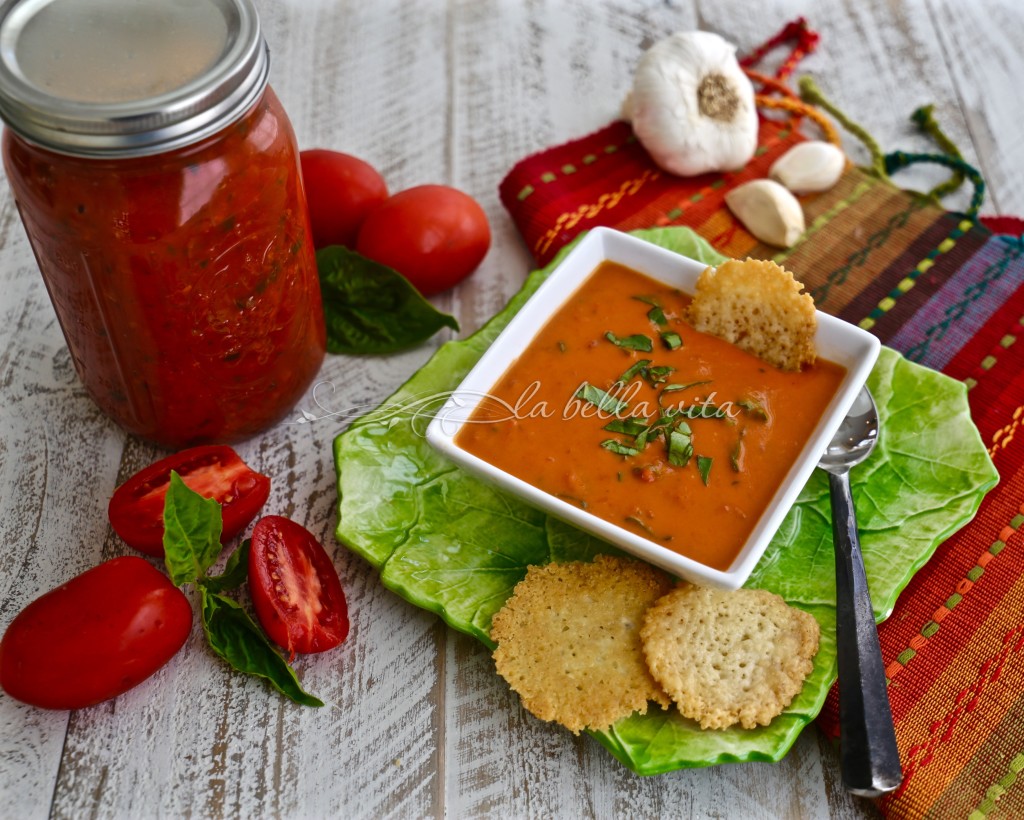 Don't ever eat canned tomato soup again! I'm telling ya, there's nothing like home-made tomato soup. And there's even nothing better than roasted tomato soup!
Your taste buds and tummy will thank you!
Every summer I make tomato soup from our garden's fresh bounty. With the help of my husband, we can and put up jars of this red deliciousness. We get seasonal enjoyment of our garden-fresh tomatoes. Plus we also get a huge taste of warm weather in the midst of cold weather. The tomatoes offered in most regions of the States during colder months usually have no taste whatsoever and have the texture of rubber! So canning and freezing our tomatoes is a must!
Saving all of that tomato soup is not only a labor of love, but it's also something that is truly appreciated in the dead of winter!
We had an unbelievable bumper crop of tomatoes this past summer! So we were able to can tomato soup, marinara sauce, Bolognese sauce, and salsa.
Don't have a garden?
Now if you don't have a garden or don't have easy access to a local farmers' market that sells tomatoes than only use beautiful and flavor-packed Italian San Marzano tomatoes available in cans. You can find them in good grocery stores or online.
We don't just use plum tomatoes only in our sauces (as some people say are the only tomatoes to use in tomato sauces). Rather, we grow and use a variety of tomatoes, including plums and San Marzano tomatoes for our sauces. Each variety blends together for a better harmony of flavor. The plums and San Marzano's certainly add the pulp, but there are other varieties that add better flavor to the mix!
Roasting tomatoes before canning or using at the moment also makes a huge difference in flavor! Roasting those tomatoes under your oven broiler really amps up and concentrates the flavor more intensely!
Roasted Tomato Bisque just may be the best tomato soup that has ever passed your lips!
I add my herbs and spices before canning, but it's a good idea to add more basil and garlic when re-heating the soup — if you like! To make the bisque, add heavy cream to your desired consistency when heating up the soup.
And if you don't like cream or have dietary requirements that exclude dairy, than simply leave out the cream!
Just heavenly!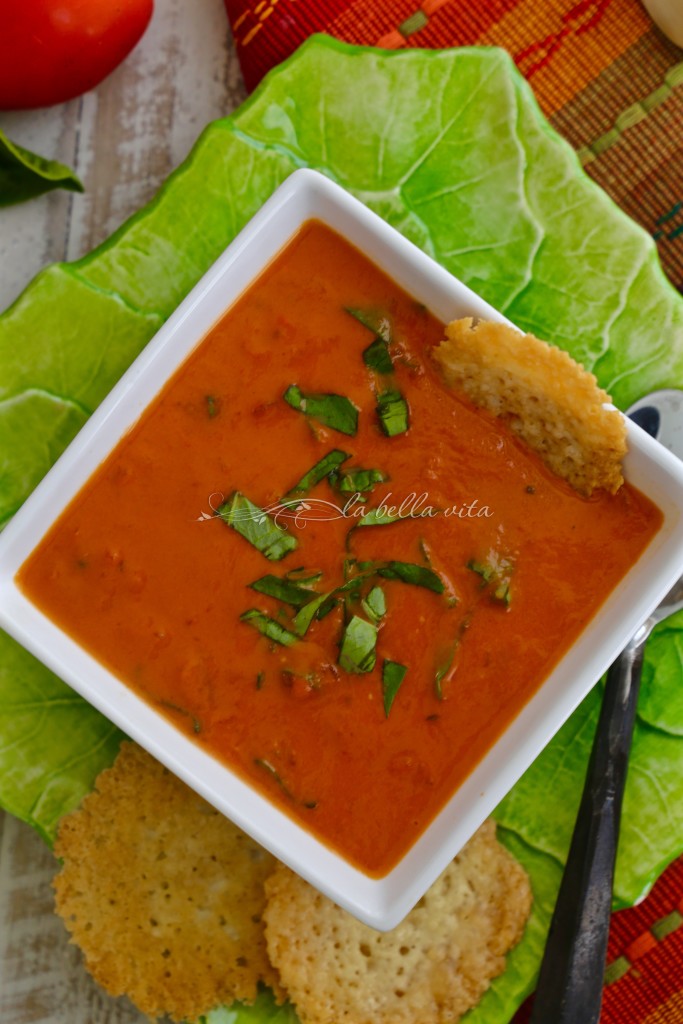 For an additional pack of Italian flavor, add some warm, freshly baked Parmesan crisps.
In Italy, they are called 'frico'. If you love Spanish Manchego cheese as much as we do, then you can also use that. Both cheeses are a bit pricy, but you don't need a lot!
I made these cheese crisps or 'wafers' last year for a party for guests to nibble on and they disappeared instantly!
We could eat these babies all day, but our weight would sky-rocket if we did (sigh)!
You simply cannot believe how easy they are to make either! Just cut off 1″ cubes of cheese. Place them on a baking sheet lined with parchment paper and sprayed with cooking spray. Bake until golden brown for about 15 minutes in a 400 F degree oven . . . and there you go! Fresh, warm cheese crisps to dip into this incredible summer-fresh soup!
My husband is not a fan of either Parmesan or Manchego cheese (too sharp for his taste buds) but he loves these baked in crisps!
You have to try these! Even if simply to nibble on with a glass of wine or cocktails!
.
Print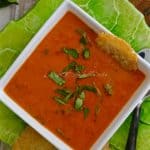 Roasted Tomato Bisque with Parmesan Crisps
Author:
Prep Time: 0 hours
Additional Time: 0 hours
Cook Time: 0 hours
Total Time: 0 hours
---
3 – 4 pounds ROASTED garden-fresh tomatoes that have skins and seeds removed ahead from running through a tomato 'mill'.
5 – 6 large garlic cloves, peeled and minced
4 Tbsp. extra-virgin olive oil + 2 Tbsp. good quality butter
1 tsp. freshly-cracked sea salt
1 tsp. freshly-cracked black pepper
1 medium onion, diced
6 Tbsp. garden-fresh basil, freshly diced
1 tsp. oregano freshly, minced or dried
2 tsp. sugar
At the time of serving the soup add
2 cups chicken stock (if necessary for your taste preferences), which we don't use because we like a thicker "pure-tomatoes-only" soup.
1/2 cup heavy cream
more freshly diced basil
some garlic salt (if desired)
For The Parmesan Crisps
A nice-sized chunk of Parmesan (or Manchego) cheese, about 8 oz., cut up into 1″ cubes
Cooking spray
---
Instructions
For The Soup
For a roasted flavor, slice tomatoes in half, place on a baking sheet that has been drizzled with olive oil or sprayed with cooking spray.
Sprinkle some peeled and minced garlic cloves all over the tomatoes (about 3 – 4 cloves).
Sprinkle with salt and pepper.
Broil in the oven for about 15 – 30 minutes until edges of the tomatoes begin to char.
Remove and allow to cool in order to remove skins and seeds (use a food mill to make this process easier)
In a big heavy soup pot, pour in the olive oil and butter on the stove heat set on medium-low.
Add onions and saute' until soft, about 5 minutes.
Add minced garlic and saute' for another minute or two, and do not burn.
Add tomatoes/tomato puree into the pot.
Add the basil, oregano, sugar, salt and pepper, and chicken broth (if preferred) and stir in well.
Cook on medium to a low boil (with a sheet pan underneath the pot to prevent burning), for about 30 – 45 minutes.
Taste and add whatever you prefer.
If you want a smoother texture, insert an immersion blender to puree the soup to your desired consistency; we like ours more chunky.
Either can/jar/freeze the tomato soup at this point or
Add the cream and heat up the soup if you prefer cream of tomato soup and serve immediately.
NOTE: Do not freeze or can soup with the cream in it, but rather add the cream at the time of heating and serving.
When serving after the tomatoes have been canned/jarred
Heat 1 or 2 jars of the tomatoes in a medium size pan on a medium-heat stovetop.
Add any chicken stock if you feel it is necessary.
Add more freshly chopped basil and some garlic salt if you like.
Add the cream if you like.
Gently warm, keeping a close watch so that the bottom of the pan does not burn.
Ladle the soup into bowls and serve with parmesan crisps either on the side or resting on the side of the bowl for a pretty garnish.
For The Parmesan Crisps
Spray a large baking sheet with cooking spray.
Place cheese cubes on baking sheet spaced about 4 inches apart so they can melt evenly without touching each other.
Place the baking sheet on the bottom rack of the oven to prevent burning the cheese.
Bake on 400 F degrees for 10 – 15 minutes to melt and then turn the oven on "Broil" and continue for 5 – 10 more minutes, keeping a VERY CLOSE EYE on the crisps so that they do not burn.
A beautiful golden brown is the goal for the crisps.
Remove from the oven and with a sharp, flat spatula, carefully scrape each crisps off in one piece.
Serve warm if possible.
---
Notes
Do not freeze or can soup with the cream in it, but rather add the cream at the time of heating and serving.
.
Print Italian Parmesan Crisps "Frito"
Author:
Prep Time: 0 hours
Additional Time: 0 hours
Cook Time: 0 hours
Total Time: 0 hours
---
8 – 16 oz. imported Parmesan (or Manchebo if you prefer) cheese
---
Instructions
Preheat oven to 400 degrees F.
Line the baking sheet with parchment paper.
Place a 1″ chunk or 1 heaping tablespoon of grated Parmesan cheese on the lined baking sheet.
Repeat with the remaining Parmesan, placing the chunks or grated mounds about 4 inches apart.
Bake at 400 degrees F for 5 – 10 minutes until golden and crisp.
Allow to cool on the baking sheet; they will firm up as they cool.
Gently and carefully remove each crips with a sharp, metal spatula for serving.
---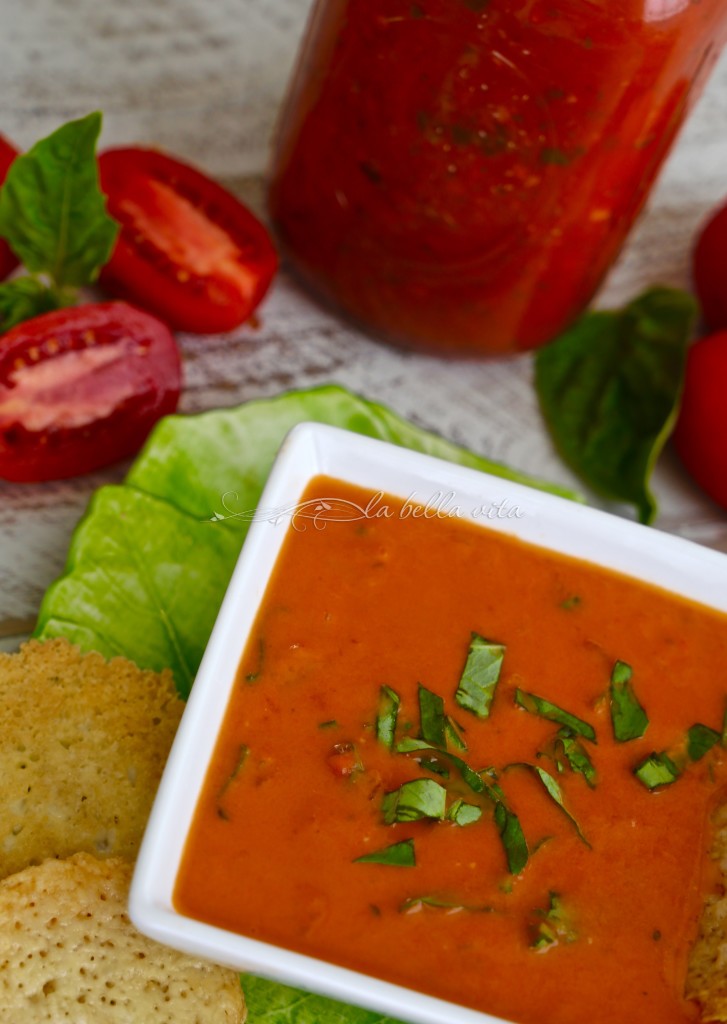 .
Enjoy this Roasted Tomato Bisque with Parmesan Crisps!
….