Cheesy Italian Meatball Sandwich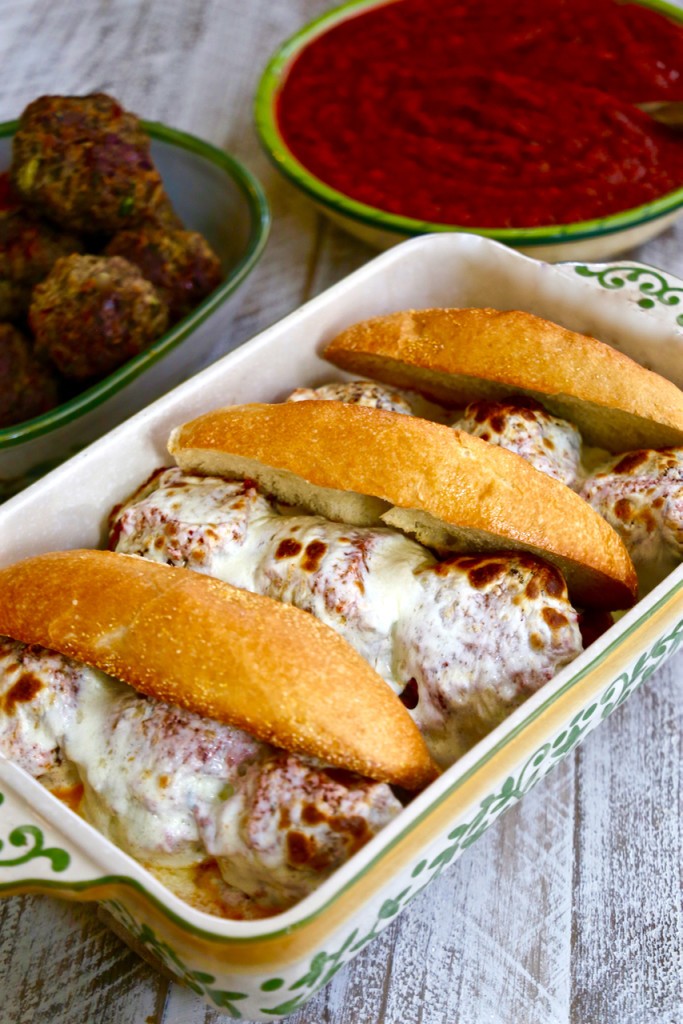 When I was growing up, my parents would take me to their favorite Italian food 'joint' to enjoy a sloppy, messy, but delicious treat — a Cheesy Italian Meatball Sandwich.
They would get these spur of the moment yearnings for this classic Italian comfort food. They'd pack up the family in their huge (aka: tank) 1962 Mercury station wagon and off we'd go to 'the tavern'. Or they'd take us to an Italian-American festival where pigging out on an Italian Meatball Sandwich was a tradition!
These are some huge, open-your-mouth-wide, killer sandwiches. It takes a big appetite to eat only one of them. And they're not served in Italy. This is true Italian-American food found in bars, old-time spaghetti restaurants (think Chianti bottles with dripping candles and red and white checkered tablecloths). If the place had spaghetti and meatballs on the menu, then Italian Meatball Sandwiches were also offered.
Again, you won't find spaghetti and meatballs anywhere in Italy . . . meatballs (polpetti di carne al sugo) are only served alone in Italy, primarily in Southern Italy.
The verdict on these sammies from Mr. Meat and Potatoes: "Quite Delicious!"
I hope that you enjoy this delicious recipe for a Cheesy Italian Meatball Sandwich!
** Affiliate links are included in this post with products that I recommend. Currently offered at 50% off, during a limited time period, is the KitchenAid Food Grinder marked down from $64.99 to $36.98. This is recommended by one of the contributing followers to this blog in the testimonial for this recipe provided below. **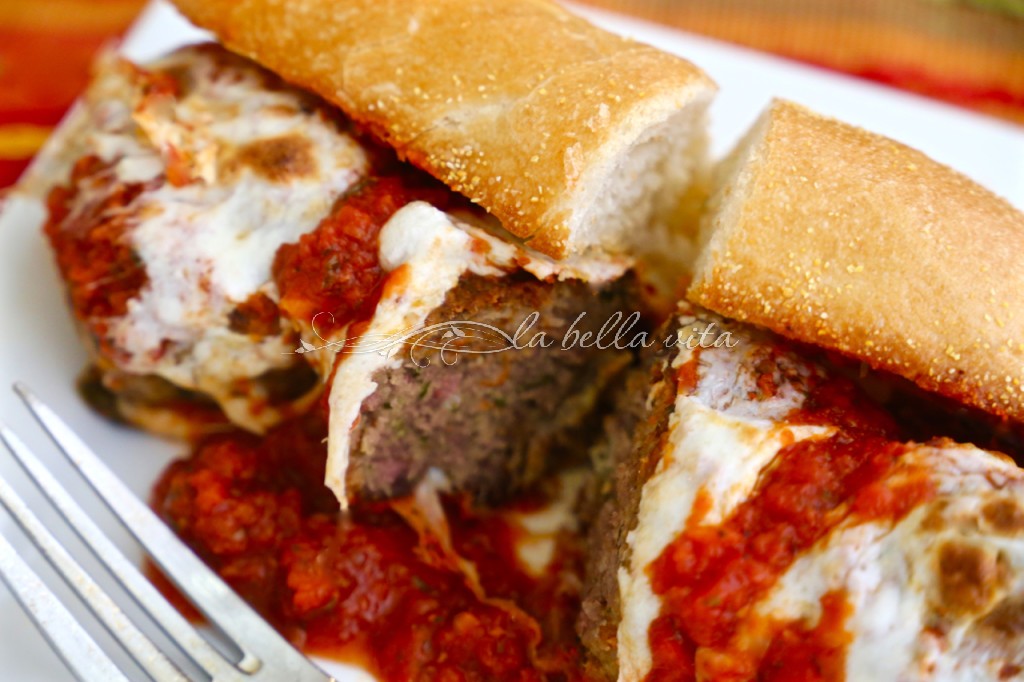 I made each of these meatballs into 3 oz. (monster-size) balls. They are huge, so forming them into 2 oz. balls is sufficient. I would not make them any smaller because this is supposed to be a huge, sloppy, 5-napkin sandwich. You can always cut them in half if you like, but that defeats the purpose of being a meatball when you do that.
This recipe makes about 25 – 30 large meatballs, so you can pop some in the freezer to use later for either more meatball sandwiches or with pasta and marinara sauce. Perfect for those busy nights or for last minute guests who you've just invited over for dinner!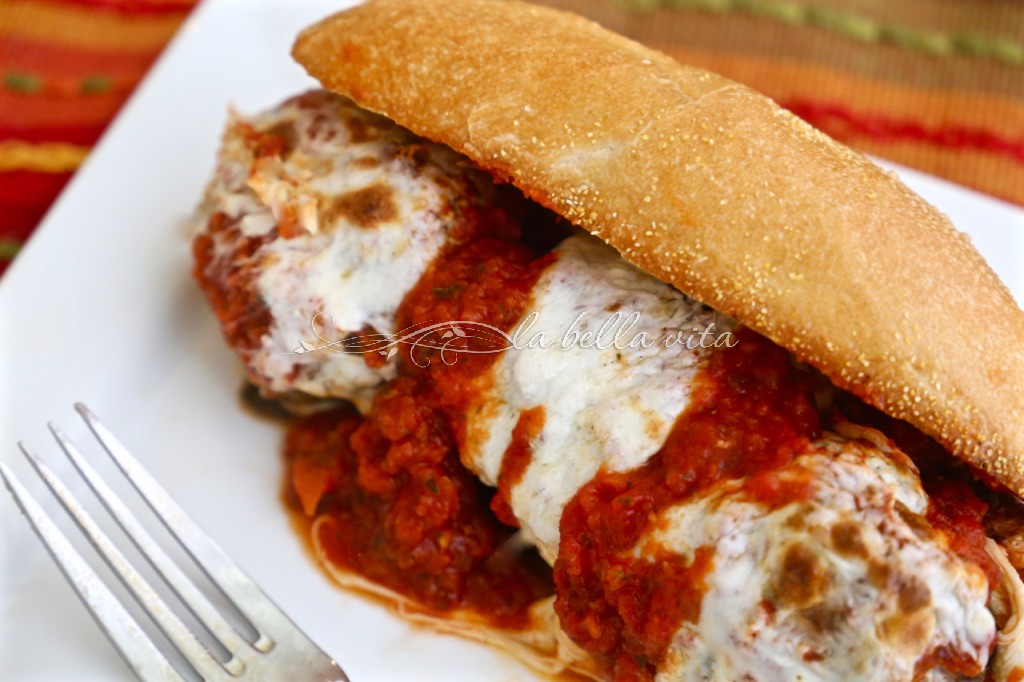 Here's what is being said about this meatball sandwich on Instagram: Laura mentioned: "Man, have I got a sandwich for you guys! Cheesy Italian Meatball Sandwiches from @italianbellavita will literally make all of your dreams come true!"
Laura and her husband, Ian's endorsement of our cheesy Italian meatball sandwich on her blog, The Fancy Napkins states:
"A couple of times now, I've come home to the smell of these Cheesy Italian Meatball Sandwiches from a blog called Italian Bella Vita, one that I think I'm going to have to check for more delicious recipes.
Because I didn't actually make these Cheesy Italian Meatball Sandwiches myself (my husband, Ian has made it twice), I can't really give you a play by play. However, when I asked Ian if he just followed the instructions and whether or not he had to change anything, he said: "Yeah, I'm pretty sure I followed all of the instructions exactly."
So there you have it folks, super easy – just follow the directions.
From what I could tell, this takes a pretty long time. Not because it is complicated, but because there is a lot involved. So make sure you've got some time (you do have to make an entire batch of meatballs). I'm sure if you made the meatballs ahead of time, that would be okay too.
We have the meat grinder attachment for our stand up mixer (which I really recommend) so Ian ground the pancetta and prosciutto (but the directions say to dice it). Basically, what I'm trying to say here is if you've got a meat grinder, this is a good time to use it!
If memory serves me correctly, Ian didn't use two jars of sauce, and that was totally fine. You're still going to need several napkins to eat this bad boy. The buns were from the bakery section of an Italian grocer and man were they good!
I highly recommend using the fresh mozzarella, it really will make a difference in taste for these sandwiches. Also, important to note is that you do need provolone cheese for this recipe. You'll find that in the 'tips' as well as in the directions.
One more idea for you all is to cut your buns small enough for one meatball and do a little slider for appetizers if you're going to or having a party! It's a lot of work but will be so worth it when they all disappear!"
Here's a photo of one of their cheesy Italian meatball sandwiches followed to the "T" in the recipe instructions:
THANK YOU and grazie mille to Laura and Ian for their kind words about this delicious sandwich!
Tips for making your Cheesy Italian Meatball Sandwich more outstanding than any other:
Make superior meatballs (see my recipe), adding prosciutto and pancetta to the meat mixture
Use top-quality marinara sauce
Use soft 'ball' mozzarella plus provolone slices
Use hefty bread/buns such as ciabatta or hoagie buns
Brush olive oil all over the insides of the buns
Slice a big clove of garlic and generously rub the sliced side of the garlic all over the oiled buns
Toast the buns!
Spread some sauce on the bottom half of the bun
Layer provolone cheese on top of the sauce before placing the meatballs on top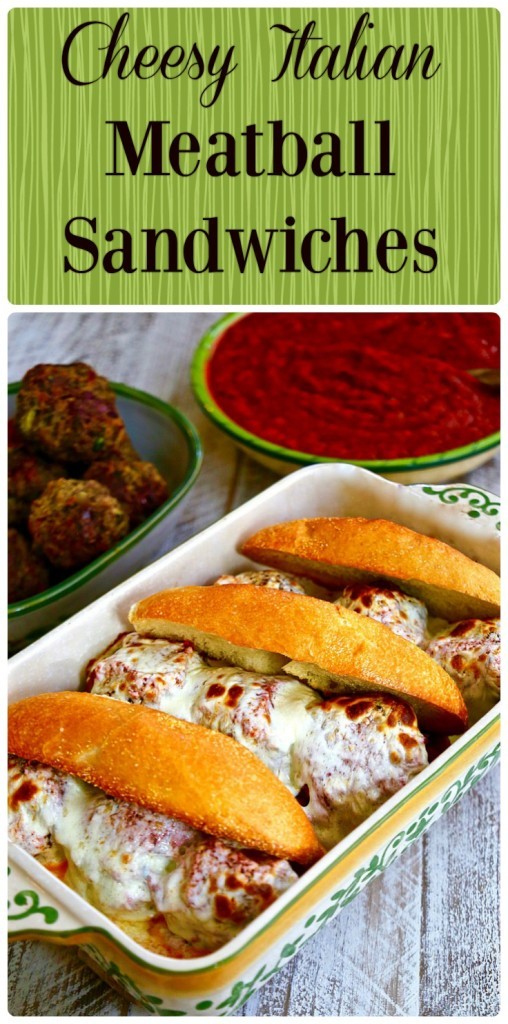 We're sharing this recipe with 'amore' from our cucina and acreage to you.

Do you ❤ enjoy La Bella Vita Cucina? We'd love to have you as part of our little community!
Click here: La Bella Vita Cucina to get new recipes, travel tips and gardening ideas straight into your inbox!
Please share this recipe on Pinterest and Instagram; Facebook too if you prefer! Thanks!!
Print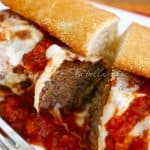 Cheesy Italian Meatball Sandwich
Author:
Prep Time: 0 hours
Additional Time: 0 hours
Cook Time: 0 hours
Total Time: 0 hours
Category: Panini / Sandwiches
Cuisine: American and Italian
---
Description
These aren't your ordinary Italian meatballs in this sandwich! Their flavor is enhanced by the addition of prosciutto, pancetta, and mild Italian sausage which take these Italian Meatball Sandwiches over the TOP!  A layer of cheese and sauce underneath the meatballs as well as over the meatballs makes this extra cheesier!
---
For the Meatballs
3 Tbsp. olive oil
1 large onion, minced
4 large cloves of garlic, minced
1 pound ground round beef
1 pound ground mild Italian sausage
2 cups Italian-seasoned bread crumbs
2 jumbo eggs
1 slice of prosciutto cut 1/4″ thick, sliced into strips and then ground
1/2 cup chopped Italian parsley
1/8 cup chopped fresh basil
1/2 cup finely grated parmesan cheese
1/2 cup finely grated pecorino cheese (you can also use asiago)
2 Tbsp. Italian seasonings (dried or fresh Italian herbs: oregano, sage, rosemary, basil, etc.)
1–1/2 tsp. whole fennel seeds
For the Marinara Sauce
4 cups Marinara sauce (use your own homemade or best quality store-bought)
2 Tbsp. Italian seasonings (dried or fresh), extra if needed to suit your taste preferences (which I tend to heavily season my sauces)
1/4 tsp. red pepper flakes
1 tsp. freshly cracked sea salt
For the buns
1 – 2 hefty breads (Ciabatta) or large hoagie/submarine buns
olive oil
1 large garlic clove cut in half
2 balls of fresh mozzarella, sliced about 1/8 – 1/4" thick
Provolone, about 8 oz, trying to match the same as mozzarella that you use — there's such thing as too much cheese!
---
Instructions
Pour olive oil in large heavy pot on a medium heat stove.
Saute' onions until clear and transparent.
Add garlic and saute' for 2 more minutes making sure that the garlic does not burn.
Add the ground prosciutto and ground pancetta to saute' for another 5 minutes.
Remove from heat and place in a very large mixing bowl.
Allow to cool.
Add the ground round beef and ground Italian sausage; mix slightly.
Add remaining meatball ingredients and thoroughly mix everything together BY HAND.
Form 2 or 3 ounce balls (use a little scale to weight them) and place on a well-oiled baking sheet.
Bake for 30 – 45 minutes on 375 F degrees.
Turn the meatballs over occasionally to brown on several sides.
In a large, heavy sauce pan, on a low-medium heat stove, prepare the marinara sauce with all ingredients listed — making sure that the bottom of the sauce does not burn.
When meatballs are finished baking, immerse them in the marinara sauce (optional).
Slice buns in half.
Brush olive oil on each half of the buns.
Rub the sliced garlic clove generously all over the olive oil, using the cut side of the garlic.
Roast the buns on a baking sheet in a 400 F degree oven until golden brown — keeping an eye on them so they do not burn.
Prepare the Meatball Sandwiches
Spoon a layer of marinara sauce on the bottom half of each bun.
Layer 2 – 3 slices of provolone cheese on top of the marinara sauce.
Place 3 meatballs on top of cheese.
Spoon marinara sauce over the meatballs.
Generously layer the sliced fresh mozzarella on top of sauce.
Bake in 400 F degree oven until cheese melts and turns golden brown.
---
.
Here is another FANTASTIC recipe for meatballs . . . just 'skinnied' down by using turkey!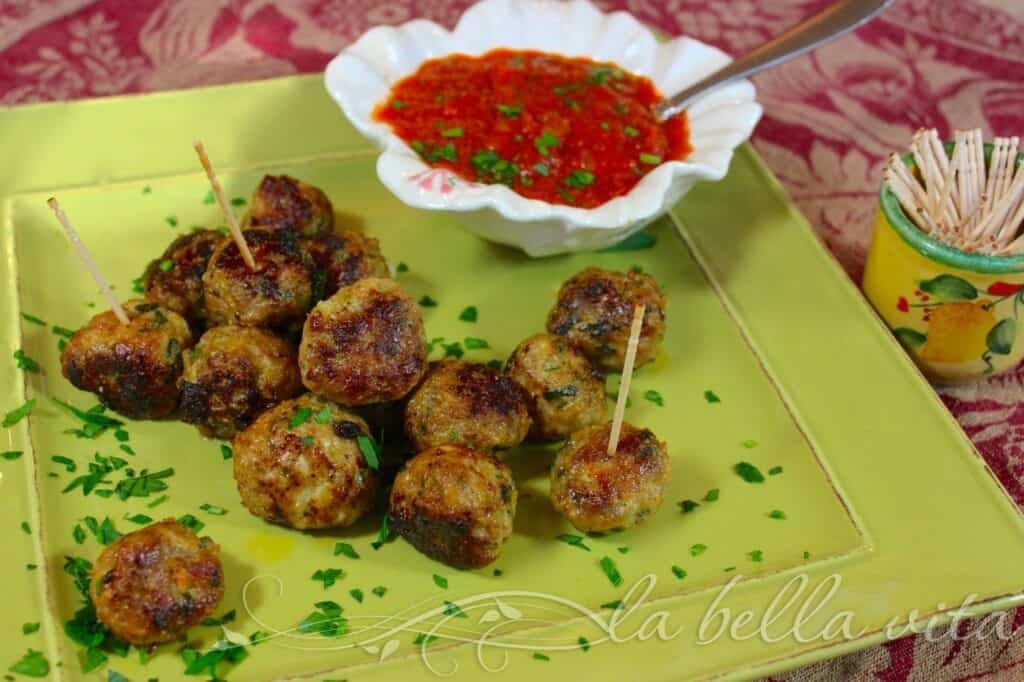 .
.