BEST Cranberry, Clementine, and Prosecco Cocktails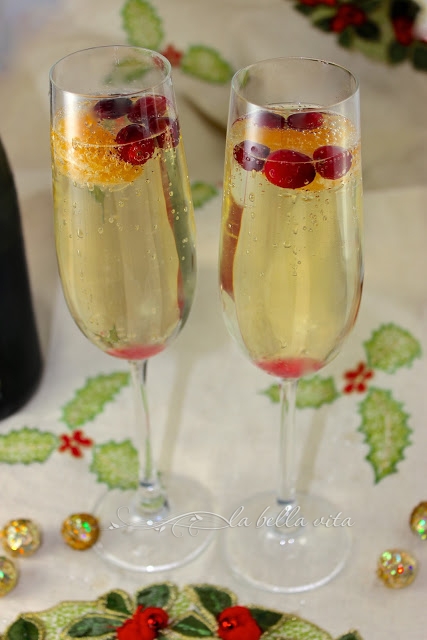 I get a little bit crazy when I drink champagne. But I do love it so! But I also love Prosecco, which is Italy's famous sparkling white wine with a delicate fruit flavor and aroma.
Prosecco rivals champagne (in my humble opinion). Produced in northern Italy, where my family lives, it is especially delightful when combined in this oh-so-festive cocktail, "Cranberry, Clementine, and Prosecco Cocktails! When you are looking for Prosecco, look for the town names of production on the label to ensure quality, primarily from Valdobbiadene and Conegliano, Italy.
And I'm also crazy about cranberries and clementines that are both in season at the same time. And with this post, it goes without saying that I'm crazy about prosecco too!
So after being in the market this week and bringing home more cranberries and clementines, I thought that I'd pop the cork off of a chilled bottle of bubbly and celebrate . . . well, nothing in particular . . . just to celebrate the day, how's that?
One of the most famous cocktails that feature prosecco is the classic Mimosa, straight from Italy. Although they are wonderful to enjoy for any occasion, mimosas are great for brunch, weddings, special events or get-togethers, as well as in first-class airlines, trains, and restaurants. I always love them for Easter.
As versatile as it is, is it anyone wonder we have fallen head over heels for the Italian fizz? So much so that we guzzled an impressing 131 million bottles of the bubbly last year alone!
A mimosa is simply the addition of Italian prosecco to any chilled citrus juice, but orange juice is the most common.
Here's a link for this wonderful cocktail:
For the classic prosecco cocktail, nothing beats the famous Bellini from Venice, Italy:
For Christmas and the holidays, here is a beautiful red cocktail to delight your tastebuds: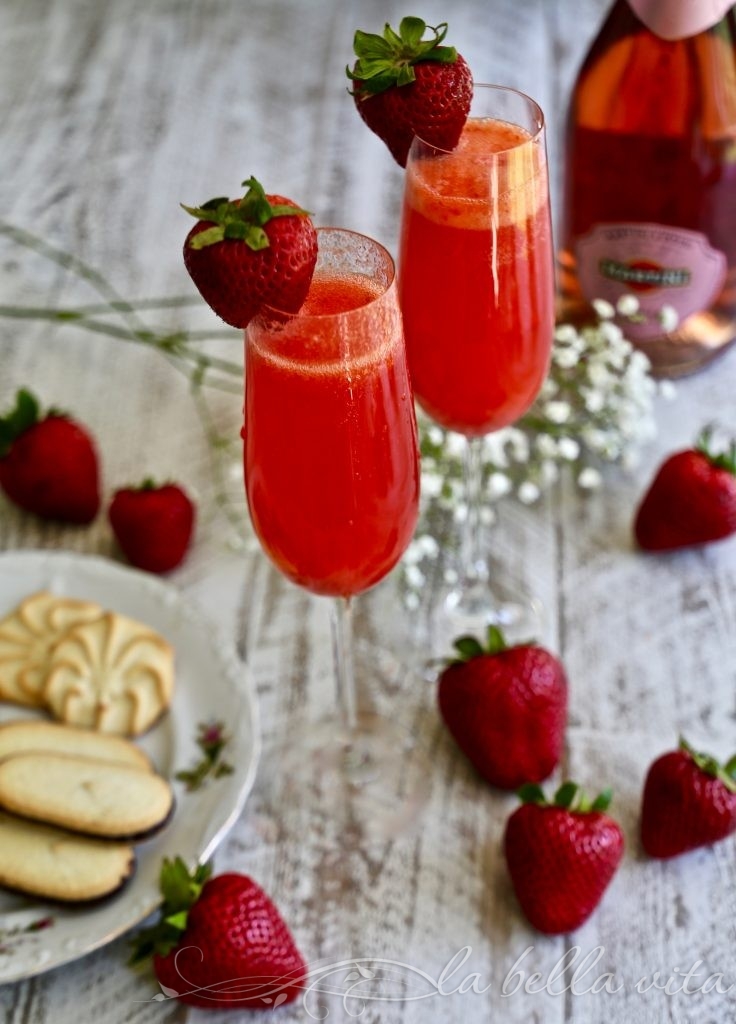 Tips for selecting Prosecco
Not all Prosecco is made equal!
Like all wonderful things, there are a lot of fake Proseccos on the market. Not all Prosecco is equal in quality and flavor. So how do you know the real deal? Well, the clues are in the details.
As well as a seal, an authentic bottle of Prosecco should have a label including the words "Prosecco DOC" and "Product of Italy."
DOC and DOCG are essentially quality stamps of approval, meaning that wines grown in this area adhere to rules including grapes used, methods of production, and how long the wine is aged.
In order to be called Prosecco the fizz has to be produced in the Vento region of Italy around the city of Treviso. Prosecco made in the DOC area is not subject to as many laws as ones made in DOCG meaning that quality is always guaranteed.
If you want the absolute cream of the crop, purchase Prosecco with a premium DOCG seal of quality.
Look for Prosecco produced in Cartizze, Italy. The steep hillside in Conegliano Valdobbiadene has the ideal weather and growing conditions that allow the Glera grape to come to its finest quality.
Look for a barcode to take a photo of to verify the bottle's authenticity.
All Prosecco must be produced with at least 85% "Glera" grape.
Sparkling Italian wine is not Prosecco. In fact, it is illegal to sell sparkling wine as Prosecco!
If you have a sweet tooth or prefer a Prosecco that takes more like punch, select a dry Prosecco with 17 – 32 grams of sugar to satisfy any sweet tooth cravings. Choosing the right Prosecco depends upon your own personal preferences.
A brut will offer a drier more robust flavor.
For a group of guests or a party, look for a tipple to satisfy evryone in an Extra Dry Prosecco. This means that the Prosecco is not too sweet, but also not to savory.
I hope that you enjoy these Cranberry, Clementine, and Prosecco Cocktails with family, guests, or even yourself to simply celebrate life!
Here's lifting my glass to you!

Salute' ! Buon Natale!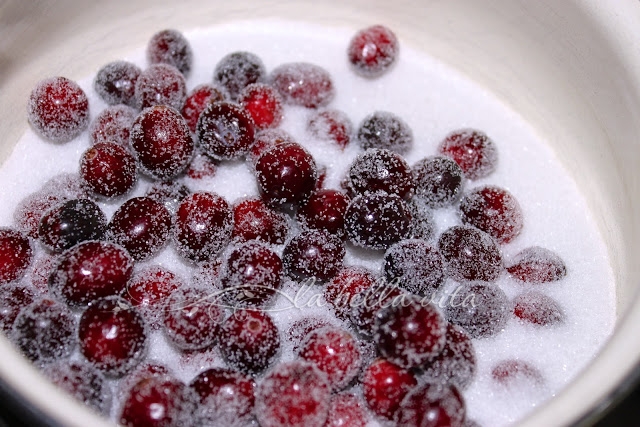 beautiful ruby red cranberries coated with sugar to sweeten your bubbly!
so festive for the holiday season too!
With 'amore' from our cucina and acreage to you.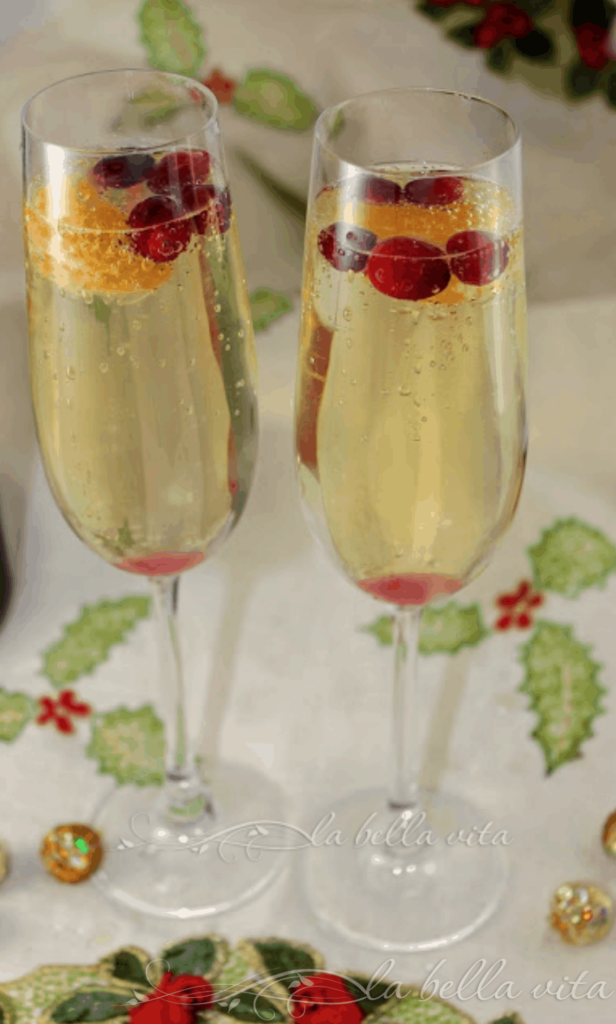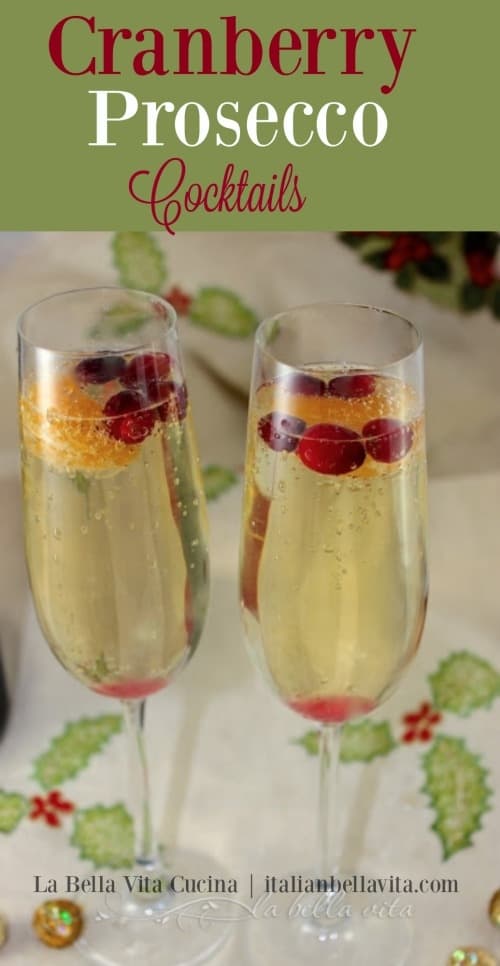 Do you enjoy La Bella Vita Cucina?
We'd love to have you as part of our community!
Click here: La Bella Vita Cucina to get the latest recipes, travel tips and gardening ideas straight into your inbox!

Print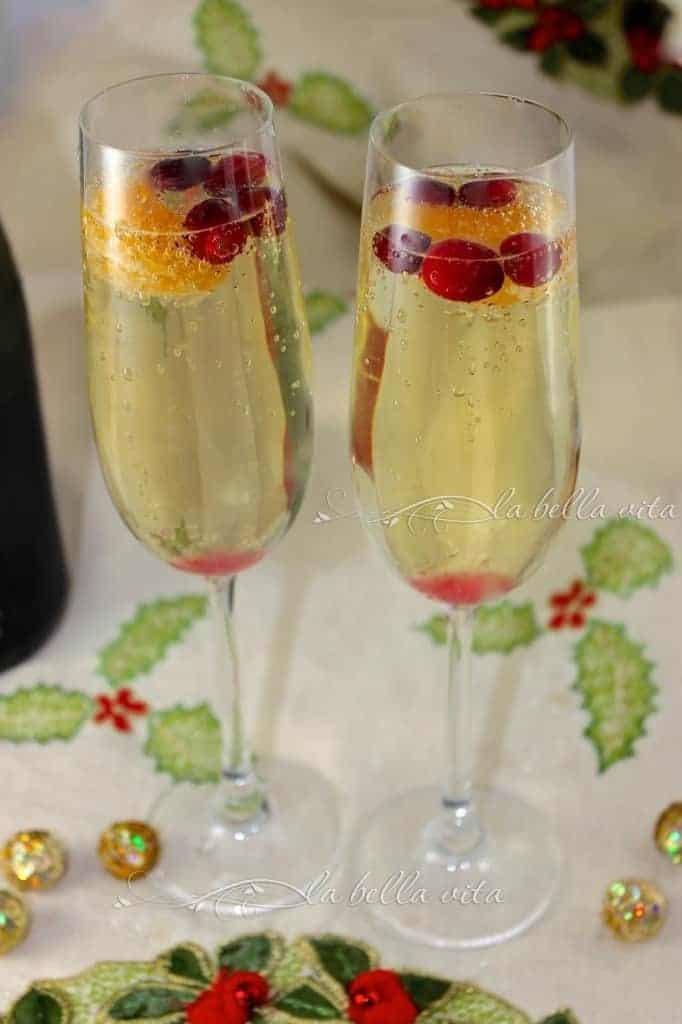 Cranberry, Clementine and Prosecco Cocktails
Author:
Prep Time: 0 hours
Additional Time: 0 hours
Cook Time: 0 hours
Total Time: 0 hours
Cuisine: Italian
---
Description
These cocktails are not only delicious, they are simply beautiful with the floating cranberries above the bubbling prosecco. Perfect for the holidays!
Salute' and Cheers!
---
2 cups fresh cranberries
1 cup sugar
2 Tbsp. water
6 clementines
1 bottle Italian Prosecco
---
Instructions
Peel the clementines.
Cut the clementines between the membranes and divide into sections.
In a saucepan, cook the cranberries with the sugar and water until they produce some juice, about 5 minutes.
Allow the cooked sugared-cranberries to cool to room temperature.
When ready to serve, place one to two clementine sections in each glass.
Pour a spoonful of the cranberry mixture in each glass.
Fill each glass with prosecco.
Serve and enjoy!
---
---
Nutrition
Serving Size: 1 glass, 6 oz.
Calories: 150
Keywords: prosecco, cranberry, cocktails, Christmas, holiday, entertaining
Here are more delicious holiday cocktails:
Raspberry Thyme Prosecco Punch
Raspberry Limoncello Prosecco Cocktails
.