Simply The BEST Chicken Salad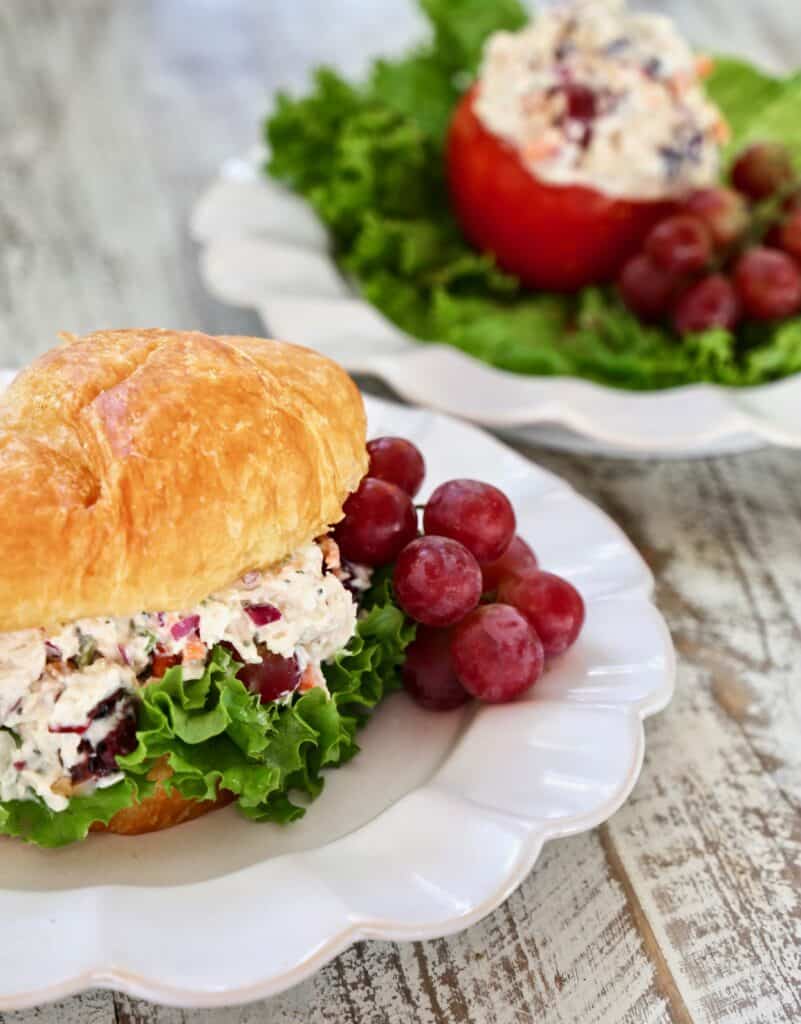 Are you looking for the best chicken salad you can ever imagine? You're only minutes away from that one outstanding recipe that you'll cherish for years!
Maybe you can relate to the following situation that I found myself in. A situation that confirms why I enjoy this Chicken Salad with Dried Cranberries and Grapes recipe. Here goes:
The other day, I picked up a pretty good chicken salad croissant sandwich for lunch from a local gourmet grocery store. You know — the kind of food store that has the most beautiful readily-prepared foods displayed inside glass food cases. Food so gorgeous that they could easily be in a glossy, high-end food magazine or blog!
Well, the sandwich wasn't too bad, really. It certainly satisfied my tummy. Yet to me it lacked some major taste factors that make a chicken salad go fro 'ok' to 'GREAT'! So read on and learn how to make a "WOW" chicken salad!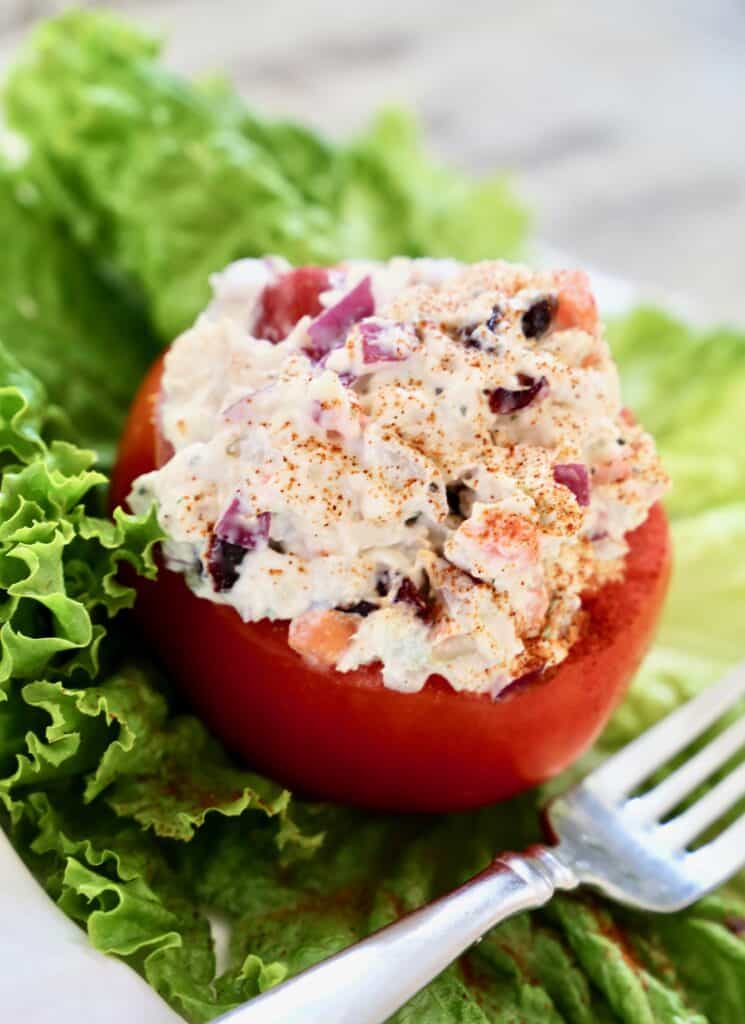 I like to serve chicken salad stuffed in a fresh, bright red, and large tomatoe nestled on a bed of curly leafy green lettuce. Don't forget to sprinkle on the paprika!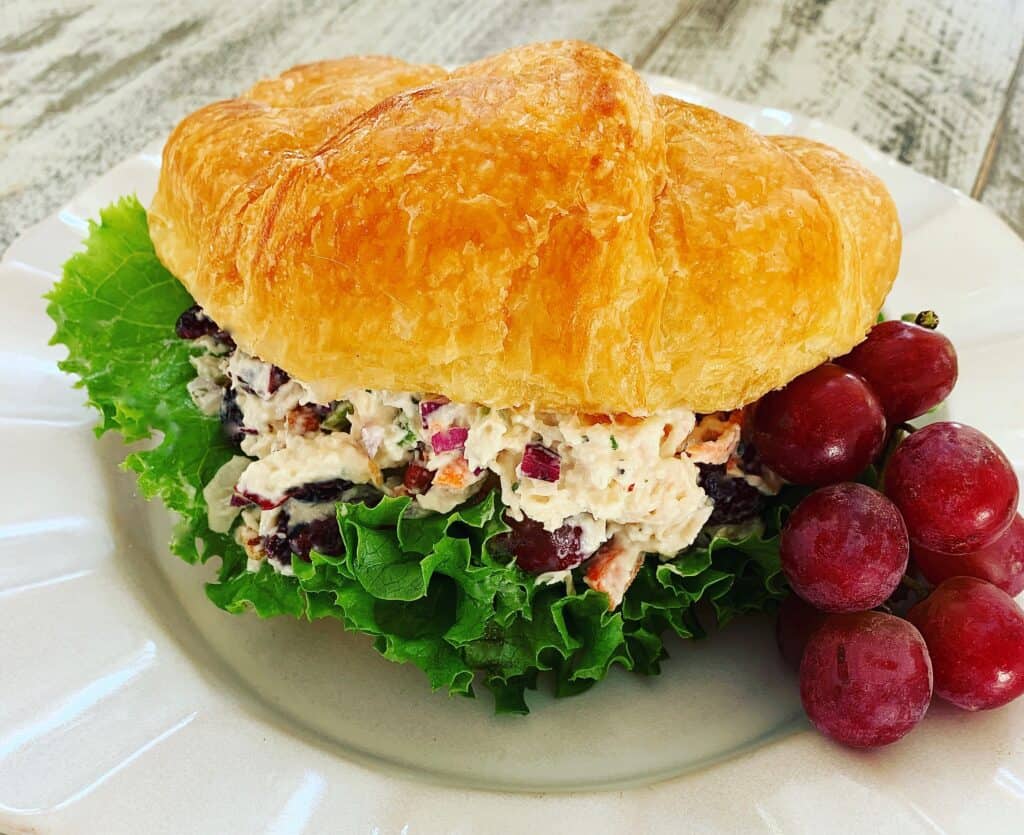 .Chicken Salad is great in ANY SEASON!
Some of you may be wondering why I'm making chicken salad sandwich/salad at this time of year? Simply because I love chicken salad.
And it doesn't matter what time of year it is to enjoy this traditionally loved salad. However, in the spirit of autumn or the holiday season, I add dried cranberries and red onion instead of yellow or scallions.
.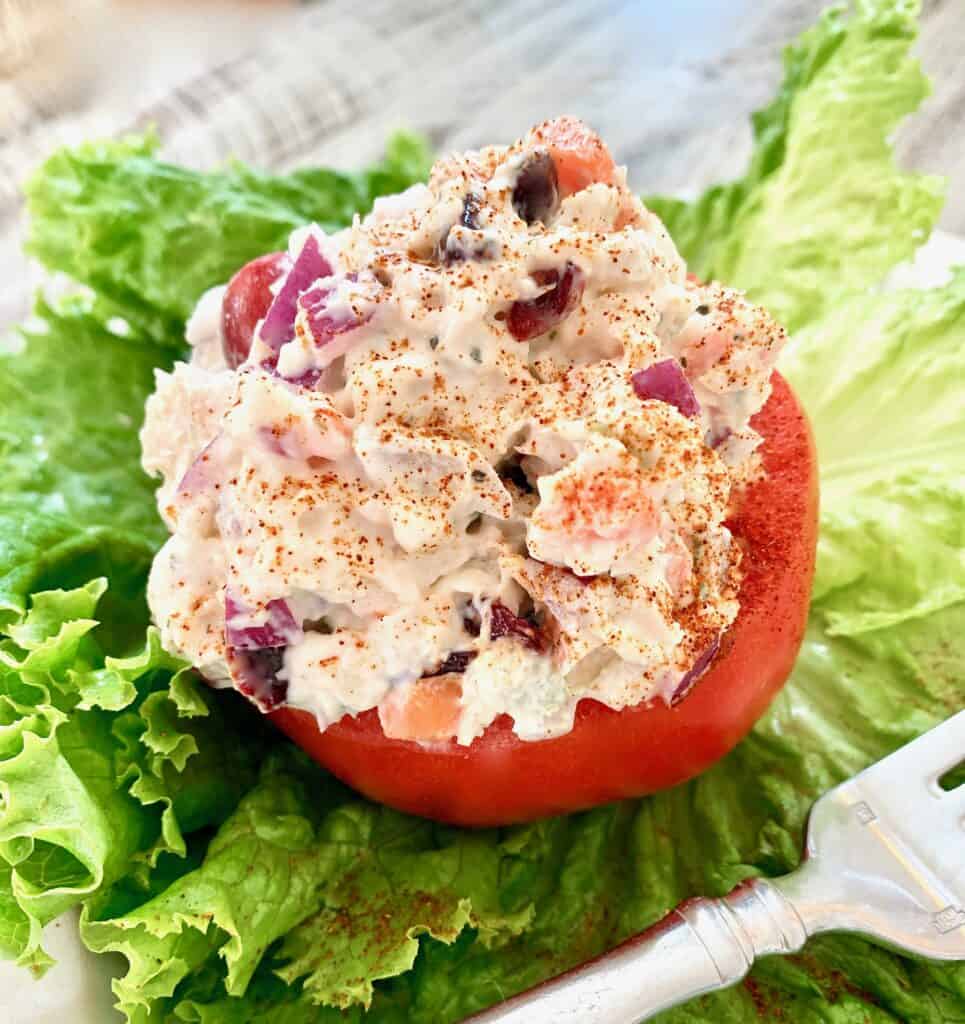 Tips For Making a Great Chicken Salad:
Use freshly cooked or leftover cooked chicken. I prefer to use a rotiserrie chicken or a chicken that I roast myself at home. Roasted chicken is so much more juicy and full of flavor!
Boneless, skinless chicken breasts are the choicest pieces to use. Use one breast for every 2 people.
Once cooked, allow the chicken to cool. Then cut the chicken into ½" chunks or you can even tear the meat if you prefer. Place in a large mixing bowl.
Add the crunchiest veggies! Celery is always used in chicken salad, but you can also add crunch from carrots and cucumbers.
Add finely chopped onions. Red onions work well in chicken salads served in autumn and winter. Don't add too much onion, it packs a big punch and goes a long way for that tart flavor.
Add some sweet fruit! My favorite ingredients in a great chicken salad are grapes, dried cranberries, apples and even raisins!
Extra crunch makes a more exciting salad! So add chopped nuts such as slivered almonds, pecans, walnuts or even cashews! Add some crumbled bacon too! How about some water chestnuts? Mmmmm!
Go for the green by adding some freshly cut herbs, whether mixed in the salad itself or as garnish.
A creamy dressing is a must. Use mayo, sour cream, whipped cream, Greek yogurt, or a combination of these to act as the glue to hold the chicken salad together.
Use freshly-made mayonnaise if you have the time. The fresher the better in any ingredient is always the way to achieve the best results.
Season nicely with herbs and spices. Adding a tiny bit of curry to the creamy dressing gives a nice kick to the salad — but just a little bit of cury! I use fresh dill and Italian parsley to take chicken salad over the top in flavor. Those and GARLIC too! Paprika is also a colorful last-minute garnish.
Chill for several hours or overnight for all of the flavors to marry.
Serve on beds of vivid green lettuce in assorted varieties or serve in a carved out tomato. And for the classic sammie, serve in fresh croissants. Just be creative!
.
.
I just want to give a BIG shout-out thank you to Larry from
"Big Dude's Eclectic Ramblings"
for his culinary approval of this recipe. Larry substituted dried blueberries instead of dried cranberries. Do stop by his blog that will inspire you and leave you very hungry (especially for breakfast)!
Here are a few of Larry's delicious results of this wonderful recipe!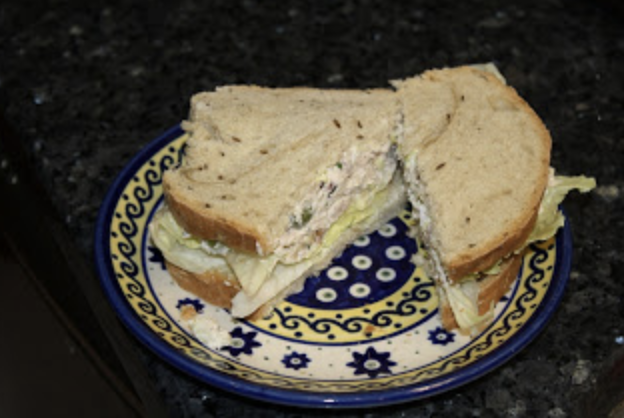 You'll need some good kitchen gadgets to help you in the kitchen. I use and recommend any of the following: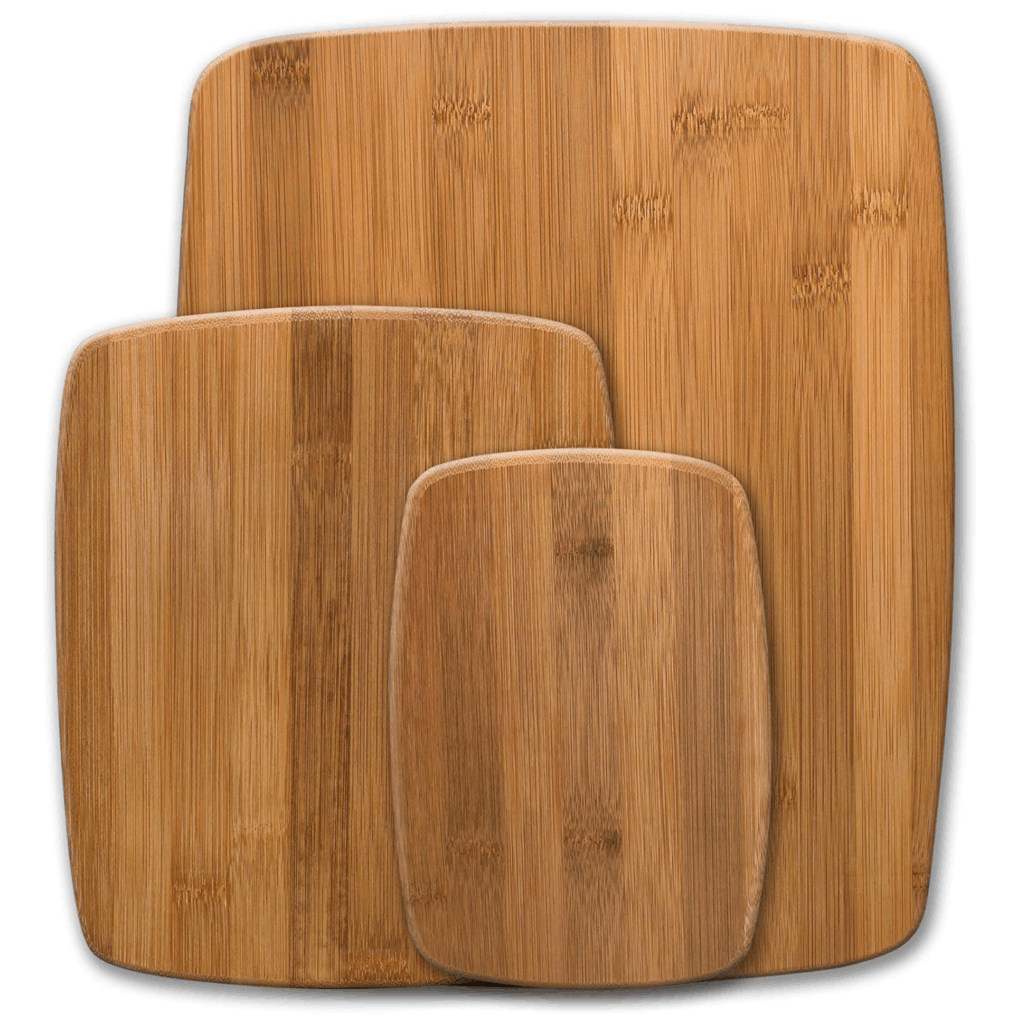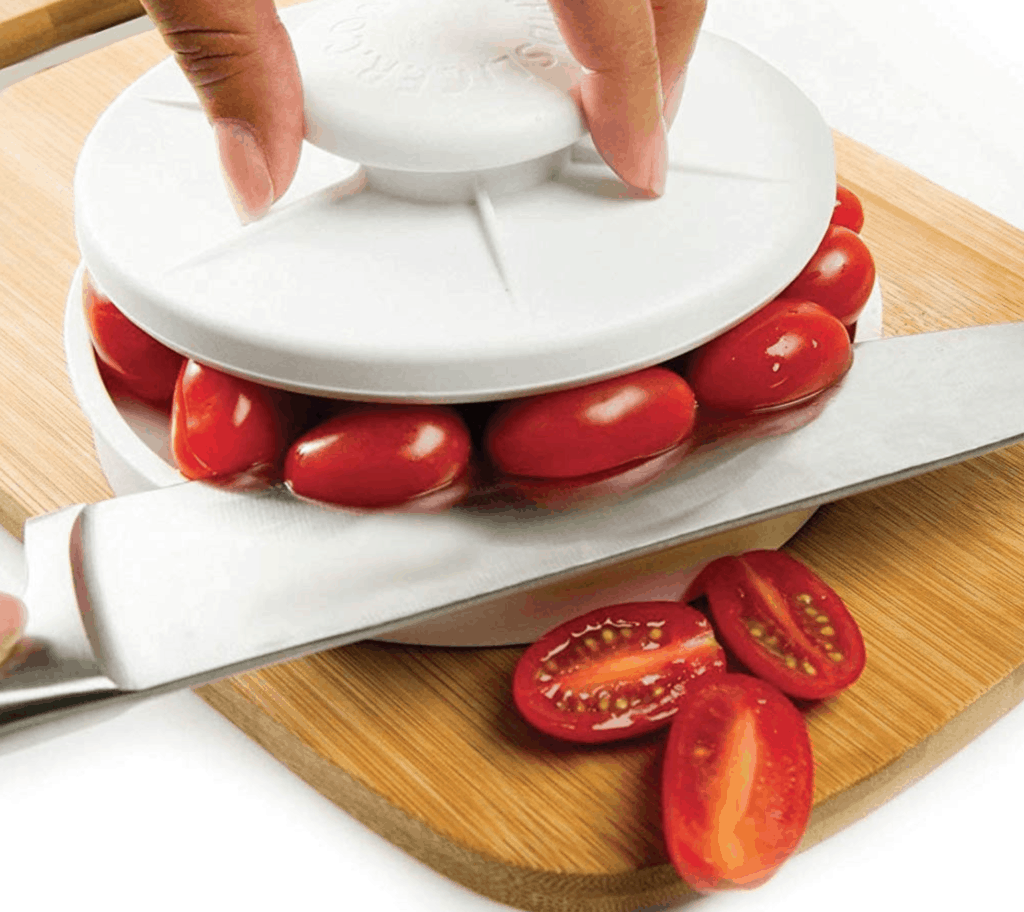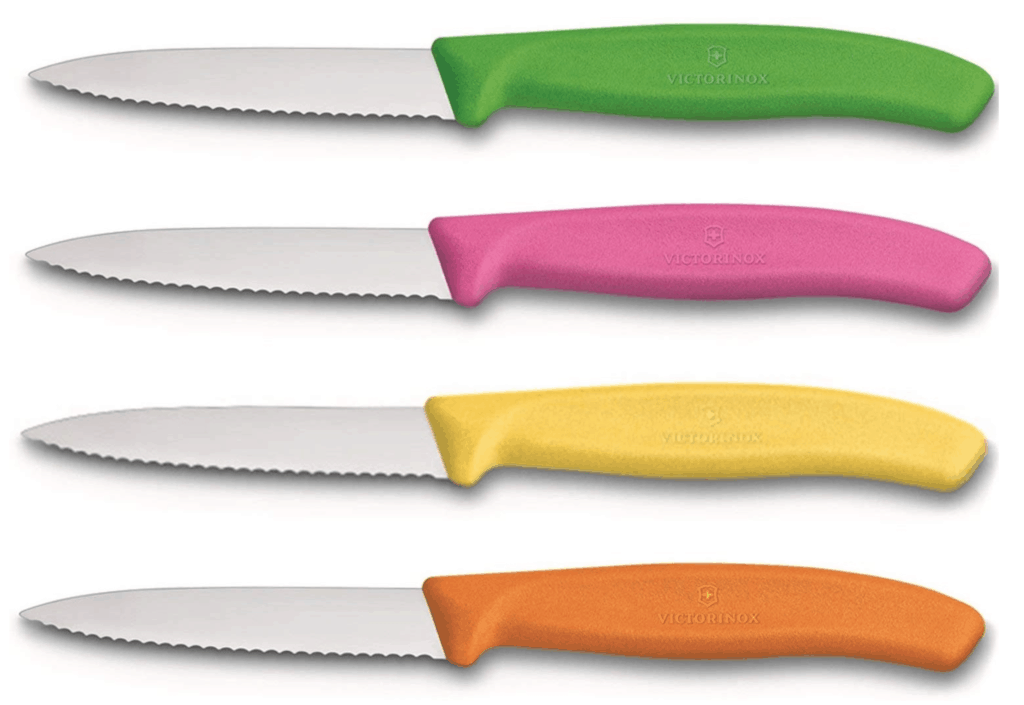 Pin this!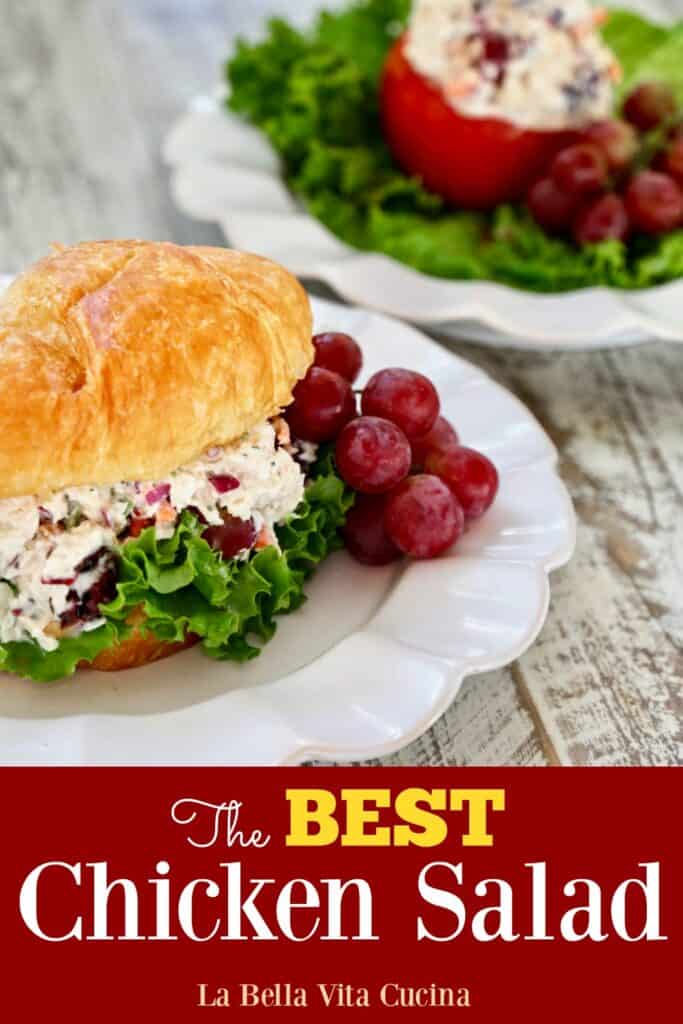 Here are a few photos taken for the original 2011 post. Pretty blurry with a little point and shoot camera!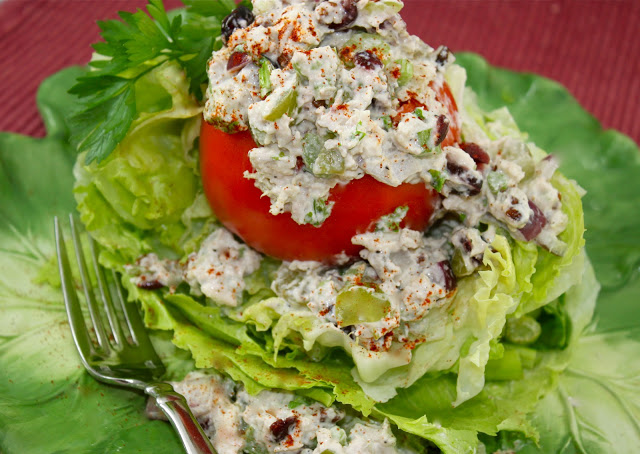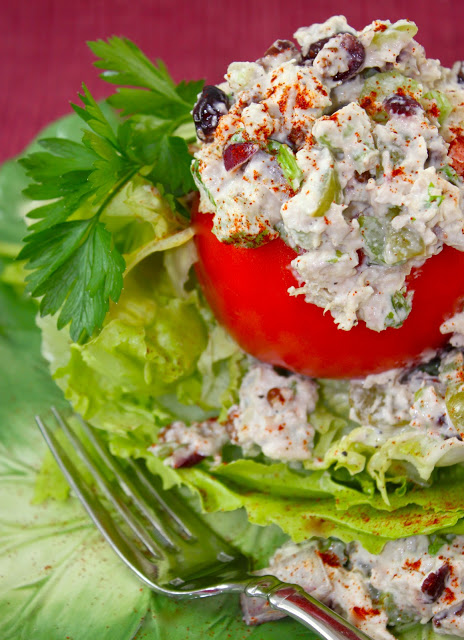 .
Please kindly share the love and pin this!
We so appreciate it!

A few more recipes you'll love!
Print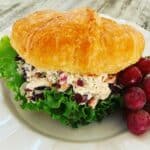 The BEST Chicken Salad with Dried Cranberries and Grapes
Author:
Prep Time: 0 hours
Additional Time: 0 hours
Cook Time: 0 hours
Total Time: 0 hours
Yield: 6 cups 1x
Category: Salads
Cuisine: American
---
2–1/2 cups diced cooked chicken
1/2 cup chopped pecans
dried cranberries
1 cup thinly sliced celery
1 cup halved green grapes (red would be even prettier for the season)
1/4 cup chopped red onion
1 cup mayonnaise or Miracle Whip salad dressing
1/2 cup heavy whipped cream (whipped until soft peaks form)
1 tablespoon freshly diced Italian parsley
(use any or all of the following seasonings to your taste preference)
1 tsp. chopped fresh tarragon or dill
1/8 tsp. garlic powder
1/8 tsp. onion powder
1/8 tsp. poultry seasoning
1/8 tsp. curry powder (if desired, optional)
1 tsp. salt
1 tsp. pepper
paprika
Italian parsley
large tomatoes
lettuce varieties of choice
---
Instructions
Combine the first dry ingredients in one large bowl.
In another medium-sized bowl, blend the mayonnaise, whipped cream, and spices.
Add the mayonnaise mixture to the chicken and other ingredients.
Mix well.
Adjust seasonings as desired.
Cut out large tomatoes.
Lay tomatoes on a bed of lettuce, or inside a half head of iceberg lettuce.
Place the chicken salad inside the tomatoes and around the lettuce.
Sprinkle with paprika.
Garnish with sprigs of Italian parsley.
---
Keywords: chicken salad, the BEST Chicken Salad, chicken salad sandwich, chicken, salad
.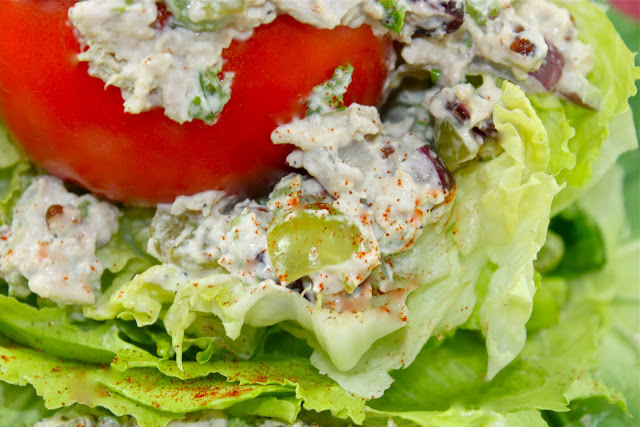 .
.This post was originally posted in October, 2011 and updated in December, 2019.
We hope that you enjoy this Chicken Salad with Dried Cranberries and Grapes
If you try this recipe and take a photo as Larry did above, I promise to share it with everyone here on the blog!
This post contains affiliate links. Please refer to our full disclosure.
Do you enjoy La Bella Vita Cucina?
We'd love to have you as part of our community!
Subscribe Below to get the latest recipes, travel tips and gardening ideas straight into your inbox!
.