Italian Style Chicken Ramen Noodle Bowl ~ Chinese New Year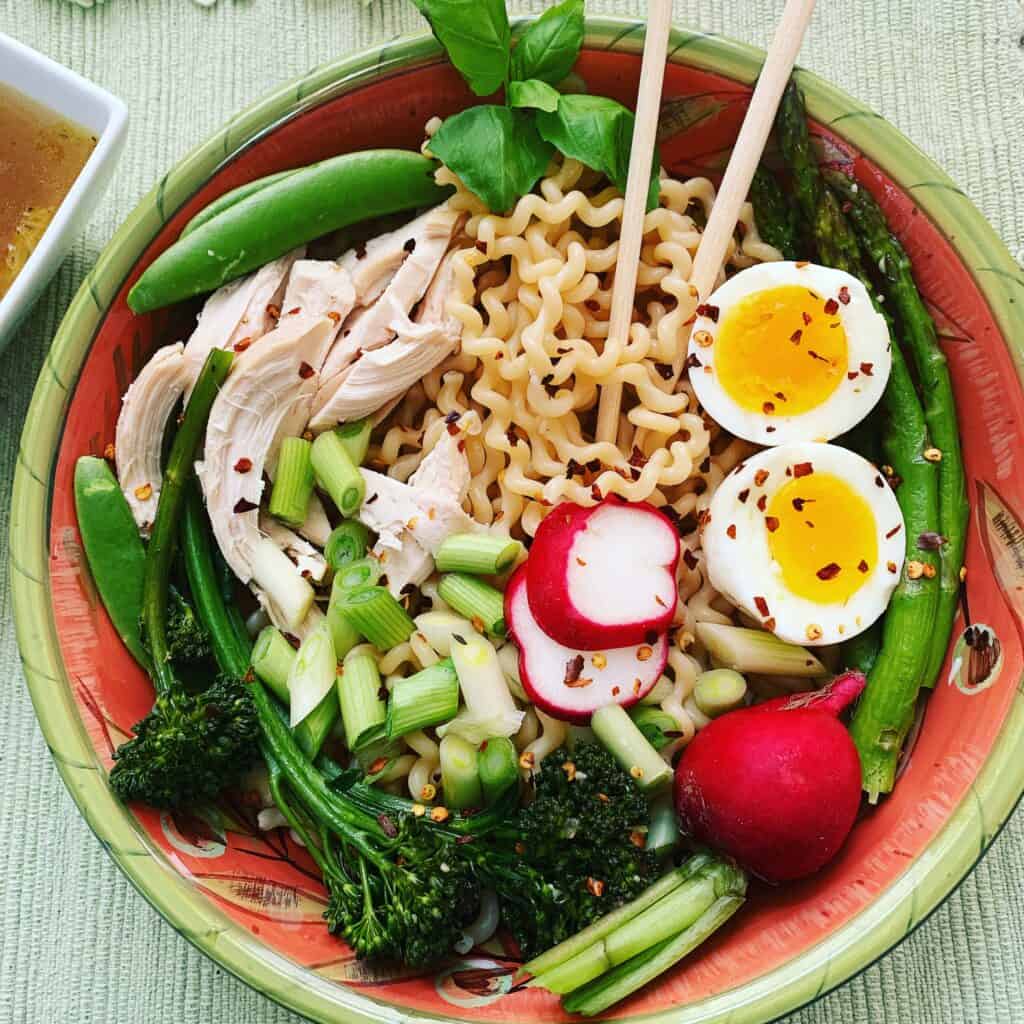 Have you ever wondered which came first: pasta or noodles? And which country created them? Did the Chinese invent pasta? Or did Italians invent noodles? It's a question that's been debated for centuries. Whoever it was, we can all be grateful for pasta or noodles. And enjoy some fusion cuisine where Italy meets China in a bowl of Italian Style Chicken Ramen Noodle bowl.
The chicken broth alone in this recipe is to die for!
For the last 10-ish years, there has been a serious RAMEN CRAZE in the United States with noodle eateries opening all over the country to serve endless bowls of the stuff. Adding to the current ramen noodle mania, this recipe is one reason why it's no longer trendy to obsess over ramen noodles but rather to understand why they are a huge part of the American food scene.
It's hard to escape this complicated but soul-satisfying Asian comfort food.
But back to the debate! The tall tale of Marco Polo, the famous merchant from Venice, bringing pasta to Italy from his travels in China, is now known to be false. Sorry for the spoiler alert, but it turns out that it was just a marketing story to sell 'macaroni' years ago. This is according to John Dickie, historian of Italian cuisine.
The first bowl of noodles was unearthed in 2005: a 4000-year-old bowl of noodles at an archaeological site at Lajia, China. This amazing noodle find is now the earliest noodle discovery of all time. Whoa!
Then food writer, Jen Lin-Liu (author of the book "On the Noodle Road" journeyed in 2010 between Beijing, China and Rome, Italy to help determine whether pasta is actually Italian or Chinese.
She found that the earliest written documentation of noodles was in China around the third century [206 – 220] BC. and the earliest record of noodles/pasta in Europe was dated later between 500 and 600 AD.
'Nuff of that stuff! Let's fast forward out of the books of history to the present moment in food! Let's get to a recipe that's part Italian and part Chinese!
Here in the States, ramen noodles were once serious food for the poor (think: the stereotypical staple of college student diets)! It's cheap, quick and easy to prepare, and mighty darn good to boot! It was perfect for times when one was forced to live on a dime. Both of my kids depended on ramen noodles during their time in college!
But not today!
That stereotype has disappeared as a boom of ramen shops has sprouted up across the nation.
So what's the big deal about ramen noodles?
It's about having the freedom, flexibility, and fun in creating innovative ramen bowls. Which is perfect for noodle fanatics who want to explore new mutant variations. The true appeal of ramen is simply "what to add to ramen?"
There are no rules in creating ramen recipes. Creativity is endless! There are millions of possibilities with the "toppings" you can choose to use. Ramen's creative nature is what has fed the fuel behind the trend that's now the norm and the perfect example of how traditional food collides with innovation!
You can even have a ramen party where your guests can build their own ramen bowls!
Creativity is an understatement for this mutant, fusion, Italian Style Chicken Ramen Noodle Bowl!
All you have to do with ramen to meet Italian pasta is "think outside the bowl"!
How To Eat Ramen
Tips for Making the Perfect Slurp-Worthy Bowl of Ramen
It's all about the broth. Focus on preparing a broth that screams of intense, rich flavor. This takes time, so use an afternoon when you're free of other activities. Some broths can simmer up to 24 hours!
Flavor and body in the broth come from loads of ingredients. Lots of bones (and vegetables if you want to do a vegetarian broth) need to go into the stockpot. As well as lots of time. Pack your pot full of ingredients even before you add any water. Good flavor and a thick broth require a large amount of ingredients and time in order to extract all of the flavors. A few gallons of water reduces down to only a few liters of broth when it's finished.
If you're not making noodles from scratch, source out the best possible noodles that you can find and buy the freshest you can find also.
Go light, light, light on salt, if not at all. Salt is never added to the broth itself. There's no doubt that one of the best parts about eating ramen noodles is slurping down that tasty, salty broth, but sadly, sodium is also one of the major nutritional downfalls of ramen noodles.
Never salt the ramen cooking water either. This differs from cooking Italian pasta. In ramen bowls, the soup base seasons the noodles.
Creativity is Key!
Go For Bright Colors! Think of the colors of the rainbow and fix a bowl of ramen complete with lots of colorful veggies! Adding veggies is also a quick and simple way to add valuable nutritional content to ramen. You can add veggies raw, steamed, or cooked in the broth itself as you heat up the ramen noodles.
Pack On The Protein: Adding protein to ramen is not only a fantastic way to amp up the flavor but also to increase the nutritional content of ramen. Adding protein can be as simple as slicing up a hardboiled egg or adding the leftover chicken you had the other day. Match the protein to the flavor of noodles you'll be fixing, such as beef with beef-flavored ramen.
Cook the noodles properly. Ramen noodles should be cooked just through, the same way as cooking Italian pasta al dente. Undercooked noodles will be tough and overcooked noodles will be mushy. Cook the noodles at the last second when everything else is ready, keeping a watchful eye on the time. Make sure you keep tasting the noodles so that the second they are ready, they come out of the water.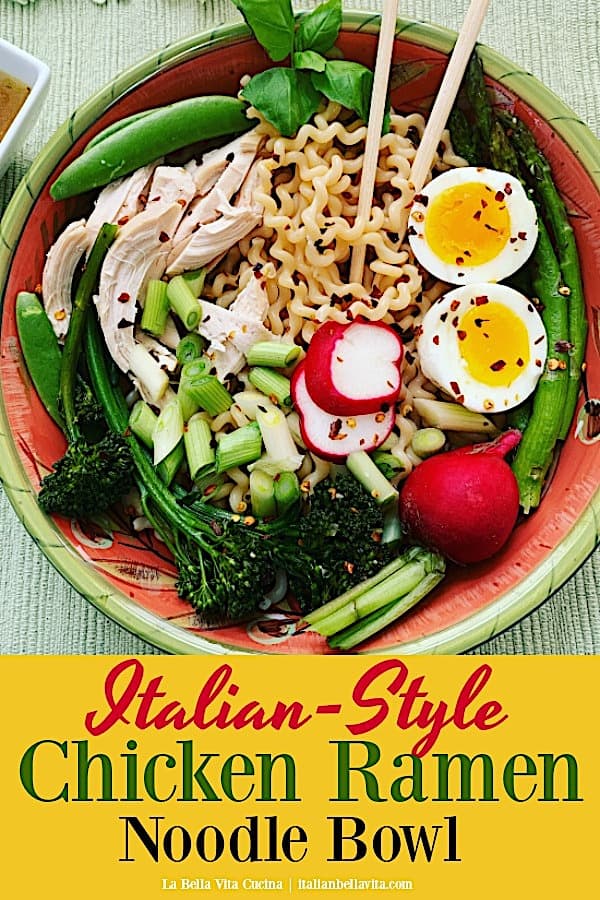 More Delicious Asian Recipes To Enjoy!
Crunchy Chopped Thai Salad with Two Dressings
Thai Encrusted Ahi Tuna Pu Pu's
Print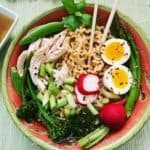 Italian Style Chicken Ramen Noodle Bowl
Author:
Total Time: 0 hours
Yield: 4 servings 1x
Category: Soups
Cuisine: Chinese
---
Description
Italy meets China in this fusion pasta bowl.  A delicious chicken and garlic-based broth gives an explosion of flavor for the chicken, vegetables and pasta.  Enjoy this delightful and unique combination of cuisines.
---
For The Broth:
2 Tbsp. Extra Virgin Olive Oil
1/2 cup celery, diced
1/2 cup carrots, diced
1/2 cup onion, diced
1/2 tsp. black pepper
1/2 tsp. red pepper flakes
1 Tbsp. finely chopped garlic
2 anchovy fillets
3 thyme sprigs
4 basil sprigs, plus more for garnish
2 32–oz. boxes of chicken stock/broth (64 oz. total)
1 lb. spaghetti or wavy spaghetti
Toppings:
4 large eggs
1 rotisserie chicken, shredded
1 lb. broccolini, blanched
1 lb. asparagus, blanched
1/2 lb. snap peas
4 large red radishes, sliced
1 bunch green onions, both white and green parts, diced
red pepper flakes
---
Instructions
Prepare the Following:
Bring a tall pot of water to boiling.  Use this later to boil the spaghetti after broth is finished cooking.  Don't boil the noodles now, they will be too mushy after the time it takes to make the broth.
Bring a medium size sauce pan of water to boiling.  Add the eggs and boil until hard; approximately 10 minutes.  Remove from hot water and run cold water over the eggs as you peel the eggs.  Set aside.
For The Broth:
Heat olive oil in a large pot over medium heat.
Cook the 'soffrito' of celery, carrots, onion, and garlic until soft and fragrant, for about 8 minutes.
Add black pepper, anchovies, red pepper flakes, thyme and basil.  Cook for 3 more minutes.
Reduce heat and add the chicken stock/broth.  Simmer for 20 minutes.
For The Pasta, Vegetables And Eggs:
When there is about 10 minutes left for the broth to simmer, add the pasta noodles to the pot of boiling water.  Boil until al dente (the time depends on the type of noodle you choose), anywhere from 5 – 10 minutes.  Taste and check on the doneness of the pasta.
Steam the broccolini and asparagus. 
Cut the hard-boiled eggs in half.
When pasta is finished cooking, place all ingredients in large, wide soup bowls (pasta bowls are great for this).  Arrange each bowl nicely with an artistic touch with ingredients placed in 'groups' or 'sections'.
Either pour the broth into each bowl of ingredients or pass it around for guests to allow them to pour the amount that they desire.
Garnish with red pepper flakes and sprigs of fresh basil.
---
Keywords: Ramen, Chinese, Noodles, Soup