Loaded Cowboy Caviar Salsa Recipe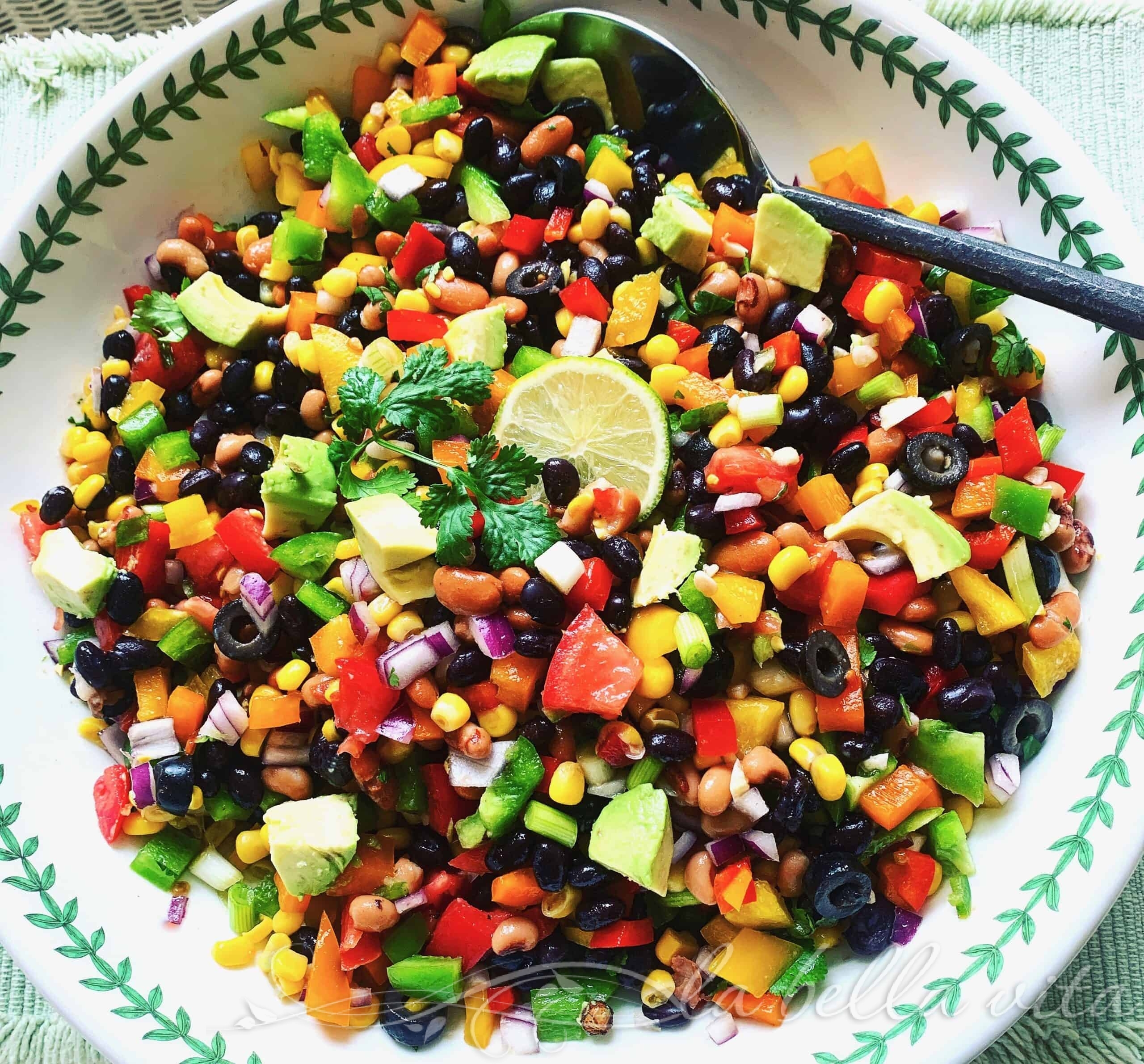 Cowboy Caviar? Texas Caviar? Carolina Caviar?
No matter what it's called, Cowboy Caviar is a fabulous, fresh, and healthy party food! Unlike heavier appetizers, this dip will help avoid those guilt feelings while nibbling on some party food.
This recipe for Cowboy Caviar is loaded with black beans, pinto beans, black-eyed peas, colorful red, yellow, green and orange bell peppers, corn, avocado, and more. Lots of action going on in this dish with a variety of flavors, textures, and vivid colors! Every bite includes multiple layers of incredible flavor, Plus it is SO EASY to put together. You can easily prepare this in advance so that it sits for a while to allow all of the flavors to marry.
Our guests always love this finger food. This makes a large batch but it disappears quickly. Served traditionally with tortilla chips, it can also be scooped up by mini bell peppers cut in half. Or it's great alongside some tacos or burgers. Heck, you can even eat this as a meal in itself! You can even roll some of this inside a tortilla for a burrito! Mmmm!
I've even seen Cowboy Caviar presented as a 7 layer salad. Besides tortilla chips or mini pepper scoops, this pairs well with queso dip!
I first tasted Cowboy Caviar 20 years ago at a get-together for co-workers and then at my daughter's lake home. We've been making it ever since and it's always just a little bit surprisingly different depending on what we throw in the mix. I recommend that you do that too, add your favorite fresh ingredients that you enjoy!
A HUGE Variety of Ingredients!
I always measure and lay out all of the recipe ingredients. Make sure that you chop up the veggies in small pieces. You want to be able to just scoop this Cowboy Caviar onto a chip or even a spoon (for those who want to limit carbs).
Make sure that all of the beans are rinsed and drained well!
Add one or two tubs of fresh Pico de Gallo (whether purchased or homemade). I recommend "medium" heat, but you use what you like the most.
Cowboy Caviar Ingredients
There's a LOT of ingredients! Grab your biggest serving bowl because this makes a big batch of yumminess!
Black beans
Black-eyed peas
Pinto beans
Green, red, yellow, and orange bell peppers
Fresh Pico de Gallo
Corn (freshly cooked, canned, or frozen)
Avocado (optional)
Red Onion
Green onions
Black olives
Cherry/grape or Roma tomatoes
Lime juice
Garlic
Jalapeno pepper (optional)
Rotel Tomatoes with Green Chili/Jalapenos (we prefer the hot variety)
Cilantro (if you don't like cilantro, just leave it out)
Tortilla chips or mini bell peppers, cut in half for serving
NOTES: For the selection of beans, you can choose whatever beans that you prefer.
Scroll down for the full recipe with instructions!
This Cowboy Caviar Salsa is SO COLORFUL!
Putting It All Together
Chop the ingredients
Mix the ingredients
Refrigerate
Serve and ENJOY!
That's all there is to it! To help you in the kitchen chopping up all of the ingredients, here's an awesome, highly rated food chopper that's super affordable! (Amazon affiliate link).
The complete recipe with printable recipe card is included below.
Tips for the Best Cowboy Caviar
Experiment and mix and match the types of beans you use in this Cowboy caviar recipe.
Mix everything except the avocados and refrigerate for 2 – 4 hours up until 24 hours in advance so that the flavors mingle, marinate and marry well to get the boldest flavors. Just remember that the longer you marinate the salsa dip, the more mushy and soft the ingredients will be and duller in color as well.
Wait to add the avocado until you are ready to serve the dip so that it doesn't get mushy and brown.
Leave out whatever ingredient that you don't like. Some people don't like cilantro and others don't like jalapenos.
Fresh tomatoes in-season will take this Cowboy Caviar salsa to a whole new level. If you can your summer bounty, use some of it in this recipe to enjoy some summer freshness!
More Appetizer Recipes to Enjoy
Cheesy Asiago, Artichoke, and Spinach Dip
The Best Creamy Vegetable and Chip Dip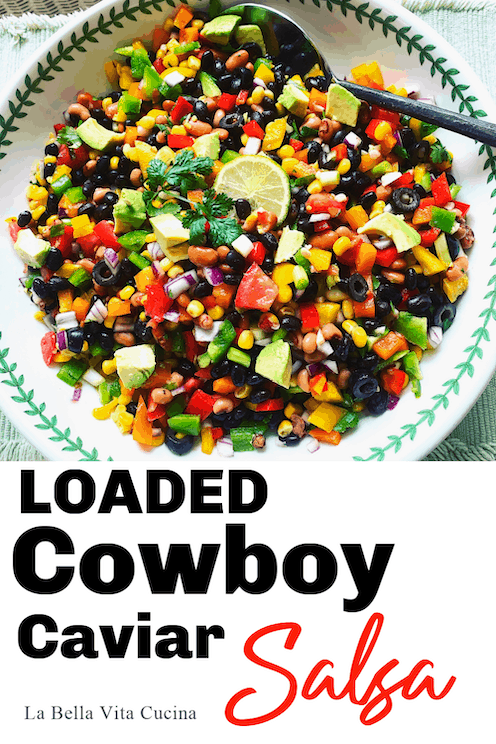 I hope that you enjoy this Cowboy Caviar Salsa and that it becomes a new favorite appetizer for you!
It's such a healthy, flavorful, and easy dip recipe. You can't go wrong serving this as an appetizer for game day at your home with family or friends, for a big football game tailgating event, or as a side dish
By the Way! Do You Call it Cowboy Caviar, Texas Caviar, Carolina Caviar . . . or something else?
Print
Cowboy Caviar OR Carolina Caviar OR Texas Caviar
Author:
Total Time: 0 hours
Yield: 10 – 15 people 1x
Category: Appetizers
Cuisine: American
Diet: LowFatDiet
---
Description
This popular dip is perfect for any party or get-together. Guests LOVE it and dig in until nothing is left over. Some people call it "Cowboy Caviar", others say "Carolina Caviar" and yet others still have dubbed it "Texas Caviar". No matter what the name, this appetizer is absolutely delicious! It is also wonderful served simply as a 'salad' alongside a Mexican or Southwestern entree, as well as anything barbecued!
---
2 (15 oz.) cans black beans, drained and rinsed thoroughly
1 15 oz. can Black-eyed peas, drained and rinsed thoroughly
1 15 oz. can pinto beans, drained and rinsed thoroughly
1 – 2 semi-firm, but ripe Haas avocados, peeled, cored, sliced and diced
1 yellow bell pepper, cored, seeded, and diced
1 orange bell pepper, cored, seeded, and diced
1 red bell pepper, cored, seeded, and diced
1 green bell pepper, cored, seeded, and diced
1 bunch green onions, sliced
1 (8 oz) can sliced black olives
1/2 of a medium red onion, finely chopped
1 jalapeno, seeds removed and diced
16 oz. Roma tomatoes, diced small (about 3 cups)
1 small package frozen corn, thawed (about 1–1/2 cups) OR 1 can corn, drained, OR kernels from 4 ears of cooked corn
1 – 2 cans Rotel tomatoes and chiles (be careful, this might be too hot for you)
1 tub (about 15 oz.) fresh Pico de Gallo salsa, medium to hot (in the refrigerated produce section of grocery stores)
1 bunch of fresh cilantro, stems removed, leaves finely chopped (about 1/3 – 1/2 cup)
3 Tbsp. minced garlic or 1 tsp. garlic powder
juice of 1 lime
1/2 tsp. ground cumin
1/4 teaspoon hot sauce, or to taste
Salt and pepper to taste
Tortilla chips for dipping
OR mini-bell peppers cut in half for scooping
Optional: Sour Cream on the side to garnish
---
Instructions
Add all ingredients together in a large bowl EXCEPT THE AVOCADOS; tasting and adjusting as you go!

Chill in the refrigerator for a minimum of 1 hour to overnight.

Adjust seasoning to preference levels after the salsa sets overnight and the flavors blend/marry.

Add avocados just before serving so they don't brown.

Stir well before serving.

Serve with tortilla chips mini bell peppers cut in halves.

May also be served as a taco topping or side dish.
---
Notes
Any leftovers can be used to roll into burritos, mixed up with some Mexican cheeses, and topped with either a cheese or tomato sauce, with a dollop of sour cream.
---
Nutrition
Serving Size: 1 cup
Calories: 240
Sugar: 5
Sodium: 680
Fat: 7
Carbohydrates: 32
Fiber: 10
Protein: 10
This post may contain affiliate links. Read my disclosure policy.