Strawberry Crostini with Sweet Mascarpone Cream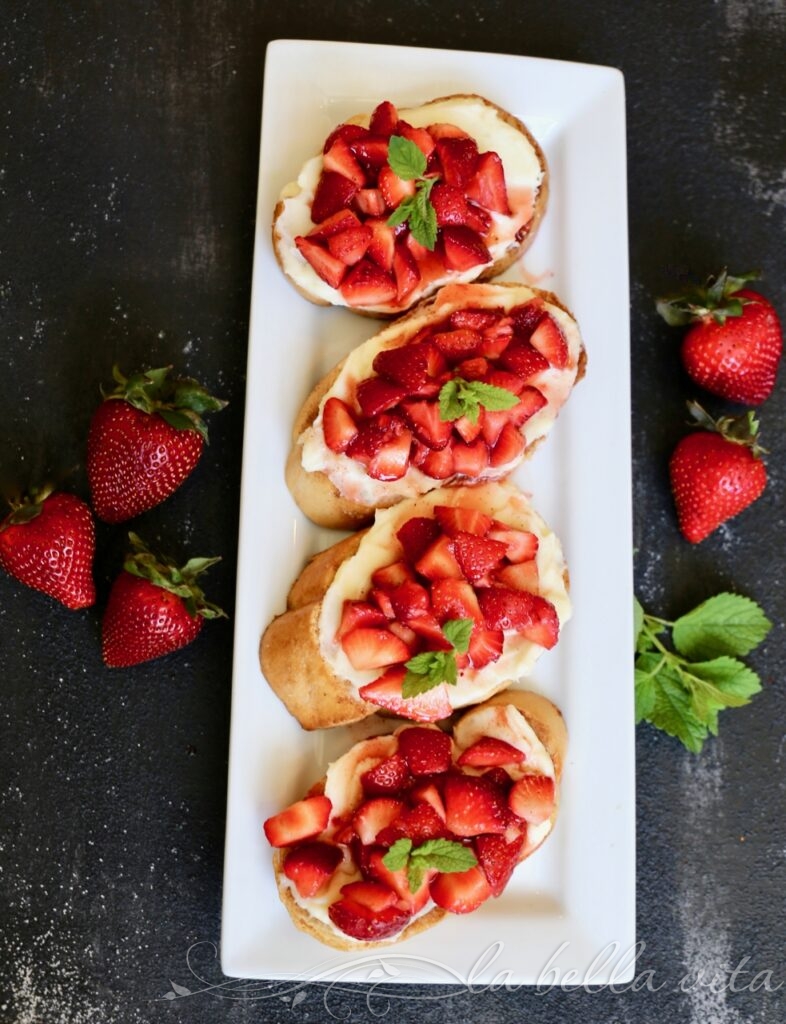 At the local farmers' market I picked up several baskets of fresh strawberries. Their distinctive fragrant aroma was irresistible and lured my nose over to the vendors' tables full of bright red strawberries. I knew exactly what I wanted to make with these ruby gems when I got home . . . Strawberry Crostini with Sweet Mascarpone Cream!
A perfect way to satisfy my obsession with strawberries!
This Italian dessert pairs a sweet mascarpone cream with strawberries topped on toasted bread coated with cinnamon-sugar. The final element that takes this over the top and ever so delightful is a drizzle of sweet Balsamic Vinegar Glace.
The flavors are fresh, bright and just . . . heavenly!
Strawberry Crostini are great finger foods for a brunch buffet. They can also be served as either an appetizer or dessert. Either way, I guarantee they will be a hit with your family and friends!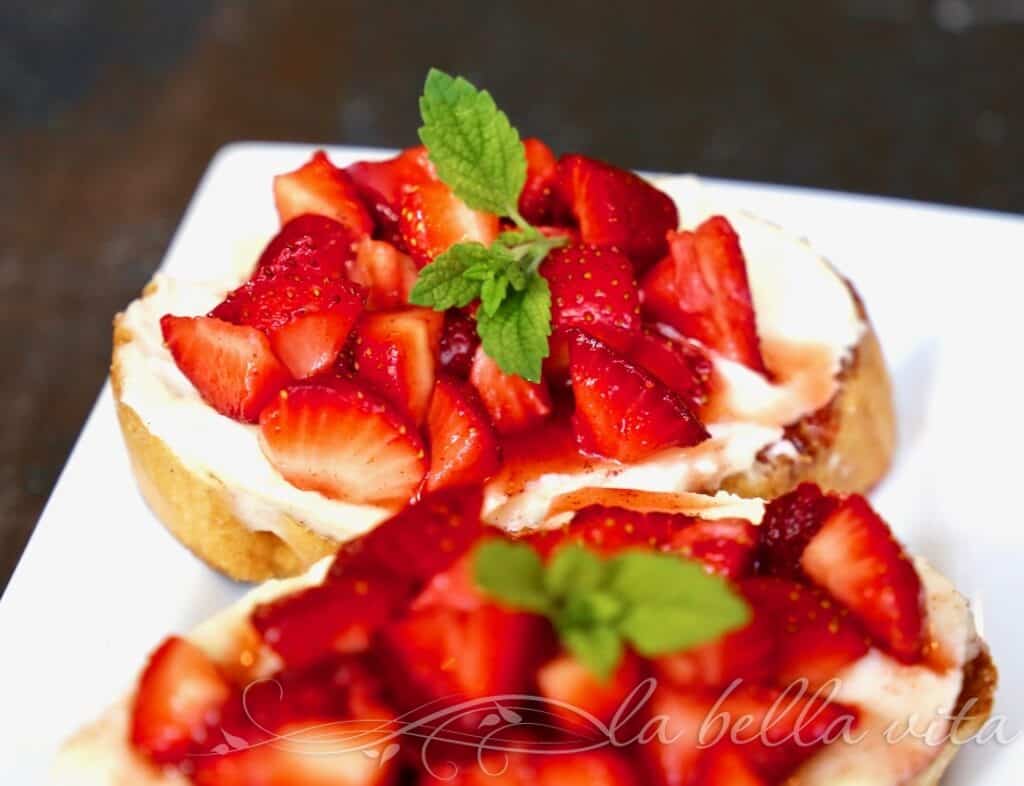 One of the great things about using mascarpone cheese sweetened with sugar is that this layer is much more firm, but still soft on top of the crunchy cinnamon-sugar toasts. Using whipped cream alone doesn't hold up to the weight of the strawberries on top which just end up toppling off and well . . . it's just a mess.
If you love whipped cream (as we do!), simply have a bowl of some for others to dollop on top of their crostini.
This is a great recipe where everything can be made in advance. The ingredients are kept separately and then put together just before serving. Keep the mascarpone and strawberries refrigerated for up to 24 hours. You don't want the strawberries to be mushy! Keep the toasted bread at room temperature.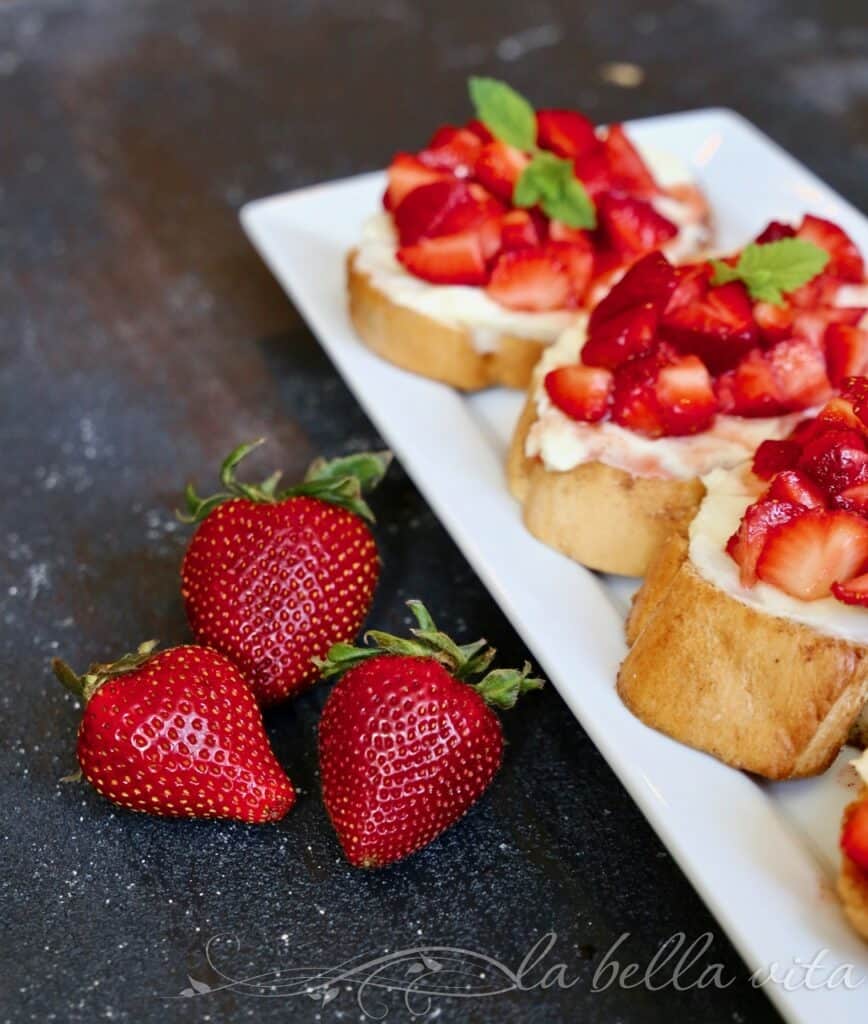 .This is a very simple recipe. I simply sweetened Italian mascarpone cheese with some sugar, but I've also used local honey as well. Then I spread this sweet creamy mixture on top of toasted slices of Italian bread that I sprinkled with cinnamon sugar. The cinnamon really adds a nice surprising flavor. For the topping, I added fresh strawberries to the Italian strawberries in syrup. A final splash of some high-quality balsamic vinegar pulls the whole recipe together. If you don't have thick, syrupy balsamic vinegar, it's just as delicious using a balsamic vinegar "glaze".
The flavor combination of sweet and savory is utterly delightful.
I like to have a syrupy sauce with strawberries. It thickens their juices which puddles on top of the sweet cream layer. There are 2 types of strawberry syrup that I recommend:
1) use imported Italian strawberries in syrup, or
2) use simple strawberry syrup.
Here are the recommendations that I use: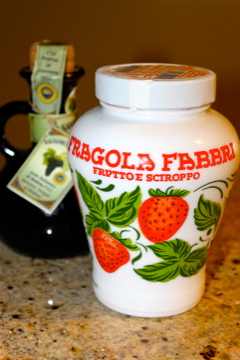 How To Make Strawberry with Sweet Mascarpone Cream Crostini
First toast the bread (I do this in the 350 degree oven, toasting many slices at the same time, but you can also use a toaster for a few at a time).
After nicely toasted, spread butter on both sides of the toasted bread.
Place the buttered toast on a wire rack in a baking pan.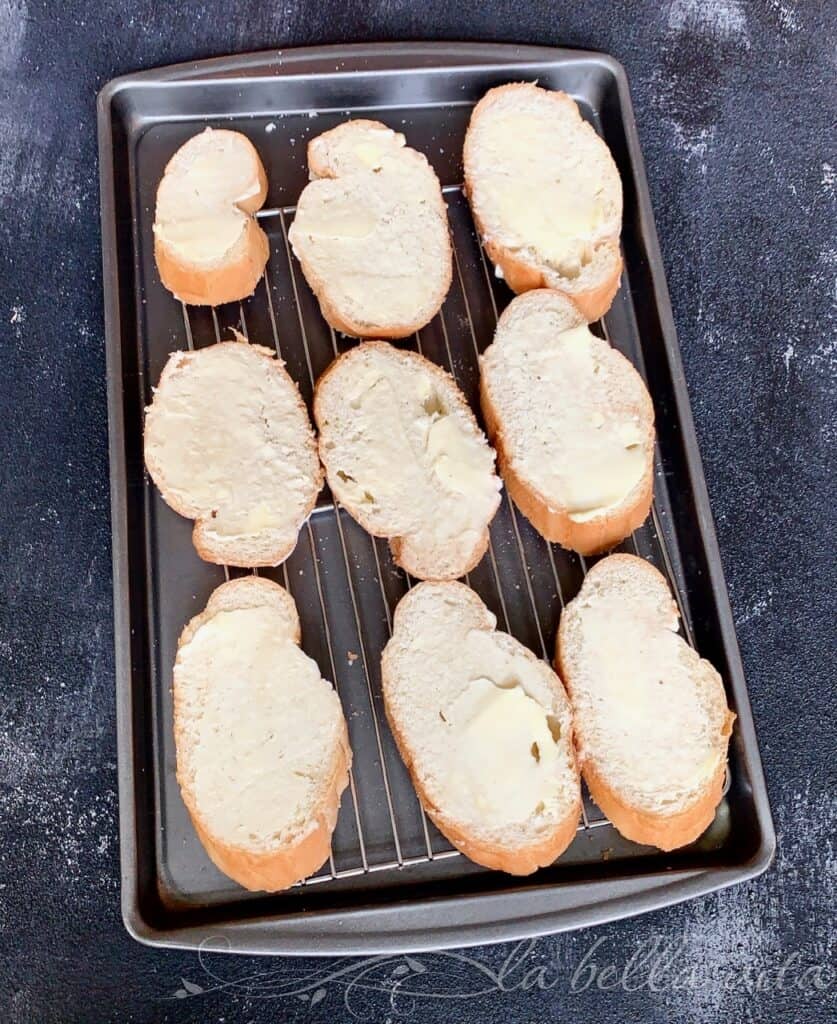 Generously sprinkle both sides of the buttered toast with cinnamon sugar.
Return the buttered, cinnamon toast to a 350-degree pre-heated oven (don't use your toaster for this step).
Heat for about 3 minutes on each side.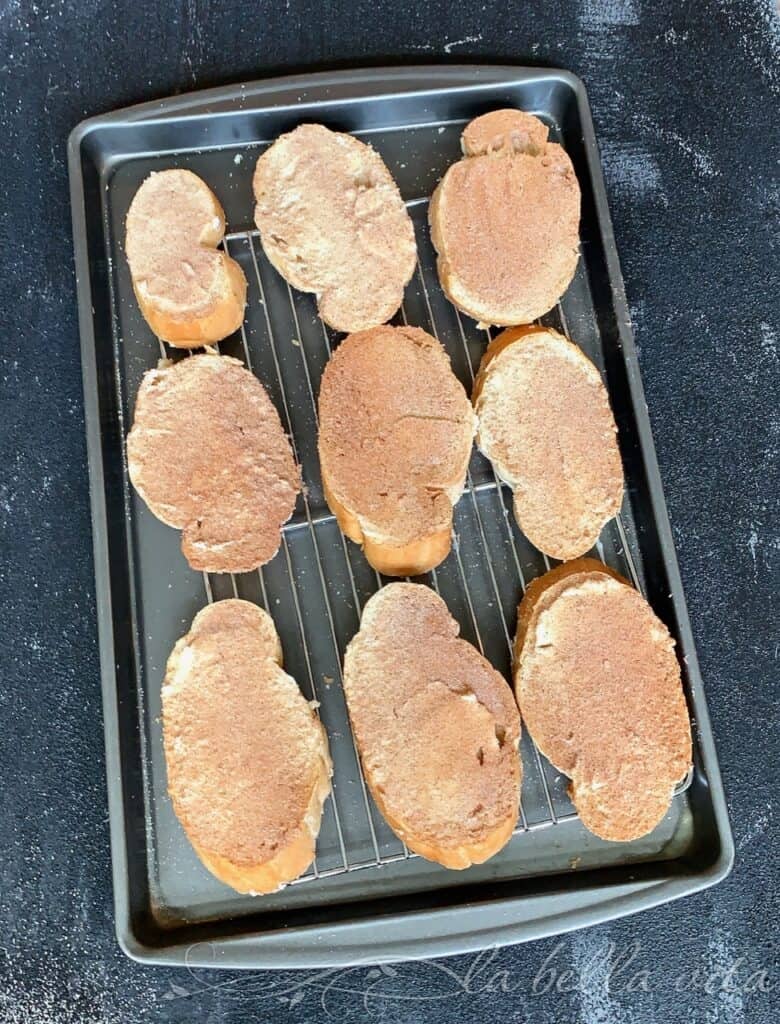 After toasting the buttered, cinnamon bread, allow them to cool completely
(otherwise, the mascarpone will melt and slide off the toasted bread).
Generously spread the sweetened mascarpone on top of each toasted cinnamon bread.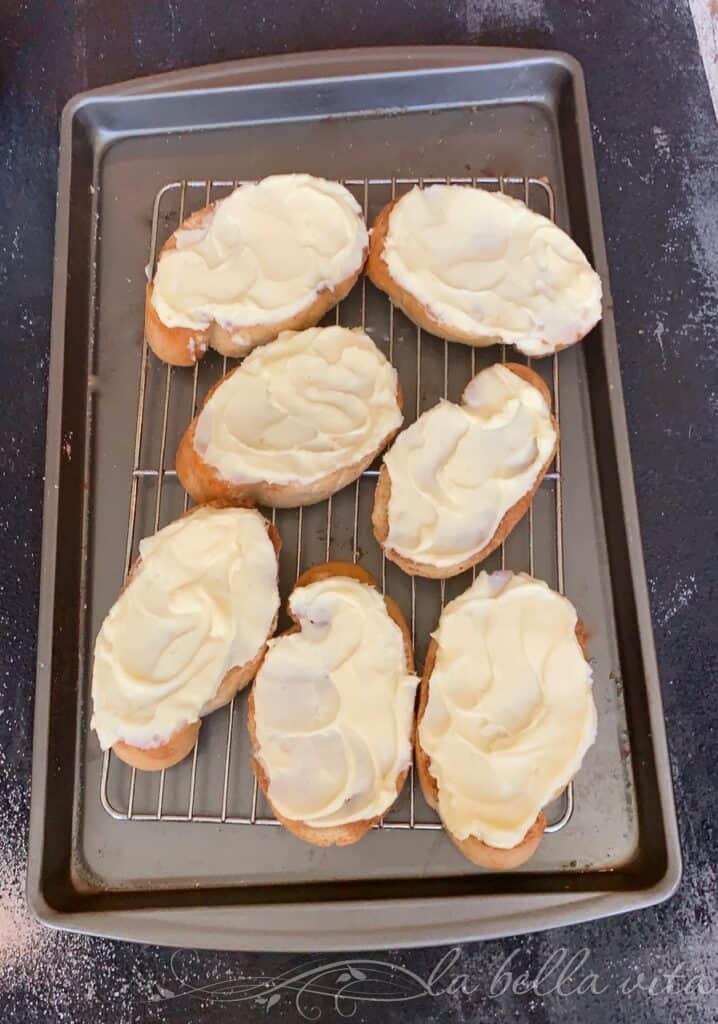 Gently stir the strawberries with the strawberry syrup.
Ladle strawberries on top of each crostini.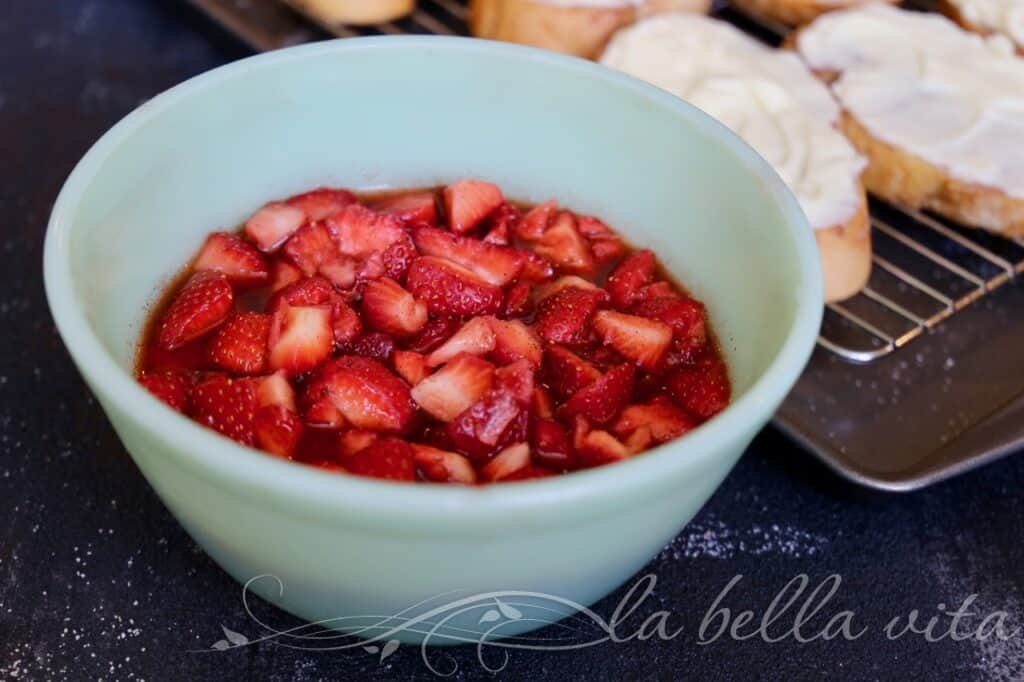 Strawberry Crostini are beautiful when presented on a long rectangular platter. The longer the better.
This ceramic platter is almost 16″ long so you can place the crostini nicely in a length-wise display.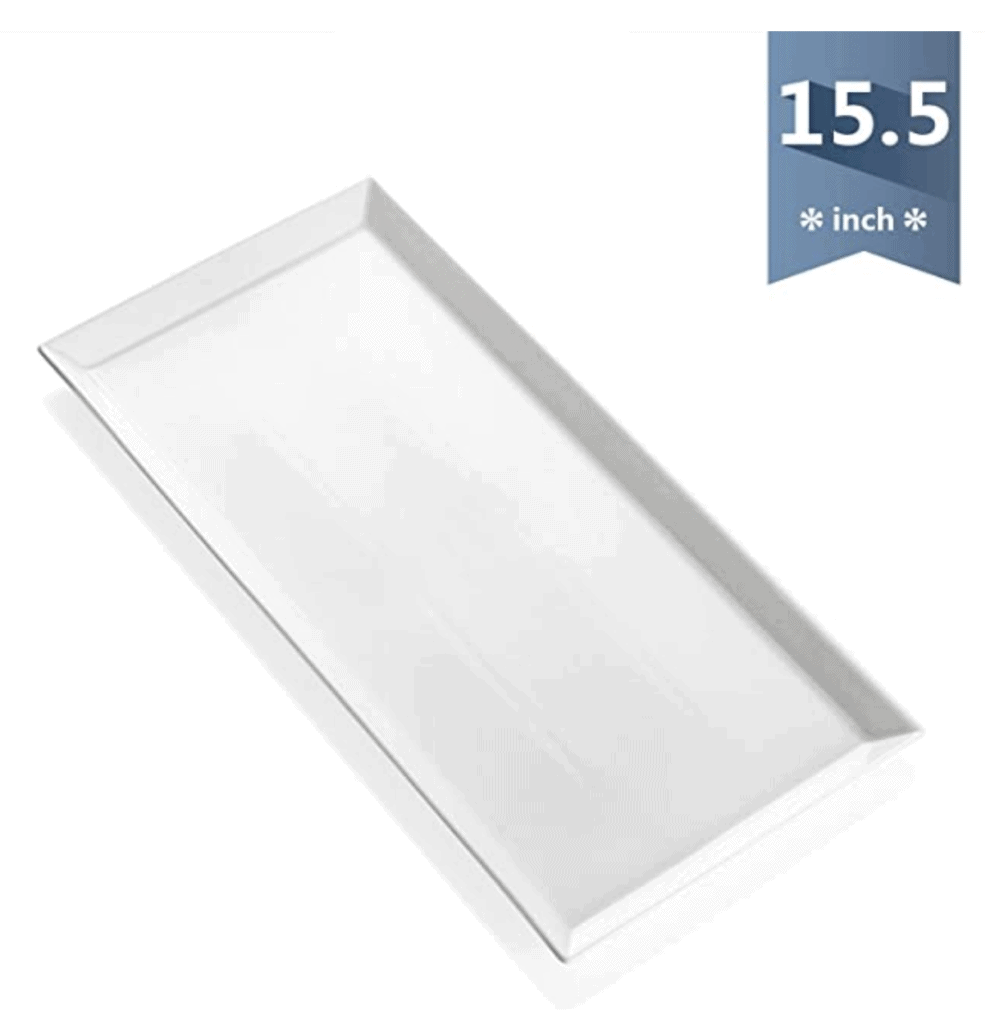 PIN FOR LATER!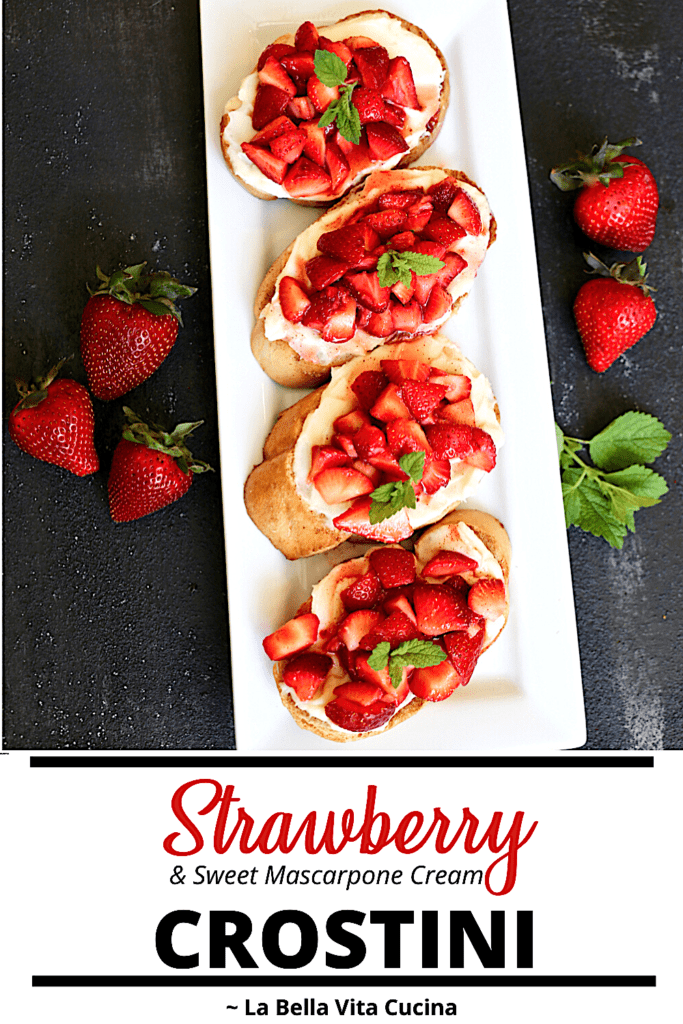 Print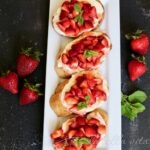 Strawberry and Mascarpone Cheese Crostini
Author:
Prep Time: 0 hours
Additional Time: 0 hours
Cook Time: 0 hours
Total Time: 0 hours
Cuisine: Italian
---
Description
Sweet, creamy mascarpone topped with fresh strawberries in a delicious syrup make the perfect match for a springtime crostini. Fantastic for a brunch or a dessert, this recipe is so easy to whip up and assemble in just minutes! You'll soon find this to be your go-to strawberry recipe every spring when strawberries are ripe!the perfect match for jammy roasted strawberries.
---
1 loaf of Italian bread, sliced diagonally
butter, softened to room temperature
1/4 cup cinnamon
3/4 cup sugar
8 oz. mascarpone cheese, room temperature
1/2 cup sugar
16 oz. strawberries (1 large basket), sliced into 1/2″ chunks
1 cup strawberry syrup
Thick Balsamic Vinegar Glaze to drizzle over crostini
Garnish: Sprigs of Mint or Basil
---
Instructions
Slice bread diagonally.
Toast in the oven for a few minutes only, flip over and toast again.
Spread butter on both sides of bread.
Sprinkle with mixture of sugar and cinnamon.
Broil for a few minutes on each side; do not burn.
Cool completely and set aside.
Mix sugar into mascarpone cheese.
Spread a big dollop on each slice of bread.
Cut up strawberries.
Gently fold the cut up strawberries into the strawberry syrup.
Top each mascarpone-covered crostini with the strawberry mixture.
Garnish with fresh sprigs of mint or basil.
OPTIONAL: Drizzle good quality, thick and sweet Balsamic Vinegar Glaze over each crostini.
---
---
Keywords: strawberry crostini, crostini, strawberry, strawberries