Panna Cotta with Strawberry Coulis (Fragole) from Bologna, Italy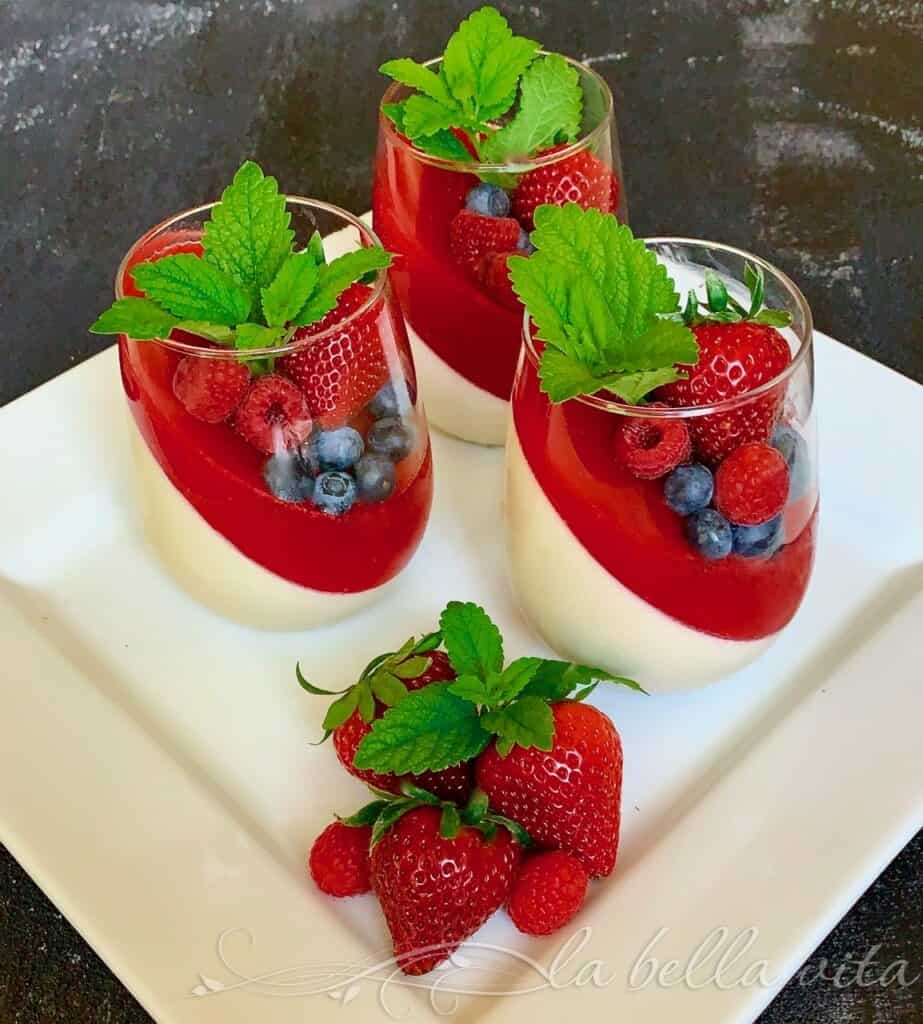 My absolute, hands-down favorite Italian dessert is Panna Cotta! Not Tiramisu, you ask? That's right, it's smooth and velvety Panna Cotta. With just one bite of Panna Cotta, you'll enjoy sweet bliss with it's deliciously creamy, custardy pudding that melts in your mouth! Panna Cotta is a delicate and light dessert that you'll love to prepare and enjoy!
And yet it's rarely offered in American restaurants! So sad because Panna Cotta, especially this recipe for Panna Cotta with Strawberry Coulis, is so easy to make! A big plus is that you can make it ahead of time too!
Panna Cotta means "cooked cream" in Italian. It's a traditional dessert of the northern Italian region of Piedmont, where cream and milk are integral to the cuisine of the north. Panna Cotta is a chilled dessert made of cream that's been thickened with gelatin and then firm up in ramekin or molds. Once chilled and firmed up a bit, Panna Cotta is then flipped over and unmolded onto a plate. The luscious, perfectly creamy pudding is most often drizzled with a sweet berry coulis or sauce and garnished with fruit and mint leaves.
But it can also be made and presented in clear glasses. I've shown you below, just one of the creative ways to chill Panna Cotta in a glass. The colors are very striking and make for an impressive presentation to your guests!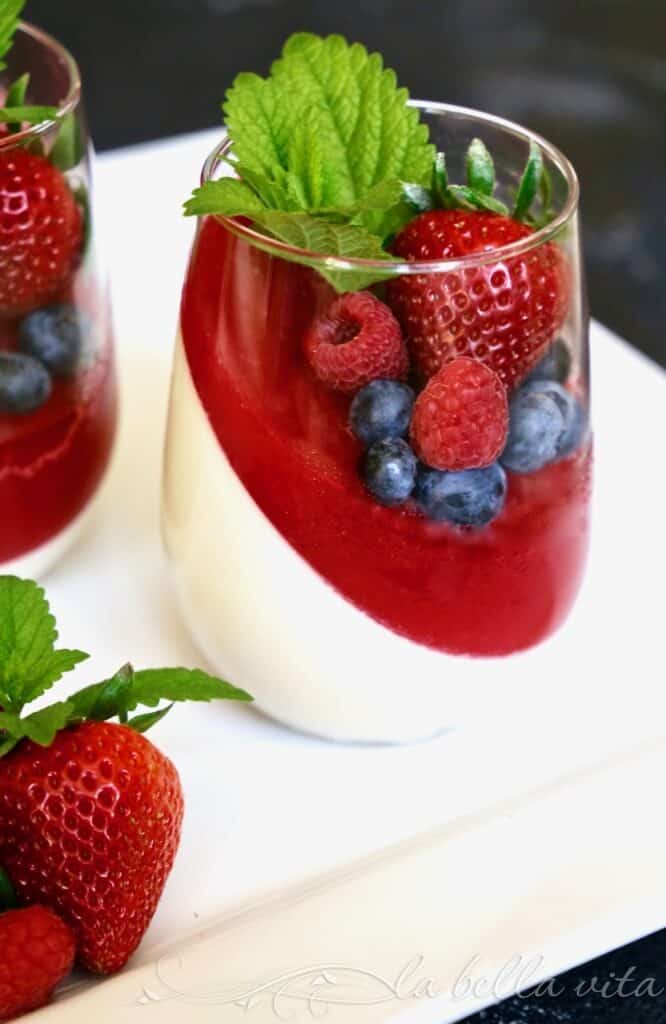 The cream can go beyond having a vanilla base and be flavored with coffee, lemon, caramel, or fruit as well. But Panna Cotta tastes simply wonderful with no flavorings added to the cream and served with ripe red fruits such as strawberries, raspberries, or cherries. Known as the 'Frutti de Bosco" (fruit of the forest). Peaches are a favorite in the summertime.
Beyond the cream, milk, sugar, and gelatin, some Italians also enjoy adding a bit of marsala or rum. I'm certainly going to try that soon! Yum!
Panna Cotta is usually served with a coulis of berries, lemon sauce, or paired with a sauce of chocolate or caramel.
Whatever way it is flavored, it's refreshing and light, and most of the time, fruity, the way Italians prefer desserts.
Interesting note: Panna Cotta wasn't included in Italian cookbooks until after 1960 and didn't become well-known in the States until the 1990's. So many people think that Panna Cotta is a fancy dessert that requires a lot of work, but that's exactly the opposite of the truth. It's as simple and fool-proof as making any dessert with jello as an ingredient (and we have plenty of those in the States)!
Only A Few Ingredients are Needed for Panna Cotta
Milk and Cream
Gelatin
Sugar
Flavorings (vanilla, fruit, chocolate, caramel, marsala, etc.)
That's it!
How To Make Delicious Panna Cotta
Gelatin is dissolved in cold milk and then added to a warm cream-sugar mixture.
Nothing is to be boiled at all.
The creamy mixture is poured into ramekins, molds, or clear glasses and allowed to firm for several hours or overnight.
Use unflavored, plain, granulated gelatin that comes in little packets and not the sheets of gelatin (find them in the baking products area of your food store).
If you're vegetarian, substitute 'agar agar' in place of gelatin which is an animal product.
If you don't drink milk or cream, use almond or coconut milk instead.
Add a touch more extra gelatin to make sure that you'll get the desired firm texture, that is still wobbly and smooth.
Be creative with the way to finish off Panna Cotta:

Garnish with fresh fruit, lemon curd with slices of lemon, sprigs of mint, chopped nuts, grated chocolate, chocolate or caramel sauce.
I Recommend These for Making Panna Cotta: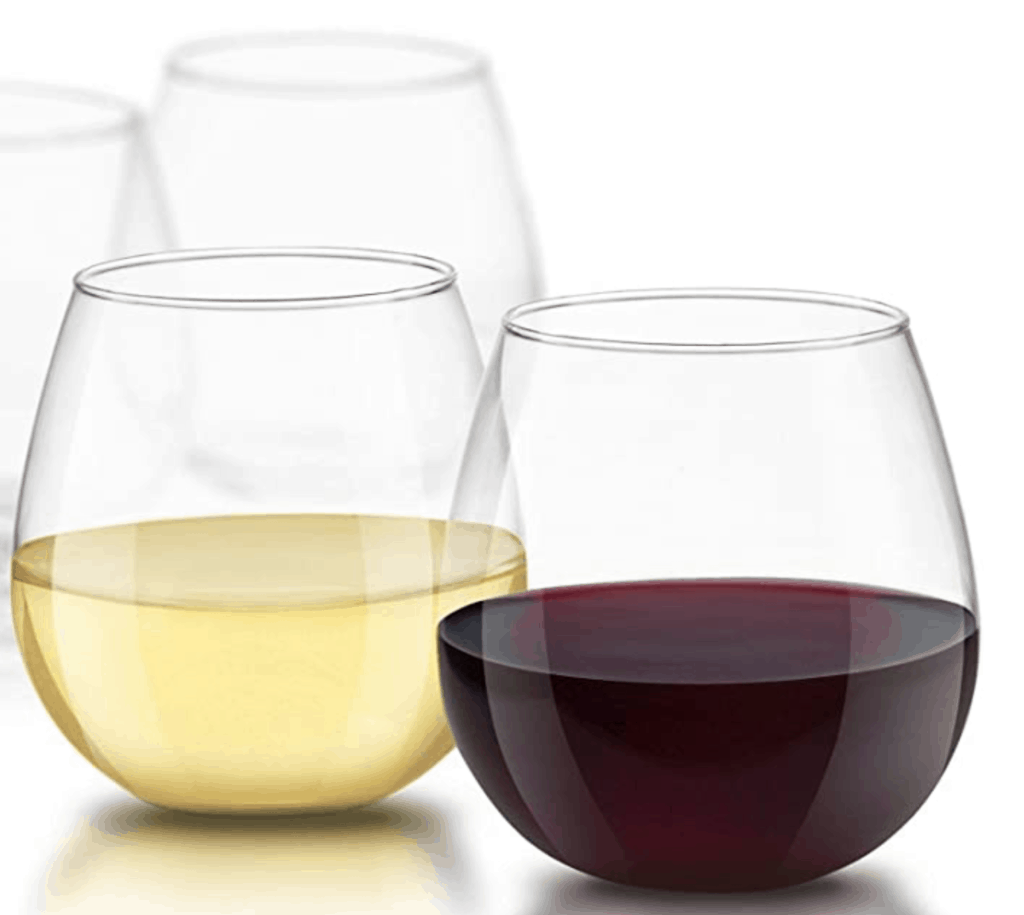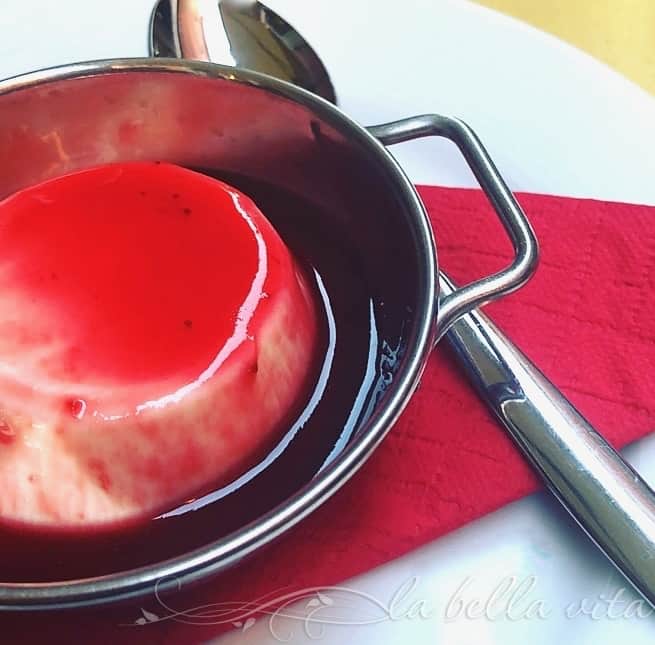 "Clavature" is located on a very narrow street in Bologna.
This is the entrance to the inside dining area and kitchen, with a small outdoor seating area to enjoy dining 'al fresco'!
The outdoor dining area is very lovely, but not stuffy.
Terra cotta painted walls with ironwork on windows and planters filled with flowers and greenery are the backdrop for the brightly colored table linens.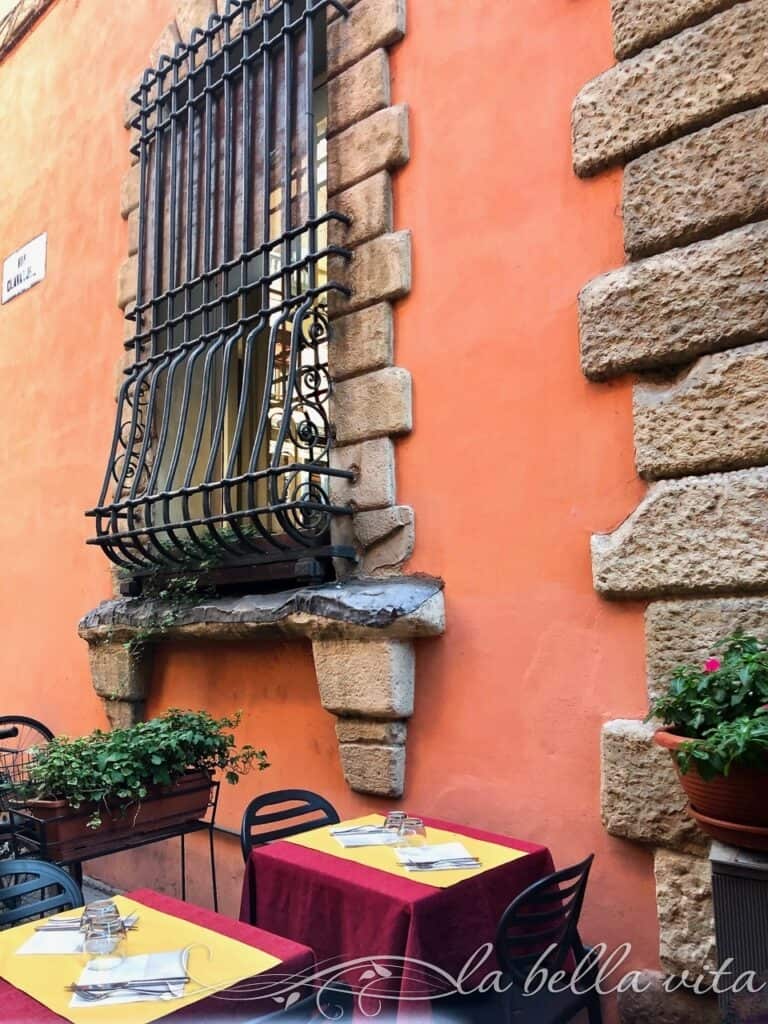 Even in mid-week, the place was bustling with hungry customers, both locals and tourists.
A glass of amazing Italian wine for lunch is a must while in Italy!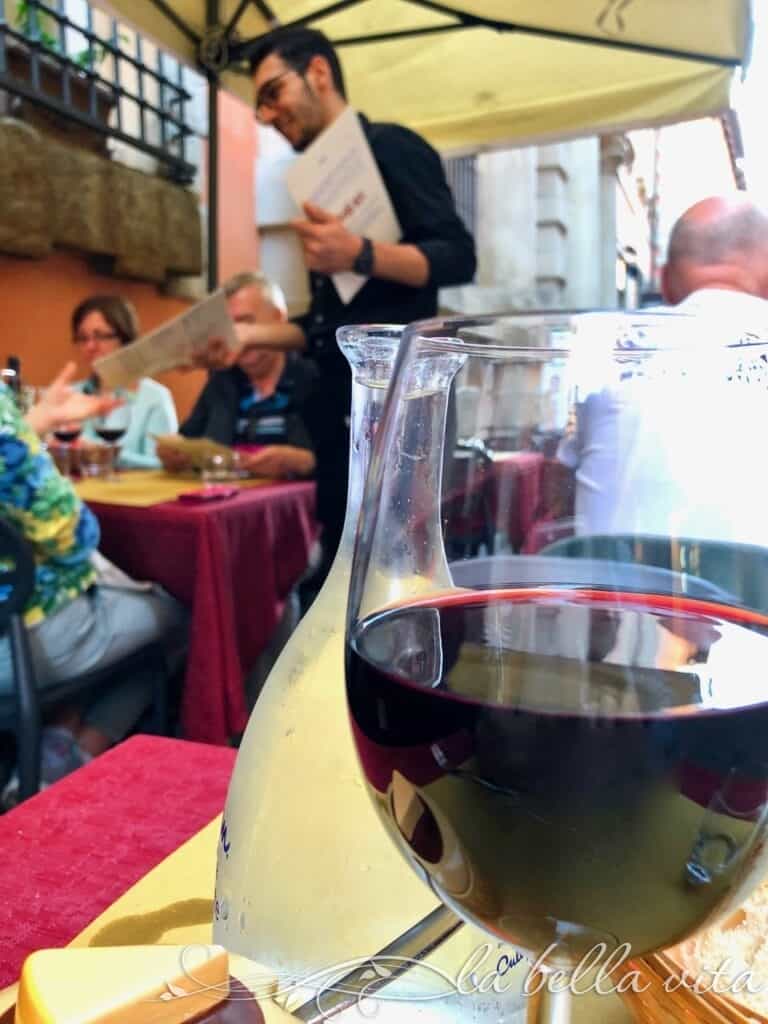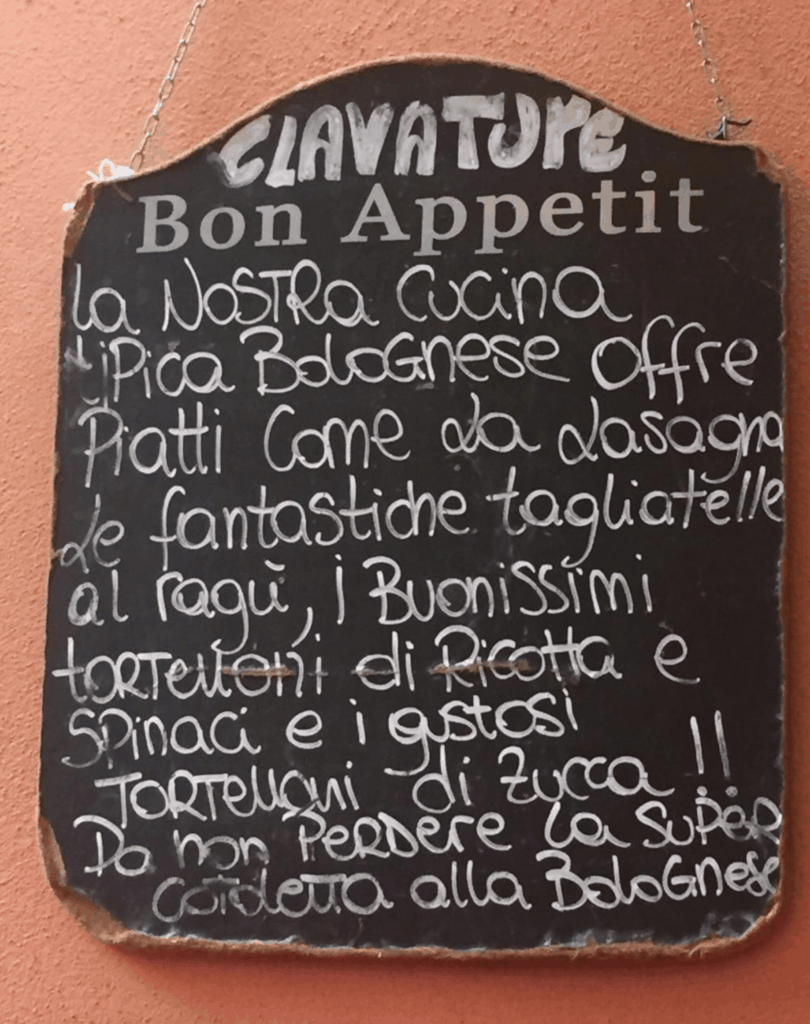 Love strawberries? Here are some more delicious recipes:
Strawberry Layer Cake with Italian Buttercream Frosting
Nutella Panini with Bananas and Strawberries
Strawberry, Banana, and Pineapple Smoothie
Strawberry Cake with Sweet Mascarpone Cheese Frosting
PIN FOR LATER!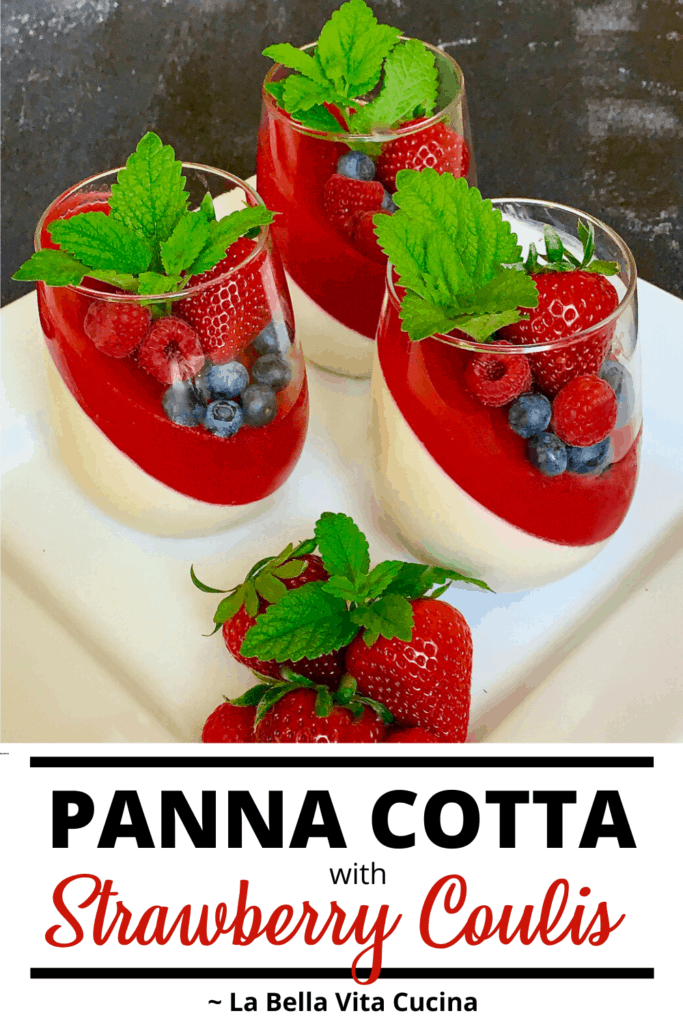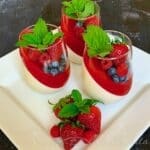 Panna Cotta with Strawberry Coulis (Fragole)
Author:
Prep Time: 20 minutes
Additional Time: 4 hours
Cook Time: 0 hours
Total Time: 4 hours 20 minutes
Yield: 4 – 6 servings 1x
Cuisine: Italian
---
Description
This Panna Cotta is a creamy, not-too-sweet pudding/custard topped with a strawberry puree and fresh berries. When presented on an angle, it is a beautiful and delicious end to any meal.
---
Vanilla Layer:
1–1/2 cups whole milk
1 (1/4 oz.) packet of unflavored gelatin powder, or 1 Tbsp.
6 Tbsp. sugar
1 Tbsp. pure vanilla extract or 1 vanilla bean, split open
2–1/2 cups heavy cream
oil for coating ramekins (not necessary if using glasses)
Strawberry Coulis Layer
3/4 cup water
1 (1/4 oz.) packet of unflavored gelatin powder
2 cups fresh strawberry puree — needs 1-1/2 – 2 lbs. of strawberries ** see how to make the coulis puree below in instructions
2/3 cup of sugar
Garnish
Fresh berries
Sprigs of Mint
---
Instructions
Place the milk in a small bowl and sprinkle the gelatin over the top. Stir well, and set aside to soften for 10 minutes.
If using ramekin bowls, brush the insides of 8 (one-half cup) ramekins with a coating of neutral oil and set aside. Half-fill a large bowl with ice and add enough water to make an ice bath and set aside.
In a small saucepan, combine the cream, sugar and vanilla extract or split vanilla bean, and bring to a simmer over medium heat. Remove from heat, and whisk in the softened gelatin/milk mixture. Scrape the vanilla seeds from the bean pod into the mixture, and discard the pod.
Set the saucepan in the ice bath (making sure the top of the saucepan is well above the surface of the water), and whisk until the mixture is lukewarm. Rub your fingers together: There should be no grit from undissolved sugar or gelatin.
If using ramekins: Pour the mixture into oiled ramekins and chill for at least 4 hours or overnight. If you're going to keep them longer than overnight, cover them with plastic wrap, pressing the wrap gently against the panna cotta to prevent a skin from forming. Be aware that preparing the panna cotta more than 24 hours in advance will result in a firmer set.
If using clear glasses: Pour the mixture into glasses (in this case, served at an angle* in clear glasses), leaving about 1 inch from the brim of the glasses (you will fill up this space with the strawberry coulis puree that you prepare next). *See notes on how to stand glasses on an angle.
If using the ramekins only: About 10 minutes before serving, run a thin-bladed knife around the inside of the ramekin. Dip each ramekin briefly in a bowl of hot tap water, and then carefully flip each over onto serving plates. If the panna cotta doesn't unmold right away, tap the ramekin lightly on the countertop to loosen it. If it still doesn't unmold, return it to the hot water bath for another five seconds and repeat. Skip this step if using clear glasses.
For the Strawberry Coulis Puree:
Puree the strawberries with either a hand-held blender or a food processor until smooth. Press the pureed strawberries through a mesh strainer to separate the seeds. Pour the strained strawberry juice into a glass measuring cup with a pouring spout.
In 3/4 cup water, sprinkle the gelatin on top and stir well. Set aside for 10 minutes to allow the gelatin to thicken.
Heat the gelatin/water mixture in a microwave or on a stovetop, but do NOT boil it.
Stir well again and then add it to the strawberry puree.
Add the sugar. Stir well again and allow it to cool.
Assembly:
There are several ways to serve Panna Cotta:
Traditionally, it is served in small ramekin bowls with the fruit puree poured over the top.
Or, as in this version, it can be served in clear glasses tilted diagonally on their sides. For this presentation and serving method, pour the vanilla cream into each glass, leaving about 1 full inch from the brim of the glass. Chill for a minimum of 4 hours or better yet, overnight. When the creamy pudding layer is a little firm, keep the glasses at the same angle and slowly pour the strawberry coulis on top. Once again, place the glasses of vanilla cream and strawberry coulis in the fridge overnight. Garnish with berries and sprigs of mint.
---
Notes
To stand the glasses on an angle, take a muffin pan, and put a paper towel in each muffin slot to steady the glasses. Place a glass on top of each paper towel and place each glass on a diagonal angle. Without the paper towels, the glasses slide straight upwards.
---