How To Make the Best Guacamole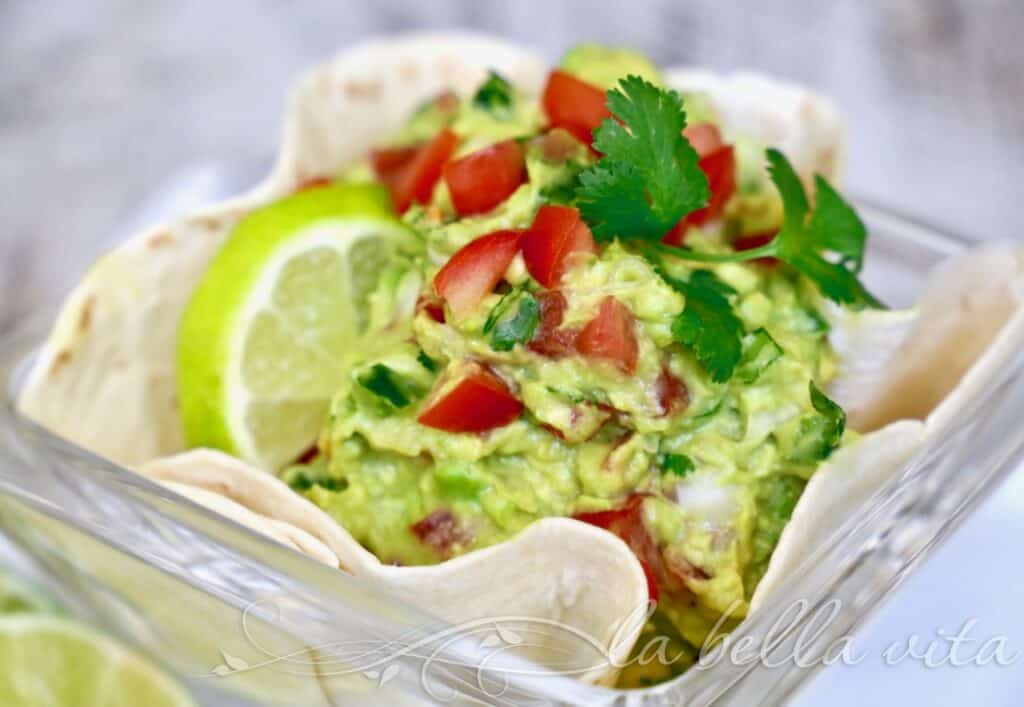 I've been making this recipe ever since a friend of mine in California showed me how to make the best, kick-butt guacamole ever (and this was way back in 1985). This guacamole never ever fails to please everyone, so get ready for some major kudos from your family and friends!
The only guacamole that has ever topped this was a table-side batch served to us in a Mexican eatery along the riverside in San Antonio, Texas (so the recipe would not be shared). So I came up with this recipe which is as close to that memorable guacamole as possible!
For the best guacamole, you MUST use fresh ingredients, especially the avocados. Never buy pre-made, mushy guacamole. It's just plain yuck! So yes, freshness is key! And when tomatoes are in season, you are going to enjoy even more deliciousness in your batch of guac!
Don't just limit this guacamole for nibbling with chips only. It's crazy good spread on top of a burger (hence the reason why you find it on the hamburger menu in so many restaurants), lathered on top of toast, for toppings on tacos and other Mexican dishes, in a taco salad or scattered on top of a platter of nachos….. I could go on.
It sounds strange, but avocados are fabulous in a simple lettuce salad paired with slices of ruby red grapefruit drizzled with a tangy tomato dressing….another incredible dish that I enjoyed during my California days!
So let's get to making some delicious guac, shall we!
Guacamole Ingredients:
Always gather up the ingredients before you begin any recipe. Here's what you need:
Avocados: Use the "Haas" variety whenever possible. Don't buy hard avocados, but only those with a tiny 'give' when you gently squeeze an avocado. And don't buy those that totally squeeze in like a sponge when you gently squeeze into one, that means it is TOO RIPE and the flavor is bad, bad, bad.
Tomatoes: "Romas" are the best in terms of holding their firm shape when chopped.
Green Onions: Both the white and green stems can be used.
Cilantro: For that authentic Mexican flavor.
Jalapeño: If a freshly chopped jalapeño is too strong for you, pick up a can of diced jalapeño peppers instead.
GARLIC! My secret ingredient! You can really taste the difference!
Limes and Lime juice: Freshly-squeezed is always the best, but you can also use the little container of lime juice in your fridge if you don't have limes.
Salt and Pepper
Here's how to Make The Best Guacamole
Cut avocados in half, remove the pit and scoop out the soft interior, discard the skin and the pit.
Place the avocado 'meat' into a medium-sized bowl OR in a Mortar with Pestle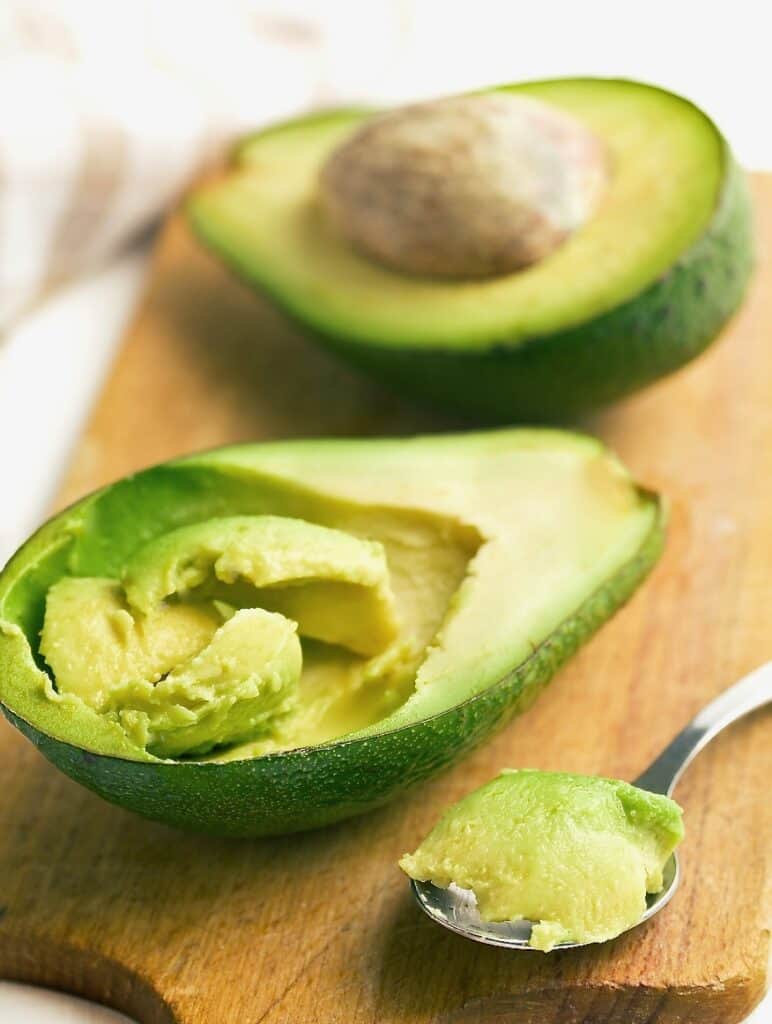 Chop up the tomatoes and add to the avocados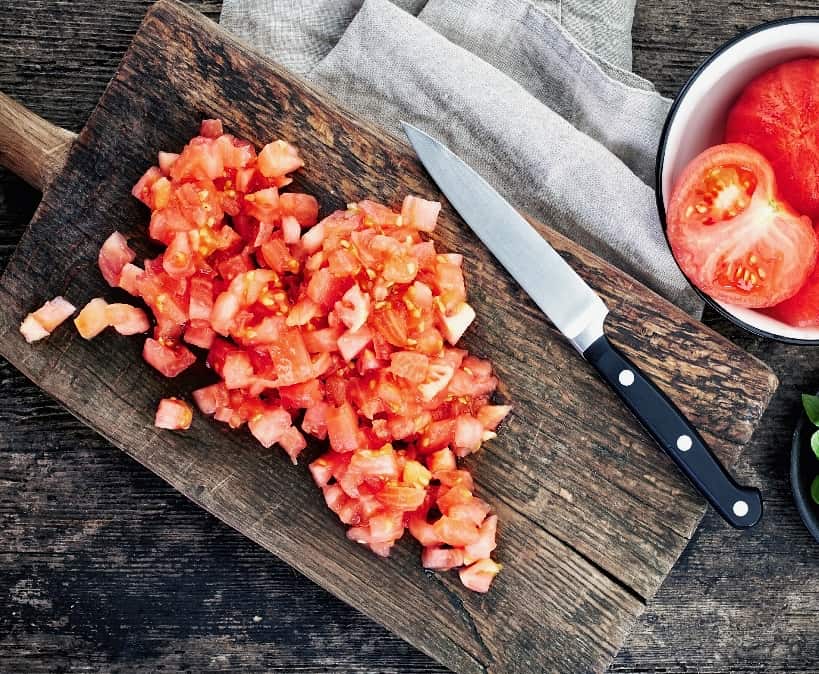 Thinly slice the green onions, including a few inches of the green stem (which is edible). Toss them into the bowl with avocados and tomatoes.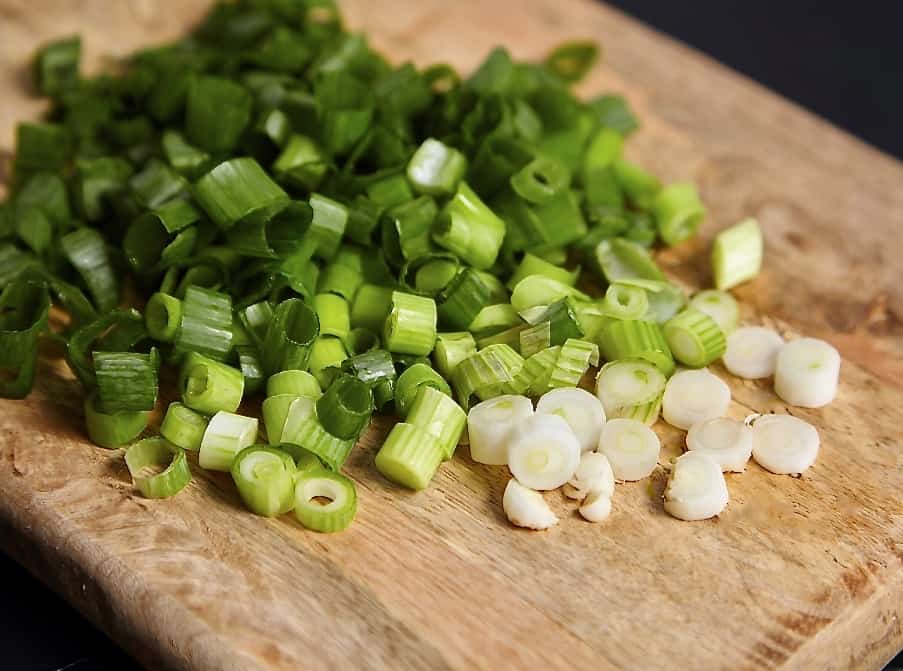 Chop up both the garlic and cilantro (stems removed as much as possible). Add to the avocado mixture.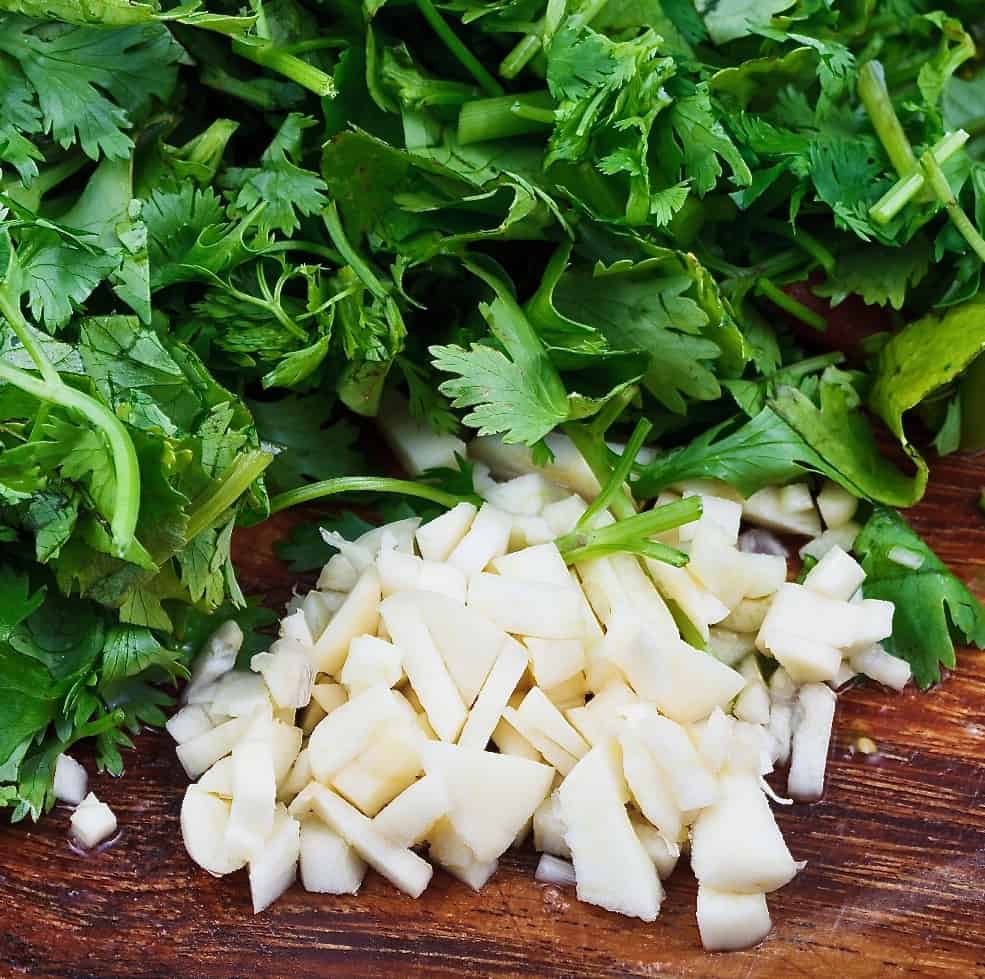 Chop up the jalapeno pepper(s), add as much heat as you prefer. Again, continue to add to the avocado mixture.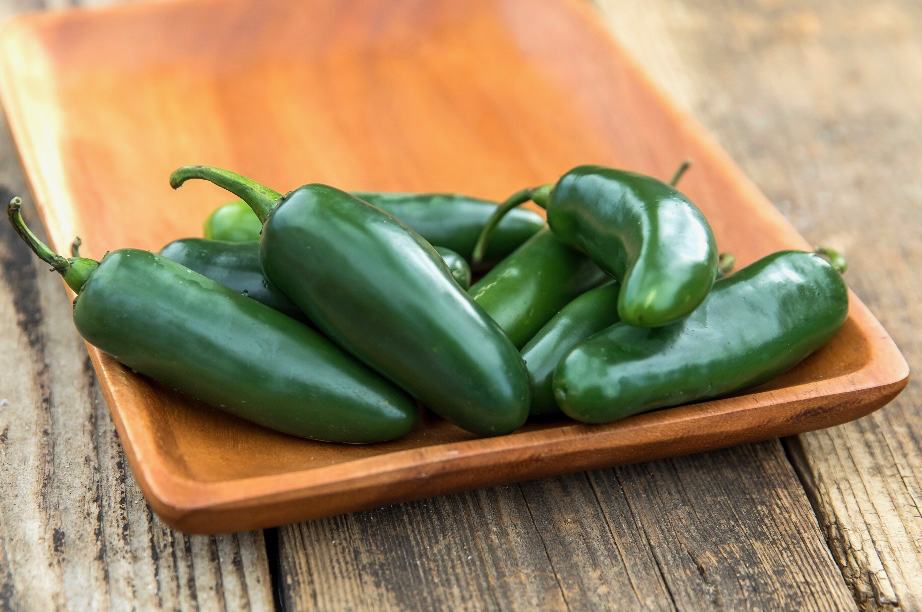 Slice the limes and squeeze the juice directly onto guacamole and TASTE, to add more if you prefer.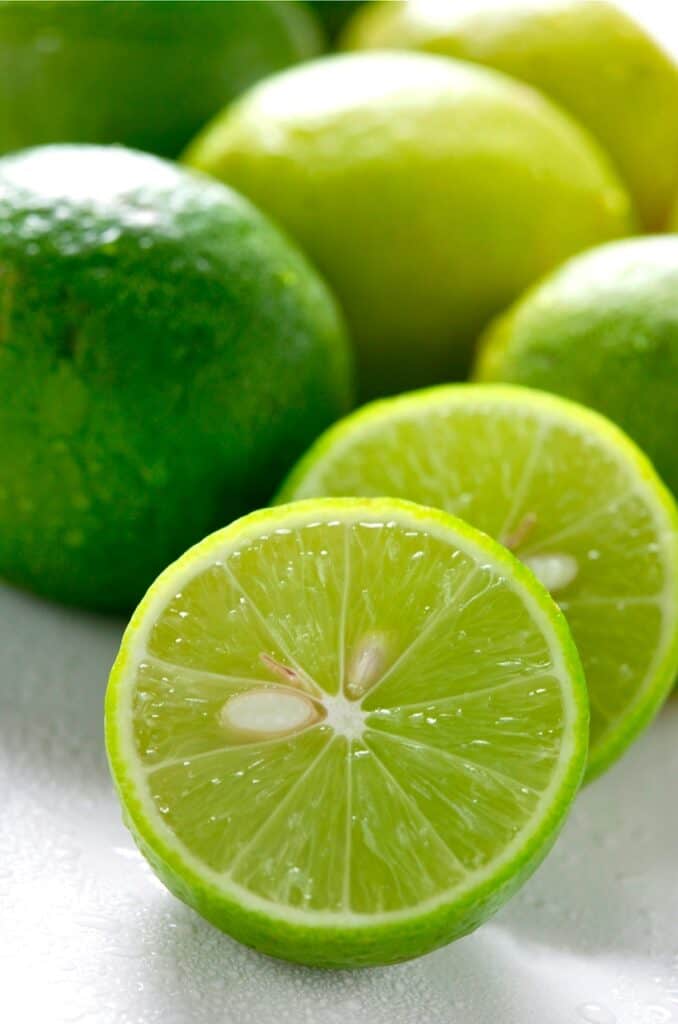 Gently mix with a fork or if you have one, a mortar and pestle. We like our guacamole more chunky than blended, so don't overmix the guacamole if you like yours chunky too.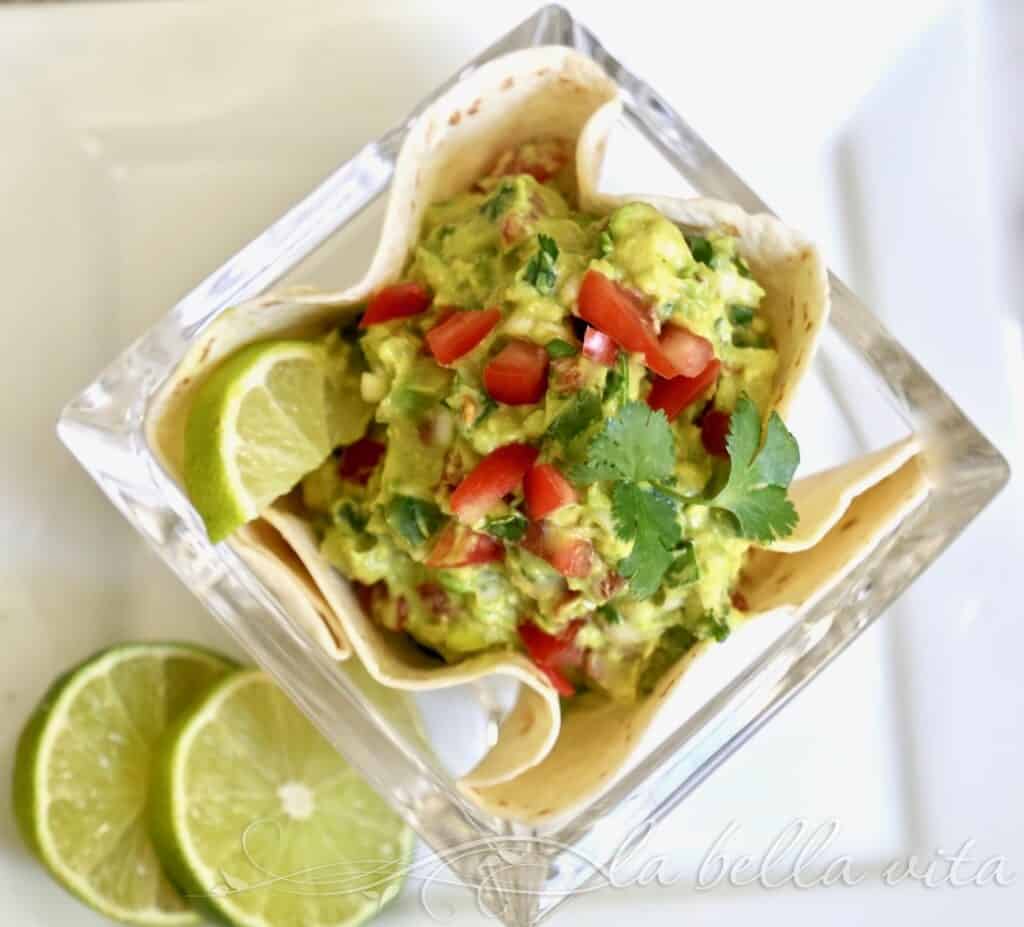 One of the problems with avocados once they have been opened up and removed from the peels . . . they turn brown very easily. Lime and/or lemon juice does a great job of preventing that brown burning appearance, but what about STORING GUACAMOLE?
Just lay on a sheet of thin plastic wrap. Tap it down gently. Then store for 1 day in the fridge. Yes, use it quickly.
There are some great kitchen gadgets on the market that I personally use to store avocados and guacamole: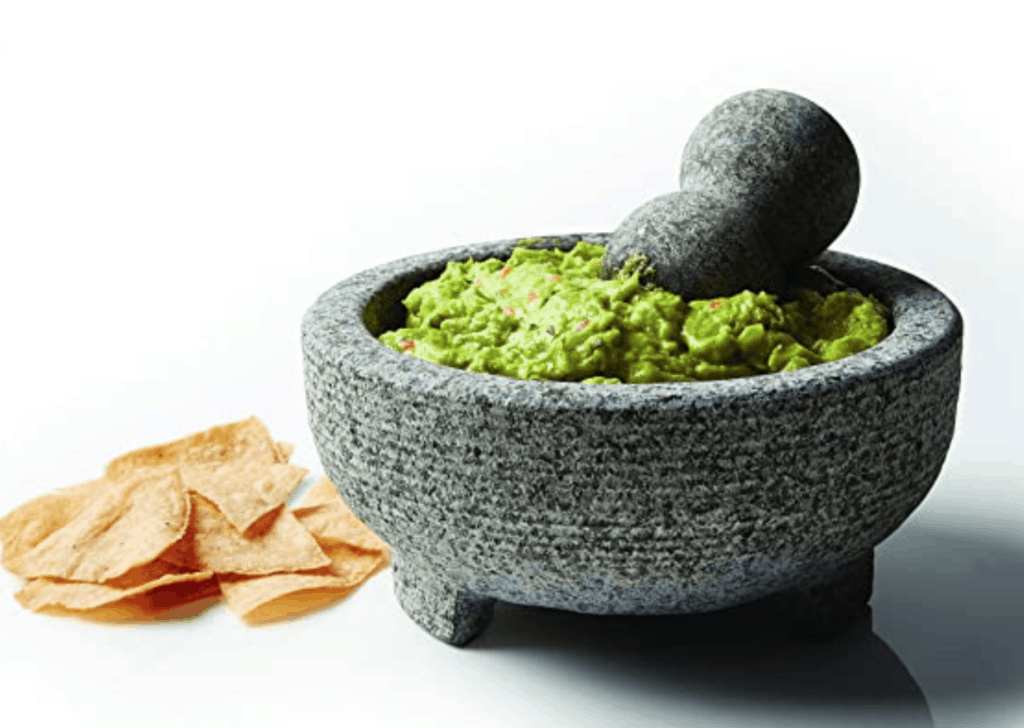 Mortar and Pestle (Authentic for Guacamole)
PIN FOR LATER!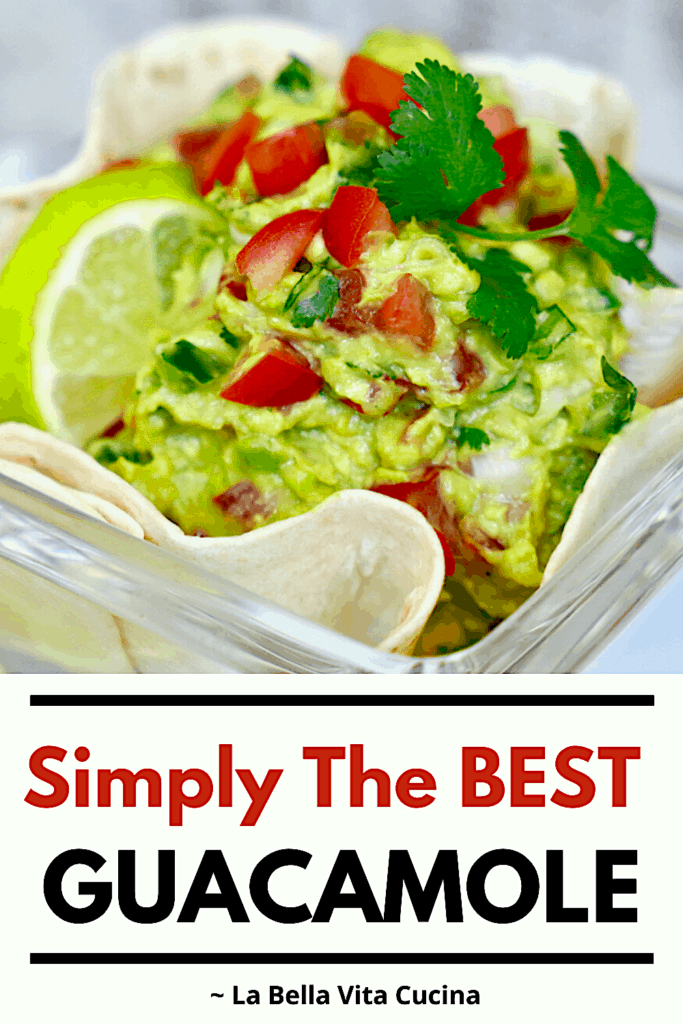 I hope that you enjoy this classic, treasured recipes for the best guacamole that's always in season, always beloved, and always anticipated.
So bring on the tortillas, side bowls of salsa and sour cream, and some melted Mexican queso cheese sauce!
.
Let the fun and good eaten' begin!
.
The BEST Guacamole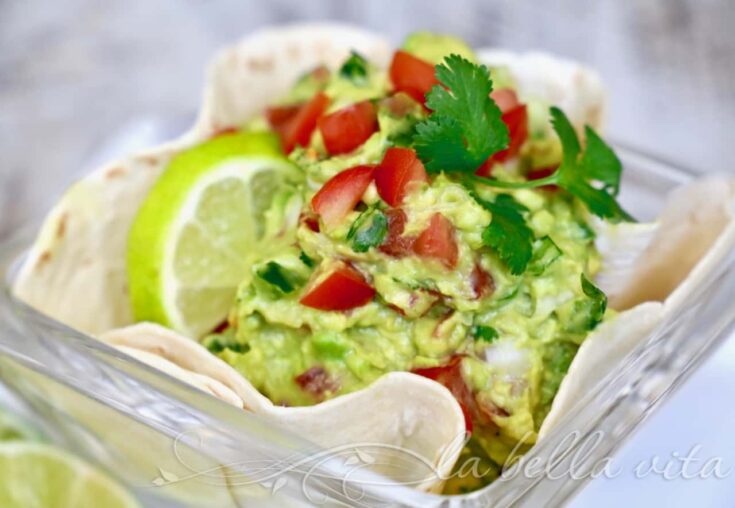 Ingredients
3 large ripe Haas avocados, peeled and cubed
Lime juice - just enough to coat the avocados to prevent them from browning
2 – 3 Roma tomatoes, chopped
8 green onions, sliced, or 1/2 small onion, chopped
1 jalapeno pepper, seeded and chopped
1/2 cup minced fresh cilantro
1 Tbsp. freshly minced garlic, or 1/2 tsp. garlic powder
2 tsp. lime juice
pinch of Cayenne pepper (if desired)
freshly-cracked salt and pepper to taste
Instructions
Remove the pit and skin from the inside avocado meat. Coat with fresh lime juice to prevent from browning.
Mash the avocados to your desired level of chunkiness; we like ours CHUNKY! Use a mortar and pestle or a fork and bowl.
Gently fold in the remaining ingredients of chopped tomatoes, onions, jalapeno peppers, cilantro, and garlic.
Add 2 teaspoons more lime juice.
Add Cayenne pepper gradually (if preferred).
Sprinkle on salt and pepper to taste.
Taste and add any ingredient to your taste preferences.
Serve immediately with tortilla chips, a bowl of salsa, sour cream, and melted Mexican cheese.
Notes
When cutting or seeding hot peppers, use rubber or plastic gloves to protect your hands, and avoid touching your face after working with fresh jalapeno peppers.
Recommended Products
As an Amazon Associate and member of other affiliate programs, I earn from qualifying purchases.
This post was originally published in 2011 and updated with new photos and information in 2020.