Amazing Italian Cheese Log PACKED with Flavor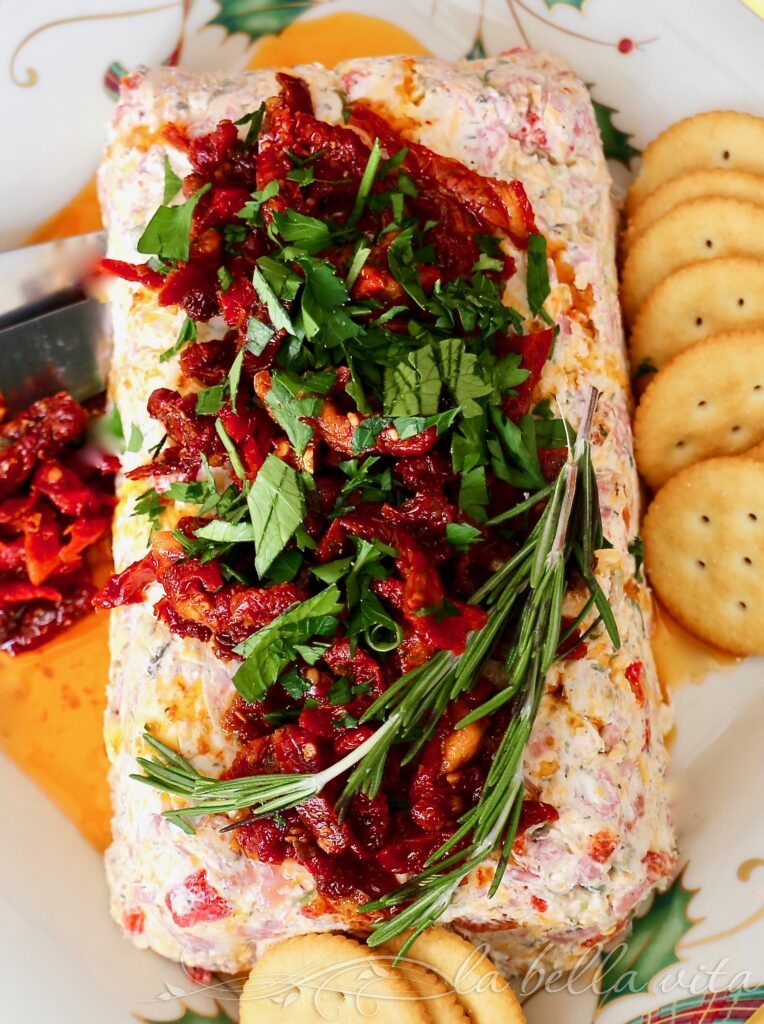 Are you just getting so busy with your holiday prepping that all you can think of is preparing recipes that are EASY, but DELICIOUS? Well, have I got the best recipe to help out! Amazing Italian Cheese Log Packed with Flavor is just what the name says: Amazing and a Flavor Sensation!
I'm so busy right now at work that I could just cry. And I've been wanting to get into the kitchen to prepare something easy and yummy! I knew that I wanted to make an Italian Cheese Log since I haven't made one in years — here's my mother's recipe that I used.
This Italian Cheese Log was inspired by Nagi, at RecipeTin Eats. I knew that her recipe would be outstanding. I was right! With just a few tweaks, this Amazing Italian Cheese Log Packed with Flavor will not disappoint! You'll find yourself and others nibbling on this continually!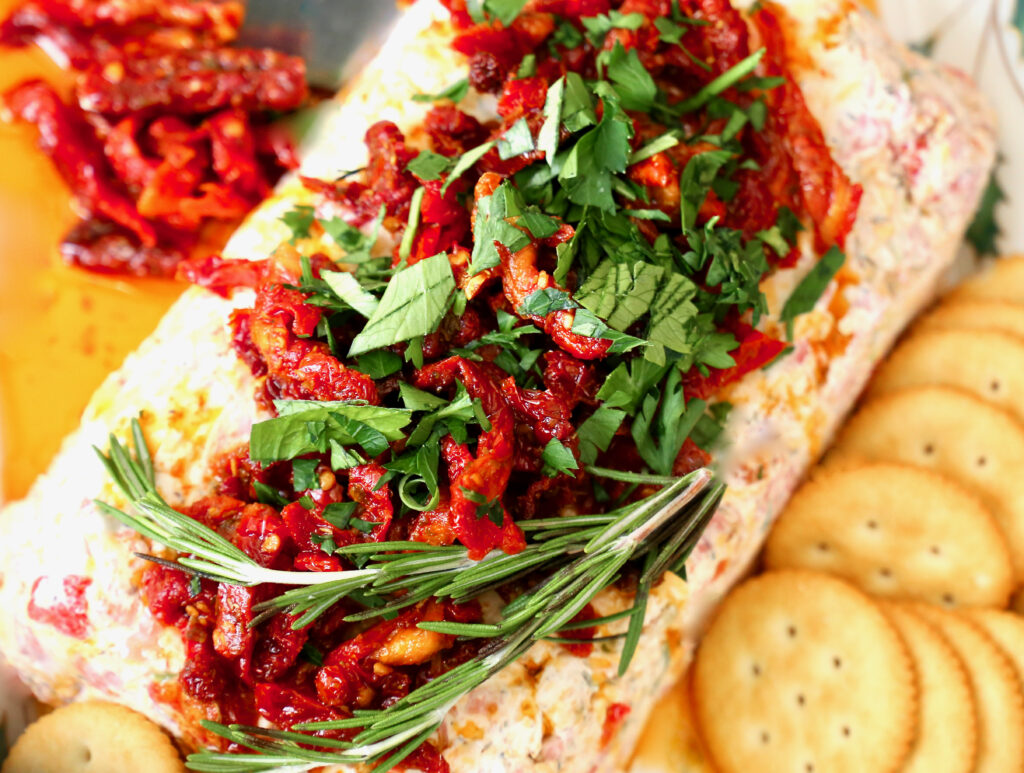 All of us are in need of some extra Christmas cheer this year. Just one look at this cheese log and after one bite, you'll be well on your way to a cheerful time. Just look at how super festive this Italian cheese log is with all of the bright and vivid colors, ↑↑↑ you just can't help but feel some of that holiday cheer!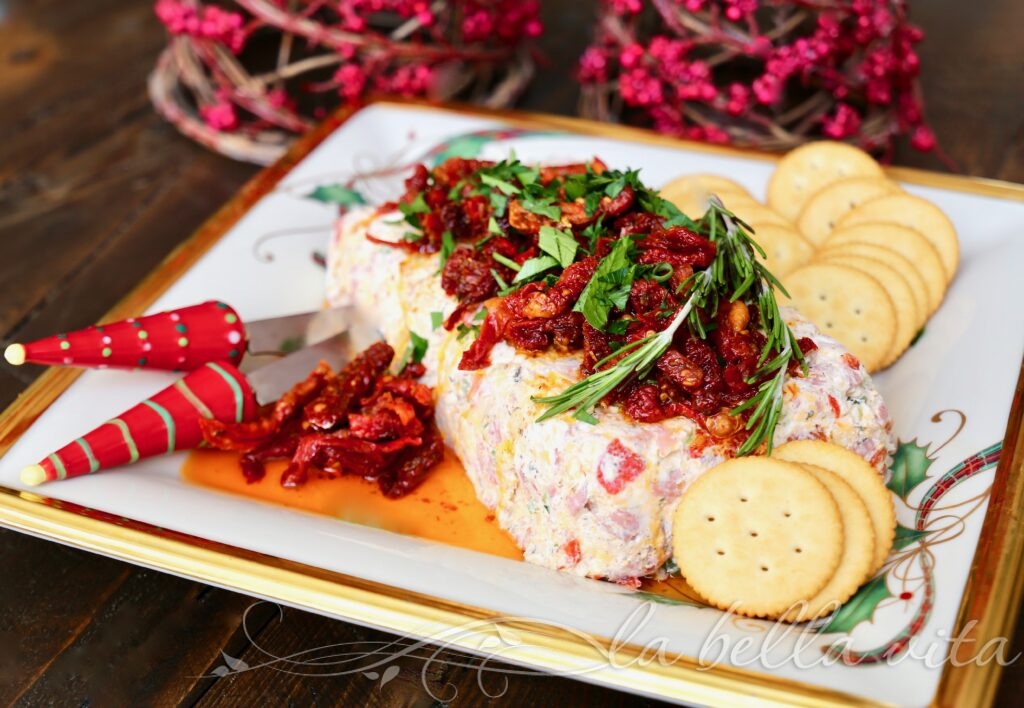 This recipe is just a snap to make. In just one large mixing bowl, mix all the ingredients together (except those for the topping). Transfer the mixture to a loaf pan lined with plastic cling wrap and then chill.
Keeping the cheese log in the frig allows all of the ingredients to marry. This is one of those recipes that is not just delicious when first served, but that gets even better and better the next day . . . and the next day after that!
And here's the big plus: This can be made up to a week in advance.
How easy is that?
So let's get to the kitchen and start cooking!
Always get your ingredients measured and laid out to make the whole process more enjoyable. Plus you'll be able to see what ingredient might be missing.
What You Need for an Italian Cheese Log:
Cream cheese
Sour Cream
Salami (preferably Genoa)
Green olives, Castelvetrano are the best, but hard to find pitted
Roasted red peppers
Cheddar cheese (or Asiago, Gruyere, etc.)
Sundried tomatoes
Green onions
Italian parsley
Herbs and Spices (thyme, oregano, basil, rosemary, red pepper flakes, salt, and black pepper)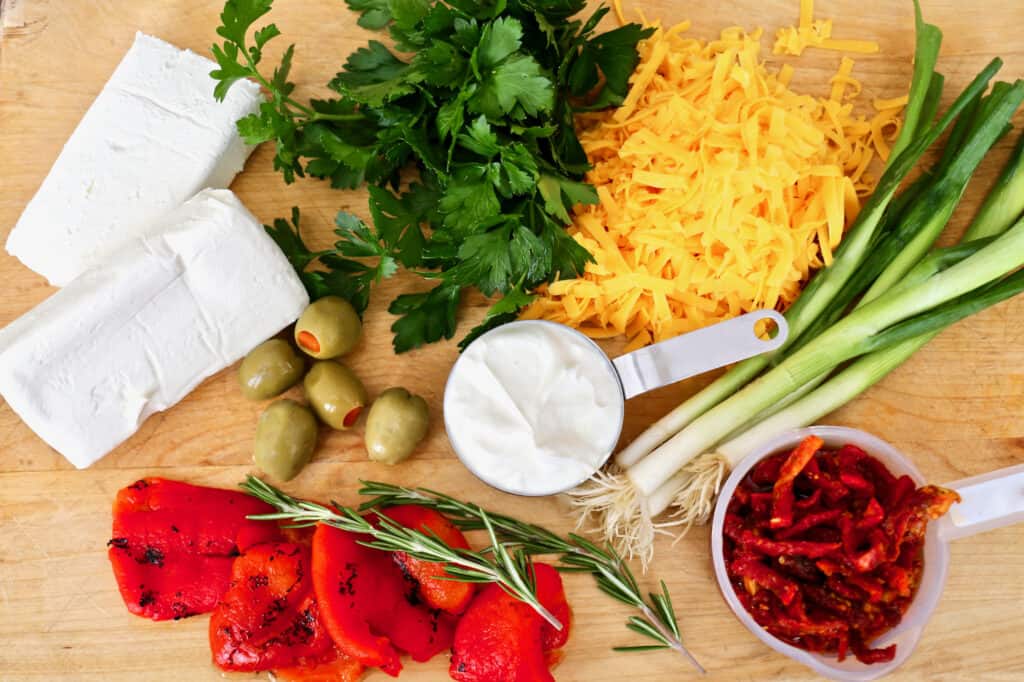 Nagi says you need this recipe for numerous reasons:
Easy
It's crazy-delicious! "Packed with flavor" is an understatement
Looks festive and fantastic for the holiday buffet
Can be made ahead up to 1 week
Can be scaled up or down
Costs much less than a cheese platter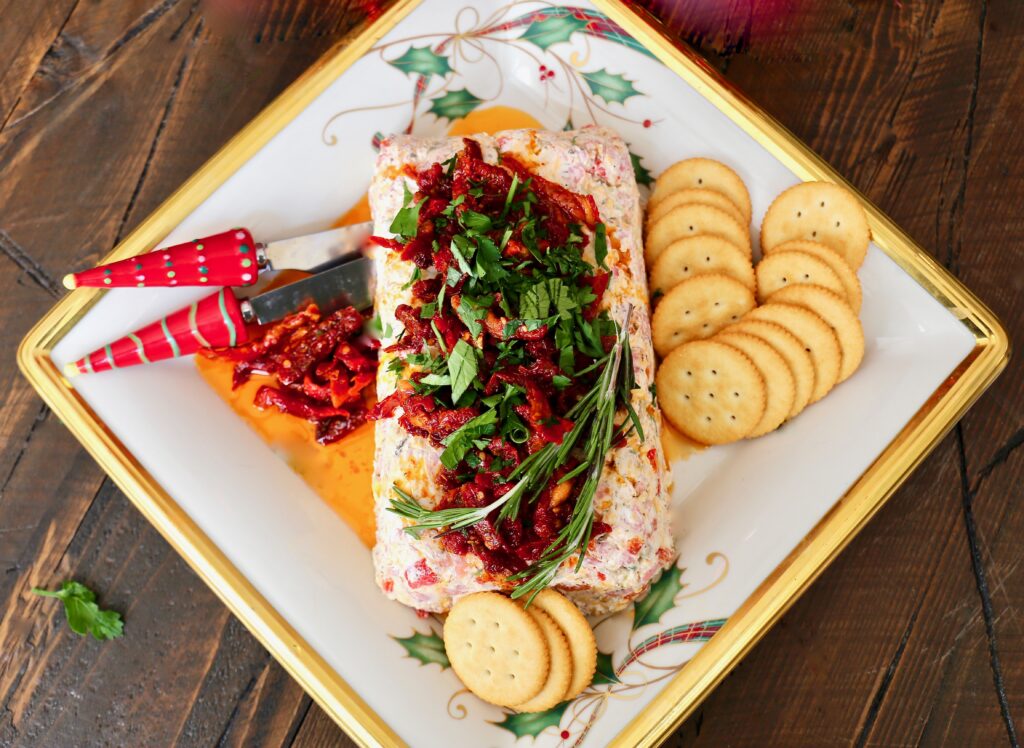 PIN FOR LATER!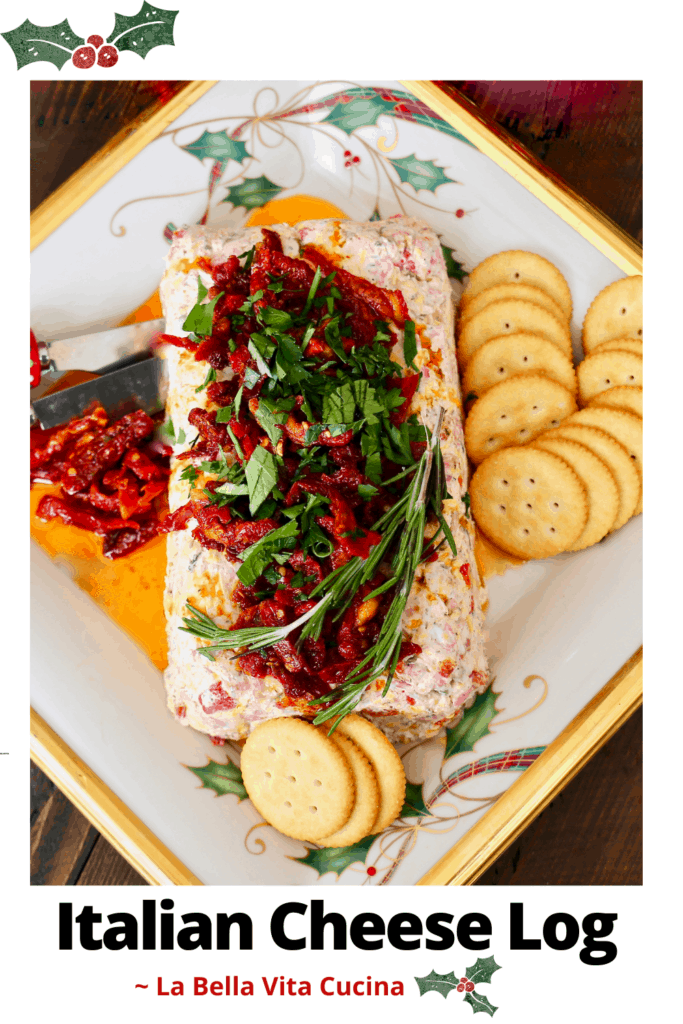 Print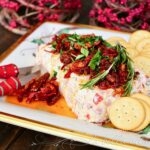 ---
1 lb. cream cheese (2 8oz. packages)
⅓ cup sour cream
2 cups mild cheddar cheese (or Asiago, Pepper Jack, Gruyere, etc. don't use mozzarella due to lack of enough flavor), freshly grated 
9 oz. roasted red peppers, drained and finely chopped
6 oz. salami or soprasseto, finely chopped
1 cup green olives, preferably Castelvetrano imported from Italy, finely chopped
½ cup green onions or scallions, finely minced
½ tsp. EACH: thyme, basil, rosemary, and black pepper
1 tsp. EACH: garlic powder, red pepper flakes
Serve with your favorite crackers or mini toasted bread slices
Topping
8 oz. sun-dried tomato strips WITH the oil, roughly chopped
¼ cup Italian parsley, finely chopped (or chives can be used)
Garnish
Add-In Options:
½ cup grated parmesan
artichokes
capers
black olives
prosciutto
bacon (cooked)
capicola (hot cappy)
---
Instructions
Spray a loaf pan with cooking spray and then line it with plastic cling wrap with an overhang.
Mix all of the cheese log ingredients together.
Scrape into the loaf pan with a rubber spatula, pressing down to remove any air pockets; level off the surface (a smaller pan = a taller loaf).
Cover with the overhanging plastic cling wrap and refrigerate for 4 hours or more (up to 1 week).
Turn out onto a serving platter and peel off the cling wrap.
Top with sun-dried tomatoes and pour over the oil.
Garnish Italian parsley and rosemary sprigs for a festive appearance.
Serve with crackers and little cheese knives for spreading onto crackers.
---
.
Do you enjoy La Bella Vita Cucina?
We'd love to have you as part of our community!
Subscribe below to receive a FREE e-Cookbook and all of the latest recipes, travel tips, and gardening ideas straight into your inbox!