Copycat : How To Make Caleco's Caesar Salad Dressing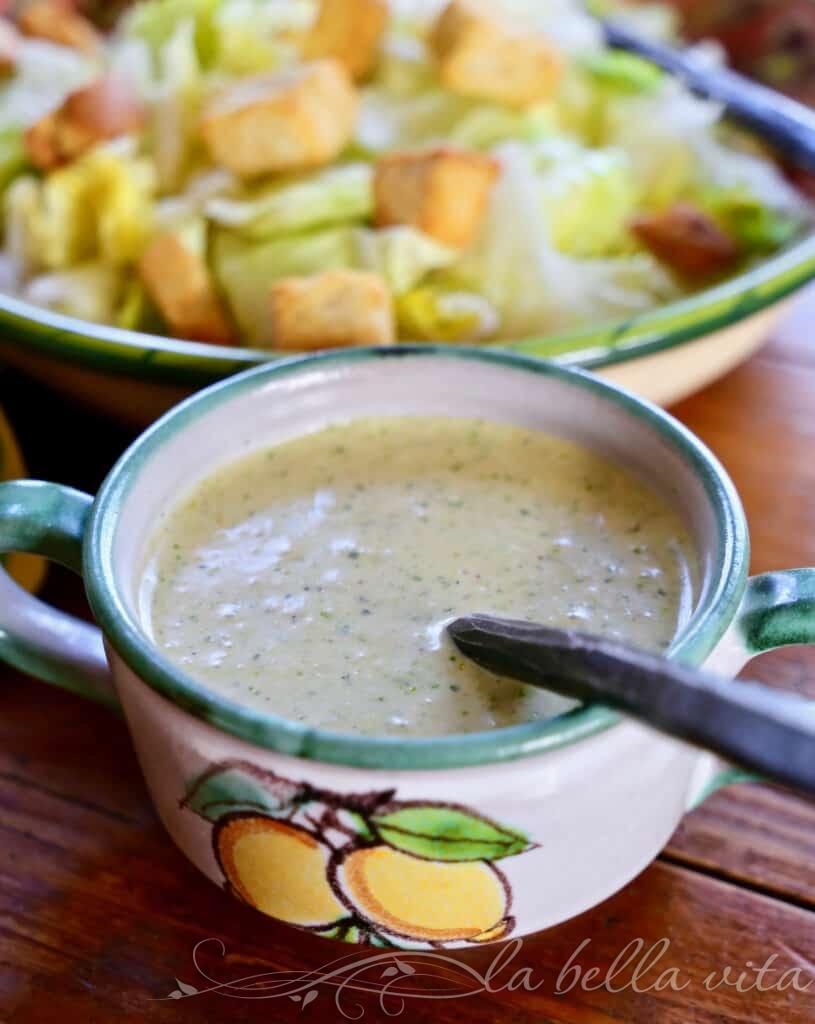 Wouldn't it be great if we could get our hands on the best restaurant recipes to make at home? If you've eaten in St. Louis, then you would know that Caleco's is a very popular Italian family restaurant. And the house Caesar Salad is really delicious! In this post, I'll show you how to make Caleco's Caesar Salad Dressing.
I have wonderful memories of St. Louis from when I lived there . . . especially its surprisingly awesome food scene! This was the very first place that I delved into learning how to prepare gourmet cuisine. It was here that I took my first cooking class. It was in St. Louis that my passion for Italian cuisine deepened.
But there are more cultural yummies in St. Louis, my friends! From Jewish knishes to Fried Ravioli and square pizza, to decadent rock hard-thick American ice cream, to German wineries, to Greek Baklava . . . this is foodie heaven!
St. Louis Food Scene!
St. Louis is famous for its Toasted Ravioli and Gooey Butter Cake, but there is another regional recipe that has fans raving: Caleco's Caesar Salad Dressing. And is it ever easy to prepare!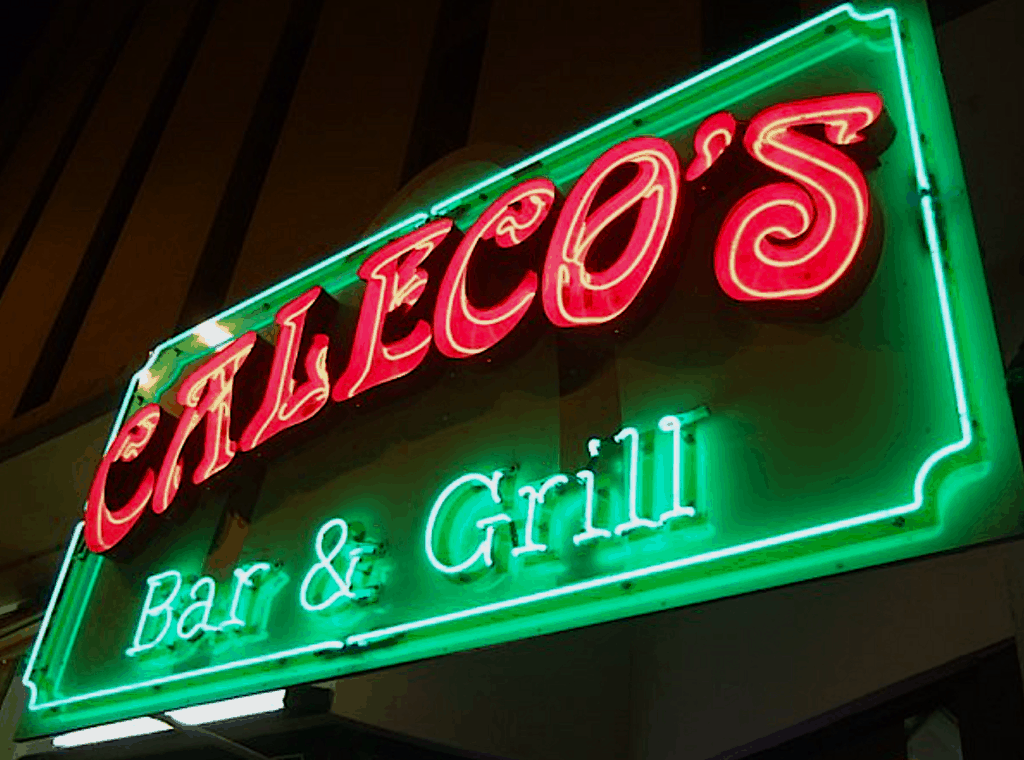 Both inside and outside (above and below photos) tell a story with the bright red, white, and green colored signage outside and then carried into the interior decor (the colors of Italy's flag)!
Hey, this is a casual, local family-owned, neighborhood Italian gem! Nothing fancy here! Isn't that comforting to go to when you need a friendly place to eat old-fashioned southern Italian-American food?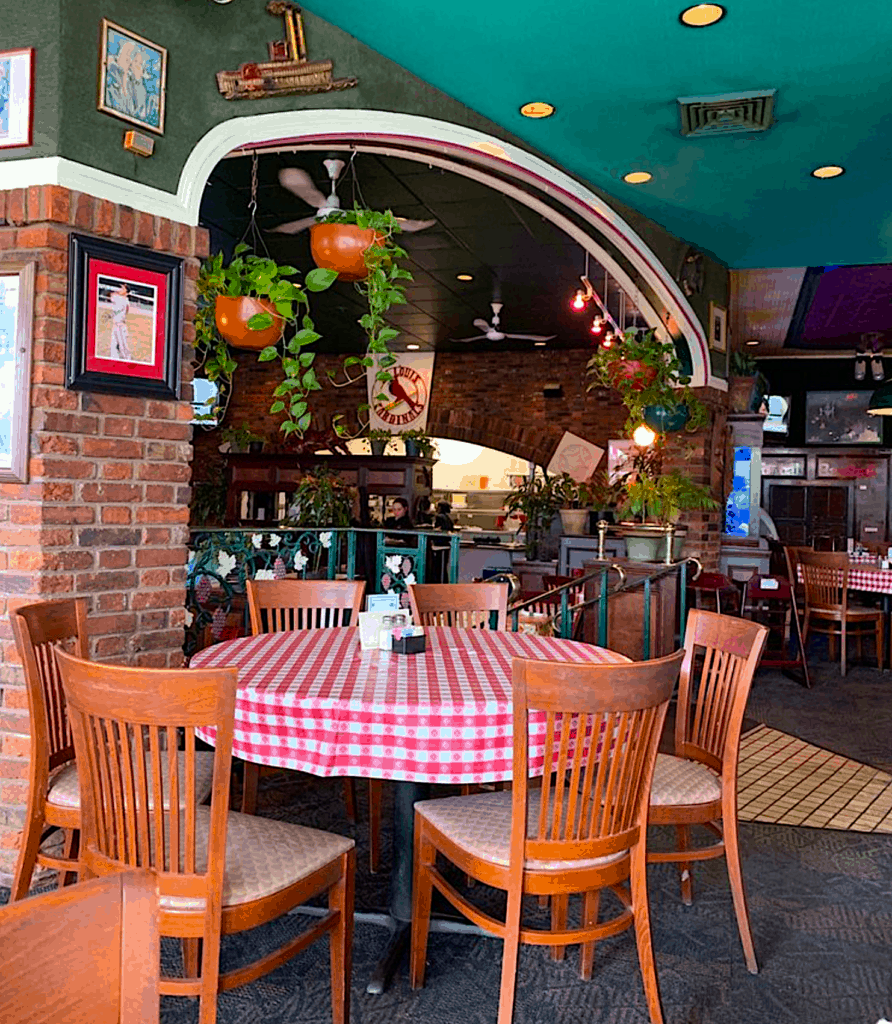 And it's one of the last Italian restaurants to use red and white checkered (plastic even) tablecloths. Now, if there were only some old empty Chianti bottles with candle wax dripping down all over, then you could imagine the old-time experience in an Italian family restaurant!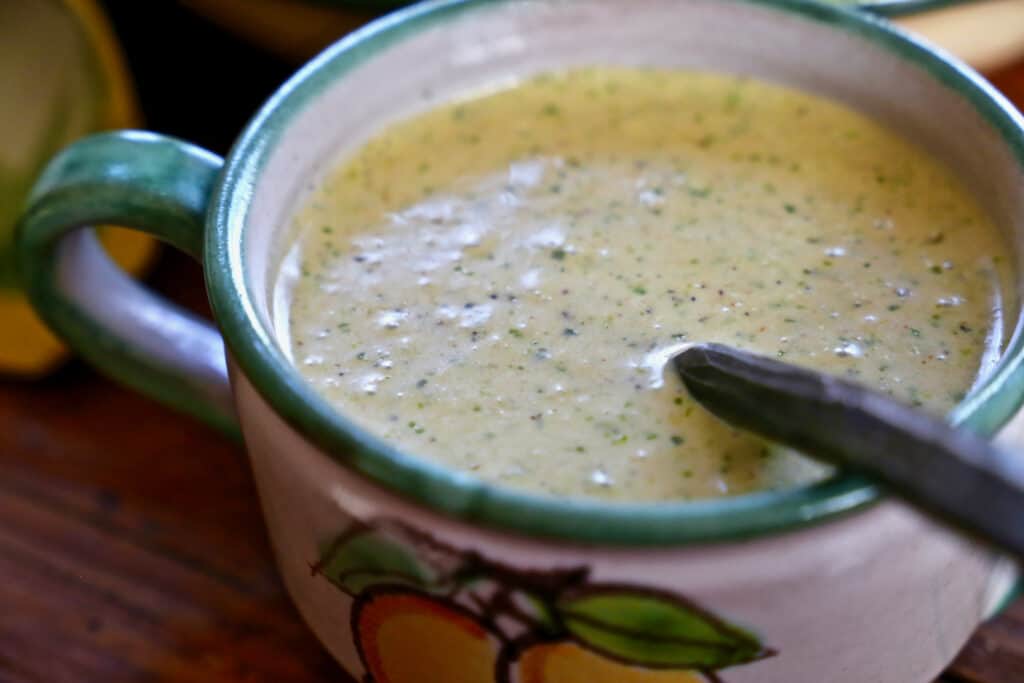 There is a particular way to put the house salad itself together before you toss in the Caesar salad dressing. You need to add some tomatoes (I prefer small red cherry or grape tomatoes), some thinly sliced green pepper, a few thin slices of cucumbers, a couple of big, juicy, hot green pepperoncini, some thinly sliced red onion, and generous amount of soft Italian cheese added in (whether cubes, grated, or in strings).
Use whatever you want or have on hand! I had anchovies imported from Italy and fresh croutons in my cucina's pantry, so that's what I used as you can see in the photos.
Mmmmm, so good!!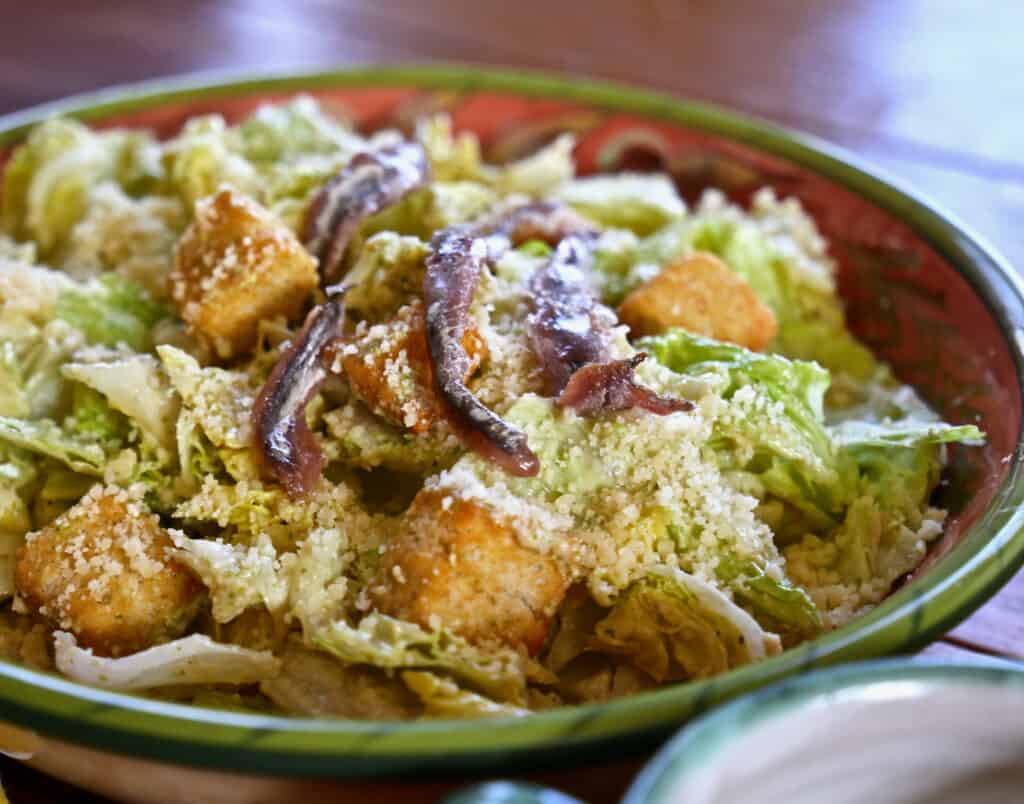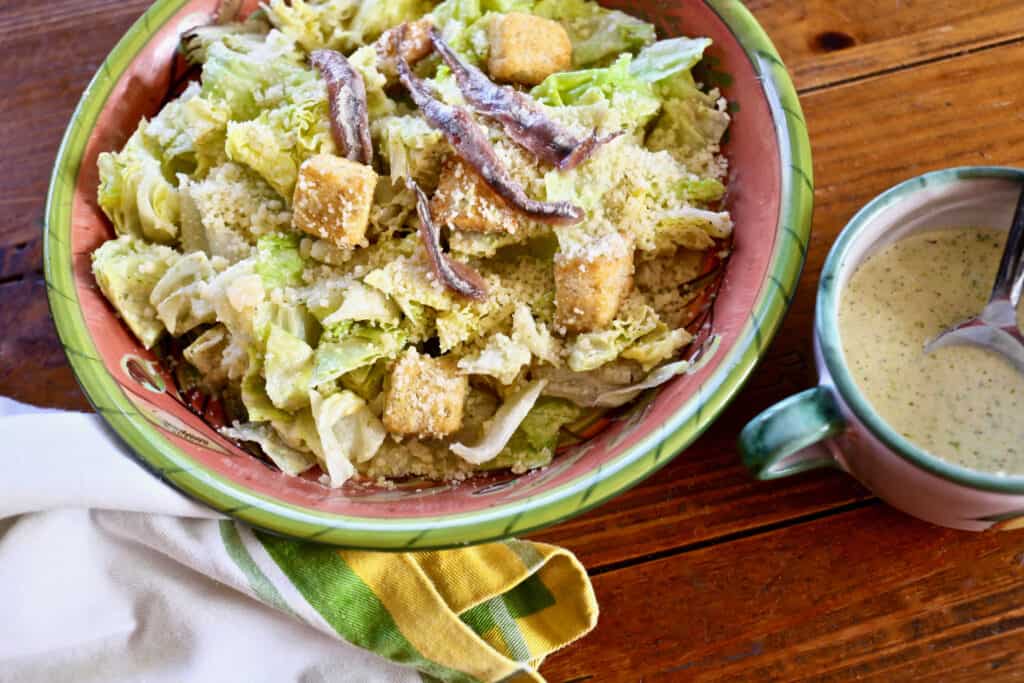 PIN FOR LATER!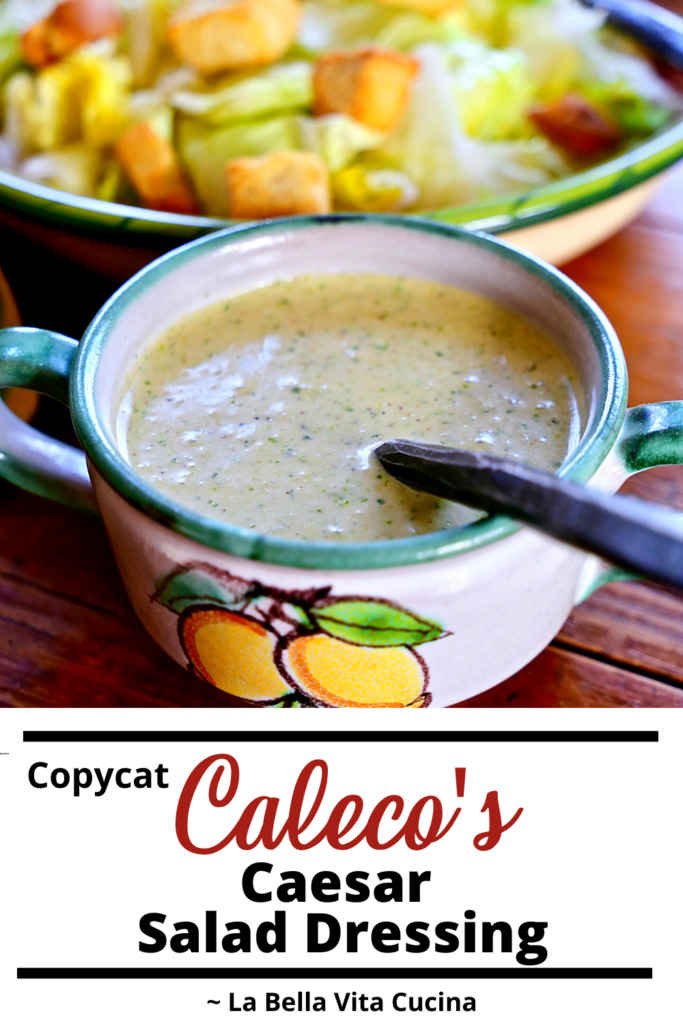 Print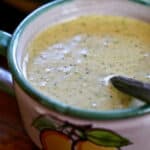 Caleco's Caesar Salad Dressing (Copycat)
Author:
Total Time: 0 hours
Cuisine: Italian
---
1/2 cup plus 3 tbsp. vegetable oil
2–1/2 Tbsp. red wine vinegar
10 small anchovies (3/4 oz)
1/3 of a medium or large onion, roughly chopped
2 ribs celery, roughly chopped — but what I do is cut off about 4" from the tops INCLUDING all of the celery leaves which is where the greatest amount of flavor is! Then I cut up 2 of the tiny, mild yellow-colored center stalks and their leaves . . . so good!
4 tsp mayonnaise
2 tsp. mustard
1/4 cup pasteurized liquid eggs
1/4 cup freshly grated parmesan cheese (my addition)
1 tsp. garlic powder
2/3 tsp. Accent
1 tsp. oregano flakes (not ground) (my addition)
1/2 tsp. ground black pepper
1/2 tsp. salt
1/3 tsp. paprika
---
Instructions
In a blender, combine all ingredients and process for 3 – 4 minutes, until the dressing is smooth and creamy.
Refrigerate until time to serve. Either toss the salads in one big salad bowl, or pass the dressing around to individually dress each guest's salad.
---
Do you enjoy La Bella Vita Cucina?
We'd love to have you as part of our community!
Subscribe below to receive a FREE e-Cookbook and all of the latest recipes,
travel tips, and gardening ideas straight into your inbox!