How To Make a Rustic Italian Peach Crostata
Peaches are still in season here in South Carolina. And they are HUGE! So I bought a bushel from my favorite roadside stand. Peaches sold at roadside stands and farmers' markets here are picked at the last minute just before perfect ripeness. So you have to use them immediately before they spoil — in 2 to 3 days! So I decided to make a delicious Rustic Italian Peach Crostata ("crostata di pesche")!
This Rustic Italian Peach Crostata is such an incredibly easy Italian dessert to prepare! Simply toss fresh peach slices with sugar, brown sugar, and cinnamon with some lemon juice and peach jam for a luscious filling. The buttery crust is tender and delicate. Perfect for a traditional free-form crostata crust. And it can be made as small or big as you prefer. Since it's just my husband and me now that our kids have left the nest, we tend to make everything for 2 people whenever we can.
And this recipe is versatile. As summer ends and autumn begins to set in, you can use apples instead of peaches for a wonderful Apple Crostata with Caramel Streusel Topping.
There are so many ways to enjoy peaches. They never get old in my family, so this is a good thing. Especially since we live in South Carolina which produces more peaches (yes it's true – link). than Georgia. We love peaches in a Peach Caprese Salad with fresh summer tomatoes, or as a light antipasto or dessert of Peaches with Prosciutto and Balsamic Glaze. Italians have been grilling fruit for the longest time . . . long before Americans figured out in recent years how the flame brings out the fruit's flavor in an intense way. Traditionally, Grilled Peaches with Amaretti Crumbles and Balsamic Glaze are so yummy, especially when enjoyed 'al fresco' outside in the summer.
So let's gather up the ingredients, head to the kitchen, and have some fun baking!
Ingredients that you'll need for the crostata dough:
Flour
Sugar
Butter
Salt
Ice cold water
Lemon zest
Buttermilk powder
Apple cider vinegar (yes!)
Combine the ingredients, pulse in a food processor until crumbly. Remove and form a ball.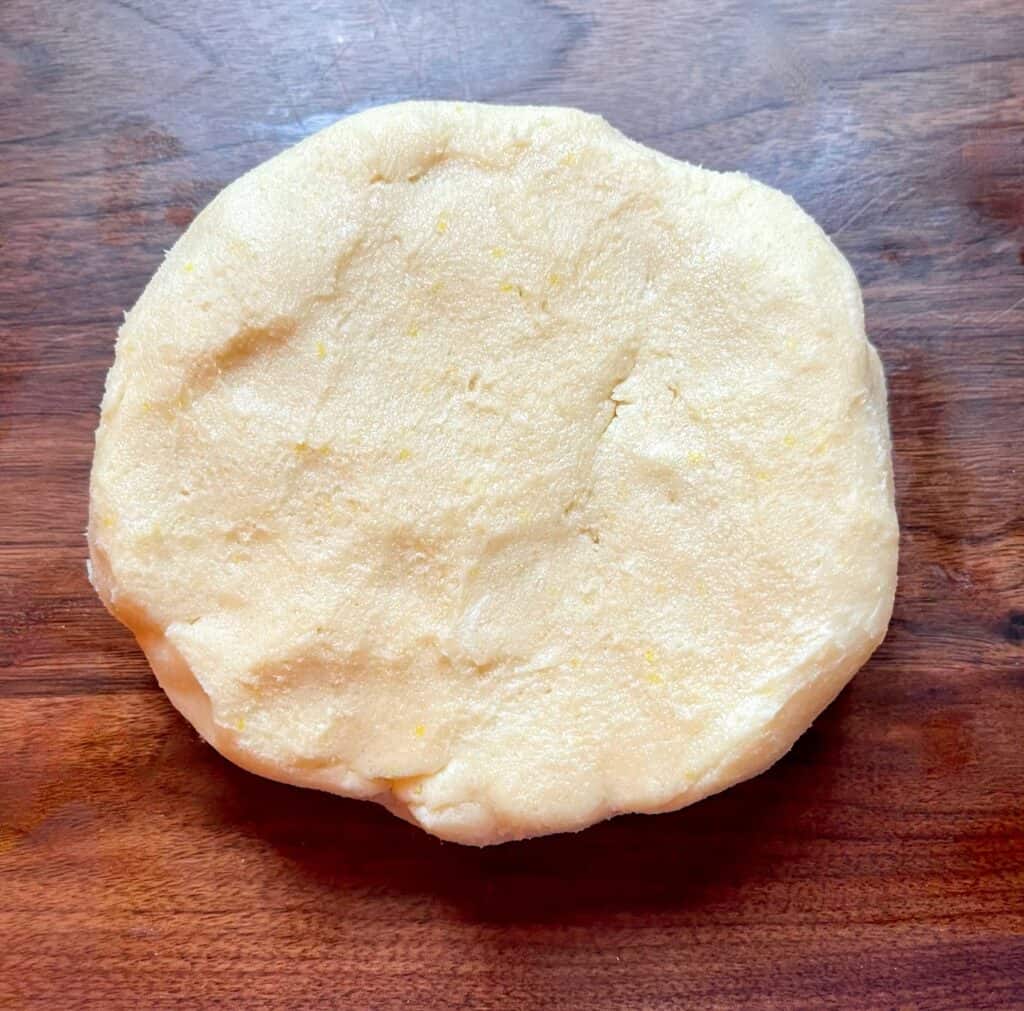 Flatten into a disk shape, wrap in cling wrap, chill for 1 hour.
Arrange peaches (without juice) in a circular pattern on the dough, leaving 2″ without peaches.
This doesn't have to look perfect . . . remember, this is a "rustic" crostata.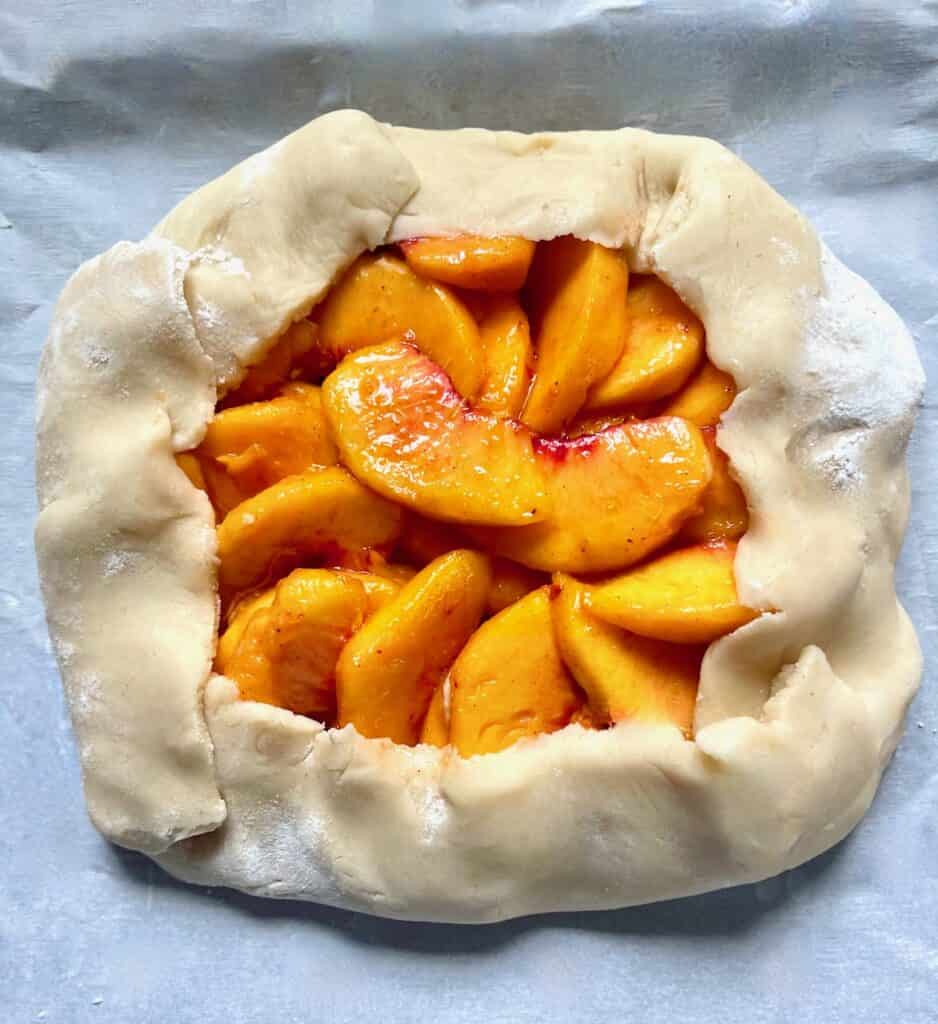 Carefully fold the edges of the dough over the peaches, leaving a big hole in the middle. Don't cut any excess dough off, but rather fold the dough over and over.
Place pieces of cold butter on top of the peaches.
Brush eggwash all over the dough; sprinkle with coarse sugar.
Tips for Baking a Peach Crostata
Use ripe peaches that aren't hard, this is when they are at their very sweetest. They're easier to slice at this point too. But don't use overripe peaches either because they begin to sour and are mushy in texture.
Add more sugar to the peaches if you prefer a sweeter dessert and also if the peaches aren't very sweet.
Allow the peaches to marinate in the juices created from the sugars, vanilla, cinnamon, etc. for at least 10 minutes to allow the flavors to marry nicely.
Make sure that the dough is cold before rolling it out to prevent the butter from melting.
It's easier to roll out the chilled dough on parchment paper that's been lightly floured; plus it is very helpful for transferring the crostata to a baking pan.
Do not overwork the dough or it will be tougher in texture.
Print
How To Make a Rustic Italian Peach Crostata
---
Description
Freshly-picked, ripe summer peaches are the star of this delicious, sweet crostata.  
---
For the Peach Filling:
5 – 6 large peaches, either peeled or not, sliced into 1/2" slices
1/2 cup sugar
2 Tbsp. Instant Clearjel or 2 Tbsp. corn starch
pinch of salt
1 Tbsp. lemon juice, freshly squeezed
1 Tbsp. peach jam
1 tsp. vanilla extract
1/4 cup light brown sugar
1/2 tsp. ground cinnamon
pinch of nutmeg
For the Buttery Crostata Dough:
2 cups of all-purpose flour
1 Tbsp. buttermilk powder
3 Tbsp. sugar
1/4 tsp. salt
1–1/2 sticks of very cold, frozen butter, sliced
1/2 tsp. lemon zest
1/2 tsp apple cider vinegar
1/4 cup ice water
Egg Wash:
1 egg, beaten
1 Tbsp. water
Coarse turbinado decorating sugar (or regular sugar is fine too)
2 Tbsp. butter, cut into pieces (to place on top of the peaches before baking)
---
Instructions
Prepare the Crust First:
In a large bowl for a food processor, combine the flour, sugar, buttermilk powder, and salt.
Add the cold butter and pulse until the dough is crumbly.
Mix in the lemon zest and apple cider vinegar.
Sprinkle ice water over the mixture 1 Tbsp. at a time while and pulse to mix.  After adding 3 Tablespoons of water, gather the dough and form a bowl.  If the dough crumbles, add more water.
Flatten into a disk shape, wrap in cling wrap, and chill in the refrigerator for 1 hour.
Preheat the oven to 425 degrees.
Prepare the Filling:
Whisk together the sugar, ClearJel or corn starch, nutmeg, salt, lemon juice, peach jam/preserves, vanilla extract, light brown sugar, cinnamon, and nutmeg.
Very gently mix in the peaches and set aside.
Prepare the Crust:
After the dough has chilled, roll it out into a 12″ circle on a well-floured board or cooking surface.  Parchment paper under the dough is also very helpful.
With a knife or pizza wheel, trim off the excess dough around the edges to make a nice circle.
Line a baking pan with parchment paper and dust with a little bit of flour.
With a huge spatula, very gently move the dough to the parchment-lined baking pan, being ever so careful not to tear the dough.
Using a slotted spoon, fill in the center (only) of the dough with the peaches laid out in a decorative circular pattern.  Do not use all of the juice, the crust will not bake through on the bottom and you'll have a soggy mess.  Leave 1-1/2 to 2″ of dough uncovered with peaches . . . you need this dough to fold over the peaches.
Carefully fold the edges of the dough over the peaches, leaving a big hole in the middle.   Don't cut any excess dough off, but rather fold the dough over and over.
Place the pieces of cold butter on top of the peaches.
Make the egg wash with the egg and water; brush all over the crostata.  Generously sprinkle with coarse sugar.  Blow a kiss to it!
Bake the crostata for 20 minutes without any cover.
After 20 minutes have passed, loosely cover the crostata with aluminum foil and bake for another 25 – 30 minutes (keep an eye on it though).  This may seem like a large range, but every oven is different, so it is important to check on it until the crust is golden brown and the peaches are bubbling.
Remove from the oven, place on a baking rack, and allow the crostata to set a bit for 20 minutes to allow the filling to set and thicken.
While still warm, carefully brush the top of the peaches with some peach jam for a light glaze.
Dust with powdered/confectioners sugar.  Serve warm 'ala mode' with a scoop of vanilla ice cream.
Enjoy and Buon Apetito!!
---
Notes
Apples work great with this crostata dough recipe.
Any summer stone fruit such as plums, apricots, or nectarines work well in this recipe.