Curry Chicken Salad with Grapes, Apples, and Cashews — So Easy!
Chicken salad is one of the all-time favorites for many people. Yet sometimes we need a little variety to spice up the same-old, same-old recipes that we love so much. Luckily, someone from Great Britain added curry to chicken salad, and another cherished recipe was created: Curry Chicken Salad. It's been wildly popular for many years as you can tell from its perennial presence in cold deli cases!
People simply love the aromatic flavor of this unique spice, especially when used in small amounts that won't overpower other ingredients in a recipe. No need to fear of that happening when a small amount of curry is added; it isn't hot at all when carefully incorporated to the point of your taste preference.
Plus, Curry Chicken Salad is perfect for those who like to meal-prep.
Recently, I made a pot of chicken broth ("brodo" in Italian) that I use in our traditional Tortellini en Brodo for the holidays. I froze much of the broth for future recipes. After the broth is perfectly cooked, you have a second delicious culinary blessing: Cooked chicken that is oh-so-tender from the time spent boiling in the pot! Flavored by some carrots, celery, and onions in the broth, you've simply got to use this chicken in this and/or several of your favorite recipes or freeze it for later use.
Another great thing about Curry Chicken Salad is the many ways that you can serve it. Whether traditionally between bread slices, in croissants, laid on a bed of curly green lettuce (no carbs, eh?), or tucked inside a wrap, it's always a recipe that so many of us enjoy! And there's nothing quite like freshly homemade Curry Chicken Salad.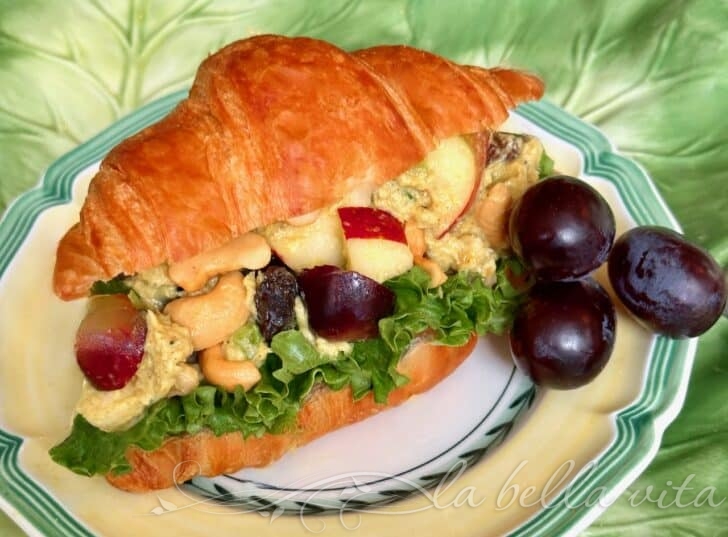 I don't know about you, but I can't stand mushy sandwich fillings. I've just GOT to have lots of fresh, crunchy texture along with diverse flavors that excite the tastebuds!
This crunchiness comes from fresh cashews, colorful, firm red grapes and red apples, crispy celery, and red onions.
You'll notice that I use a lot of RED ingredients. That's because it's such a prettier feast for the eyes before biting in. Without the colorful red grapes, raisins, and apples, it all just looks like mush, since curry isn't the most inviting color to most of us.
And I've just been in a big chicken salad mood, lately. My husband isn't a curry fan, but I am, so I made a small batch just for me. And this is a dandy recipe that I hope you'll try and will enjoy!
Let's gather our ingredients and get to the kitchen!
Ingredients That You Need for Curry Chicken Salad:
Chicken Breast – As the protein base of this salad, chicken's mild flavor allows the other flavors to shine through without dominating them. Any cooked chicken is fine, whether it's roasted, baked, grilled, boiled (to make chicken broth), or slow-cooked. I prefer white chicken breasts and ribs over the darker cuts of chicken that have a greasier texture and that don't hold a chunk/cube shape very well. For convenience use a store-bought Rotisserie chicken that's nice and tender.
Mayonnaise – Homemade or store-bought mayo is the base of the curry salad dressing that holds the salad together. Prepare it first which makes it much easier to mix in the rest of the ingredients.
Sour Cream – A little bit makes the dressing so much more flavorful. It's optional, but I always include it for that extra enhanced taste.

Curry Dressing – Where the famous flavor comes from! A delightfully bright and mildly spicy, tangy mixture of mayonnaise, sour cream, mango chutney, curry powder, lime juice, salt, and pepper.

Curry Powder – An earthy, strong, and rich spice, a curry recipe would never taste right without it to achieve the signature flavor and unique color that it is known for. Only use fresh curry powder that is less than 6 months old. Use sparingly until the level of spiciness that you prefer is achieved. The most recommended curry powder is also my favorite brand that I use at home: Madras Curry Powder. It has a fabulously rich and complex flavor for the perfect, spicy, but not hot, curry chicken salad.
Mango Chutney or Apricot Preserves – Adds a little sweet flavor to balance out the curry. A must in my recipe! It is also in Ina Gartner's recipe! Ina recommends Major Grey Mango Chutney, which is excellent. I use it in my curry recipes.
Red Grapes – Adds sweetness that compliment the savory flavors in this recipe.
Red Apples – Give another layer of crunch to any chicken salad and really amps up the sweet fruit notes of flavor. You can also slice up some apples and serve them on the side.
Reddish-Brown Raisins – A must-have ingredient that adds little bursts of sweetness throughout the curry salad.
Red Onions – Adds crunch and sharpness that cuts the richness of curry dressing.
Celery – For some fresh, earthy, mild flavor that packs a lot of color and even more crunch, crispy, cold celery is perfect in curry chicken salads.
Cashews – The ultimate salty, crunchy, buttery ingredient that is traditionally included both in the salad and/or used for garnish. For more heightened nut flavor, you can roast them first.
Fresh-Squeezed Lime Juice –This just adds such a nice splash of tanginess!
Kosher or Sea Salt (freshly-cracked) and Freshly-cracked black pepper.
Substitution Ideas
As you can tell by the numerous recipes for Curry Chicken Salad, the variety of ingredients that can be used seems endless. Here are just a few ingredients that not only work well in this recipe, but are also delicious! And like any other recipe, I always recommend that you prepare this salad the way that you and/or your loved ones enjoy it. This delicious and easy curry chicken salad is one that you can easily change up to fit your needs!
Chicken – For vegan or egg-free versions, replace the chicken with chickpeas.
Mayonnaise – Can be swapped out with sour cream or Greek yogurt for a more tangy flavor. Using ½ Greek yogurt/sour cream with ½ mayonnaise will also work. You can also use vegan mayonnaise.
Celery – Other vegetables that would work here are cucumbers and broccoli cut into small pieces. Use jicama instead of celery for a unique crunch and flavor.
Mango Chutney – Can be substituted with apricot preserves or honey.
Nuts – I love cashews for their crunchy texture and their buttery, salty flavor that is so complimentary to the curry flavor. Almonds, walnuts, pistachios, or pecans add in very nicely if you prefer any of these instead. You can also add in seeds for more crunch. Roast any nut or seeds for more flavor.
Raisins – I prefer the color of reddish-brown raisins, but you can use golden raisins. Dried cranberries or currants work well too.
Apples – Even though I prefer the sweetness and the color of red apples in my recipes, you can substitute any variety of apples that you prefer, even tarter green apples are fine. Pineapple can be used in place of apples too.
Grapes – Again, I use red grapes, but any color of grape is just fine.
Chives, Cilantro, Italian Parsley, or Green Onions – Good options for additional green color and more layers of flavor. These make great garnishes too.
How To Serve Curry Chicken Salad:
Here are some great ideas on how to serve your Curry Chicken Salad that are creative and visually beautiful (remember my saying: Beautiful and Delicious!)
As a Classic Sandwich – Our favorite chicken salad sandwich is piled between two thick slices of farmhouse bread or better yet, on a large croissant or several smaller croissants to place on a party platter. The buttery flavor of the croissant pairs really well with the tangy curry. Layer Bibb or Romaine lettuce with slices of tomatoes inside the sammies.
As a Wrap – Roll the chicken salad inside a tortilla (in any of the vast flavors now available)! Or stuff inside Bibb lettuce (or iceberg or romaine) for a low-carb, KETO version. Adding lettuce and tomato is a nice option. This is a lighter and healthier version of curry chicken salad . . . perfect for packing into a lunch bag, to take on the road, or for a picnic.
With Pita or Naan – serve curry chicken salad inside a pita that holds the salad in nice and tight. Or spread on some naan. These make great packables for when on the go!
As Crudites on Belgian endive spears – for elegant hand-held party appetizers / hors d'oeuvres.
In Wonton Cups – for incredibly fun, small finger food appetizers!
In Phyllo Cups – Fill these dainty little phyllo cups for a quick appetizer as well. You can find these in the freezer section of your food market/store.
On Crackers – Spoon small mounds on top of several varieties of crackers such as these healthy Low Carb/Keto/Gluten Free crackers. Perfectly easy and just right for a mid-afternoon snack.
For Tea Sandwiches – Trim off the crusts of white or wheat slices of bread for an elegant treat for afternoon tea.
On Cucumber Rounds – Load spoonfuls on top of sliced cucumbers (leaving the skin/peel on for more color). These are so easy. Plus, they're not only healthier with lower carbs, but they're also just what I aim for: Beautiful and Delicious!
As a Salad Alone – Simply place a generous scoop of the salad on top of a bed of fresh, crisp and colorful lettuce, using both green (Bibb or Romaine) and red (radicchio or ruby red looseleaf) varieties.
Tips for The Best Curry Chicken Salad
Use only fresh curry powder – Because spices quickly lose their flavor while just sitting in your cupboard or pantry, I recommend that you purchase the smallest container and use it before it is 6 months old once it has been opened for optimal flavor. Toss anything older than that. It's nearly tasteless and your recipe will be all 'off'.
Make sure that you use curry powder and not curry paste that has a more intense, overwhelming flavor that will overpower the rest of the chicken salad ingredients.
Begin adding only a small amount of the required measurement of curry powder. Add more to your taste preferences. Remember, you can always add more curry, but once you've added it in, you can't get it back out to make it milder in flavor.
The best curry chicken salads have a good balance of flavors and textures, with every ingredient playing a major role in achieving a delicious chicken salad: Not too much curry powder balances with the sweetness of the mango chutney, raisins, grapes, and apples. Plus, the creamy, soft texture of the chicken and dressing benefits from the crunch of the cashews, and the crispness of the celery and onions.
Prepare the curry 'dressing' first and in a separate bowl from the other ingredients: Mix the mayonnaise, sour cream, mango chutney, curry powder, lime juice, salt, and pepper together (to taste).
In a second, larger bowl combine the chicken, grapes, apples, celery, and onions.
Pour the curry dressing into the large bowl with the chicken mixture. Stir to combine everything until well-coated with the dressing.
Do not mix in the cashews until just before serving time because they become soggy.
Allow the curry chicken salad to chill and rest (covered tightly) in the fridge for at least 30 minutes to an hour (if time permits). This allows all of those yummy flavors to marry before you serve it.
Your curry chicken salad will hands-down taste even more extraordinary the next day! Oh yum!
Print
Curry Chicken Salad with Grapes, Apples, and Cashews — So Easy!
---
Description
This curry chicken salad has the perfect balance of flavors and textures!  From the mild spicy heat of curry to sweet grapes, apples, raisins, and mango chutney to the crispy crunchy texture of celery, onions, and cashews. . . it's hands down a winner-keeper that you'll enjoy year-round!
---
For the Curry Dressing:
1 cup of good quality mayonnaise (Hellman's is recommended)
1/2 cup sour cream (full fat)
1/4 to 1/3 cup mango chutney (Major Grey's is recommended)
2 Tbsps. fresh curry powder (adding a little bit at a time to taste preference level)
1/2 tsp. freshly-squeezed lime juice
freshly cracked sea salt or kosher salt
freshly cracked black pepper
For the Chicken Salad:
3 – 4 whole chicken breasts, skinless and boneless, cooked
1 cup diced celery (2 – 3 stalks)
1/2 cup diced red onion or green onions (scallions) with the green stems
1/2 cup brown raisins
1 cup red apples, skin/peel left-on, cut into 1/2" chunks
1 cup red grapes, sliced into 3rds
1 cup roasted, salted whole cashews
---
Instructions
Prepare the curry dressing first in a separate, medium-sized mixing bowl:  Mixing the mayonnaise, sour cream, mango chutney, curry powder (a little bit at a time to taste preference level), lime juice, salt, and pepper to taste.
Set this aside.
In a separate, large mixing bowl, combine the remaining ingredients:  chicken, celery, onions, raisins, apples, and grapes.
Chill for 30 minutes and up to one hour before serving.
Only add the cashews until serving time.
---