Strawberry Cake with Sweet Mascarpone Cream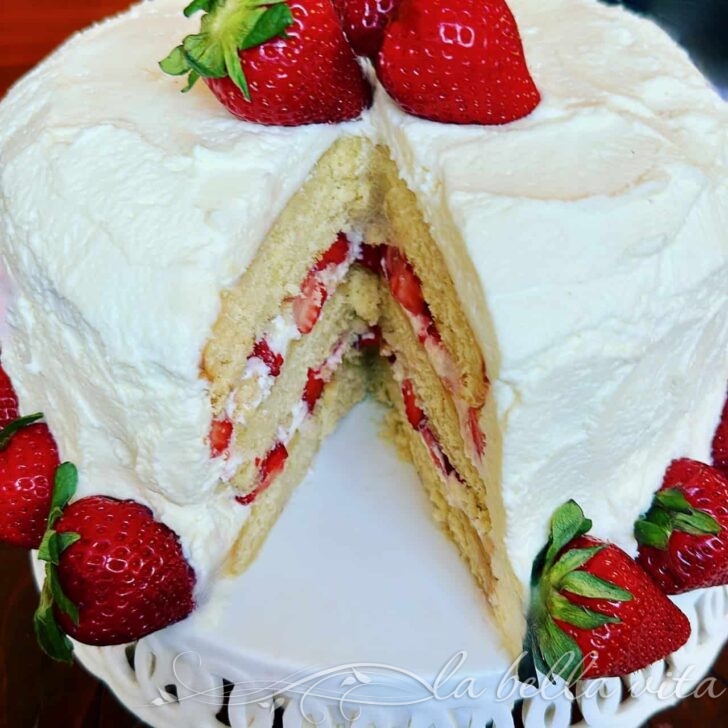 Strawberries and cream are such a perfect combination. Just right for spring and summer celebrations! And what would a celebration be without a cake? Mother's Day, graduations, weddings, bridal showers, baby showers, and birthdays are celebrations that this show-stopper Strawberry Cake with Sweet Mascarpone Cream is just right for!
So true! I mean, just take a look at this beautiful cake! The fresh, sweet berries-and-cream flavor is just as incredible as its looks too! And strawberries are just SO lovely right now, that they just grab your attention. I like to circle whole strawberries around the base of the cake to highlight these gorgeous ruby red berries!
This delectable cake features layers of moist vanilla cake with bright red, juicy strawberries and an irresistible mascarpone cream as the filling between the layers of yumminess. The texture of the cake has a tight, slightly dense, but not heavy crumb to it. It isn't light and fluffy like an angel food cake, but not as heavy as a bundt cake. The sweetness of the mascarpone cream pairs very well with the cake. Watch out with that spoon, you may find yourself devouring several spoonfuls of this frosting and unable to stop!
When Are Strawberries in Season?
In some of the warmer States such as Florida, California, Texas, and Arizona, strawberries are available as early as January. Here in South Carolina, you can bank on fresh and ripe strawberries in mid-April (given that there wasn't a hard freeze). Of course, moving further north where I grew up, you'll find strawberries ready in May.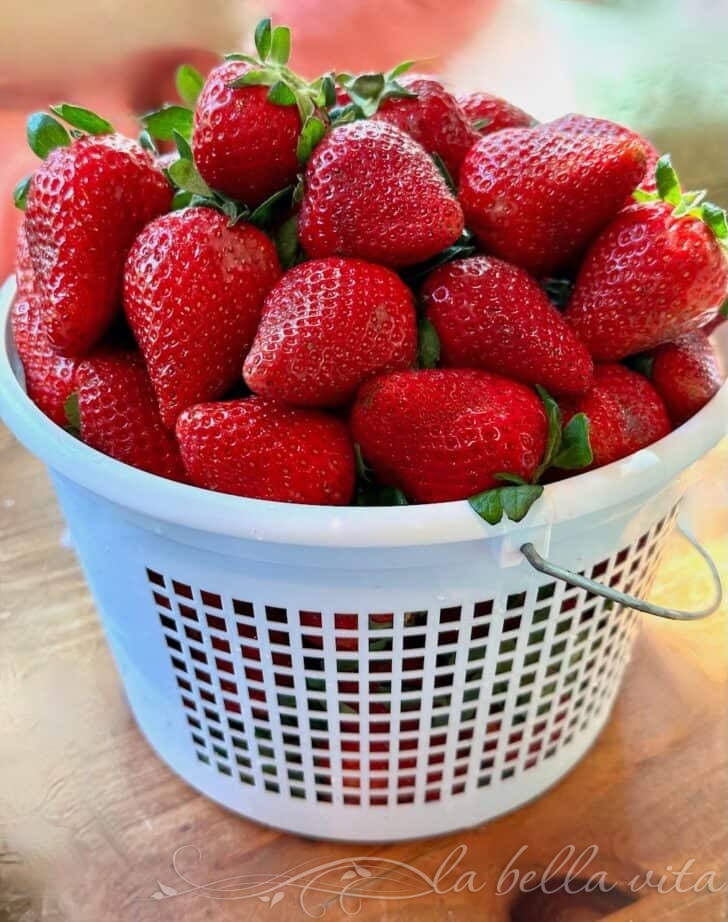 Freshly picked this morning from the local farmer's market! So sweet too!
Why You'll Love This Cake
The flavor is simply fantastic: it's not too sweet and you can sweeten the mascarpone a lot more if you need that extra sugar fix (like my husband)!
It's stunning with layers of freshly picked strawberries.
It's super simple and quick to make!
The ingredients are common pantry items. Fresh fruit is the only ingredient that might not be on hand.
It's made from scratch with (your) love and not from a boxed cake mix with preservatives, and you gotta love that purity and freshness!
It's versatile: You can use any berries to make the filling: raspberries, blueberries, blackerries, and even peaches, etc. are all delicious since the cake and mascarpone cream are neutral.
It can last for up to 4 days in the refrigerator.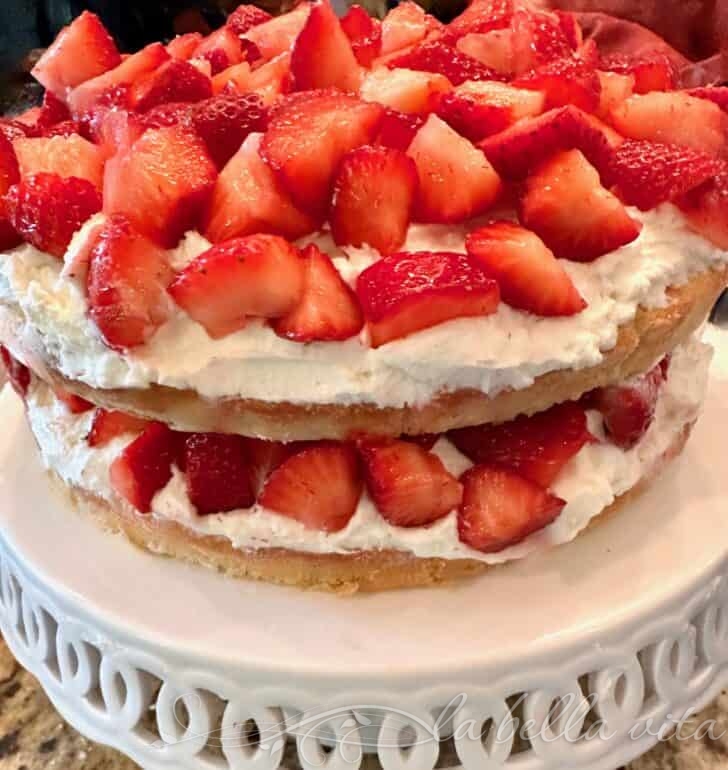 Baker's Tips for Success in Baking Strawberry Cake with Mascarpone Cream
Use a little bit of sour cream. This is one of the secrets to achieving a more moist, light, and fluffy cake. Greek or plain yogurt are fine substitutes for sour cream.
Use ½ heavy cream and ½ whole milk and not skim or 2%. The flavor is richer with cream and whole milk.
You may use olive oil (which is flavorless in a cake) to achieve a little (not much more) additional moisture to the cake.
Use the exact measurements.
Use cake flour whenever you can, in place of all-purpose flour.
Use Italian mascarpone cheese and not American cream cheese. The texture is more satiny and smooth than cream cheese which is more firm. Plus, mascarpone is sweeter than cream cheese.
Use freshly picked strawberries and preferably in season. For the cut-up strawberries in the filling, add ½ cup of sugar and allow them to marry for about 15 minutes (or more). Strain the strawberries when placing them on the cake so that the cake doesn't slide over.
If you don't have fresh strawberries, you can use frozen strawberries for the filling, just make sure there are no preservatives in the, and strain away any juice in the bag/box.
Chill the mixing bowl that you will use to whip the mascarpone cream for at least 10 minutes before using.
Butter your baking pans AND line them with parchment paper AND butter the parchment paper and the sides. Sprinkle flour all the buttered parchment paper and the sides of the baking pans. Tap to remove any remaining flourr.
Use 3 wooden skewers snipped to the height of the cake. Insert them into the cake once you've got 3 layers on top of each other with mascarpone and strawberry filling assembled. If there is any of the wooden skewers showing above the frosting, simply remove it and cut of the portion that sticks out of the cake.
Slice off the top 'dome' of each baked layer so that the layers lay flat when assembling.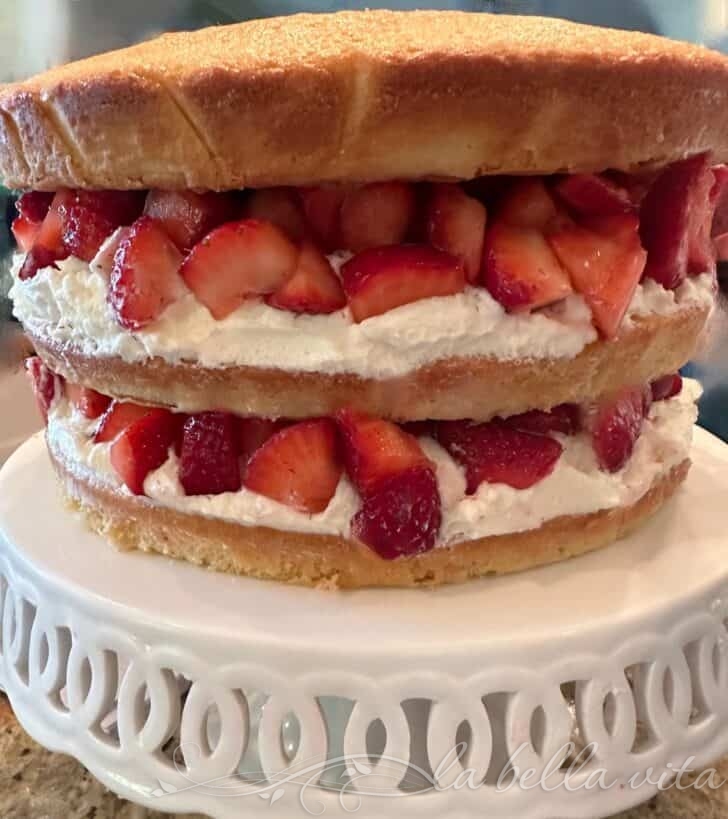 More Delicious Strawberry Recipes That You'll Enjoy:
Strawberry Layer Cake with Italian Meringue Buttercream
Print
Strawberry Cake with Sweet Mascarpone Cream
---
Description
A delightful moist vanilla layer cake loaded with sweet strawberries and lathered with a sweet mascarpone cream frosting.  Not too sweet though, just right!  Perfect for any celebration:  birthdays, weddings, brunches, graduations, or just another glorious day of living!
---
For the Cake:
3 cups cake flour
1 Tbsp. baking powder
1/2 tsp. freshly-cracked sea salt (regular or Kosher salt is fine too)
3/4 cup (6 oz.) butter, softened
1/4 cup (2 oz) oil
2 cups granulated sugar
3 large eggs
2 tsp. vanilla extract
2 drops almond extract (be very careful, this is VERY strong)
1/2 cup whole milk
1/2 cup heavy cream
1/4 cup sour cream
2 lbs. fresh strawberries (use more if you choose too)
Enough whole strawberries to garnish the cake around the base and on the top
For the Mascarpone Cream Frosting:
6 cups heavy cream
2 – 3 cups powdered sugar (taste as you add to achieve your preferred level of sweetness)
24 oz. Mascarpone cheese
1 tsp. vanilla extract
Equipment:
electric stand-up mixer with paddle and whisk attachments
1 large and 1 medium mixing bowl, several small bowls to hold ingredients
sifter
3 8″ baking pans
3 cake cooling racks
parchment paper
rubber spatula
bench scraper
cake decorating spatula/knife
---
Instructions
Preheat oven to 350 degrees.
Butter (not grease) 3 8″ round cake baking pans, then line with parchment paper, then butter the parchment paper and butter the sides of the cake pan, then dust each pan lightly with flour, shake or tap out any excess flour.  Set pans aside while you prepare the cake.
To Prepare the Cake:
In a medium mixing bowl, sift the cake flour, baking powder, and salt into it.
In the bowl of the standing mixer, fit on the paddle attachment.  Whip the softened butter, oil, and sugar until pale and fluffy.
One at a time, mix in the eggs.  Add the vanilla and almond extracts after the last egg is added.
On low speed, add ⅓ of the flour mixture at a time, alternating with ½ of the milk and cream until combined after each addition.  Add the sour cream and mix for a minute or two until blended.  Scrape down the sides and bottom of the mixing bowl and gently fold the batter several times.
Divide the batter evenly among the 3 prepared baking pans.  
Bake in the preheated oven for 20-25 minutes on the same rack.  Check to see that a toothpick comes out clean from the center of the cake. * See notes below.
Cool in the pan on the cooling rack for 5 minutes.  Run a knife around the edges to make sure that they are loosened.  Flip the pans over and tap the bottom of the pan to release the cake layers.  Remove the parchment paper and place a cake layer on each of the 3 cooling racks.  Cool completely for 30 minutes.
Once cooled, frost each cake layer with the mascarpone cream.  Lay a generous amount of cut-up strawberries on top of each layer of the mascarpone cream.  
Insert 3 wooden skewers (broken off to match the height of the cake) evenly spaced to prevent the cake from tipping over.
To Make the Mascarpone Cream:
In the bowl of an electric stand mixer fitted with the whisk attachment, whip the heavy cream until soft peaks form (when necessary, scrape down the sides and bottom of the bowl).
Add ⅓ of the powdered sugar and whip until stiff peaks form (if not stiff your frosting will be runny).  Scrape this out into a separate bowl.  Set aside to add back later.
Add the mascarpone cheese to the stand mixer's bowl, fit with the paddle attachment and whip until smooth and fluffy.
Mix in the last remaining ⅔ of the powdered sugar. Add the vanilla.
Return the whipped cream/powdered sugar mixture to the mixing bowl.  Mix until blended, about 1 minute.
Frost each layer and then the top and sides of the entire cake.  
Garnish with fresh, whole strawberries.
---
Notes
Everyone's ovens are different in temperature accuracy, so use an oven thermometer to bake at the correct temperature and time.  But I also keep my eyes on cakes in the oven during the last 5 minutes so that they don't overbake.  For me, tapping on the top of the cake works:  if it is firm and doesn't jiggle, it's done.
Inspired by Cooking Classy
See Baker's Tips in the blog post