Polla Asado ~ Mexican Grilled Chicken ~ Easy!
Once upon a time, I lived in Scottsdale, Arizona where I first bit into an amazing grilled chicken with Mexican spices, known as "Pollo Asado". It is an unforgettable flavor that's included on the menu for our Cinco de Mayo festivities.
I created a recipe that includes all the traditional ingredients and tweaked it to satisfy my family's extremely picky, picky tastebuds!
So just what is this "Pollo Asado"?
"Pollo Asado" simply means "grilled or roasted chicken" using the Spanish word "pollo" for "chicken" and the Spanish word "asado" for "grilled or roasted". But it's not just any grilled chicken! Rather it's chicken that's been marinated in a unique mixture that features an intense blend of Mexican spices, freshly-squeezed citrus juices (orange, lime, and lemon), and most distinctively, Achiote powder – – which gives the beautiful, signature reddish-orange color to the chicken. Pollo Asado is a cherished classic dish that has its original roots in Mexico, Puerto Rico, and Cuba.
But let's first have a little chat about what "achiote" is. This spice certainly isn't in a lot of marinades. Also known as "recado", achiote results from grinding "annatto" seeds. You can get achiote either in the powdered form as I've used in this recipe or you can pick it up in a paste form. Its flavor is slightly smoky which works really well with grilling. It's also a little peppery, which blends well with all of the other pepper flavors in the marinade.
Pollo Asado is unforgettable because it's ever-so tender, perfectly moist and juicy, and enhanced with layers of smoky and earthy spices . . . all with a perfectly charred crust.
And let me tell you, it is delicious!
When serving, let everyone enjoy Pollo Asado the way they personally enjoy it: making their own tacos, wraps, or salads just the way that they like! Above is a loaded soft tortilla wrap and the chicken is underneath a ton of fixings (shown below).
Traditionally, Pollo Asado tacos are very simple and minimalist: chicken with cotija cheese, lettuce, and tomatoes — allowing the full flavor of the asado marinade to scream out! A classic Mexican street taco!
So let's gather up all of the ingredients!
The marinade for Pollo Asado not only tenderizes the chicken, but it's also what makes this dish stand out from the crowd of other marinades. There's a spicy, heat element from the various peppers, some tang from the citrus juices, some smoky tones from the grilling itself along with smoked paprika, and some extra layers of flavor from a good bit of garlic and onion.
You can even sip it straight from a spoon, it's so good!
Don't let the long list of spices scare you off . . . at first it seems like a lot, but each one plays a part in the marinade. For something so easy to make and that's fairly quick, this marinade is just so amazing! It tastes even better on the 2nd or 3rd day after grilling.
Pollo Asado is NOT HOT at all. A mild-flavored recipe for Buffalo Chicken (ie: wings) is hotter than this chicken recipe!
Oranges, Limes, and Lemons
Garlic, Onions, and Cilantro
Chicken breasts (use any cut of chicken though) I used 6 large skinless, boneless breasts
Salt and Pepper (Freshly-cracked is best)
Heat the olive oil and saute' the garlic and spices.
Mix it nicely and cook for a minute or two.
Add the chopped cilantro and onions.
Mix them all up and cook for another 5 minutes.
Mixed well, this marinade is brightly colored and smells out of this world!!!
Save and set aside 2/3 cup of the marinade to use for basting the chicken while it's grilling . . . and even to pass around for guests (It's tremendous to sip from a spoon!)
After a little cool-down time, pour the rest of the marinade into a 2-quart freezer Ziploc plastic bag.
Pour in the citrus juices.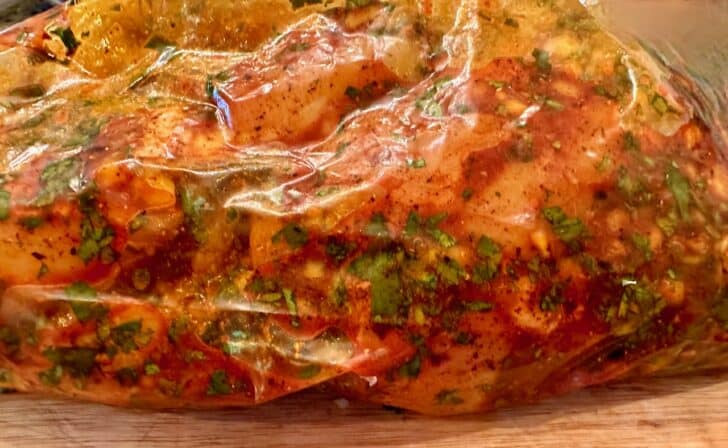 Add the chicken to the bag and then shut and seal the bag. Give the chicken a few tosses around the inside of the bag to make sure that the marinade is covering all of the chicken.
Marinate in the refrigerator for NO LESS than 4 hours. This is what it looks like after marinating.
l marinated this overnight and there was no breakdown of the chicken.
Preheat your grill to 400 – 475 F degrees.
Grill the chicken according to the instructions outlined on the recipe card below.
Baste every 5 minutes until grilling is finished – – when a temperature of 165 F degrees is reached using an instant-read thermometer.
The golden yellow-orange color of the chicken is just gorgeous and invites everyone to bite in and enjoy!
Plate the finished chicken and take it to the table for your guest to dig in and ENJOY!
Delicious Ways to Serve Pollo Asado
Simply unadorned
Pollo Asado Quesadillas
Pollo Asado Street Tacos
Pollo Asado Burritos or Enchiladas
Pollo Asado Salad
Pollo Asado Fajitas
Polla Asado Nachos
A simple "Mexican Street Taco" – chicken served minimally with lettuce, tomato, and cotija cheese.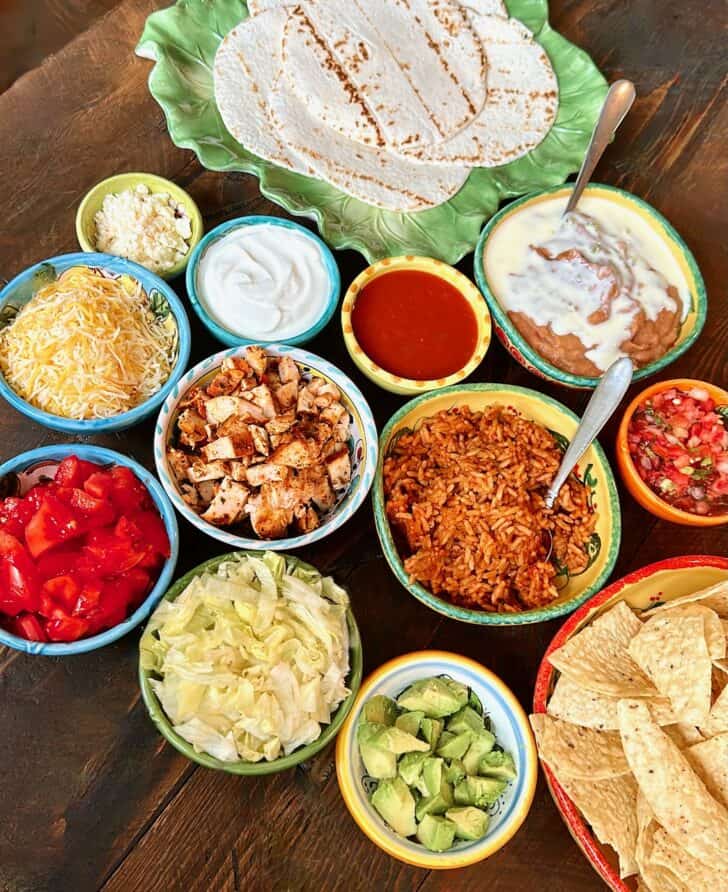 Delicious Add-On's To Serve with Pollo Asado
Pico de Gallo
Soft Tortillas
Cotija Cheese
Shredded Mexican Cheese Blend
Lettuce
Chopped Tomatoes
Avocados
Limes
Diced Jalapeno Chile
Chipotle Chile in Adobe Sauce
Tortilla Chips
Refried Beans
Queso
Sour Cream
Salsa
Please forgive me for my very amateur video. It is my third video and I'm a learner in progress. But in it, my husband (with super clean hands) is preparing this LOADED Pollo Asado Burrito/Wrap for us. I'll get better at this, I promise. Shoot me a message to give me your pointers! Thanks my friends!
Delicious Side Dishes to Serve with Pollo Asado
Refried Beans
Spanish/Mexican Rice
Cilantro Lime Rice
Fruit Salad
Sliced Oranges
A Simple Lettuce and Tomato salad
Delicious Beverages to Serve with Pollo Asado
Delicious Desserts to Serve with Pollo Asado
Print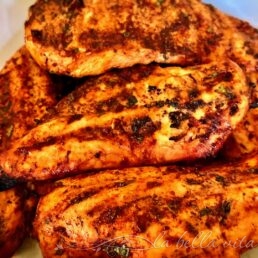 Polla Asado ~ Mexican Grilled Chicken ~ Easy!
---
Description
Incredibly juicy, grilled chicken with Mexican spices from an easy and flavor-packed marinade.  Simply prepare the marinade, allow the chicken to soak in it for hours, and then grill . . . that's it!  
Serve with 'amore'!
---
Chicken:
6 large skinless, boneless chicken breasts (but you can use any part of a chicken that you prefer).
1/4 c. orange juice
1/4 c freshly-squeezed lime juice
2 Tbsp. freshly-squeezed lemon juice
1/2 cup olive oil
8 garlic cloves, minced
1 tsp. each: fresh-cracked sea salt and black peppercorns
1 small onion, chopped
1 bunch of cilantro, stems removed, chopped
ADD LOTS of Amore' !  
TO SERVE:  On a large platter in assorted small bowls, add any topping you prefer:  pico de gallo, chopped lettuce and tomatoes, chopped onions, avocado, guacamole, salsa, queso, cotija cheese, shredded Mexican cheese blend, etc. 
---
Instructions
In a mixing bowl, combine the orange, lime, and lemon juices.  Set aside.
In a large skillet, heat the oil and saute' the garlic for about 2 minutes.
Add all of the spices to the garlic-oil mixture, give it a nice stir, and heat up for about 3 – 4 minutes.
Add the chopped cilantro and onion and cook for another 5 minutes.  Allow this to cool completely; you do not want to cook the chicken at all while it marinates.
When completely cooled, save 2/3rd cup and set it aside (you'll use this to baste the chicken during grilling and to offer guests more if desired).
In a large 2-quart heavy Ziploc bag, pour in the fruit juice mixture that you set aside earlier.
Now add the remaining marinade.
OPTIONAL:  To the marinade, add one more bunch of fresh cilantro (stems cut off) with one sliced onion.
Add the chicken.   
Shut and seal the Ziploc bag and gently move the chicken around in the marinade to get all of the pieces thoroughly covered.
Place in the refrigerator for a minimum of 4 hours and up to overnight.
When ready to grill, remove the chicken from the marinade and discard the used marinade in the plastic bag (do not use this to baste during the grilling process).  Remember that you set aside some marinade . . . to use in the following step: to baste the chicken while grilling.
Preheat your grill to 375 – 475 F degrees
Place the marinated chicken onto the heated grill.
Close the grill and cook for 30 minutes.
Baste the chicken about every 5 minutes as it cooks.
Grill until the temperature registers 165 F degrees when inserting an instant-read thermometer into the thickest part of each piece of chicken.
The unused marinade can be passed around to guests (but do not use the marinade that the chicken marinaded in for hours).
Serve with any topping you prefer:  pico de gallo, chopped lettuce and tomatoes, chopped onions, avocado, guacamole, salsa, queso, cotija cheese, shredded Mexican cheese blend, etc. 
---
---
Nutrition
Serving Size: 1 piece
Calories: 455
Sugar: 2
Sodium: 866
Fat: 37
Saturated Fat: 7
Carbohydrates: 5
Protein: 24
Cholesterol: 95