The Best Grilled Turkey Breasts Marinated in Garlic, Soy, and Ginger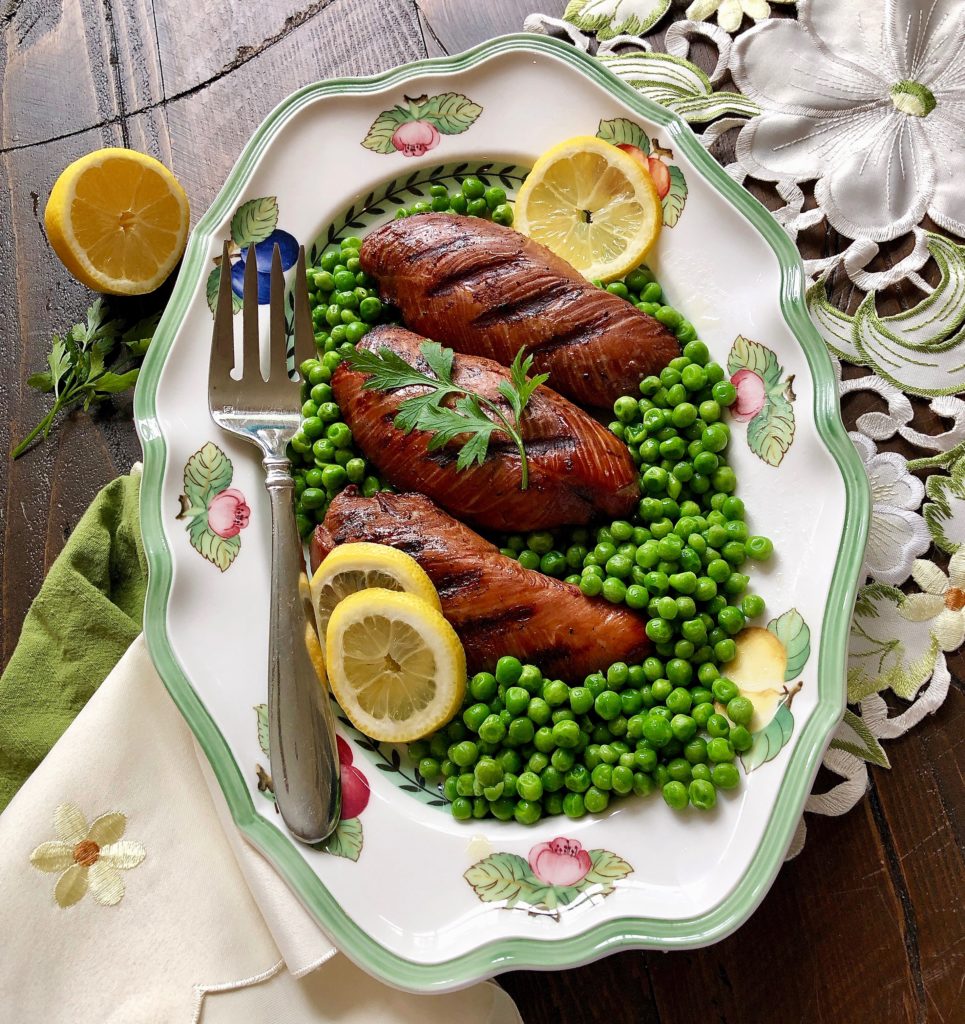 It's grilling season, and almost time for state fairs to get underway. And you know what that means? There are lots of good eats at fairs, though not always the most healthy food. And then there is the food offered from home cooks who compete for blue ribbons for the best recipes of the year! This recipe is literally a blue ribbon winning recipe for the BEST Grilled Turkey Breasts Marinated in Garlic, Soy, and Ginger.
I have to tell you that I did not develop this recipe. It was shared with me at a church dinner as a result of me literally BEGGING for the recipe! The cook told me that he got the recipe from an Iowa State Fair cookbook.
You'll be so happy to add another flavor-filled recipe to your chicken and turkey collection. A recipe that is healthy and delicious at the same time. Oh and talk about EASY! Just make the simple marinade. Add the turkey breasts. Wait a few hours, and onto the grill for 10 minutes and dinner is ready!
This recipe is also great for serving a gang of guests that you have over during grilling season. Not everyone wants a burger, steak or hot dog! Your guests will thank you for these and then ask for the recipe too!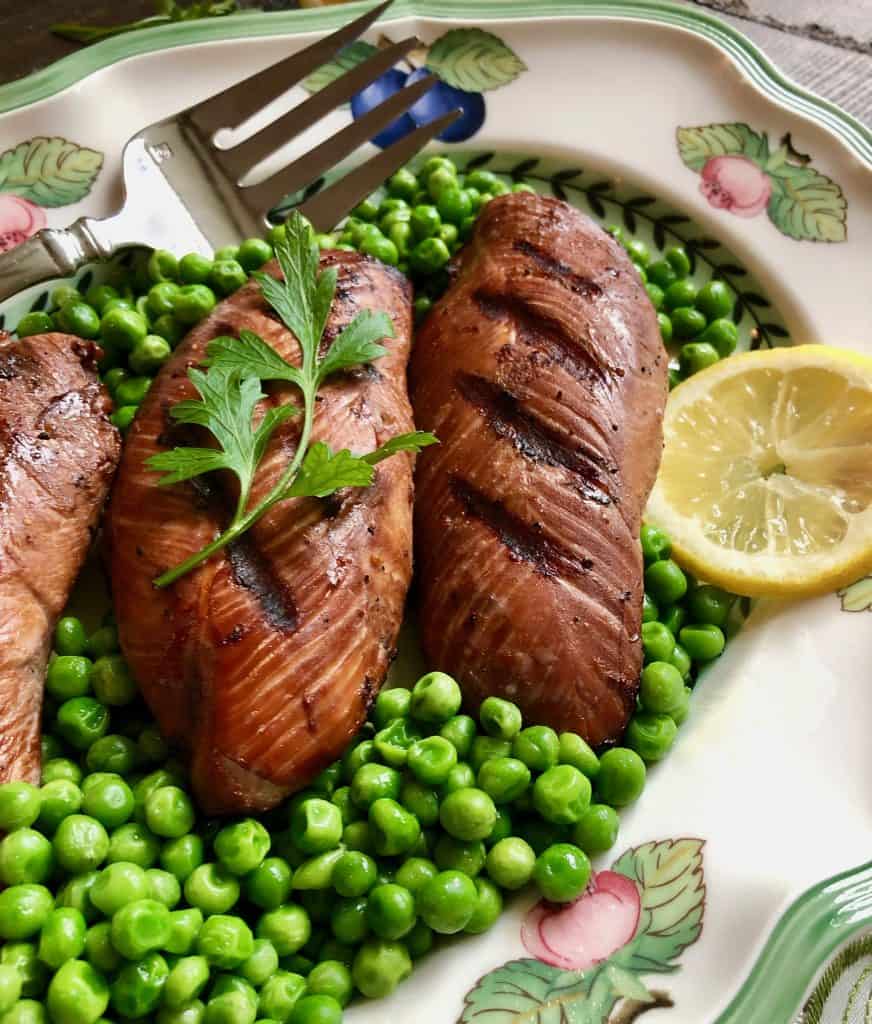 You can serve just about any side dish that you prefer with these grilled turkey breasts. I recommend a colorful vegetable since the turkey is a bit on the bland side. Perk up that plate and increase the 'wow's' among your guests.
Garnish with a little sprig of fresh Italian parsley, some fresh lemon slices and you've got a lovely presentation that looks like you spent a lot of time on!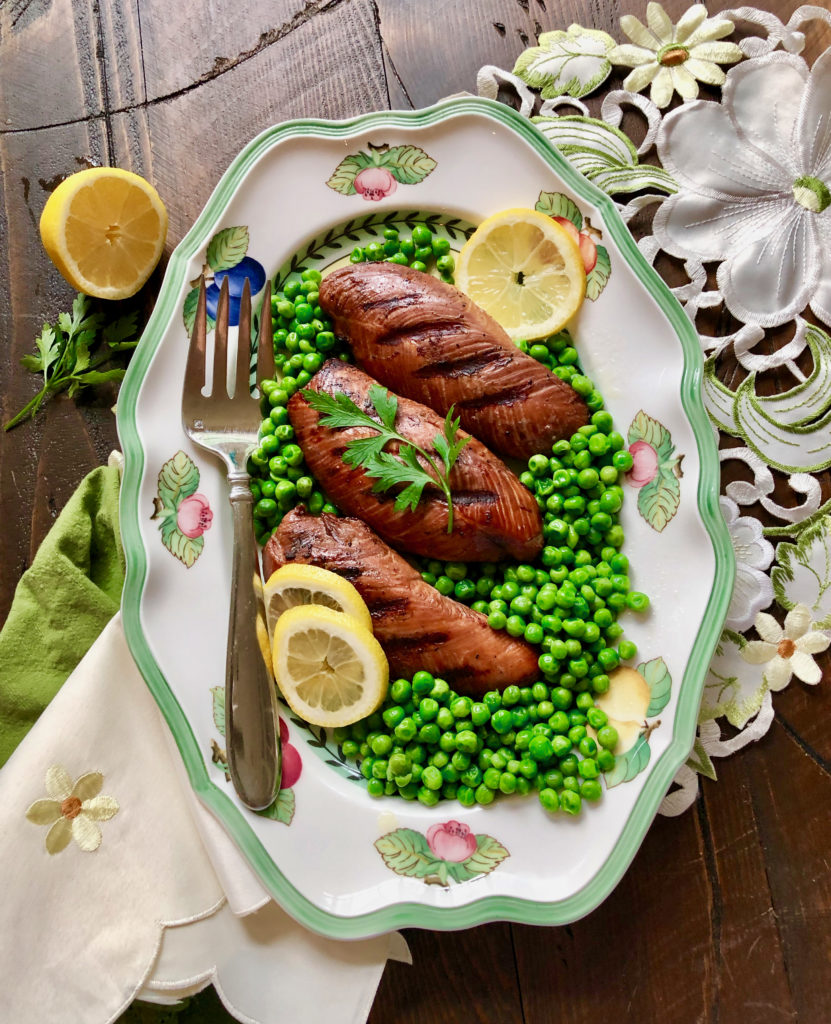 More Grilled Turkey & Chicken Recipes
Now before you go . . . hang on there my good friend, here are some more wildly delicious grilled turkey and chicken recipes that you will enjoy. Let me know if you prepare any of these recipes, take a photo, and I'll share it here with all of the community!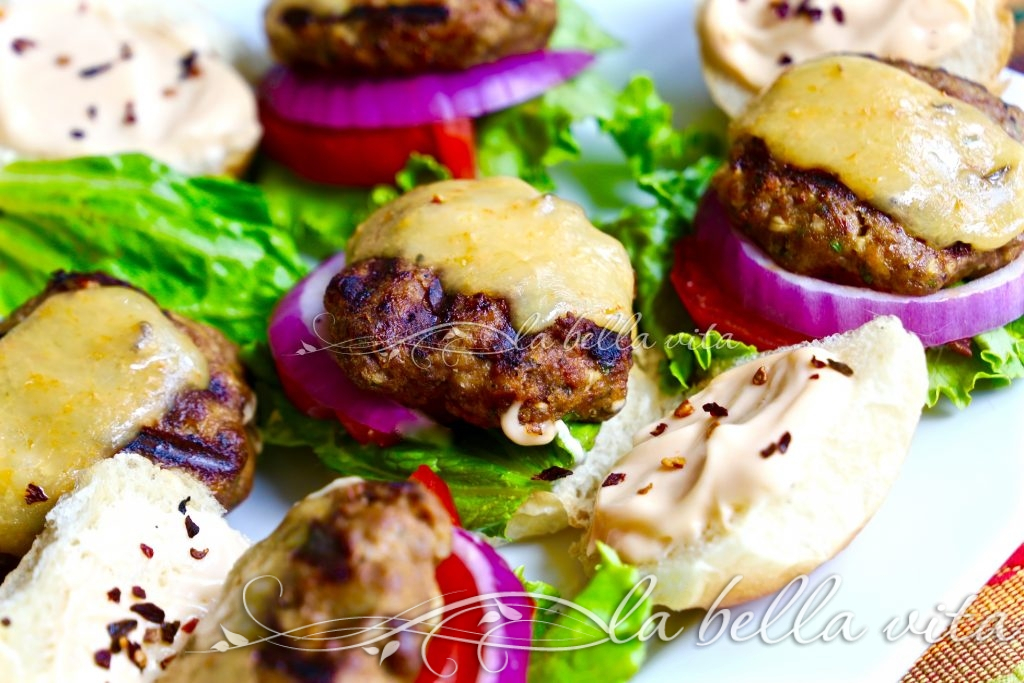 Grilled Jalapeno Cilantro Lime Turkey Sliders with Habanero Cheddar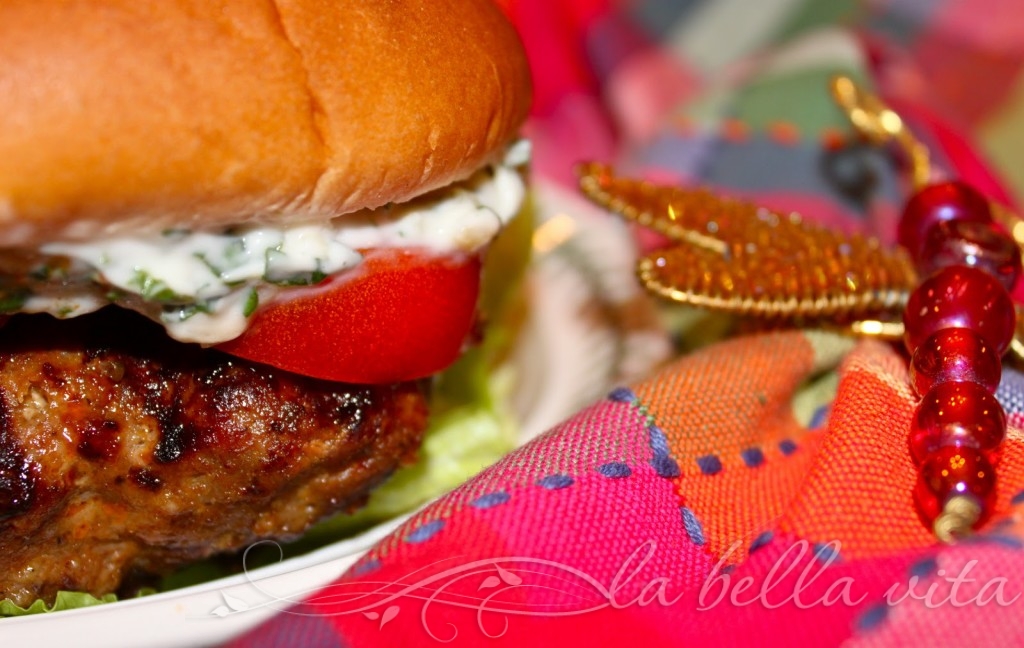 Sun-Dried Tomato Pesto Turkey Burgers with Basil Aioli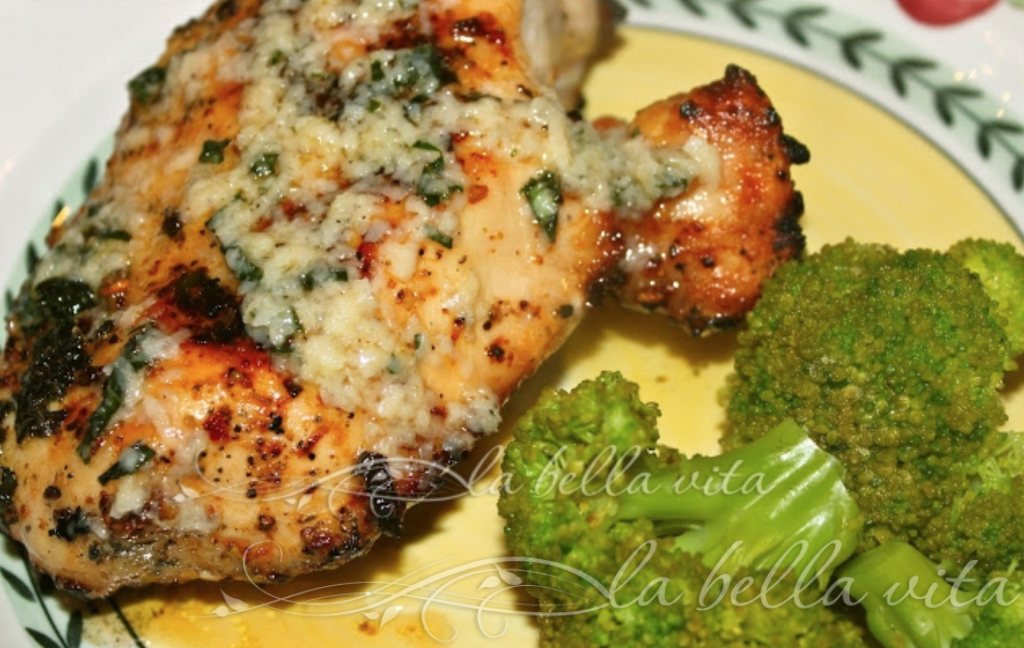 Grilled Basil Buttered Chicken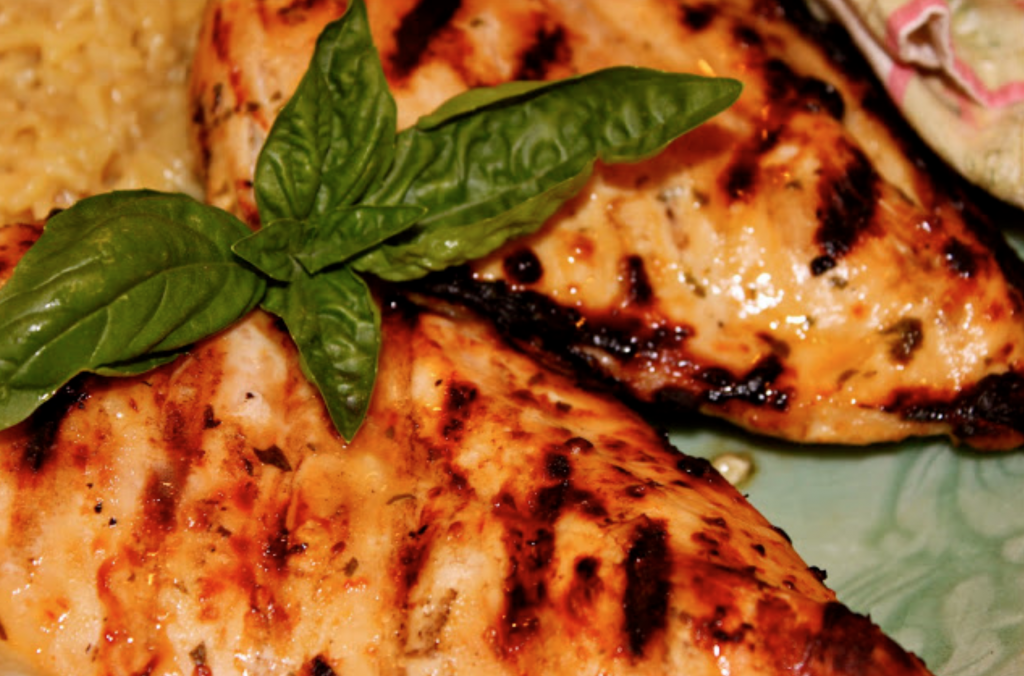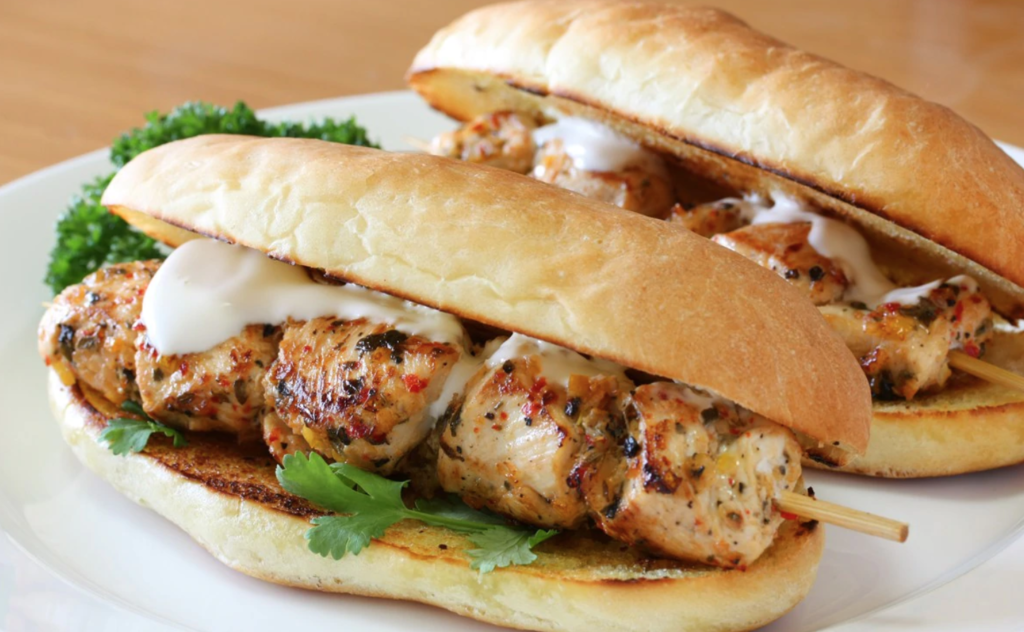 New York Grilled Italian Chicken Spiedie Sandwich from KitchMe
Print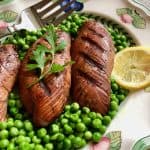 The Best Grilled Turkey Breasts Marinated in Garlic, Soy, and Ginger
Author:
Prep Time: 15 minutes
Additional Time: 0 hours
Cook Time: 12 minutes
Total Time: 27 minutes
Yield: 3 people 1x
Category: Entrees / i Primi
Cuisine: American
---
2 Tbsp. freshly-squeezed lemon juice
1/4 cup soy sauce
1/4 cup canola oil
1/4 cup dry sherry (or red wine)
2 Tbsp. minced onion
1/4 tsp. ground ginger
1/8 tsp. freshly-cracked black pepper
1/3 garlic powder
1 lb. turkey tenderloin breasts (usually this is about 3 nice sized breasts)
---
Instructions
Wash your hands thoroughly when preparing poultry.
In a medium mixing bowl, combine all of the marinade ingredients.
Pour the marinade into a plastic self-sealing freezer storage bag (or forget the plastic and place in a glass container with a glass lid).
Add the turkey breasts and seal the bag or container shut.
Place in the refrigerator and marinate for 2 hours.
Remove the turkey breasts from the marinade and grill on direct heat for 5 – 6 minutes on each side, or until a meat thermometer registers 170 F degrees, and the turkey is no longer pink inside.
Discard the marinade.
Serve immediately while hot with your favorite side dishes!
---