Cheesy Fiesta Corn Dip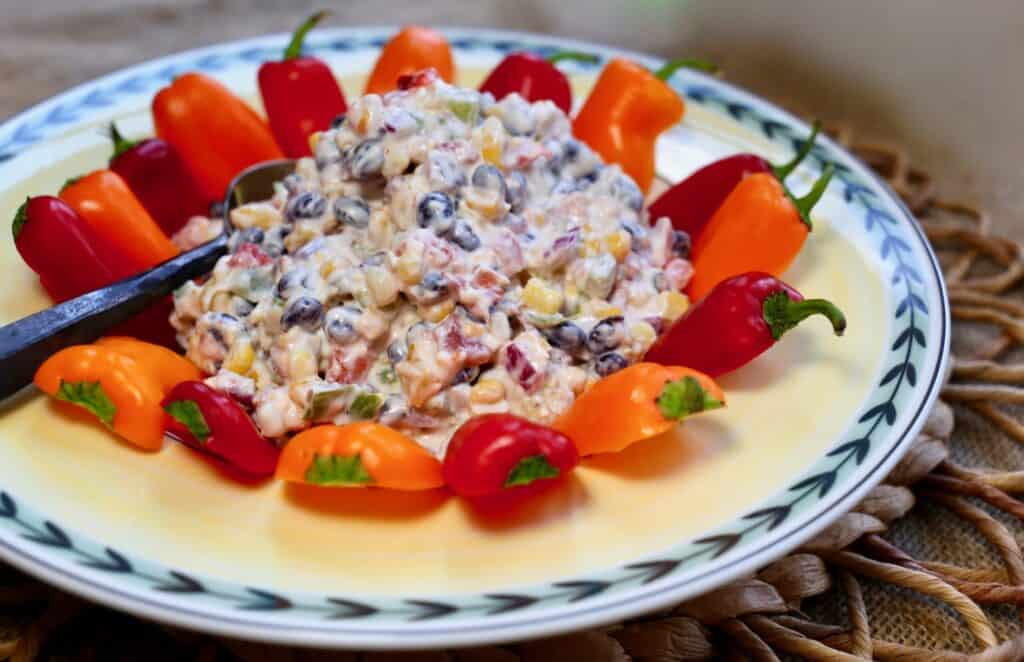 You know those recipes that you enjoy from others and you like them so much that you just have to ask for the recipes? Well here's a recipe that I did just that! I guarantee that your family and guests, plus YOU will devour this crazy Cheesy Fiesta Corn Dip!
I credit my wonderful neighbors who brought over to us an array of delicious goodies to munch on after my mother's funeral. Their thoughtfulness was so very much appreciated. Included in their basket of goodies was this creamy, cheesy southwestern corn dip.
I had to get my hands on the recipe!
Following a search on the internet, that left me totally confused with 100's of versions of corn dip, I finally caved in and decided to call my neighbors to plead for the recipe.
They were just thrilled and honored that I would ask . . . and graciously shared the recipe with me.
Not only is this appetizer oh-so-yummy, it's also super easy and fast to make! Bingo! The best of both worlds of cooking, huh?
I made a few changes though: I added red and green peppers into the mix, the cilantro, and a fresh tomato and jalapeño. It truly amped up the whole flavor!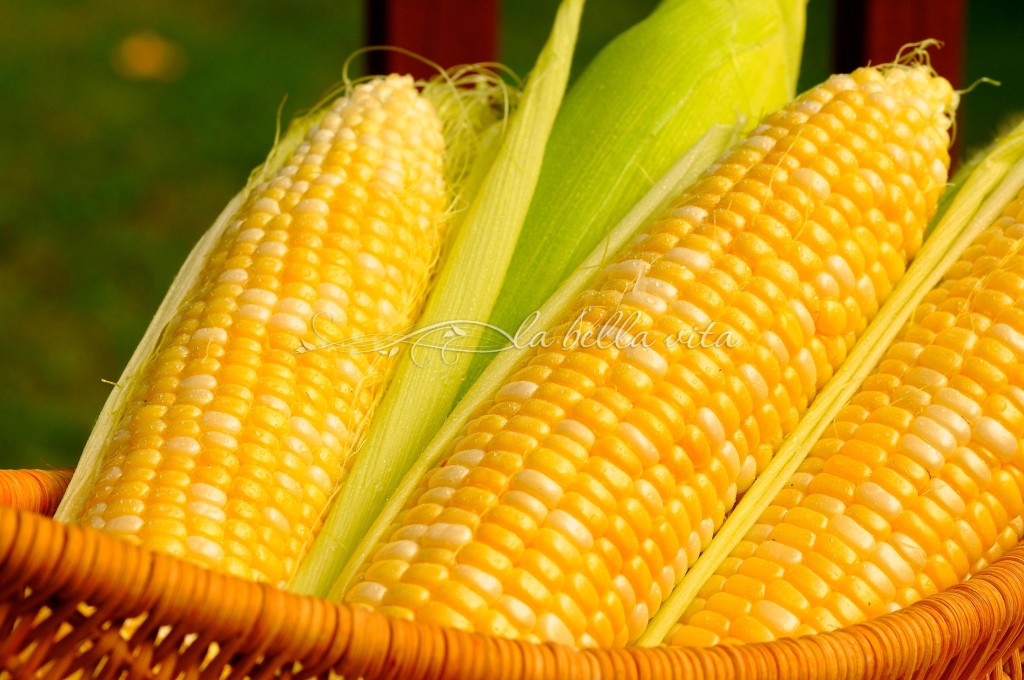 At the time that I first tasted this recipe, it was a wonderful summer with lots of rain in the Midwest. So the sweet corn was early, ripe and ready to pick. So I bought 2 dozen ears of corn to bring home to South Carolina and splurge with my husband. I had enough left over to add into this delicious cheesy fiesta corn dip.
Tip: The variety of sweet corn that can't be beat is called "Peaches and Cream". AMAZING sweetness and tenderness!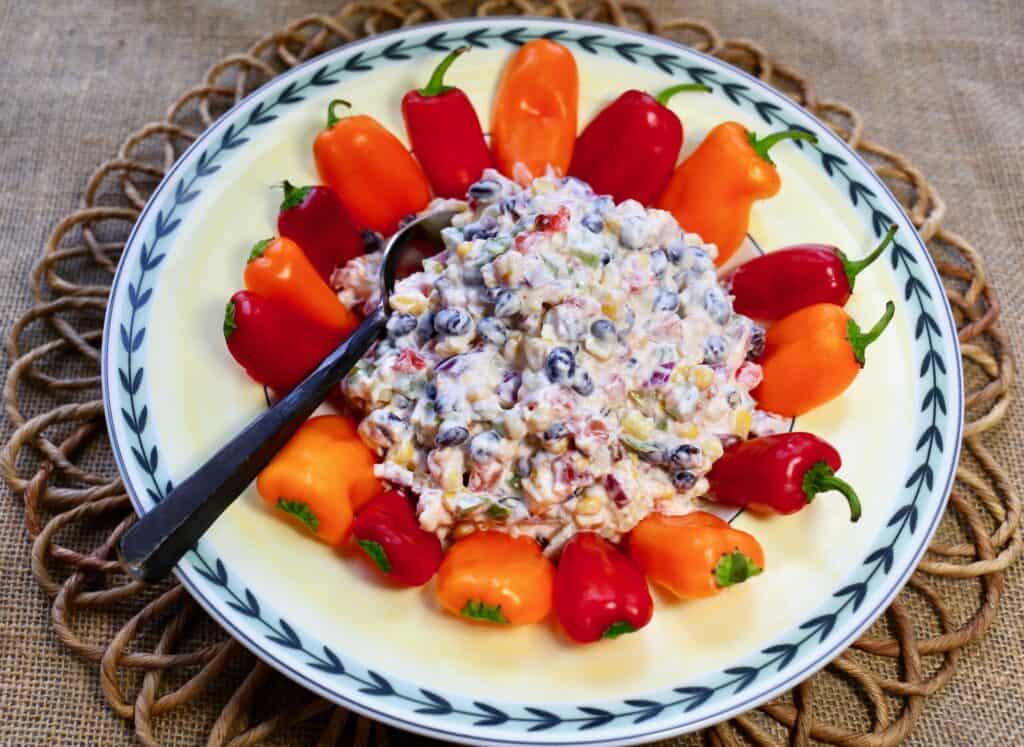 I served this on a pretty yellow platter to highlight the yellow corn and made a circle of the mini-pepper 'scoops' around the dip. It turned out to be quite a lovely and creative presentation!
After all, remember, we feast with our eyes first!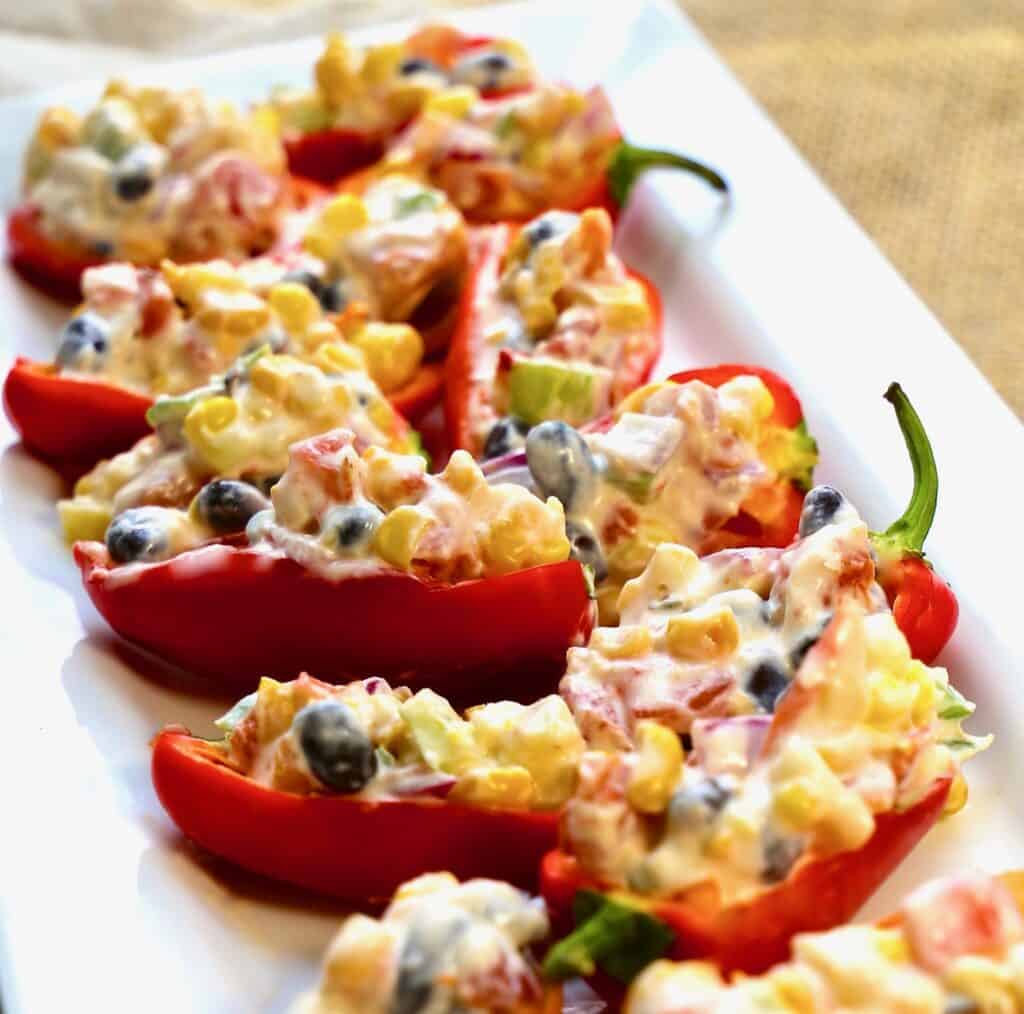 You can also present this delicious Cheesy Fiesta Corn Dip already scooped into the mini peppers . . . with just under a few tablespoons of corn dip in each. This makes a perfect ready-to-pick-up finger food!
Or you can serve it both ways!
It's totally up to you!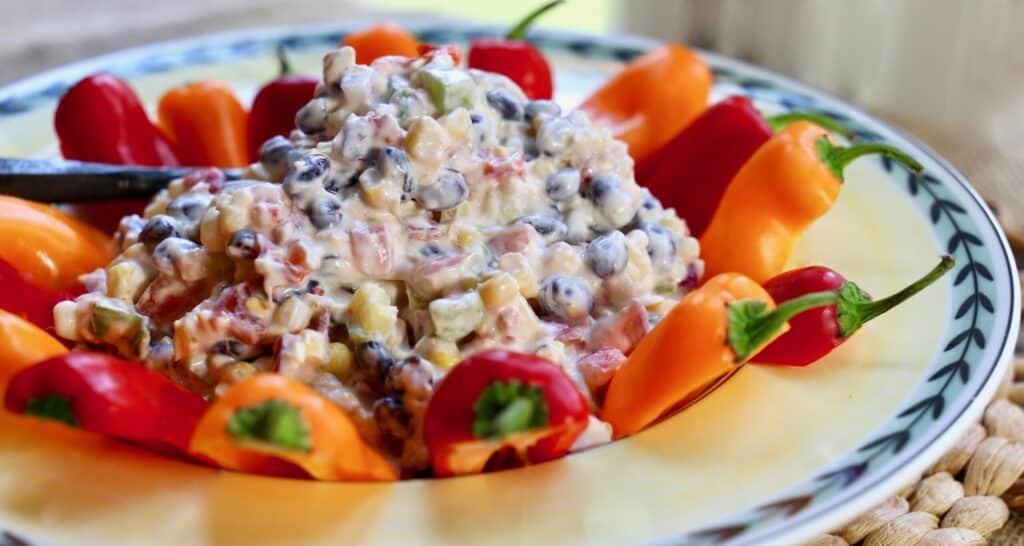 This fresh corn dip is so yummy, that I am taking it to my grandson's birthday party today for everyone to enjoy. It's guaranteed to be huge hit!
I hope that you too enjoy this delicious, easy, cheesy fiesta corn dip! I know that your guests will devour it, just as fast as my family did!
More delicious and easy appetizers for you to enjoy!
The Absolute BEST, Creamy Veggie Dip
Cheesy Asiago, Artichoke and Spinach Dip
Grill-Roasted Corn, Black Bean and Avocado with Cilantro Vinaigrette Dip
Carolina Caviar (AKA Cowboy/Texas Caviar)
Crispy Garlic Parmesan Zucchini Chips with Roasted Garlic and Basil Aioli Dipping Sauce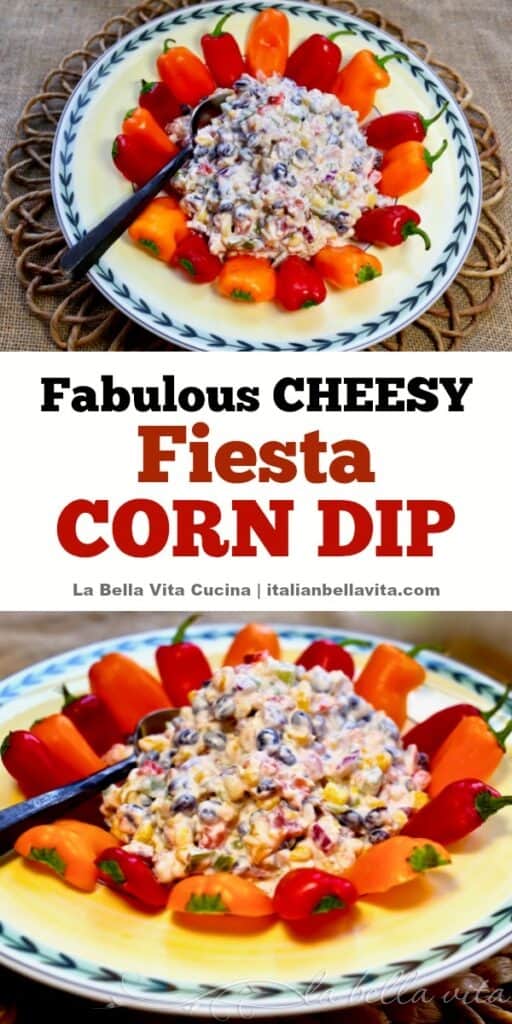 .
Print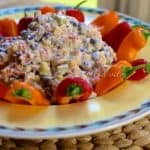 Cheesy Fiesta Corn Dip
Author:
Prep Time: 15 minutes
Additional Time: 0 hours
Cook Time: 0 hours
Total Time: 15 minutes
Yield: 10 servings 1x
---
2 cans Mexi-/Southwestern corn, drained (I used one can and then the rest in fresh-cooked Iowa sweet corn)
1 can black beans, drained, and thoroughly rinsed
1 can Rotel tomatoes with lime and cilantro, drained
1 small red pepper, diced the size of a corn kernel (I added this)
1 small green pepper, diced the size of a corn kernel (I added this
2 cups shredded cheddar cheese OR shredded Mexican cheese blend
1 cup diced red onion
1 small garden-fresh tomato, diced (I added this)
1 cup mayonnaise
1 cup sour cream
1 jalapeño chili, seeds removed, minced (I added this instead of the yucky canned variety)
1/2 cup chopped cilantro (I added this)
2 bags of mini peppers of assorted red, yellow, and orange colors, sliced in half, seeds removed
Tortilla chips for serving
---
Instructions
Instructions
Combine all of the ingredients together.
Cover and place in the fridge.
Chill from 2 hours to overnight to allow all of the flavors to marry.
Serve with mini peppers to use for scooping up the dip and/or tortilla chips.
---
Keywords: appetizer, dip, corn dip, Mexican, Southewestern, entertaining
Originally posted: July, 2015. Updated with more tips and information: January, 2020
..