The BEST Creamy Vegetable and Chip Dip
Have you ever begged someone to share a recipe? I have ( a lot) and this recipe is one of those!
At a Christmas party that I was a guest at year's ago . . . way back when I could eat anything and still stay skinny, I tasted this delicious Creamy Vegetable and Chip Dip.
It was simply yummy upon first bite!
I could have devoured the entire bowl and knew that I just had to get my hands on the recipe!
And I did!
Today whenever I serve a vegetable and dip platter (usually for our last fattening-hurrah-indulgence party on New Year's Eve), I always get the same reaction from my guests: "Wow, this is really good! How do you make this? Can I please have the recipe?"
This vegetable and chip dip is so easy, it's nearly stupid to make . . . and isn't that just dandy at this busy time of year? Save the stress of making Beef Wellington for Valentine's Day or some other special occasion. Prepare this dip in a snap and enjoy the extra freed up time with your family and friends.
Now I have to warn you . . . this isn't a skinny recipe! I suppose you can substitute lower calorie or reduced fat versions of the dairy ingredients, but I know the taste just won't be the same.
And after all the veggies make us feel better, don't they . . . at least a little bit!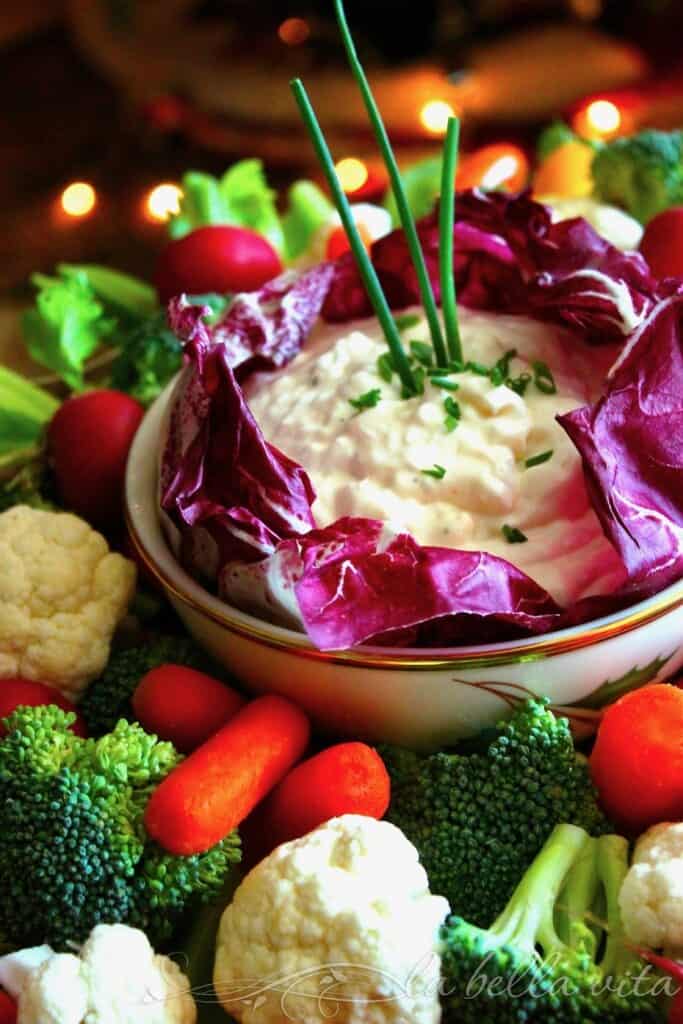 The great thing about veggie platters is not only because they are so fresh and delicious, but vegetable dips leave you with that good feeling of "I made better choices at the get-together" in a yummy way!
What event doesn't have a veggie and dip platter? They're simply expected at any occasion!
What are the best vegetables to serve with vegetable dips?
Carrots – Baby carrots can be served as-is and raw. Full-sized carrots can be cut into sticks and also served raw.
Celery – cut into sticks
Caulifllower – separated into separated bite-sized florets and served raw.
Broccoli – same as above
Broccoli rabe and broccolini – should be blanched in boiling water and then shocked in ice water.
Cherry or grape tomatoes – should be served as-is, uncut. For a pretty presentation, leave them on the vine.
Snow peas and snap peas – served either raw or blanched.
Green beans – served raw if thin, and blanched if thicker.
Red, Green, Yellow and Orange peppers – which should cut into strips, baby peppers are perfect for dipping too!
Radishes – served raw with a few leaves still attached as a handle. Extra large radishes should be cut in half.
Green onions – serve raw with roots trimmed off and half of the long green stems cut off.
Mushroom caps and stems – served raw and unsliced.
Artichoke hearts – served raw.
Cucumbers – sliced with skin remaining on.
Asparagus – serve all colors, raw. Blanch thicker stalks of asparagus.
Zucchini and squash – sliced or cut into sticks
Jicama – cut into sticks.
Baby romaine leaves – separated into individual leaves as close as possible to serving time
Endive – same as above
Radicchio – same as above
Tips to Making a Vegetable and Chip Dip Platter:
Grazing, small plates, tapas, and finger foods have been a favorite way of offering foods when entertaining. So that means that a good vegetable platter is expected on any finger-food spread.
With a healthy focus today on serving foods at their freshest, raw veggies, chips, and crackers perfectly compliment a fresh dip.
The main base for a dip can be mayonnaise, sour cream, cream cheese, other softened or melted cheeses (such as queso), pureed vegetables (such as salsa, guacamole), pureed beans (such as hummus).
For flavor and color, dips have a variety of herbs and spices blended in.
Allow dips to set and marry so that all of the flavors can come together.
Shop the day of your get-together or no earlier than the day before to make sure that your veggies are at their freshest! Like any food ingredient, vegetables lose their flavor, texture and quality as time ticks away. So make sure they are as fresh as possible.
Shop the day before your event, to make sure you have fresh produce so that way you can throw everything together the day of the event.
When shopping for the vegetables, purchase the following amounts: 1/4 lb. per person is a good average amount of vegetables.
Use your eyes and buy what looks the best and freshest.
Lots of variety is best. The most beautiful and memorable veggie platters offer as many different items that can fit in an orderly presentation.
Offer as many different colors, textures, and shapes of vegetables as possibleas.
Seasonal vegetables are best since they are the freshest, crispiest, and at the peak flavor.
Keep the veggie fresh by washing with cold water and patting dry with paper towel.
Arrange the veggies so the same colors are not next to each other (ex: carrots and orange bell pepper) to create an eye pleasing display.
Group the same color veggies together and alternate the colors so that lighter colored vegetables are next to darker colored veggies. This makes a more striking presentation!
Go for the overflow effect: Place every vegetable of your choice as possible plus the dip as onto the platter.
Mix things up and use whatever veggies are in season or based on your budget.
Serve the veggies with a tasty dip.
I recommend some great items to help you prep and serve a veggie and dip platter: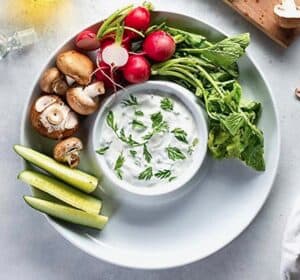 For serving cut vegetables, you want to use a shallow platter; this dish has a center 'bowl' for the dip too! Kooks Vegetable and Dip Serving Dish
This handcrafted acacia wood chip and dip platter is GORGEOUS!
.
What's your favorite vegetable and chip dip for entertaining?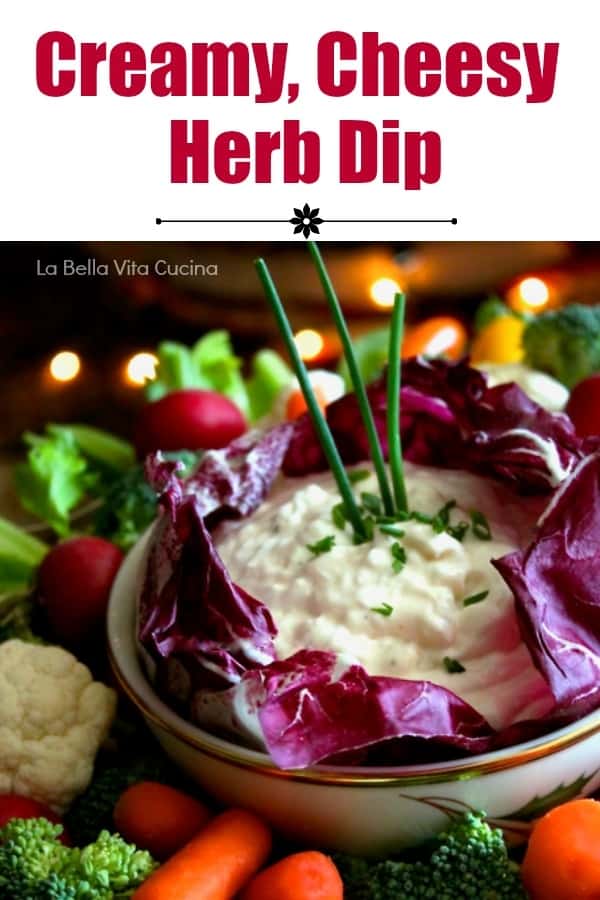 Print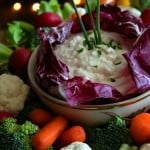 Creamy and Yummy Veggie Dip
Author:
Prep Time: 0 hours
Additional Time: 0 hours
Cook Time: 0 hours
Total Time: 0 hours
---
Description
I was given this recipe in 1979 by a friend in St. Louis at a holiday party.  I've been serving it at almost every party I've given ever since.  It never fails to receive rave reviews and requests for this super easy recipe!
---
16 ounces Hellman's Mayonnaise
1 small 8 oz. container sour cream (not low-fat or reduced fat — use the real deal!)
24 ounces small curd cottage cheese (regular, not low-fat, etc.)
1 package Hidden Valley Ranch Dressing
all of your favorite raw vegetables, cut up to serve with the dip
---
Instructions
Blend all ingredients together and chill for several hours or overnight.
Serve with fresh vegetables.
---
Notes
This makes A LOT of dip and will be enough for a large group.

This post was originally posted in November 2014 and updated and reposted in December 2019.
This post contains affiliate links to Amazon.
Do you enjoy La Bella Vita Cucina?
We'd love to have you as part of our community!