Ooey, Gooey, Fudgy Mississippi Mud Cake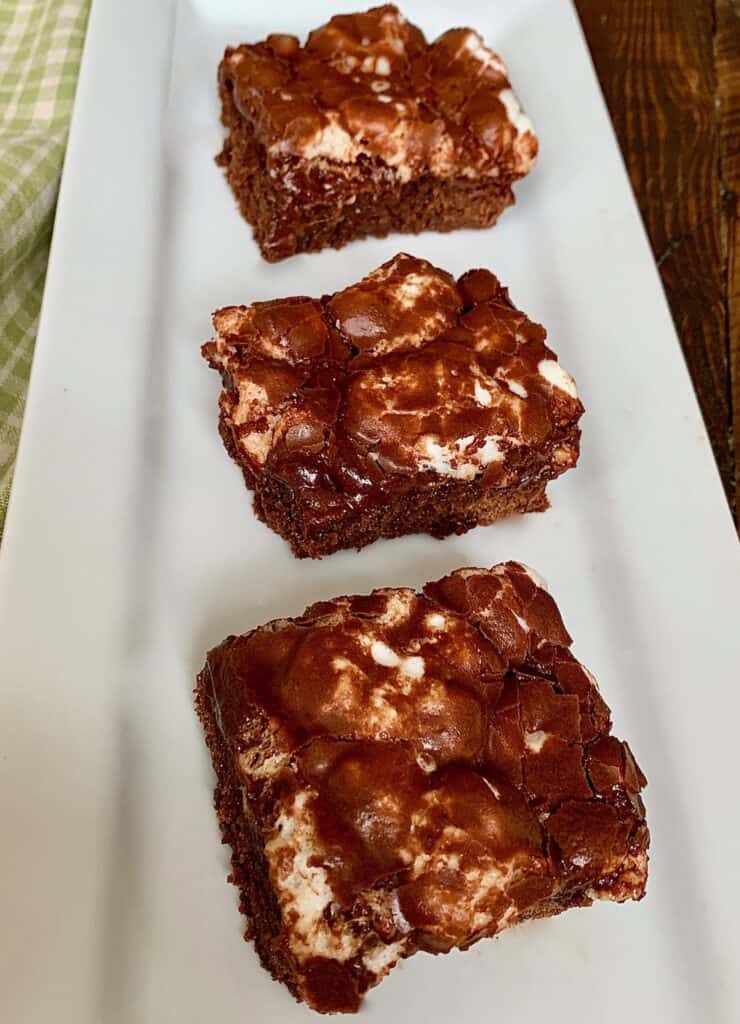 CHOCOLATE! It's a weakness for so many of us and it seems like we can never get enough! And nothing beats a delicious chocolate cake to satisfy your cravings for a chocolate fix. This Mississippi Mud Cake is decadent, super rich, and over-the-top! I guarantee you that this ooey, gooey, fudgy treat will please your sweet tooth.
Trust me, you'll flip over this amazing, decadent, and tempting cake!
Mississippi Mud Cake is a chocolate lover's dream that never disappoints! It starts with a fudgy, brownie-like cake layer that has a soft, tender crumb. On top of that is yet another layer of melted marshamallows. And are you ready for the last layer? An amazing hot chocolate frosting is poured on top of the cake that trickles down into the marshmallow and cake layers. That's what makes this cake so incredibly moist and bursting with double chocolate flavor!
What thrills me the most about this cake is the amount of frosting! I always go for corner pieces of cake so that I can enjoy more frosting (do you do that too?). This cake has an equal part of frosting to the cake itself. Bliss!!
Are you drooling yet?
Make sure that you have lost of cold milk or ice water to drink with this super sweet, super rich cake! Even a nice hot cup of java would go well with this tempting cake! Serving it with ice cream is also fabulous!

What is a Mississippi Mud Cake?
Mississippi Mud Cake is a super easy to make, chocolate and marshamallow cake that resembles rich, thick brownies. This rich choclate cake was named "Mississippi mud Cake" because it looks like the muddy banks of the Mississippi River.
Mississippi Mud Cake has always been a Southern favorite treat to take to potlucks, any get-together, or a backyard BBQ cookout!
This perennial favorite Southern cake and has been around a long time since World War II. Yet the origin of this old classic recipe has been debated as to whether it came from the state of Mississippi or elsewhere.
Wherever it came from, there's no arguing that Mississippi Mud Cake is irresistable! You may even find yourself eating it straight out of the pan while the frosting is still warm! Get a lot of napkins!
Serve Warm or Cold !
We always serve this warm straight out of the oven when the cake and marshmallows are still warm and oozing, similar to a lava cake! The photo below perfectly shows how the 'slices' come out looking like there is actual mud topping the cake.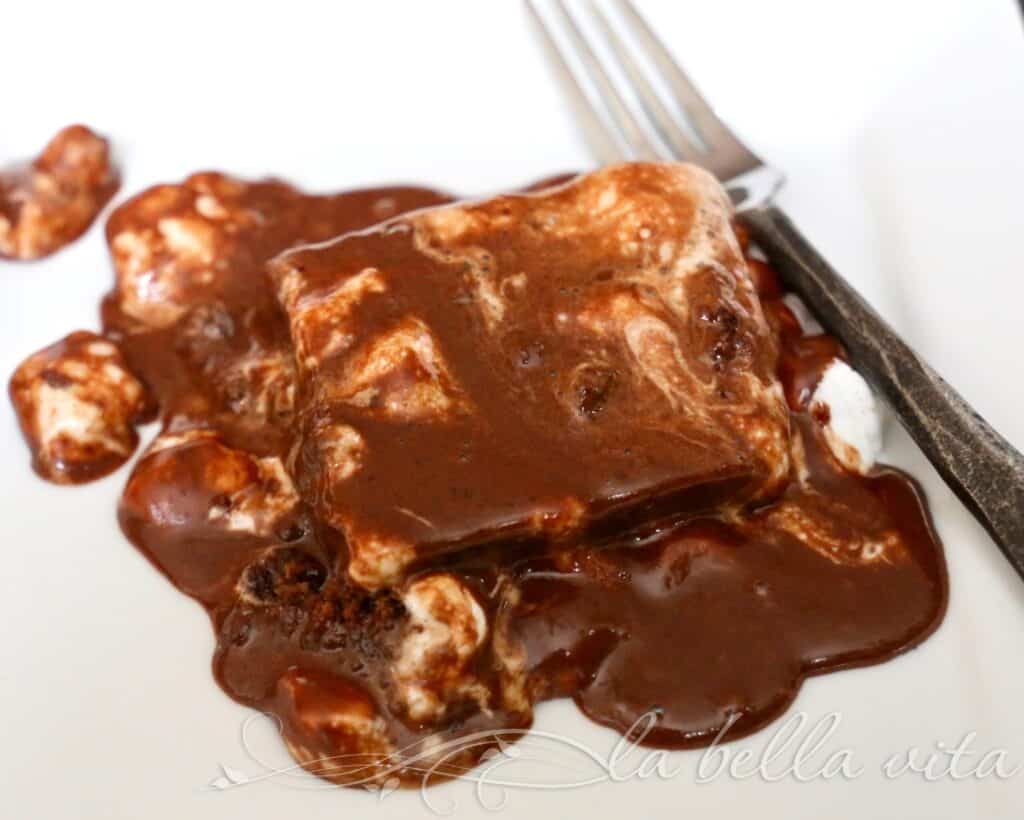 Just a note: If you wait to eat this cake, the frosting 'gels' a bit. If that happens, just pop it back in the oven to melt things down a bit more. But it really is better right out of the oven!
This cake is chocolate paradise! After just one piece of this cake, it's TRULY back to my diet for me after indulging in this cake!
Does Mississippi Mud Cake Need To Be Refrigerated ?
No, it doesn't need to be kept in the fridge; it keeps at room temperature just as any other cake would.
Pour the hot frosting on to melt into the cake!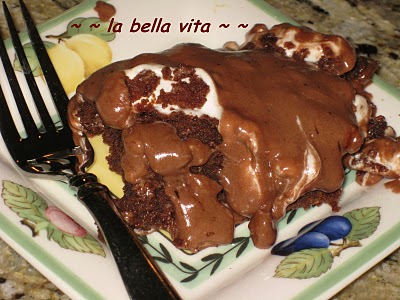 Photo above shot on my old point-and-shoot camera in 2010
Print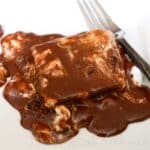 Ooey, Gooey Mississippi Mud Cake
Author:
Prep Time: 15 minutes
Additional Time: 0 hours
Cook Time: 25 minutes
Total Time: 40 minutes
Yield: 12 servings 1x
---
Description
This Mississippi Mud Cake is a chocolate lovers dream! A delicious chocolate cake with a layer of fudgy brownies, melted marshmallows, and warm chocolate frosting. This cake is irresistible and your family and guests will beg for seconds! Have ice cold milk and/or water for your guests to drink because this is super sweet. Steaming hot cups of java would also go well with this decadent cake!
---
For The Cake
1 cup (2 sticks) butter
1/2 cup cocoa powder
4 eggs, beaten well
1 tsp vanilla extract
2 cups sugar
1 1/2 cups all purpose flour
1/4 tsp salt
For The Frosting
One 16-ounce box (3 1/4 cups) powdered sugar (I'd cut this in half to decrease the sweetness)
1/2 cup cocoa powder
1/2 cup (1 stick) butter, melted
1/2 cup milk (add more if it is too thick to 'pour' over the cake) **
1 tsp vanilla extract
4 cups mini marshmallows
---
Instructions
To make the cake
Heat the oven to 350F. Grease and flour a 13×9 inch pan.
In a medium saucepan combine the butter and cocoa powder and cook over medium heat, stirring now and then, until the butter is melted and the mixture is well blended.
Stir in the beaten eggs, vanilla, sugar, flour, and salt and beat until the batter is well combined and the flour has disappeared.
Quickly pour the batter into the prepared pan and bake for 25 minutes.
While the cake bakes, prepare the frosting so it is ready to pour over the hot cake.
For the frosting
In a medium bowl combine the powdered sugar and cocoa powder; mix well.
Add the melted butter, milk and vanilla; beat everything together well.
Set aside until cake is done.
Remove cake from the oven, scatter marshmallows over the top and then return the cake to the hot oven for about 3 minutes to soften the marshmallows.
Place the cake, still in the pan, on a wire rack.
Pour the frosting all over the marshmallow covered cake.
Cut the cake into squares and serve.
---
Notes
** You may also substitute buttermilk for a richer, tangier chocolate frosting. It goes well with the super sweetness of the frosting and the super sweetness of the marshmallows.
Serve with glasses of cold milk, ice water or steaming cups of coffee due to the level of sweetness of this delicious cake.
The frosting is warm and gooey upon the first pour and is magnificent to eat at that point, however:
The frosting becomes more 'jelled', but not hard as it cools. If you want it more gooey and fluid, just put the cake in the oven again at 350 degrees for about 5 – 10 minutes (keeping a good eye on it) to soften the frosting and to re-warm it. YUM!!!!
Keywords: chocolate cake, Mississippi Mud Cake, chocolate dessert, Mississippi Mue Pie
Recipe first posted 2010, updated February, 2020
This post contains affiliate links, please read Disclosure Policy
I hope that you this SWEET, GOOEY, FUDGY and SINFULLY RICH treat of a cake!
If you do make this cake, it would be so great if you'd snap a photo and share on Instagram using #italianbellavita! Everyone would love to see it! Plus also send me your photo and I'll share it both on the blog and my Facebook blog group page!
More Delicious Chocolate Dessert Recipes That You May Enjoy!
Chocolate Trifles with Raspberries and Chocolate Ganache
Espresso and Chocolate Tres Leches Cake
Chocolate and Nutella Mini Cheesecake Bites
Products to help you in the kitchen that are super affordable:
Set of 2 non-stick 13″ x 9″ Baking Pans
Set of 3 Glass Pyrex Mixing Bowls

I'd be honored if you FOLLOW ME on PINTEREST, FACEBOOK, and INSTAGRAM for more great recipes!
Do you enjoy La Bella Vita Cucina?