The ULTIMATE Nutella Panini with Bananas, Strawberries, and Macadamia Nuts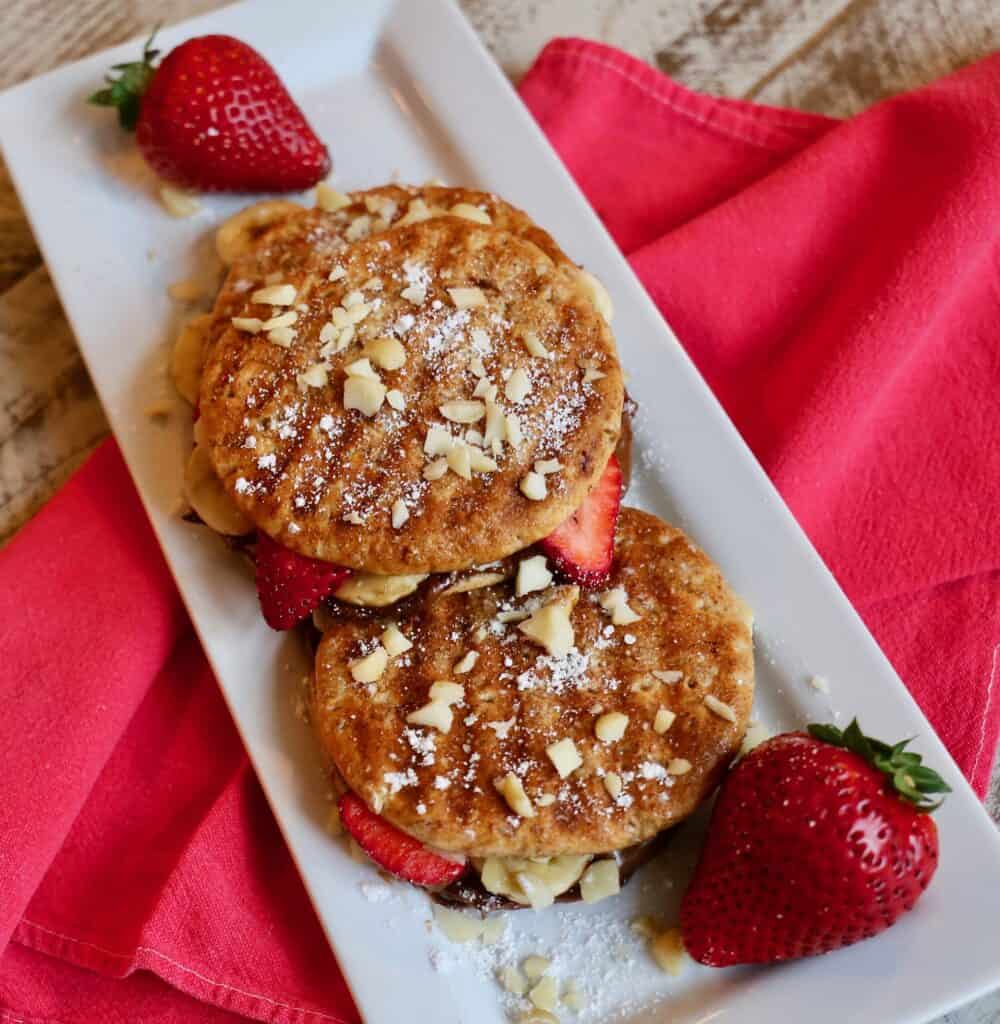 My family simply cannot resist Nutella! I started my kids' Nutella obsession back in the 90's and the passion for this Italian imported hazelnut spread hasn't stopped since! It all started with this 'can't-say-no-to' Nutella Panini with Bananas, Strawberries, and Macadamia Nuts!!
Good reason: Nutella is absolutely fantastic!
I could literally just eat it straight out of the darn jar!
All of our weight-watching diligence, discipline, and self-control is tested for sure with Nutella in the cupboard or pantry! But hey, every now and then a little splurge doesn't hurt, right? You have to live a little, so why not include some sweet Nutella indulgence every now and then?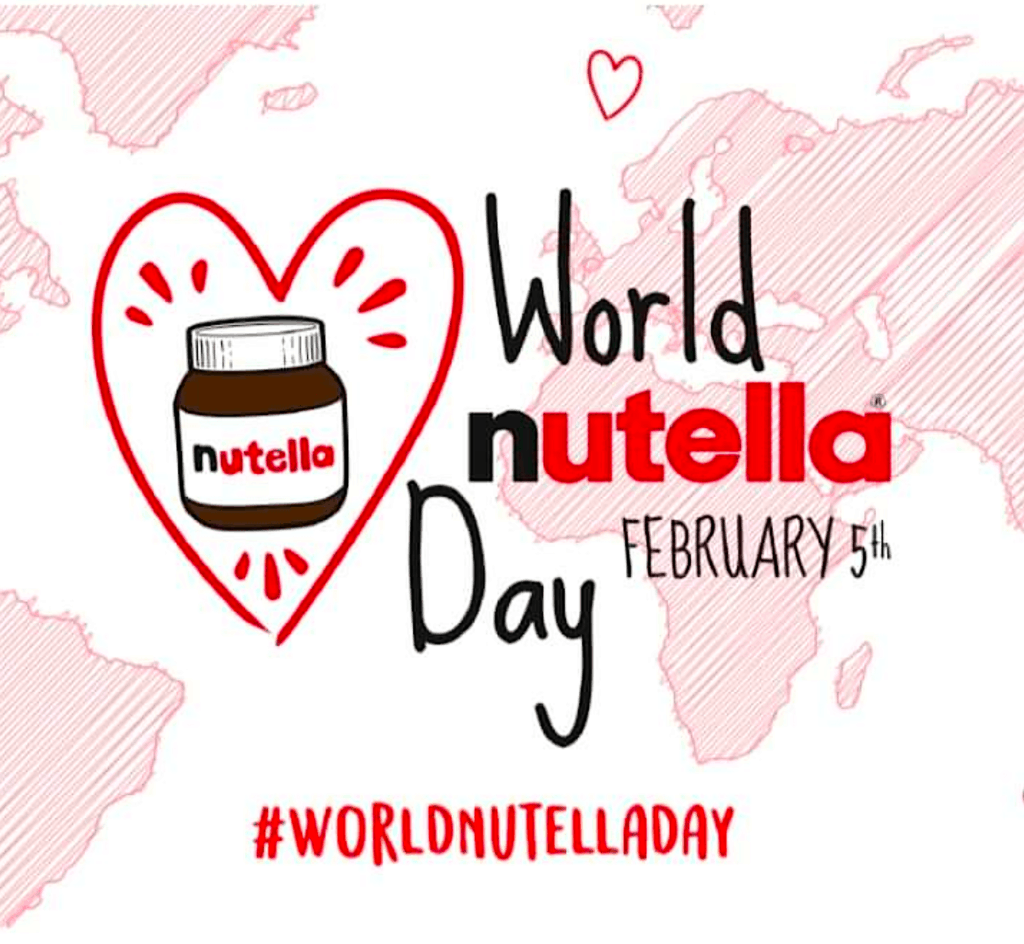 And you know what? It's that time of year when everyone literally around the globe celebrates this amazing Italian spread because:
You really need to check out this opportunity that Nutella is giving for an absolute FREE, yes, FREE trip to Italy. I'm heading there as soon as I finish typing up this blog post. I want to go to Italy for FREE just like everyone else!!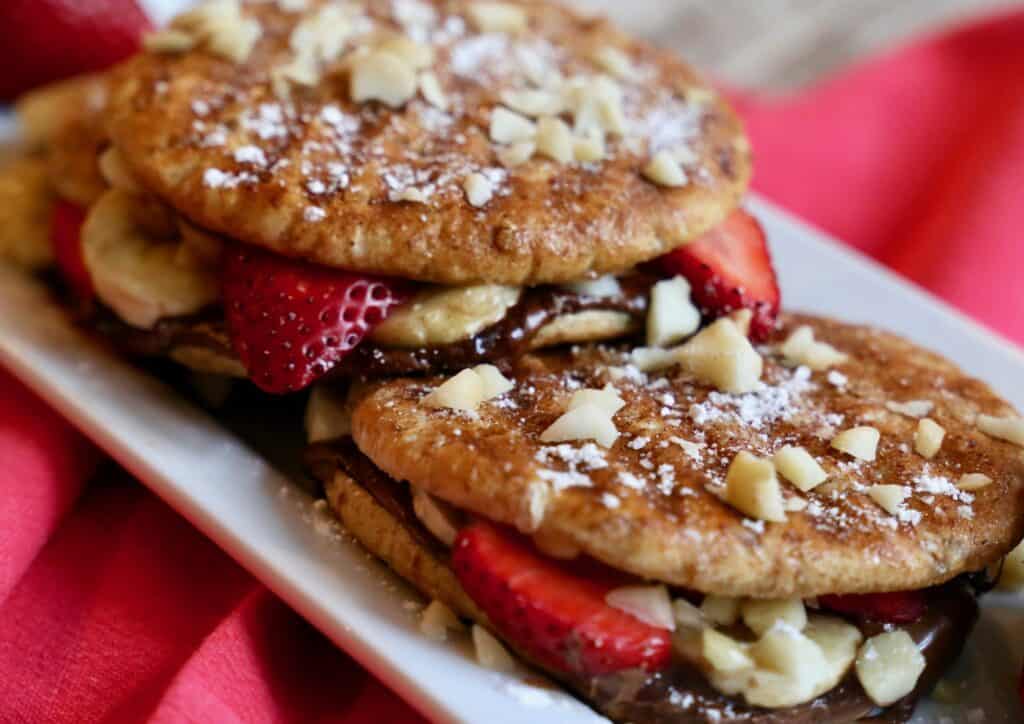 Bananas, strawberries with Nutella may sound weird to some, but the combo is simply incredible and irresistable once you try it! I love this marriage of fruit with chocolate and hazelnut so much that I am exceptionally good at tricking my brain into thinking that I'm really eating something healthy when I indulge in half of a banana dunked straight into a jar of Nutella!
But who am I kidding?
And since today is World Nutella Day, I knew that I had to make our favorite dessert panini to celebrate the event and that highlights this favorite Nutella combination!
By now most of my friends know what Nutella is. But just in case, here's the low down:
Nutella is a brand of sweet hazelnut, cocoa, and sugar spread imported from the Ferraro Company in Italy.
Since 1940, when Nutella was introduced for children to enjoy for breakfast in Italy, the Ferraro company is now in 53 countries employing over 34,000 people along with operating 20 production plants around the globe!
The best Nutella is directly imported from Itally and not produced in an American food plant. Here's the link for the BEST NUTELLA!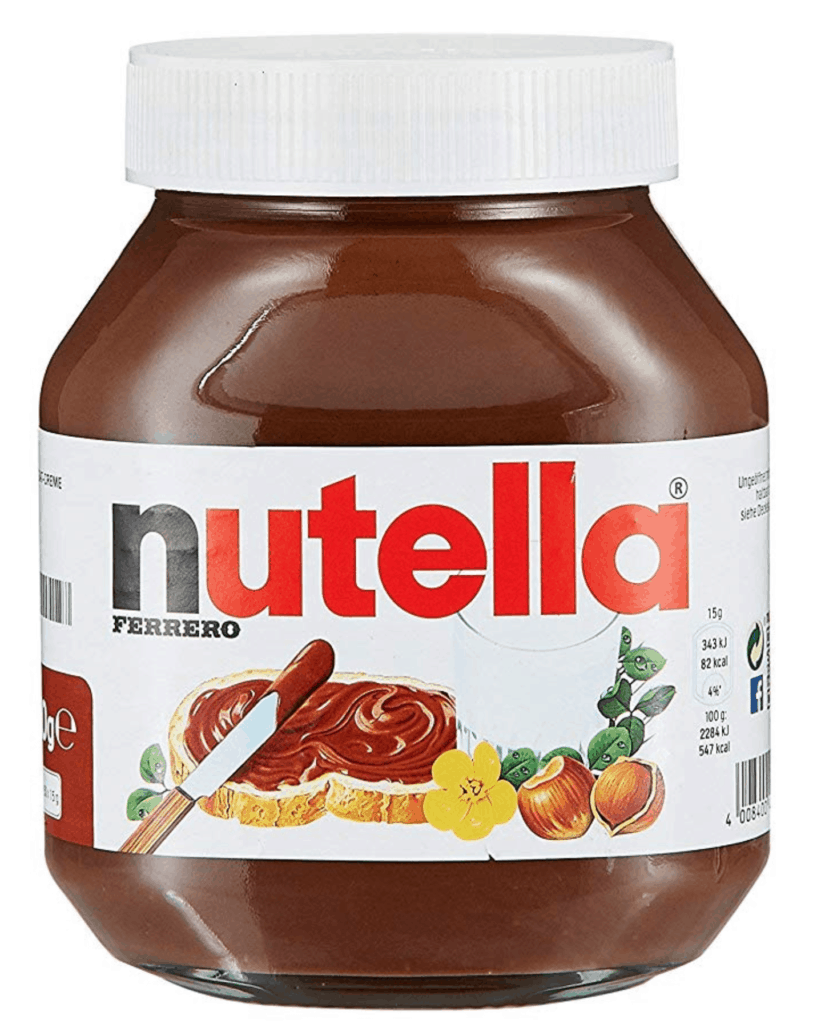 Nutella imported from Italy and not from the U.S., Poland, or elsewhere. This is the real deal and there is a difference in flavor!
So on to the recipe!
This Nutella panini isn't a complicated recipe . . . totally EASY! And it's sure to satisfy the sweet tooth of everyone in your family. They'll thank you for this delightful sweet treat, I guarantee it!
I make these for my grandchildren when they visit and they always beg for more everytime that they visit their Nonna (me)!
These Nutella panini are just loaded with warm, gooey, melted Nutella goodness and fresh fruitiness from the beautifully ripe strawberries and bananas. Adding some crunchy texture from the buttery macadamia nuts and sprinkled with a dusting of powdered sugar, they just become heavenly!
This recipe is easy to follow, requires minimal ingredients, and is SO delicious.
What makes these somewhat ordinary sounding dessert panini extra sweet and special is that they're grilled in a pool of butter, cinnamon and sugar, then sprinkled with chopped macadamia nuts, and dusted with powdered sugar. Now that's a sweet treat!
I bet you can't eat just one bite!

And I bet you'll have a messy face . . . but messy with a big smile on your face!
So set out all of your ingredients and heat up either your panini grill or heavy frying pan (if it has grill grids, all the better)!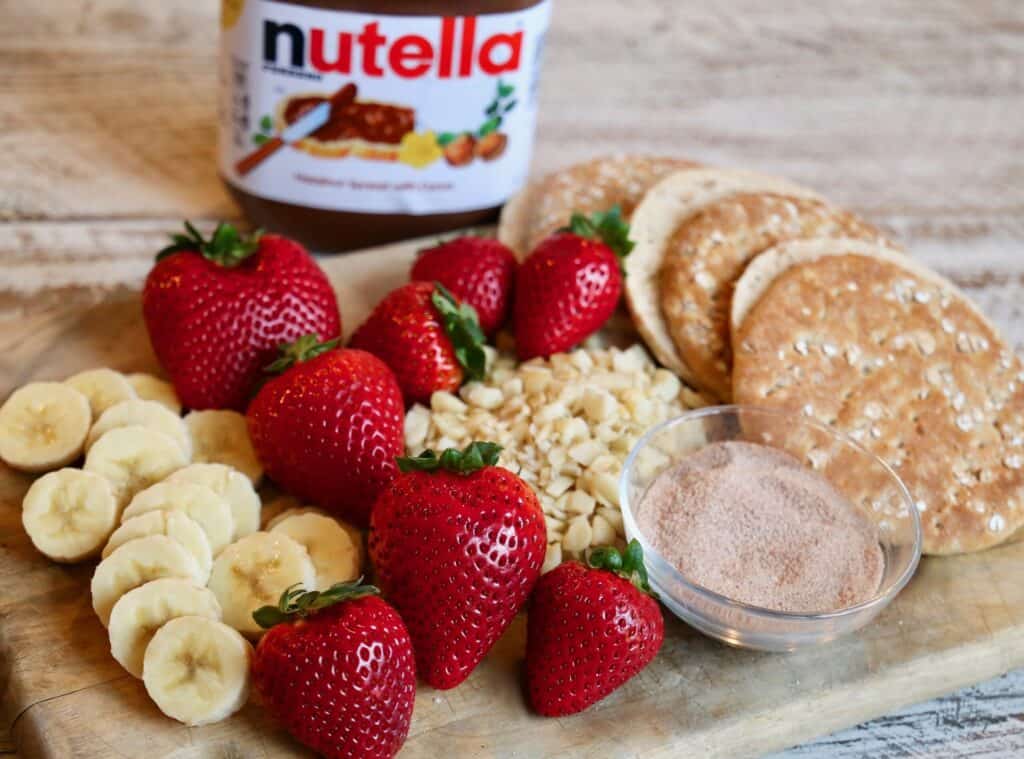 If you don't have a griddle pan, here's a best selling cast-iron Lodge skillet that's super reasonably priced!
Lodge cast iron skillet with griddle grill
Just stop a minute and take a look at these absolutely perfectly red strawberries! Mother Nature gifts us with such beauty, doesn't she?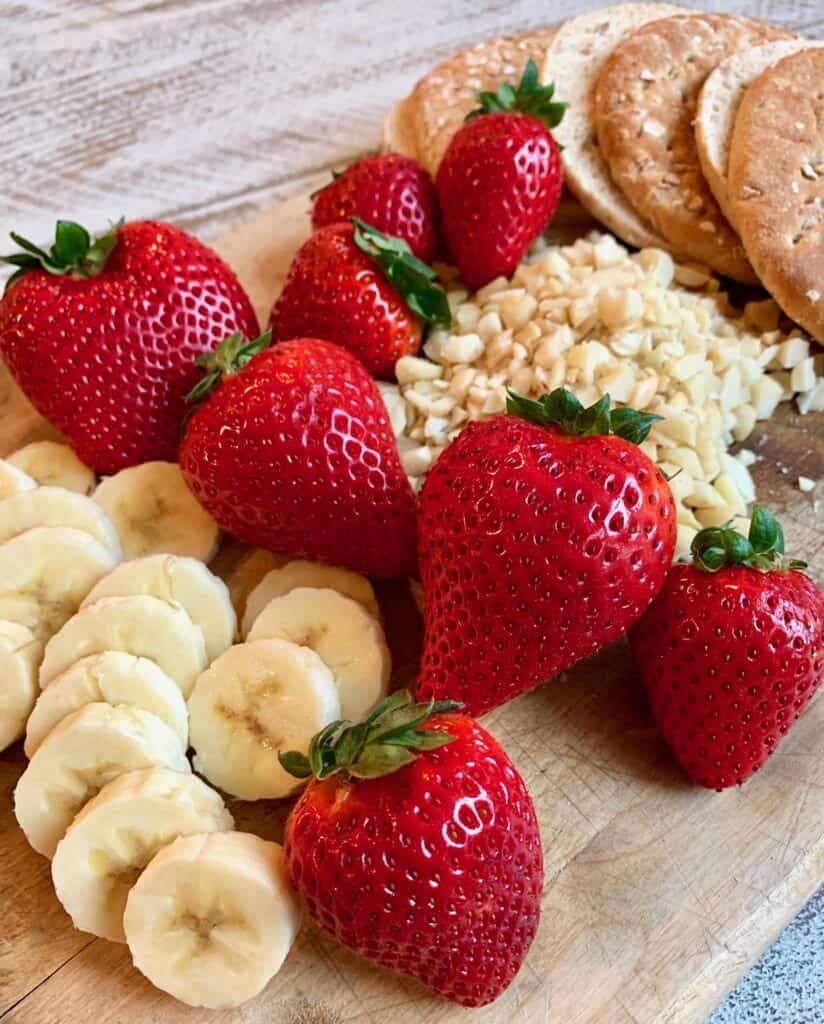 So on with a photo step-by-step guide to preparing Nutella Panini!
Begin by slicing the bread in half and then generously spreading the tops of the bread with butter and the cinnamon-sugar mixture.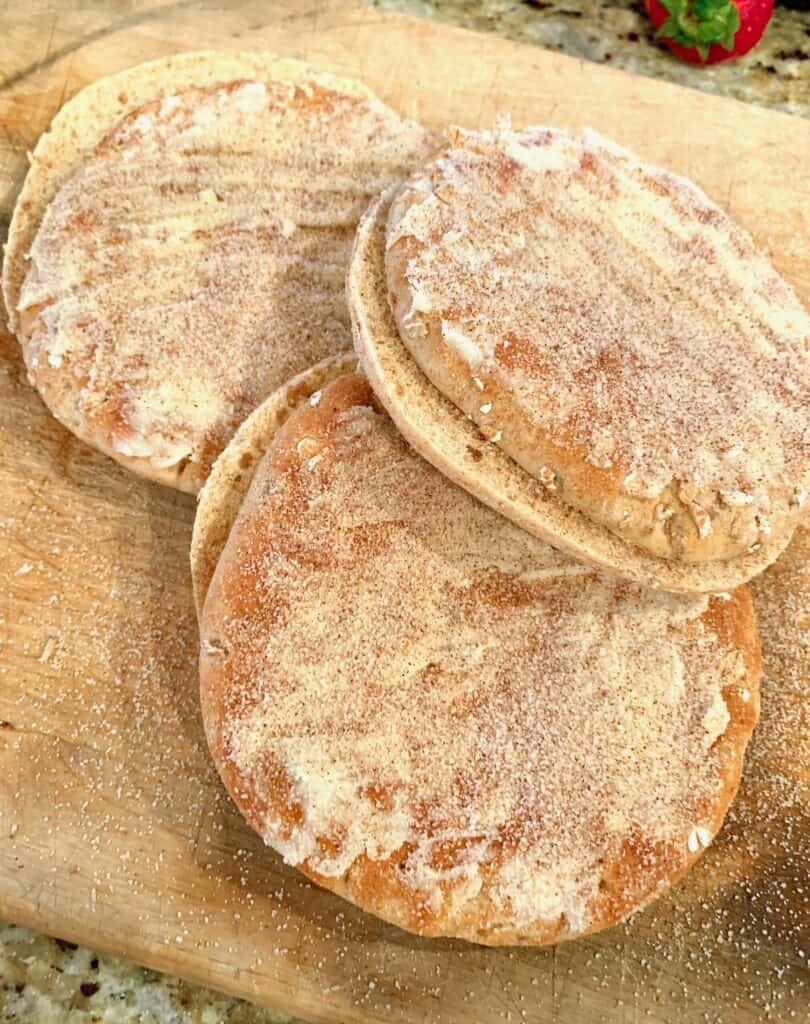 On the inside of the bottom halves of the bread, generously spread Nutella on each. I know you'll be licking the knife or spoon right about now!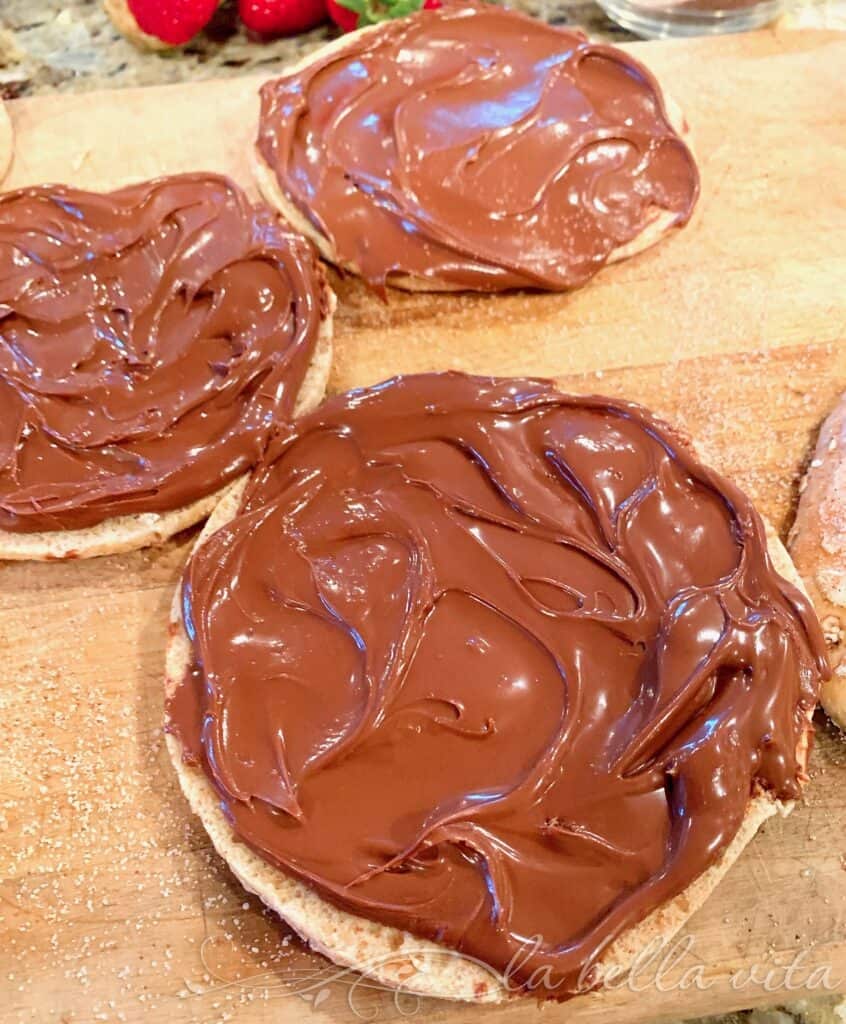 Arrange a layer of banana slices on top of the Nutella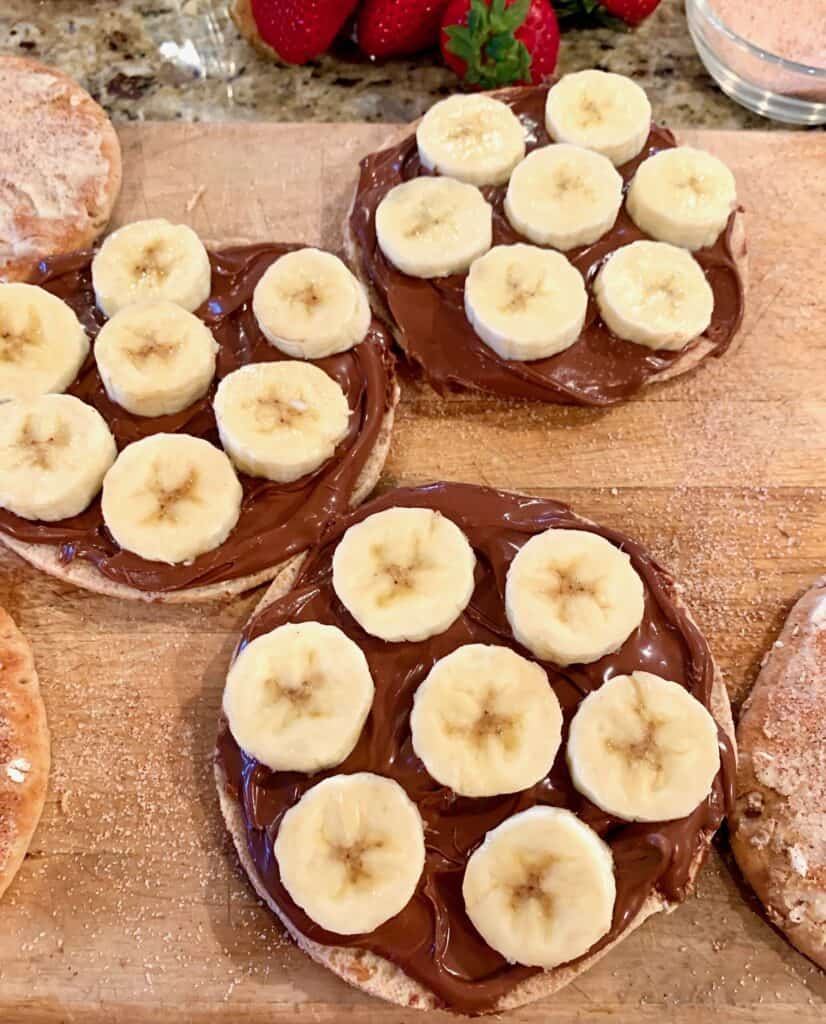 Arrange a layer of sliced strawberries on top of the bananas
Sprinkle a generous amount of chopped macadamia nuts on top of the strawberries
Place the buttered, cinnamon-sugar dusted bread tops on top. Don't press down on the panini.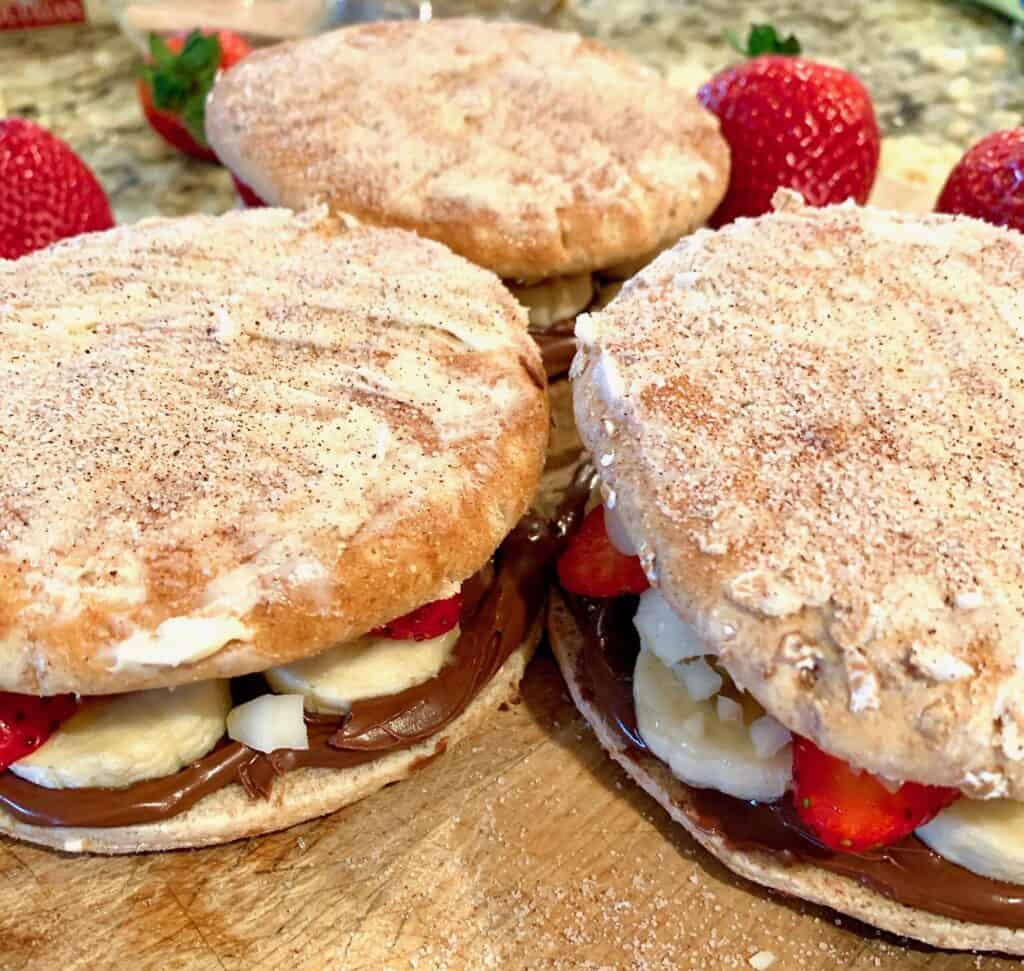 Pre-heat the panini grill with the setting on "Panini".
Spray the grill, both top and bottom, with cooking spray.
Place the prepared panini on the grill.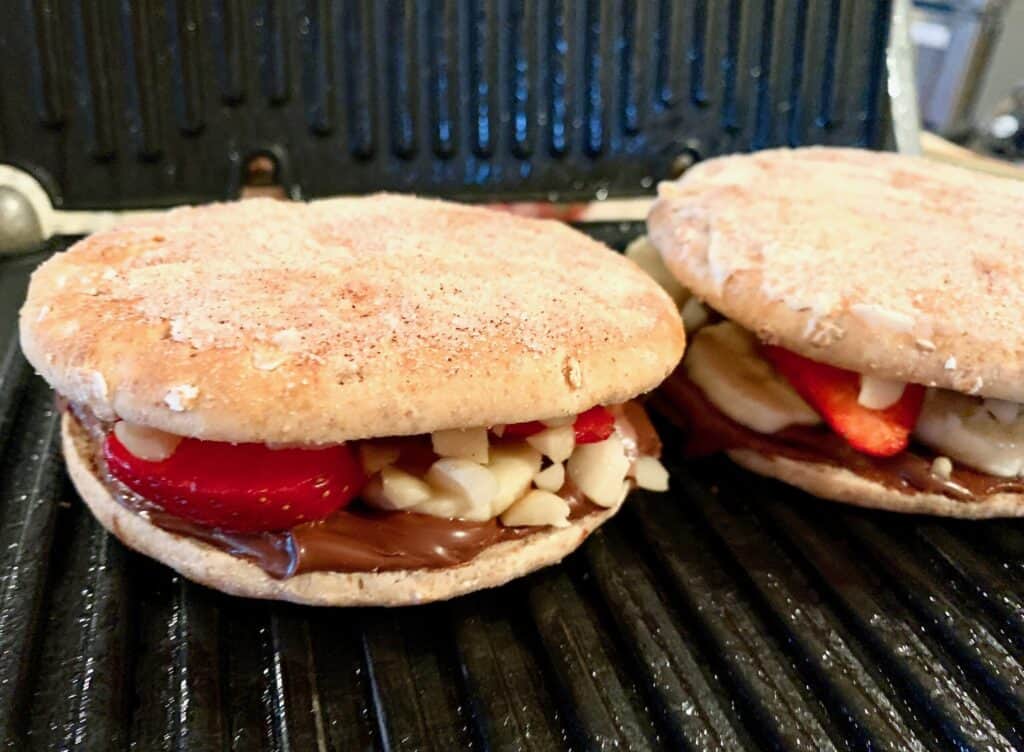 Close the panini lid lightly to grill until the Nutella is melted and the bread is a gorgeous golden brown.
Beautiful! All melted, nice and gooey, with a golden brown color!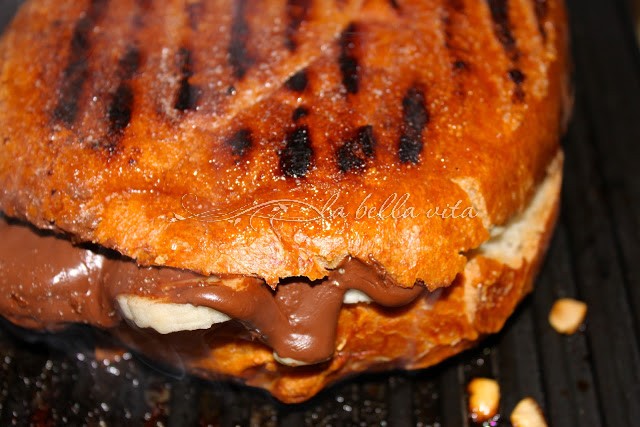 Sprinkle powdered sugar to dust the panini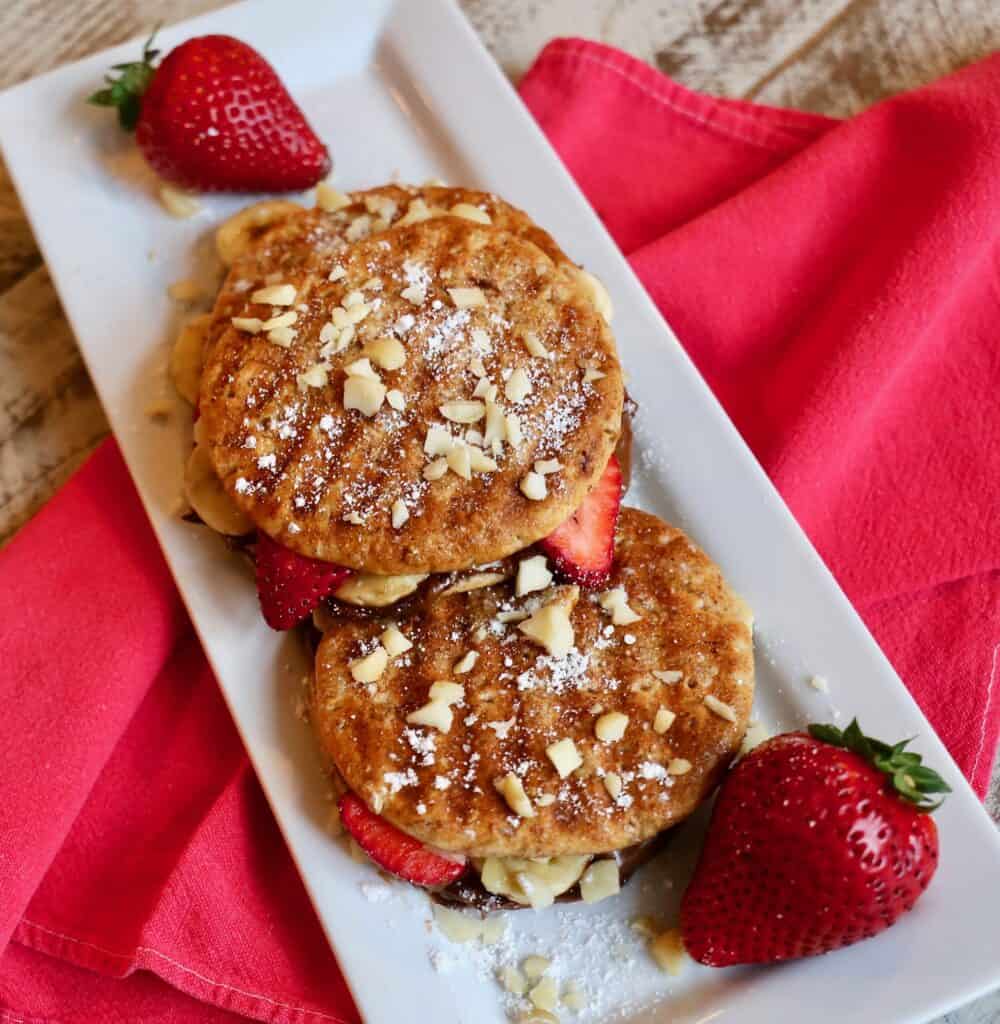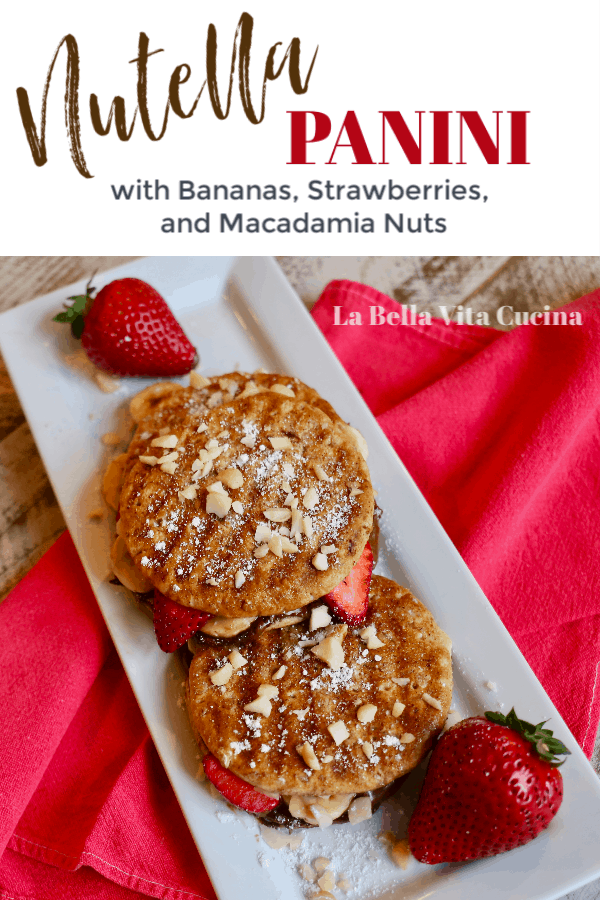 If you enjoy Nutella recipes, here are more 5-star, yummy recipe that I know that you will enjoy!
Nutella Stuffed Snowball Cookies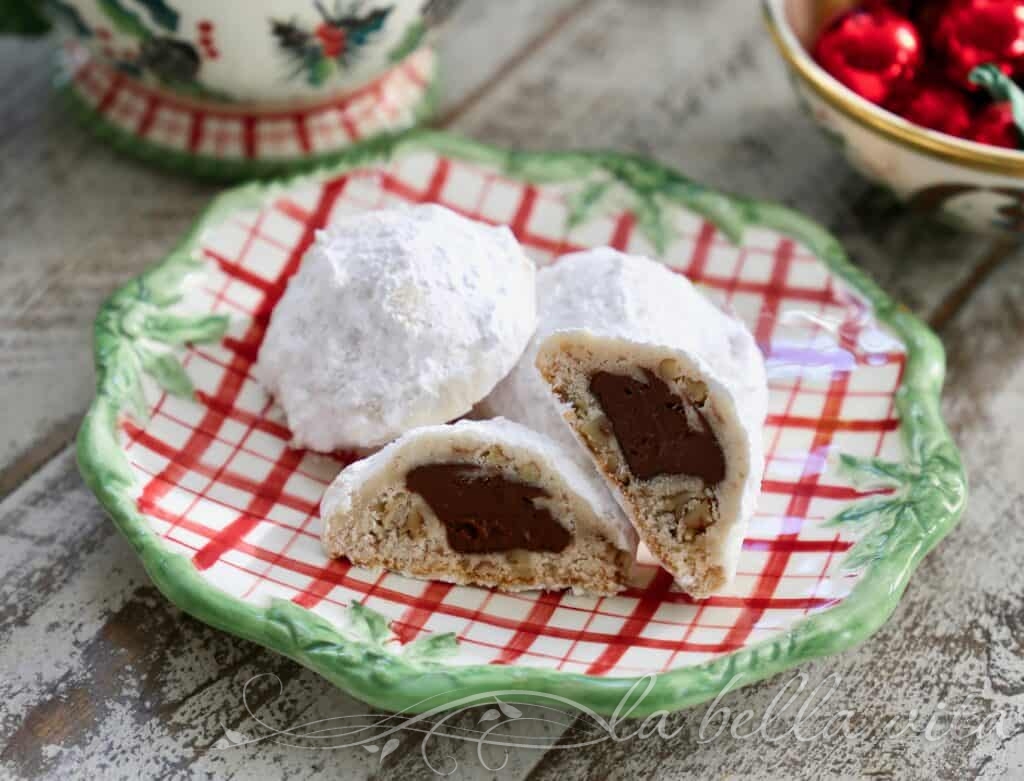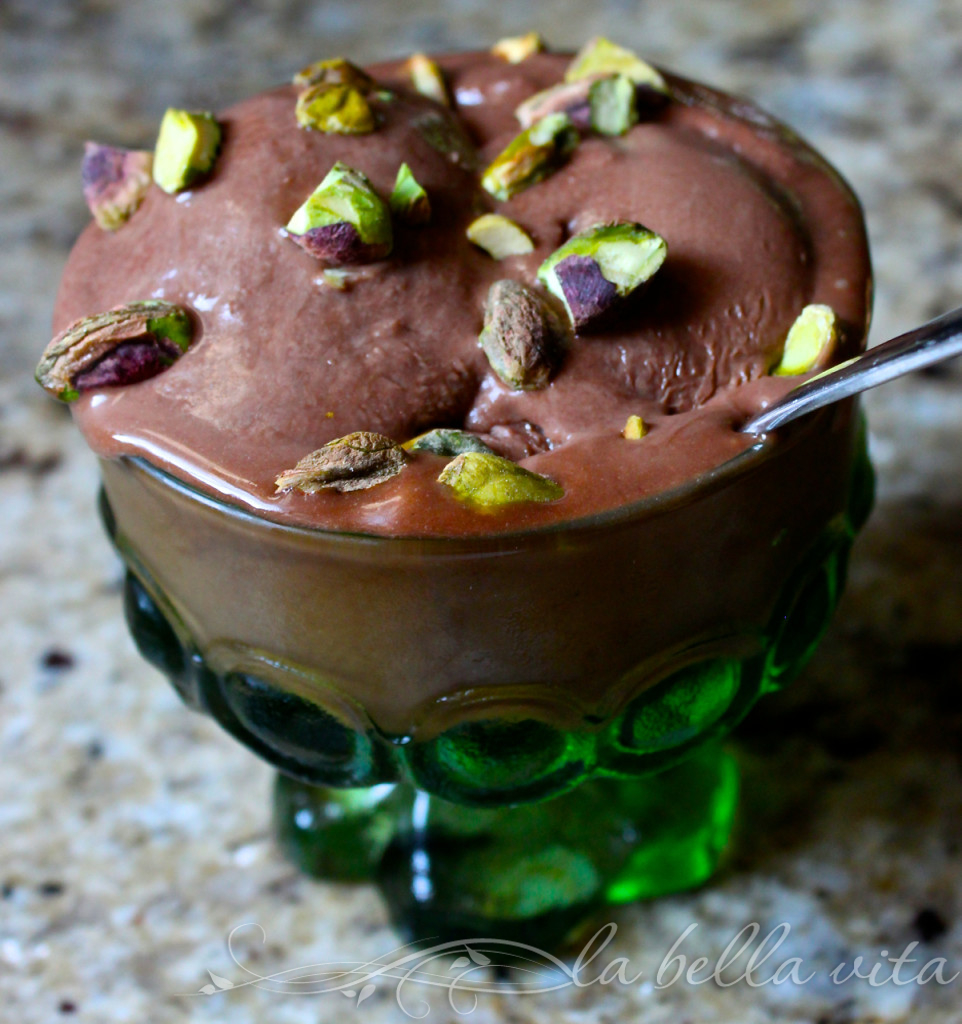 Original post: 2013 Updated: 2020
.
Print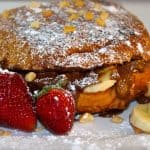 Nutella Panini with Banana, Strawberries, and Macadamia Nuts
Author:
Prep Time: 0 hours
Additional Time: 0 hours
Cook Time: 0 hours
Total Time: 0 hours
Yield: 2 panini 1x
Category: Panini / Sandwiches
Cuisine: Italian
---
1–1/2 sticks of butter, softened
1/4 cup sugar mixed together with 3 tablespoons ground cinnamon
3 ripe bananas, sliced 1/4″ thick
1 basket of strawberries, sliced (about 16 oz.)
4 – 8 slices small round Ciabatta or Italian flatbread (depending on how many panini you want)
1 small jar of Nutella chocolate-hazelnut spread
1/2 cup chopped macadamia nuts (or hazelnuts)
3 tablespoons confectioners' sugar
Whole strawberries, for serving
---
Instructions
Heat panini griddle to medium-high or large non-stick pan over medium heat.
Place the butter on the griddle to melt (do not use all of the butter if doing this in batches).
Spread some soft butter on the outer sides of the bread slices.
Sprinkle both sides of the bread slices with cinnamon-sugar mixture.
Place bread slices on the grill and cook for a few seconds so that the cinnamon sugar adheres to the bread (do not press the panini while doing this).
Flip over and do the same for the opposite side of the bread.
Spread each slice of bread with Nutella, as thick as you like.
Place a layer of sliced bananas on top of the layer of Nutella.
Spread a layer of sliced strawberries on top of the banana slices.
Sprinkle with macadamia nuts.
Grill until the bread is golden brown on each side and the Nutella is melted.
Remove from the grill and sprinkle with the confectioners' (powdered) sugar.
Sprinkle with more chopped macadamia nuts for pizazz.
Serve warm immediately with more strawberries on the side.
---
I hope you get a chance to make these mouthwatering Nutella Panini with Bananas, Strawberries, and Macadamia Nuts! If you do, I'd send you cyber hug for kindly leaving a high rating along with a sweet comment below!
.This post contains affiliate links. Please read our disclosure policy.