Stracotto di Manzo (Italian Pot Roast)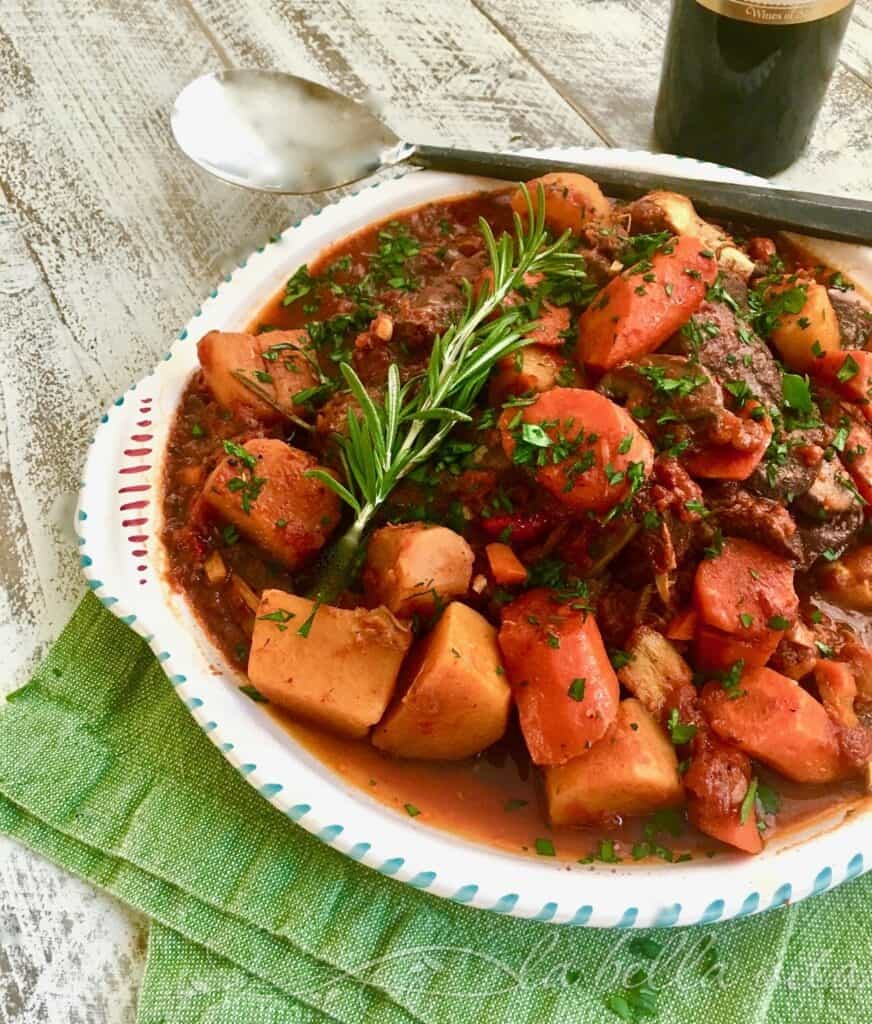 Stracotto di Manzo (Italian Pot Roast) is one of Italy's ultimate comfort foods. I ask you: "Is there anything more delightfully comforting when the winds blow cold than a slowly braised, melt-in-your-mouth pot roast?" Whenever you find yourself wanting something warm, filling, and richly satisfying, Stracotto is the perfect dish!
The first time that I made Stracotto di Manzo, I thought "Oh my God, this is just the best, the ultimate, the most heavenly and incredible Italian Pot Roast on THE. ENTIRE. PLANET!
This pot roast is now the end-all recipe in my search for the perfect pot roast recipe. It is just INSANELY crazy delicious!
Even though I've made pot roast many times, I've always wanted a recipe that is something to scream about. Several years ago, I literally spent days researching and reading dozens, and I do mean dozens, of recipes for Stracotto di Manzo (Italian Pot Roast) . . . and all from well-known and respected Italian cookbook authors. I compiled a basic foundation from all of the recipe similarities. I added any unique ingredient that differed from the other recipes that I thought would take a humble pot roast over the top in flavor. Success! Those ingredients totally took this pot roast out of the ballpark . . . it is a true home run winner . . . even a grand slam winner in terms of flavor from what I added to the pot.
Mr. Meat and Potatoes was delirious and speechless as he slurped this into his drooling mouth!
You simply cannot believe how your kitchen (and total home) smells like with the aroma of this pot roast drifting through. Even the mail delivery person asked what she was sniffing outside!
OK, so what did I do differently to this recipe than add the typical carrots, celery, onions, and beef broth?
Garlic (of course), rosemary, sage, thyme, basil, roasted red peppers, artichokes, both porcini and crimini (button) mushrooms, imported tomatoes and some seriously delicious Italian red wine from Stemmari — Nero D'Avolo!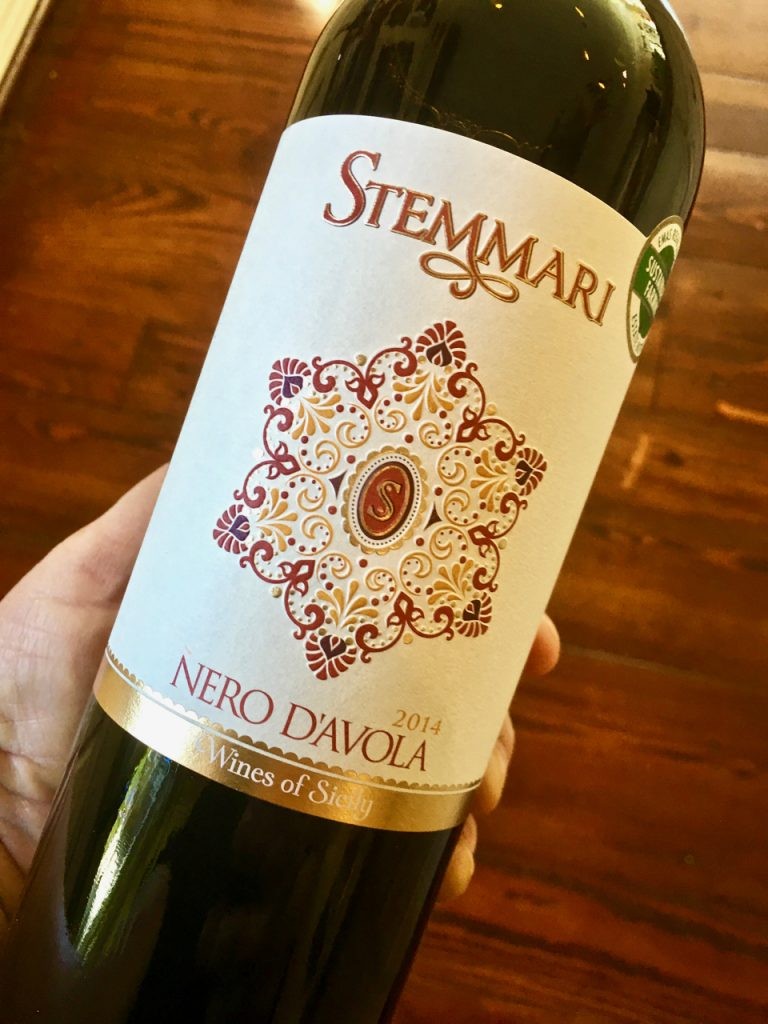 what is Stracotto?
Italians call a pot roast "stracotto di manzo", which simply means "overcooked beef". Don't let that description turn you away from this recipe. It simply means that the beef is allowed to simmer and stew to a perfect fall-apart, fork-tender texture. DELIGHTFUL!
Italian pot roast's uniqueness is in the braising liquid used. Like many Italian recipes, it has more tomatoes and red wine included that infuse a greater depth and complexity of flavor into the final sauce. On top of this, this pot roast has added herbal notes of basil, sage, and rosemary. Stracotto differs from a traditional American pot roast because you begin with making a customary Italian "soffrito" (as in most savory Italian recipes).
A "soffrito" is hands-down, the most important FUNDAMENTAL component in Italian cuisine: A base of chopped onions, carrots, celery and garlic . . . all of which are slowly cooked together for a brief time in olive oil. It's used as the base for most Italian savory recipes, especially sauces.
Soffritto means "underfried" and is described as "a preparation of lightly browned minced vegetables", according to the Italian restaurateur Benedetta Vitali.
Yet Stracotto is still just like American pot roasts in that the process of cooking it is still "low and slow" for several hours after a good hot sear. Similarly, it's the use of an inexpensive cut of meat that's transformed into a delicious comforting feast!
which cut of beef is used for Stracotto?
Chuck roast is the most preferred cut of beef for braising recipes. The tougher the cut of beef is all the better, but you can also any of the following:
Sirloin tip
Short ribs
Rump roast
Eye-of-round
7-bone roast
Brisket
Bu using tougher cuts of meat during a long simmering cooking time, the meat breaks down and with that a full-bodied richness develops in the braising liquid. And that's how the luxurious, velvety final sauce becomes incredibly delicious!
what is served with Stracotto?
Traditionally, in Italy, Stracotto is served after the pasta course (known as "il primo" or "the first course"). The preferred pasta is freshly-cooked tagliatelle along with the rich, velvety sauce of the Stracotto! Parpadelle, a more thick long strand of pasta is also fine if you like larger pasta shapes. Either way, simply amazing!
The pot roast itself is served as a "secondo" with the remainder of the sauce.
Stracotto is incredible served with a creamy polenta or risotto! There are a large amount of vegetables in my recipe, so you don't need to add a side dish of carrots or potatoes. Lots of options!
can Stracotto be prepared in a slow cooker?
Yes, it can, but you must first go through the beginning steps of sautéing the sofritto and searing the roast in a heavy skillet first. If you skip this part of the process and only use a slow cooker, you won't have either the beautiful dark color as well as the flavor that can only be achieved by sautéing and searing. Additionally, you'll lose the texture obtained from the oven roasting.
The time it takes to prepare a roast with the traditional method may sound daunting and you may be tempted by the speed of using a slow cooker, but the traditional method is so easy. Plus, during the oven roasting time, you can be relaxing, spending time with guests, or just doing other things.
how to make Stracotto – step by step photo instructions!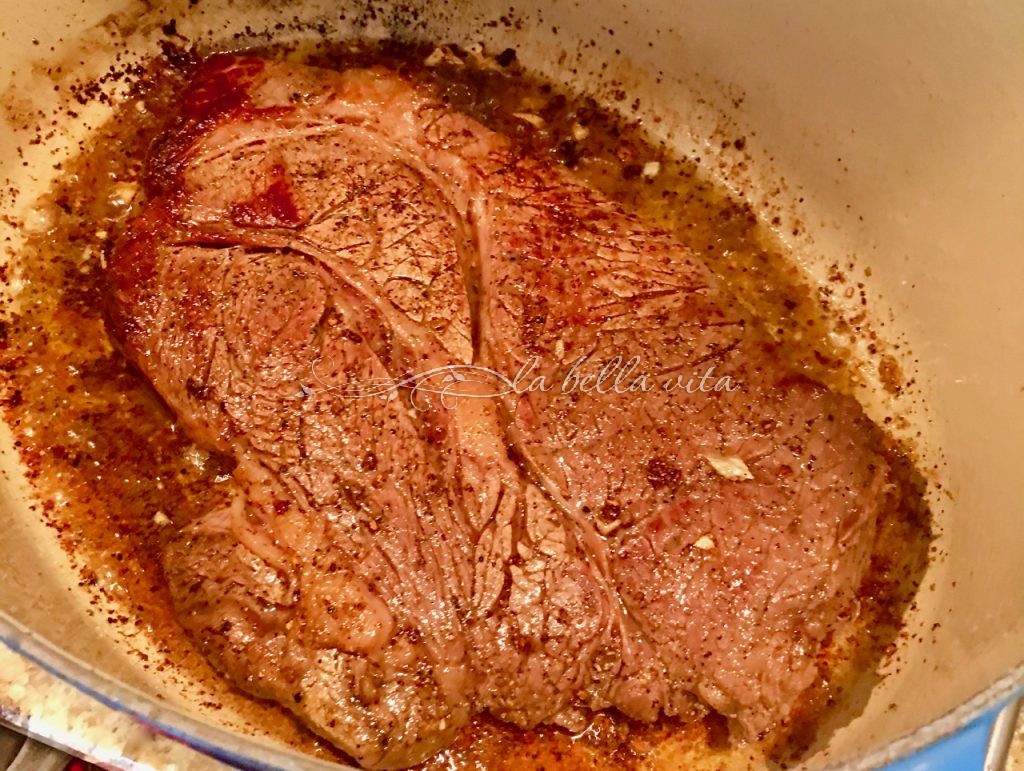 Season beef with salt, pepper, and any other dried seasonings that you prefer (I use salt-free Mrs. Dash).
In a large, heavy, cast-iron or enamel-lined cast-iron dutch oven pot with a lid (such as LeCreuset), heat olive oil on medium high heat, being very careful not to burn the olive oil.
Add the seasoned beef. Sear it to a nice brown on each side (turn over only once and no more than twice) while searing. Sear for about 7 minutes on each side for a total of about 15 minutes.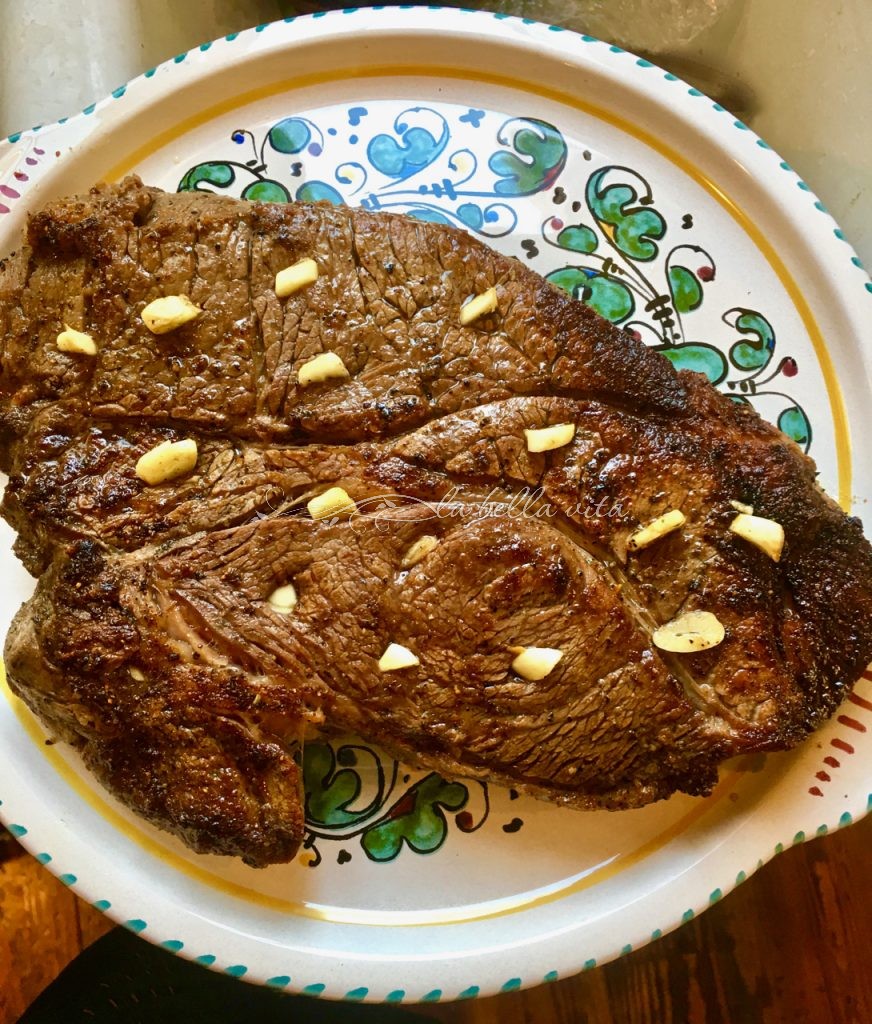 Remove the seared beef onto a platter to 'rest'. With a sharp knife, slit many holes in the meat.
Insert slices of fresh garlic in the holes.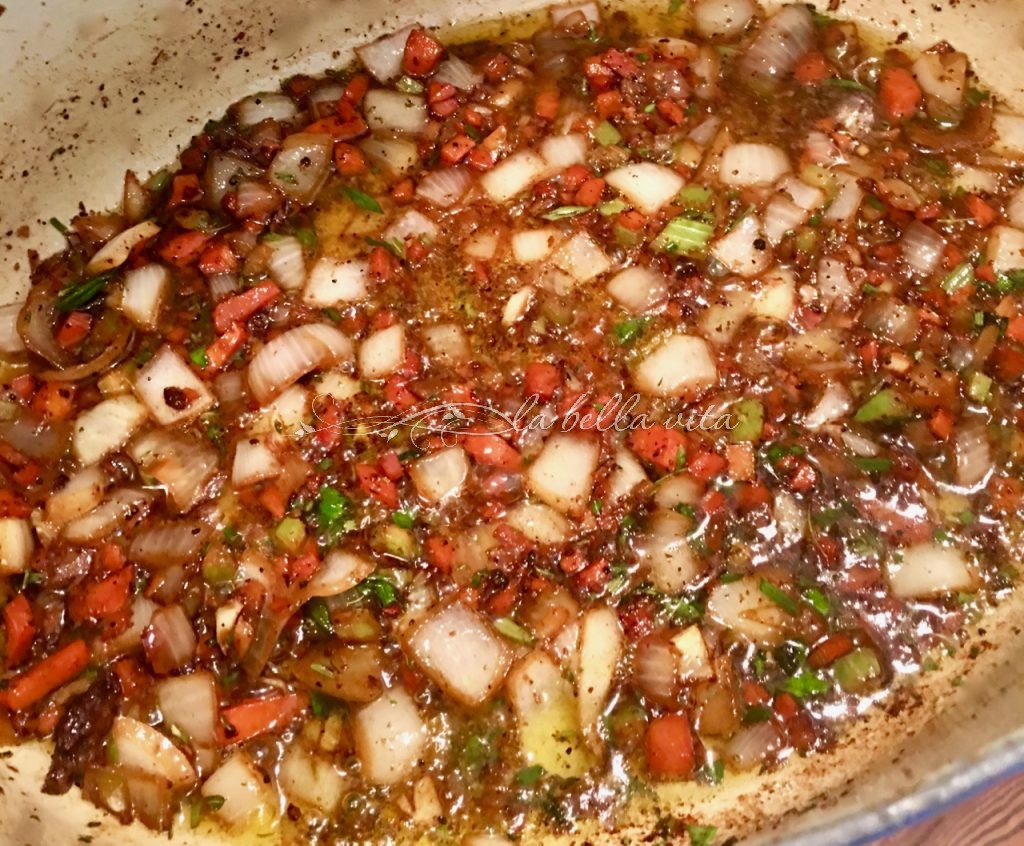 In the hot olive oil, add chopped carrots, onions, and celery (the sofritto). Add the pancetta (optional, but well worth the flavor).
Saute' for about 5 minutes.
Then add the garlic cloves to the pot and saute' for another 3 – 5 minutes, being careful not to burn the garlic.
Next, deglaze the pan with a about 2 Tbsp. deep, dark red wine (merlot or burgandy) and simmer until the wine is reduced but not completely evaporated.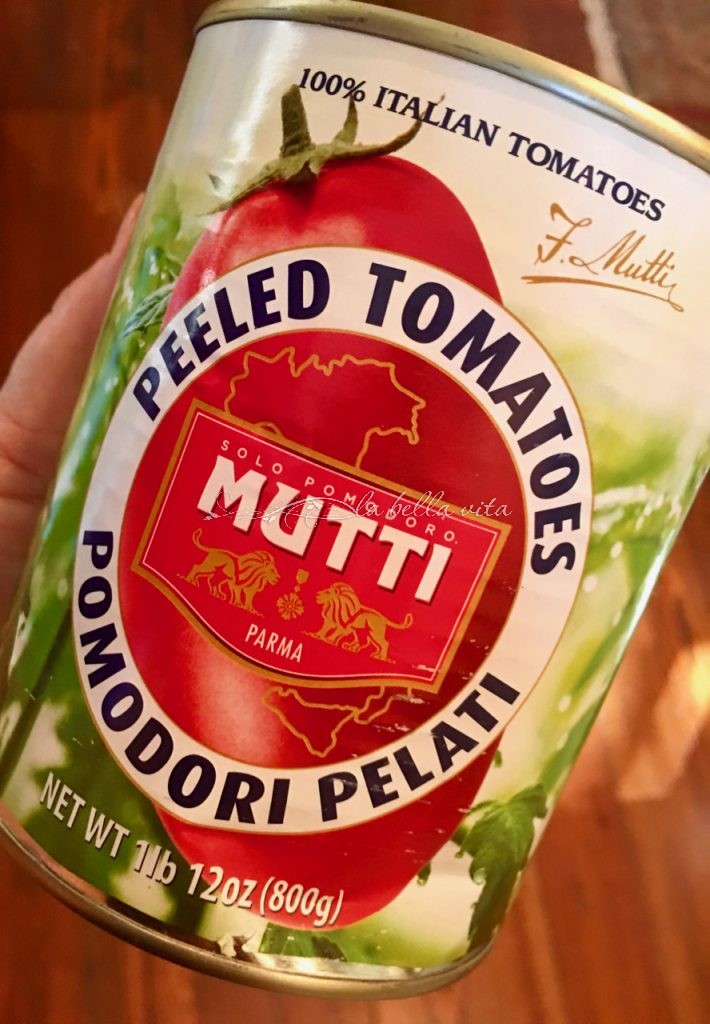 Add 3 Tbsps. tomato paste and the imported Italian tomatoes, making sure that you squish them as you pour.
I use "Mutti" brand (from Parma, Italy) for their superior flavor. This is the brand that my family in Modena uses and recommended it to me. You can purchase them through this link: Mutti Tomatoes from Italy.
Then add the remaining herbs (thyme, oregano, basil . . . but saving the Italian parsley and rosemary until the end)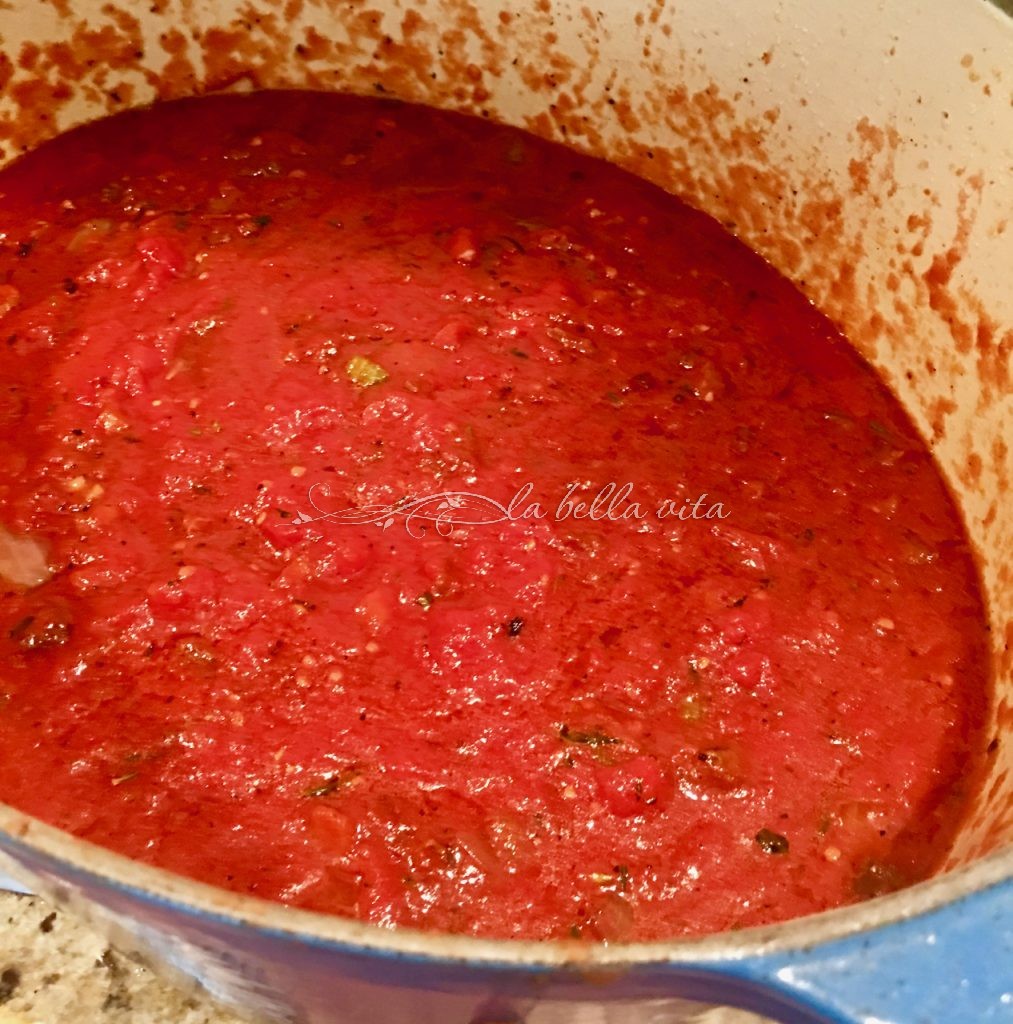 Gently stir everything together with a large spoon.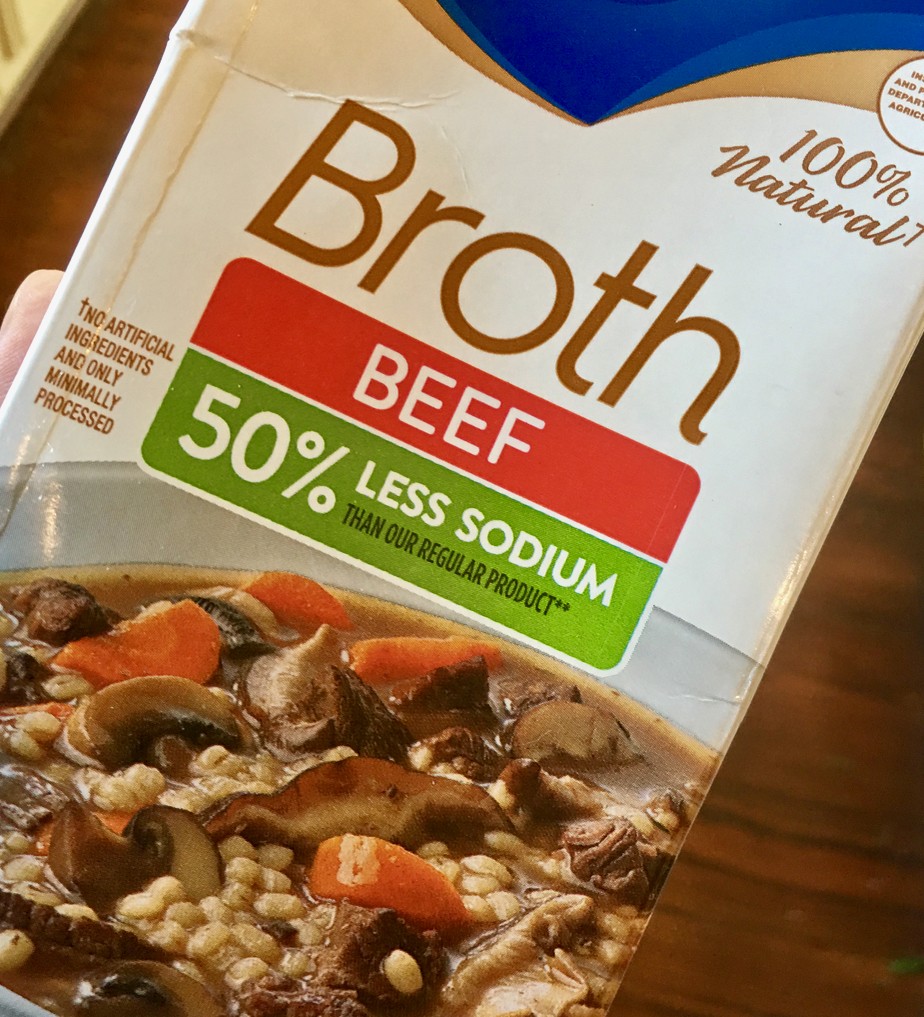 Add one tall carton of low-sodium beef broth. If you want a more beefy flavor, add a heaping tablespoon of "Better Than Beef" beef bouillion paste.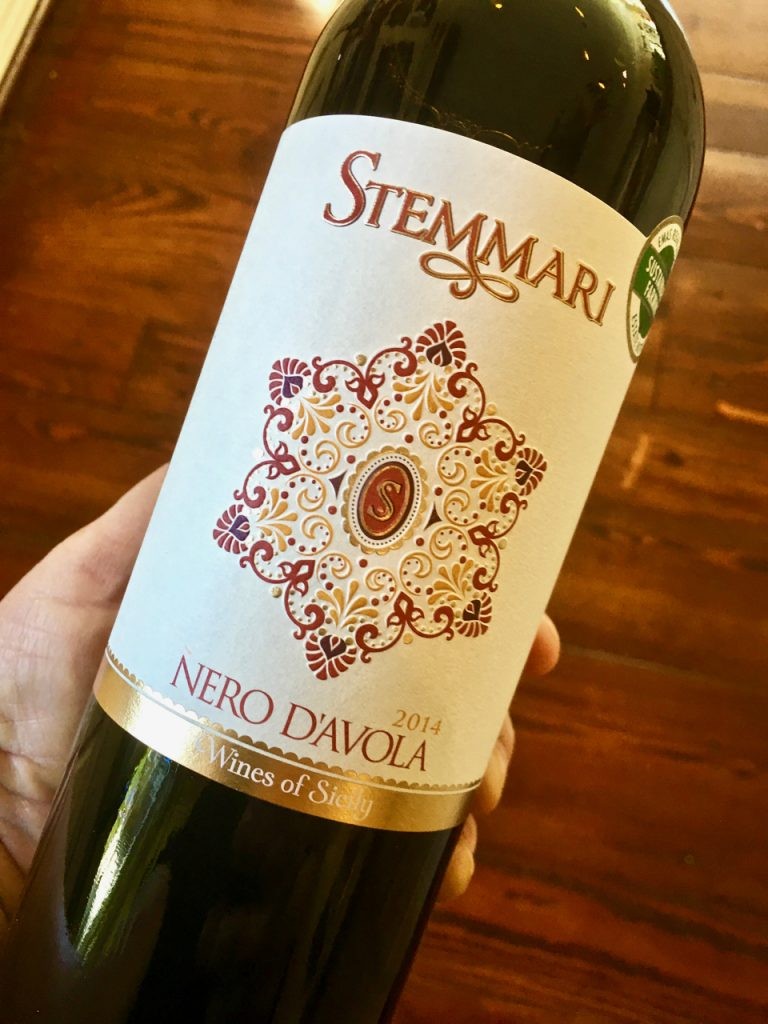 Add ½ cup of robust red Italian wine. For this recipe I used Stemmari's delicious Nero D'Avola red. It's superb!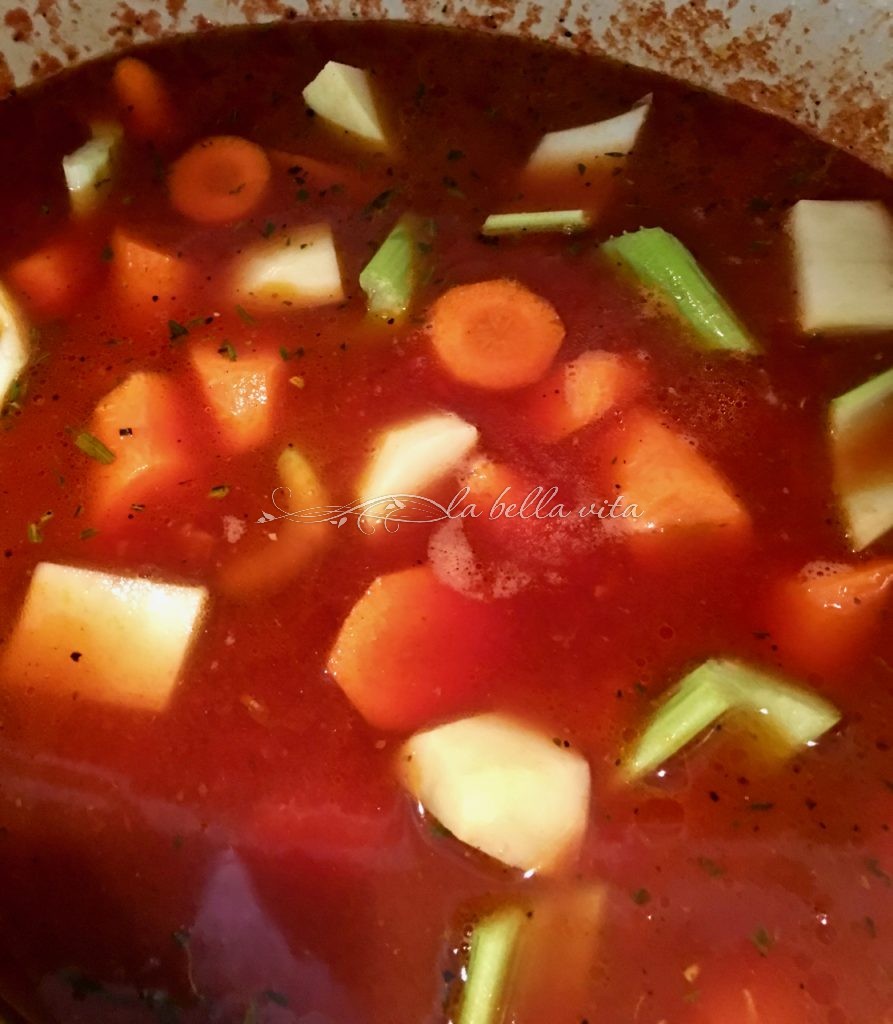 and the large cut pieces of carrots, celery, potatoes, and onions.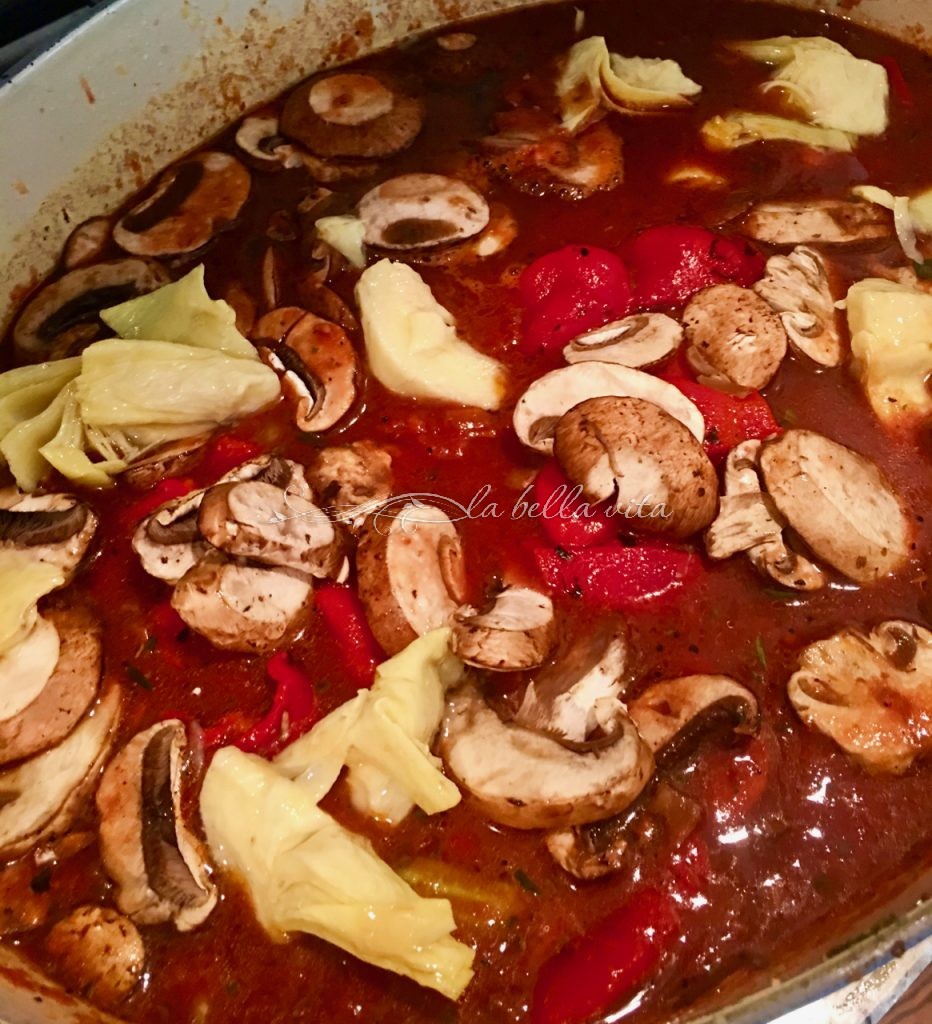 Add the 'over-the-top' ingredients: artichokes (drained), porcini and crimini mushrooms, and roasted red peppers (drained).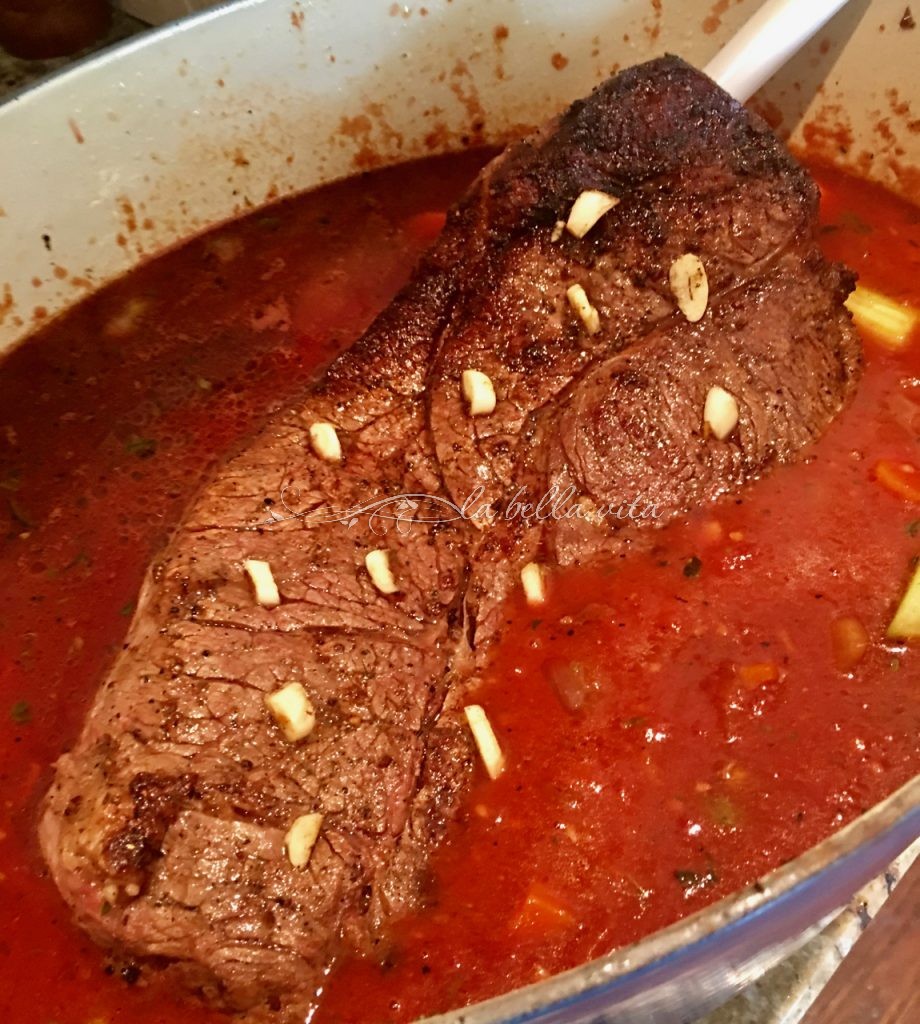 Place the seared beef with garlic back into the pot on top of the sauce and vegetables.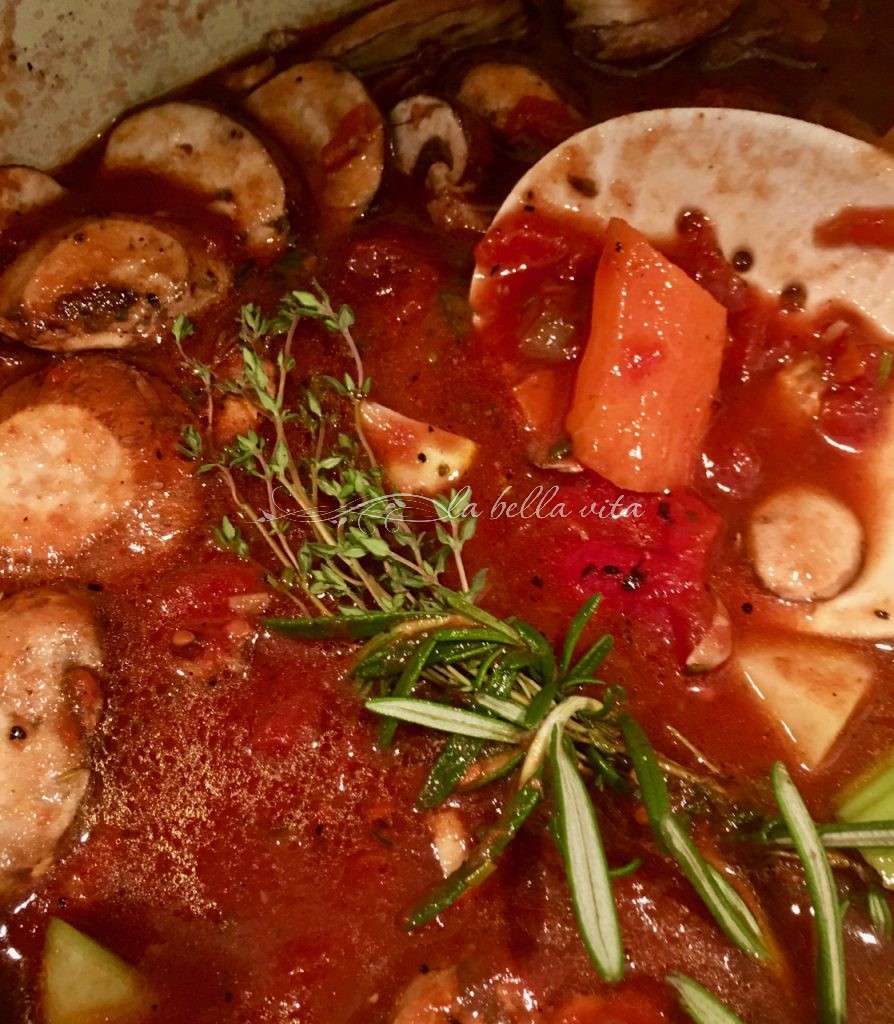 Add a few sprigs of thyme and rosemary.
Cover the pot, place in the oven to slow roast for 3 hours in a 325 F degree oven, turning the beef over once about half way through the cooking process.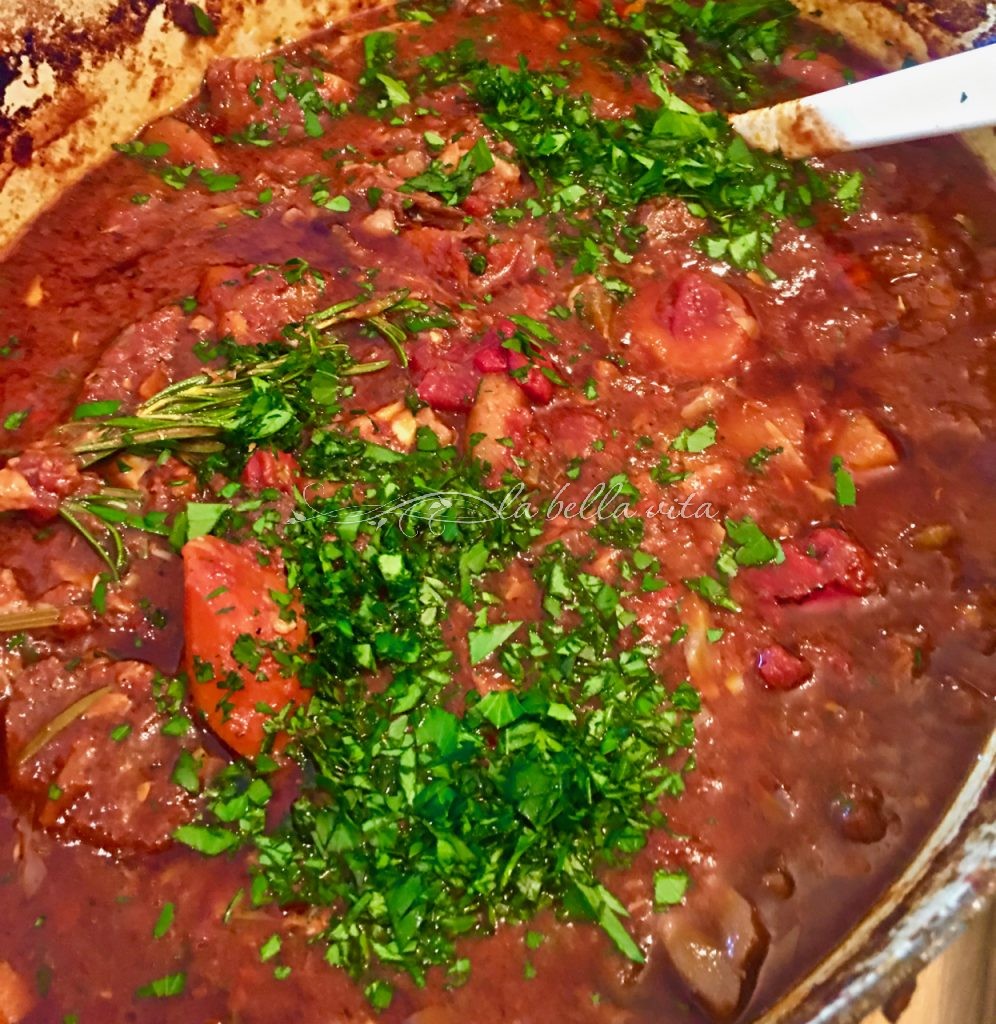 Add the chopped Italian parsley at the end so that the parsley flavor is more noticeable.
Gently and carefully move the cooked pot roast to a platter. Let it rest for ten minutes, covered loosely with aluminum foil. After resting, slice the roast into thick slices. It should literally fall apart easily though.
Lay the beef slices on a platter. Spoon the vegetables all over the beef.
Ladle the sauce over the beef and vegetables on the platter.
Remember to save some fresh herb sprigs to place on top for garnish.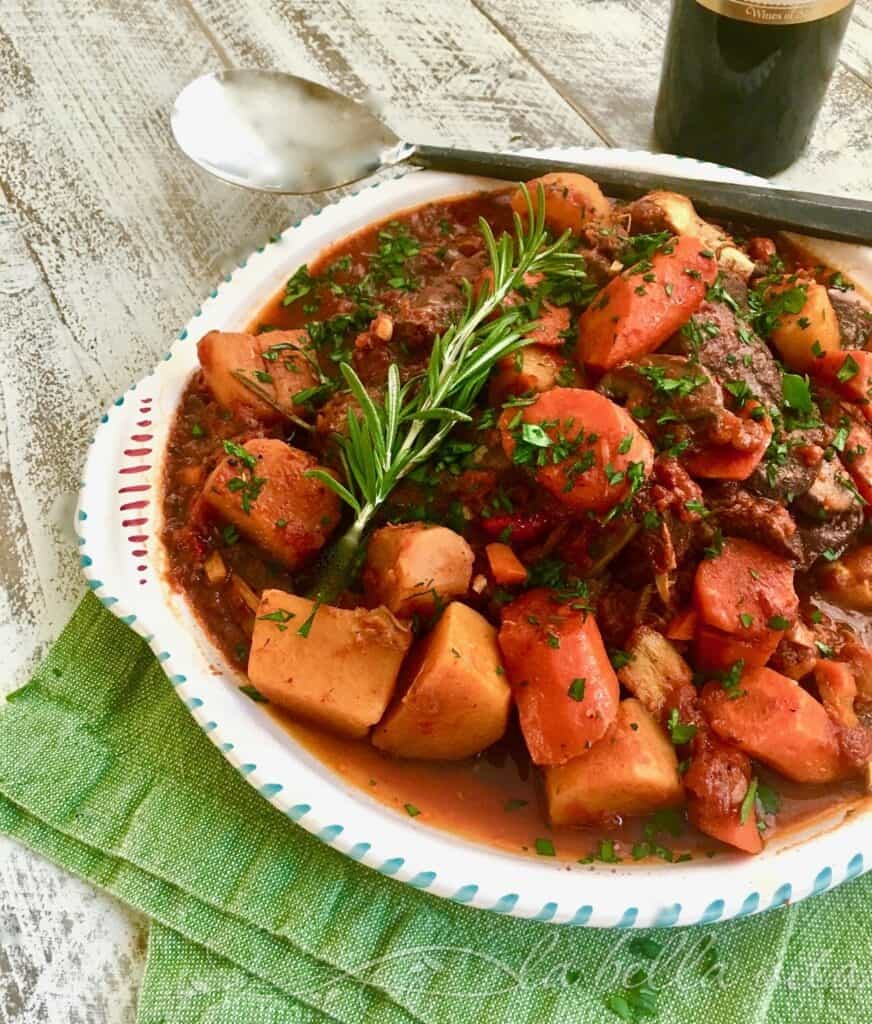 The color is just extraordinary too! We taste with our eyes first remember?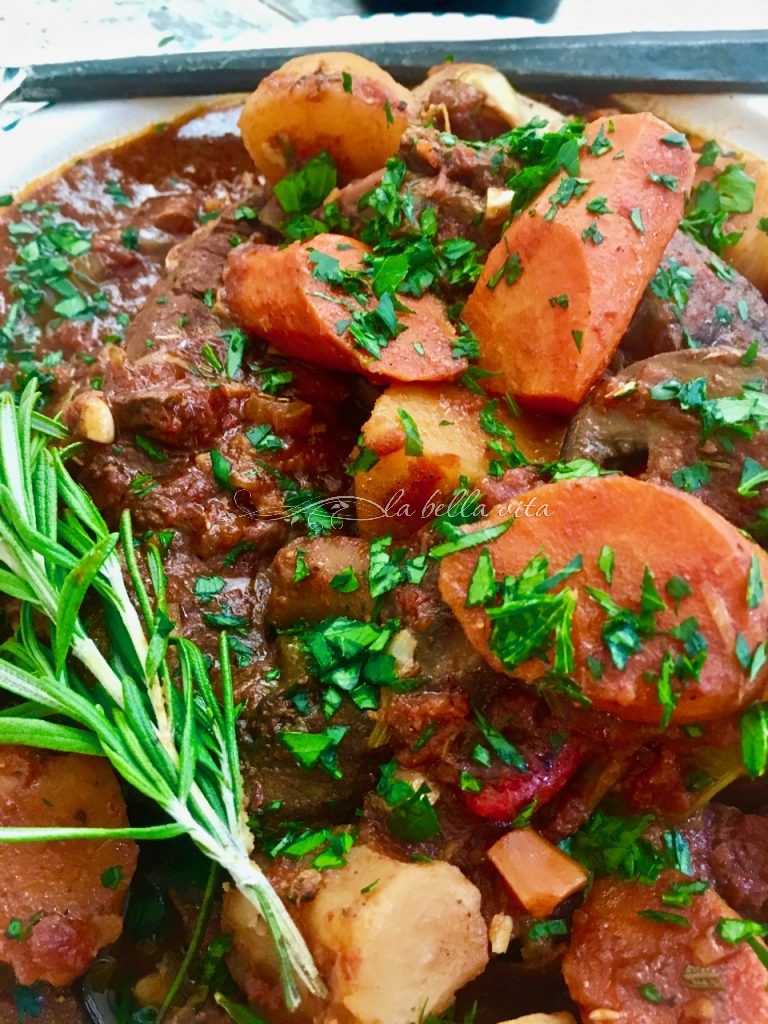 Are you ready to dig in?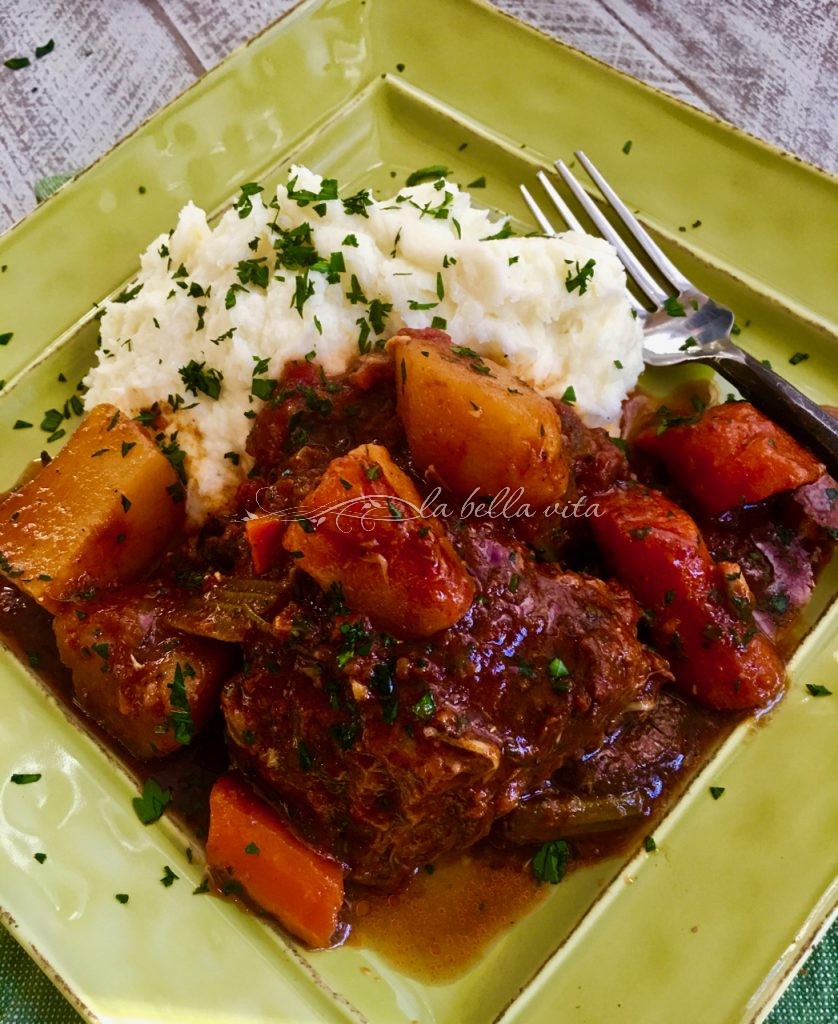 Serve with polenta, pasta, risotto or even garlic mashed potatoes! Pour the rich sauce all over!
Enjoy!

If you would like to pin this recipe on Pinterest, I'd be grateful if you'd pin the image above!
to make Italian pot roast (Stracotto), I recommend these helpful kitchen items:
more delicious beef recipes you'll also love:
Print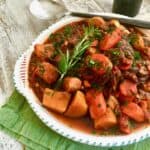 Stracotto di Manzo (Italian Pot Roast)
Author:
Prep Time: 30 minutes
Additional Time: 10 minutes
Cook Time: 3 hours
Total Time: 3 hours 40 minutes
Yield: 6 - 7 servings 1x
Category: Beef
Cuisine: Italian
---
Description
This Italian Pot Roast, called "Stracotto" is the ultimate comfort food that will warm anyone's bones and soul! Beef is seared and roasted with an array of delicious vegetables covered in a luxurious, velvety tomato-based sauce.
---
1/4 cup extra virgin olive oil
4 – 5-lb. boneless chuck roast
salt, pepper, and any dried seasonings that you prefer (I use salt-free Mrs. Dash)
2 tsp. salt (taste in the middle of cooking to determine if you want more salt added)
1 tsp. pepper
2 large carrots, peeled and chopped plus
6 – 8 large carrots, peeled and sliced on the diagonal approximately 2″ wide
2 celery stalks, chopped plus
4 – 6 celery stalks, sliced on the diagonal approximately 2″ wide
1 onion – chopped into 1/2" pieces
12 garlic cloves: 2 cloves minced to saute' in sauce, plus 10 cloves sliced to insert into beef
4 oz. pancetta, diced
2 ounces dried porcini mushrooms, reconstituted in 1 cup hot beef stock, then cut into 1/2″ pieces
1 container crimini (button) mushroom caps, not sliced
4 – 6 medium-size russet potatoes, peeled and cut in 2″ cubes
1 small jar sliced roasted red peppers, drained, use no more than 1/2 cup
1 small can artichoke hearts, drained, use no more than 1/2 cup
1 small 6 oz. can tomato paste, using 3 Tbsp at first and then if necessary, use the remainder after baking for a few hours.
1/2 cup Italian red wine
1 tall carton low-sodium beef broth/stock
thyme – 3 sprigs minced, 2 sprigs of leaves for final seasoning
sage – 1 tbsp. freshly chopped
basil – 1/3 cup finely chopped
rosemary – leaves of 2 sprigs minced, 1 sprig of leaves for final seasoning
28–oz. canned whole peeled tomatoes, drained and crushed, preferably an imported Italian brand
1/2 cup Italian parsley, finely chopped
Garnish
minced parsley
rosemary sprig
---
Instructions
Place dried porcini mushrooms in hot beef stock to reconstitute and soften for about 30 minutes.
Season both sides of the beef with salt and pepper, plus any dried seasonings that you prefer.
Pour olive oil into a large, deep cast iron dutch oven pot or a lined cast iron pot (such as Le Creuset).
Add the beef to the pan to sear (brown) on each side for about 7 minutes, turning only once, totaling about 15 minutes. While beef is searing, sprinkle about a teaspoon of chopped garlic all over to saute with the beef.
Remove beef from the pot and place on a platter.
With a sharp knife, cut slits in the beef and insert the slices of garlic.
In the hot olive oil, saute the chopped onions, carrots, celery, and pancetta.
Then add the chopped garlic and saute for another 3 – 5 minutes, being very careful not to burn the garlic.
Deglaze the pan with about 2 Tbsp. deep, dark red wine (merlot or burgundy) and simmer until the wine is reduced but not completely evaporated. 
Add 3 Tbsp. or more of tomato paste and the cans of imported Italian tomatoes and juice, squishing the tomatoes so that they fall apart as you pour them into the pot.
Add all of the chopped herbs, except for the sprigs of thyme, rosemary, and Italian parsley which are added at the end of cooking.
Gently stir everything together with a large spoon.
Add the beef broth and red wine.
Add the large cut up pieces of carrots, celery, and potatoes.
Add the artichokes, roasted red pepper slices, and the crimini and porcini mushrooms.
Place the garlic-studded beef roast back into the pot on top of the vegetables.
Add a few sprigs of thyme and rosemary to the pot.
Cover the pot with a lid and bake in the oven for 3 hours on 325 F degrees OR until fork tender (beef easily breaks up into pieces with a fork).
Add the chopped Italian parsley for the last 5 minutes of cooking.
After roasting is finished, remove from the oven and cover loosely and allow everything to rest for 10 minutes.
Garnish with fresh sprigs of rosemary and thyme, and minced Italian parsley.
BUON APPETITO!
---
Notes
This is an extraordinary Italian Pot Roast. Serve with polenta, either soft and creamy or fried. It is also wonderful served with parmesan risotto, garlic mashed potatoes, or pasta
Original Post: November, 2016 Updated Post: February, 2020
This post contains affiliate links. Please refer to our full disclosure policy.