Cacio e Pepe, A Classic, Traditional Roman Pasta Dish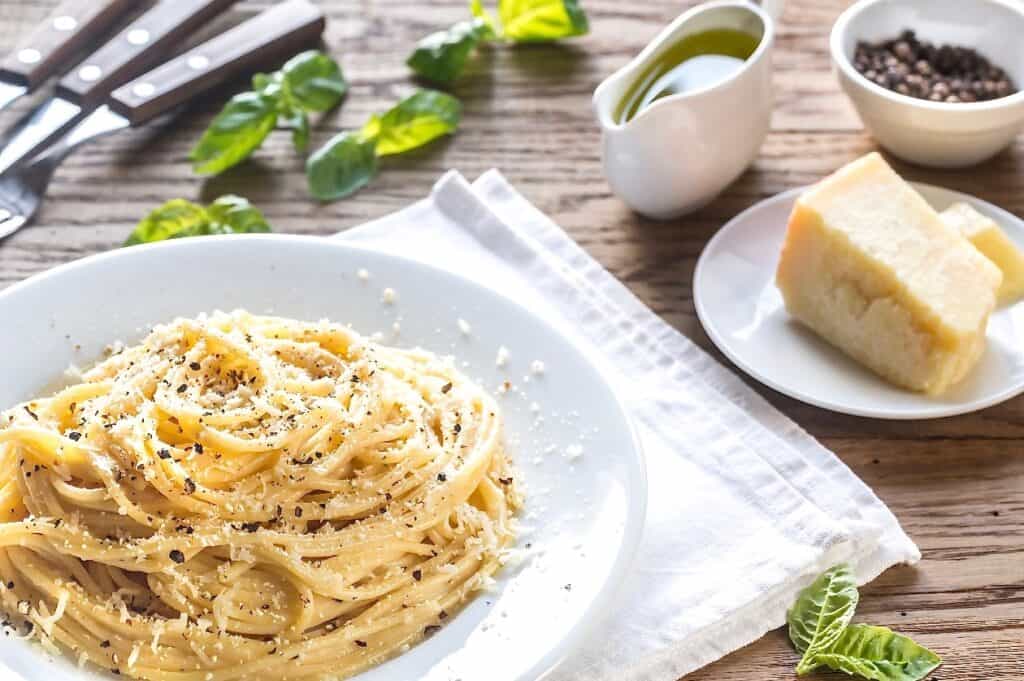 When in Rome, there's one pasta dish that you MUST try.  It's a bucket list food!  It's heaven on a plate.  It's creamy, unforgettable bliss!  It's Cacio e Pepe!
Cacio e Pepe is seriously so good that it has been prepared for centuries in Rome, Italy, where it was originally created.
Cacio e Pepe is perfectly delicious in its incredible simplicity:  Pasta, Pecorino Romano cheese, and freshly cracked black pepper . . . period.  The name literally means 'cheese and pepper".
Just a few high-quality ingredients and technique . . . that's what Cacio e Pepe is all about!  When preparing the dish, you use some of the hot water from the pasta pot that the pasta was cooking in.  The sauce 'creams' by the starch in the hot water working like a gentle glue that ultimately thickens up the recipe.  The cheese also melts from the hot pasta.  So it's not really a sauce, but rather it's a creamy, silky smooth cheese coating on the pasta noodles.  Add in the strong, earthy essence of freshly cracked black pepper, and a delicious contrast in flavors results.  If possible, crack some fresh black peppercorns in a pepper grinder or a coffee bean grinder.  You'll love the fresh aroma added to the dish that's almost intoxicating!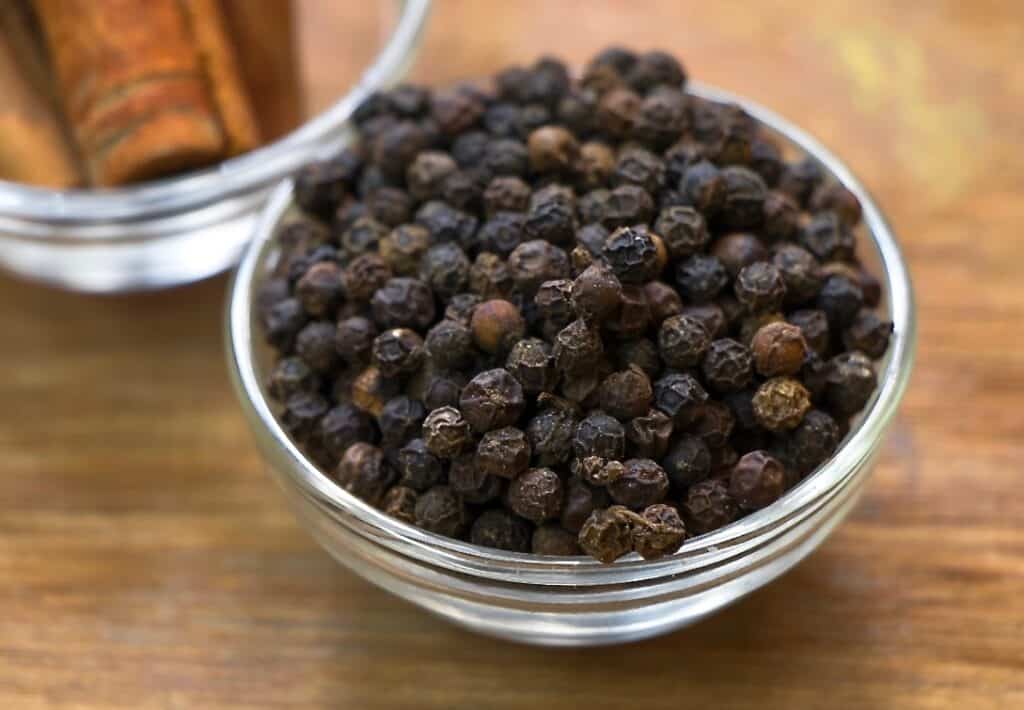 Remember to only use really high quality IMPORTED Italian spaghetti if you can.  I know that is sometimes not available in your local food markets, but trust me, it's worth ordering online if you need to.  The texture can't be beat plus quality pasta releases more starch that contributes to the creamy cheese 'sauce'.  The best pasta State-side that is closest to Italian quality spaghetti is literally Barilla's 'Collezzione' spaghetti that is hard to find in most markets but can be found on Amazon.  Our local Publix carries it, but before that, I had to buy it online.  I won't buy any other spaghetti now unless it's imported from Italy or the Barilla Collezzione pasta.  By the way, the original Barilla pasta company is from my home region in Italy and is there to this day.  And even more interesting, is that Barilla selected my hometown of Ames, Iowa in the U.S.A. for one of its pasta production facilities!
How crazy is that?
Whenever we travel, we do our culinary homework to determine where to find the best of any traditional recipe, the best gelato, the best street food, and local fresh markets.  And that goes for ANY country too, not just in Italy.  These places aren't always a 'big name' well-known restaurant found on Trip Advisor that some may think of.  In fact, we love to ask the locals for their favorite places to eat because they usually know the best-kept secrets.  You know that you're in a local favorite when you're the only people in the place that speak English and everyone is staring at you.  We had never heard of this place before but found out that Roma Sparita makes one of the most memorable Cacio e Pepe in all of Rome!
Well, I must tell you that, as promised, Roma Sparita delivered the smoothest, silkiest, creamiest, cheesiest version of Cacio e Pepe that I've ever tasted!
Because of that nirvana pasta experience, I just had to re-create the recipe.  To my surprise, I discovered that the authentic recipe was slightly adjusted . . . the secret ingredient of a tad bit of butter is added.  BUTTER!  The non-traditional use of butter creates a sauce that is even more creamy than the original recipe.  Puritans will frown on this, but one of the best recipes is served at a Roman eatery where a bit o' butter is added.  Just giving a heads up for all of all of those recipe purists.
Ever since childhood, my family has always prepared what we called 'white' spaghetti . . . the only ingredients being pasta, butter, salt, and pepper.  This is in contrast to our regular 'red' spaghetti tossed in a Bolognese tomato-meat sauce.  Pasta in butter is absolutely brilliant in taste and always served alongside the red-sauced pasta in my family.  I always gobble up the buttered spaghetti first!
So it's no wonder to me that I have fallen in love with this special version of Cacio e Pepe!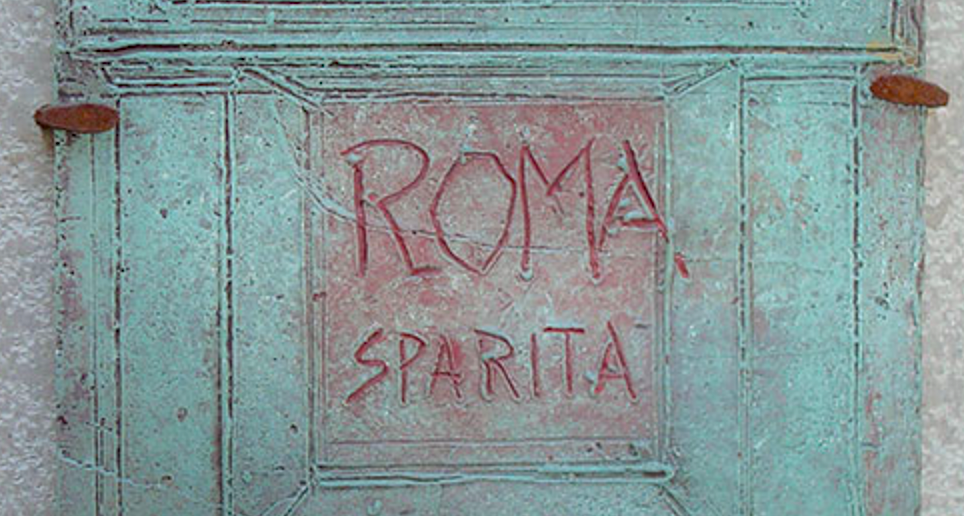 Here's a map of where the restaurant is with Vatican City and Villa Borghese as reference points to the north.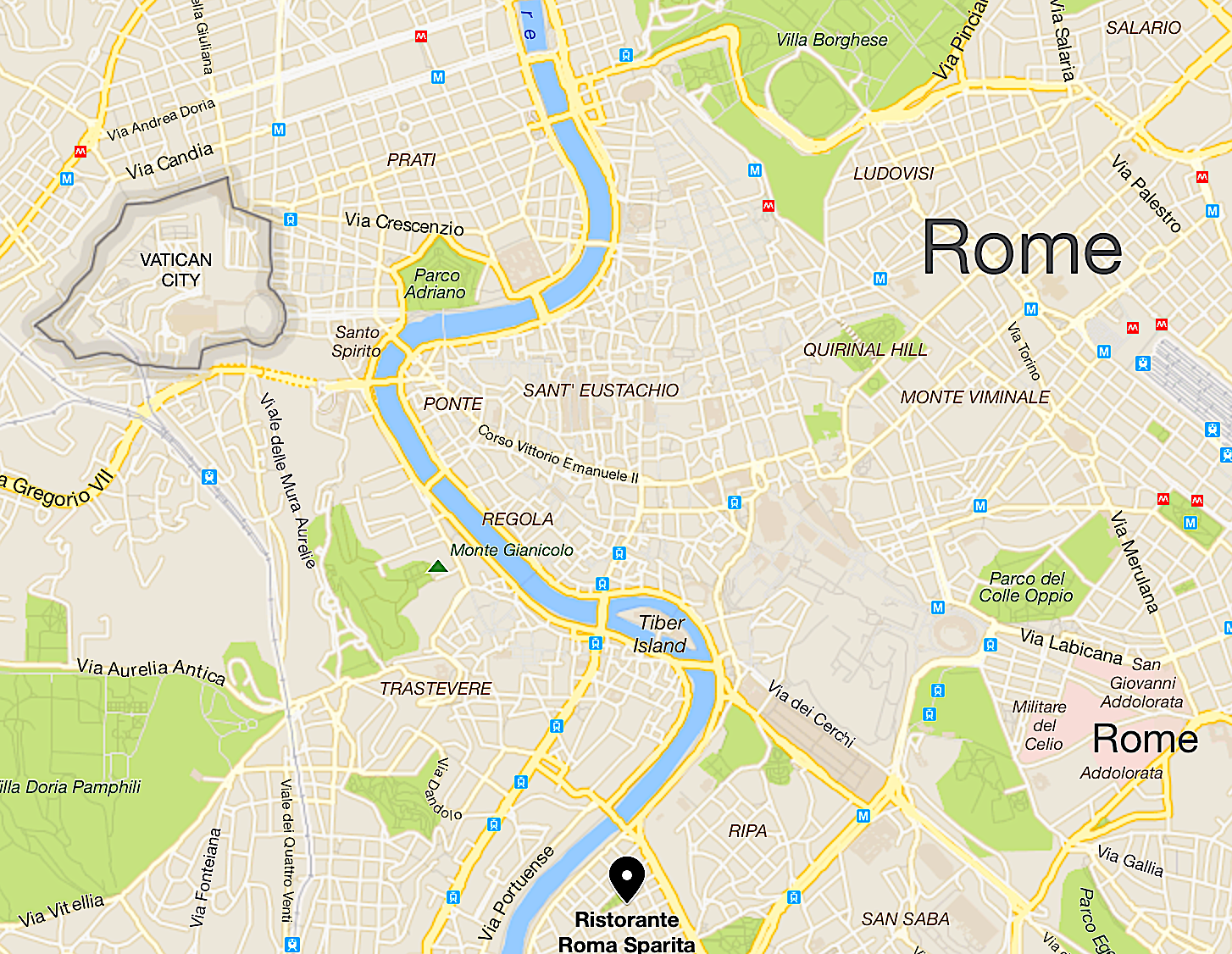 So when you visit Rome, check out this small Italian restaurant and enjoy their famous Cacio e Pepe!
Just what exactly is CACIO e PEPE that has created such a food stir around the globe?
Quite literally, Cacio e Pepe means "Cheese and Pepper" in Italian.  (It's pronounced "kah-chee-oh eh peh-peh").  It's actually quite fun to say!
Considered today as Italy's original 'macaroni and cheese', it is indescribably far better and insanely delicious!
For centuries, this famous cheesy pasta dish has been a staple in Roman cuisine.  It is traditionally made with a thicker spaghetti pasta noodle, Pecorino cheese – the 'cacio' (no, not Parmesan), and lots of freshly-cracked black pepper – the 'pepe'.   Ladles of the hot, starchy water used to boil the pasta are added.  This is the 'thickener' combined with the melted cheese that makes the amazing creamy base.  It's insane!  No cream is required (but I wouldn't hold that against you even if you added some)!  Then as mentioned above, you simply add in several heaping tablespoons of butter to make this creamy sauce out-of-this-world heavenly!
The 4 CACIO E PEPE INGREDIENTS:
Pasta:  Traditionally only long noodles are used for this dish, especially thick spaghetti — do not use thin spaghetti or angel hair spaghetti, this dish requires a stronger, heftier pasta.   
Pecorino Romano Cheese: Classic Cacio e Pepe is prepared with high-quality, aged, and imported Pecorino Romano cheese that is grated fresh, at the moment of preparation – this is essential . . . nothing from a bag or a green can.  If you only have Parmigiano Reggiano (Parmesan) cheese, that's fine, but just know that's not the cheese used in classic Cacio e Pepe).   My husband is really great at grating fresh cheese and I really enjoy cooking together in the kitchen with him.  Here's our preferred grater if you need a good one!
Freshly-cracked black pepper:  In all of our recipes, we prefer to use a freshly-cracked, coarse grind of black pepper for Cacio e Pepe.  You'll need a great pepper grinder to do the job!
Butter:  This is optional, but after years of making batches and batches of Cacio e Pepe, I'm convinced that adding butter to the 'sauce' just takes this dish to pasta blissfulness!  If possible, use room-temperature butter and not cold butter.
HOW TO MAKE CACIO E PEPE:
Traditionally, a stronger black pepper flavor is achieved by sauteing the pepper in either water or melted butter for a few minutes as the first step to the classic recipe.
Cook the pasta. Fill a large stockpot 2/3 full with salted water (sea salt is best), boil your pasta until barely al dente.  You want a nice firm 'bite' to your pasta and you never, ever want to cook pasta as long as a package states because pasta keeps cooking and will ultimately be a platter of mush if overcooked.
Grate the cheese.  Grate the cheese while the pasta water heats up and comes to a boil.
Drain the pasta, but KEEP the pasta water!  Set it aside to use in the creamy sauce!  Use a good colander to drain the pasta if you don't have a pasta pot with colander.
Place the butter and pecorino cheese into a large, wide saucepan.  Heat to melt on a low heated stove burner.
Add the freshly-cracked black pepper.
Add the 'al dente' pasta and turn off the heat.
Add a few ladles of the reserved starchy pasta water and toss everything quickly to combine.  Add more starchy pasta water, as needed, until a smooth, silky sauce is created that coats the pasta.
Serve immediately!  Cacio e Pepe is best served the very second it is removed from the stove.
Garnish with additional grated pecorino cheese and freshly-cracked black pepper.
CREATIVE ADDITIONS for CACIO e PEPE:
We love to change recipes up a little bit now and then and so here are a few delicious recommendations:
Add small bits of prosciutto or guanciale for some delicious protein.
Add green peas.
Add chopped asparagus.
Add chopped green or red peppers.
Add crushed red pepper flakes for a nice kick of heat.
Add minced garlic.
Products that I use and highly recommend: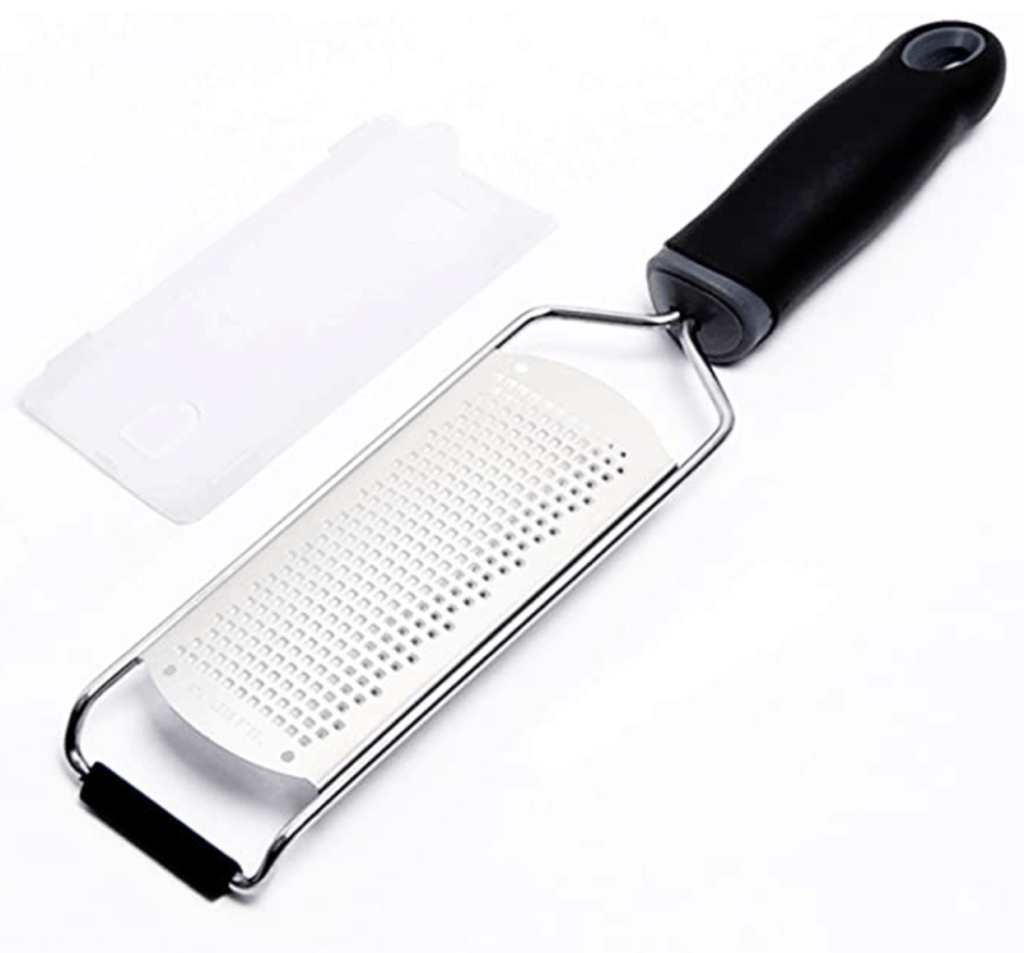 Hand-held cheese grater with protective cover

Wooden Pepper Grinder with Adjustable Coarseness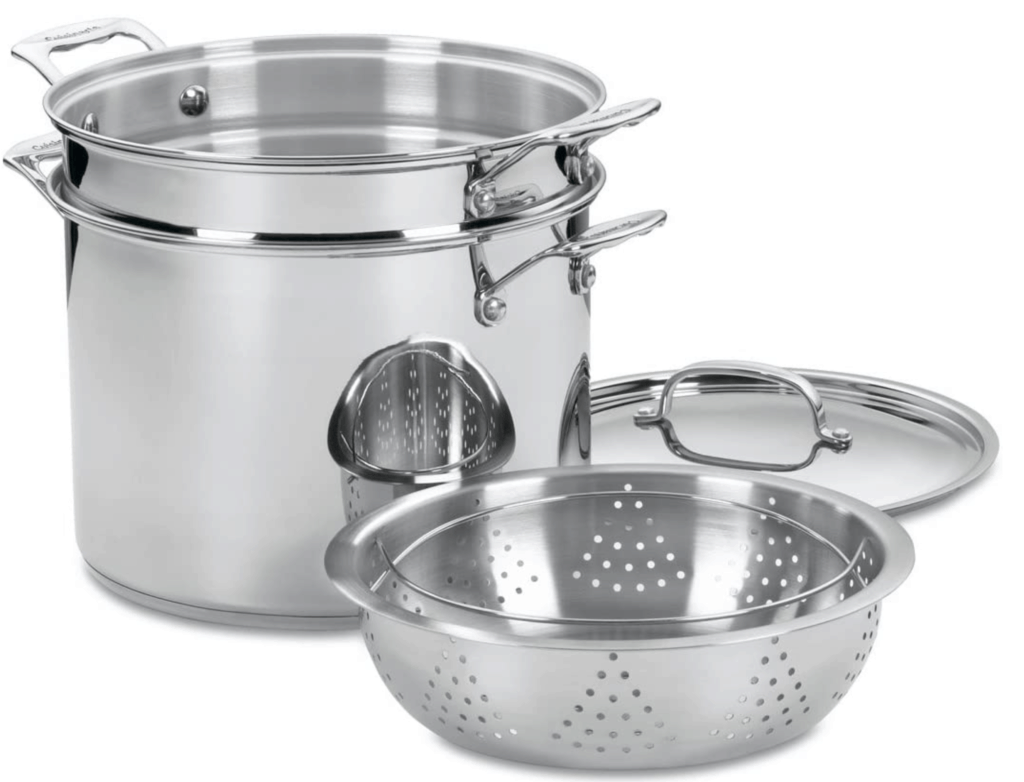 4 Piece Pasta Pot with 2 Strainers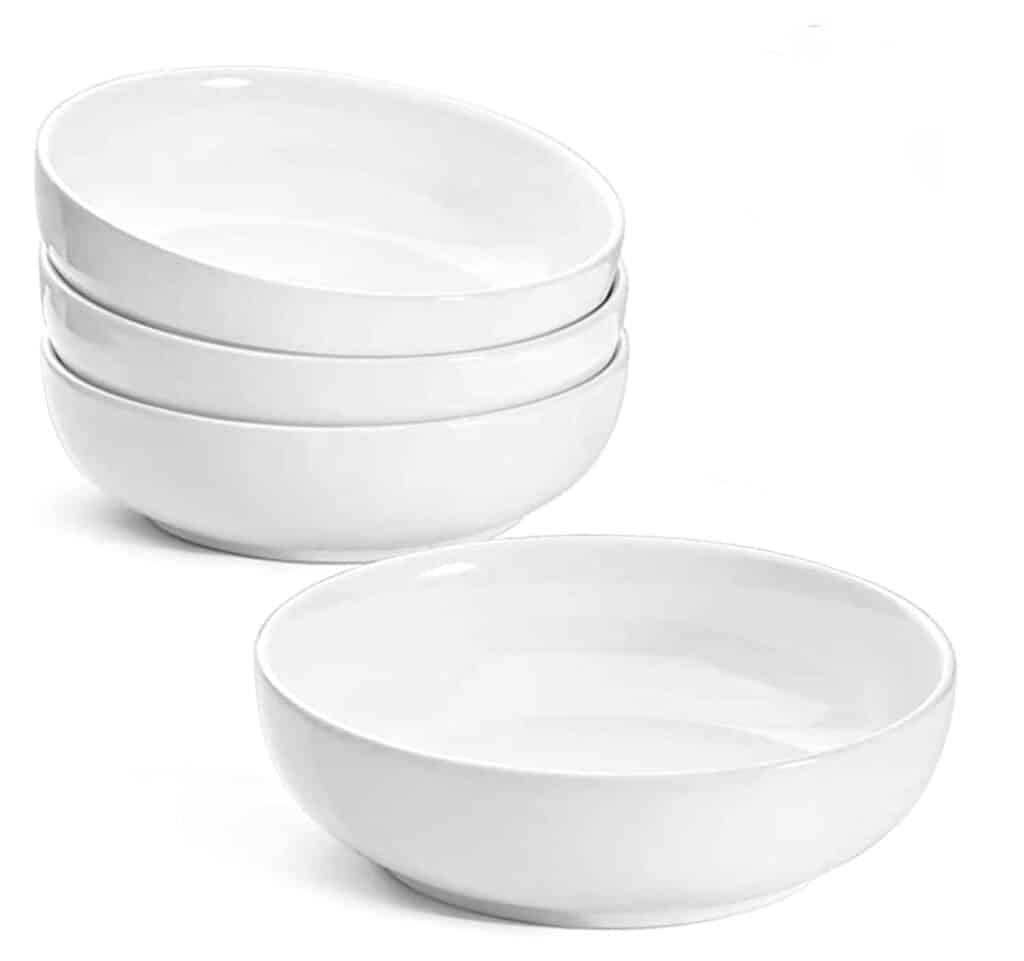 I highly recommend serving all of your pasta recipes in pasta bowls that are wider and more flat than regular soup bowls.
Plain in color and pattern is the best so that the star of the show is the pasta!
Pin for later!

I subscribe to MANY food blogs and many of them have videos.  However, the videos that I trust the MOST, are those that are from the source of Italian cuisine.  Someday I may decide to create videos, but until I retire from teaching.   With that said, I also know how much you love, as well as I love, videos for visually helping us learn how to prepare recipes.
Here is what I've selected for you in terms of authenticity of ingredients and preparation:
How to Make Classic Cacio e Pepe
Print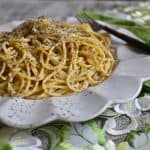 Cacio e Pepe
Author:
Prep Time: 5 minutes
Additional Time: 0 hours
Cook Time: 20 minutes
Total Time: 25 minutes
Category: Pasta
Cuisine: Italian
---
Description
Considered to be the ultimate Italian comfort food, Cacio e Pepe lives up to its reputation. One of the most beloved Italian recipes, it is so easy to prepare and completely delicious with less than 5 ingredients (that includes the salt and pepper). In the time that it takes to boil water and cook pasta to the perfect al dente texture, you've got a meal ready to enjoy!
---
8 oz. of good quality, Italian spaghetti
6 cups well-salted boiling water
Set aside 1–1/2 cups of the hot pasta water
2 tablespoon freshly, coarsely grated pepper, plus more for garnish
2 tablespoons butter
1 cup grated Pecorino Romano cheese, plus a LOT more for garnish
OR 3/4 cup grated parmigiana cheese plus 1/4 cup grated Pecorino Romano cheese if you prefer a less sharp, less salty cheese flavor.
---
Instructions
In a large, wide frying pan, saute' the pepper in either water or melted butter for a few minutes.
In a tall pot of boiling hot water, cook the pasta until 'al dente' (firm but not hard when you bite into it), about 4 minutes and not the amount of time indicated on the package instructions.
Start the sauce while the spaghetti is cooking and use the same frying pan with the sauteed black pepper. Melt the butter in the pan on low heat.
Pull the pasta up and out of the pot and allow it to drain. Don't throw the pasta water away!
In the frying pan with the butter and sauteed black pepper, add several ladles of the hot pasta water.
Add the drained pasta to the frying pan and toss the pasta with the butter-pepper-water mixture. Cook the pasta in the "sauce" until it has absorbed most of the liquid.
Remove the pan from the heat and quickly stir in 1-3/4 cups of grated Pecorino Romano to the pasta. Stir continually so that the pasta becomes creamy.
If the 'sauce' begins to clump or gets too dry, just add a little more of the pasta water as you are stirring.
Garnish with more freshly grated cheese and freshly cracked black peppercorns.
Minced fresh Italian parsley and/or a sprig of fresh Italian parsley is a very pretty garnish too!
Buon Appetito!
---
More Traditional Roman Dishes That You'll Enjoy: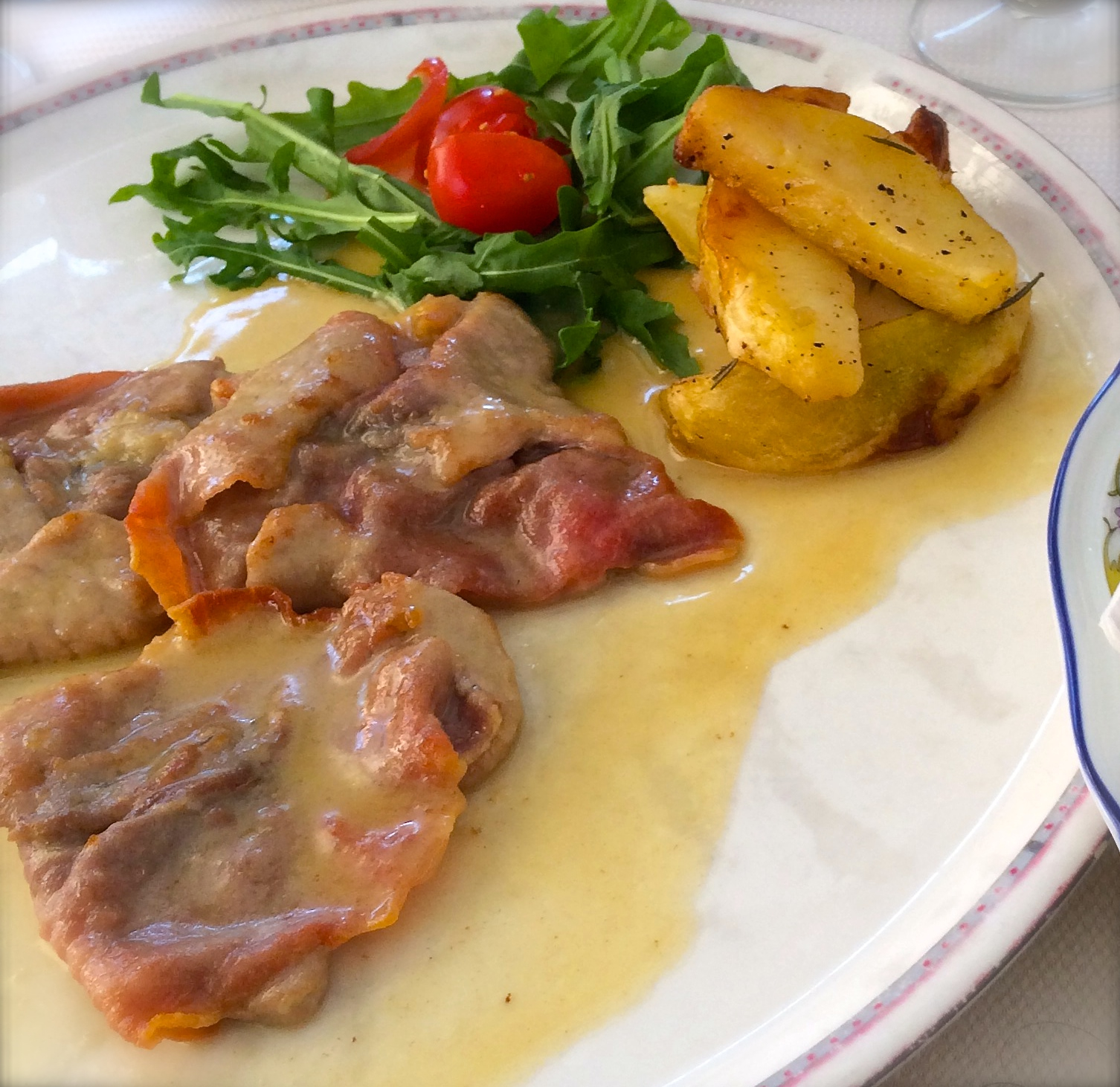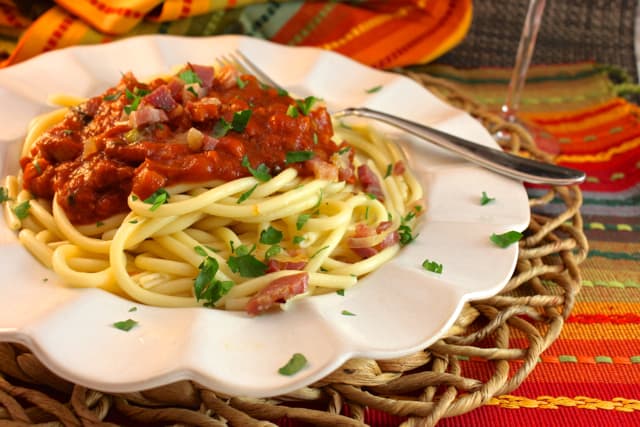 Note: This post may contain affiliate links; view My Disclosure Policy for details. I earn a small percentage from any purchase you make by clicking on these links at no extra cost to you.
This recipe was originally posted in 2018 and updated with more information and updated photos in 2020.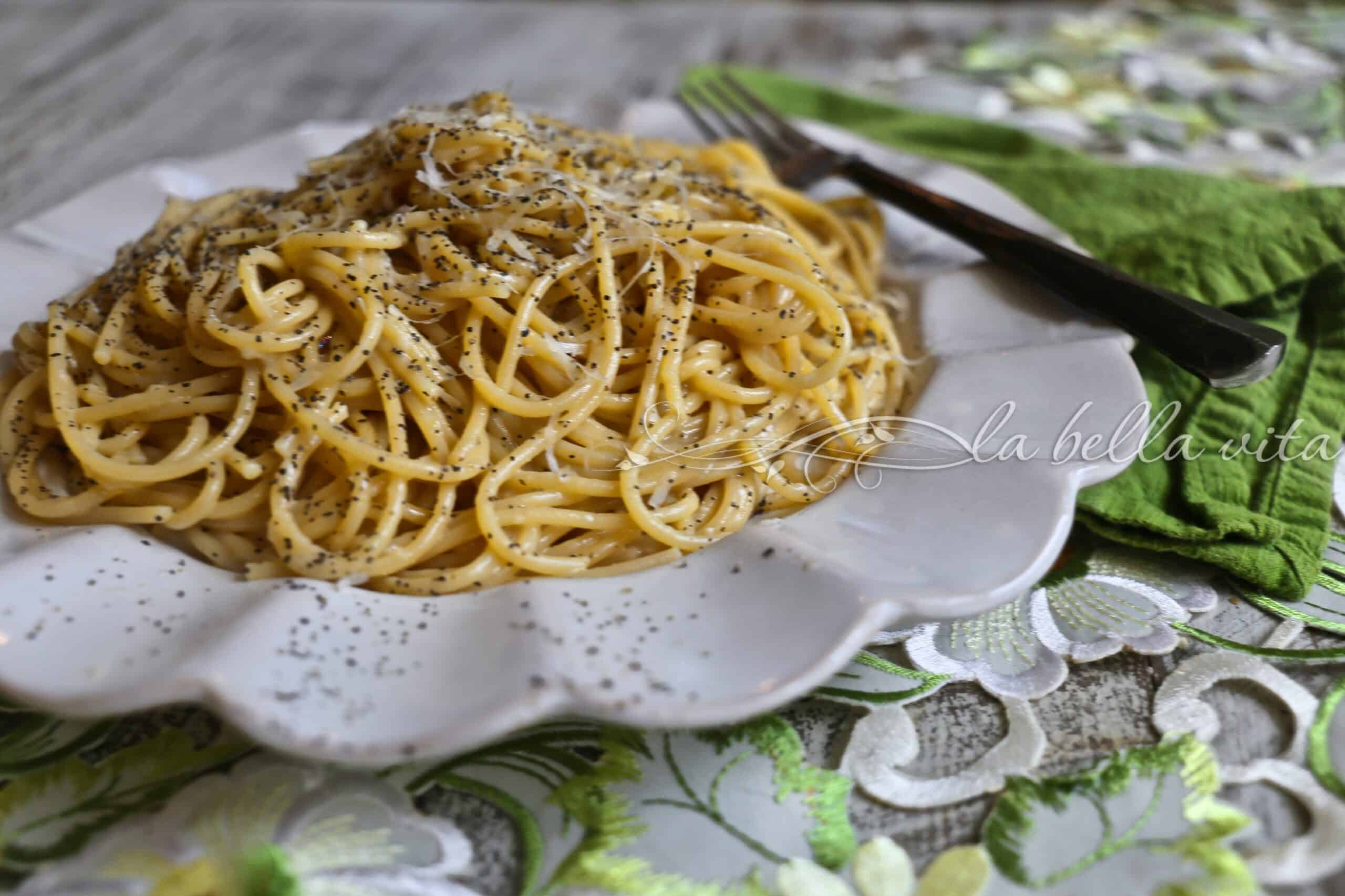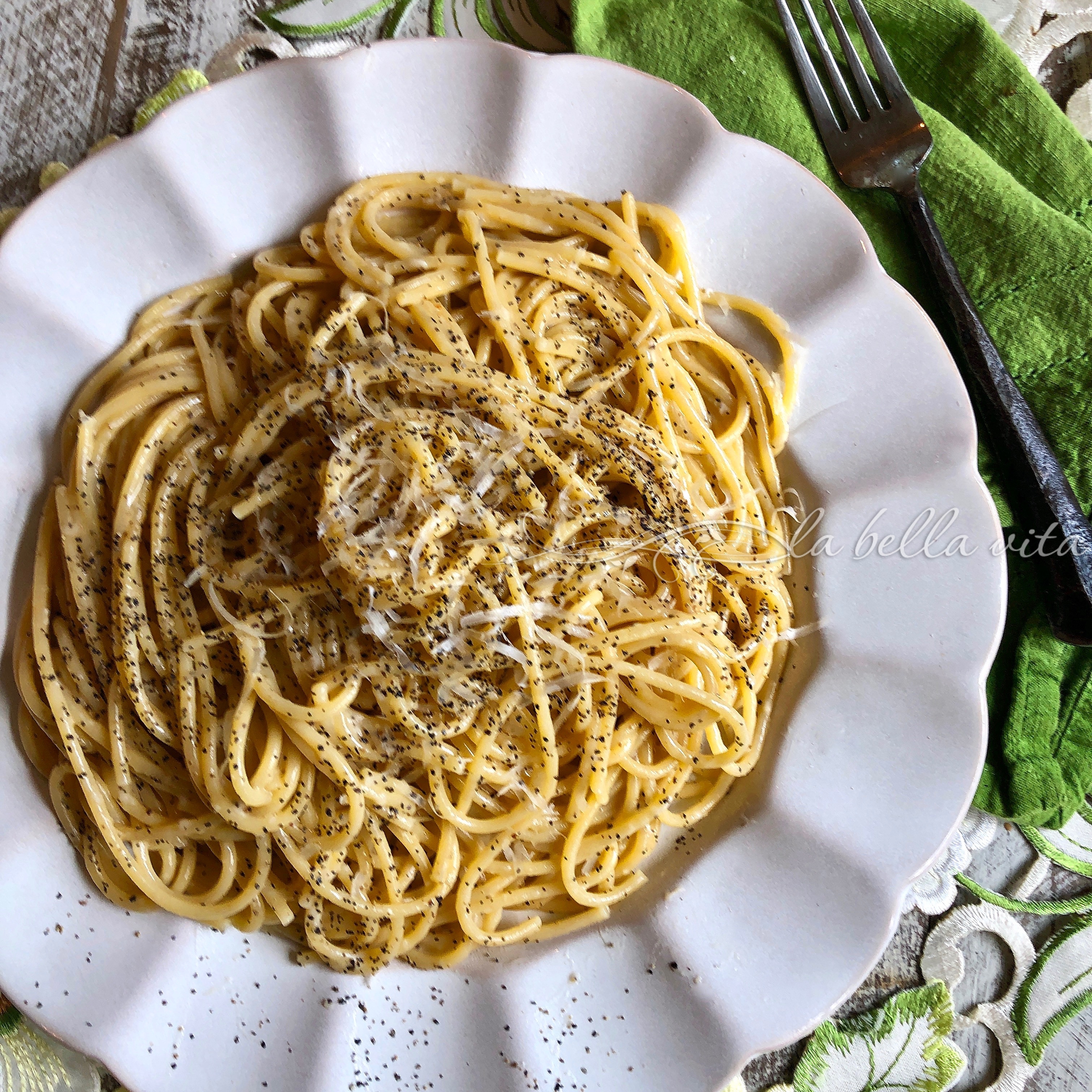 .