Chicken in Creamy, Lemon, Garlic & Parmesan Sauce
You're busy! And you're hungry! And you want something delicious and fast! This Chicken in a Creamy, Lemon, Garlic & Parmesan Sauce is exactly what you'll love! And in less than 30 minutes from prep to serving!
With just a few key ingredients, this recipe is for crispy golden chicken breasts coated with a cream sauce that is simply luscious, packed with flavor and well, almost divine!
I guarantee you that this will soon become everyone's favorite chicken dishes. Especially whoever prepares this recipe . . . because the cook gets to taste (slurp) the sauce as it simmers away on the stove. The simplicity of this 'skillet recipe' is that the chicken is sauteed first and then the sauce is 'added' to the chicken in the very same pan. Less mess to clean up too!
When you're tired of simply baking or sauteeing chicken and the whole boredom and monotany of that preparation, then take a dull chicken to the next level by adding this creamy, lemon, garlic and parmesan sauce.
This Chicken in Creamy, Lemon, Garlic & Parmesan Sauce is wonderful served alone or alongside pasta, rice, or mashed potatoes. The creamy sauce is heavenly spooned over any side. For a beautiful presentation, add a bright green vegetable such as peas, broccoli, or asparagus.
We double this recipe so that we can have it in a variety of ways. For the second night, we add fresh sliced mushrooms and saute them in butter, then add the chicken and sauce from the night before to re-heat. We also make another half batch of sauce since we could literally drink the sauce! The other customizable add-in that we love in cream sauces is fresh green peas. And of course, sometimes when I prepare sauces with lemon, I frequently sprinkle in some capers — after all lemons and capers do grow next to each other in Southern Italy!
Let's get to the kitchen, shall we?
Ingredients that you need:
Chicken breast, boneless and skinless – or boneless skinless thigh
Chicken broth/stock
Cream – for that satiny sauce we all love
Lemon – gives a little bright layer of flavor to the cream sauce
Parmesan – freshly grated, not from the green can
Dijon mustard – for a tiny layer of tangy flavor
Flour – to dust the chicken to create a golden crust that the sauce sticks to
Garlic – ALWAYS add garlic!
Butter – for a richer flavor added to the cream
How To Make Chicken in Creamy, Lemon, Garlic & Parmesan Sauce (Step-by-Step)
Salt and pepper chicken breasts
Lightly coat with flour
In melted butter, saute' chicken breasts for 5 minutes* on each side, or until cooked through. Add the garlic and onions. * 5 minutes for thicker cut breasts; and 3 minutes for thinner cutlets of chicken.
Add chicken broth and lemon juice.
Add the cream and the mustard.
6. Lower the heat and add the shredded Parmigiano cheese, stir and heat the entire dish thoroughly.
7. Simmer for a few minutes and then sprinkle freshly-minced Italian parsley all over for color.
8. Garnish with lemon slices and sprigs of parsley.
More recipes with delicious sauces to enjoy:
PIN FOR LATER!
Print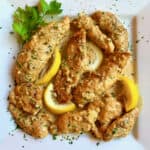 Chicken in Creamy, Lemon, Garlic & Parmesan Sauce
Author:
Prep Time: 0 hours
Additional Time: 0 hours
Cook Time: 0 hours
Total Time: 0 hours
Yield: 8 servings 1x
---
Description
This recipe is a "WOW" of a chicken dish keeper! You'll be slurping down the sauce while it simmers on the stove (hint: double the sauce amount)! This chicken in a velvety cream sauce is so easy and fast, yet so packed with amazing creamy, cheesy, lemony, and garlicky flavors. You'll make this over and over again!
---
1 lb chicken breasts (4), boneless, skinless and cut in the same thickness anywhere from 3/4″ thick to an inch and a half (1-1/2″)
1/2 tsp salt
1/4 tsp. freshly cracked black pepper
1 cup flour
1 stick butter
1/4 cup onions, finely chopped
3 garlic cloves, minced
1–1/2 cups chicken broth/stock
1 cup heavy cream
1 – 2 Tbsp. freshly-squeezed lemon juice (add more if you want a stronger lemon flavor)
1 – 2 tsp Dijon mustard (add the amount that you prefer for your own taste)
1–1/2 cups Parmigiano (Parmesan) cheese (see notes)
Italian parsley, minced
Garnish
Lemon slices
Sprigs of Italian parsley
Serve with:
Pasta
Mashed potatoes (not garlic mashed potatoes, because of the garlic in the recipe)
Green vegetables, such as peas or broccoli
---
Instructions
Slice chicken breasts so that each is a thin cutlet; making sure that all cutlets are as equal in size as possible.
Sprinkle each side of the chicken cutlets with salt and pepper.
Coat lightly with flour and shake off excess flour.
Melt butter in a large skillet on medium-high heat.
Add onions, chicken, and garlic. Saute until a golden crust develops . . . about 5 minutes on each side if thickly cut, or 3 minutes on each side if thinly cut.
Add the onions and garlic.
Add the chicken broth/stock, and lemon juice. This will deglaze the flavor bits on the bottom of the pan to blend into the cream sauce.
Lower the flame heat to low and add the cream and the mustard.
Add Parmesan cheese.
Simmer for a few minutes to bring up the heat of the sauce.
Sprinkle with minced parsley.
Garnish with lemon slices and sprigs of Italian parsley.
Serve with pasta, mashed potatoes, or rice.
---