Ruth's Chris Steakhouse Chopped Salad — Copycat Recipe is SO DELICIOUS!!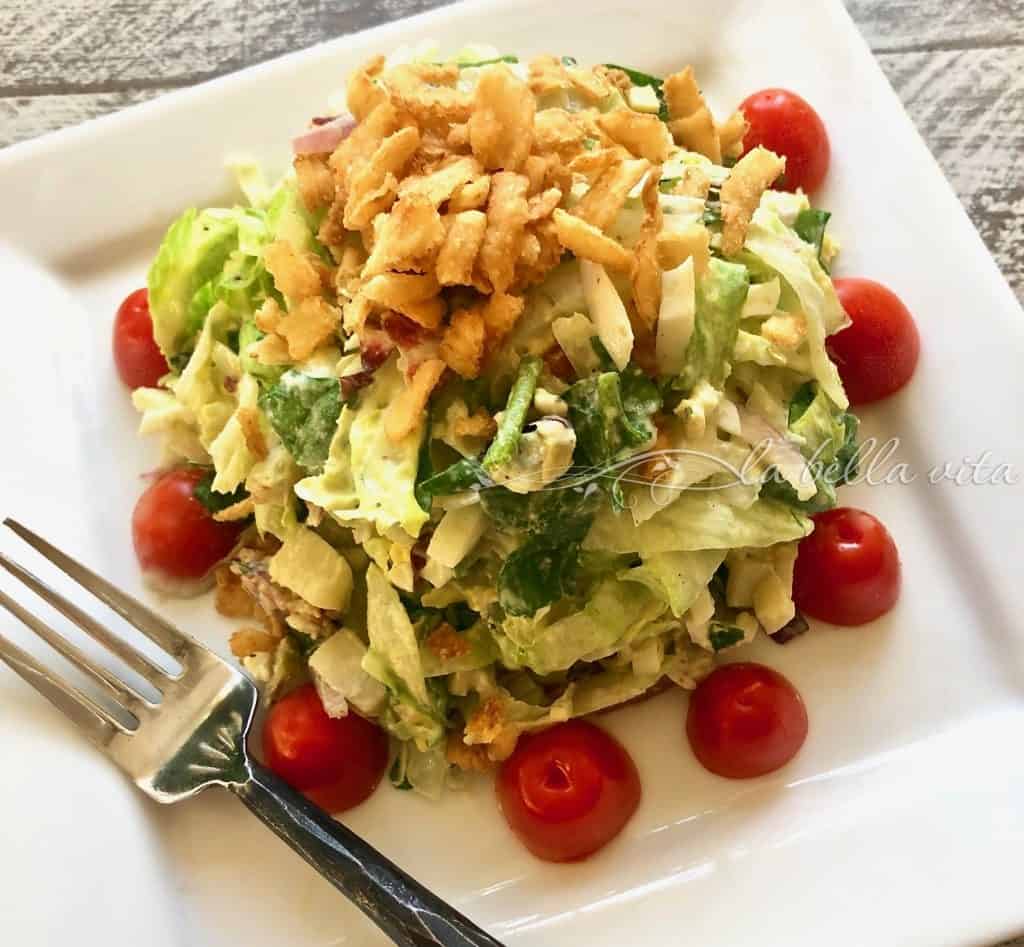 I have only tried one other "copycat" recipe for those famous recipes that so many of us wish we could get our hands on the secret recipes.  It was for the coleslaw recipe from KFC.  And just like this copycat recipe for the Chopped Salad at Ruth's Chris Steakhouse, it was spot-on delicious!  I'm always a little bit skeptical of recipes stating that they're good duplicates of a cherished recipe.  But I have to say that I'm batting 100% with the two copycat recipes that I've tried.
Now I don't know if you've dined at Ruth's Chris or not, or if you are a fan of the restaurant or not.  It is hands-down our favorite steakhouse in our neck of the woods.  We've never had a bad experience or meal at the location in Greenville, South Carolina.   Along with one of the famous steaks, we religiously order the Ruth's Chris Chopped Salad.  I've always wanted to prepare this salad and I finally did today.
It is ridiculously delicious!  So I just had to share it with you! ♡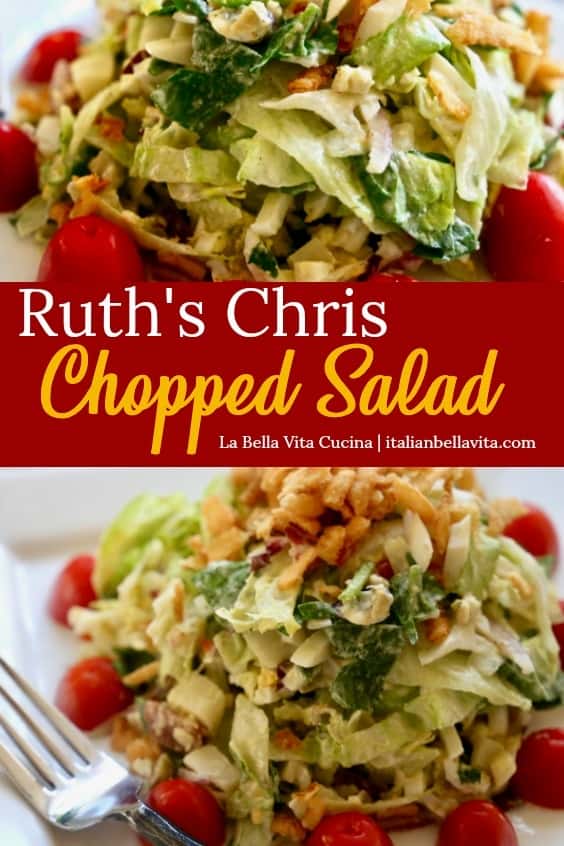 I have to say that if this is not the famous secret recipe for Ruth's Chris Chopped Salad than it is pretty darn close.  And it's wonderful to my taste buds!
Ingredients in the recipe for Ruth's Chris Chopped Salad:
This colorful chopped salad combines layers of flavor with spinach, radicchio, and iceberg lettuces . . . mixed with an assortment of chopped artichoke hearts, green olives, hard-cooked eggs, hearts of palm, bacon, red onion, crumbled blue cheese, and dried onion rings.  The creamy, yet slightly tangy dressing is perfectly light with lemon juice, basil, salt and pepper . . . and I add some garlic powder.
To make this salad even more of a sensory experience, there is this wonderful crunch from the dried onion rings and thick bacon.  And my husband and I love 'crunch' in our salads.  I might even add some slivered almonds to this the next time I prepare it.
I guarantee that I'll make this chopped salad again and again now that I have the recipe!
What's great about chopped salads is that when you take a bite, you get all of the flavors at once including the dressing.
TIP FROM JULIE, One of the Readers of LBVC:  Julie recommends decreasing the amount of lemon juice and sour cream in the dressing.  This is a very good piece of advice for those who want a more subtle lemon flavor.  So add these 2 ingredients slowly and taste as you go.  Stop adding lemon juice and sour cream when you come to your preferred preferences for each of those ingredients.  Julie also said to consider adding a little bit of honey to counter the lemon juice.  
THANKS, JULIE!
Perfect Salad for Entertaining Too!
So if you're in need of an incredible salad that can be made ahead, trust me, this chopped salad is a keeper!  Talk about a great salad for entertaining since you can make everything ahead of time.  Just toss everything before serving to your guests so that the lettuces don't wilt and the bacon doesn't get soft.
With the holidays coming up, this salad will make a LOT of people happy and craving for more!  I know that I'd enjoy seconds of this famous salad and forget about some of the other holiday food options!
Let me know if you make this recipe for Ruth's Chris Chopped Salad!  I'd love to know what you think!
And as always, send me a photo and I'll share it here for the community to see!
COOKING TIPS for Making Chopped Salads:
Start with a nice blend of your favorite lettuces, such as your go-to iceberg if you enjoy more crunch. Then add some romaine, spinach, red leaf, red cabbage, and/or mesclun.  Some are more earthy lettuce than others and some have more flavor and zing than others.  It's good to have a good balance.  Choosing and prepping great greens is the first step in salad excellence.
Don't buy lettuce that's browning or has bruises. Notice if the edges of spinach or mesclun have yellowed, and skip those.  We really dislike the taste of packaged lettuce, but if you like them and are in a time-crunch where you need to use those pre-washed lettuces, then do make sure to check for condensation in the bagged lettuces, because moisture in the package means the greens inside will soon wilt.
Whenever you're making a salad, it's always best to use lettuce that has been washed and dried, not wet or damp, so that the dressing/vinaigrette can cling to the lettuce better.  You want to remove any of the grit in lettuces from growing in the dirt, so don't skip giving them a nice bath. Fill a huge bowl with cold water. Tear apart the leaves and swish them around in the water, then let them rest for a few minutes so any released dirt can settle at the bottom. Lift the greens out of the bath and place into a salad spinner.
One way to make sure that your lettuce has the grit and rinse water 'gently' removed is by giving the lettuce a nice little whirl in a salad spinner.  You may have to do this twice.  Dry washed lettuce well in that spinner. Throwing a paper towel in with the leaves helps absorb water. Take this seriously—for chopping, lettuce has to be totally dry.  I have been using the same salad spinner to dry off lettuce for decades now.
Add more chopped vegetables.  Be creative and go beyond the basics of carrots, avocado and tomato.  Throw in some chopped red and green peppers, broccoli, radishes, cucumbers, broccoli, or radishes to add some extra crunch.  Beets add more color and nutrition to the salad.
Adding fresh fruit adds a welcome sweetness to any chopped salad, while dried fruit can contribute chewiness and tang.
Cheese is always nice in any salad, ranging from manchego, asiago, pecorino, feta and parmesan to blue cheese or gorgonzola . . . all which add more tangy zing to your mix and make your chopped salad even more extraordinary.  Don't use too much to prevent the cheese from overpowering everything else in the salad.
Add good quality meat to anchor your salad.  We use a lot of thick, crispy, crumbled, smoky bacon in our salads.
Add hard-boiled eggs that really make a salad sing.
Make a crunchy impact by adding dried onion rings, crispy wonton noodles, croutons, tortilla chips, slivered almonds, cashews, or peanuts.
When dressing a chopped salad, spoon or drizzle a few tablespoons of dressing into the mix and then toss the salad.  You want the dressing to coat the ingredients without bogging them down. Taste a bite as you go, adding a little more dressing and then some freshly cracked salt and pepper to finish.
Serve chopped salads right after tossing.


Print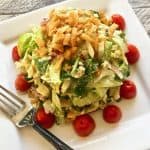 Ruth's Chris Steakhouse Chopped Salad — Copycat Recipe
Author:
Prep Time: 25 minutes
Total Time: 25 minutes
Yield: 4 servings 1x
Category: Salads
Cuisine: American
---
Description
This is just one of my all-time favorite salads that is famous on the menu at all Ruth's Chris Steakhouses.  The recipe is a copycat and if you ask me, it is the real deal.  It is so delicious with the chopped lettuce, hearts of palm, bacon, eggs, blue cheese, and the creamy lemon basil dressing!  I could eat a gallon at a time!  Enjoy!
---
For the Chopped Salad:
4 packed cups romaine lettuce, sliced into 1/4" julienned slices
4 packed cups iceberg lettuce, sliced into 1/4" julienned slices
4 packed cups baby spinach, chopped
2 packed cups radicchio, sliced very thin
3/4 medium red onion, sliced very thin and then halved
1/4 cup chopped green olives
1 cup crumbled blue cheese or Italian gorgonzola cheese
1 can artichoke hearts, drained, and using just the chunky ends, cut ends into 1/4″ chunks, saving the layered portion of the hearts for another recipe or salad (I added this ingredient and it's fantastic)
1–14 oz. can hearts of palm, drained, and cut into 1/4" chunks
6 oz. fresh mushrooms, chopped
1 full package of super-thick 'high quality' smoked bacon, cooked until dark brownish-red, fat drained, cut into 1/4" bits
4 hard-boiled eggs, cut into 1/4" chunks
1–1/2 cups crispy, dried fried onion rings, crumbled and used to top the salad
Garnish: cherry tomatoes cut in half, as many as you prefer to use
freshly-cracked black pepper and sea salt to taste
For the Lemon Basil Dressing:
1 – 2 cups sour cream (add 1st cup first, then add more after all of the remaining ingredients for the dressing are added. Give it a stir, then taste, and add more sour cream if preferred)
1 Tbsp. extra virgin olive oil
1/2 Tbsp. champagne vinegar
1/4 – 1/2 cup crumbled blue cheese or gorgonzola cheese (add to your preferred preference)
1/2 cup freshly squeezed lemon juice
1/2 cup freshly chopped basil
1/2 tsp. garlic powder
Season with salt and pepper to taste
(optional) – 1 tsp. honey, if desired (I don't use)
---
Instructions
For the Chopped Salad:
In a very large bowl, combine lettuce, spinach, radicchio, red onions, green olives, mushrooms, eggs, hearts of palm and bacon; toss well.
Add crumbled blue cheese and about 1/2 of Lemon Basil Dressing; toss until well mixed.
Divide salad among 4 dinner plates, garnish with cherry tomato halves, and top salads with crispy fried onions.
For the Lemon Basil Dressing:
Combine all ingredients, and add seasoned salt and garlic powder to taste.
Mix well; refrigerate until serving.
Refrigerate any leftover dressing.
---
Originally posted in 2018 and updated in 2020