Roasted Cauliflower with Italian Cheese and Herbs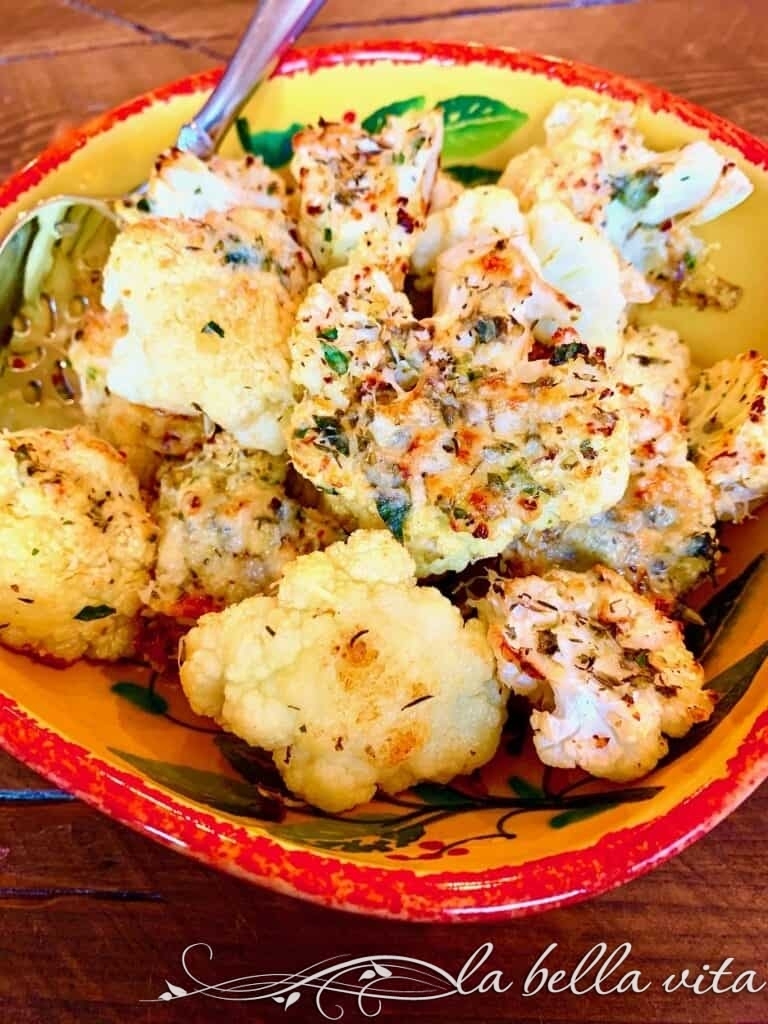 We're just loving cauliflower now . . . and for good reason! When prepared in recipes such as Roasted Cauliflower with Italian Cheese and Herbs, it's not only healthy . . . it's damn delicious! This recipe is so simple and yet really tasty as either a healthy snack or a great side dish.
We've had a love affair with cauliflower for decades, but our favorite way to prepare it is by roasting it. If you haven't roasted vegetables yet, you are going to devour them like an addict whose hooked on a new drug. When the cauliflower comes out of the oven, I get all excited and can literally eat it right off the hot pan! Especially with melted cheese on top!
As a side dish, roasted cauliflower is super easy and because it's very flavor-neutral, it pairs well with almost anything!
Even though we just love raw cauliflower with a creamy dip, when you roast it, the simple white flowerets caramelize in the oven and become a gorgeous golden color.
Even though my family loves cauliflower prepared simply, we really like to get creative with it as the base for delicious flavor combinations. And of course, I have an Italian-flavored version that we just love!
Italian Roasted Cauliflower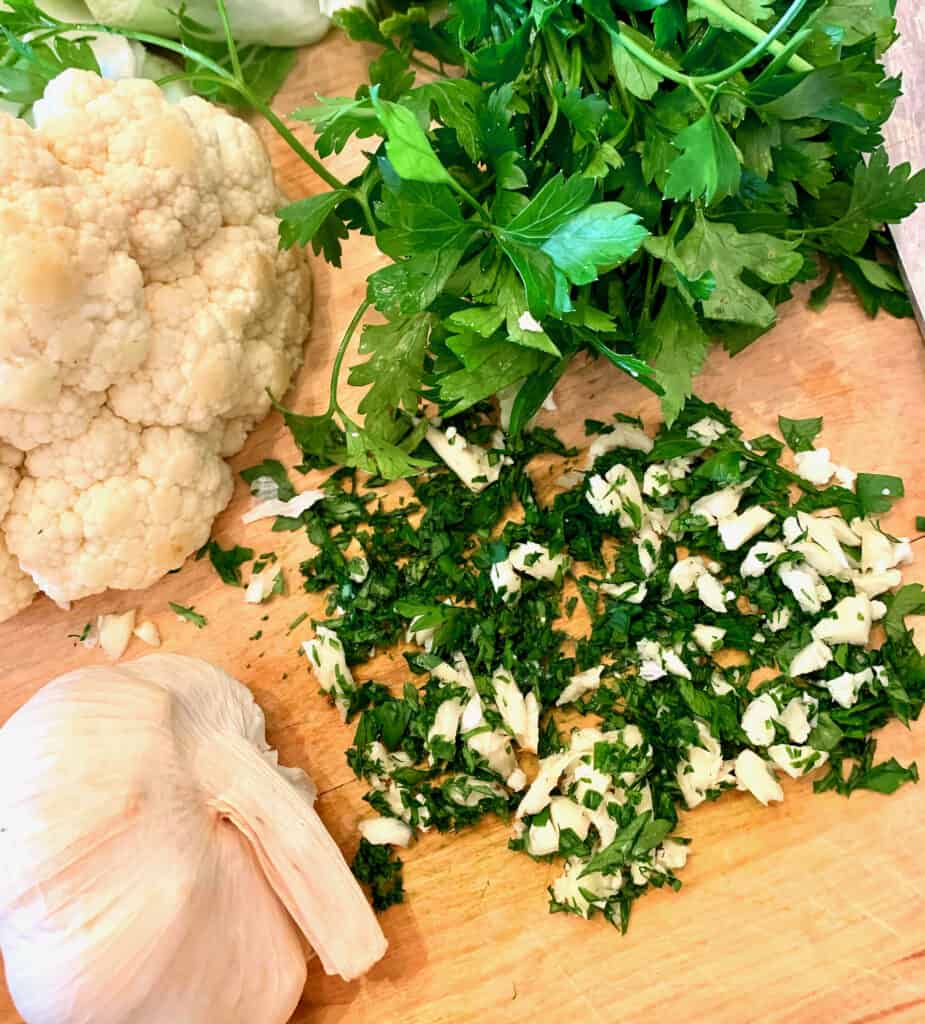 Set out your ingredients including cauliflower, Italian parsley, and garlic
Toss the cauliflower with olive oil, a wee splash of freshly-squeezed lemon juice to get it all nice and coated. Then it's tossed with fresh Italian parsley, garlic, oregano, and thyme. If you want a little of kick of heat, include a sprinkle or two of red pepper flakes. Or you can sprinkle it on only half of the cauliflower.
On a baking pan sprayed generously with cooking oil, spread the florets all over the pan leaving a good bit of space betwen each piece.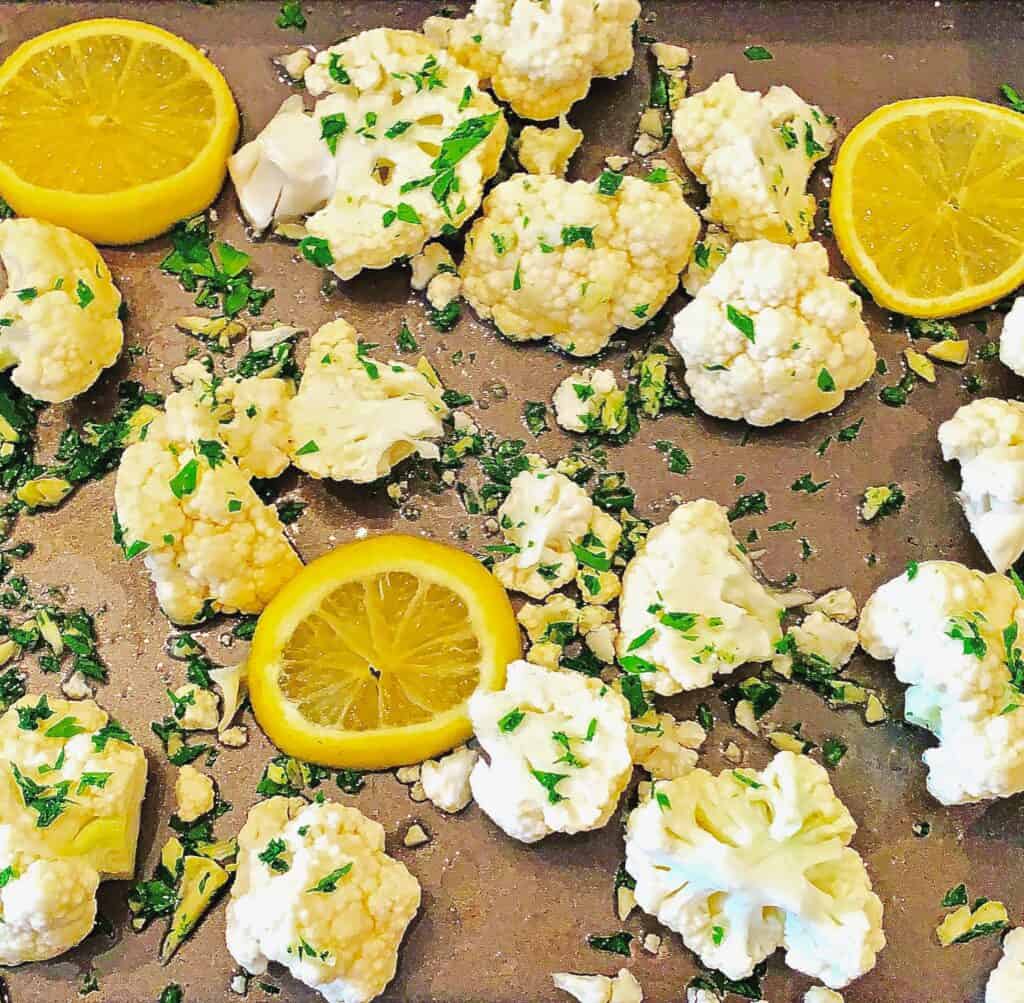 This recipe for roasted cauliflower has a crispy, golden-baked cheese topping that is simply irresistible. We like to mix up a blend of freshly-grated Italian cheeses: Parmigiano, asiago, and/or pecorino, but you can use any variety of cheese you prefer.
Sprinkle the cheeses on after baking half-way.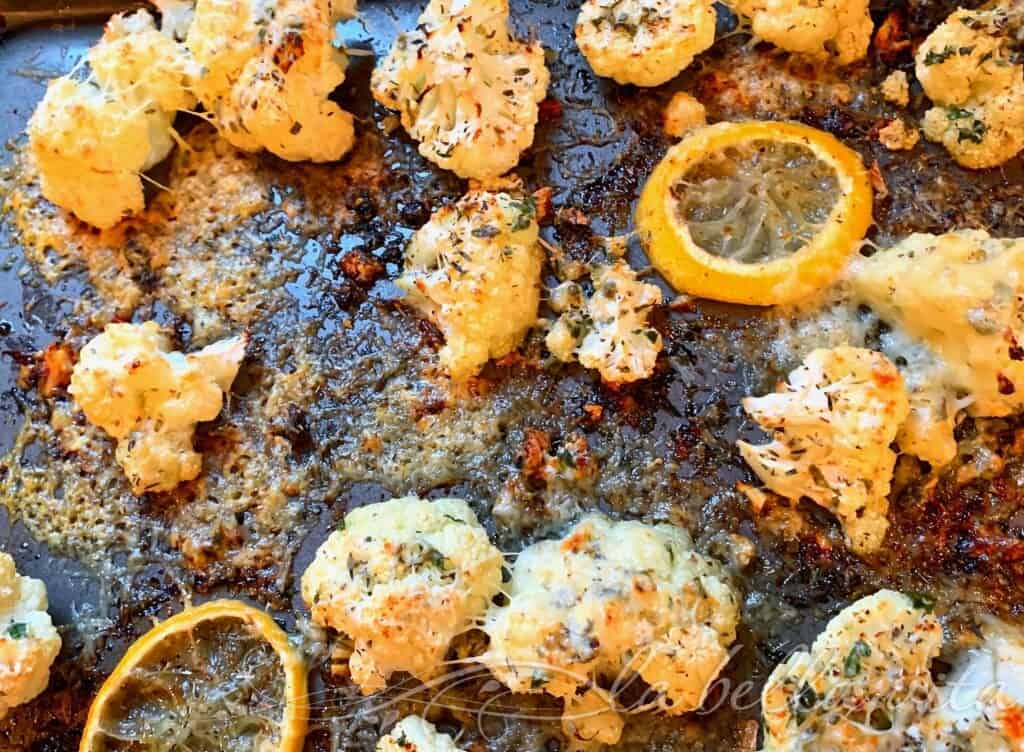 Ah! Look at that! Perfectly cooked with melted cheese all over the pan too!
(scrape off some of that roasted cheese and enjoy a tasty, cheesy treat!)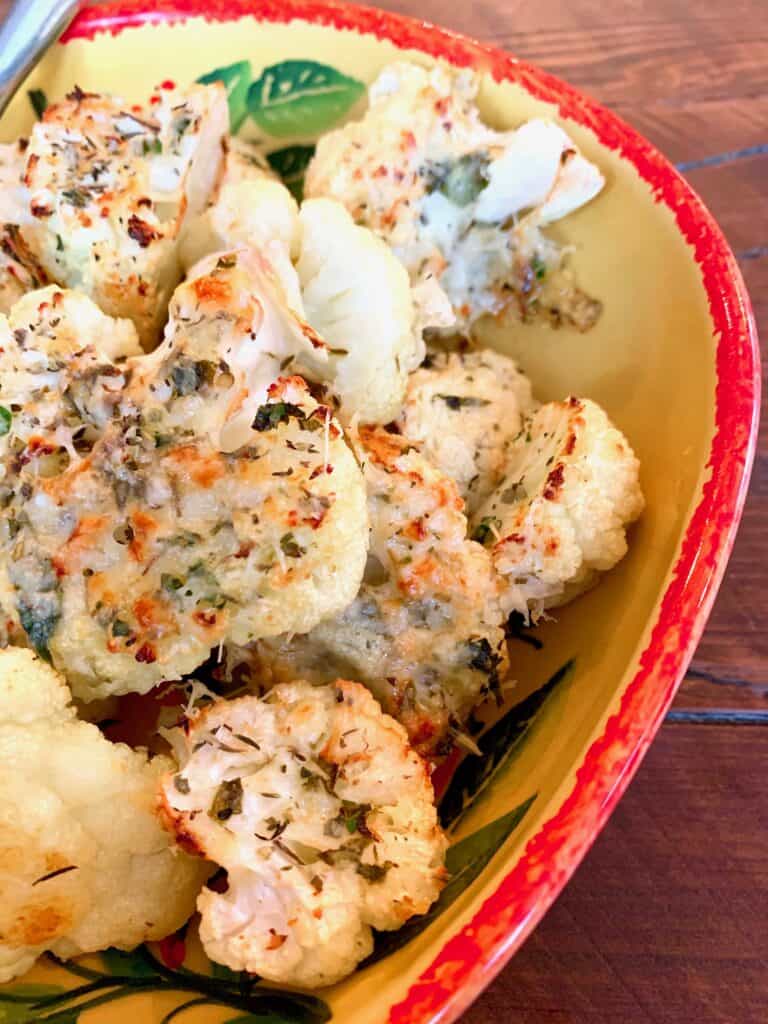 GORGEOUS!!!
Tips on Perfect Roasted Cauliflower
It's a good idea to cut the cauliflower in equal sizes so that they cook evenly. The flat sides of each slice will caramelize better, which means they will taste all that much better! Some people like large slices and others like smaller, chunks of the cauliflower's natural floret shape that you simply snap off one by one. Its' totally up to you.
Coat the baking pan very well with olive oil and butter to help get that caramelized finish.
Spread the cauliflower out all over the pan with space between so that the sides will also get nice and golden.
Always roast at high temperatures, such as 425 or higher. I also use the broiler during the last bit of roasting time if I want more browning to take place. If you use the broiler, do keep an eye on it so it doesn't burn.
After baking halfway through, about 15 minutes, don't forget to turn the cauliflower over to get that beautiful, golden caramelization all over the florets.
Products I Use and Recommend
More Delicious Roasted Veggie Recipes You Might Enjoy!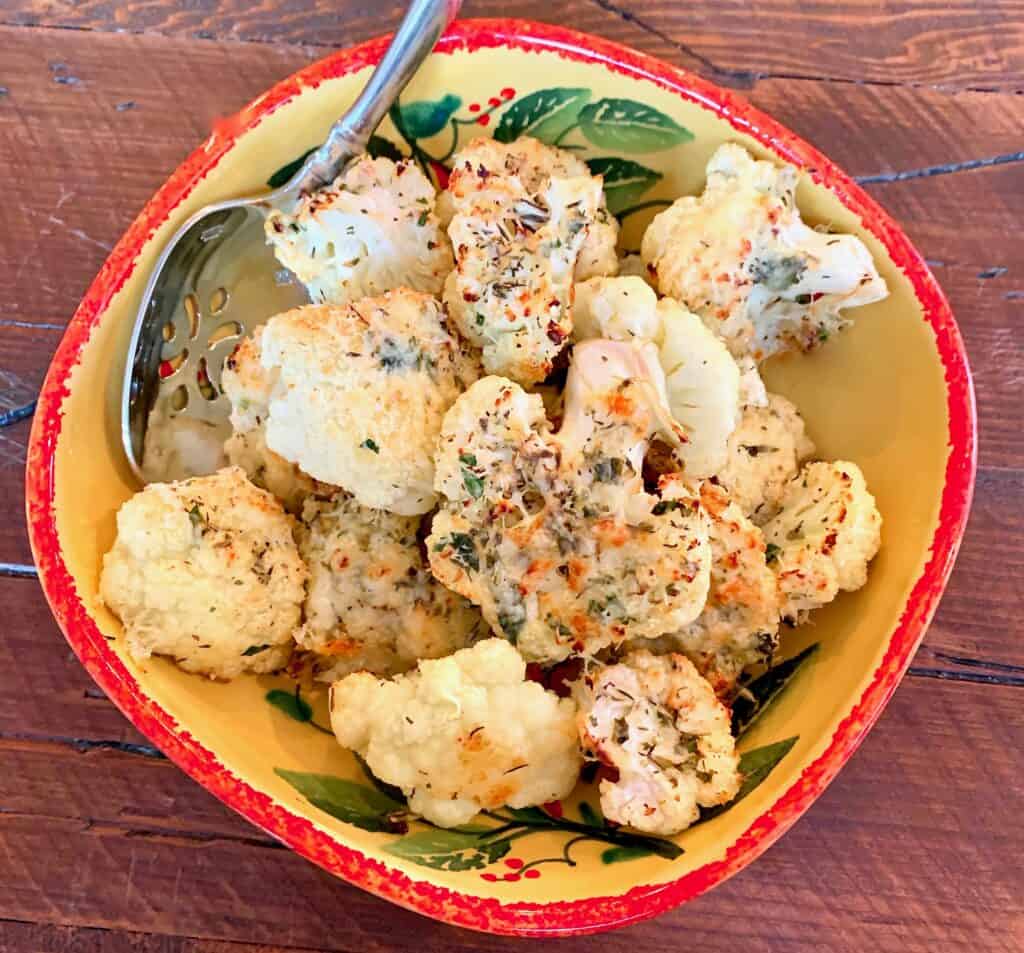 Print
Roasted Cauliflower with Italian Cheese and Herbs
---
1 head of cauliflower
3 –  4 Tbsp. olive oil (not extra-virgin)
2 Tbsp. butter (melted)
½ tsp. freshly-squeezed lemon juice
¼ cup or so of minced Italian parsley
2 – 3 very minced garlic, or about 1 tsp garlic powder
½ tsp. minced oregano
½ tsp. minced thyme
pinch or two of red pepper flakes (optional)
 ⅓ cup freshly grated Parmigiano
⅓ cup freshly grated Asiago
⅓ cup freshly grated Pecorino
---
Instructions
Remove the leaves and core of the cauliflower and then slice into 1″ slices or pull off small florets.
Place in a large mixing bowl.
Drizzle the olive oil, butter, and lemon juice all over the florets and toss gently so that they are evenly coated.
Sprinkle all of the Italian parsley, minced garlic, and minced herbs all over the cauliflower and once again toss gently to coat the florets with the herbs.
Do NOT add the cheese yet.
With cooking spray, cover a baking sheet with the cooking oil.
Spread the prepared cauliflower evenly on the baking pan.
Bake at 425 F degrees for 15 minutes, keeping an eye on the cauliflower every now and then.
Turn the cauliflower over and roast for another 10 minutes, keeping an eye on it.  Do not burn it.
Remove the roasted cauliflower from the hot oven and sprinkle on all of the freshly-grated cheese.
Return to the oven and change the oven temperature to "BROIL".
Broil cheese-covered cauliflower for 5 – 8 minutes, watching it closely.  Do not burn it.
Remove from the oven.  Sprinkle with a little salt and pepper.
Serve hot!
---
Do you enjoy La Bella Vita Cucina?
We'd love to have you as part of our community!
Click below to receive a FREE e-cookbook and all the latest recipes,
travel tips, and gardening ideas straight into your inbox!