BEST Thai Cucumber Salad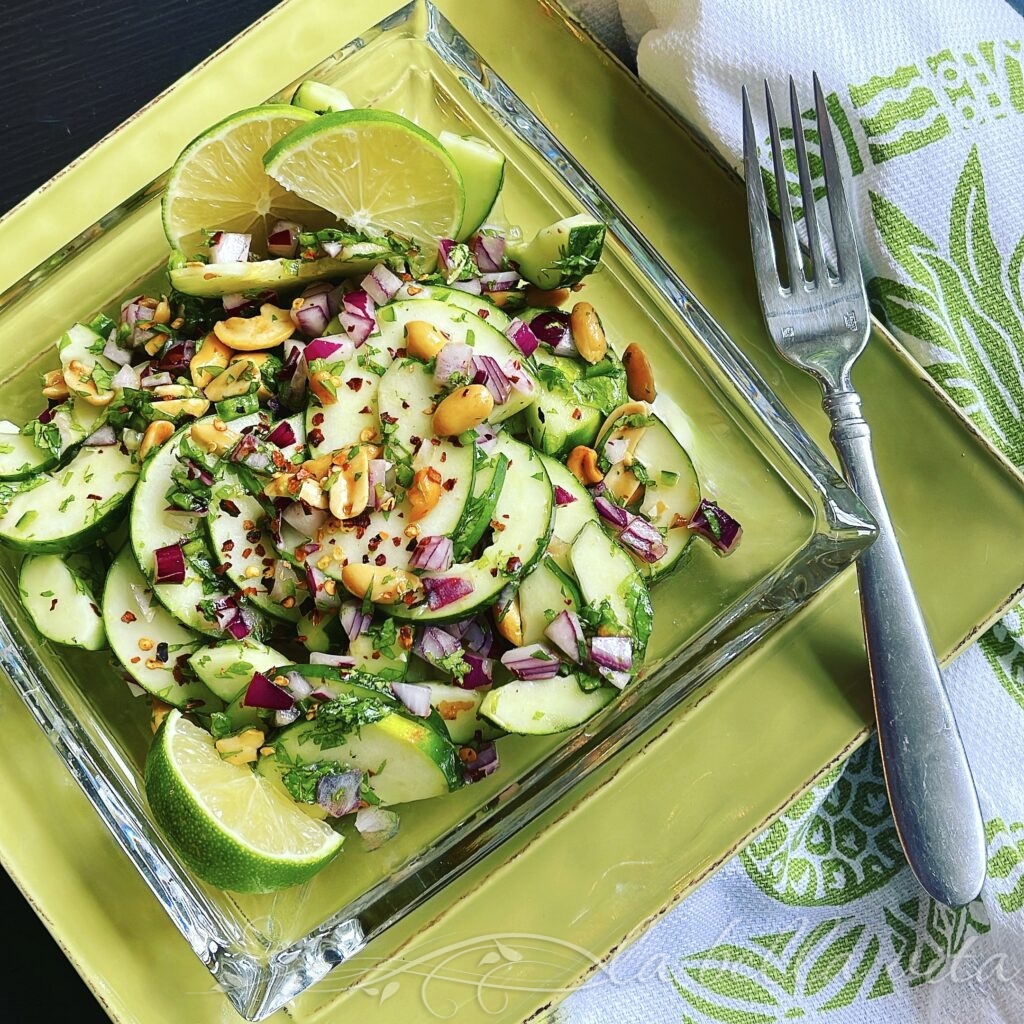 I simply love Thai cuisine! The food creations of this spicy cooking style are second only to my favorite Italian cuisine. I've been so fortunate to have been able to spend a good deal of time over the course of two years in Thailand . . . and in various regions of the country too. The food is extraordinary and my memory simply cannot forget the infamous Thai Cucumber Salad.
While in Thailand, I met a wonderful woman from the university where I was working on some academic research. Both her graduate student and she literally drove me everywhere, including taking me to the best restaurants. She knew what I loved and always ordered the food off the menu for me. . . I was never disappointed with her selections. One of the lightest dishes that I went crazy over (and still do) that bursts with flavor in your mouth, is a uniquely Thai version of cucumber salad.
You can find this salad on the menus of nearly every Thai restaurant, but it will be difficult to find this particular recipe creation because from consolidating about 10 different recipes, I can claim this recipe as my own. I could literally eat the entire serving bowl of this stuff. Well actually, I do! The dressing is to die for! I hope that you try it and feel the same! PS: This is not hot or fiery at all, as are many Thai dishes. However, if you want some heat, then just add it.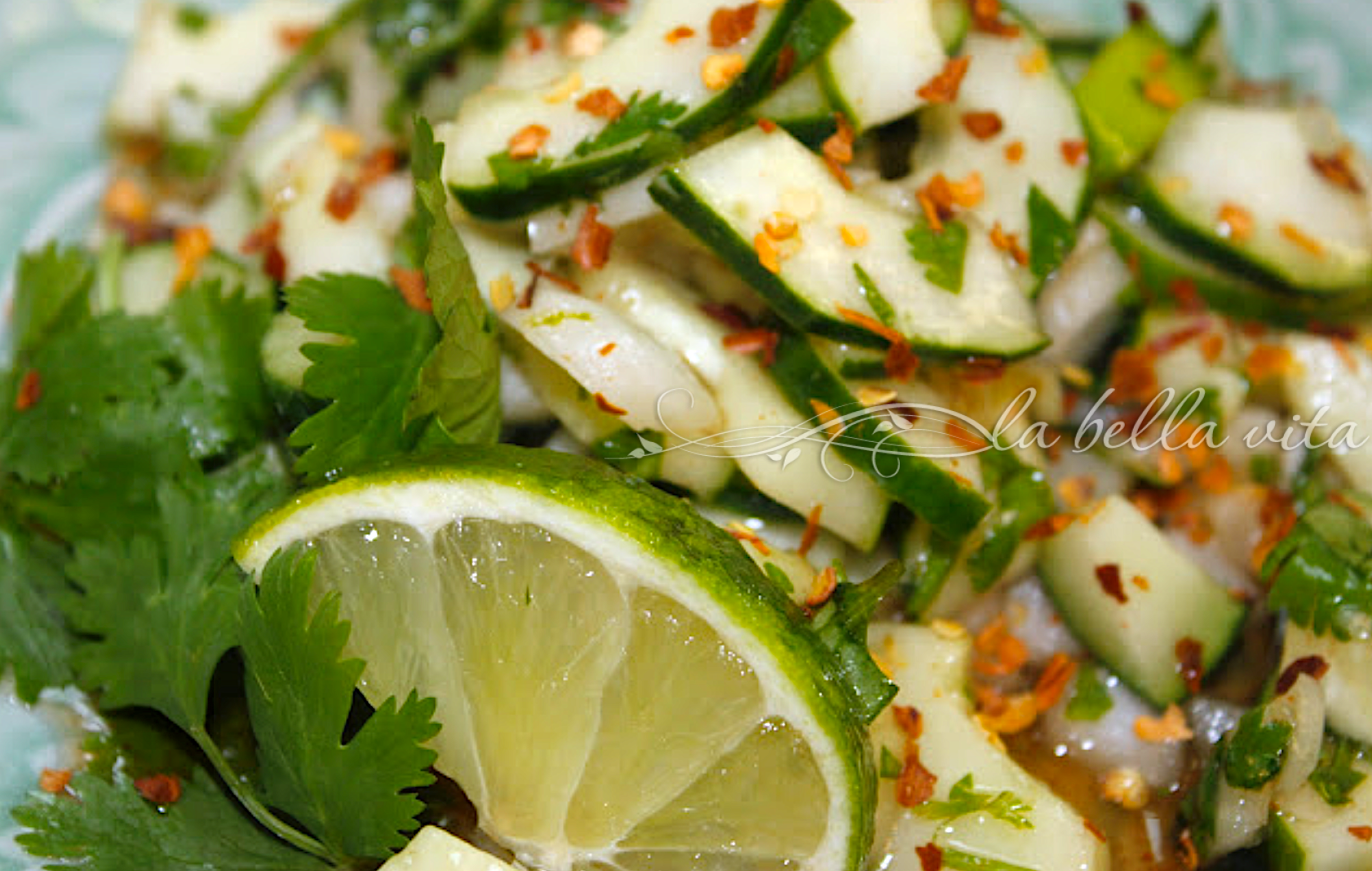 Before I provide the recipe below, I wanted to point out the place mat with the embroidered pink flowers in the next picture. This dainty place mat is just one example of the native, handmade crafts that I purchased in Thailand. I've always loved the combination of pink and green in my gardens and even decorated my home with those colors (sometimes dominant in rooms, and other times barely there in other rooms).
The ceramic celadon plate is from Chiang Mai in Northern Thailand, from the Baan Celadon pottery company. I don't know how much of that celadon I purchased, but it is all over the house for use or for decorating accents. Celadon pottery is just exquisite! (photos are a bit old from the original posting of this recipe).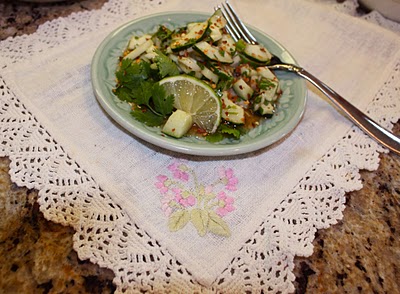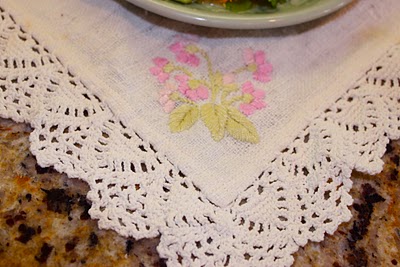 .
.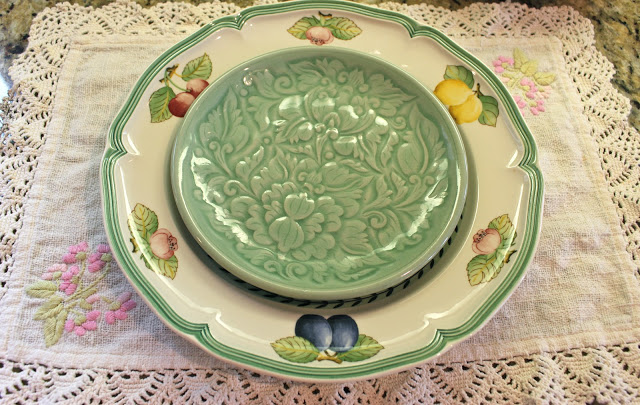 The soft minty green color of the celadon pottery coordinates perfectly with my dishes! What luck!
Highly Recommended Products For Thai Cucumber Salad:
More Thai Recipes To Enjoy:
Please share the love and pin this vertical image below:

Print
The BEST Thai Cucumber Salad
Author:
Prep Time: 15 minutes
Additional Time: 0 hours
Cook Time: 0 hours
Total Time: 15 minutes
Yield: 4 servings 1x
Cuisine: Thai
Diet: VegetarianDiet
---
Description
This recipe for Thai Cucumber Salad is as authentic as one can get. Inspired by all of the glorious Thai dishes and excellent Thai cooks who shared recipes wth me, this is simply the BEST Thai Cucumber Salad! Enjoy, enjoy, ENJOY!
---
For the Salad:
2 large English cucumbers, cut lengthwise in half and then slice into 1/4" thick slices
1/4 – 1/3 cup red onions, very thinly sliced or chopped
1 medium jalapeno pepper or 1 Thai red chili if you prefer true "Thai Hot" heat, seeded and finely minced
6 Tbsp. chopped cilantro
3/4 – 1 cup unsalted, dry-roasted peanuts
Dressing
3 Tbsp. peanut oil or sesame oil
1/2 cup rice wine vinegar
1 Tbsp. soy sauce
1 Tbsp. Thai garlic chili pepper sauce (this is not HOT sauce at all)
2 Tbsp. freshly squeezed lime juice
1/4 cup sugar
Zest of one lime
1 garlic clove, minced
1 Tbsp. Asian/Thai fish sauce
1/4 tsp. white pepper
Red pepper flakes (sprinkle on only as much as you like or eliminate for no heat addition)
---
Instructions
First make the dressing:
In a medium-size mixing bowl, whisk together all ingredients for the salad.
Add more of any of the flavors that you prefer, which is the true Thai way.
Spoon onto a lovely serving plate or individual salad plates.
Garnish with cilantro leaves and sliced limes.
Serve with a platter of extra lime slices, red pepper flakes, chopped cilantro, chopped peanuts, Thai sweet chili sauce, sugar, salt, etc. for your guests to add more of their favorite flavors.
---
Notes
I am forever indebted to the University of Tennessee which supported my travels and research to Thailand for two summers. Additionally, I must thank Dr. Warunee Thanapase of Kasetsart University in Bangkok, Thailand for the tireless amount of time that she drove me around her beautiful country sharing everything that I could soak in after our research work was complete.
---
Nutrition
Serving Size: 1
Calories: 538
Sugar: 21
Sodium: 1219
Fat: 37
Saturated Fat: 7
Unsaturated Fat: 25
Trans Fat: 0
Carbohydrates: 39
Fiber: 5
Protein: 18
Cholesterol: 26
Keywords: Thai; cucumber; salad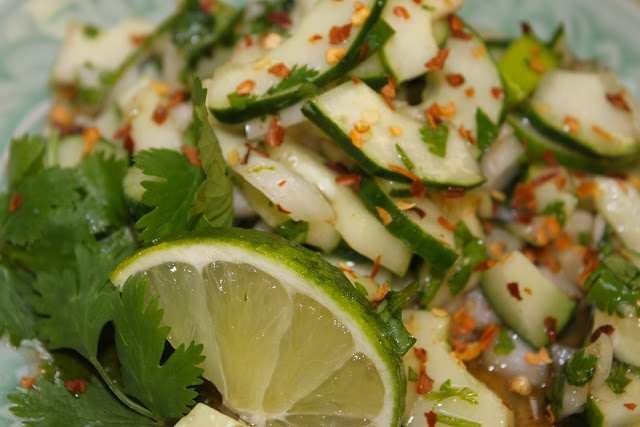 .
Ahhhh . . . so fresh and so colorful . . . and so deliciously Thai!
Thai Cucumber Salad
.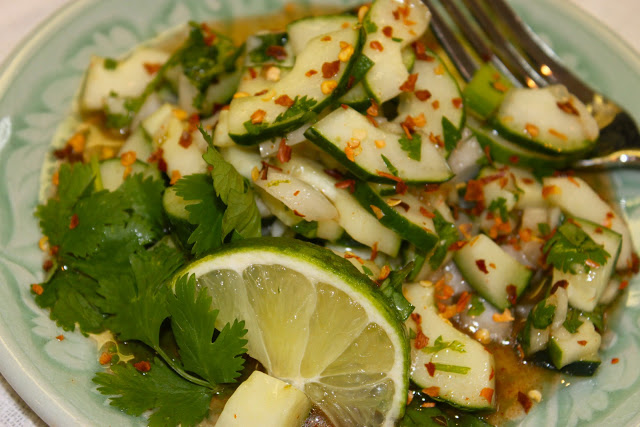 Originally posted in 2010 and updated with current photos and information in 2022