Cheesy ELOTE Mexican Street Corn Dip
My family is crazy about corn! Being from Iowa that should not be a big surprise. But we've found some super sweet corn at our favorite road side stand here in the Carolina's. It's in season right now, but if you're reading this recipe out of season, frozen corn will do just fine. This delicious Cheesy Elote Mexican Street Corn Dip is sure to make a LOT of tastebuds and tummies VERY happy! Another good one to prepare is this Grilled Italian Corn with Garlic-Basil Butter.
Mexican Street Corn. Have you tried it lately? Of course my husband turned up his nose when I told him about the ingredients. He sure changed his mind quickly upon his first bite. Both of us were eating it hot, straight out of the pan! We were a pitiful mess with corn kernels all over our faces and cheese dripping down our chins. Foodie fun is what I call this! I promise you, we have better self-control when guests are with us!
There are several recipes everywhere for Mexican Street Corn, so as always, I did my thing and tweaked things here and there to come up with this version. As always, I recommend that you do the same and make this or any recipe more of your 'own'.
This recipe is loaded with creaminess and cheesiness: Pepper Jack cheese, cotija cheese, sour cream (or Mexican crema), and heavy cream. With a hint of spice and some tanginess added into the mix, you've got a real winner to serve!
So What Is ELOTE?
Traditionally when you say "elote", you're simply saying "corn on the cob" in Spanish. And if you like street food from different cultures around the world, you know about this famous corn prepared in Mexico. Ears of corn, aka "cobs" are grilled perfectly and then coated in a mixture of mayonnaise, cotija cheese, garlic, cilantro, chili powder or Tajin, and then sprinkled with more chopped cilantro, crumbled cojita, and a few squeezes of lime juice.
And when you visit Mexico, every street vendor prepares Mexican street corn a little differently than the next guy, so it's natural to taste variations of this. One thing that never changes is the flavorful taste! Delicious! And addicting!
The flavors are heavenly on their own, and when combined they create such a unique flavor . . . and all brought together baked into a hot and bubbly, cheesy dip.
You'll jump for joy over the sheer simplicity of making this dip too! You can make this in less than 15 minutes! Got a few guests coming with a few moments notice? This recipe will answer your prayers!
Oh and another perk about this Elote Mexican Street Corn Dip is that you can make it one day in advance of serving it. Gotta love it when you're preparing a big spread! Anything to reduce stress in my life is a darn good thing!
ELOTE Mexican Street Corn INGREDIENTS:
Corn – Whenever possible, buy fruits and veggies in season when their flavor is at it's best. Frozen is the next best choice, followed by canned corn. The only canned corn that I buy is Green Giant "Niblets" because the corn kernels are so firm, chewy, and SWEET!
Mayonnaise – Either regular, low fat, or Miracle Whip can be used.
Mexican crema or sour cream, AND heavy whipping cream
Cayenne Pepper- Some people use chili pepper, but this really adds a better flavor of heat.
Cotija Cheese – It wouldn't be Mexican without traditional Mexican cheese. Cotija is soft, mild flavored, and easy to crumble. It is commonly available in stores around the U.S. in a block form that easily crumbles.
Cilantro – Personally I must have a lot of cilantro in Mexican recipes. But you use however much you prefer.
Lime – Cilantro and lime are like a married couple! They just go together perfectly to enhance any recipe.
Garlic – And for my family and me – – well garlic just makes everything (but sweet recipes) better.
Red onion – colorful and flavorful, it's just prettier than white onions.
Jalapeño – don't make any southwestern/Mexcan recipe without it! Gotta have that punch of heat!
How To Make ELOTE Mexican Street Corn Dip:
First, start by simply melting the butter in a heavy metal skillet.
Add the corn to the hot butter and either roast the corn in same pan or roast it in a cast iron skillet on the grill. Roast/grill until you get a nice caramelized char or slightly blackened appearance around the edges of the corn kernels.
Meanwhile, as the corn is roasting, prep the rest of your ingredients. Chop the garlic, cilantro, jalapeño, red onion, grate the cheese, crumble the cotija, and measure out the remaining ingredients.
Remove the corn from the heat when thoroughly charred. Blend in the mayonnaise.
In a small bowl, mix cornstarch into the whipping cream. Place in a small pan on medium heat and bring to a simmer.
Add the pepper jack cheese into the hot cream/cornstarch mixture; reducing the heat to allow the cheese to melt.
Add everything together. Pour the cheesy mixture into the corn/mayo mixture. Add the jalapeño, garlic, cilantro, cayenne and gently stir until everything is well combined.
Taste and adjust seasonings. Add salt and pepper to your taste preference. Adjust the cayenne pepper for more intense heat and the lime for more tanginess if you like.
Pour onto a pretty platter. Generously sprinkle the crumbled cotija all over the top of the corn mixture. Garnish with some sour cream (or Mexican crema), lime slices, sprinkled cilantro, and dashes of cayenne pepper.
Serve hot immediately with tortilla chips.
Be sure to see the recipe card included below for the full ingredients and instructions!
Tips for Making Elote Mexican Corn Salad
This Elote Mexican Street Corn Dip is best when made with corn during the peak of season when it is at its freshest and sweetest on the cob.
Drain and dry out the corn as much as possible. Once in the bowl use a paper towel to dry it off more. Too much liquid makes the dip runny, so try to get out as much liquid as you can.
Roast or grill corn on the cob for this recipe.
Use great caution and care when cutting corn off of the cob. Hold each ear upright vertically. Using a very sharp knife, start from the top and slice down doing your best to cut as close to the woody cob as possible so you can have entire kernels of corn. Place corn kernels in a large bowl.
If you're in a pinch with time, it's OK to use canned or frozen corn. I only use Green Giant Niblets due to the crunchiness of the corn and its high level of sweetness. For additional flavor, you can use the spicier, southwestern-flavored canned corn with chiles and bell peppers.
Because this recipe contains mayonnaise do not leave it out at room temperature or warmer for more than 2 hours. It should be chilled when not being consumed.
This corn dip does not freeze. It keeps nicely for up to 4 days in a sealed container.
PIN IT FOR LATER
More Corn Recipes For You to Enjoy:
Check Out More Delicious Appetizer Recipes:
Helpful Tools:
So treat yourself and munch on this perfect appetizer.
It's a great bite to share!
Cheesy Mexican Street Corn Dip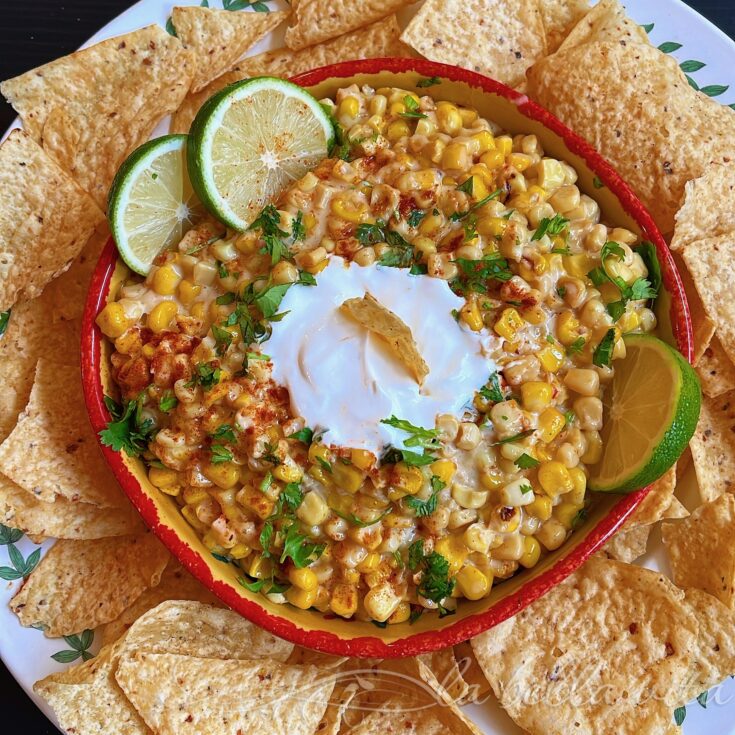 Ingredients
5 Tbsp. butter
4 cups corn kernels, fresh or frozen (fresh is best), removed from the cob
2 Tbsp. mayonnaise or Miracle Whip
1 Tbsp. cornstarch
1 cup heavy whipping cream
8 oz. Pepper Jack cheese, shredded
¼ cup fresh cilantro, minced
1 small jalapeno pepper, seeds removed, minced
½ medium red onion, chopped
1 clove garlic, minced
3 Tbsp. fresh cilantro, minced
Cayenne pepper to taste
1 lime, zest and juice (or to taste)
Garnish
3 Tbsp. sour cream (or Mexican crema)
½ cup cotija cheese, crumbled
1 lime, sliced
cayenne pepper, sprinkled
3 Tbsp. minced cilantro
Instructions
In a large heavy skilllet, on mediium high heat, melt the butter.
Add the corn and allow it to 'char' a little, then stir it up a bit, and char some more.
Remove from the heat and blend the mayonnaise into the charred corn.
In a small bowl, mix the cornstarch into the whipping cream. Take it to the stove in a small pan, bring it to a simmer on medium heat.
Add the Pepper Jack cheese into the hot cream/cornstarch mixture, reducing the heat and allowing the cheese to melt.
Pour this cheesy mixture into the corn/mayo mixture and gently stir until well mixed.
Add jalalpeno, red onion, garlic, cilantro, cayenne, and lime to taste. Salt and pepper the dip if desired.
On a nice large platter, pour the corn dip into a bowl that fits in the the center and place tortilla chips all around.
Garnish with sour cream (or Mexican crema), sliced limes, sprinkling of cayenne pepper, crumbled cotija cheese, and minced cilantro.
Serve hot immediately with tortilla chips.
Recommended Products
As an Amazon Associate and member of other affiliate programs, I earn from qualifying purchases.