Watermelon, Blueberry, and Gorgonzola Salad
When watermelon is at its peak of the season, it has a natural sweetness that is quite simply DIVINE! Its flavor ranks right up there with that of a fresh summer tomato! But when it's not in season, forget about it! Plus there are endless ways to enjoy watermelon on hot summer days. This Watermelon and Blueberry with Gorgonzola Salad is a delicious sweet and tangy addition to your summer menus.
Speaking of sweetness, this watermelon salad is guaranteed to satisfy your cravings for a sugar fix . . . and in a healthy way too!
Plus this watermelon salad is so refreshing in the summertime when it's hot outside. And even though it can be messy to eat, it's fun to watch kids bite into slices of watermelon with juice running down their faces! All of that liquid is so good for helping us stay hydrated (it is called "water" melon) in the summer.
And with any American patriotic holiday such as the Fourth of July and Memorial Day, Watermelon and Blueberry with Gorgonzola Salad is a festive, crowd-rising recipe with a red, white, and blue theme!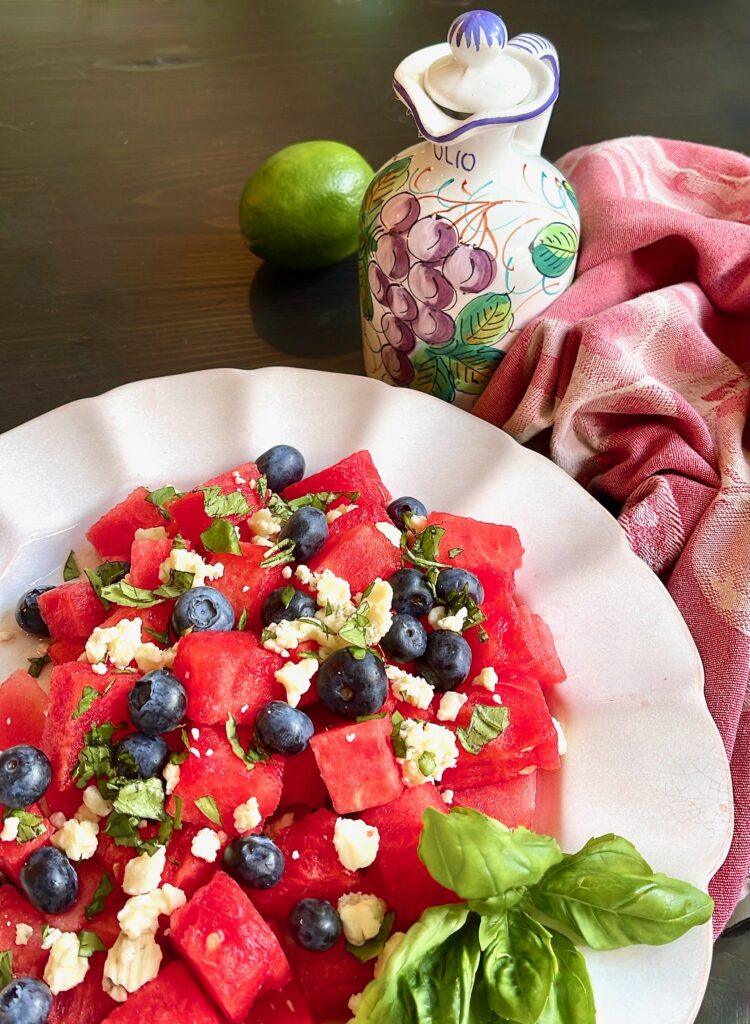 Don't let the thought of Italian gorgonzola crumbles sprinkled on top of this watermelon salad turn you away from trying this recipe. Actually, the gorgonzola adds a vibrant, tangy, zesty flavor that magically compliments the delicate sweet notes of the watermelon. Adding the basil creates another layer of flavor that's not very overpowering.
You'll enjoy how fast this watermelon salad comes together with only a handful of ingredients. I cheat a little and purchase pre-cut watermelon. By doing so, I can whip up this recipe in a matter of minutes.
More Fruit Recipes For You To Enjoy:
Fruit Pizza (Red, White, and Blue)
NY Cheesecake (Red, White, and Blue) Copycat
Still The Best Flag Cake from Ina Garten (Red, White, and Blue)
Easy Red Fruit Salad with Balsamic Vinaigrette
Red, White, and Blue Fruit Kabobs
Recommended Things That You Might Enjoy
Stainless Steel Watermelon Cube Slicer and Corer
4.2 out of 5 stars from 3,308 customers
Hand-Painted Ceramic Watermelon Serving Bowl, 13″ x 10″
William Roberts Ceramic Watermelon Bowls Set of 4
Yield: 6 servings
Watermelon, Blueberry, and Gorgonzola Salad
This Watermelon, Blueberry, and Gorgonzola Salad is a refreshing beauty! It's easy, healthy, and delicious . . . and a perfect summertime salad for your family and guests, whether at a potluck, outdoor barbecue, or a picnic. Enjoy! Mangia e' Buon Appetito!!
Prep Time 15 minutes
Total Time 15 minutes
Ingredients
For the Vinaigrette:
½ cup extra virgin olive oil
2 Tbsp. red wine vinegar
1 Tbsp. balsamic vinegar
2 - 3 Tbsp. honey (or to your taste preference)
Freshly-cracked pepper (to taste)
Sea salt (to taste)
For the Salad:
6 cups watermelon, cut into 1" cubes
1 - 2 cups fresh blueberries
4 oz. gorgonzola crumbles (add more if preferred)
¼ cup minced basil leaves
Optional add-ins: 1 cup chopped jicama, chopped praline pecans, minced mint
GARNISH: Fresh basil leaves
Instructions
Prepare the vinaigrette first and set it aside. Add more of any ingredient to obtain your flavor preferences,
Combine the watermelon, blueberries, and gorgonzola in a medium-sized mixing/serving bowl. Toss very gently.
Add the minced basil and once again toss very gently.
Pour the salad onto a lovely serving platter or individual salad plates.
Garnish and serve immediately (because watermelon releases its juices very quickly).
Serve with dressing/vinaigrette on the side so that your guests can drizzle the amount on their individual salads that they prefer. Use your own homemade vinaigrette or favorite store-bought dressing if preferred.
Enjoy! Buon Appetito!
Notes
You can use feta or goat cheese instead of gorgonzola cheese. My family prefers the gorgonzola.
You can use mint instead of basil in this salad. My family's preference is basil and so that's how we make it.
You can use your own vinaigrette recipe or store-bought version if you like.
Thank you for stopping by! I appreciate you so much!
Ciao!
Roz
Recommended Products
As an Amazon Associate and member of other affiliate programs, I earn from qualifying purchases.
Do you enjoy La Bella Vita Cucina?
We'd love to have you as part of our community!
Subscribe below to receive a FREE e-Cookbook and all of the latest recipes,
travel tips, and gardening ideas straight into your inbox!