How to Make Watermelon Granita Italian Ice or From Any Fruit
Is it hot enough outside for you? Looking for something really, really cold to help you cool off a bit? Well, Italian Granita is just one of the easiest super, icy cold, recipes to whip up on a hot summer day, and without ever using any heat in your Cucina! And it can be made with whatever fruit that you love! For my family that quintessential summertime flavor has to be Watermelon Granita, second only to Lemon Granita!
Americans have long enjoyed 'snow cones' during the hot summers of childhood. 'Slushees' have also been a fun frozen treat. And in Hawaii, the locals love 'shaved ice'.
I guess it comes as no surprise, that Italians have their own unique-textured, flavored fruity ice treats.
GRANITA!
WHAT IS GRANITA?
Granita is an Italian frozen ice mixture made from fruit, fruit juices, purées, sugar, and possibly other additional natural flavors. It is VERY similar to sorbet. The difference is that it is HAND-MADE and not made with a machine! This is why the texture of granita is more coarse and flakier than sorbet! Some even say that it is the closest thing to eating snow!
It is neither an American snow cone or Hawaiian shaved ice where the ice crystals have flavored syrups poured on top; the fruit or puree/juice are added before freezing and are part of the process of producing the granita. It's related to sorbet, but is uniquely distinct by its coarse, crystalline texture and contains no egg or dairy ingredients.
Italian Granita is a dream come true for those of us eating more fresh, healthy foods! Granita is a simply 'dessert' made from fresh fruit and water! Blend it all up and freeze until nice and icy. Then all you have to do is take a regular fork (no fancy equipment required here) and flake the frozen concoction and then freeze it once again! The result? A refreshing, crunchy upon the first bite and follows by a melt-in-your-mouth, fruit treat perfect for a summer's day!
What is the DIFFERENCE between Italian Granita and Italian Ice?
American Italian Ice is smoother and has a thicker consistency than granita, so it is often compared to sorbet.
So if one of your favorite frozen treats to try on your foodie bucket list is Italian granita, it's time to jump in and give this super easy icy treat a go!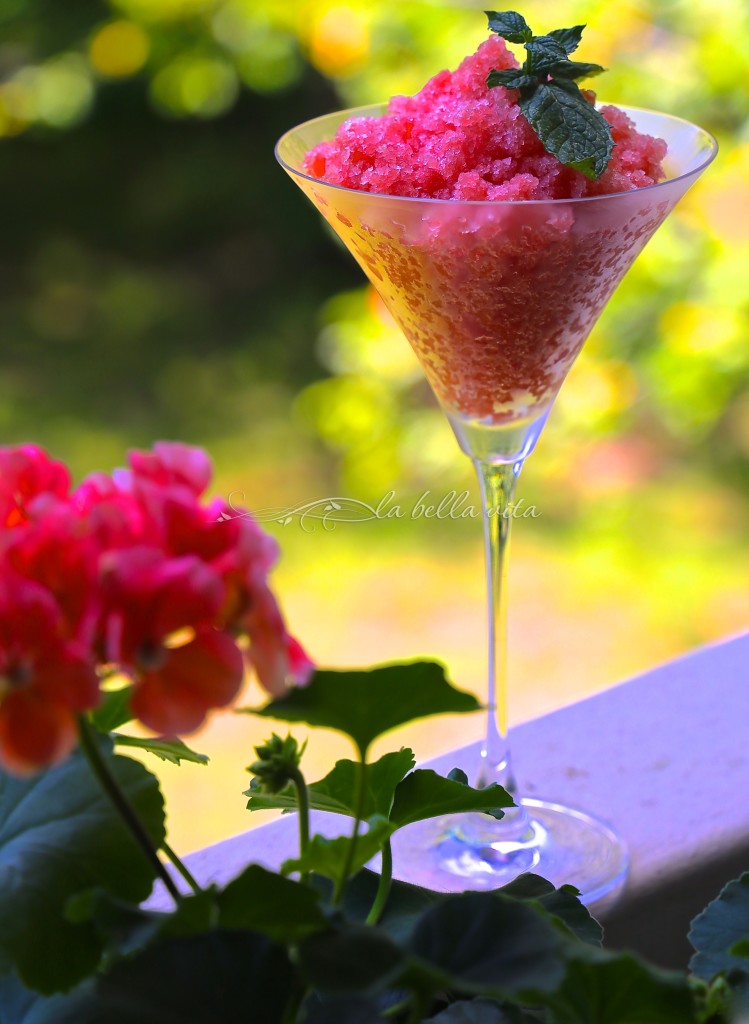 original photo taken from my little old 'point-and-shoot' pocket camera shot in 2015
If you're going to Italy, put this on your must-try list. And make sure that you try a few along the nail-biting cliffs of Amalfi, where the freshest of citrus ingredients infuse the ice! Where you can find a sharp turn with a 'look-out' place to stop, there is usually a local person selling granita along with other fresh fruits and vegetables.
Lemon is the most popular of all Italian ices and what I loved when I visited Amalfi. When it's boiling outside on a hot summer's day, there are few frozen treats that can top the tangy and revitalizing taste of lemon.
You can find granita all over Italy, but how it is prepared, and thus its texture, varies from city to city. In some places, such as Palermo, the granita has a coarse texture versus the smooth sorbet-like granita served in other places. The coarser versions are frozen first, as I do in my kitchen, and then scraped. Scraping causes the ice crystals to separate whereas the smoother version is made in a gelato machine.
Common and traditional flavoring ingredients include freshly-squeezed lemon juice, oranges, cherries, raspberries, strawberries, mulberries, watermelon, coffee, almonds, and mint. Coffee-flavor-infused granita can be found in Messina, and you can even find some fantastic chocolate granite in Catania..
If nothing else, the brilliant rose-pink-red color of fresh watermelon is so PRETTY!
How to Make Granita from Any Fruit At Home:
Italian granita can be made in so many flavors! Traditionally, that would be lemon. But during the hot, dog days of summer, you want to choose the freshest fruit in season: Watermelon, peaches, strawberries, raspberries, blackberries, blueberries — you name it!
The BASIC recipe for granita depends on the ripeness and sweetness of the fruit that you choose to use. Also, the level of fruit juice inside makes a bit of a difference too.
Here's the basic recipe:
4 cups cubed fruit (peels removed)
1/4 cup granulated sugar: You can add more or less depending on the sweetness of your fruit.
A pinch of salt or spice: Optional, but creative. For this recipe (watermelon) I add a bit of lime juice!
Here's how easy this is:
Purée the fruit: In a blender or food processor, purée the fruit with the juice and sugar. If your fruit is a bit dry, just add a few tablespoons of water until the purée is about the thickness of a smoothie.
Freeze the for the first round: Pour the fruit purée into a shallow pan for freezing, (metal or glass) for 45 minutes until it is frozen on the top and sides of the pan.
Scrape the granita. Take a dinner fork and simply scrape the frozen granita with the tines of a fork, while making sure to break up any large chunks. Repeat this step two or three times (freeze – scrape, freeze – scrape).
Freeze one last time before serving. Finally, put the scraped granita still in the same pan back into the freezer for 4 or more hours.
TIP: Place the frozen granita in serving glasses and keep in the freezer until time for serving!
Enjoy!
Mangia!
.
Fill the entire blender with chunks of watermelon (above photo).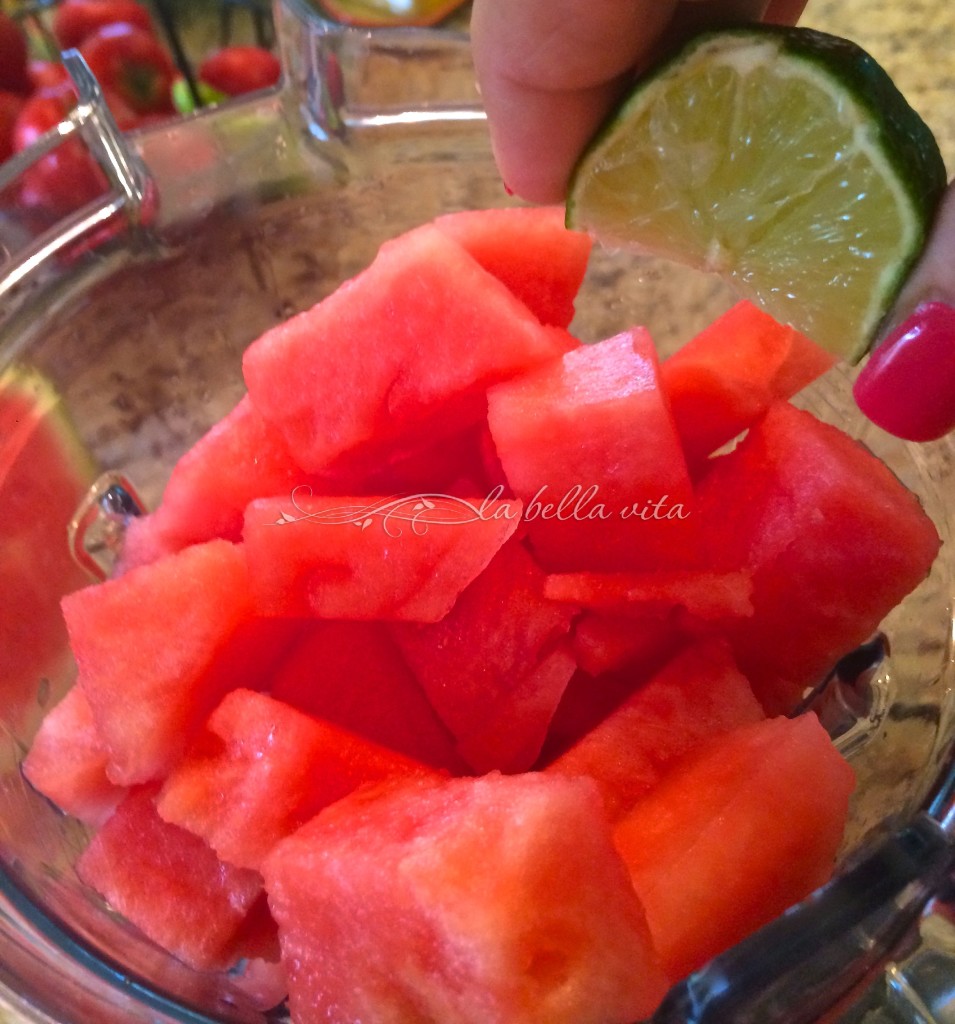 .
squeeze a little bit (not a lot) of one lime wedge into the blender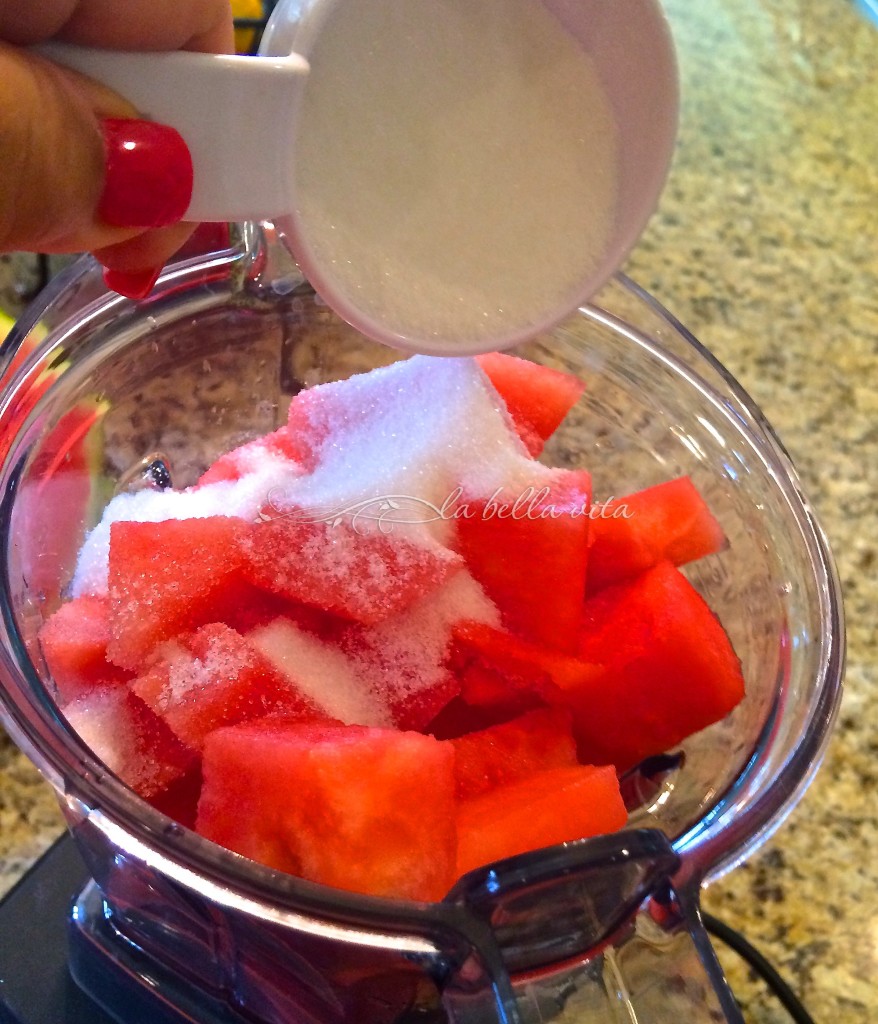 add about 1/2 cup of sugar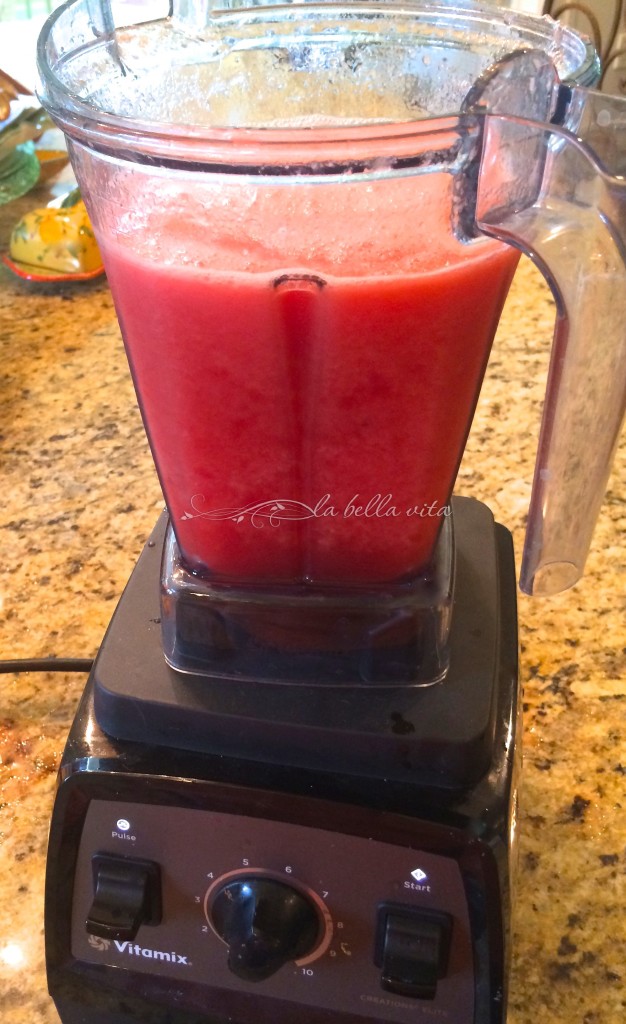 .Give everything a whirl for a few seconds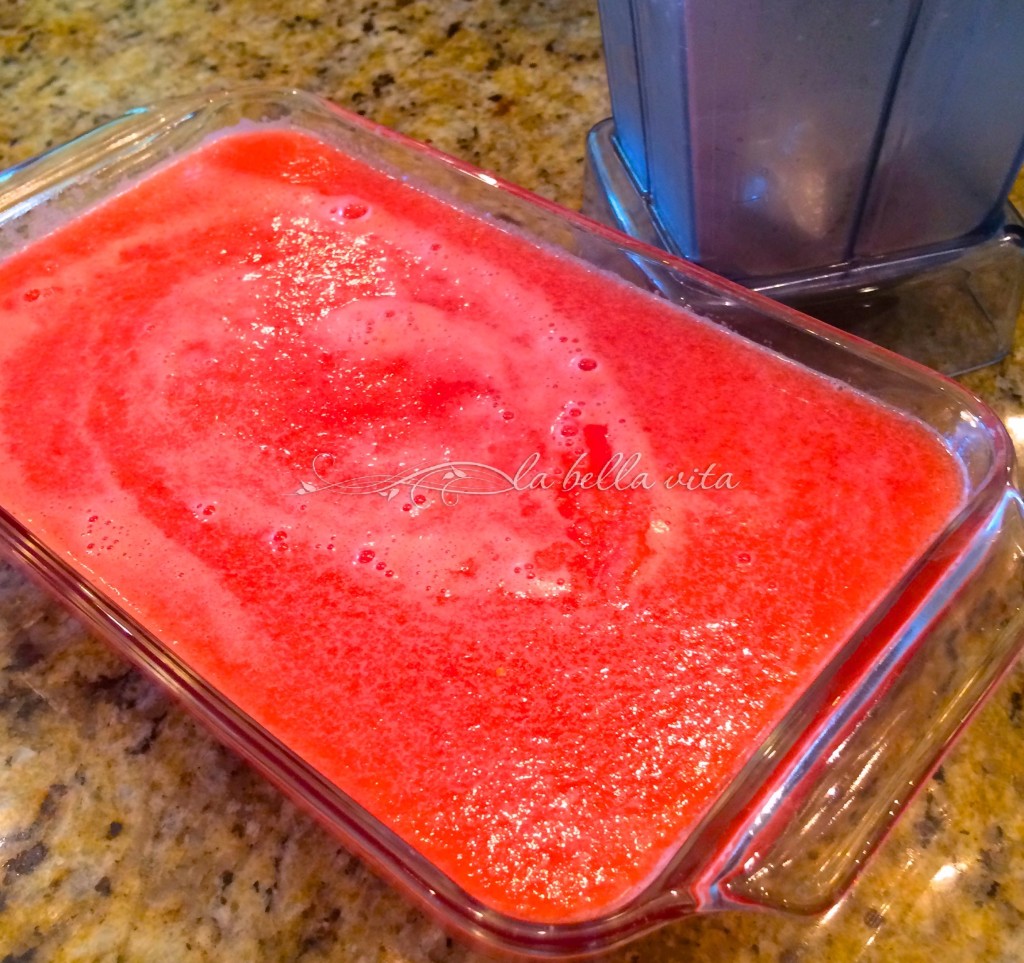 pour pureed watermelon into a baking pan . . . place in the freezer for 4 hours minimum or overnight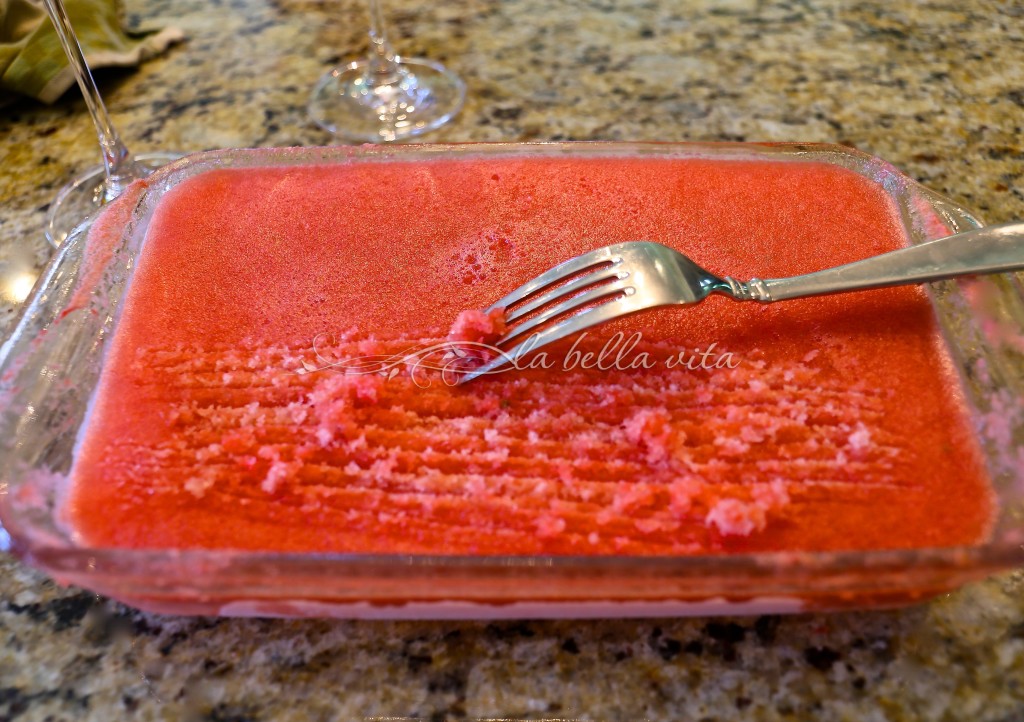 ..
.
the next day, using a fork, scrape all of the granita (above photo)
For the best results, repeat this step 2 or 3 times.
As you can see in the photo below from my trip to the Amalfi Coast,
it is simply served in a small cup with a tiny spoon.
More Watermelon Recipes for You to Enjoy!
Watermelon, Blueberry, and Gorgonzola Salad
The Most Incredible Watermelon Salad
Easy Red Fruit Salad with Balsamic and Basil Vinaigrette
Simple and Easy Watermelon and Gorgonzola Salad
.
Print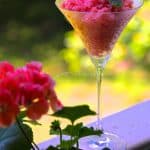 Watermelon Granita Italian Ice
Author:
Prep Time: 48 hours
Additional Time: 0 hours
Cook Time: 0 hours
Total Time: 48 hours
Yield: 6 – 8 servings 1x
Category: Desserts
Cuisine: Italian
---
1/3 to 1/2 fresh watermelon, rind removed, sliced, and cut into cubes
1/2 cup sugar
Optional: 1 slice of lime, squeezed
---
Instructions
Place all ingredients in a blender.
Give everything a whirl for about 30 – 60 seconds.
Pour the mixture into a baking pan.
Lay flat inside a freezer for a minimum of 4 hours or freeze overnight.
The next day, take a fork and scrape the entire frozen mixture.
Return ice flakes to the pan and freeze again for a few hours.
Remove from the freezer and scrape again.
Repeat this a third time for the best results.
Spoon the granita in clear, small pretty glassware.
Garnish with fresh mint leaves.
Serve immediately.
ENJOY!
Mangia!
---
---
Nutrition
Serving Size: 1
Calories: 76
Sugar: 18
Sodium: 1
Fat: 0
Saturated Fat: 0
Unsaturated Fat: 0
Trans Fat: 0
Carbohydrates: 20
Fiber: 1
Protein: 0
Cholesterol: 0
Keywords: granita, Italian
.