Amazing Cheesy Italian Turkey Tetrazzini with Garlic Buttercrumb Topping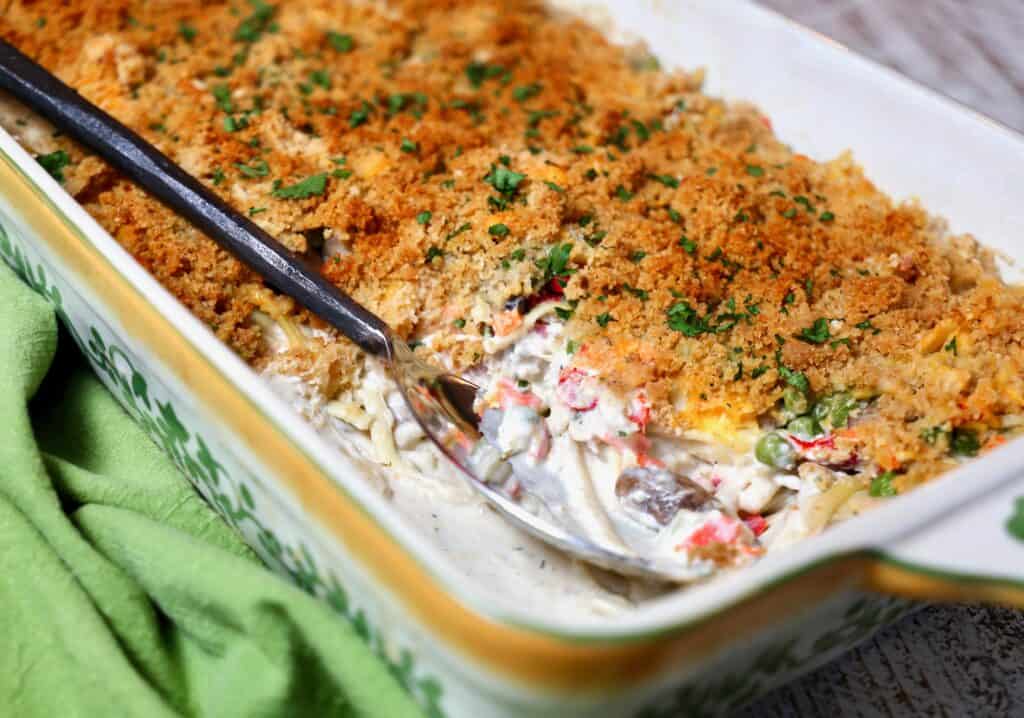 Comfort food is just the best, isn't it? And what could possibly be more comforting than turkey (or chicken) with pasta in a heavenly, creamy sauce filled with delicious mushrooms and veggies? It's rich, creamy, and delicious- the ultimate comfort food! For a delicious, hearty, and filling casserole, you're going to go crazy over this recipe for truly AMAZING Cheesy Italian Turkey Tetrazzini with Garlic Buttercrumb Topping!
For my family, comfort food also includes cheese and bread. And this recipe includes both! For an extra layer of 'oomph' flavor, it's topped with cheddar and parmesan cheese (yes, they pair nicely together). Then it's finished off with a layer of garlic-y buttered panko breadcrumbs to give it a wonderful crunch!, this turkey tetrazzini is simply irresistible! Every time I make turkey tetrazzini, I try to make it even better than the time before. This version is truly irresistible!
What Is Turkey Tetrazzini?
By the name, one would think that this is a recipe from Italy. Any Italian would scratch their heads wondering what in the world you were talking about when you mention 'Tetrazzini'. That's because it isn't Italian. Originally made with chicken, Turkey (or chicken) Tetrazzini is an American creation! It was first created in the early 1900's by a talented chef in San Francisco at the Palace Hotel. It was prepared especially for an Italian opera singer, Luisa Tetrazzini, who dined in the hotel. It became wildly popular and has been a family favorite ever since.
Tetrazzini is a dish that's usually made with diced poultry, pasta, mushrooms coated in a creamy, cheese sauce. Usually, linguine or spaghetti is traditionally used for tetrazzini, but you can use farfalle or any other pasta that you prefer. It's normally topped with lots of cheese and garnished with parsley.
Besides how delicious this creamy-cheesy turkey tetrazzini is, it's SO VERSATILE! Don't like peas? Leave 'em out. Love mushrooms? Add more. Don't like parmesan cheese? Use pecorino romano. How about some gruyere? YUM! You can use any veggies, poultry meat, and cheese that you like.
This recipe is made from scratch, a must for almost all of my recipes. There's such a HUGE difference in flavor and plus I just hate tasting preservatives in my food. I promise you that this recipe is super easy and uncomplicated!
---
So let's get to the kitchen and make some Turkey Tetrazzini!
Saute' onions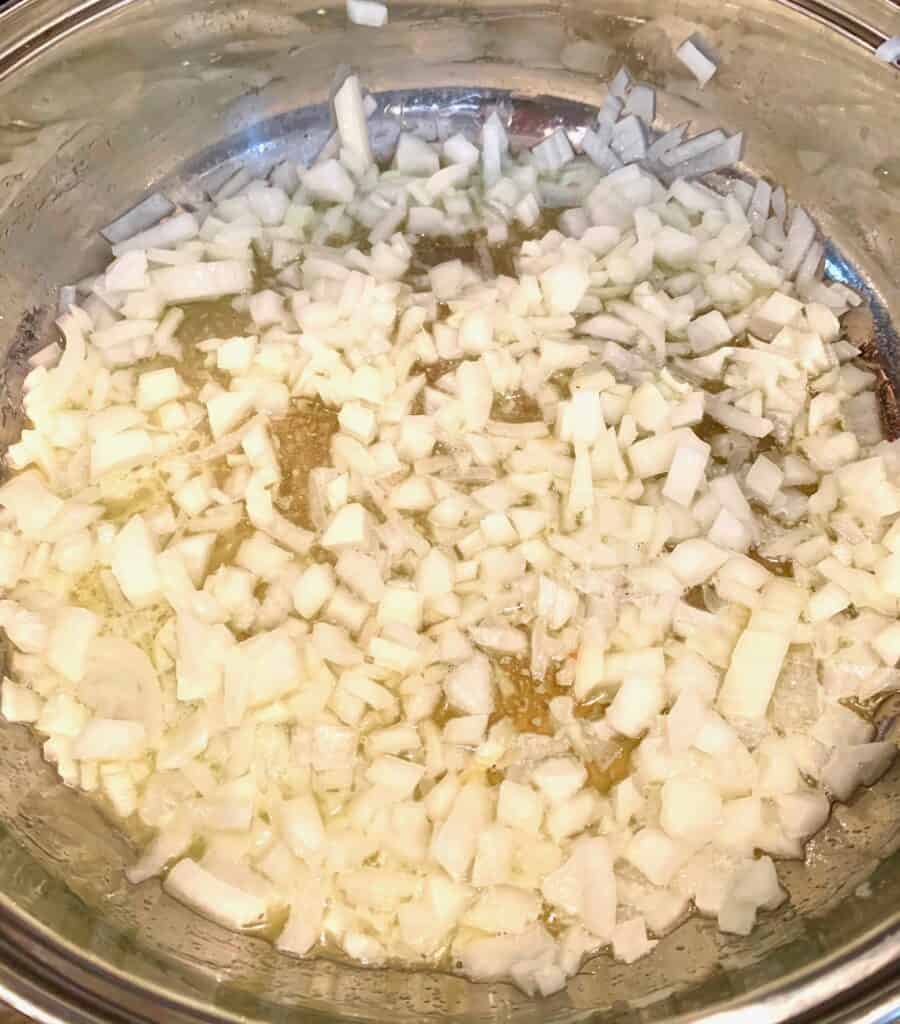 Saute' celery and garlic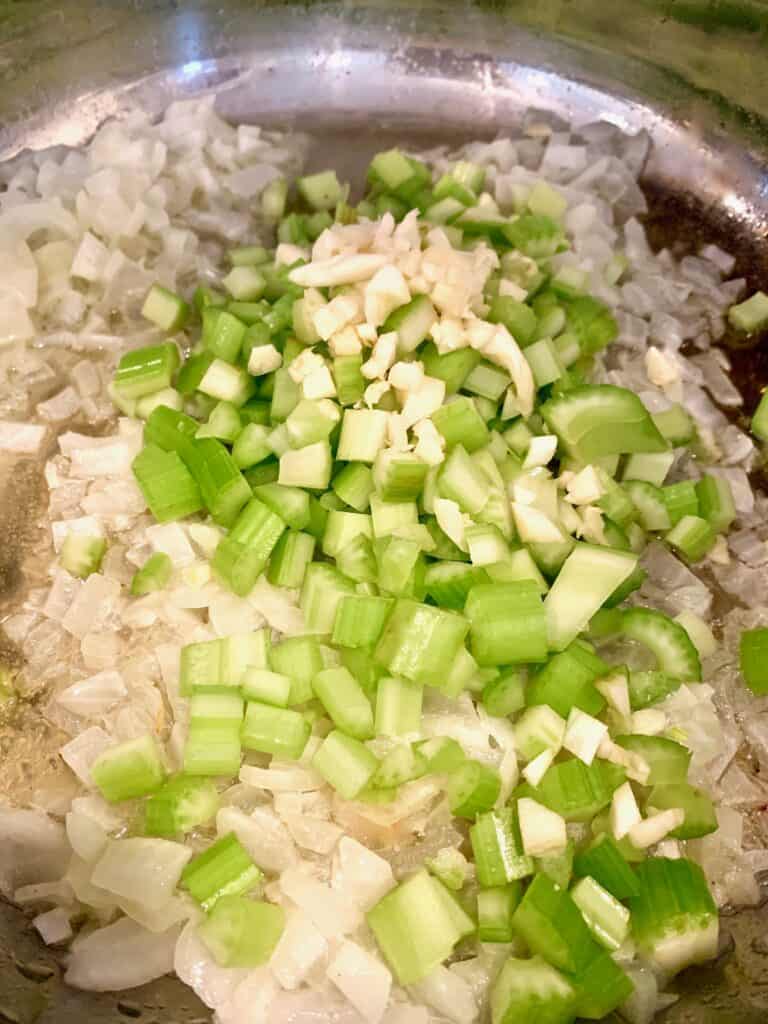 Mix well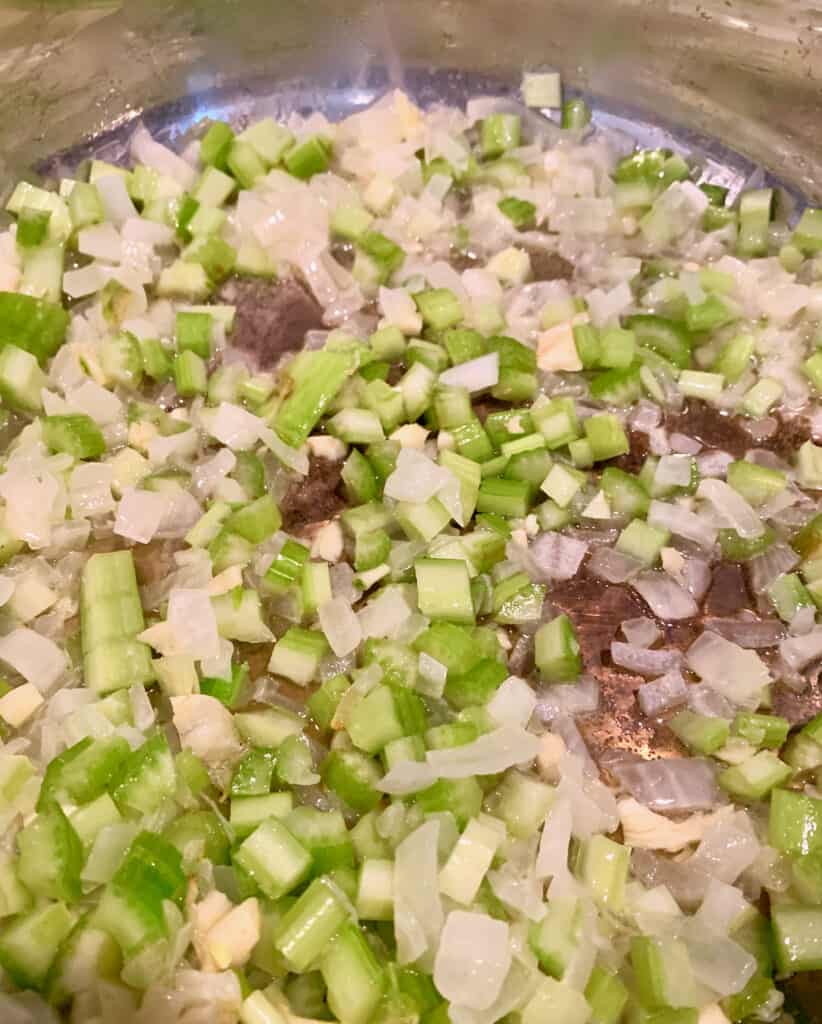 Fill a tall pot with water and boil to cook the pasta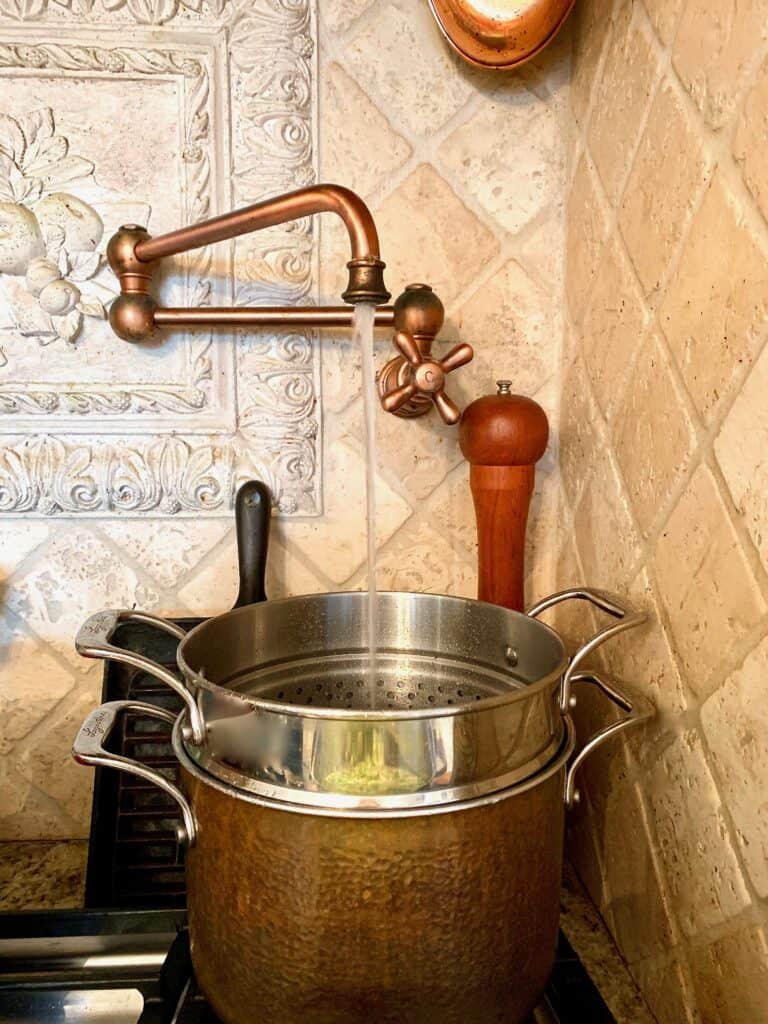 Add mushrooms to frying pan and saute for several minutes; mix well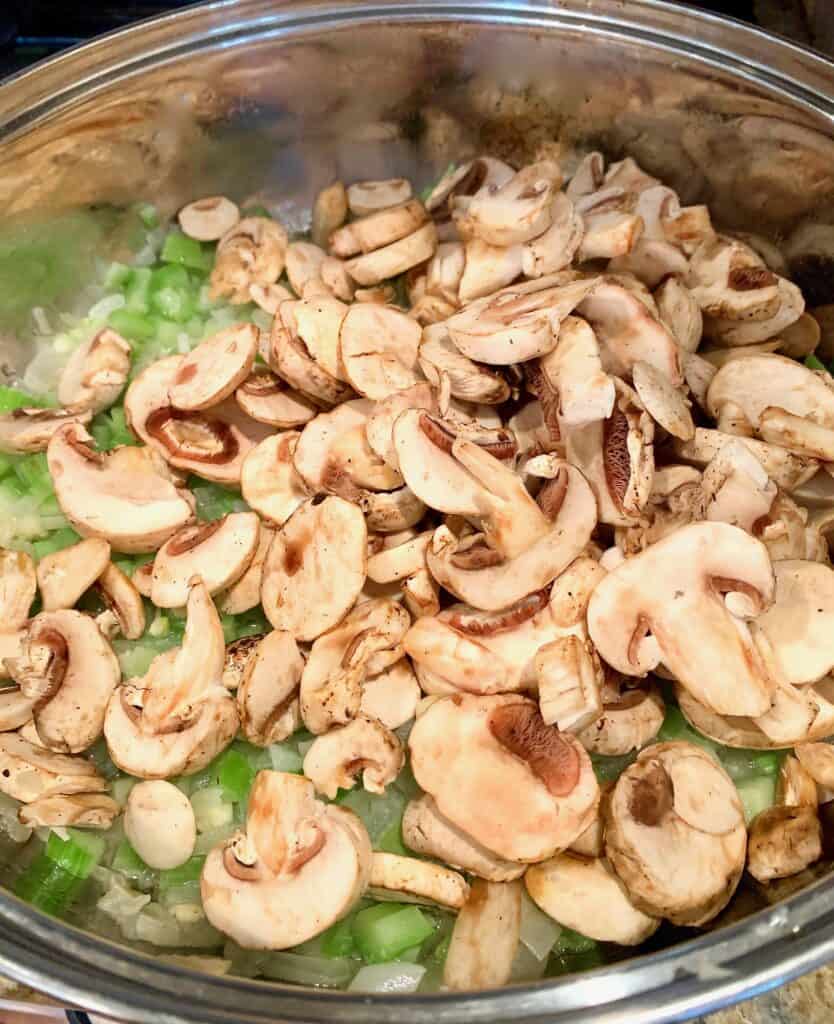 Add the cooking sherry and cook for a few minutes, do not let this all evaporate; it enhances the entire flavor of the dish.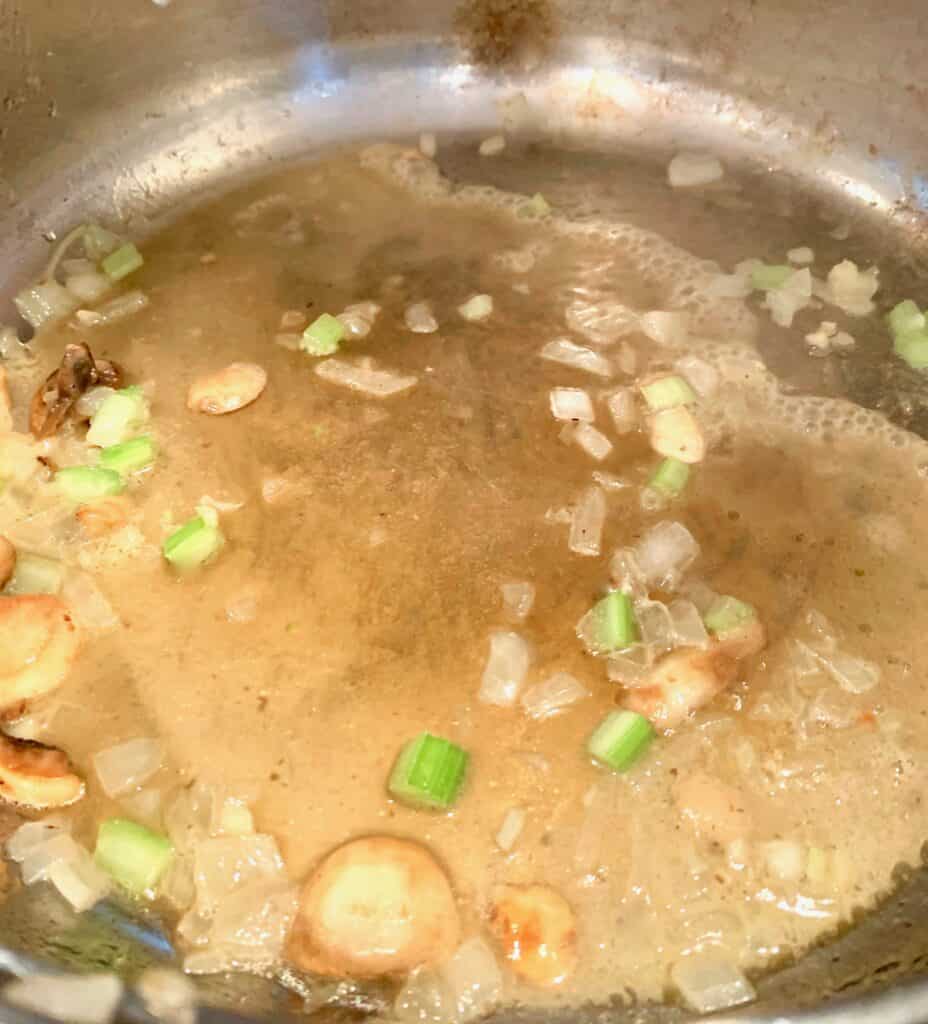 Add flour and stir; it will be very lumpy, but not for long!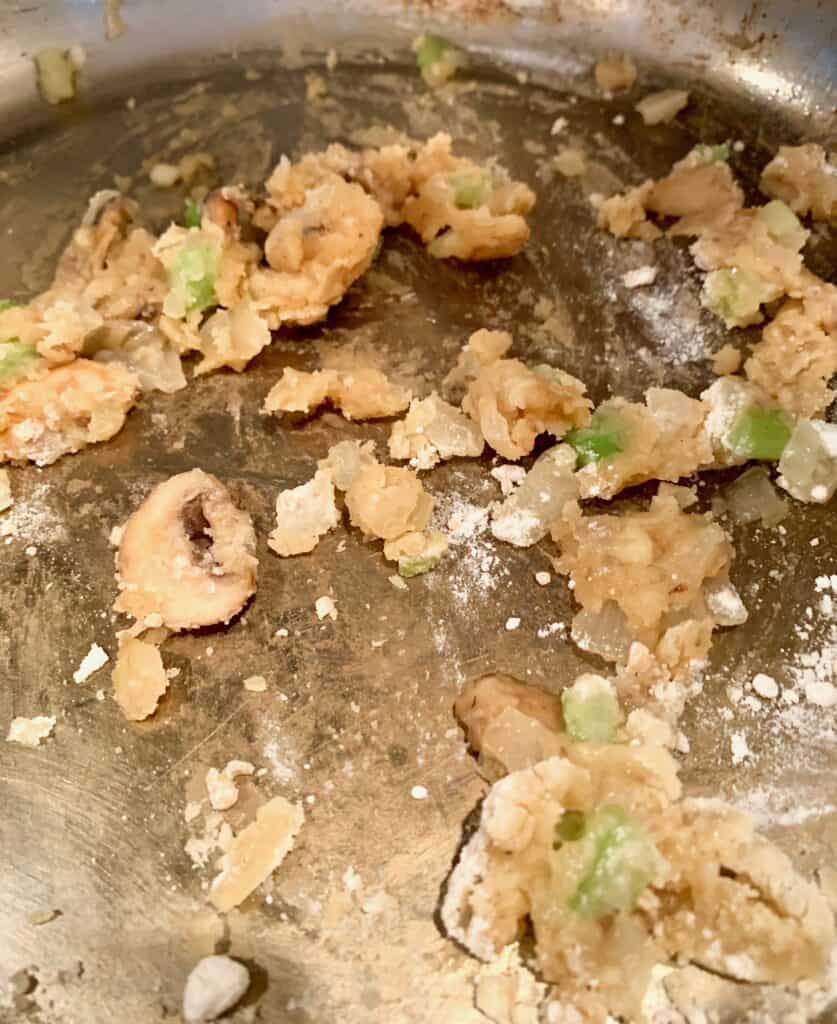 Add chicken broth and stir until flour is dissolved and no lumps present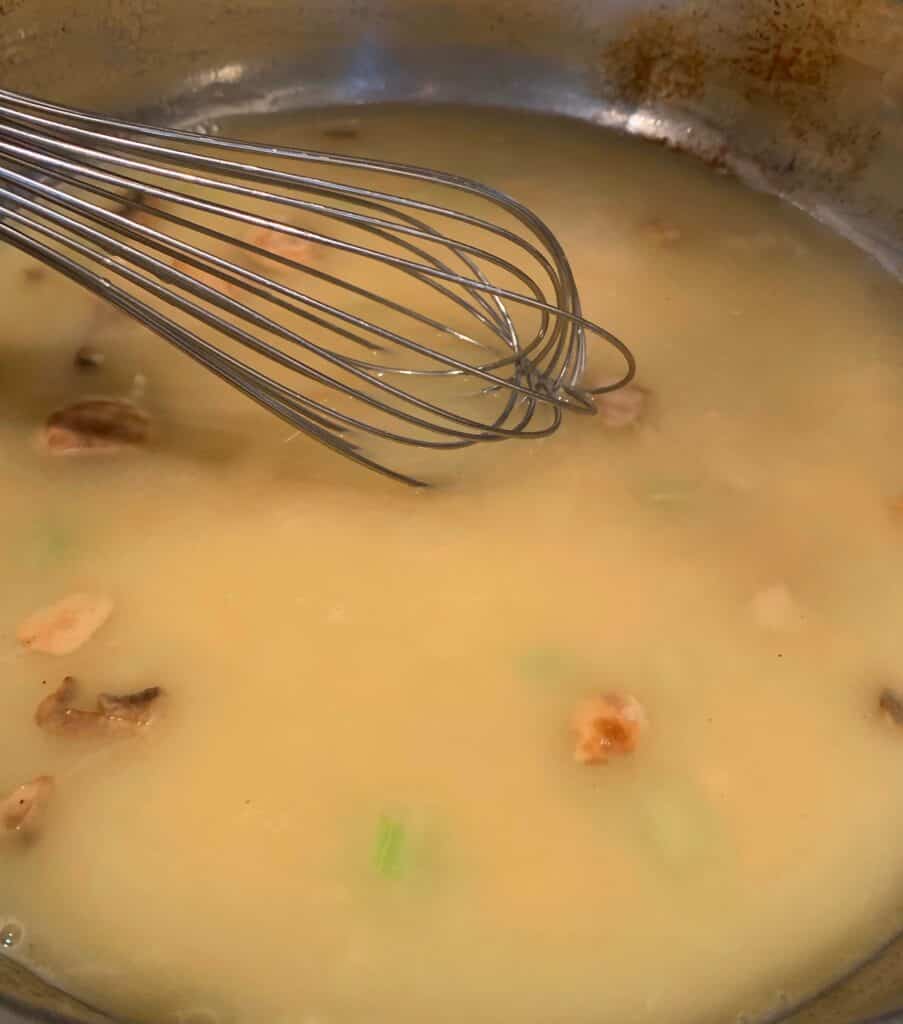 Pour in the cream (or whole milk if you prefer)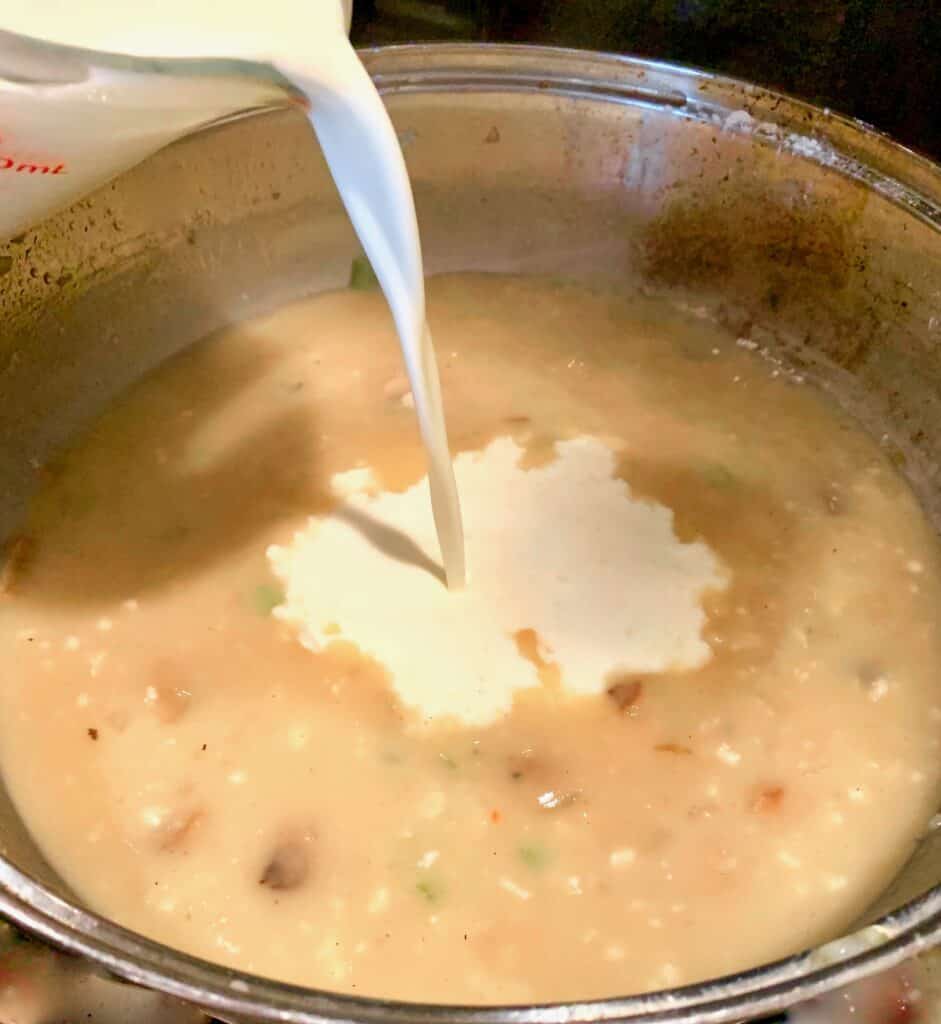 Add sour cream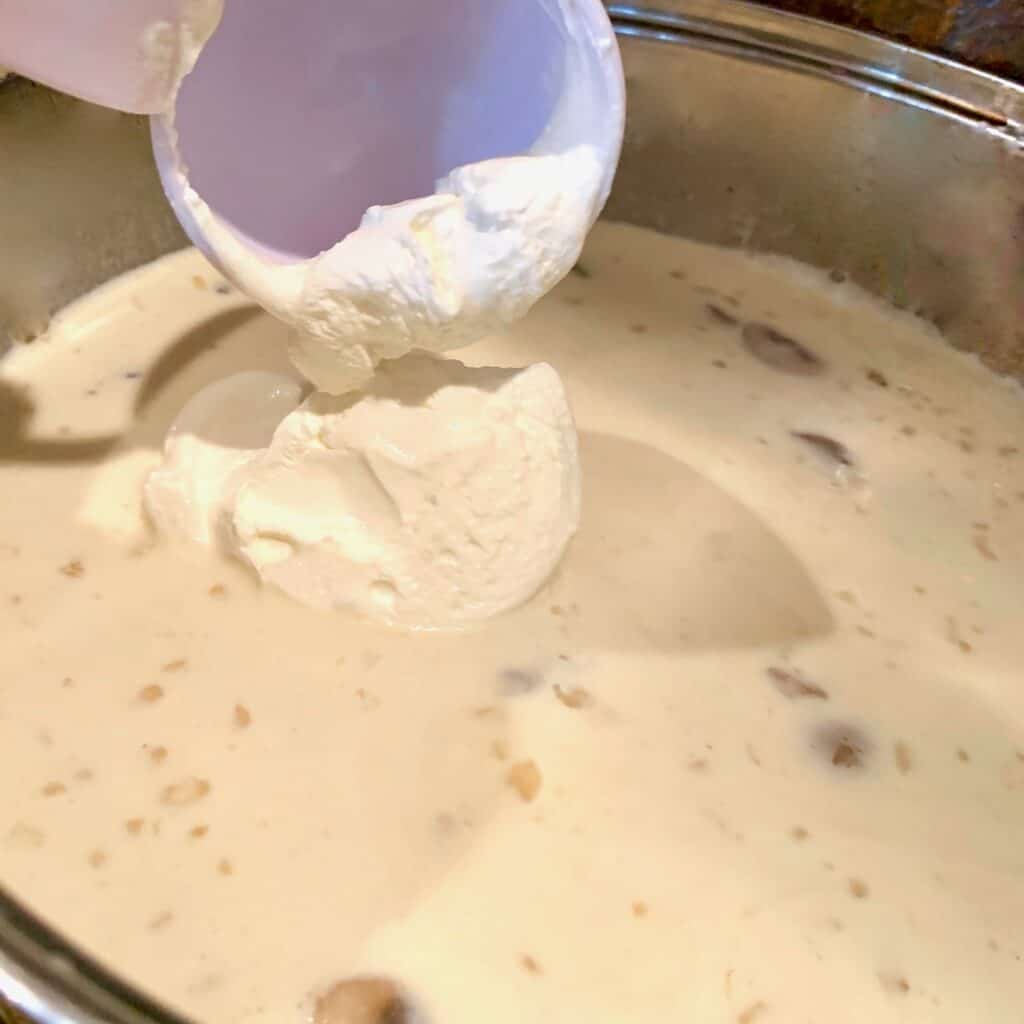 Add thyme, dried parsley, paprika, and Italian Seasoning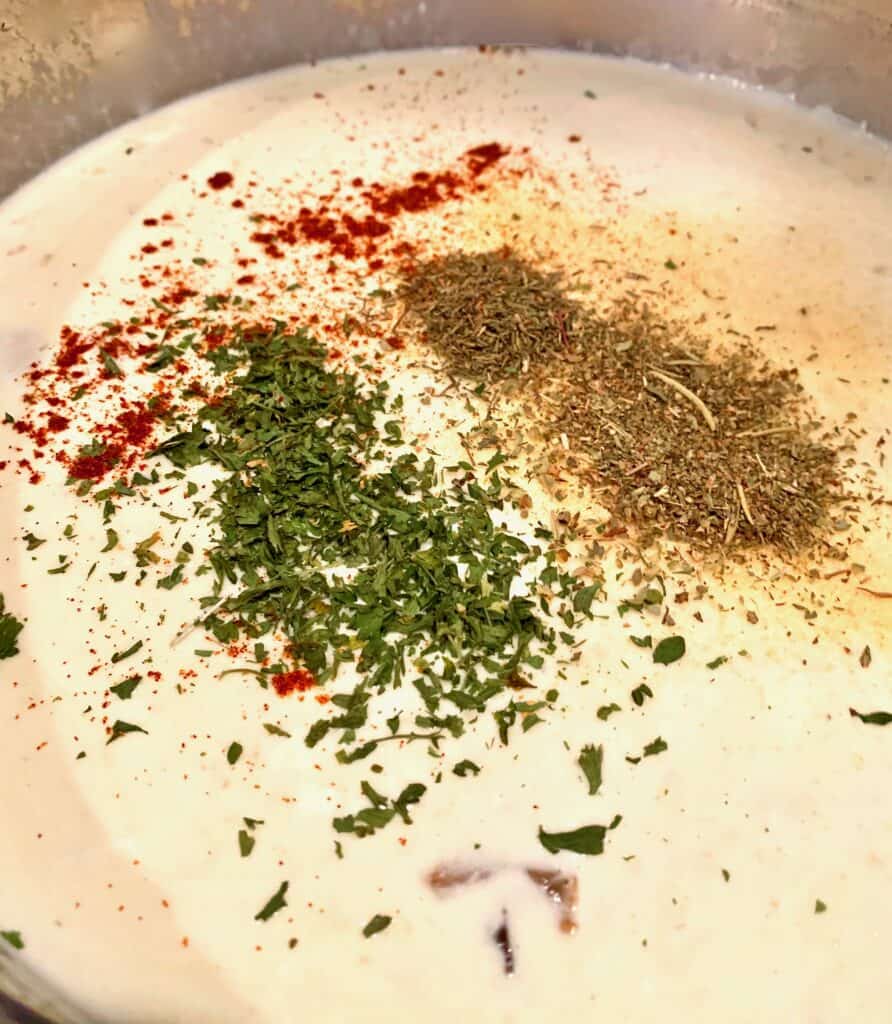 Whisk everything nicely together
Add pimento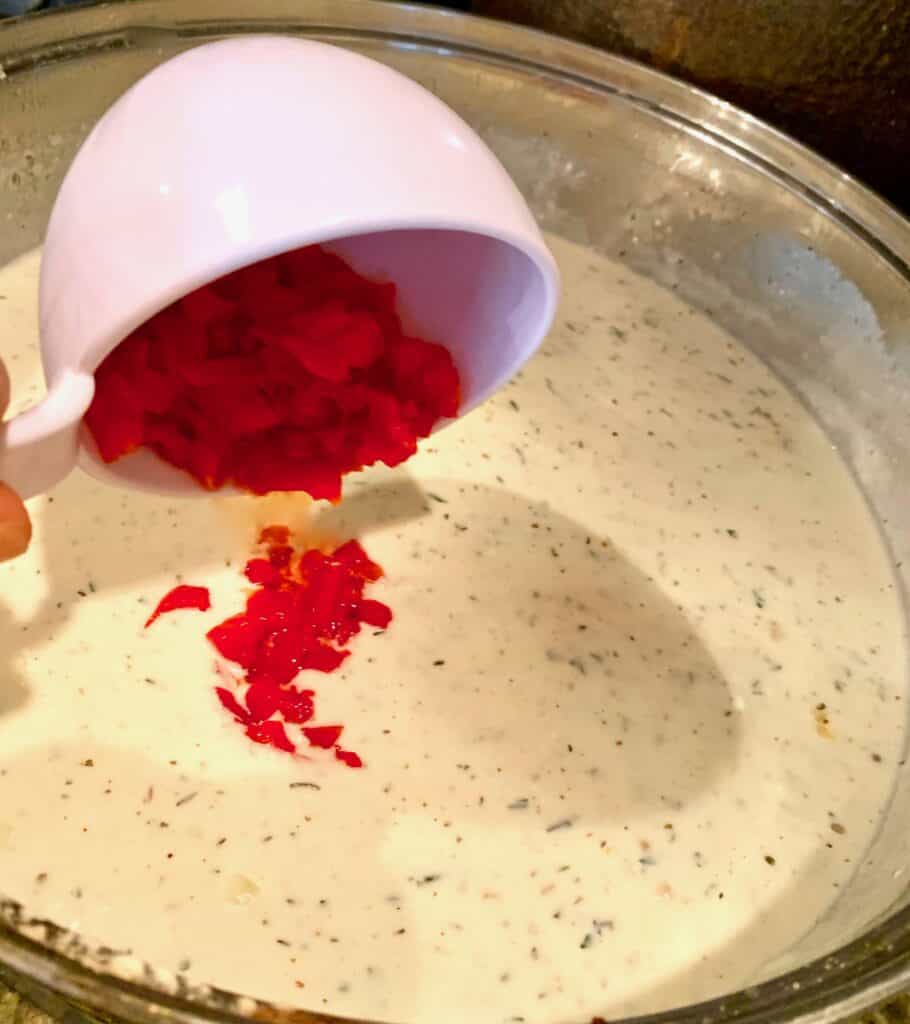 Add chopped carrots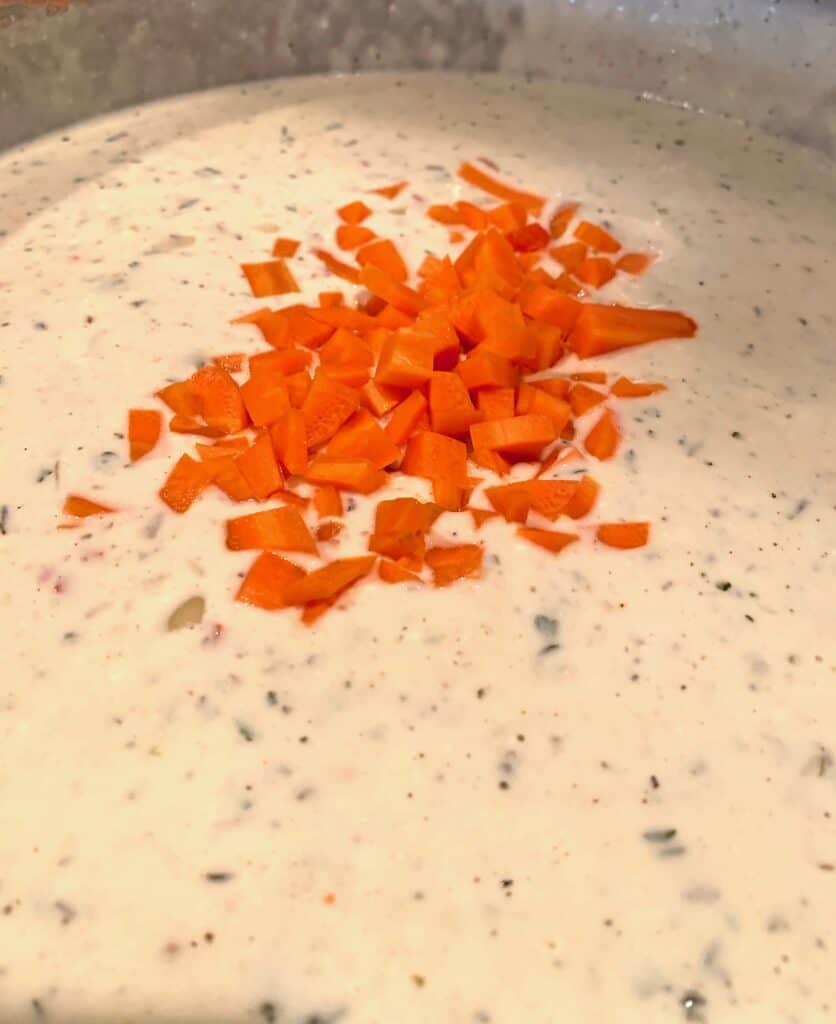 Add peas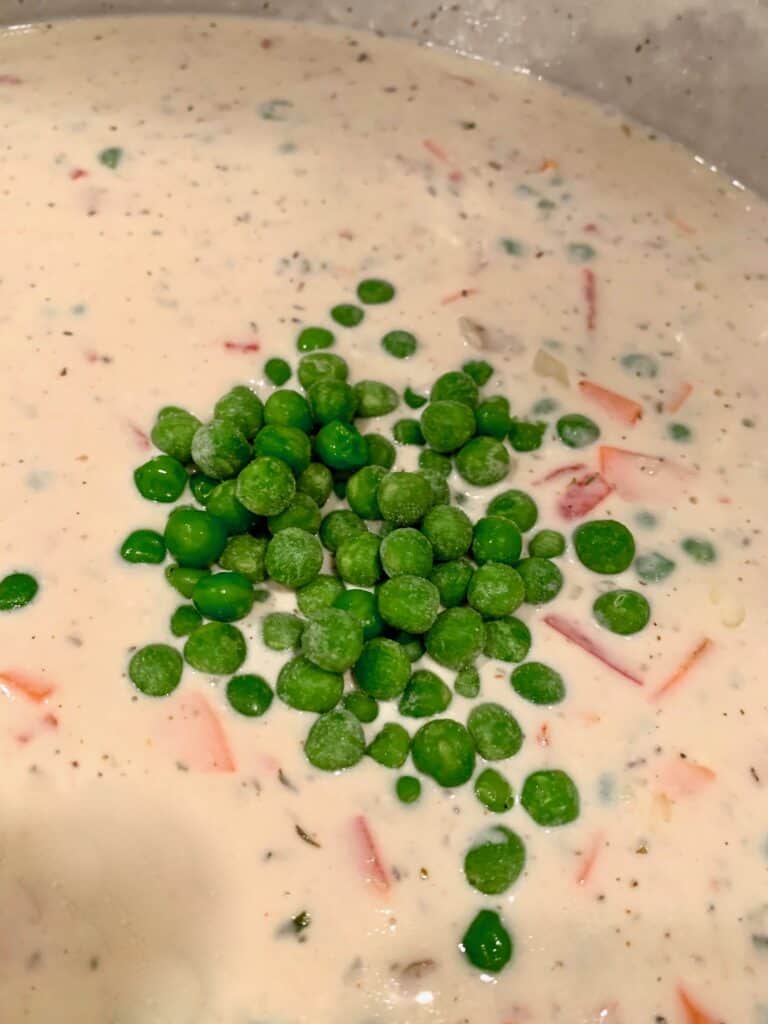 Blend everything together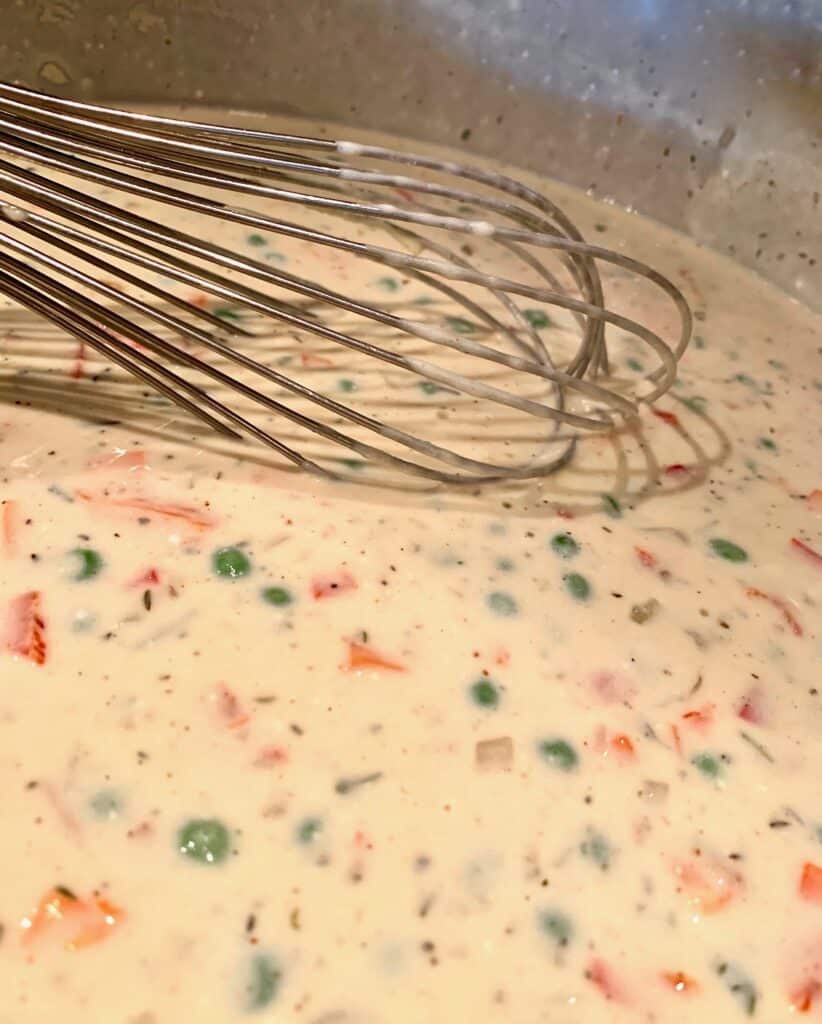 Add chopped, shredded turkey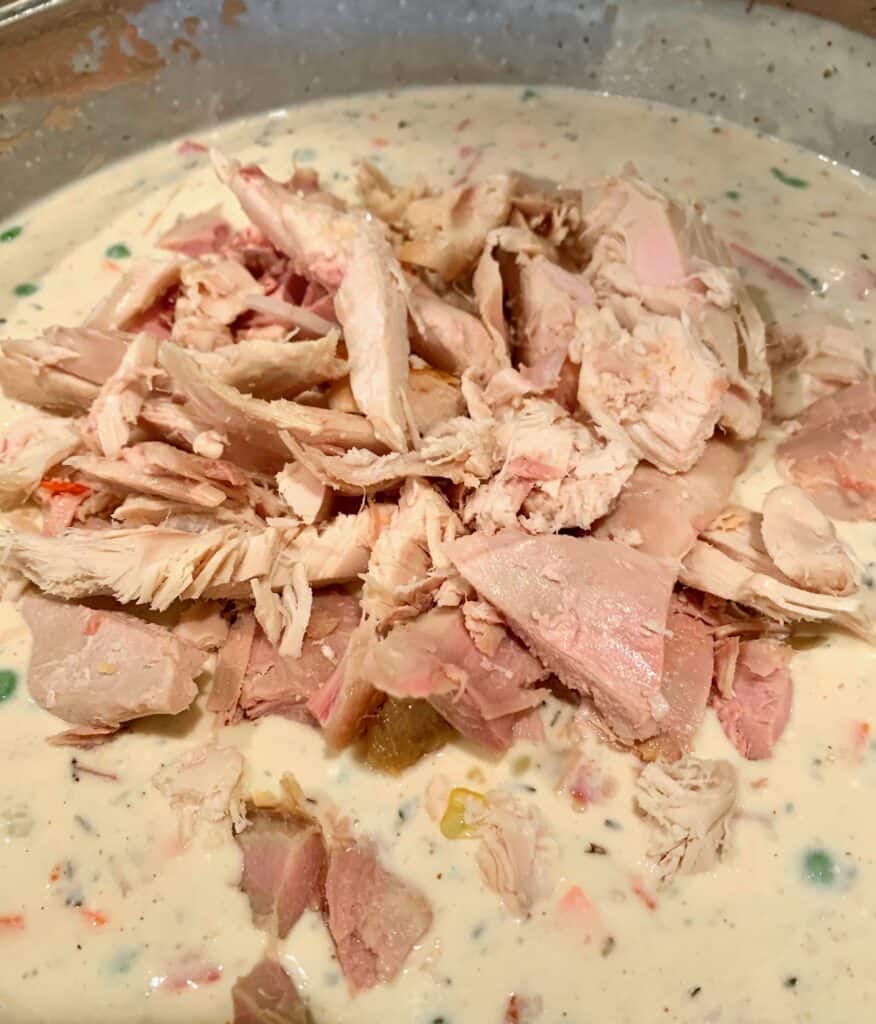 Add the mushroom mixture that was set aside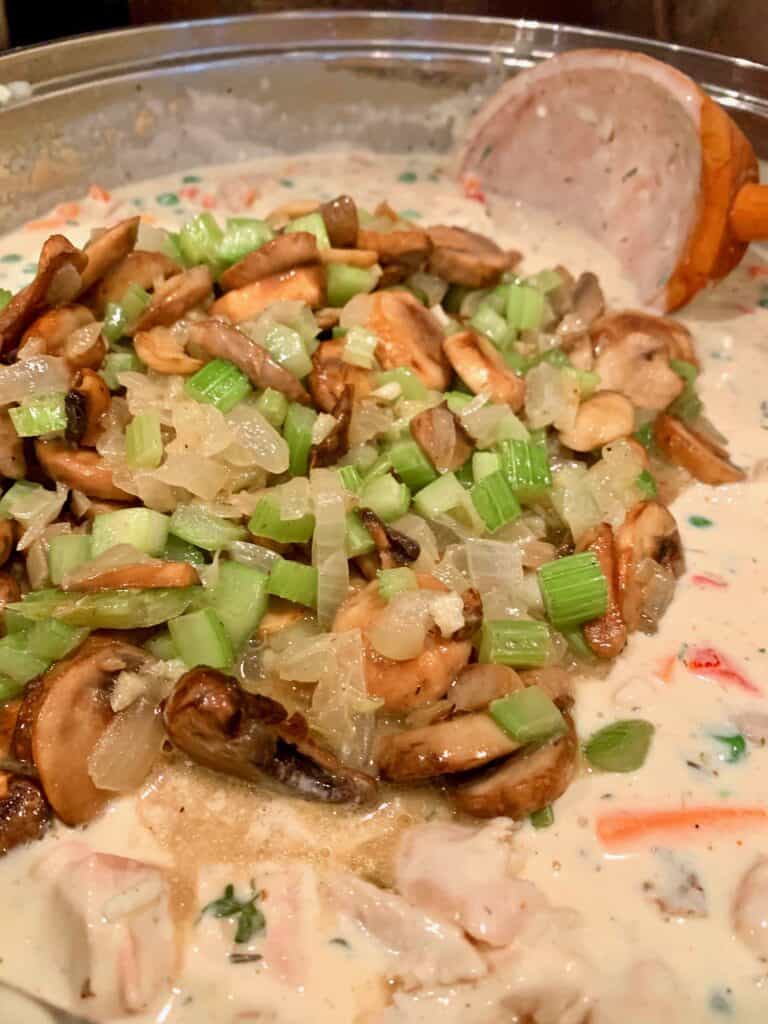 Stir everything together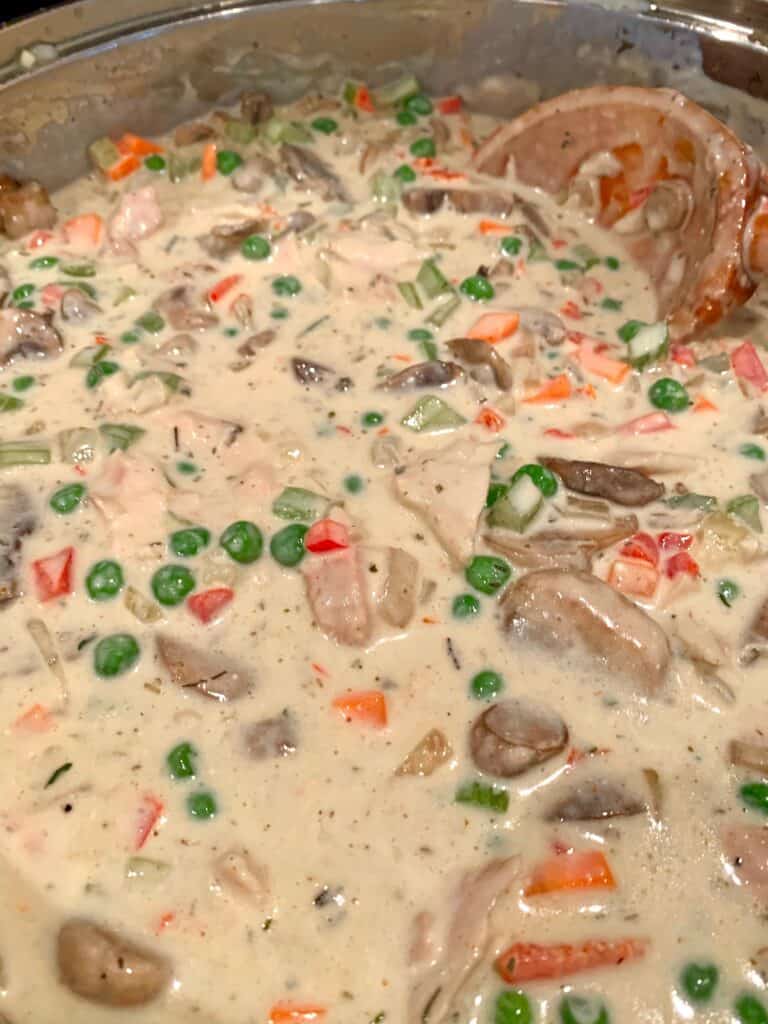 Add the partially cooked pasta to the entire mixture in the pan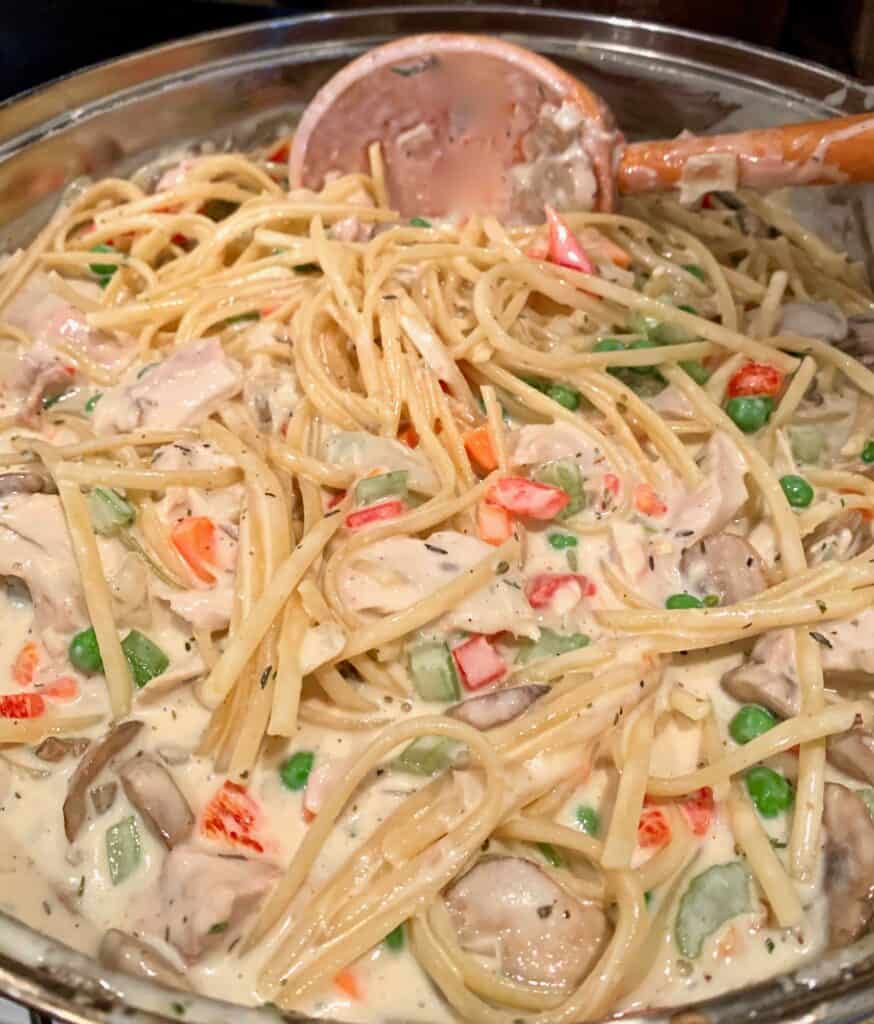 Place everything in the prepared casserole dish, spreading evenly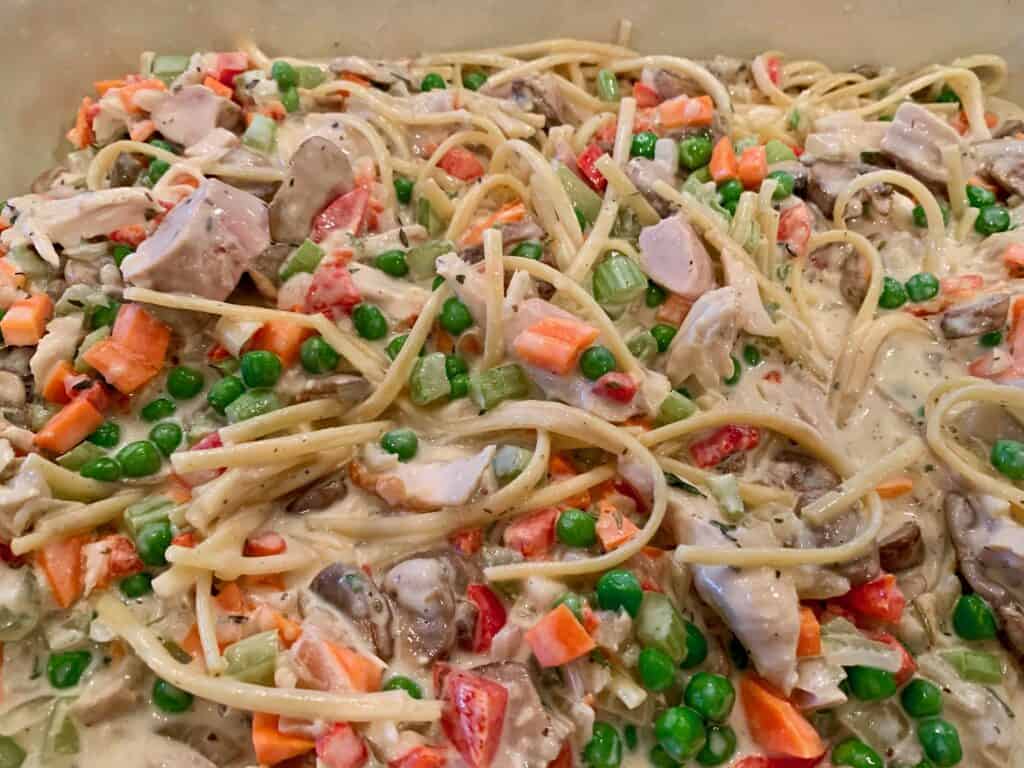 Sprinkle with grated cheddar cheese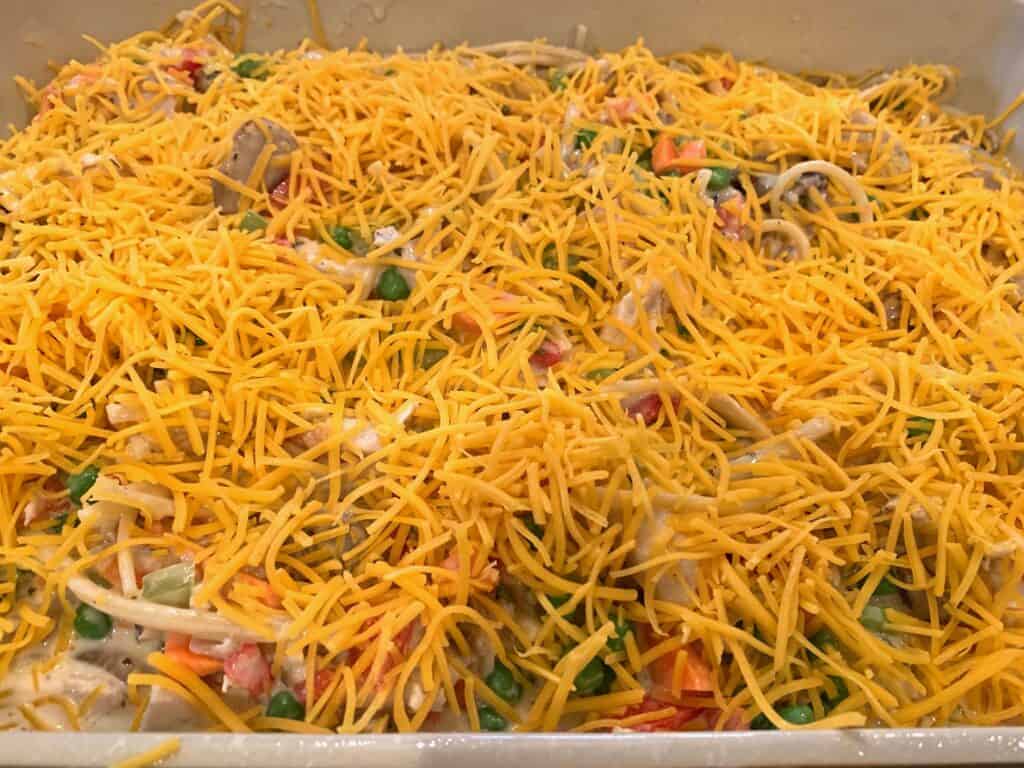 Sprinkle with freshly-grated parmigiana cheese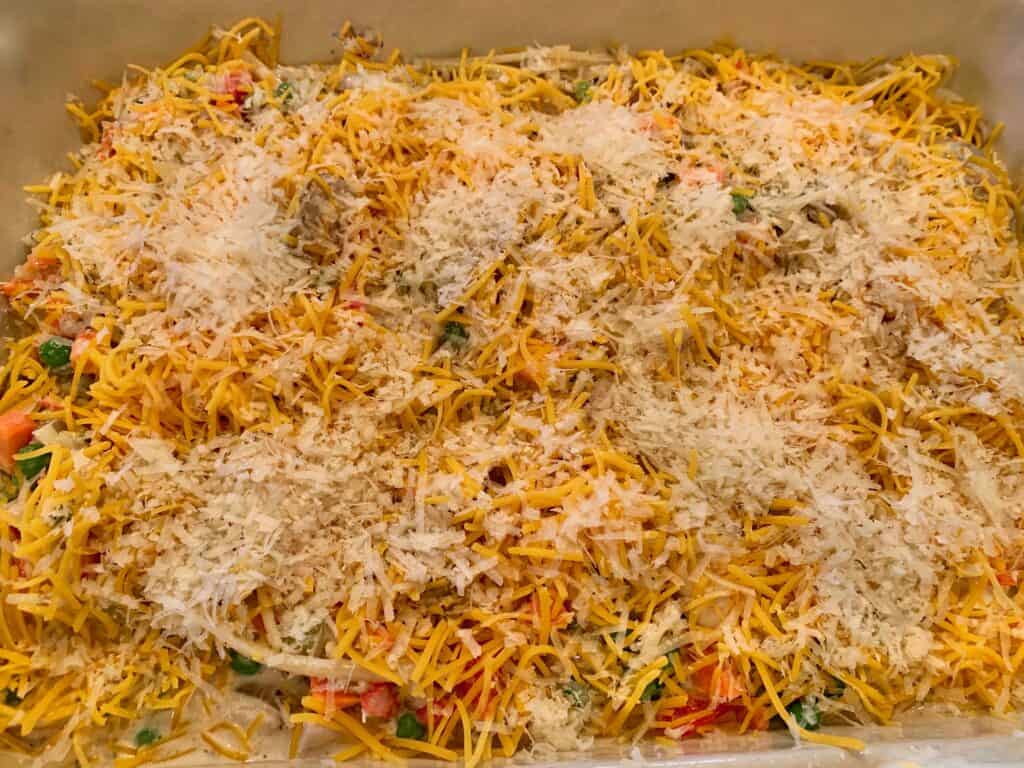 ENJOY this wonderful casserole!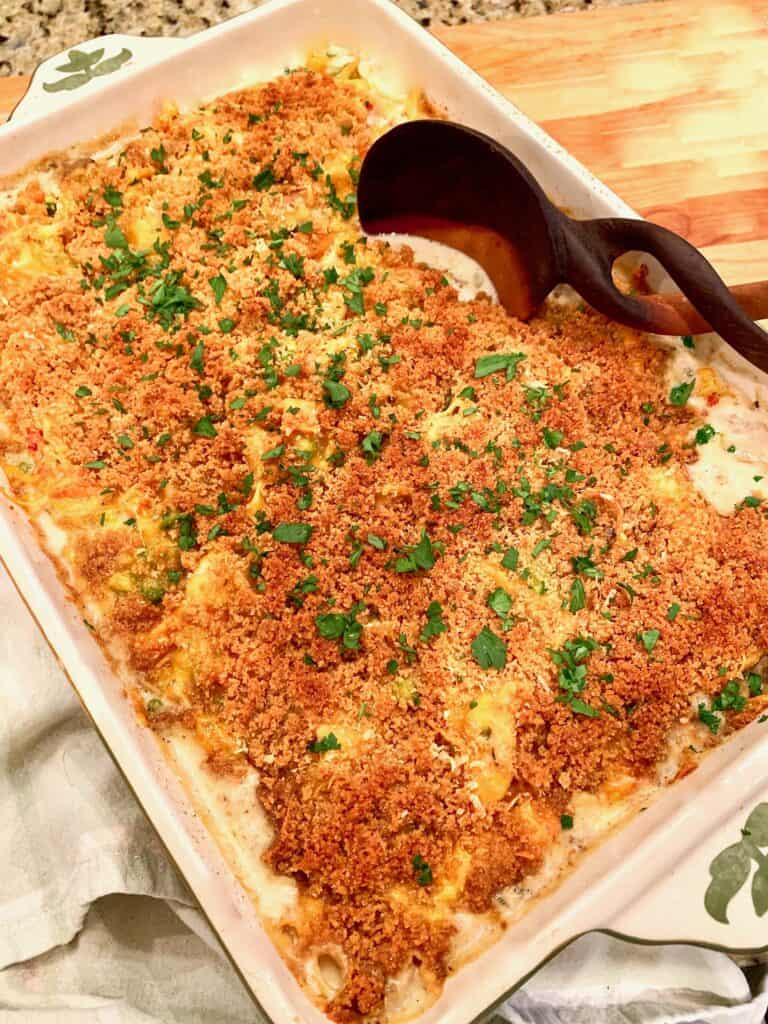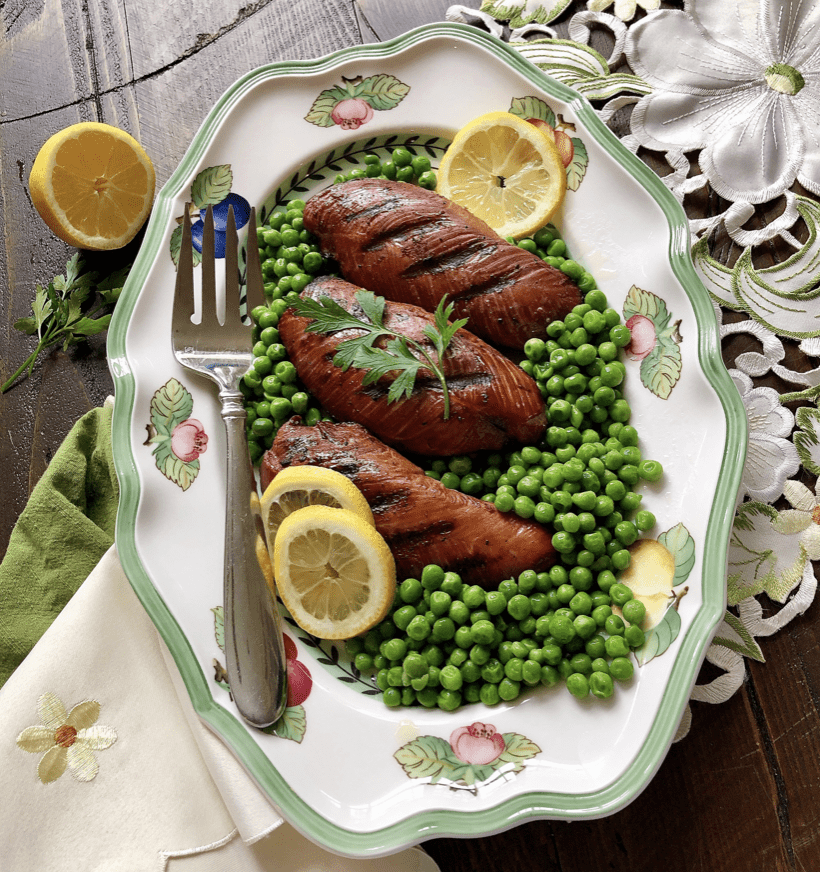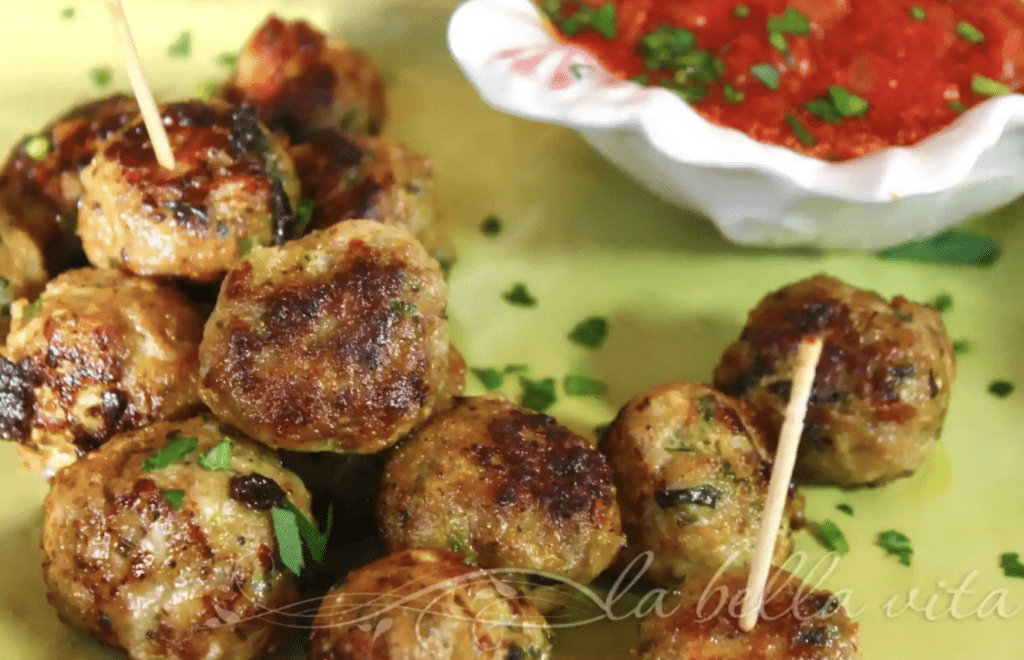 PIN FOR LATER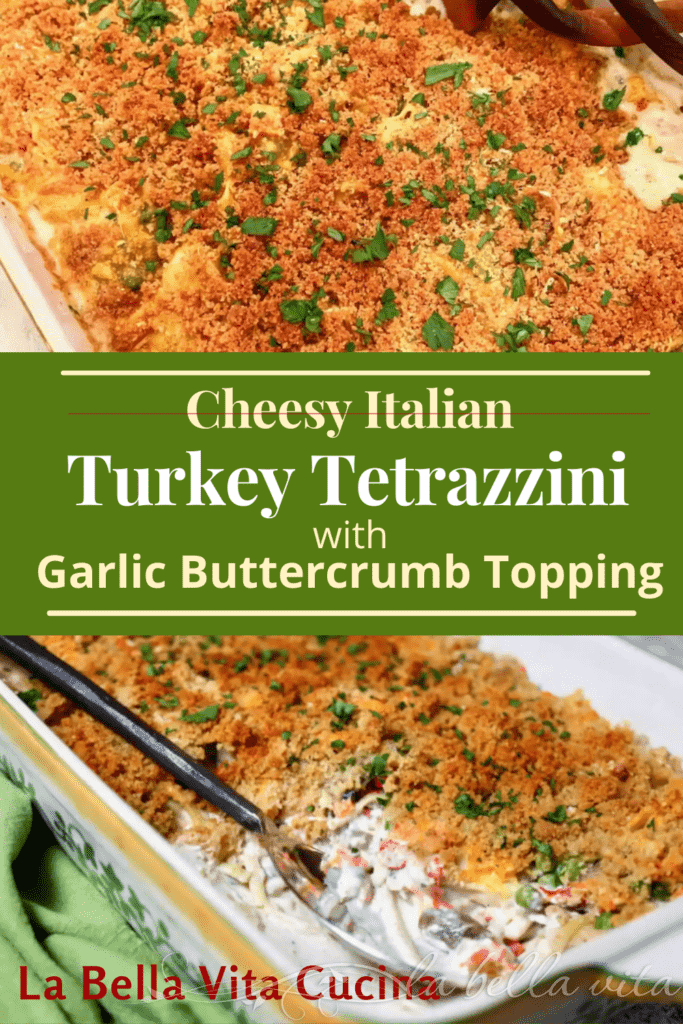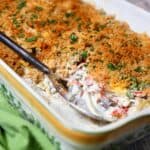 Cheesy Turkey Tetrazzini with Garlic Buttercrumb Topping
Author:
Prep Time: 1 hours
Cook Time: 45 minutes
Total Time: 1 hour 45 minutes
Yield: 10 servings 1x
Cuisine: American and Italian
---
For the Tetrazzini
6 Tbsp. butter
1 medium yellow onion, chopped
4 stalks celery, chopped
2 large cloves garlic, minced
16 oz. sliced crimini mushrooms
4 Tbsp. cooking sherry
5 Tbsp. flour
2 cups chicken broth
2 cups heavy cream
1/2 cup sour cream
1/2 tsp. Italian seasoning
2 Tbsp. dried parsley flakes
1 Tbsp. thyme
1/4 tsp. paprika
1 tsp. onion powder
1 –1/2 tsp. salt
1 tsp. black pepper
2 medium carrots, peeled and chopped
1 red pepper, cored, seeds removed, chopped
1 cup frozen peas
1/4 cup (jarred) chopped pimentos, drained
3 – 4 cups chopped/shredded turkey
8 oz. linguini or spaghetti
2 cups finely shredded cheddar cheese
1/4 cup parmesan cheese
For the Topping
3/4 cup panko breadcrumbs
3 Tbsp. melted butter
1/2 tsp. garlic powder
1/4 tsp. paprika
1/4 tsp. salt
garnish: 1/4 cup minced Italian parsley
---
Instructions
In a large frying pan (skillet), melt the butter.
In a large pot, boil water to cook the pasta.
Saute onions until semi-soft, 5 minutes.
Add celery and garlic. Saute for 5 more minutes
Add mushrooms and saute until a little browned.
Remove all ingredients except any remaining liquid in the pan. Set aside.
Deglaze the pan by adding the sherry. Cook for a minute or two.
Add flour and mix; it will be very lumpy. Cook for one minute.
Add chicken broth, whisking to remove any lumps. Cook until mixture thickened slightly.
Add cream, whisk,
Add sour cream, whisk.
Add Italian seasoning, thyme, paprika, and onion powder, dried parsley flakes, salt and pepper.
Add carrots, red pepper, peas, pimentos. Whisk gently.
Return the mushroom mixture back into the frying pan. Mix gently.
Add chopped/shredded turkey
Cook the pasta in the hot boiling water for about 5 minutes only. It continues to cook in the oven.
Add the partially cooked pasta into the turkey/sauce mixture.
Prepare a large casserole baking dish with cooking spray.
Pour the entire mixture into the baking dish.
Sprinkle the cheddar cheese all over the top of the mixture.
Sprinkle the parmesan cheese all over the top of the mixture.
Prepare the Buttercrumb Topping
Toss the panko breadcrumbs with the garlic powder, paprika, salt and the melted butter.
Sprinkle over the top layer of cheddar and parmesan cheeses.
Bake at 350 degrees (F) for 45 minutes.
I also turn onto broil for 5 minutes at the end to get the breadcrumbs a little more golden brown.
---