Pasta with Truffle Cream Sauce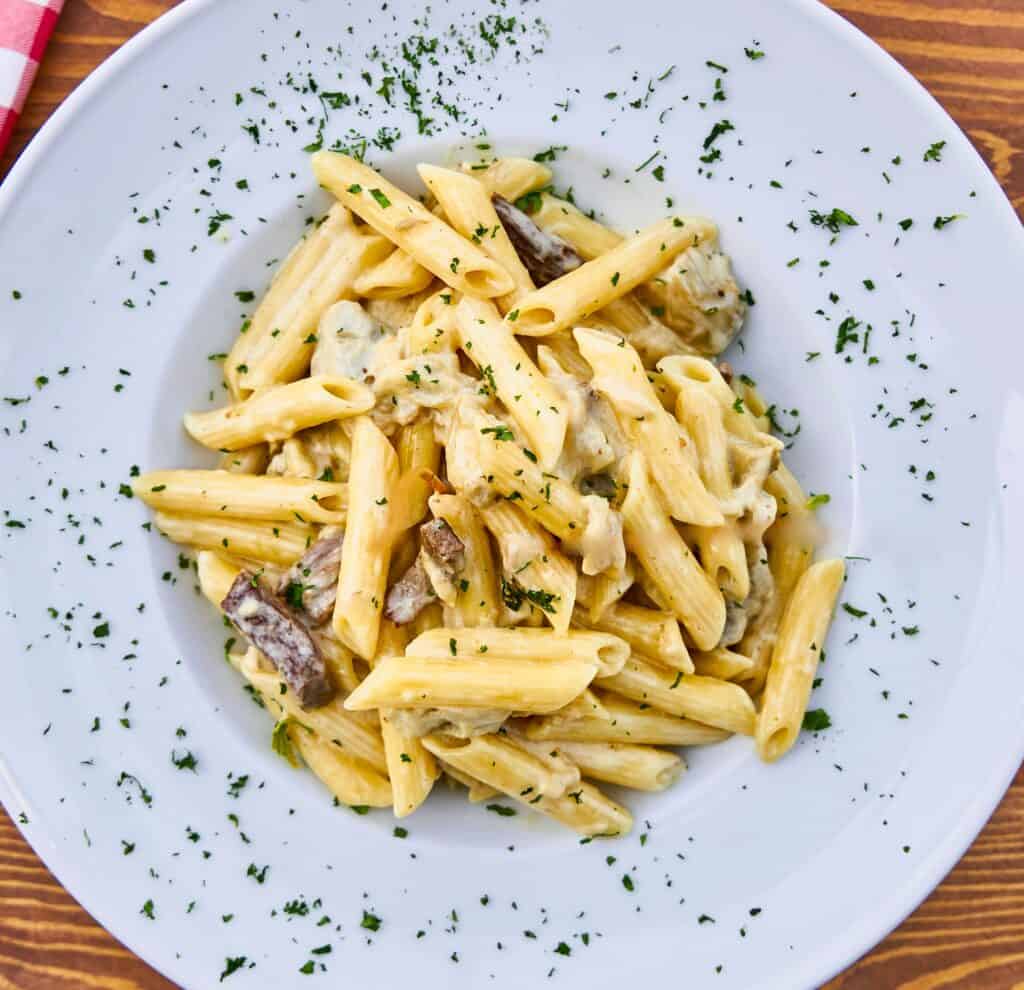 Pasta with Truffle Cream Sauce is a dish that few, if any of us, could possibly resist! The pasta is coated with a luscious coating of cream and Parmigiano cheese. Slivers of fragrant black truffles blissfully float in the silky, delicate sauce.
One of the greatest food treasures in life has to be Italian truffles. Worth its weight in culinary gold, truffles are highly coveted and sought out to take ordinary recipes to superb new heights of deliciousness! Truffles are at the top of the list of elite food delicacies such as caviar and fine champagne! This Pasta with Truffle Cream Sauce is not only a feast for your eyes, but with just one bite you'll take in a flavor that's impossible to describe!
Once you enjoy your first taste of truffles, you'll forever recognize their unmistakable earthy flavor and intoxicating aroma.
This Pasta with Truffle Cream Sauce is not only amazingly delicious, it's got a simple beauty to it as well.
This is so OMG crazy good that when you're tasting for the perfect level of salt, you won't even want to wait to plate this. You'll go for it . . . right out of the pan.
I think that I actually did eat about a fourth of this pasta before it hit the plate! (My husband doesn't know that I did that . . . hope he skips over reading this post!).
That said, this isn't on your keto diet!
In fact, it's not on any diet. But you will end up on a diet from this pasta.
Don't let that hold you back, my friends. It's the story of my life! Eat — diet — eat — diet. You know the routine!
And yet, this is such a crazy, easy recipe to make in less than 15 minutes. Not 30 minutes! Less than 15 minutes!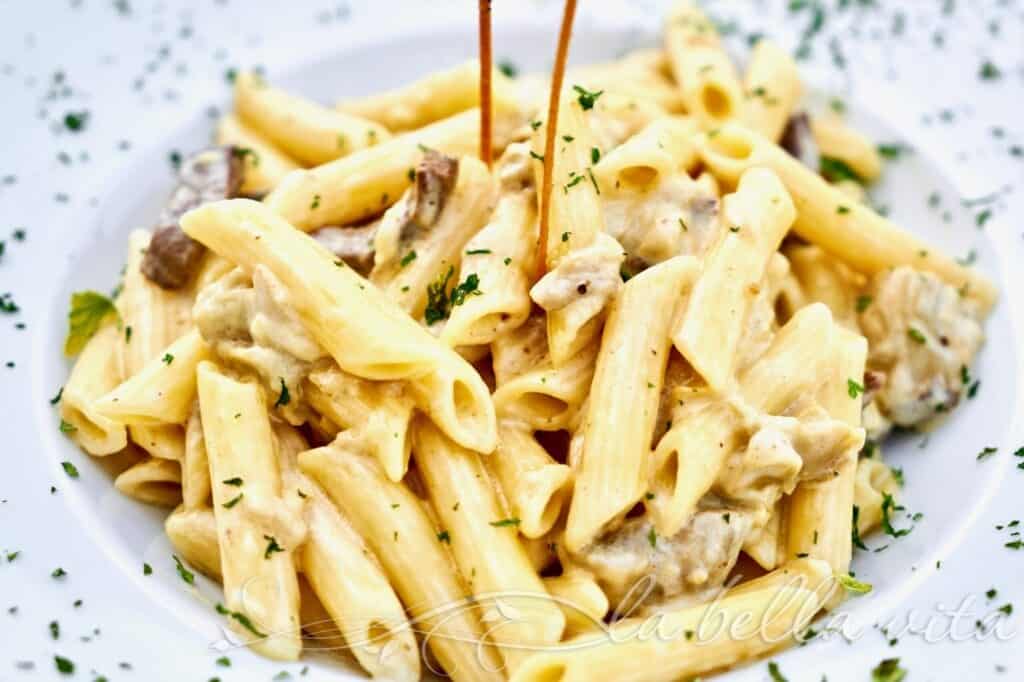 How To Cook With Truffles
Truffles need to be eaten within 7 days of harvest, with each day they lose their potent flavor and aroma. So keep that in mind if you're planning to cook with them beyond a one week storage period.
The best way to cook with truffles is as simple as possible. Less is more when adding truffles. Their super strength in flavor means that just a little adds a lot of flavor. So always think SIMPLICITY!
In the pasta and risotto department, you don't have to make a fussy, fancy dish. Always use the best, finest ingredients you can afford when including truffles.
If you're going to splurge on white truffles, they should only be shaved on top of the dishes. But both black or white truffles can be near the end of cooking your recipe and/or for garnish.
The flavor of black truffles amps up when heated. You can add the truffles to hot pasta.
Truffles are the best friends of cream, butter and olive oil.
Classic dishes that include truffles are warm cheese/buttery-sauced pasta, risotto, mashed potatoes, pizza, wild mushrooms, and/or eggs (including frittata).
Truffles will pair best with warming dishes like risotto, mashed potatoes, pizza, and any cheesy pasta.
Truffles are also magnificent on for shaving over beef carpaccio or added to a wine-based steak sauce.
Never blend truffles with vinegar, citrus (and citrus juice); anything acidic will not pair well with truffles.
Can't find whole truffles?
Well, if you live in any place similar to where I live . . . in a very rural, off-the-beaten-track on a secluded gravel road . . . then you won't find truffles in the store or market! If you live in a large metro area where lots of gourmet specialty products are available, you dont have to look very far. There are lots of online gourmet stores that will gladly take your money too for some hard-to-find fresh truffles.
But I'll help you find them anyway. Just be prepared for some major sticker price shock!
First, you can always try the good old stand by Amazon. Here's what I recommend for you:
Fresh Italian Black Truffles (2 oz.)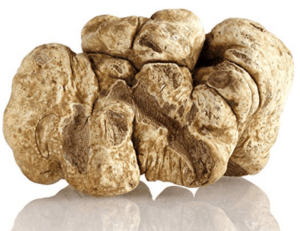 Italian White Truffle (1 pc. $1,200.00) Yikes, I just had to share this to show the incredible expense of truffles!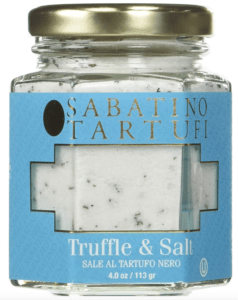 Truffle salt has tiny fragrant pieces of black or white truffle blended in.
Truffle oil usually comes in small 2 or 3-oz. bottles—it delivers the taste and smell of real truffles with a derived "essence" but is not actually made from real truffles.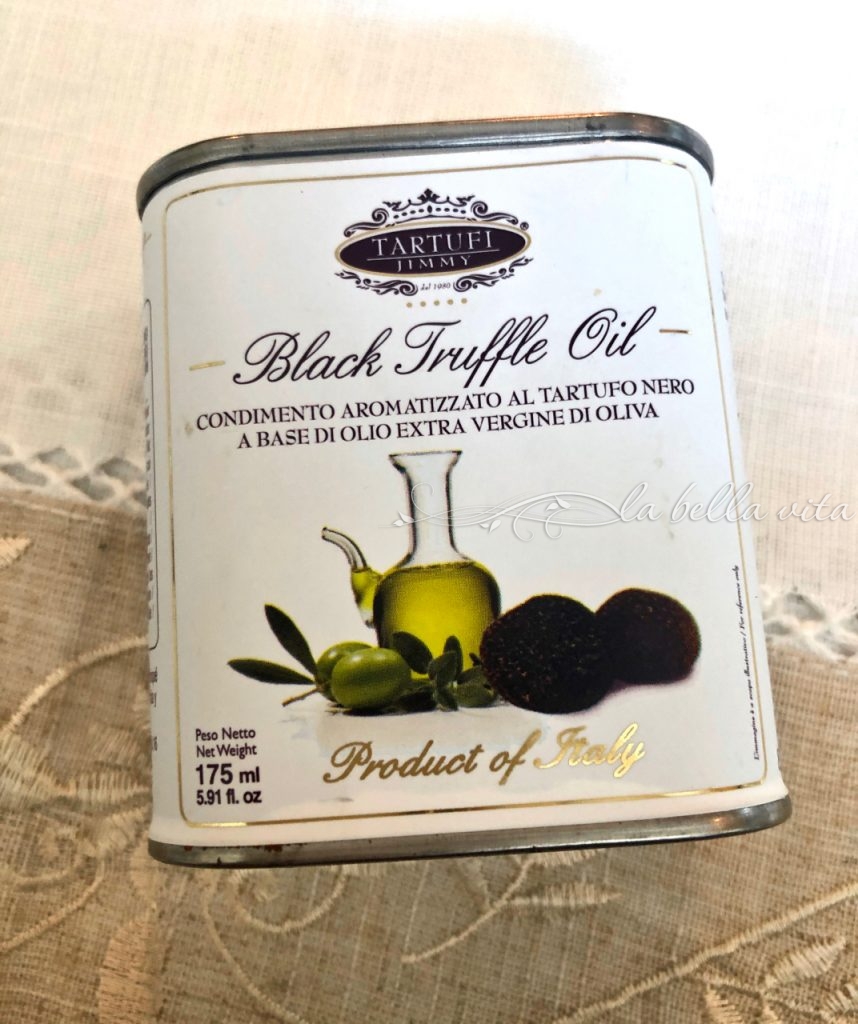 Italian Black Truffle Oil (I picked up this tin can of truffle oil in Umbria, Italy in a little panini shop. The owner of the shop recommended this brand. It's on Amazon too and I've included the link.
Truffle cheeses are rare, but you can still find them. Try these: Moliterno Black Truffle Pecorino, Boschetto al Tartufo, Venetian Sottocenere.
These are all available on Amazon. (I couldn't get the links to work for these so if you're interested, just copy and paste the names of these and they'll pop up for you.)
Here are some additional truffle products that I picked up when I was in Umbria in 2017 (specifically when I visited the town of Assisi where St. Francis was from and where he is buried today). I purchased these at the same shop in Italy that I purchased the truffle oil. I'll do my best to give you some 'state-side' sources for you.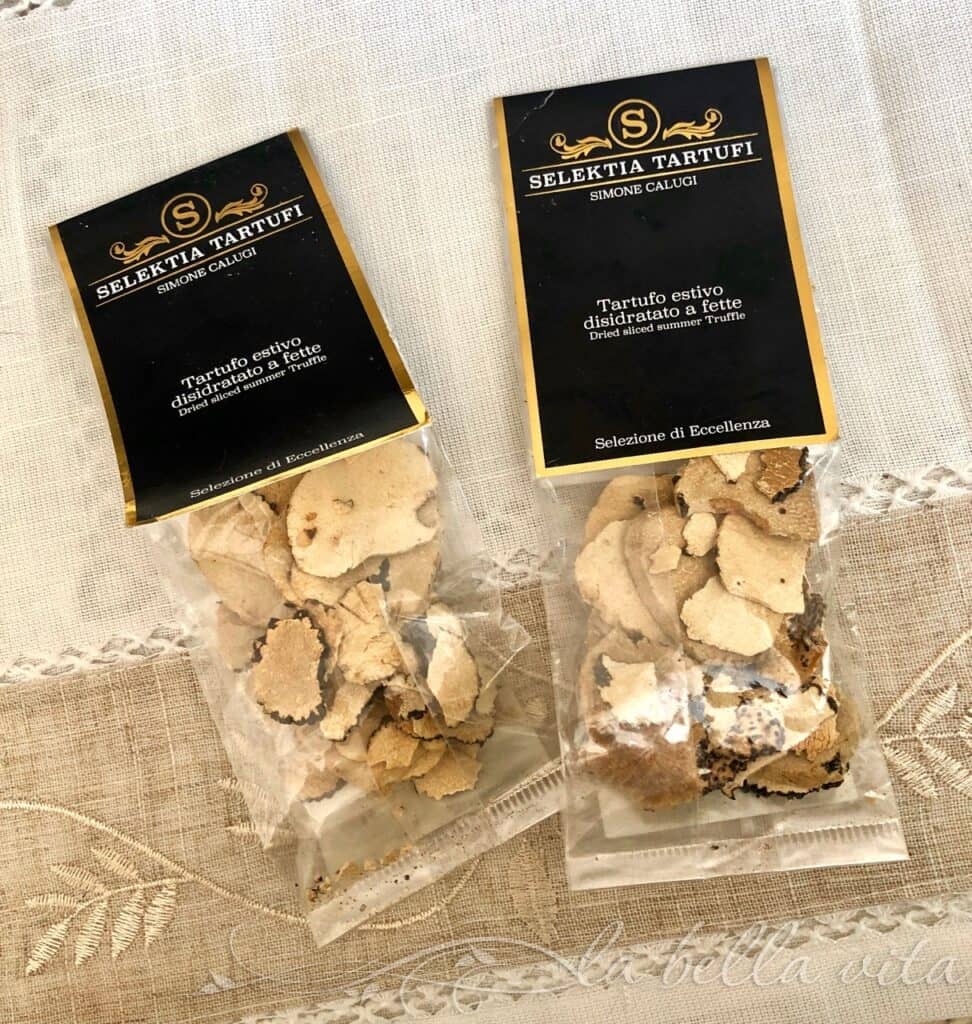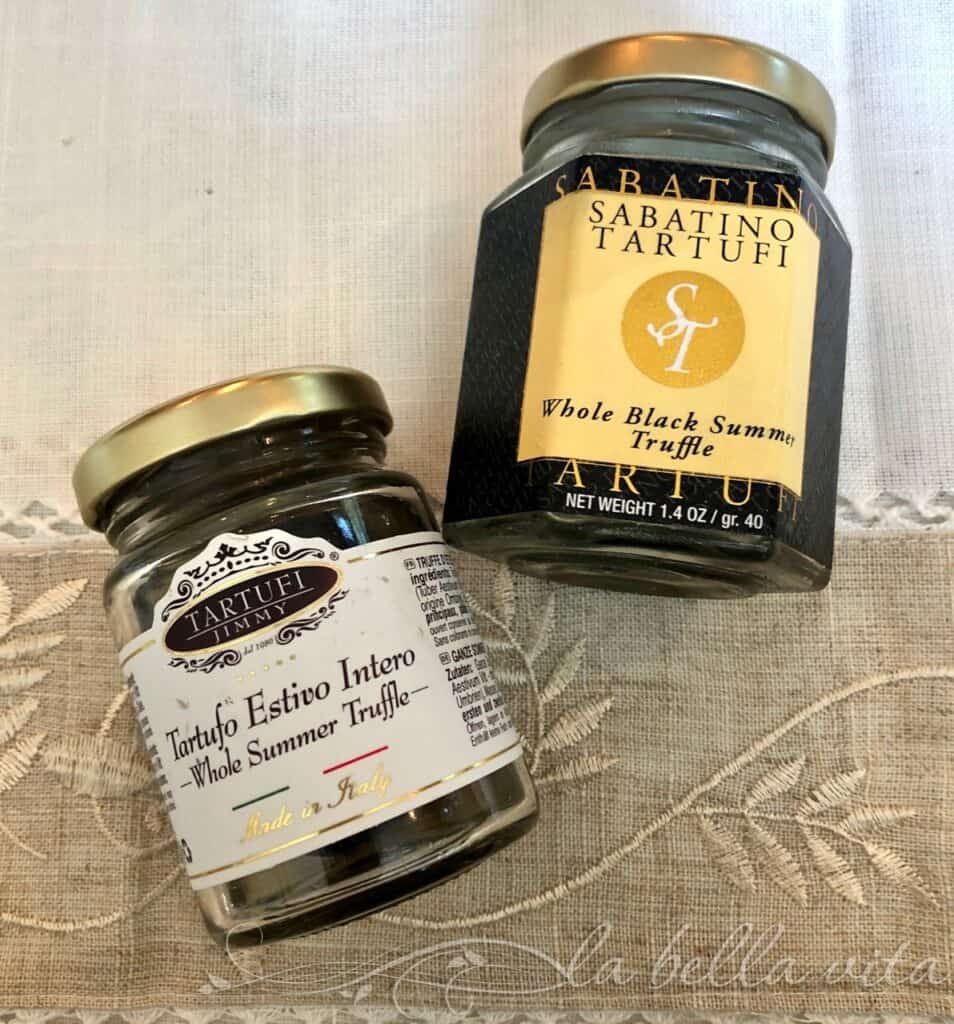 Whole Summer Truffles by Tartufi (less expensive than autumn's truffles)
Don't forget, a little goes a long way!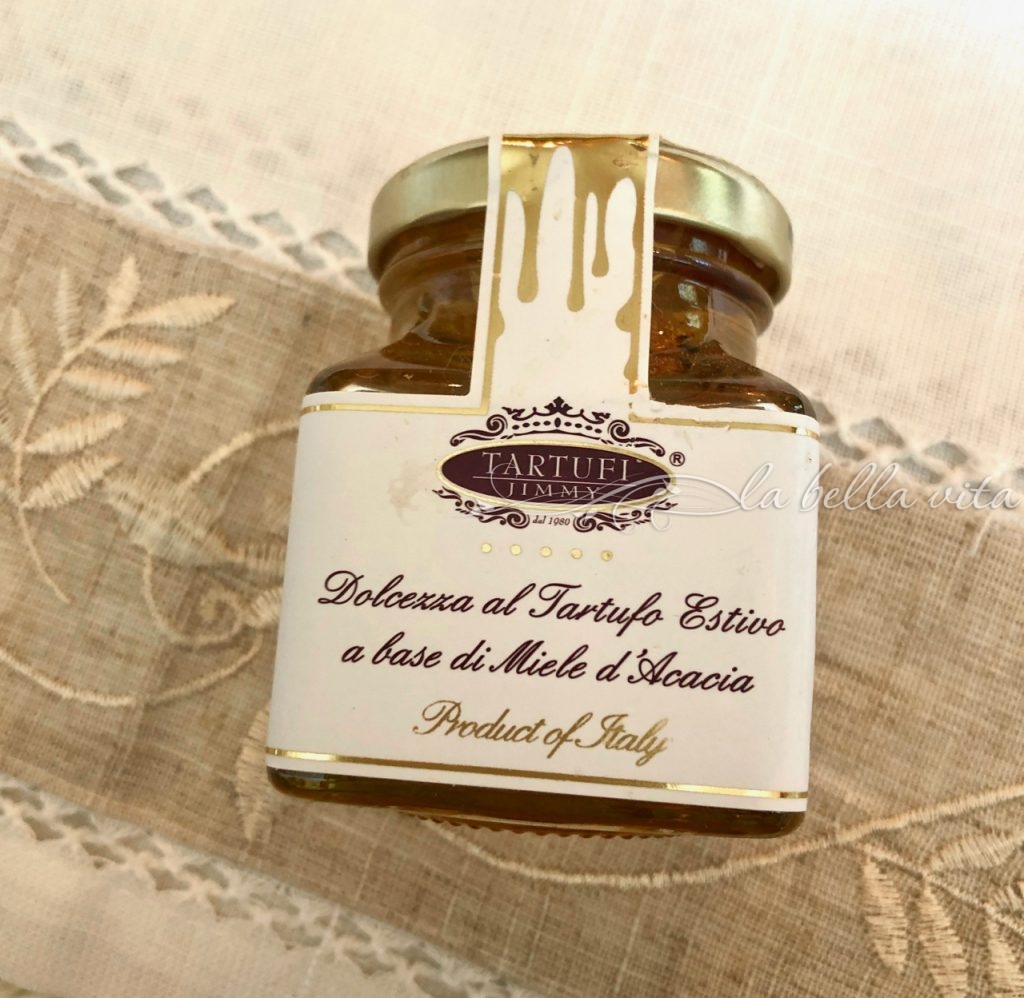 Italian Acacia Honey with Truffles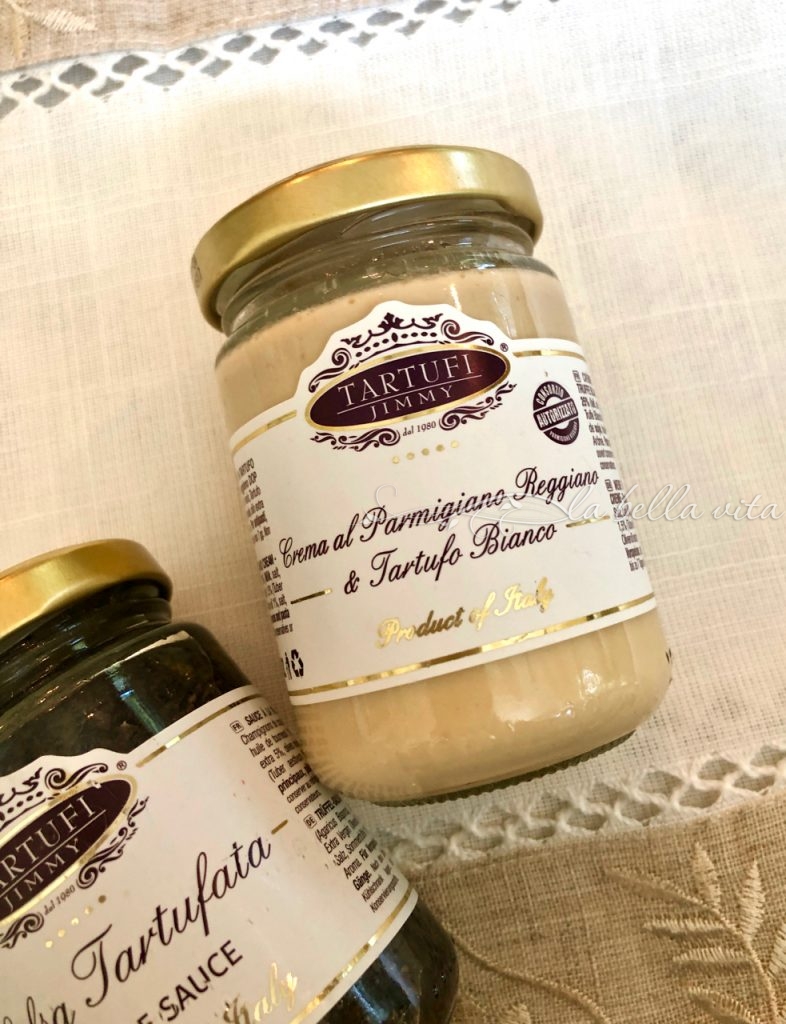 White Truffles in Parmigiano Cream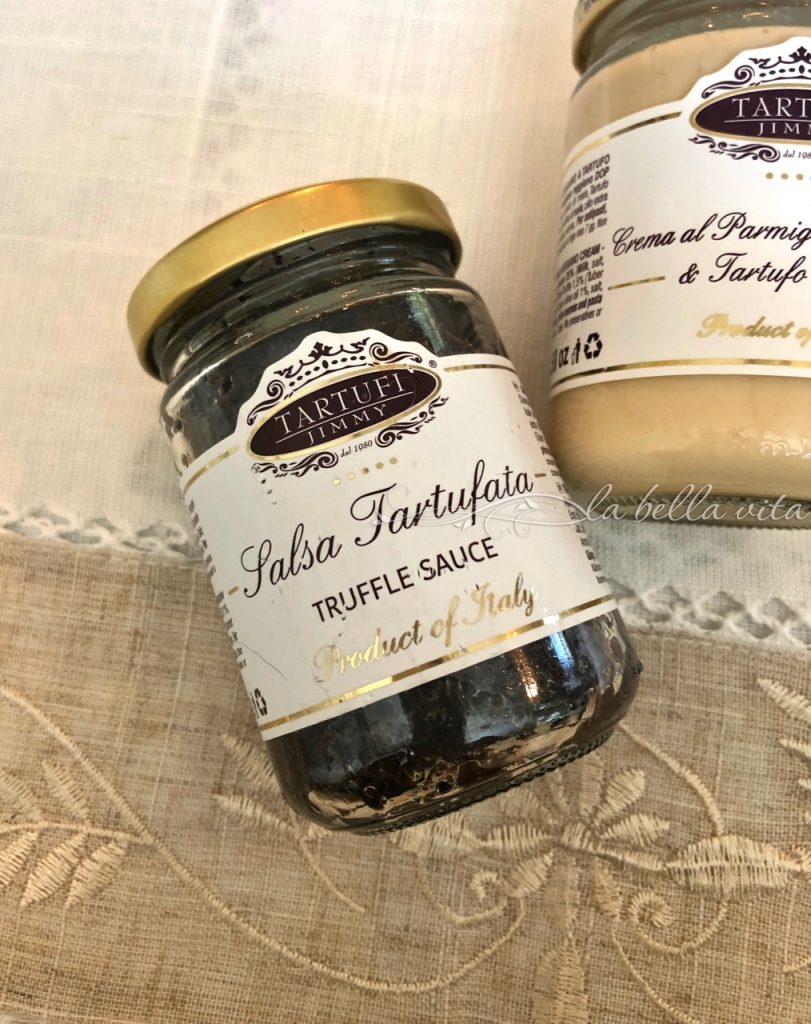 Storing Truffles
Once a fresh truffle is out of the ground, it doesn't keep long. To best preserve, your truffle, wrap it in a paper towel, put in an airtight plastic container and set in the refrigerator. Do not clean the truffle until you are ready to use it. Keep your fresh truffles DRY and avoid any extra moisture or humidity which makes them spoil and rot. Allow truffles to come to room temperature before using.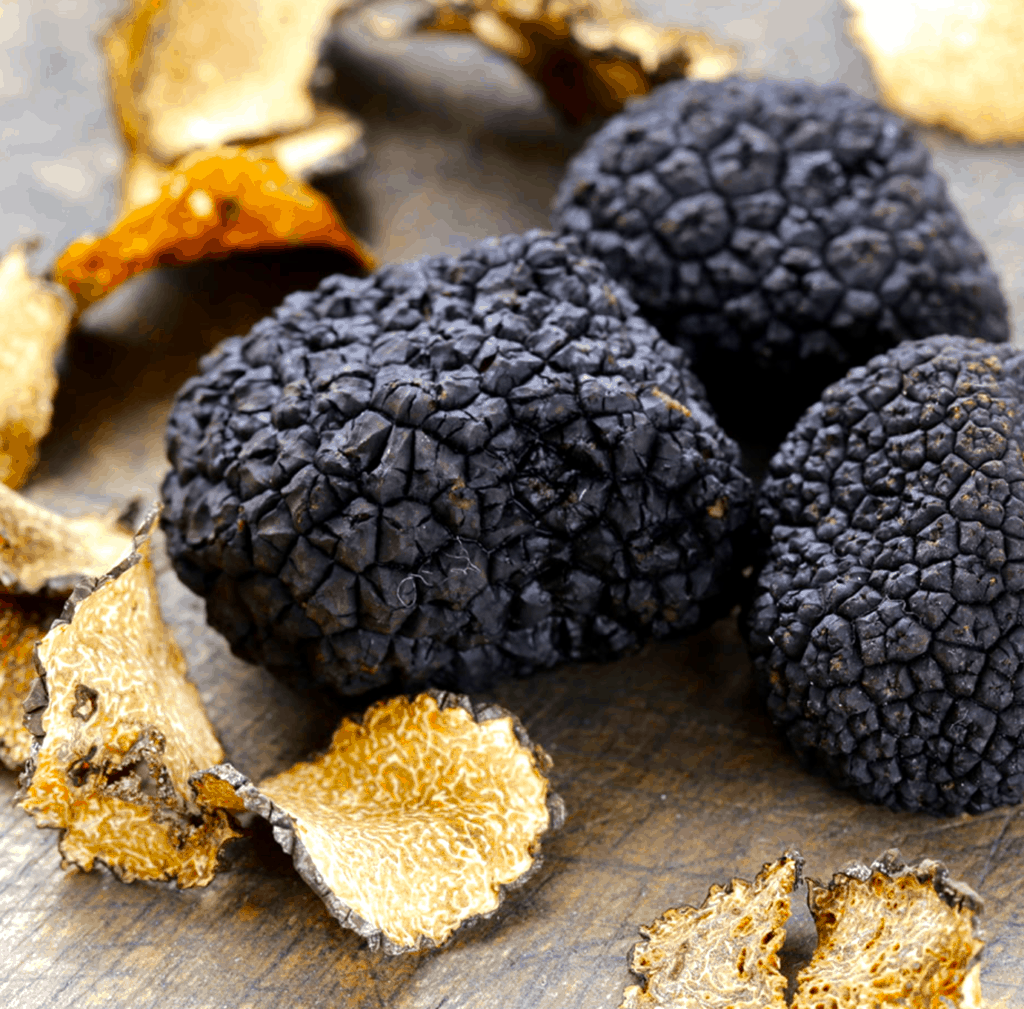 Black truffles swimming in the silky cream sauce. Grab a fork and taste to your delight (before serving because you won't be able to resist this)!
More Recipes with Truffles:
Risotto with Porcini Mushrooms and Truffles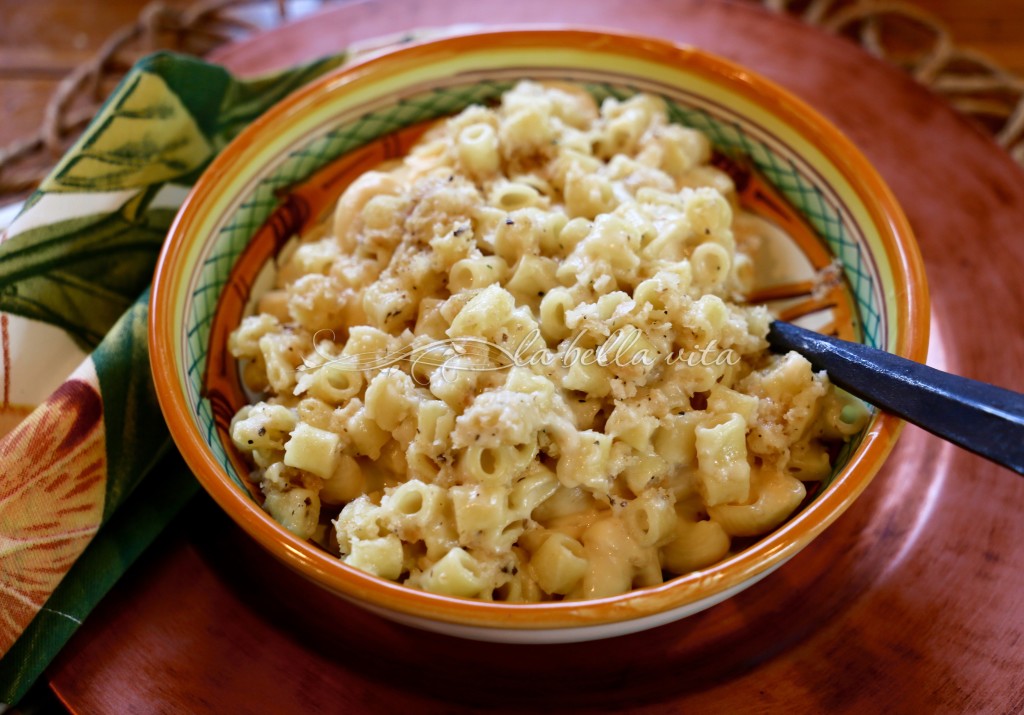 Six Cheese Pasta with Truffles and Prosciutto
I highly recommend and use each of the following to prepare pasta:
Stainless Steel 4-Piece 8 Quart Pasta Pot with Strainer and Steamer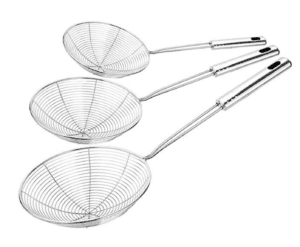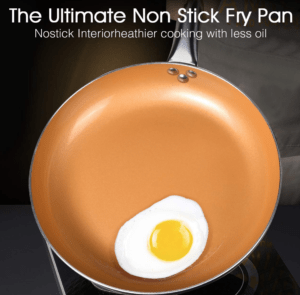 11″ Copper Non-Stick Frying Skillet (actually this is the skillet that I use and in the photos — it's a dream pan!)
Truffle Slicer with Recipe e-Book
Print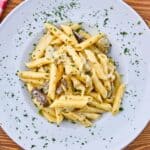 Pasta with Truffle Cream Sauce
Author:
Prep Time: 10 minutes
Cook Time: 10 minutes
Total Time: 20 minutes
Yield: 6 servings 1x
Category: Pasta
Cuisine: Italian
---
1–1/2 lb. fresh pasta (penne, rigatoni, spaghetti, fettucine)
1/2 cup butter
1–1/2 cups freshly grated Parmigiano cheese
1 cup heavy cream
1 – 2 oz. imported Italian truffles, sliced or diced
Freshly cracked salt and pepper to taste
For the table: extra sliced or diced truffles for guests to add to their own servings
For the table: 1/2 – 1 cup freshly grated Parmigiano cheese for guests add to their own servings.
---
Instructions
Cook the past in a tall pot of boiling water.
Drain after reaching al dente (when there's a little bit of a bite to the texture of the pasta) — spaghetti and fettucine about 6 minutes, penne and rigatoni about 9 minutes.
While pasta is boiling, melt the butter in a large saucepan or frying pan with tall sides.
Mix into the melted butter the Parmigiano cheese and cream.
Add the cooked pasta, toss well, sprinkle with salt and pepper to taste.
Put the pasta mixture into a large serving bowl and grate the truffle over the pasta. You may also want to serve more truffles separately at the table for guests to add to their servings.
Serve additional grated Parmigano cheese to pass around the table also.
---
Keywords: pasta, cream sauce, truffles, Italian