Porcini Mushroom Risotto with Truffles
Porcini mushroom risotto is simply wonderful, especially in autumn when porcini mushrooms are fresh. AND Risotto is so simple to make and ever-so gratifying! This porcini mushroom risotto is bursting with the nutty, earthy flavor of cherished Italian porcini mushrooms and Parmigiano (Parmesan) cheese. A little bit of sage and rosemary sing through the velvety cream.
Risotto! Oh my gosh, where do I begin talking about this creamy, dreamy dish? Well, it's Italian, in fact it is a northern Italian specialty from the Venetian region. The arborio rice used and the constant stirring technique produce an extremely luscious, creamy bowl of simple comfort food.
And even if you don't use fresh porcini, this risotto is fantastic using dried porcini mushrooms as I did for this recipe. If you can't find fresh or dried porcini mushrooms in your local market, here's a link where they are readily available on the internet: dried porcini mushrooms. You can also substitute another meaty, fragrant mushrooms such as chanterelles or morels, although morels are extremely expensive.
What are Porcini Mushrooms?
Porcini mushrooms are prized by chefs and home cooks alike because of their delicious earthy, meaty flavor. They simply add an incredibly hearty, nutty, woodsy flavor to any recipe. Porcini mushrooms are most commonly used in Italian soups, sauces, pasta, and rice dishes, especially risotto.
In the wild, porcini mushrooms grow in autumn months and can be found in Europe (particularly Italy) and the USA. If you wish to hunt for them on your own, you'll best find them growing in forests under beech, birch, pine, chestnut, hemlock, and spruce trees.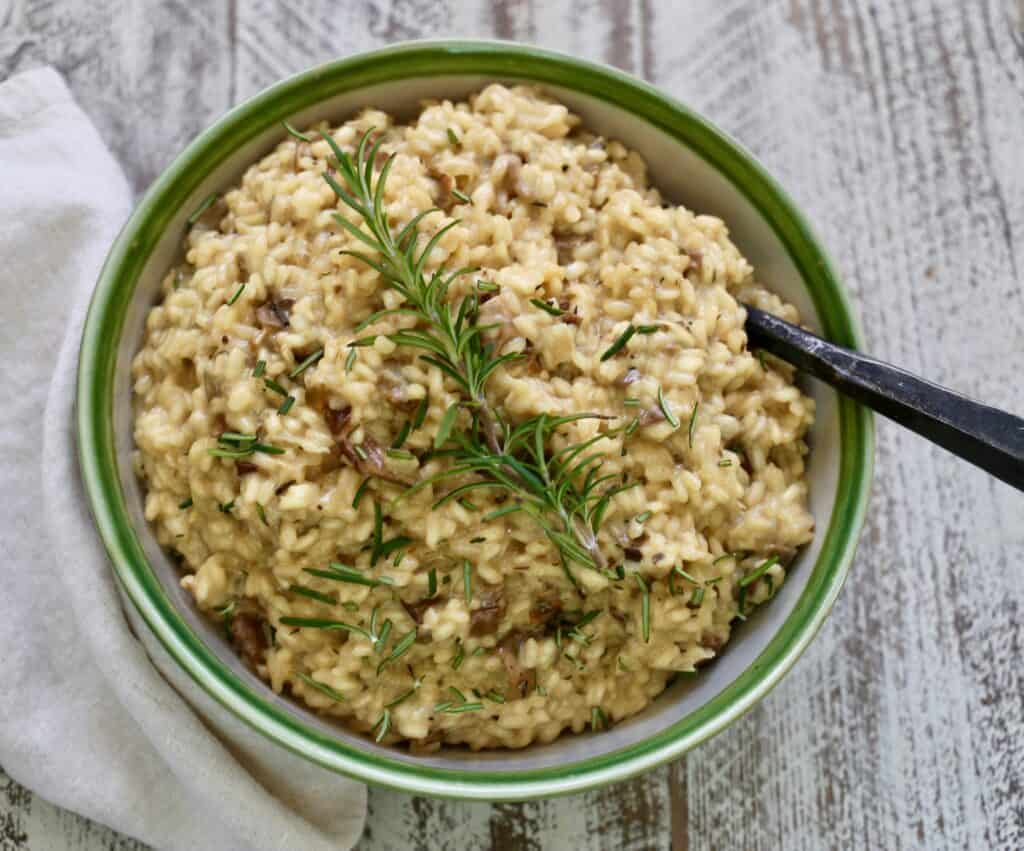 Selecting Good Porcini Mushrooms
Look for fresh porcini mushrooms in the fall. Fresh porcini are often tough to find, so stock up and freeze them when you find them. However, very good dried porcini are available throughout the year which I keep in my pantry to just add to recipes when I need them. Dried porcini mushrooms need to soak for 20 minutes in very hot water to rehydrate and return to their original texture before using them in your cooking.
When you find fresh porcini in your market, look for the following qualities:
Large, thick round caps that are brown in color
Light tan or cream color under the cap
Cream-colored stem with a wide base that narrows toward the cap
No holes (from worms) or black spots (indicating overripeness)
When purchasing dried porcini mushrooms, look for these qualities:
The mushrooms are whole and intact, not crumbled or broken
Caps have a brown color
They possess a distinctively strong, fragrant aroma that you can smell through the packaging.
They are packaged in an airtight bag or container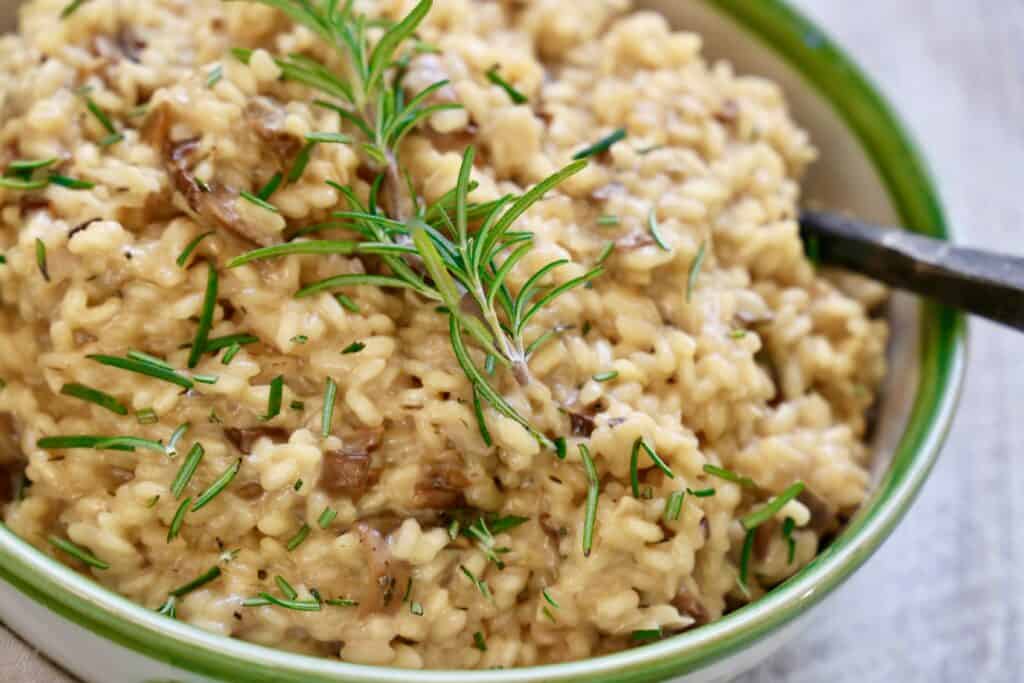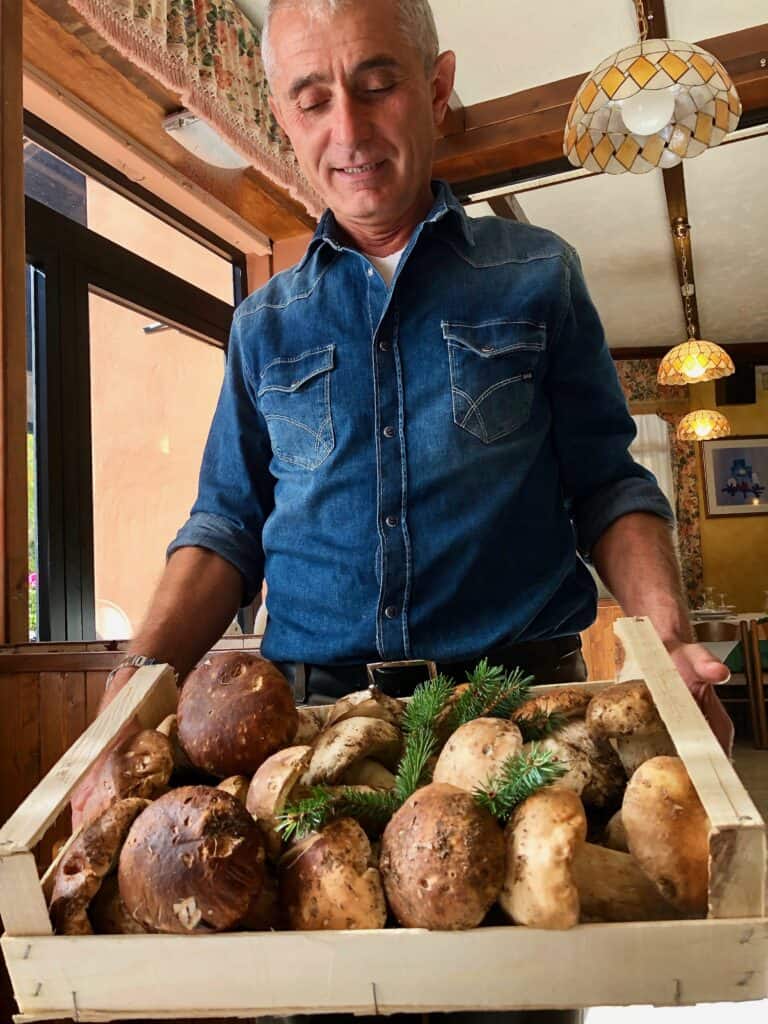 Porcini fans in Italy make special trips to country restaurants just to enjoy eating porcini close to where they grow. In the photo above, My cousin, Enrico is holding a box of porcini mushrooms in a mountain trattoria. These porcini were freshly harvested from the forests of the mountains in northern Italy surrounding the town of my ancestors, Montecreto, Emilia Romagna, Italy.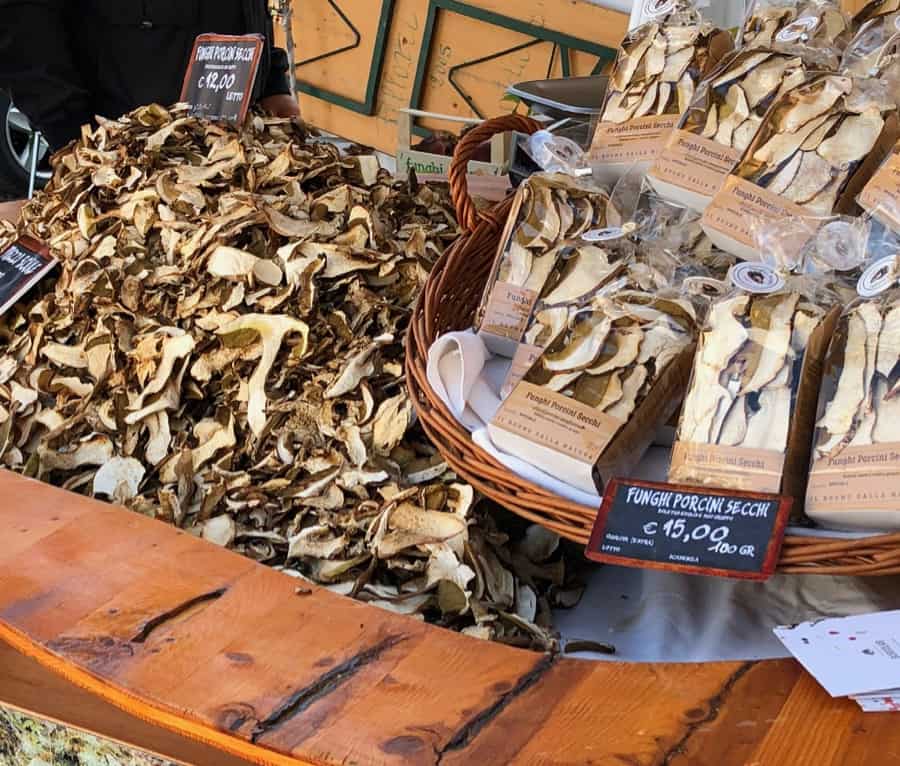 When I visit Modena, Italy in October, I love to go to the city's famous food market, "Mercato Albinelli Modena Market" (photo below). There were so many fresh porcini mushrooms, as well as dried, to choose from. They aren't cheap as you can see from the prices in the photo above.
Let's get to the kitchen and make some Porcini Mushroom Risotto, shall we?
In a medium-size pot, heat up the vegetable or chicken broth. No need to bring it to a boil, just heat it up and set on simmer to remain hot during the whole process.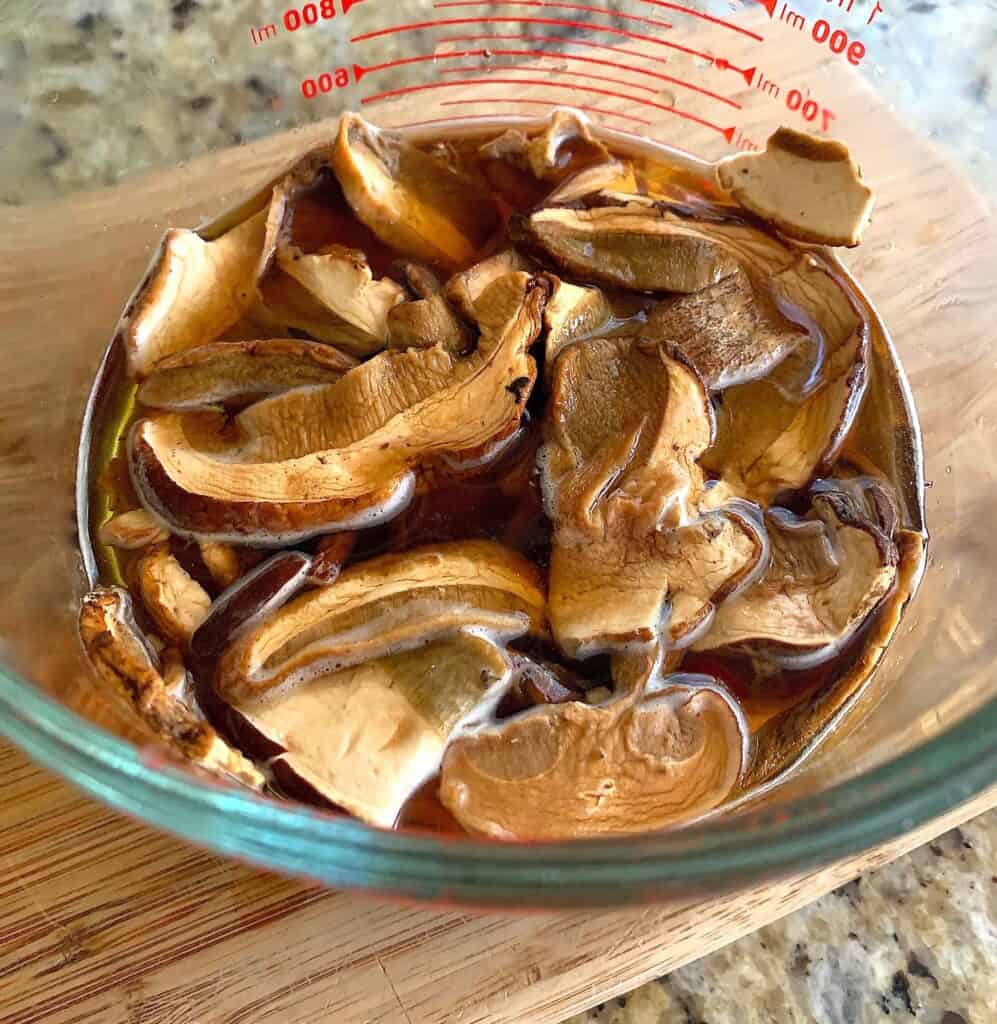 Soak the dried porcini in hot water for 20 minutes. While soaking: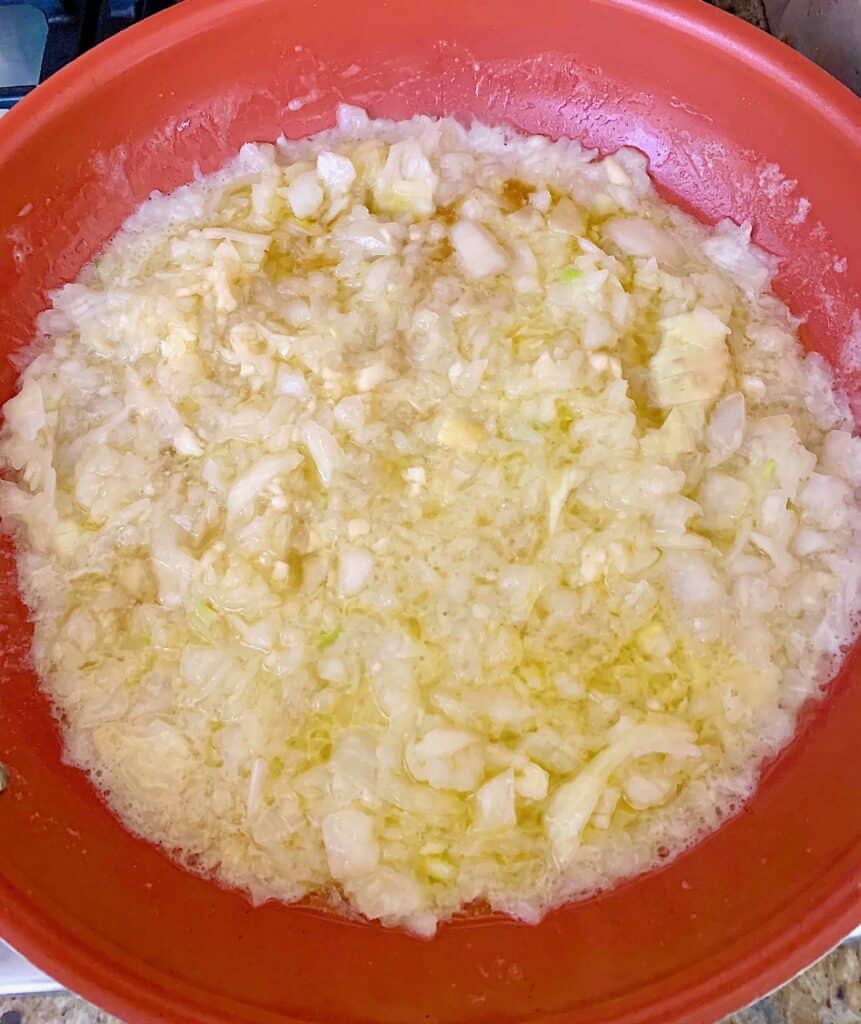 Melt butter in a large frying pan or another medium-sized pot
Add onions and garlic and saute' for about 7 minutes until golden but not brown.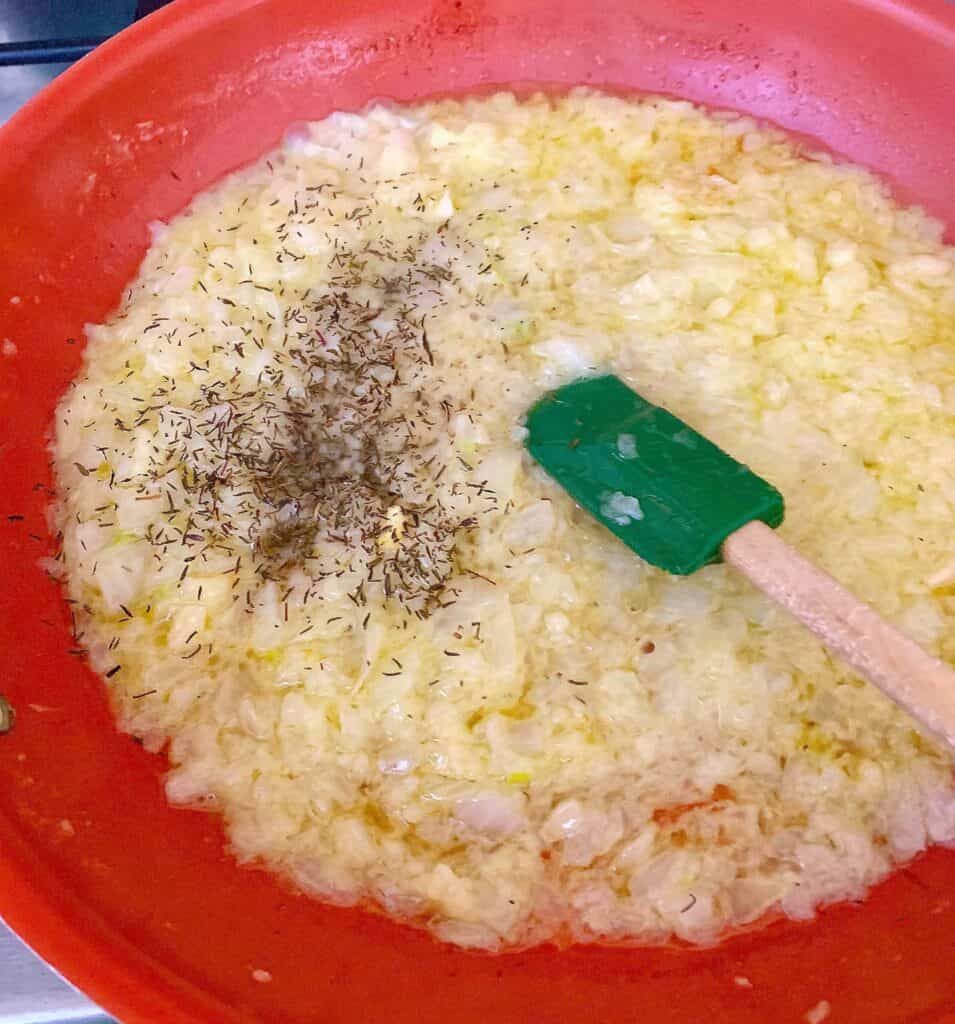 Add the freshly ground sage and truffle paste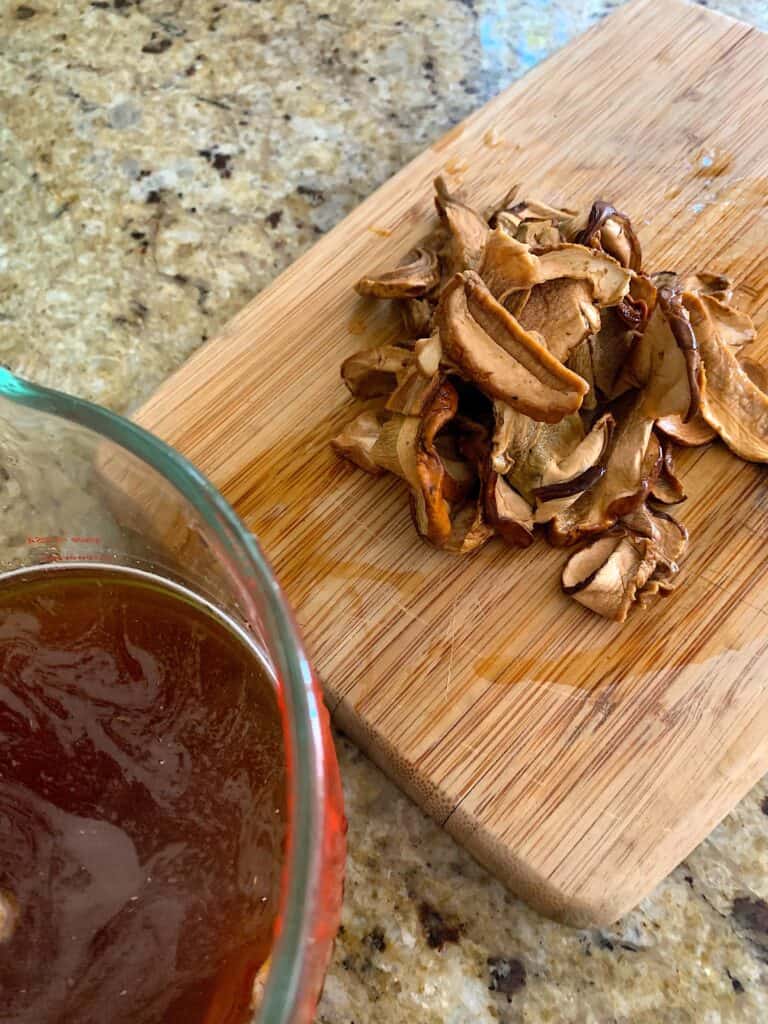 By this time, the porcini mushrooms should be softened after 20 minutes. Remove them from the liquid. If desiring a stronger porcini flavor, then add this liquid to your broth/stock.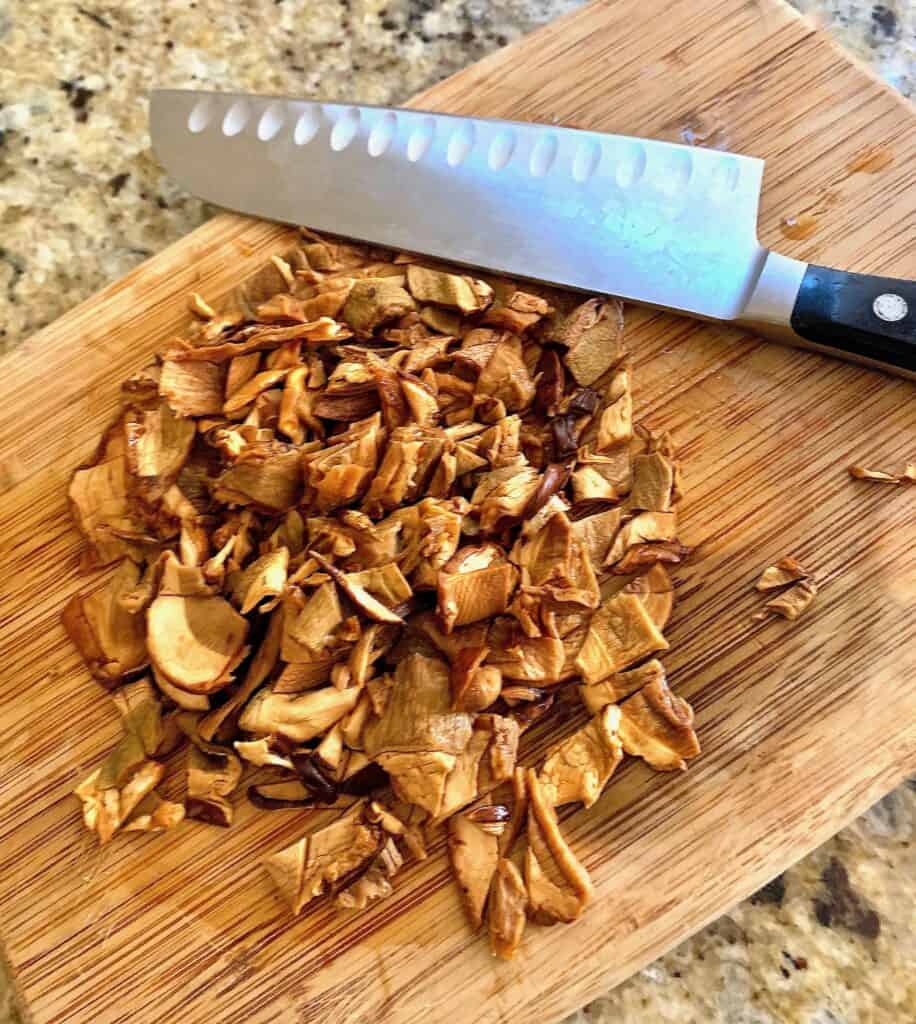 Chop the porcini mushrooms into about ½" pieces
Add the chopped porcini to the onion-garlic-truffle mixture and gently mix them in well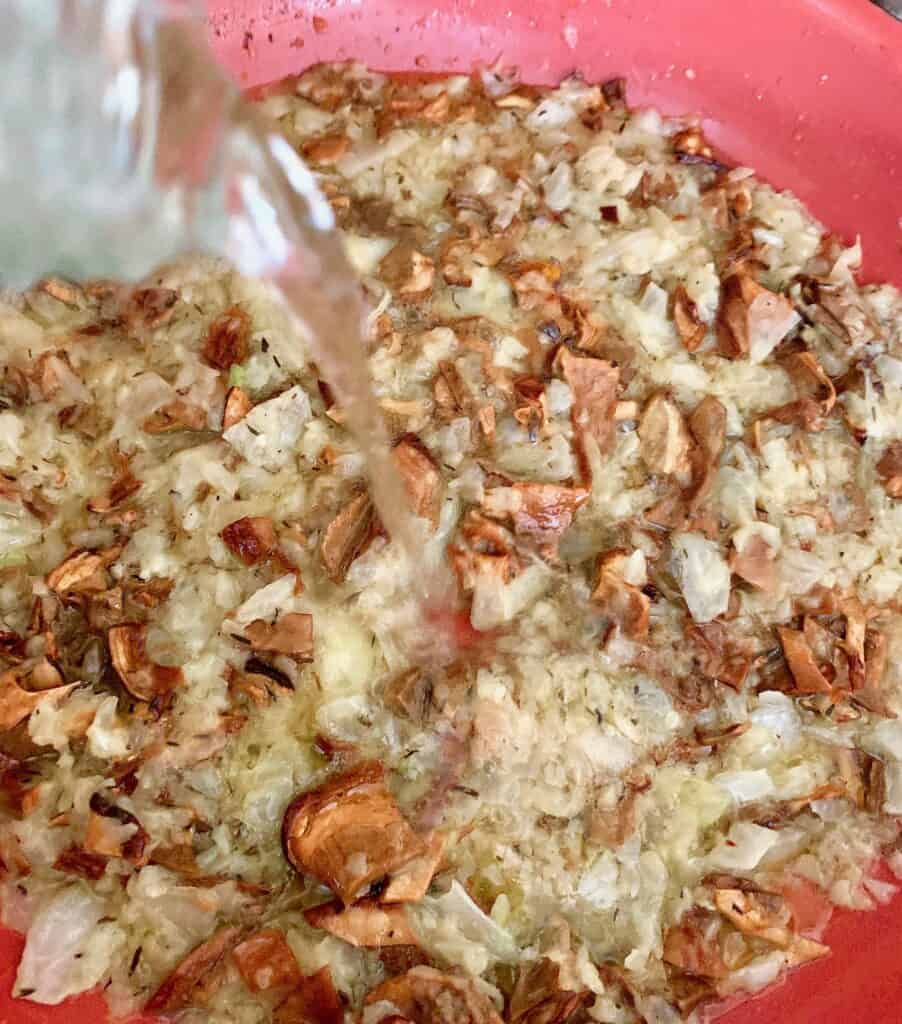 Add the wine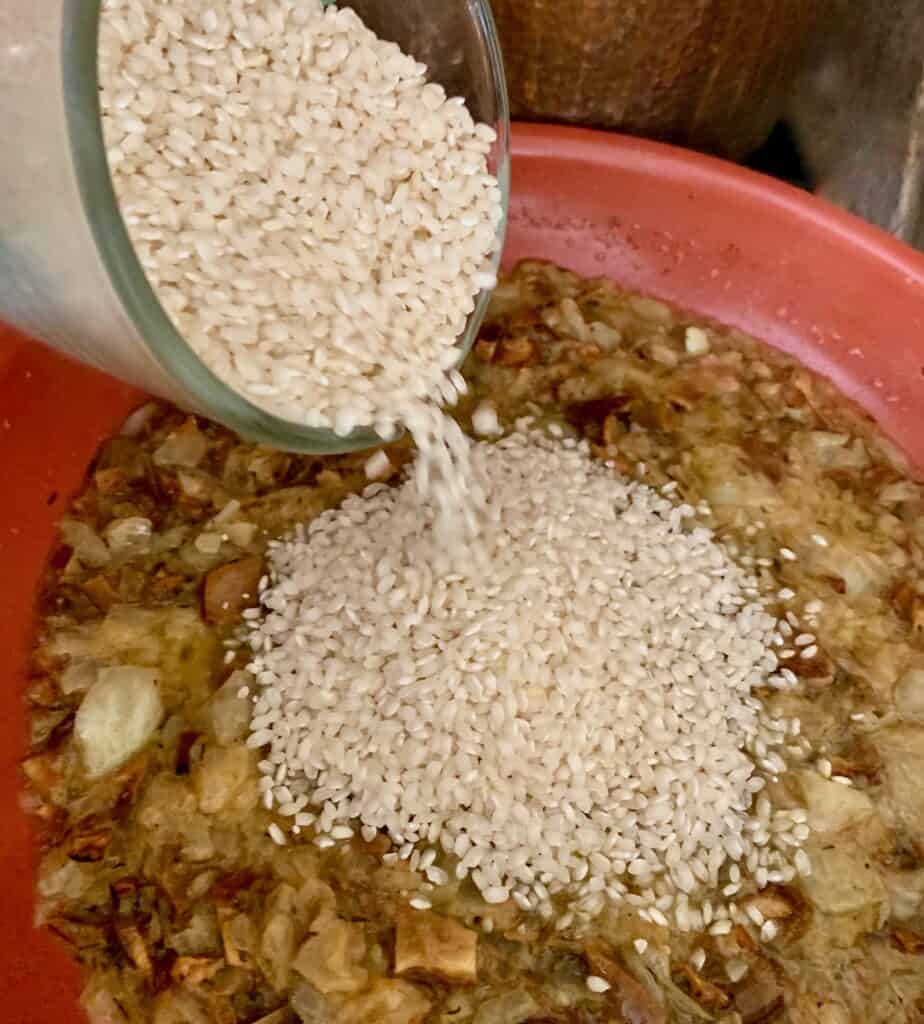 Begin by adding and stirring in about 1 cup of rice to the mixture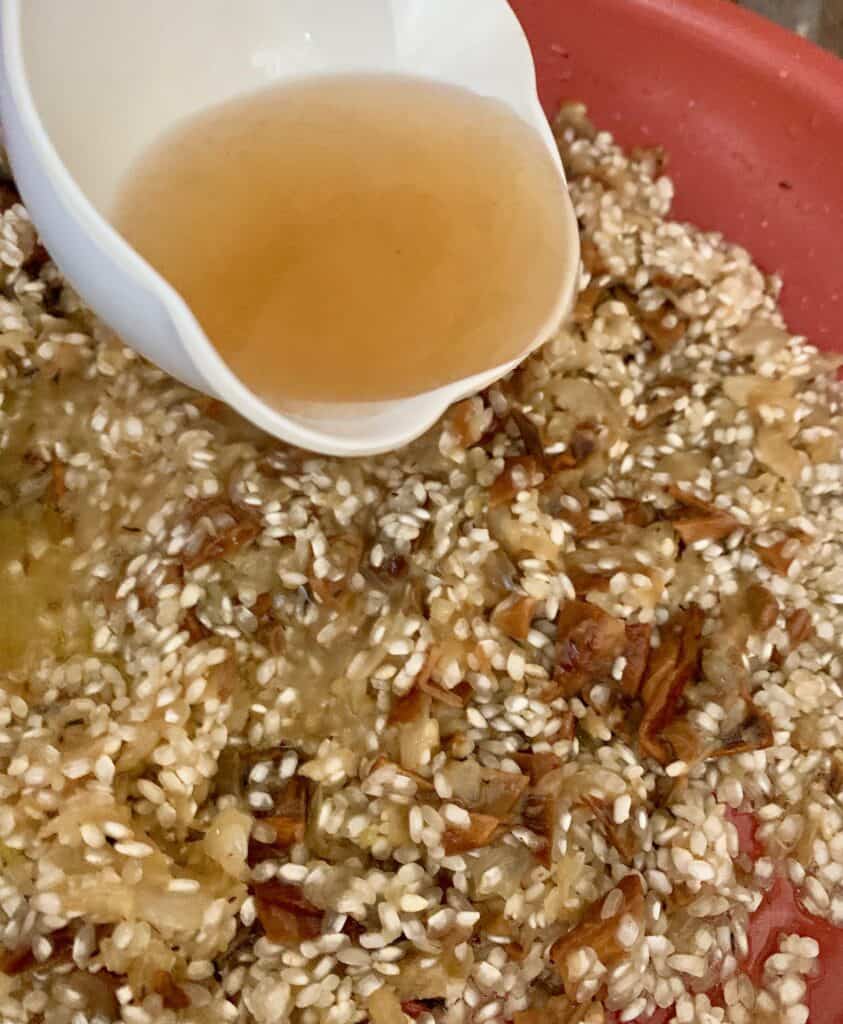 Pour a large ladle, about 1 cup, of hot broth/stock into the rice-porcini mixture. Stir, stir, stir until all of the broth is absorbed into the rice.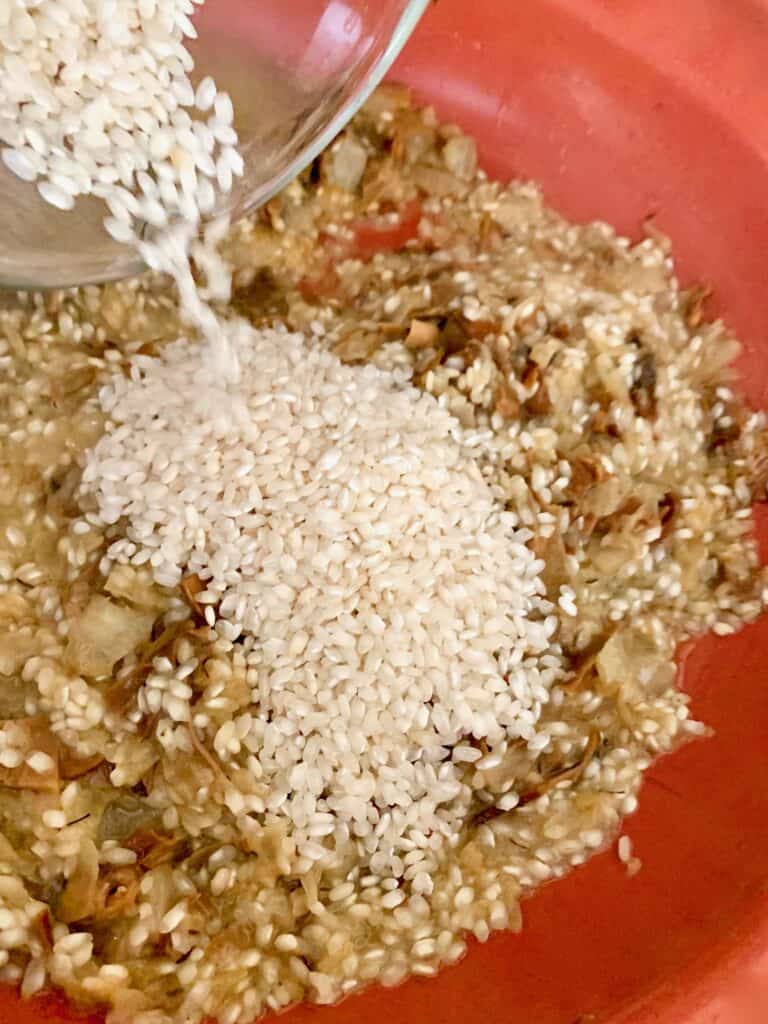 And do it again . . . add another cup of rice and blend well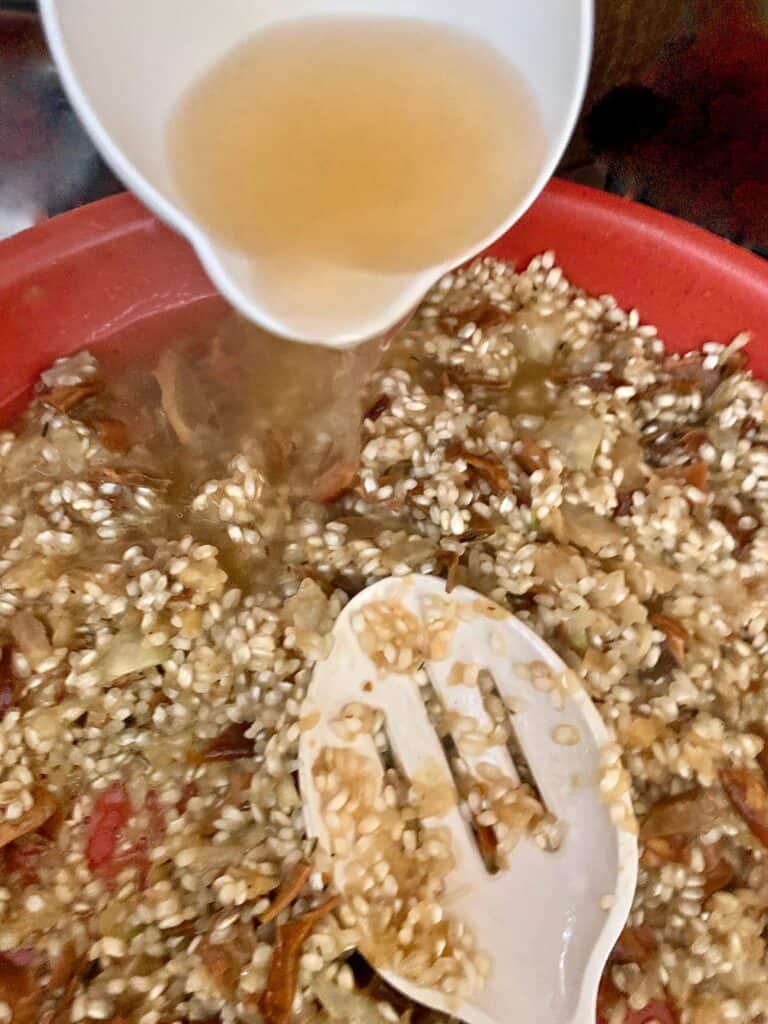 And again, add the second cup of hot broth/stock . . . stirring again until all of the liquid is absorbed by the rice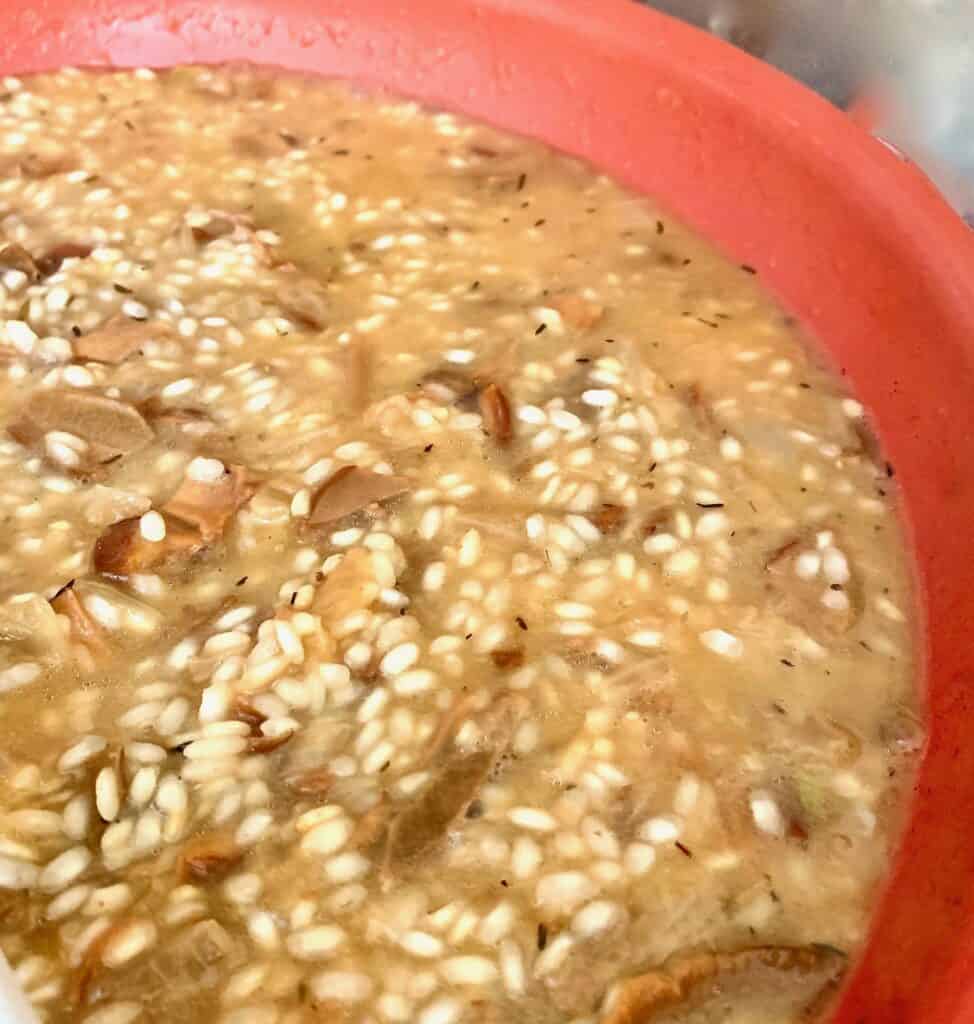 Notice above . . . this liquid was just poured in and it is certainly not absorbed. Continue to stir the broth/stock until completely absorbed.
Repeat this step a third time with the remaining rice and broth/stock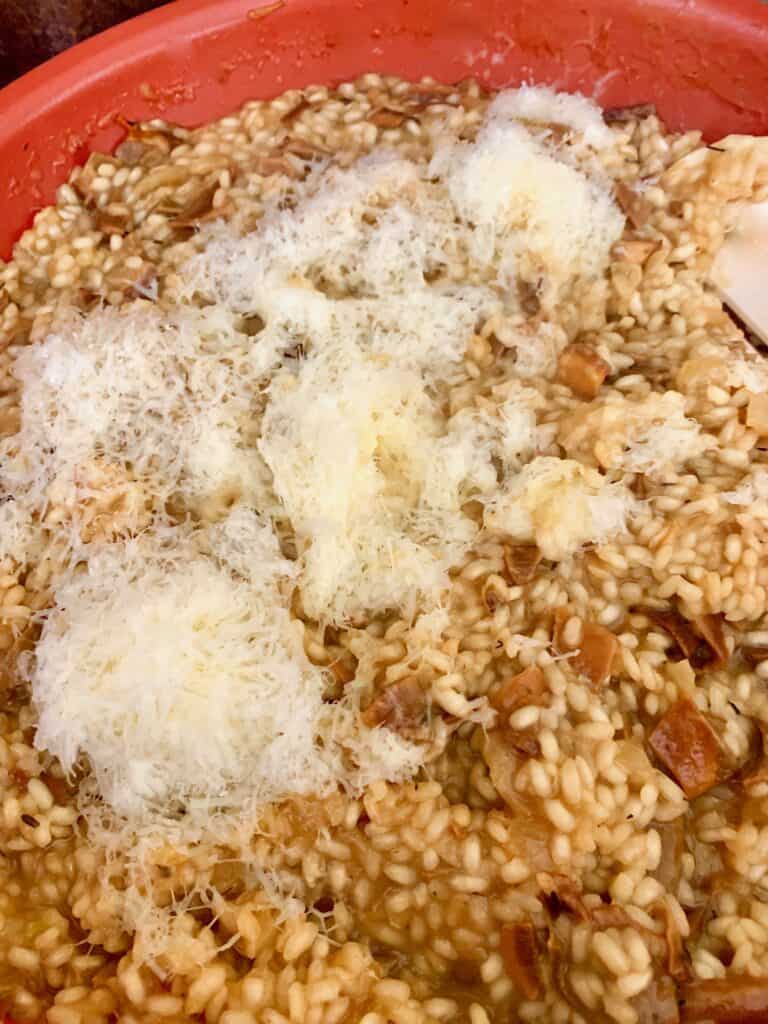 After all of the rice and broth/stock have been mixed in and all of the liquid is absorbed, add the grated Parmigiana (parmesan) cheese and mix well.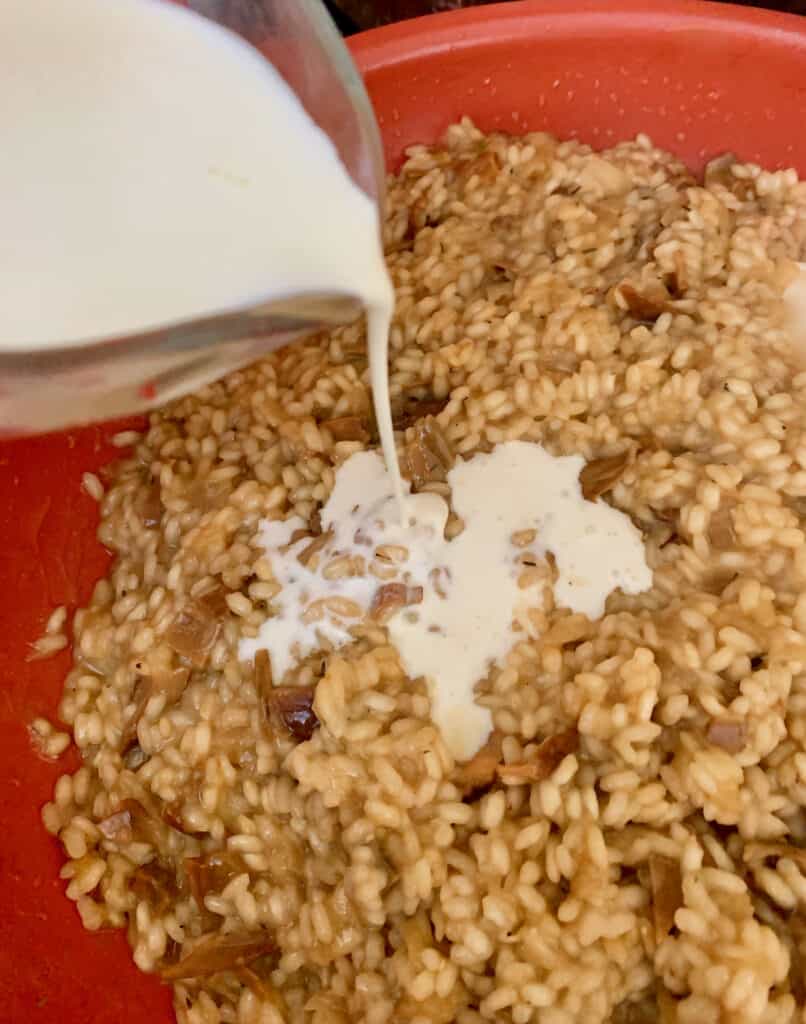 Optional, but this makes the risotto ever-so-rich and heavenly: Add cream to your level of preference. I used one cup.
Add the chopped rosemary. Add salt and pepper to taste.
Now enjoy your fresh porcini mushroom risotto! Salute'!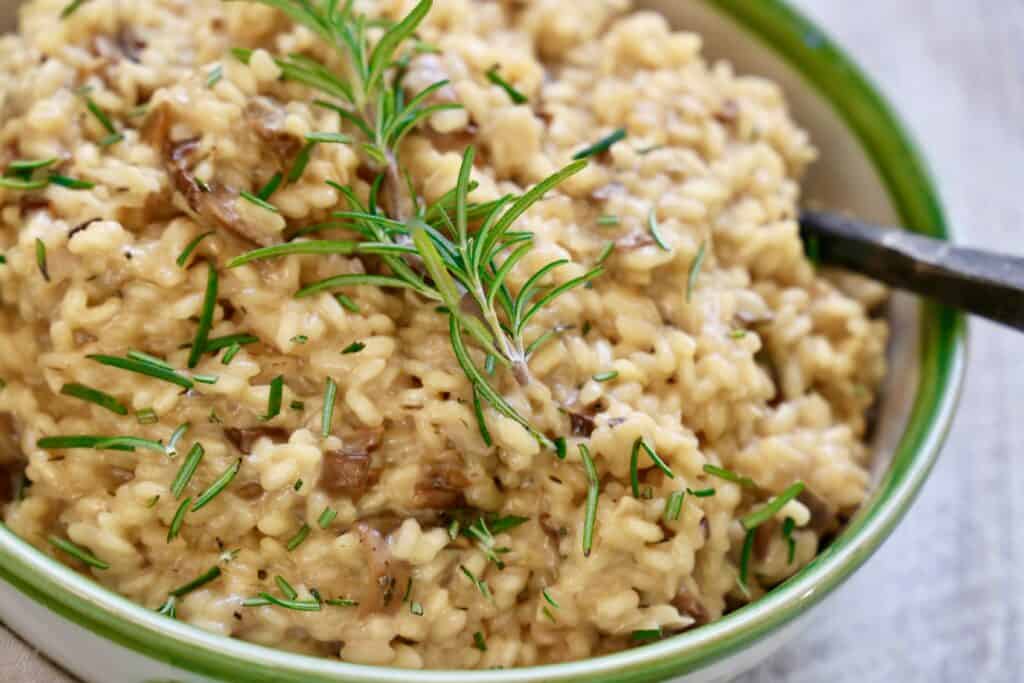 .
More Delicious Mushroom Recipes For You:
Fontina Polenta with Sauteed Porcini Mushrooms
Polenta Crostini Bites With Caramelized Mushroom Cicchetti
Mushroom, Fontina, and Asiago Tart
Frittata with Mushrooms, Thyme and Parmigiano Cheese
.
.
More Delicious Risotto Recipes For You:
Butternut Squash and Sage Risotto
Creamy Risotto with Lemon, Asiago, and Rosemary
Risotto with Mushrooms from Harry's Bar in Venice, Italy
Classic Italian Risotto in Bianco
,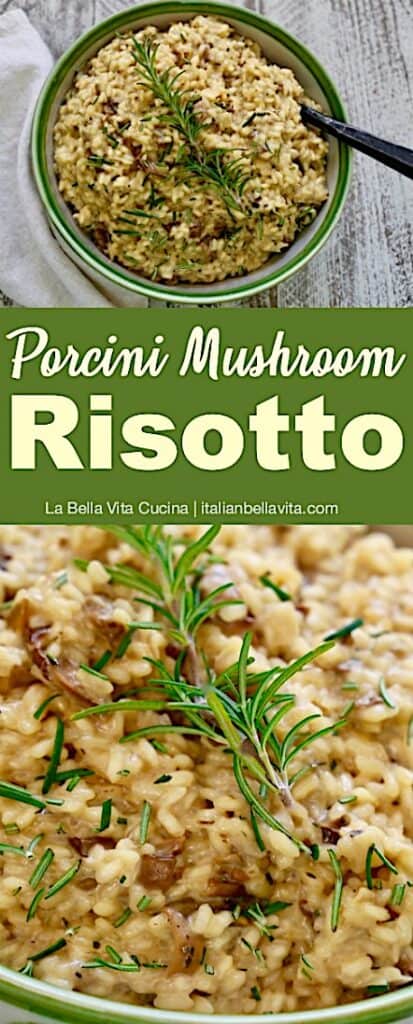 .
Print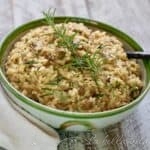 Porcini Mushroom Risotto with Truffles
Author:
Prep Time: 15 minutes
Additional Time: 0 hours
Cook Time: 20 minutes
Total Time: 35 minutes
Yield: 6 servings 1x
Category: Rice / Risotto
Cuisine: Italian
---
Description
Risotto is so simple to make and ever-so gratifying!  This risotto is bursting with flavor from cherished Italian porcini mushrooms and Parmigiana (Parmesan) cheese.  A little bit of sage and rosemary sing through the velvety cream added.  Follow these simple instructions and enjoy what was once 'cucina povera' (food of the poor) and today is served in high-end restaurants.
---
6 cups hot chicken or vegetable broth/stock
1 stick butter
1 large onion, finely chopped
4 garlic cloves, finely chopped
1 tsp. Italian truffle paste
1–1/2 cups porcini mushrooms
1 Tbsp. freshly chopped sage
1 Tbsp. freshly chopped rosemary
1/2 cup dry white wine
2–1/2 cups arborio rice
1–1/2 cups freshly grated Parmigiana cheese (Parmesan)
1 cup heavy cream
Garnish: Sprig of fresh rosemary
Grated Parmigiana to pass around to guests
---
Instructions
Soak dried porcini mushrooms in very hot water for 20 minutes.  This will reconstitute them out of the dried state.  Then strain the mushrooms from the liquid and chop into about ½" pieces.  Set aside
On medium heat, melt the butter in a large frying pan or medium-sized stock pot.
Add the onions and garlic.  Saute' for about 7 minutes until a little golden, but not browned at all.
Add the sage and truffle paste, stir in well.
Add the chopped porcini mushrooms, gently mixing them into the mixture.
Add white wine and stir until absorbed into the onions and garlic mixture.  Deglaze the bottom of the pan to pick up all of the browned bits.
Add ½ cup arborio rice, saute' for several minutes (about 3 minutes), until the rice becomes 'translucent', constantly stirring with a wooden spoon to avoid sticking to the pan or burning.
Add the chopped porcini mushrooms and mix well.
Add 1 cup of hot broth/stock.  Stir until the rice has absorbed all of the liquid.
Add another cup of rice, stirring again until well mixed.
Add 1 cup of hot broth/stock again.  Stir until all liguid is absorbed again.
Repeat one or two more times, alternating with rice and then broth/stock.
This process of stirring should take about 20 minutes which is what makes the rice so creamy.
As soon as the rice is al dente, turn off the heat and:
Add the parmigiana cheese and mix well.
Add the cream a little at a time; using only the amount that you prefer.
Salt and pepper to taste.
Sprinkle in the rosemary.
Cover the risotto and allow to sit for 2 minutes and then:
Serve immediately.
Garnish with sprigs of rosemary.
---
---
Keywords: risotto, rice, porcini, mushrooms, porcini mushrooms