10 Top Recipes for the Grill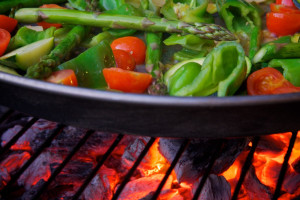 Grilling season is officially open now that it is Memorial Day Weekend! So to help get your 'grill on', as the saying goes, I've put together my 10 top recipes for the grill to ignite your holiday get-togethers!
I've got a variety of juicy hamburgers and an incredible steak recipe for those who have to have their beef fix. And for those of us who are reducing the amount of red meat and calories in our diets, I've got some great grilled turkey recipes for you that are super delicious!
For my vegetarian friends, I've also included some grilled portobello mushroom recipes!
Grilled pizza is such a hit these days, especially when you lay out a spread of toppings and allow your guests to select their own favorite toppings for personalized pizzas. And finally, I've included fish to the mix with a wonderful grilled salmon recipe that can be added to a salad.
All of these recipes are for entrees, so just add your favorite side dish to make your meal complete. Just click on the recipe name beneath each photo and you will be taken to the post with all of the ingredients and instructions that you will need to prepare the recipes.
Enjoy your holiday, your time with family and friends, and the great outdoors in front of your favorite grill!
GRILLED BURGERS & STEAK RECIPES:
GRILLED TURKEY RECIPES:
GRILLED PORTOBELLO MUSHROOM RECIPES:

GRILLED PIZZA RECIPES:
GRILLED FISH RECIPE: