Italian Pork Loin Braised in Milk (Arrosto Di Maiale al Latte)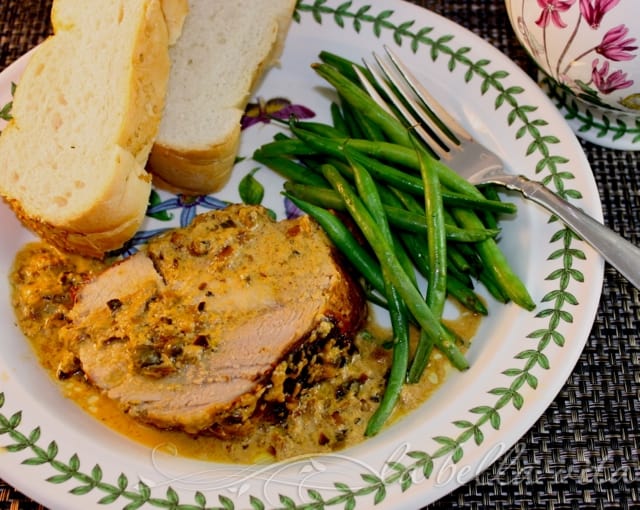 Years ago my mother returned from one of her trips to Italy. She just raved with glowing accolades about a pork roast that my cousin Lara, from Modena, prepared 'in milk', known as Italian Pork Loin Braised in Milk. It is a very common, traditional, and classic technique to cook meat in sweet creamy milk throughout northern Italy, especially in Bologna. Milk's lactic acid tenderizes the pork, breaks it down, making it very tender and receptive to soaking up the flavors in the sauce.
The process of cooking pork loin in milk not only results in a more tender roast, but also one that is extremely moist, delicate, and juicy. And it's not just about the milk alone. There are oodles of olive oil, butter, garlic, onion, pancetta, capers and sage blending in the milk to make this pork so delicious. As the pork simmers together with the milk and a generous amount of perfect ingredients, a wonderfully rich, thick (yet satiny), golden/hazelnut brown sauce full of browned bits is created.
And we all know what those precious browned bits do to a sauce!
I have to warn you, this isn't a beautiful entree to look at: The milk and additional ingredients cook into a curdled sauce as a result of the long, slow braising process. The onion's and lemon zest's acidity help the curdling which is the most desirable result of this brilliant Italian creation known as "Arrosto Di Maiale al Latte". Italians just leave the curds in the sauce. It's also important to use only whole milk (I also used a few cups of heavy cream) and never use any reduced-fat milk.
"WHAT did you say?" you may be asking of me as you read this recipe post. Pork that cooks in milk? I don't blame you! I thought the very same thing!
Having never heard of this in the States, I thought that this sounded like such a strange way to prepare a pork loin! So I share your skepticism as you read the name of this recipe! But after preparing it tonight and savoring every incredible bite, I am now an enthusiastic fan. It truly does live up to its acclaimed reputation.
This is sheer culinary genius . . . who would have thought? The pork, with a deep, flavorful, nutty sweet cream sauce just melts in your mouth! And if you're like us and prefer your pork 'fork-tender' that falls apart easily, than don't trim the fat off of the loin. The fat contributes to the pork's texture and of course, enhances the flavor.
On top of all of this, you won't be believe how easy this is to prepare! The pork simply simmers quietly in the milk until all that remains is the thick creamy sauce with clusters of browned bits. OK, so you have to turn the pork occasionally, but that's it! You can sit back and read, take care of the kids, enjoy some guests with a glass of wine or a cocktail or do anything during the hour and a half or so while the pork simmers on the stove.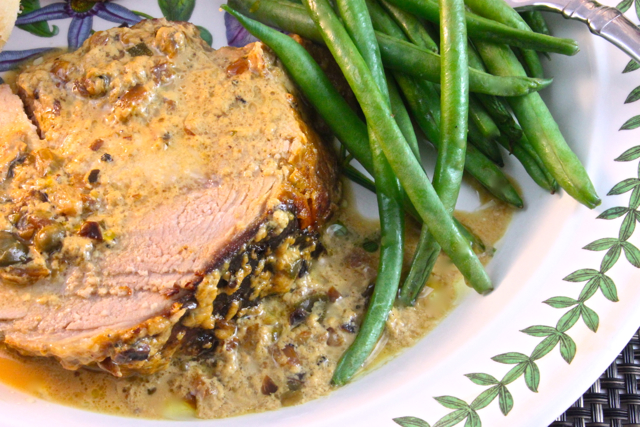 You'll want to serve this entree with some hearty artisanal bread to soak up every drop of this heavenly, creamy milk-sauce on your plate.
Without the bread, you'll end up licking the sauce off of your plate!
Now before you read the recipe, I just have to share an email message written to me from Karen K. in November, 2016 . . . yes, 3 years after the original post of this pork recipe. Here's what she said while the pork was cooking:
"Smeeeelllllllsssssssoooooo GOOD! I went and double-checked my North End Italian cookbook for anything like this recipe, (can't ask G'ma, she's gone), and found nothing. I was quite surprised since everything great is in that cookbook."
and later here's what Karen said to me after she served the pork in milk to her family:
"Well, everyone loved it! Just lovely. I didn't change or "fix-up" the recipe, except for doubling the amounts indicated for the sauce. We were all glad I did! I was afraid someone was going to start picking at the pot. It did not disappoint.
I did have to engage in a brief, but victorious, tug-of-war with my family of four! I can't be sure, but I think the girls growled at me…?!
I served it with steamed broccoli (no brainer), and I wanted to eat it over rice. My husband wanted egg noodles.
My son said "We need the large shell pasta so it can hold all the creamy gravy goodness…like an upside-down boat!" ?
Anyway, I can't wait to make it again so I can devour more OF THAT DELICIOUS BROWNED-UP MILK-BITS SAUCE and succulent juicy pork!!! Yumm-mmmy! It was so delicious, it was voted a "Family Comfort Food Keeper For Life" in the "Mom's Recipes Box".
Thanks for sharing this, I hope others make this, it really is amazing when cooked properly.
Yours Truly, Karen K."
And yes, this is amazing! I hope you try it and like Karen, welcome this recipe into your recipe box of family favorites! Plus, I think that Karen's son has a great idea about the large shell pasta to scoop up the sauce!
Print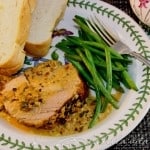 Italian Pork Loin Braised in Milk
Author:
Prep Time: 0 hours
Additional Time: 0 hours
Cook Time: 0 hours
Total Time: 0 hours
---
3 Tbsp. butter
3 Tbsp. olive oil
4 large cloves of garlic, minced
1/2 of a large onion, chopped finely
6 Tbsp. pancetta, chopped finely
1 2–lb. pork loin (select one with a nice amount of fat)
Freshly grated sea salt
Freshly grated black pepper
3 cups hot whole milk
2 cups hot heavy cream
1 Tbsp. capers, crushed
2 tsps. fresh sage, chopped
2 leaves fresh sage
1 tsp. lemon zest
---
Instructions
In a large, deep, heavy pan, melt the olive oil and butter on low (do not burn).
Add the garlic,onion, and pancetta and saute' for a minute or two (still on a low temperature setting).
Do not trim the fat off of the pork loin.
Generously (very generously) sprinkle sea salt all over the pork loin.
Sprinkle black pepper all over the pork loin.
Place the pork loin in the pan, fat side down and brown it thoroughly on all four sides on a low-temperature setting.
Do not burn the olive oil and garlic!
When browned nicely, add the hot milk, hot cream, capers, sage and lemon zest.
Taste the sauce . . . add more salt to taste preferences.
Partially cover the pan.
Simmer on the a low-medium setting on the stove for 1-1/2 to 2 hours, turning the pork loin over occasionally.
The milk sauce will bubble up, so stir it occasionally.
Continually pour some of the sauce (baste) over the pork as it simmers.
The color of the sauce should turn to a golden brown color; if not turn up the heat a little for a few minutes at the end.
Taste the sauce and add more salt if necessary.
After cooking time is finished, remove the pork.
Thickly slice the pork and place it on individual plates.
Pour the creamy, curdled sauce over the pork.
Serve immediately and enjoy!
---
This recipe has been featured in Bon Appetit, Food and Wine, and Saveur magazines. Each article shares glowing reviews of the decadent flavor while at the same time being honest about the unattractive appearance of the recipe. Looks are deceiving in this delicious pork entree!
From Bon Appetit:Pork Braised in Milk
From Food and Wine: Pork Braised in Milk
From Saveur:Pork Braised in Milk
I've got so many wonderful recipes for serving pork. Below I'm sharing some of my family's classic favorites. Every one of these pork recipes is a winner-keeper recipe!
Here is another absolutely wonderful pork loin roast recipe that I know that you'll enjoy! It's a family favorite in my home from the genius of the beloved (deceased) New York Times food editor, Craig Claiborne: