Traditional and Easy Pineapple Cheese Casserole
When this ever-popular Pineapple Casserole first met my tastebuds it was at a neighborhood potluck. I was very reluctant at first to try this crazy-sounding stuff. Pineapple as a warm side dish was so foreign to me.
One bite and I couldn't stop gobbling it down! This insanely simple recipe is common at potlucks and during the holidays, especially Easter in the spring.
For the past 26 years, my family has enjoyed living, working, playing, and cooking in South Carolina (plus a lot more things, but the list is too long for this post). Discovering regional cuisine and customs is such a joy and you don't have to travel far to do so. I've experienced so many delicious Southern recipes that were never served in my northern family's homes. We just didn't know about them.
My first bite of Southern BBQ was such an eye-opening, taste sensation! I'd never like sweet potatoes until I bit into a classic Southern sweet potato casserole. Oh and the cakes! Smack me silly, Southerners know how to create and share the divine on a plate!
What's In Pineapple Casserole?
Pineapple Casserole is a classic in the South. It's got a lot going on in your mouth: the sweetness of the pineapple, the savoriness of the cheese, some crunch from the layer of crackers, a cheery sunny color and . . . BUTTER! Say no more.
It just sounds funky, doesn't it? But I promise you, this is a delicious and happy marriage of savory and sweet blended together.
It's like a savory dump cake and only takes at best 10 minutes to prepare before popping it in the oven. And when it comes out of the oven, the cheese is just so oooey, gooey, and gently coating the pineapple, Mmmmm!
Do you enjoy ham? Or maybe pork tenderloin is your preference. Either way, pineapple and pork are as perfect as two peas in a pod. You might as well double this recipe because it disappears fast with your guests going back for seconds!
How is This Recipe for Pineapple Casserole Different?
Whenever I try something new, I'll scour cookbooks, food magazines, and the Internet for inspiration. Nearly all recipes for pineapple casserole were identical it seemed to me. So I thought about the sweetness component and started thinking about a classic pineapple upside-down cake (which my family DID bake a lot of since my father loved them). Brown sugar and not white sugar is the crowning glory amidst the pineapple rings on that cake, is it not?
So, a ha! I decided to use brown sugar instead. It makes a huge difference by adding a greater depth of flavor.
More Delicious Recipes I Think You'll Enjoy: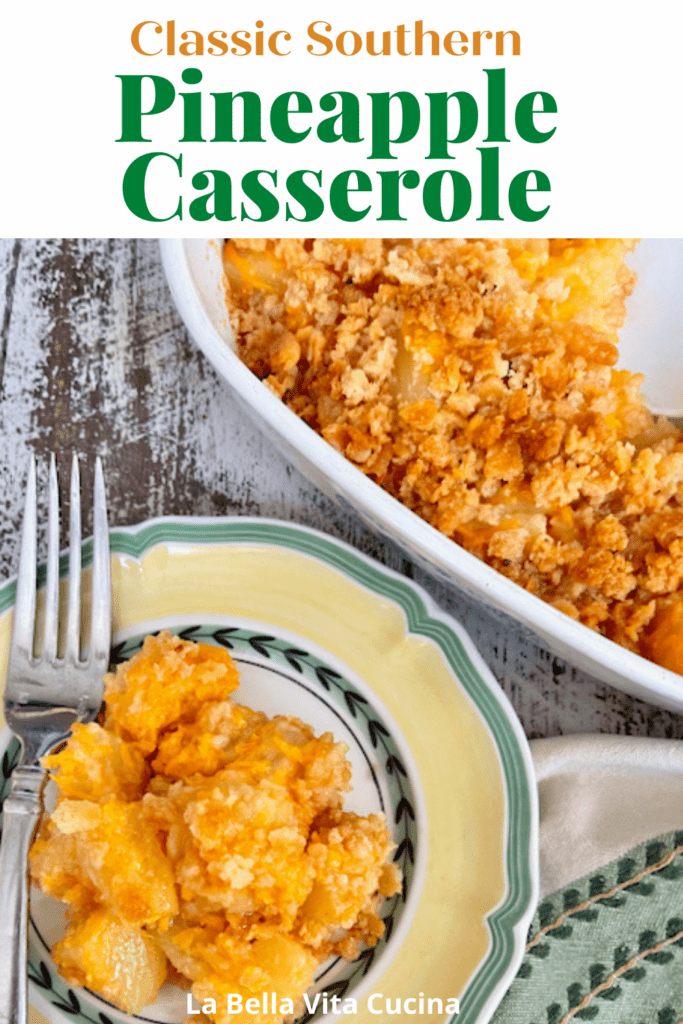 PIN FOR LATER
CLICK THE BUTTON ABOVE TO SAVE THIS DELICIOUS RECIPE TO YOUR BOARD!
Print
Traditional and Easy Pineapple Cheese Casserole
---
2 20-oz. cans of pineapple chunks/tidbits in juice, drained
1/3 cup flour
1/2 cup light brown sugar
2 cups finely shredded cheddar cheese
Topping:
40 Ritz crackers, crushed (or 1 full sleeve)
1/2 cup butter, melted
---
Instructions
Preheat oven to 350 F degrees.
In a large mixing bowl, combine the pineapple, flour, brown sugar, and shredded cheese.
Transfer the mixture to a 9×9″ baking dish.  YOu may also use a 9″ or 10″ pie dish.
In a medium bowl, mix together the melted butter and crushed crackers until evenly coated.
Sprinkle the cracker mixture over the top of the pinapple-cheese mixture.
Bake for 30 minutes.
Serve warm.
Enjoy this classic Southern recipe!
---
Oh, just a second, please!
Hearing from you means so much to me. I learn from everyone! So please leave a comment if you have a moment and a rating too would be great.
You can also follow me on Pinterest, Instagram, and Facebook. If you make this, please tag me with a photo of your culinary masterpiece! Let's Connect!