Tropical Pineapple, Coconut, Banana Smoothie with Rambutan
Once a year, for maybe 2 months at best, rambutans are in season. But when they are (June and July), you've got to grab them quickly while you can to enjoy these sweet white orbs of deliciousness. One way to beat the heat is to make a Tropical Banana, Pineapple, and Coconut Smoothie with Rambutan. This smoothie packs a quadruple dose of the tropics – pineapple, bananas, coconut, and rambutan!
Ah! Sit back and sip slowly away on this sweet, refreshing tropical smoothie. May your mind drift off to some tropical island with soft breezy tradewinds blowing through the hibiscus flowers.
Sadly, rambutan doesn't grow anywhere close to the States and so they are super-expensive from shipping them from the tropics . . . in Asia! Thailand to be specific. I've also seen them in the Caribbean markets. But as luck should have it, you can find fresh rambutans on Amazon and this is the only distributor that I recommend — Melissa's Produce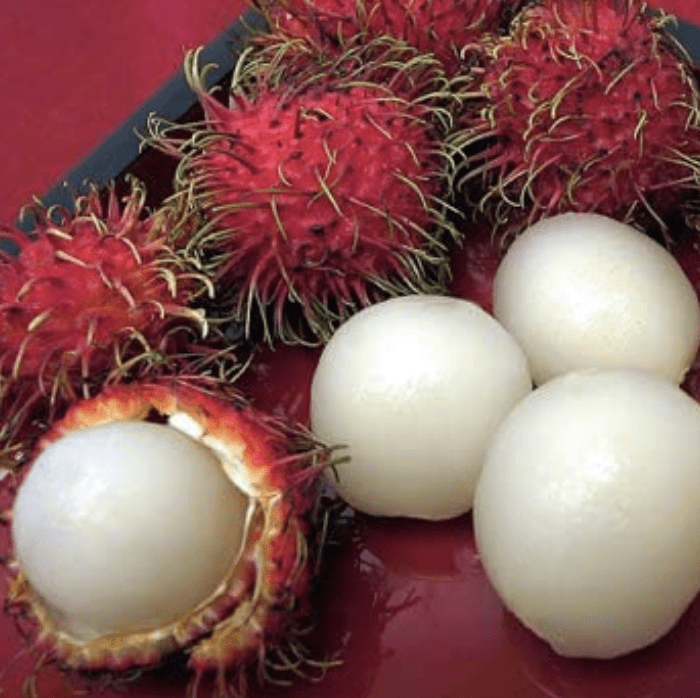 Rambutan from Melissa's Produce
What is a rambutan?
First of all, at first glance, a rambutan (RAHM- bue-tahn) has a hard, round, red outer shell, with skinny green 'hairy' threads all over. I'm guessing that this is nature's way protecting the sweetest, juiciest round fruit inside. It's only available for a few months every summer in its native Southeastern Asia . . . primarily in Thailand. Inside is the sweetest treasure: a creamy-white colored ball that has the consistency and texture similar to a grape. It tastes a bit like sweet lychee. The closest location to the U.S. for growing rambutan successfully has been in Puerto Rico and Cuba. I saw them in a food market in St. Thomas, U.S. Virgin Islands, and the price was crazy-expensive!
A Great Video on How To Peel and Eat Rambutan!
So What's In This Special Tropical Smoothie with Rambutan?
fresh pineapple (and juice)
banana
coconut milk
rambutan
honey (or sugar)
ice
if needed add, coconut extract and/or banana extract
garnish: fresh mint leaves and chunks of pineapple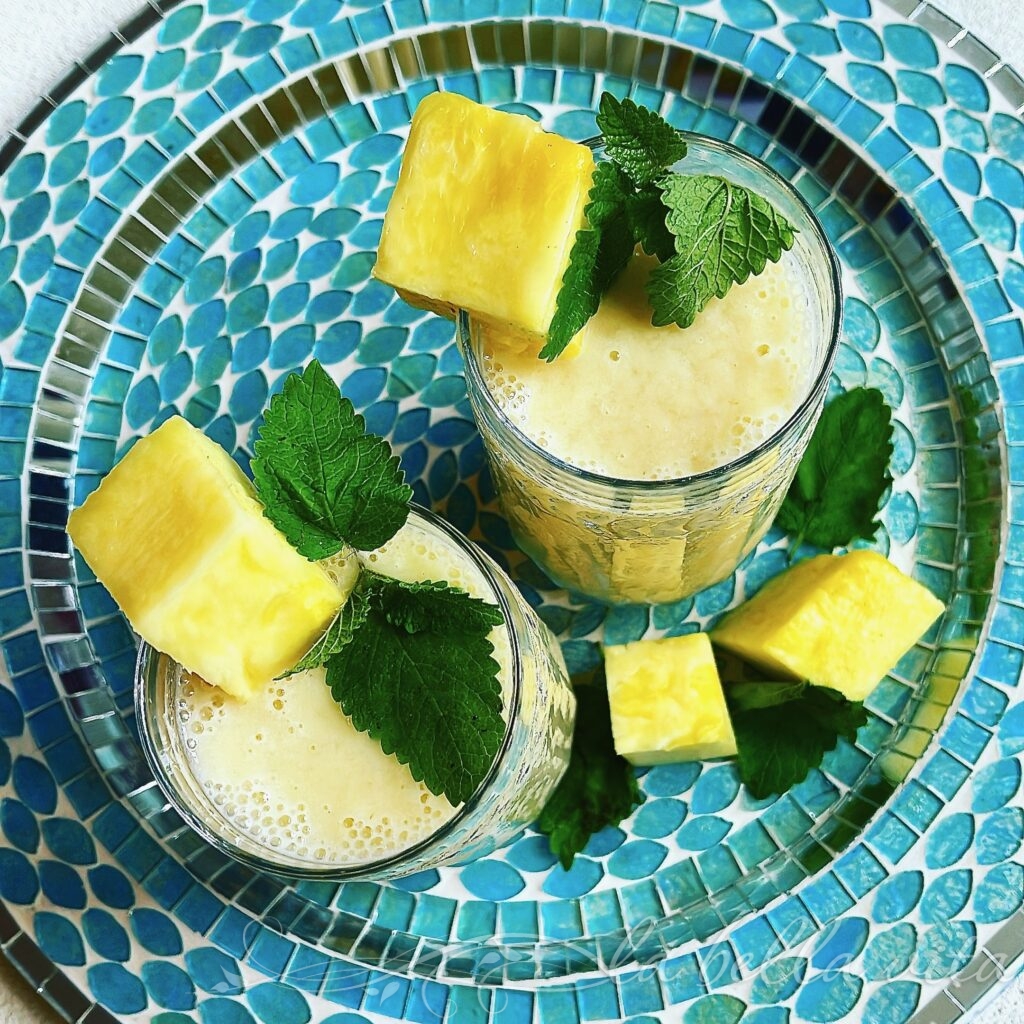 Where to Find Rambutan in the U.S.
You can get them on Amazon canned through this link: Canned Rambutan. In a can, they are already peeled, so they are ready to be used. Or you can purchase them freshly-picked with the outer peel still on that you will need to remove (watch video above) from Melissa's Produce on Amazon. But that's half the fun of experiencing something so new as this fruit is to many of us.
More Tropical Smoothies and Drinks that You May Enjoy:
Coconut Lime Pineapple Coolers
Anti-Inflammatory Pineapple, Mango, and Ginger Smoothie
Pineapple, Ginger De-Tox Smoothie
PIN FOR LATER!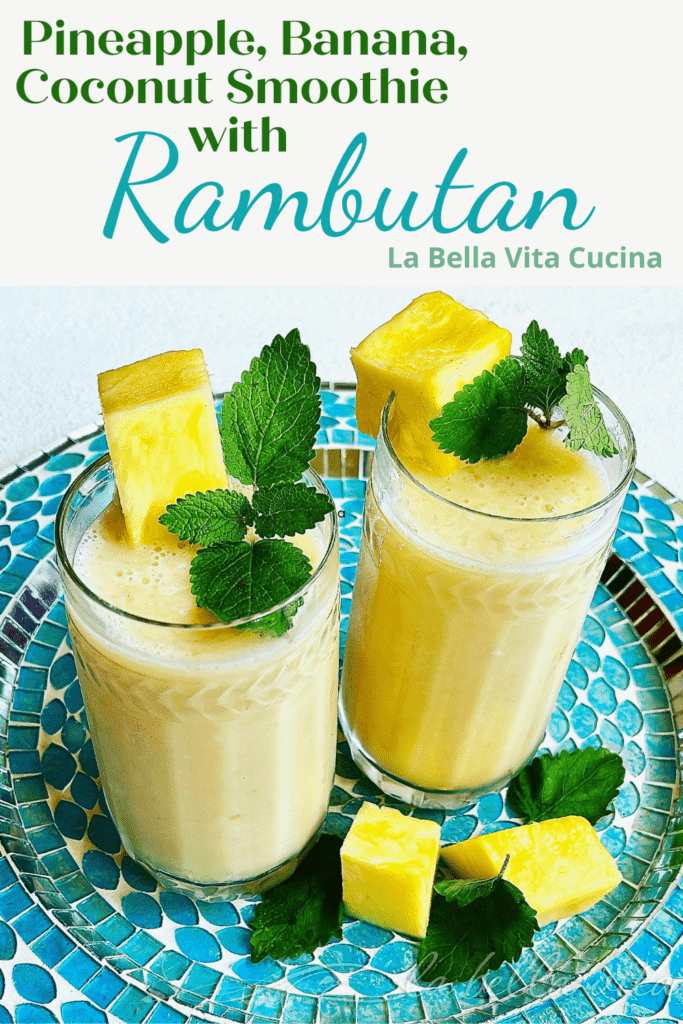 Print
Tropical Pineapple, Banana, Coconut Smoothie with Rambutan
Prep Time: 20 minutes
Additional Time: 0 hours
Cook Time: 0 hours
Total Time: 20 minutes
Yield: 2 8-oz smoothies 1x
Category: Smoothies
Cuisine: American
---
1 – 2 cups fresh pineapple chunks (cut into 2″ cubes) and juice if you have any
1 large ripe banana
10 fresh rambutans or lychees, peeled and pitted (or you can use canned)
2 cups coconut milk or coconut cream
2 Tbsps. local honey or sugar
1/2 tsp vanilla extract
4 drops banana extract
4 drops coconut extract
Lots of crushed ice
---
Instructions
Using either a good quality hand-held immersion blender (I call my 'boat motor'), blender or Vitamix, add all of the ingredients and give it a whirl for about a minute until all ice is crushed.
Serve immediately in clear glasses and garnish with fresh mint leaves and some pineapple chunks.
---